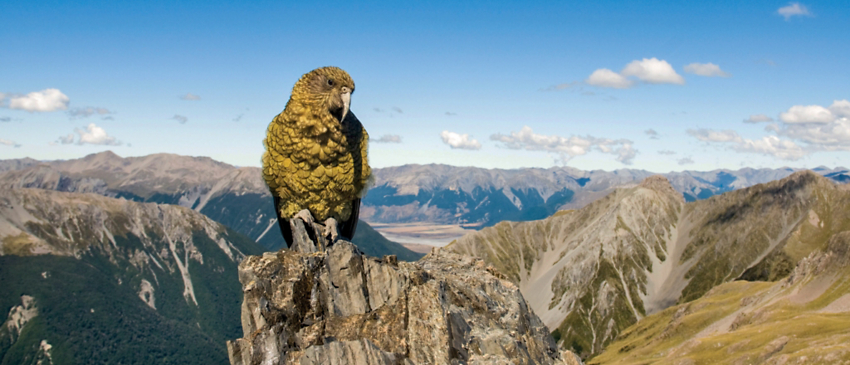 Question: Which passport-snatching, rental car-ruining bird calls New Zealand's South Island home?
Answer: The kea
The cunning and oh-so-clever kea is the world's only alpine parrot and is endemic to New Zealand's South Island. But don't let their muted, olive-green feathers fool you—there's much more to this bird than first meets the eye. Once in flight, the vibrant orange underside of their wings is exposed. And that's not all these curious creatures are hiding.
The kea has been called the "clown of the mountains," a nickname it has most certainly earned. Its sharp, curved beak may come in handy when feasting on its omnivorous diet of leaves, berries, insects, and even carrion, but its beak is also why these birds are such troublemakers. They are capable of snatching up just about anything they want—and they absolutely do.
As you might expect, kea are fond of human food, whether it's freshly prepared at a picnic, or buried deep in a garbage can. If they want something, they'll find a way. But their fascination with rubber is what makes these pesky birds stand out.
For some strange reason, they can't get enough of it. Swooping down from their perch in a nearby tree, the birds surprise unsuspecting tourists. Boots, backpacks, skis, snowboards, etc.—anything with a rubbery component—will catch their eye. But the kea's favorite rubber snack is found on cars, mostly rented by tourists who don't know any better than to leave them unattended. Windshield wiper blades and the rubber sealing around the windows are their main targets, which is both humorous, yet costly.
One visitor of the island found themselves without a way home as a mischievous kea made off with their passport. Luckily they took the situation lightly and said, "My passport is somewhere out there in Fiordland. The kea's probably using it for fraudulent claims or something."
Because of its behavior, the kea once found itself the target of deliberate attacks, especially when farmers noticed suspicious markings on their sheep that seemed to match the shape of the kea's beak. These wounds often became infected, leading to many deaths of sheep and, consequently, kea. Beginning in the late 1860s, the New Zealand government paid a bounty for kea bills, but it was lifted in 1970. In 1986, the kea was granted full protection under the Wildlife Act of 1953. So for now, the kea has the upper hand and is free to continue its rascally ways.
Other Troublemakers on New Zealand's Wildlife Radar
Stoats (cousin to the weasel and ferret) were introduced to New Zealand in the 1880s as a way of maintaining rabbit and rat populations. Unfortunately, stoats eat more than rodents. They often prey on the native kiwi bird, and played a part in the extinction of both the laughing owl and the bush wren.



New Zealand's possum problem has gotten out of hand. The small island is now home to 30 million possums, which basically means they are everywhere. Possum are responsible for millions of bird deaths each year in New Zealand and they also spread diseases to cows. Locals consider them "public enemy #1" and are working on a plan to reduce the issue.



Three invasive species of rat—the kiore, the Norway rat, and the ship rat—were introduced at various times to the island. They have all been responsible for the extinction or decline of native species and caused serious destruction to trees.



New Zealand's native wasps never caused any trouble, but the five new species of wasp that were accidentally introduced in the 1940s are a different story. These insects take 90% of honeydew found in forests, which is a vital winter food for native animals.



In the late 1800s to the early 1900s, nearly 1,000 British red deer were released in New Zealand for the sole purpose of providing hunters with game. But the deer quickly multiplied and consumed so much vegetation, including seedlings, that regeneration of damaged forests became extremely difficult.
Be on the lookout for the kea during O.A.T.'s Enhanced! Pure New Zealand, but be sure to keep track of your belongings if you spot one.