" Never doubt that a small group of thoughtful, committed, citizens can change the world. Indeed, it is the only thing that ever has."
Margaret Mead, American cultural anthropologist 1901-1978
Dear Traveler,
To be welcomed into another culture is an incredible gift—one that we've received time and time again in our own travels. By reaching out and connecting with communities around the world, we learn to appreciate firsthand not only our diversity, but our commonality … and the understanding we gain can be life changing.
We owe our success to this focus on cultural exchange—which is why in 1992, we established Grand Circle Foundation as a means to give back to the world that had already given us so much. Since then, Grand Circle Foundation together with the Lewis Family Foundation has pledged or donated $200 million throughout the world.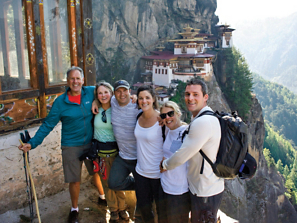 We also owe a deep debt of gratitude to our travelers. In 2019 alone, Grand Circle Foundation received more than $1 million in donations from travelers, whose kind generosity is helping us fulfill our vision to make the world a better place.
Thank you for traveling with us, and for helping to change people's lives.
Love and peace,
Alan & Harriet Lewis
Grand Circle Foundation
Grand Circle Foundation: Giving Back to the World We Travel
Glimpse some of the people, schools, and villages supported by Grand Circle Foundation.
Giving Back to the World We Travel
The sites supported by Grand Circle Foundation (GCF) that you visit on O.A.T. adventures provide you with opportunities for up close and personal cultural exchange. Whether it's a small school, a private home, or an entire village, our support often makes a big difference in the lives of the people we visit—and they can change our lives as well. These visits reveal the interconnectedness of our global community and enrich your travel experience by giving you a better understanding of the world. Your Trip Experience Leader will keep you informed about the sites we support on your adventure—which might range from an elementary school or local orphanage to a refugee camp or a women's cooperative.
Our Generous Travelers—Partners in Worldwide Giving
We are honored—and humbled—that visits to schools and villages supported by GCF often inspire our travelers to want to give back. In 2019 alone, we received more than $1 million in donations from our travelers. And the generosity of some travelers is truly inspirational—travelers like Susan Rickert, who raised more than $100,000 to support the children of Karatu, Tanzania, or Roy Parsons who gave $8,000 to a rural school in Costa Rica and inspired another traveler, Romaine Conner, to do the same—bringing the total to $16,000. The kindness and generosity of every one of our travelers is instrumental in helping us fulfill our vision to make the world a better place. You can see a list of our most generous donors, along with sites and projects we support at Grand Circle Foundation.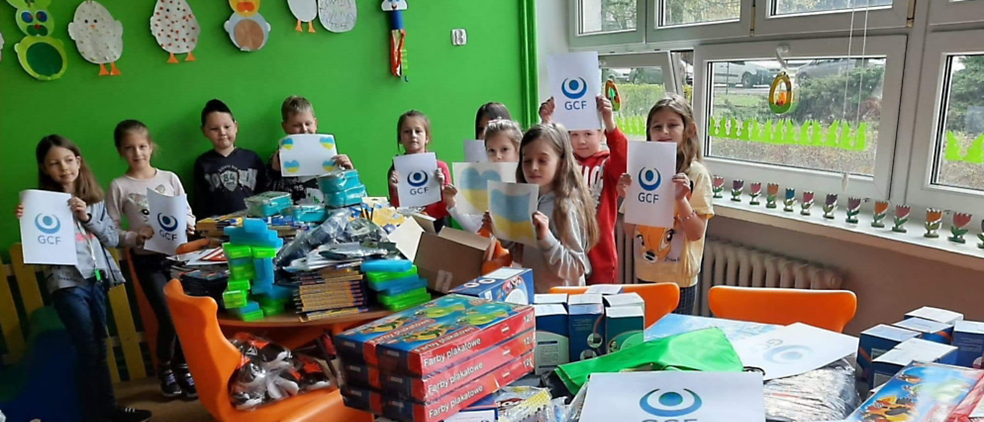 When the tragic war in Ukraine began to unfold, we asked for our travelers for help—and the response was truly overwhelming. With donations from generous travelers, as well as associates and friends, we raised more than $2 million to provide direct help to Ukrainian refugees and orphans fleeing their war-torn country.
We knew that a conflict this complicated required a thoughtful response. That's why we began working directly with O.A.T. Regional Leaders and local partners on the ground in Poland and Romania. As refugees crossed the borders into these nations, we worked to identify their most pressing needs and provide immediate aid. From baby formula to medicine and hot meals, donations provided displaced people with many essential items and necessary comforts. We also began funding more long-term solutions, including permanent housing and language lessons for those choosing to stay in Poland or Romania. As long as there is work to be done we will continue to provide help to Ukrainians in need—with no administrative fees. You can find updates on our initiatives here.
Bridging Cultures During A Day in the Life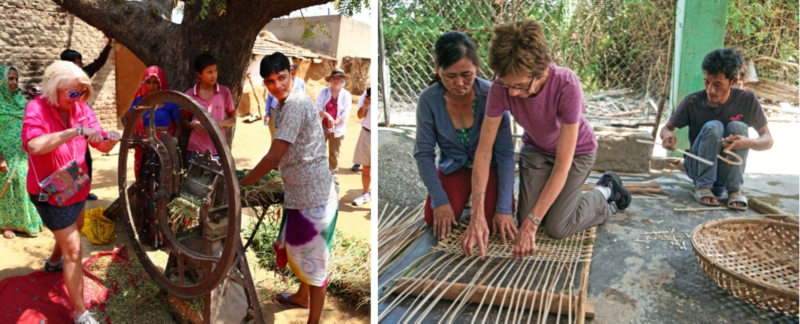 Many of the schools and villages supported by GCF are included during your A Day in the Life experience. Featured on most adventures, this program epitomizes our passion for cultural exchange and brings you far off the well-worn tourist's path and into the heart of a local village or town. A typical day might include a stroll through the village, spending time with a community leader, engaging in a hands-on activity like making bread or helping out with a farm chore, and joining a local family or members of the community for lunch. These visits might also support various local entrepreneurial activities—like a weaving cooperative in Laos, for example, or a handcraft cooperative in India—that provide the village with a source of income.
To provide you with these unique experiences, our regional associates have fostered longstanding relationships with the village leaders who welcome our travelers into their communities—and these invaluable friendships have been years in the making. We want these leaders to know how much we respect their culture and that we care deeply about who they are and where they come from. And by the end of every A Day in the Life, we hope everyone has gained a greater appreciation for the cultural diversity that surrounds us.
Learning Together in the World Classroom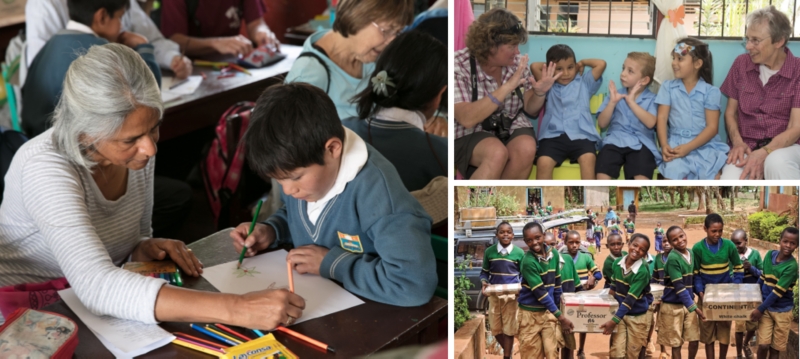 Your visit to a Foundation-supported school will provide a telling glimpse into the values of another culture. This intimate people-to-people experience also offers a unique opportunity to learn from each other—because the students want to know as much about our culture as we do of theirs. All over the world, however, one thing remains constant: the curiosity and enthusiasm of children. We hope the joy you experience during your interactions with students is intensified by the knowledge that by traveling with O.A.T., you're helping to make their dreams come true.
Grand Circle Foundation currently supports nearly 100 primary or secondary schools in more than 60 villages worldwide. By investing in education, we hope to give children the skills, pride, and confidence they need to become leaders of their generation. Working closely with local school principals and teachers, we've identified unique projects at each school that will best impact the quality of education—anything from providing students with a kitchen in Tanzania or lavatories at a school in India to a washing machine at an orphanage in Vietnam.
Grand Circle Foundation Inspires Us All

In addition to the villages and schools where we travel, we also strive to better the communities where we work—from our more than 30 regional offices around the world to our headquarters in Boston. Worldwide, almost every office organizes annual community service events of their own. In the past, these events have ranged from rebuilding homes in a floating village in Cambodia to entertaining the elderly at a nursing home in China to providing items at a home for children with special needs in Thailand (photo above left).
In Boston, more than 97% of our associates participate in community service each year, giving of their time, money, and even pints of blood to help a neighbor in need. Our associates' most beloved events include Rebuilding Together Boston (photo above right), which employs more than 100 volunteers in renovating the home of someone who can't afford the upkeep; and the Pan-Massachusetts Challenge, a two-day bike-a-thon that raises funds for the Dana-Farber Cancer Institute.
Visit the Grand Circle Foundation website to learn more about the projects we support and the efforts of leaders who inspire us. You can also read inspirational stories about how we're changing lives together—including ongoing projects in schools and villages, along with conservation and community service efforts throughout the world. You can also find stories about several of the Foundation's recent projects on the drop-down menu at left, or in "The Buzz" section of The Inside Scoop, Harriet's weekly e-newsletter.
Conserving Earth's Resources for Future Generations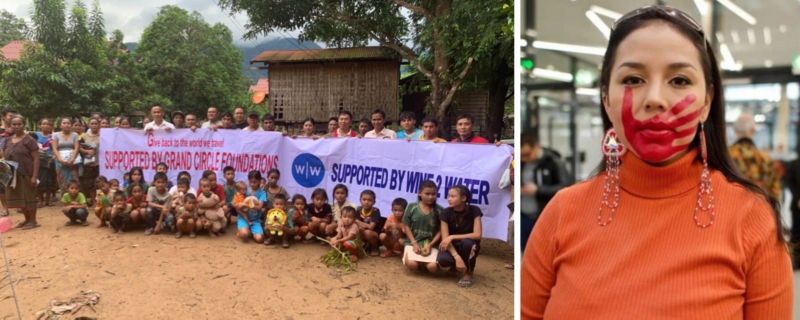 As world citizens our mission is to help save the earth we share. Along with lending a hand on projects ranging from preserving ancestral lands in the Western U.S. to planting trees in India and East Africa, GCF supports a wide range of conservation efforts focused on preserving the natural resources of our interconnected planet. We also inspire people to join in the fight against climate change and support sustainability, and we fund and collaborate with strong leaders of conservation organizations in their efforts to conserve land, preserve natural resources, and advocate for stewardship of the environment—for current and future generations. Stories and videos about some of our ongoing projects are listed under Conservation Projects on the menu bar at left.