Forgot Your Username
If you have forgotten your username, please provide your email address in the box below. We'll send you an email with your requested username. If you are having trouble, please call us toll-free at 1-800-221-0814.
Email Sent
You'll receive an email in a few minutes. Please check this email to find your requested username.
If you do not receive an email or you are having trouble logging into My Account, please call us at 1-800-221-0814.
JAPAN
A long and slender volcanic archipelago situated on the Pacific Ring of Fire, Japan is nestled into an area slightly smaller than California. Mountainous and heavily wooded, its four main islands—Honshu, Hokkaido, Kyushu, and Shikoku—comprise 97 percent of the country's total land mass. People first arrived in Japan across a land bridge from Korea some 30,000 years ago. The country was ruled by emperors beginning in 660 BC up until the twelfth-century AD. A series of military shoguns then controlled Japan for several centuries, beginning a 200-year period of isolation that lasted until 1868, when emperors returned and began modernization. After the devastation of the Second World War, Japan quickly rose from the ashes to achieve remarkable growth during the second half of the 20th century—holding the title of the world's second largest economy for more than 40 years.
Japan remains an intoxicating blend of the ancient and modern, with villages steeped in centuries-old traditions in close proximity to the neon-lit streets of futuristic cities. Icons of Japanese culture include everything from geishas and gardens to sushi, sake, and Shinto shrines.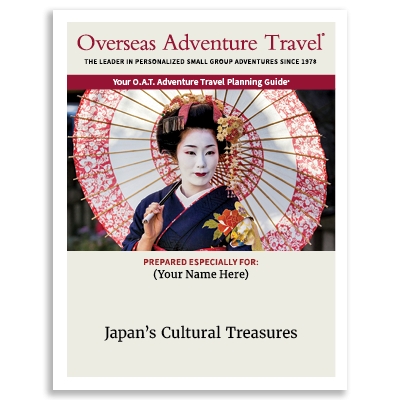 Get your FREE personalized Japan Travel Planning Guide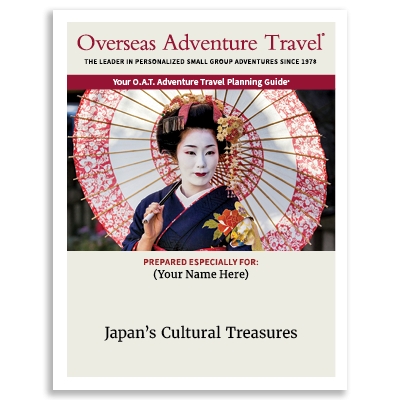 Get your FREE personalized Japan Travel Planning Guide
To help you get the most out of your Japan travel experience, we've complied a comprehensive, 76-page Travel Planning Guide containing everything you need to know to prepare for an unforgettable adventure. Not only will it highlight the daily experiences that await, but it will also provide you with the many options you have to personalize your experience. Sign in or register for a My Account to receive more information about Japan, including:
A detailed Day-to-Day itinerary
Available departure dates & prices
Monthly weather & climate by region
Regional history & demographics
Packing suggestions
Optional tours
Trip extensions
Options to personalize your experience
Electrical information
Recommended movies, books, and more
Request a Travel Planning Guide
Compare Our Adventures
Find out more about the adventure, including activity level, pricing, traveler excellence rating, included meals, and more
Trip Experience
Follow a sushi chef, a Hanafuda playing cards expert, and a sake brewer in this video as they share pieces of Japanese culture, from Kyoto to Tokyo, with travelers.
14 DAYS FROM $4,895 • $ 350 / DAY
O.A.T. Adventure by Land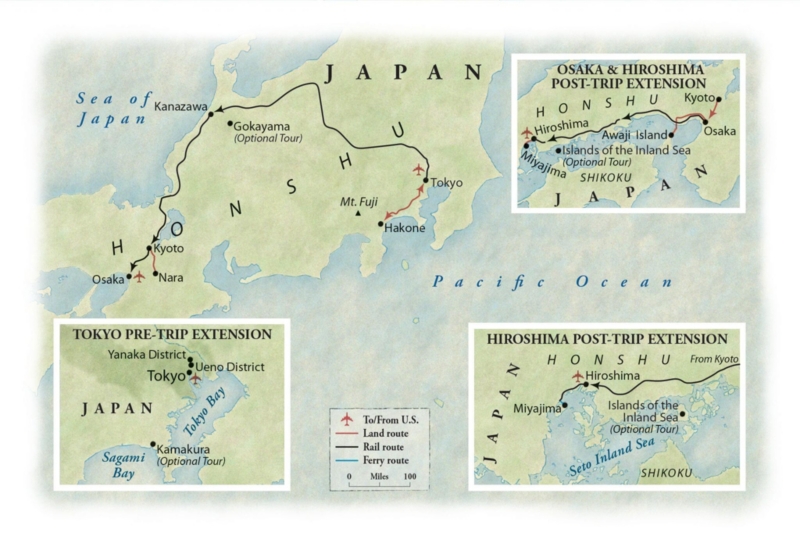 Japan: Tokyo, Hakone, Kanazawa, Kyoto
28 meals—daily breakfast, 9 lunches, and 6 dinners
Meet a former sumo wrestler and a taiko drum master in Tokyo to learn about Japan's age-old traditions
Meet a monk in his remote mountainside temple, where you'll learn to meditate and participate in a traditional tea ceremony
Enjoy an exclusive visit to a family-owned Hamamatsuya, a workshop specializing in wooden handcrafts
Ride a shinkansen—Japan's legendary bullet train
Learn to make noodles in Ashigawa village
Adventure Details
Find the Adventure That's Right for You
Our Activity Level rating system ranks adventures on a scale of 1 to 5 to help you determine if a trip is right for you. See the descriptions below for more information about the physical requirements associated with each rating.
Travelers should be able to climb 25 stairs consecutively, plus walk at least 1-2 miles over some uneven surfaces without difficulty. Walks typically last at least 1-2 hours at a time. Altitude can range from zero to 5,000 feet.
Activity Level 2:
Moderately Easy
Travelers should be able to climb 40 stairs consecutively, plus walk at least 2-3 miles over some uneven surfaces without difficulty. Walks typically last for at least 2-3 hours at a time. Altitude can range from zero to 5,000 feet.
Activity Level 3:
Moderate
Travelers should be able to climb 60 stairs consecutively, plus walk at least 3 miles over some steep slopes and loose or uneven surfaces without difficulty. Walks typically last for 3 or more hours at a time. Altitude can range from 5,000 to 7,000 feet.
Activity Level 4:
Moderately Strenuous
Travelers should be able to climb 80 stairs consecutively, plus walk at least 4 miles over some steep slopes and loose or uneven surfaces without difficulty. Walks typically last for 4 or more hours at a time. Altitude can range from 7,000 to 9,000 feet.
Activity Level 5:
Strenuous
Travelers should be able to climb 100 or more stairs consecutively, plus walk at least 8 miles over some steep slopes and loose or uneven surfaces without difficulty. Walks typically last for 4 or more hours at a time. Altitude can range from 10,000 feet or more.
Hide Acivity Level
PRICE
including international airfare
HIGHLIGHTS & ACTIVITIES IN JAPAN
*This information is not available for our trip extensions. You must reserve the main trip to participate on this extension.
**This information is not currently available for this trip. Please check back soon.
Recommended Viewing
Watch this video showcasing what makes this country so unforgettable
Experiencing Japan's Culture
Submitted by Audrey Wigman, 5-time traveler from Cumming, Georgia
In this winning entry from our 2019 Women's Travel Video Contest, follow traveler Audrey W. as she and her group ride Japan's famous bullet train, enjoy a picturesque—albeit rainy—visit to Kenrokuen Garden, practice their taiko drumming, and even take on a sumo wrestler.
Recommended Videos
Watch your fellow travelers' favorite films & videos
A Taste of Delicious Tokyo
Follow a fearless Japanese food writer into Tokyo's edgiest restaurants—where soup made from soil is a culinary sensation.
ReelEarth: Akuseki Island's Resident 76
See how the residents of Akuseki Island, home to less than 100 people, maintain age-old traditions and rely on younger generations to carry on the island's legacy.
Helen's Japan Trip Experience
Watch as Helen Johnson discovers Japan through creation—from kanji-style calligraphy to pounding out mounds of mochi in Gokayama.
Bonnie and Wilhemina's Japan Trip Experience
Follow two friends, Bonnie and Wilhemina, as they journey through Japan, and watch as they connect with locals in Ashigawa when they prepare traditional hoto noodles with them.
Hakone, Tokyo, and Kanazawa
Submitted by Jack Carswell, 13-time traveler from Augusta, Georgia
Let traveler Jack C. lead you on his adventure through Japan—from riding the famous bullet train to stepping into the home of a former samurai, and exploring the stalls at Omicho Market.
Japan: Month-by-Month
There are pros and cons to visiting a destination during any time of the year. Find out what you can expect during your ideal travel time, from weather and climate, to holidays, festivals, and more.
Japan in December-February
Japan bustles with tourists all year round, but a winter visit allows you to avoid the throngs of summer guests and experience a different side of the island nation. During the months of December through February, the weather throughout Japan is cool and crisp, with plenty of sunshine and temperatures averaging around 35 to 40º F. Tokyo doesn't get much snow, but the rest of the mainland receives plenty of it, especially on the northern island of Hokkaido and Japan's Alps. The cool air of winter also keeps cloud cover to a minimum, making it the best time to view such iconic treasures as Mount Fuji.
Holidays & Events
January-February: Sapporo Snow Festival. One of Japan's most popular winter events, the Sapporo Snow Festival is held during one week every February in Hokkaido's capital, Sapporo, and attracts more than two million visitors from Japan and around the world.
February 3 or 4: Setsubun (Bean-Throwing Festival) is held throughout Japan to coincide with the first day of spring according to the old Japanese (lunar) calendar. Celebrations include the throwing of roasted soybeans to ward off evil spirits and bring good fortune.
Must See
Temples and shrines throughout Japan are beautiful throughout the year—but are even more dramatic when they are blanketed in snow. When snow begins to fall, even locals rush to places like Kinkakuji (the Golden Pavilion), which turns to a winter wonderland.
Watch this film to discover more about Japan
Trip Extension—Japan: Hiroshima
Discover Hiroshima's tragic past and hope for the future on our trip extension.
Japan in March-May
Spring is an exciting season in Japan, with budding leaves and sakura (cherry blossoms) sweeping the country from south to north. In March, Tokyo's spring weather averages about 55º F during the day, rising to the 70s by May.
Holidays & Events
Late April/Early May: Golden Week, one of Japan's busiest times of year, is a combination of four national holidays—Showa Day, Constitution Day, Greenery Day, and Children's Day—that occur over a week's span.
Must See
Cherry blossoms: Japan's iconic sakura are renowned throughout the world. The beautiful pink flowers that blanket the country in colorful splendor begin their first bloom in late March or early April in places like Tokyo and Nagasaki to early May in Sapporo.
Watch this film to discover more about Japan
Trip Extension—Japan: Hiroshima
Discover Hiroshima's tragic past and hope for the future on our trip extension.
Japan in June-August
Summer in Japan can be hot and humid (but with fewer crowds), with temperatures reaching the mid-90s (F) in many parts of the country. Locals often head to the mountainous regions or the northern island of Hokkaido to escape the heat. June is the rainy season in most of the country. Temperatures can reach the mid-90s (F). July and August is also the ideal time to climb Mount Fuji—when the mountain is (usually) snow-free and the weather is relatively mild.
Holidays & Events
July: Gion Matsuri: Dating back to the 9th century, Kyoto's biggest annual festival is a month-long event that is equal parts religious observance and raucous summer block party celebrating Kyoto culture.
July 7: Tanabata (Star Festival): As the date approaches, long, narrow strips of colorful paper known as tanzaku are inscribed with wishes and hung from bamboo branches.
Mid-August: Obon: This annual Buddhist event for commemorating one's ancestors typically ends when floating lanterns are put into rivers and lakes to guide the spirits back home.
Must See
While the summer months can be hot, this is also when flowers bloom and the greenery is at its most lush in Japan. Plus, these months are always filled with fireworks displays and cultural festivals, including Tokyo's annual Sumidagawa Fireworks Festival held on the last Saturday in July.
Watch this film to discover more about Japan
Trip Extension—Japan: Hiroshima
Discover Hiroshima's tragic past and hope for the future on our trip extension.
Japan in September-November
September is rice-harvesting season, and the time of year with the greatest risk of typhoons. After that, the weather is generally mild, with October pleasantly warm and less humid. Trees throughout Japan begin to show their beautiful autumn colors and November is peak fall foliage time.
Holidays & Events
November 3 or 4: Bunka no Hi (Culture Day) is a national holiday held annually in Japan to promote culture, the arts, and academic endeavor.
Mid-October: Taiiku no Hi (Sports Day): Held the second Monday of October, Taiiku no Hi is a national holiday to foster healthy minds and bodies through physical activity.
Must See
Viewing the fall foliage (called momijigari) is a favorite activity in Japan this time of year. Typically, autumn foliage season starts in mid-September in the Hokkaido region and can stretch to late November in places such as Hakone.
Watch this film to discover more about Japan
Trip Extension—Japan: Hiroshima
Discover Hiroshima's tragic past and hope for the future on our trip extension.
Average Monthly Temperatures
Japan Interactive Map
Click on map markers
below to view information about top Japan experiences
Click here to zoom in and out of this map
Tokyo
Formerly known as Edo, Tokyo has been Japan's capital since 1868, after Emperor Meiji moved his seat to the city from the old capital of Kyoto. Today's Tokyo is a sprawling metropolis of ultra-modern skyscrapers and neon-lit streets interspersed with historic temples, serene public parks, and traces of the the Shogun-era capital. Take a pre-dawn stroll through Tsukiji, the world's largest and busiest fish market, or grab some tasty yakitori from a street vendor. Wherever your interests lie—from a traditional kabuki drama to robot cabarets—it's all in Tokyo.
Going Local: Tokyo
See a visitor uncover Tokyo's hidden gems—from a sweet shop favored by locals to an artisan creating realistic food from wax.
Explore Tokyo with O.A.T. on:
Kyoto
Kyoto was Japan's capital for over a thousand years, from 794 until the Meiji Restoration in 1868. When the capital was shifted to Tokyo, Kyoto had already been firmly established as a center of the arts and a city that embodied Japanese culture at its most refined—and Kyoto remains Japan's spiritual and cultural heart. Never bombed during World War II, it is home to atmospheric lantern-lined streets, traditional wooden teahouses, and everything one associates with classical Japanese culture. There are some 2,000 Shinto shrines and Buddhist temples here, along with the iconic Golden Pavilion, a five-story wooden structure painted in shimmery gold. From the famous squeaky floorboards of Nijo Castle to the scurrying of geisha footsteps in the centuries-old Gion district, Kyoto has evolved into a modern city steeped in the most ancient of Japan's cultural traditions.
Explore Kyoto with O.A.T. on:
Hiroshima
The regional warlord called Mori Terumoto named the city he founded in 1589 Hiroshima—meaning "broad island"—and built an eponymous castle here. Today, its very name conjures events of August 6, 1945, when the ancient city became the target of the world's first atomic-bomb attack. The blast killed some 70,000 people instantly, leveling half of the buildings, and setting the rest of Hiroshima ablaze. The effects of the radiation would double the death toll over the next several months. Monuments now abound in the rebuilt city, including the A-Bomb Dome, one of the very few structures left standing on that fateful day. Today, Hiroshima is a vibrant city and food-lovers paradise, with hardly a trace of the destruction of some 70 years ago. A flame at Peace Memorial Park is intended to burn until the last nuclear weapon has been destroyed.
Explore Hiroshima with O.A.T. on:
Shinkansen Bullet Train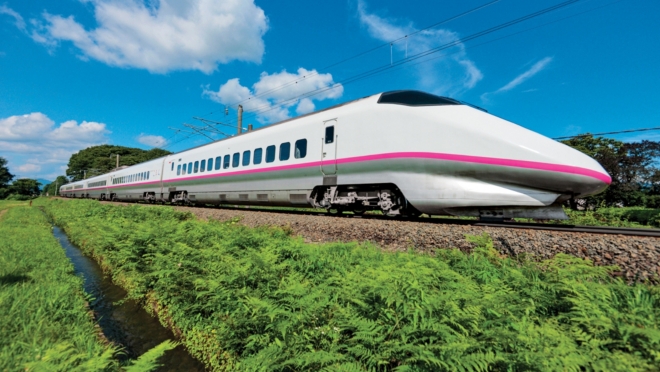 Other countries may have faster trains, but nobody outruns Japan's legendary shinkansen, which in Japanese means "new trunk line." Also known as the bullet train, shinkansen was the world's first high-speed rail system. Since beginning service in 1964, these aerodynamic icons of Japan's post-war technological progress have whisked some 10 billion riders through the countryside at speeds of up to 200 miles per hour. Not just sleek and smooth, shinkansen are also safe and efficient, with zero accident-related passenger deaths or injuries over the course of 50 years. And even in the worst weather conditions, average delays are measured in just seconds.
Ride the legendary shinkansen train with O.A.T. on:
Mount Fuji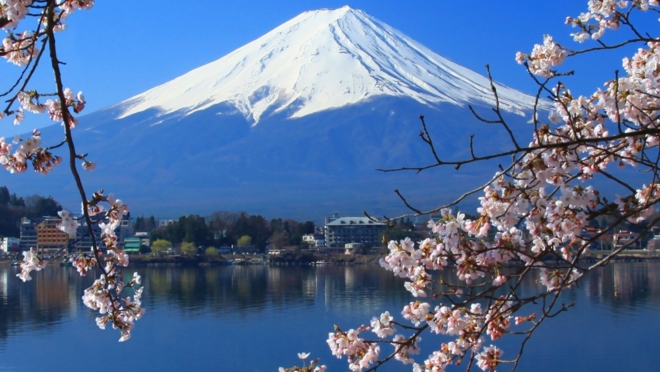 A mountaintop torii gate proclaims it the greatest mountain in the world. Rising to 12,385 feet, Mount Fuji (Fuji-san in Japanese) has been worshipped by Shinto and Buddhist practitioners and revered by the Japanese people since ancient times. With its perfectly symmetrical snow-covered cone towering above the low clouds, Fuji certainly qualifies as one of the world's most beautiful mountains. Technically an active stratovolcano, the last time Fuji erupted was in 1707. While dormant for centuries, volcanic activity in the region surrounding Fuji is responsible for an abundance of soothing natural hot springs. Fuji is also the most climbed mountain in the world, with more than 100,000 people making the arduous 8- to 12-hour trek to the summit of the sacred mountain each year. Mount Fuji was granted World Heritage Site status by UNESCO in 2013, and its beauty ensures that Fuji will be painted, photographed, climbed, and celebrated in literature for generations to come.
Visit the Mount Fuji region with O.A.T. on:
Nara
Situated about 25 miles south of Kyoto, the beautiful city of Nara was Japan's first permanent capital—and it celebrated its 1,300th anniversary in 2010. Nara packs an eye-popping number of cultural treasures into its compact surroundings, including Nara Park, where hundreds of tame, free-roaming sacred deer bow their heads for treats. Nara is also home to Todaiji Temple, an awe-inspiring eighth-century structure whose Great Buddha Hall—the largest wooden building in the world—houses the world`s largest bronze Buddha statue. And that's just one of eight of Nara's UNESCO World Heritage Sites. The historic temples with their Buddhist statuary and masterpieces of Japanese art and architecture in and around Nara are unrivaled—including Horyuji, a temple founded in 607 that is considered the world's oldest wooden building.
Explore Nara on an included or optional tour with O.A.T. on:
Featured Reading
Immerse yourself in Japan with this selection of articles, recipes, and more
ARTICLE
Writer Catherine Groux describes the proper etiquette to follow at a Japanese onsen—and her humorous experience learning it for herself.
ARTICLE
As the culture changes its view of Japanese women in society, female sushi chefs take on one of Japan's most male-dominated traditions.
ARTICLE
Learn how to make a traditional meat soboro, a classic bento option.
Like a Fish out of Water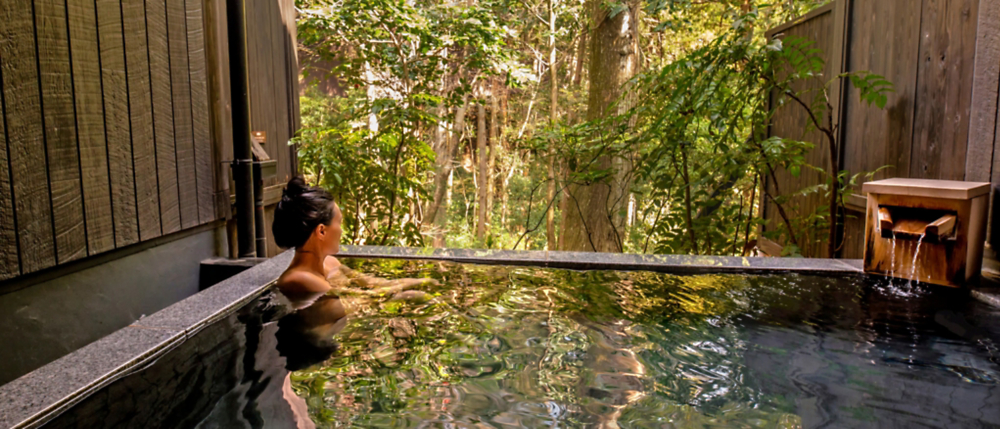 Baring it all in the name of Japanese etiquette
by Catherine Groux, from Dispatches
When I traveled to Japan, I knew I'd be forced to navigate the country's intricate labyrinth of etiquette and customs, and fully expected that, with the blundering grace of a born-and raised American, I would make several cultural faux pas. I just thought I would be fully clothed while I did it. But if traveling with O.A.T. has taught me anything, it's that you need to embrace the unexpected.
I arrived in the sprawling mega-city of Tokyo on a brisk day last fall—the leaves on the trees surrounding the capital exploding in a sea of crisp oranges and reds. It was my first time in Japan (and only my second time in Asia), so my knowledge of the country and its customs was minimal at best. But from talking to my well traveled friends (and reading approximately three pages of my Lonely Planet guidebook), I knew that Japan was a country with a lot of rules around etiquette, and that breaking one of them could be deeply offensive to the Japanese people—not to mention pretty embarrassing.
Some of these rules were straightforward: Upon entering a Japanese home, for example, you should always remove your shoes. This was easy enough, but other cultural norms wouldn't come as naturally: You should always slurp your ramen; you should never blow your nose in public; you shouldn't pour your own drink; you should always wear a special pair of "toilet slippers" when using a restroom. The list goes on and on.
While I was no expert on Japanese etiquette, knowing these few facts instilled in me the unshakable fear that must strike all travelers who dread being called "tourists"—the fear of accidentally offending the local people with manners they would undoubtedly describe as "American" with a roll of their eyes. In a country like Japan, this seemed all too easy to do—especially when I left the vast anonymity of Tokyo for the tiny mountainside town of Hakone.
Located about 50 miles southwest of Tokyo, Hakone is beloved as a rural getaway for Japanese city-dwellers, but is usually overlooked by foreign visitors—a fact that meant that my fellow O.A.T. travelers and I were bound to stand out. But on top of this, we were also spending our two nights in Hakone at a ryokan—a traditional Japanese inn complete with tatami-matted floors, futon beds, and cotton yukata robes. In fact, to enter even the most modern ryokan feels like transporting back to the beginning of
the Edo period, when weary travelers along Japan's highways would stop at these establishments for rest and relaxation. As peaceful as our ryokan was, however, traveling back to old Japan also meant journeying to a land that, more so than Tokyo, fully devoted itself to order and tradition.
Even knowing this, when my Trip Experience Leader, Mariko, told me that our ryokan came complete with an onsen(a hot-spring-fed bath), I was beyond excited. Images drifted through my mind of a few months before, when I leisurely sipped piña coladas in a Costa Rican hot spring, looking up at the stars and listening to the melodic croaking of tree frogs. I'd probably have to trade the piña coladas for a glass of plum wine, but even in a country as complex as Japan, relaxing in a hot spring is something I had long ago mastered—or so I thought.
The next day, after a spending a drizzly afternoon at the Hakone Open-Air Museum, I decided to take my first soak in the onsen. As I strolled back to my room—planning to change into my bathing suit—I casually mentioned my pre-dinner plans to Mariko, who was happy (if not eager) to share some tips for using an onsen like a local. I should have expected this: In Japan, even something as seemingly simple as relaxing in a hot spring came with a strict code of conduct.
"The onsen are in the basement," Mariko said patiently. "When you go down, you should wear your yukata robe and slippers. Oh, and bring the large towel from your room as well."
I nodded obediently. This seemed easy enough.
"When you get to the onsen, go to the doors on the left side. This marks the onsen for women," she continued. "The door on the right goes to the men's onsen. Inside, you'll see lockers. Leave your robe and your large towel there. Then, pick up one of the smaller towels and go to the showers. Once you clean yourself off, you can enter the onsen. Leave your smaller towel on the side to dry off with when you're done."
"Should I take my bathing suit off before I shower, then put it back on again before I get in the onsen?" I asked.
Mariko laughed. "Catherine," she said in her tirelessly gentle voice. "You can't wear clothing in an onsen."
I blushed. Her instructions now made a lot more sense, but I was suddenly having major trepidations about using a Japanese onsen. Did I really want to be naked in front of total strangers? And what if I ran into one of my fellow travelers? Would that be really awkward for the rest of the trip? But most importantly, would I remember everything Mariko told me to do, or would I be left naked and confused in the steamy basement of my ryokan?
Despite my best efforts, Mariko saw the concern on my face.
"Don't worry," she said with an airy laugh. "It's totally normal for us in Japan. And plus, you'll be able to carry your small towel to the showers and to the onsen. You'll be basically covered until you get in the water, and then you can just relax. It will be fine."
I groaned, but Mariko was right. I didn't know when (or if) I would be back in Japan, so while I was there I planned on taking it all in—even if that meant taking it all off.
So I returned to my room and replaced all of my clothes with a thin, floral yukata—being careful to tie it in the precise way Mariko had taught me days earlier. With my towel in hand, I exited into the hallway, already feeling slightly exposed in what was essentially a cotton bathrobe and slippers. I pushed these uncomfortable feelings aside as I got into the elevator, hitting the button for the basement floor.
Seconds later, the elevator doors jerked open and I stepped out into what looked like a large recreation room, where a Japanese family was playing Ping- Pong at a table in front of me. The couple and their young son briefly looked up, then returned to their game unfazed. "Awesome," I thought, only slightly mortified.
Awkwardly mumbling "konichiwa," I passed the family and headed toward the curtained door on my left, which (hopefully) led to the women's onsen.
As Mariko had promised, past the cloth curtain was the locker room where I should place my clothing before demurely covering myself in what she called a "smaller towel" and walking to the showers. I scanned the room for what I hoped would be stacks of fluffy white towels, but saw none. Instead, sitting on a corner table, I saw tiny white squares that, at home, would be called wash cloths. These couldn't possibly be the "smaller towels" I was supposed to cover my naked body with—right? Now, laughing, I scanned the locker room one last time. Yup. These were, indeed, the only towels. Perfect.
On that note, I took a deep breath and slipped off my yukata, placing it on an empty locker with my "larger" (read, normal-sized) towel. I knew I was supposed to "cover" myself with the provided wash cloth, but now, seeing its size, it was apparent that it wasn't going to cover much of anything. Rather than try to make the awkward decision of which thirteenby- thirteen-inch space I wanted to hide from the world, I shoved the wash cloth into a nearby hamper and headed toward the showers.
As I pulled open the door, I nearly collided with an elderly Japanese woman who happened to be leaving the showers at the same time I was arriving. "Sumimasen," I said in my best Japanese, silently congratulating myself for remembering the word for "excuse me" during such an uncomfortable encounter. The woman, dripping wet from her shower and, like me, completely naked, responded with a Japanese phrase I didn't recognize. I paused, feeling suddenly selfconscious, and she repeated the phrase—this time saying it louder. I shook my head and, while I knew it would probably be futile, said "I'm sorry, but I don't speak Japanese." The woman didn't seem to hear me and continued talking in her increasingly loud voice. Was she yelling at me? Was this because I decided not to use the small towel? Did I accidentally break some sort of social norm, or was she just loudly asking me where I'm from? I had no idea.
Eventually, the woman, clearly exasperated, puttered past me, heading toward the lockers and seemingly forgetting about the interaction that had left me confused (and mildly humiliated). I stood in the doorway for a second, slightly stunned, before entering a steamy room with a large pool on the left—the onsen—and a line of showers on the right. The showerheads were low, each hanging over a tiny stool and a basket full of shampoo, conditioner, and soap. I chose the farthest, most isolated stool and sat down. Turning on the shower and letting the water flow over my body, I tried to ignore the softly chatting women sitting in the onsen on the other side of the room. Showering in front of an audience—even a seemingly disinterested audience—felt strange.
I washed myself carefully with the provided soap, and, remembering the Japanese love of cleanliness, decided to shampoo and condition my hair as well. I had no idea whether this was the right thing to do, but it seemed like it couldn't hurt.
Once I was perfectly clean, I turned off the shower and headed toward the onsen, silently praying that I didn't get scolded by one of the soaking women for not washing myself sufficiently. But, to my relief, the woman didn't look up, and instead continued their quiet discussion in the corner of the pool. I found a spot in the opposite corner and slowly slipped into the onsen.
I closed my eyes, listening to the quiet laughs of the Japanese women and inhaling the faint scent of green tea that lingered in my clean, wet hair. There, in the warm waters of the onsen, I had finally found a place of uninterrupted serenity—a place where I no longer had to think about fitting into strict cultural norms. I didn't know it then, but in the following weeks, I would learn that this actually made perfect sense. After all, if there is anything the Japanese appreciate as much as good etiquette, it's inner peace.
Baring it all in the name of Japanese etiquette
She's on a Roll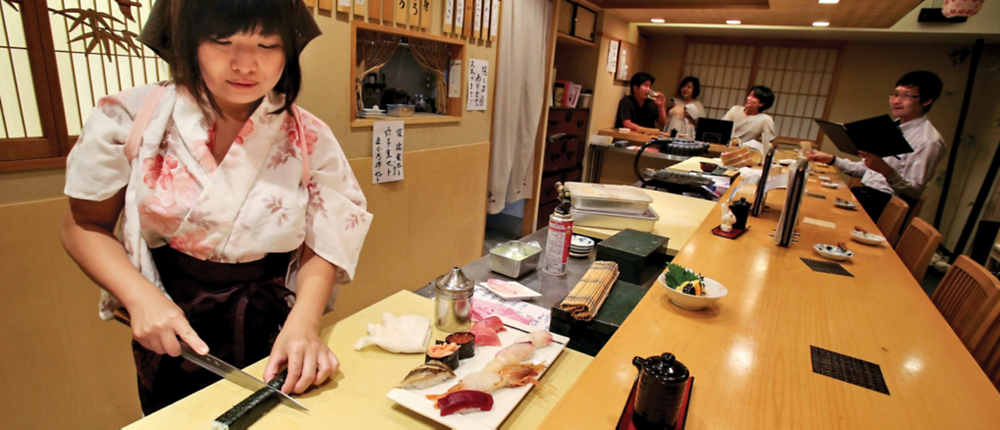 Female sushi chefs take on one of Japan's most male-dominated traditions
by Megan Mullin, from Dispatches
In the summer of 2014, I was taught how to roll sushi in Kameoka, Japan, while on Japan's Cultural Treasures. I watched attentively as capable hands assembled rice, seaweed, and vegetables into a flawless roll. Under my teachers' guidance, my first attempt at making sushi was fairly successful. I beamed, holding up my plate for the teachers to critique.
Both sushi instructors were women.
Japan is at once the most modern and the most ancient of countries. Its cities feel high tech and Western, yet it is also fiercely protective of its old traditions. However, in recent years Japan has begun to embrace some inevitable changes. One of the most notable is the culture's view on Japanese women in society.
Back in the 17th century, a woman's role was restricted to a domestic one. After World War II, women's rights saw some advancement, such as the right to vote in 1946. And now, in the 21st century, more and more Japanese women are being encouraged by the government to enter the workforce. But one profession in particular has a very strong "No Girls Allowed" policy in place: the sushi chef.
Training to become a sushi chef is no easy feat even for a man. It takes years of grueling study. After that, the hopeful chef must find employment in a reputable restaurant, where he will most likely do little more than watch (and wash dishes) at first.
The odds are already stacked against any female chef, regardless of her training. There is a litany of strongly held—yet completely unfounded—beliefs as to why women cannot be sushi chefs. The most common excuses include women's hands being too small and warm to prepare sushi correctly. Others claim that feminine products like makeup and perfume would interfere with taste and smell. These old wives' tales may sound ridiculous to a Western ear, but they are major obstacles for modern female sushi chefs to overcome.
That has not stopped a few intrepid chefs from forging a path through this unforgiving profession. Take Yuki Chizui for example. Chizui, eager to help other women break into the field, learned the art of sushi making and opened Nadeshico—Japan's first and only sushi restaurant with an all-female staff. Chizui believes that as a woman, she is better at communicating with her customers—putting them at ease and anticipating their desires.
Then there are chefs like Yumi Chiba, who shook up tradition by simply entering her family's business—a role usually reserved for a son. She more than excelled in her practice, entering sushimaking contests and winning silver medals. But despite her critical success, Chiba is still aware of society's prejudice. "I am a woman working in a world of men," she said. "In a way, I feel as if I'm non-Japanese."
While prejudices linger, there is hope for the future of women sushi chefs in the creation of more inclusive schools, such as Tokyo Sushi Academy. The school's female principal, Sachiko Goto, is proud of her diverse student body—more than 20 percent of her enrolled chefs-in-training are women. That is more than double the amount of female students since the school opened in 2002. "The world is changing," Goto said. "If they (sushi restaurants) don't welcome women, they will have trouble finding experienced chefs to take over their businesses when they retire."
And since it seems the worldwide popularity of sushi is here to stay, so too are female sushi chefs.
Female sushi chefs take on one of Japan's most male-dominated traditions
Edible Art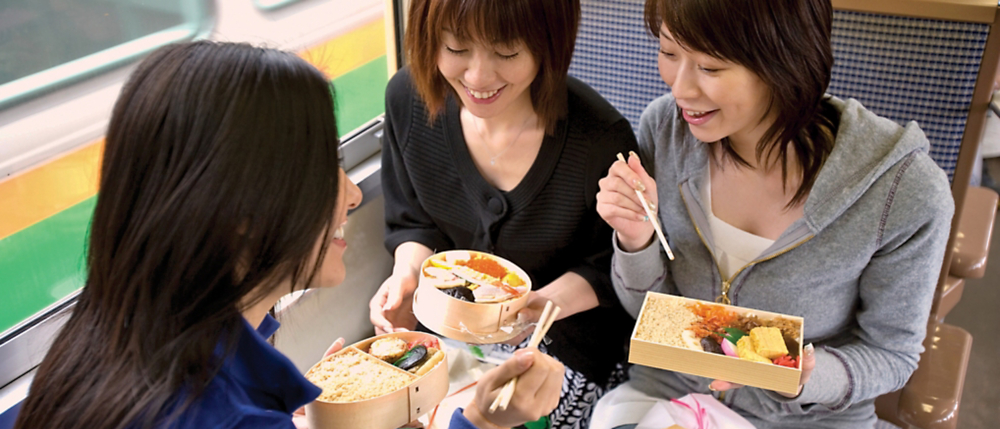 The Japanese Bento Box
by Amanda Read, from Dispatches
The way a society approaches food tells a lot about the morals and values of its people. Without a doubt, the Japanese have brought the art of food preparation and presentation to the highest levels. One of the best examples of their love of aesthetics can be found in bento boxes, traditional Japanese lunch boxes that some say date back to the fifth century. In Japan, bentos have become so popular and ubiquitous that they can be found almost everywhere: at work, in school, every major train station. Much more than just a simple lunch box, the bento is an iconic item in Japan, and fast becoming one around the world. It has evolved into a cultural phenomenon with ever-more-elaborate and eye-catching designs, both inside and outside the box.
In a culture like Japan where even flower arranging (ikebana) is considered an art form and an expression of creativity, it's easy to understand how that sensibility can extend to food. But it's a bit surprising to see that in America, where lunch is often an afterthought—leftovers from last night's meal or a sandwich quickly stuffed into a brown paper bag, or perhaps a takeout meal—bentos are becoming increasingly popular. Like the Japanese, more and more Americans are taking pleasure in healthy food presented in an attractive way.
The basic idea of bento is that food should not only be pleasing to a person's taste buds, but should also be a feast for the eyes. Beginning with the actual box, bentos can range from the elaborate to the simple—from mass-produced plastic containers to beautifully hand-painted, lacquered wooden boxes. Like elegant clothing, bentos have always been a kind of status symbol. The more elaborate the box, the better-off the family.
Now to the food inside the box. Compartments make it easier to eat small amounts of a variety of healthy things. According to tradition, each meal ideally should have five different colors, and a mixture of flavors and temperatures to make up a nutritious and healthy meal. But for today's bentos, there are no strict rules or limits. Anything can be put into a homemade bento box.
The latest trend in bento making is a style called kyaraben, meaning character bento. The food is arranged creatively to look like to look like people, animals, plants, or characters from popular media. For example, hills of white rice with seaweed dots for eyes become panda bears or an egg transforms into a hatching chick. A radish can be turned into the head of a bunny, or a cucumber slice can become a monster's tongue. There are no limits to what can be imagined.
Transcending national boundaries, bentos have become more a philosophy and way of life than simply a meal. Convenient, healthy, portable, aesthetically pleasing food—it's no wonder more and more people are jumping on the bento bandwagon.
Makunouchi is a classic dish, containing a pickled fruit, a slice of broiled salmon and a hard boiled egg. Sake bento is a simple bento with a slice of broiled salmon as the main dish. Noriben is the simplest bento, with nori (seaweed) dipped in soy sauce over cooked rice. Here, we've provided one bento staple that you can mix and match with the starch of your choice—white rice, brown rice, or noodles. Most bento elements are meant to be eaten at room temperature, so no reheating is required.
Meat Soboro
Ingredients:
1 lb ground beef, pork, veal, turkey or a combination of your choice
1 to 2 tablespoons sesame oil
1/2 cup finely chopped green onion, green and white parts both (about 2 stalks)
1 clove garlic, finely chopped
1 knob fresh ginger, peeled and finely chopped (about 2 tablespoons)
2 tablespoons sugar
2 tablespoons sake
3 tablespoons dark soy sauce
3 to 4 tablespoons oyster sauce
Preparation:
Using a large non-stick frying pan or a wok, heat up 1 tablespoon of sesame oil in the pan. Add the vegetables and stir-fry until softened.
Add the meat and brown well.
Add the sugar and stir around until it's caramelized a bit. Add the sake; stir around to evaporate.
Add the soy sauce and oyster sauce. Let simmer until the liquid is almost gone, but the meat is still moist. Taste for seasoning at this point and add a little soy sauce or salt to taste.
Serve over white rice with sour cream.
The Japanese Bento Box
Your FREE Personalized Japan Travel Planning Guide
Thank you for your interest—you may view your Japan Travel Planning Guide below. We hope to see you on the road less traveled soon!
Your FREE Personalized Japan Travel Planning Guide is on its way
Thank you for your interest. Your Japan Travel Planning Guide will arrive in 7-14 business days. We hope to see you soon on the road less traveled.
Want to continue learning about Japan? Return to our Japan destination page.
Go Back To Japan
Please note: To complete your registration, check your email—we sent you a link to create a password for your account. This link will expire in 24 hours.