Forgot Your Username
If you have forgotten your username, please provide your email address in the box below. We'll send you an email with your requested username. If you are having trouble, please call us toll-free at 1-800-221-0814.
Email Sent
You'll receive an email in a few minutes. Please check this email to find your requested username.
If you do not receive an email or you are having trouble logging into My Account, please call us at 1-800-221-0814.
COLOMBIA
Colombia Interactive Map
Click on map markers
below to view information about top Colombia experiences
Click here to zoom in and out of this map
Recommended Viewing
Watch this video showcasing what makes this country so unforgettable
ReelEarth: City Slums United
Produced by Didac Perez and Kuba Sobieski
Venture into the Egipto neighborhood of Bogotá to find out how the Univivir Foundation, founded by a local woman, is working to improve life for the families of Colombia's most dangerous districts.
14:39 | 479 views
Recommended Videos
Watch your fellow travelers' favorite films & videos
My City: Bogotá
Produced by the BBC and Jonathan Wells
Catch a glimpse of contemporary Bogotá, where centuries-old tradition meets modern flair.
La Ciudad Vieja
Produced by Darrell Hartman
Let locals help you uncover the spirit of colonial Cartagena as you discover its history and explore its charming streets.
Chasing the Legend of El Dorado
This film was first published on BBC.com Travel. Produced by Aric S. Queen.
Set off on a treasure hunt for the gold of legendary El Dorado.
Featured Reading
Immerse yourself in Colombia with this selection of articles, recipes, and more
ARTICLE
Expand your palette with Colombia's unique culinary landscape, which includes native ingredients like guasca.
ARTICLE
Get your caffeine fix with this in-depth look at Colombian coffee.
Colombia: Month-by-Month
There are pros and cons to visiting a destination during any time of the year. Find out what you can expect during your ideal travel time, from weather and climate, to holidays, festivals, and more.
Colombia in December-February
This close to the equator, seasonal changes are minimal—however, the winter months are the most dry and sunny, and international tourists have caught on. This is Colombia's high season, and prices reflect that. Savvy travelers plan ahead for travel to Colombia during these months.
The one exception to Colombia's dry season is the Amazon region; showers are frequent here throughout the year. Elsewhere, sunshine and warmth reign, with temperatures in the 60-70 degrees Fahrenheit range. The highlands, including Bogotá, are slightly cooler than the coast, but still comfortable.
Holidays & Events
December 8: Day of the Immaculate Conception
January 2-7: The Carnival of Blacks and Whites is one of Colombia's biggest festivals and celebrates the town of Pasto's many cultural influences, from indigenous groups to Spanish colonizers to slaves from Africa.
Late January/early February: Carnival celebrations in Barranquilla
Must See
In cities and towns across Colombia, the night of December 7 glitters with millions of tiny flames for La Noche de las Velitas, or the Night of the Little Candles. On the eve of the Immaculate Conception, Colombians leave their homes to socialize with family, friends, and neighbors, bringing snacks and drinks out into the streets and making a wish for each candle that they light.
A month later, travelers in search of an unforgettable celebration head to the small town of Pasto for the Carnival of Blacks and Whites. Tens of thousands of people gather and mark each day of the festival with a different festivity. These involve throwing talcum powder and white foam on passersby, painting each other with black paint, and watching an elaborate parade. The festival has earned a UNESCO designation for being a Masterpiece of Oral and Intangible Heritage of Humanity.
On odd years, the city of Riosucio comes alive around the same time with the Devil's Carnival, or el Carnaval del Diablo. Preparations start six months in advance for a six-day party that includes bull-running and processions of revelers dressed as the devil. This is one of Colombia's most traditional celebrations, dating back to 1819.
Watch this film to discover more about Colombia
Trip Experience
Explore Bogotá', witness Medellín's rebirth as a city of innovation, and visit a coffee plantation.
Colombia in March-May
Colombia's dry season ends in March, but the wet season's rain showers are usually short-lived each day. On the coast, the wet season doesn't begin until late April, and the weather remains dry until then. A mini-spike in tourism surrounds Easter and Semana Santa, or Holy Week, as it is a popular time for locals to travel.
Holidays & Events
Late March: St. Joseph's Day celebrates the father of Jesus Christ and men in general—it's also known as Día del Hombre, or Day of the Man
The week before Easter (40 days after Mardi Gras): Semana Santa or "Holy Week", including Maundy Thursday and Good Friday, commemorates the Passion and Death of Jesus Christ
Must See
For four days leading up to Ash Wednesday, the small Caribbean port town of Barranquilla is home to the world's second-largest Carnival, attracting over a million revelers with daily parades and street parties.
As Lent comes to a close, Colombians celebrate Easter for an entire week, known as "Semana Santa" across the Spanish-speaking world. Many universities and offices close completely for the week, and at the very least, workers are given Maundy Thursday and Good Friday as holidays. Devout Catholics attend mass during the week, while the rest of the country uses the time off to visit family or travel abroad.
Watch this film to discover more about Colombia
Trip Experience
Explore Bogotá', witness Medellín's rebirth as a city of innovation, and visit a coffee plantation.
Colombia in June-August
Parts of Colombia experience a secondary dry season during the summer months, making this a good time to explore Colombia's outdoor attractions including the beaches, jungles, and coffee region. While the lowlands continue to benefit from tropical warmth, the highlands can get chilly at night even at this time of year.
In a country that celebrates as many holidays as possible, June is particularly packed with them. Most businesses remain open.
Holidays & Events
Early June: Ascension is the first of June's many Catholic holidays, which are primarily celebrated with a day off work. Most of the religious ritual of these holidays has faded in recent decades.
Late June: Corpus Christi
Late June/early July: St. Peter and Paul's Day
Late June/early July: Sacred Heart of Jesus
July 20: Independence Day
August 7: The Day of the Battle of Boyacá commemorates Colombia's fight for independence from Spain, which culminated on August 7, 1819.
Must See
Each year for a week in early August, Medellin hosts La Feria de las Flores, or the Flower Festival. Celebrations include a parade on horseback through the city, flower-laden processions, orchid competitions, concerts, and fireworks. The festival is deeply tied to the city's identity.
Watch this film to discover more about Colombia
Trip Experience
Explore Bogotá', witness Medellín's rebirth as a city of innovation, and visit a coffee plantation.
Colombia in September-November
During Colombia's low season, much of the country experiences wet weather. Flash floods wash out roads in the Andes, and the Caribbean coast is rainier than usual. However, long dry spells are equally likely. Greenery thrives and lush flowers can be enjoyed, especially in the area surrounding Medellín. Temperatures are mild and range from 50 degrees Fahrenheit up to 66 degrees Fahrenheit.
Holidays & Events
October 12: Columbus Day
November 1: All Saint's Day
The Monday following November 11: Cartagena's Independence Day marks the city's independence from Spain after ten years of rebellion.
Must See
Every year, the towns of Colombia's coffee region celebrate their yipaos or Jeeps, which they use to move produce around the hilly region with ease. After World War II, the United States sold off their surplus Jeeps in developing countries, and thousands of them ended up in western Colombia where they are still functioning, many with their original parts. The towns organize their own Jeep parades, when each farmer loads his yipao with as much cargo as possible and drives it through town. The most heavily-loaded Jeeps win a prize.
Watch this film to discover more about Colombia
Trip Experience
Explore Bogotá', witness Medellín's rebirth as a city of innovation, and visit a coffee plantation.
Average Monthly Temperatures
Compare Our Adventures
Click 'Select to Compare' to see a side-by-side comparison of up to adventures below—including
activity level, pricing, traveler excellence rating, trip highlights, and more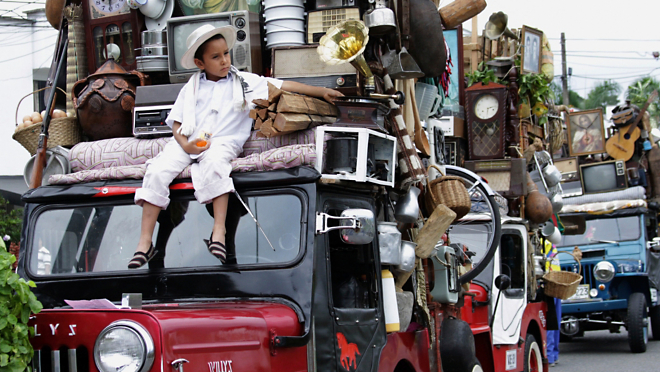 12 DAYS FROM $3,095 • $ 258 / DAY
O.A.T. Adventure by Land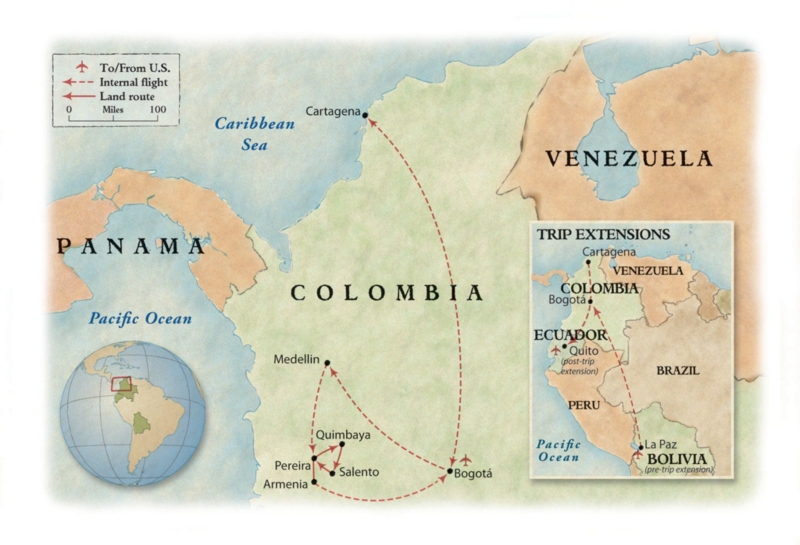 Colombia: Bogotá, Medellín, Coffee Triangle, Cartagena
24 meals—11 breakfasts, 7 lunches, and 6 dinners
Discover Medellín's innovative art scene
Explore Bogotá's bountiful markets and beautiful mountain setting
Soak up Cartagena's colonial charm
Visit Castillo San Felipe de Barajas, an impressive Spanish fortress
Learn about coffee roasting in Salento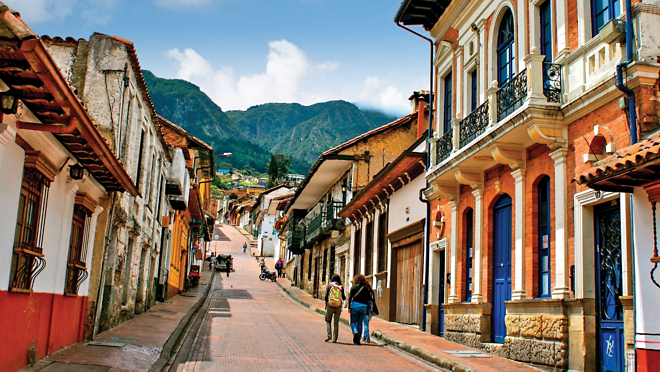 ;
6 NIGHTS FROM $1,995
Soar above Medellín on a metro cable ride
Play a round of Colombia's national pastime, tejo—a fiery game of explosive lawn bowling
Explore Medellín's elegant, historic Plaza Botero
Sail across Lake Guatape and behold El Peñol—a looming granite monolith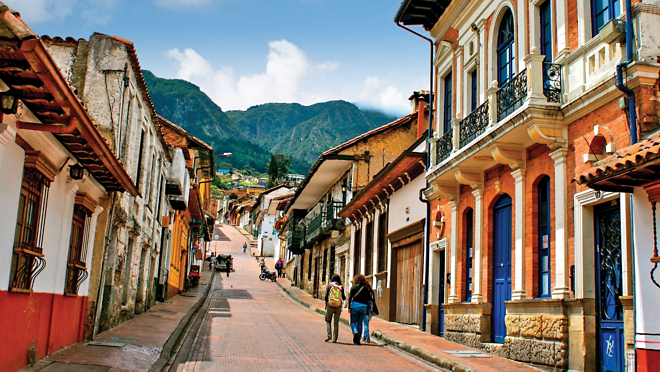 Not Applicable*
Not Applicable*
11 meals—5 breakfasts, 4 lunches, and 2 dinners
Soar above Medellín on a metro cable ride
Play a round of Colombia's national pastime, tejo—a fiery game of explosive lawn bowling
Explore Medellín's elegant, historic Plaza Botero
Sail across Lake Guatape and behold El Peñol—a looming granite monolith