Forgot Your Username
If you have forgotten your username, please provide your email address in the box below. We'll send you an email with your requested username. If you are having trouble, please call us toll-free at 1-800-221-0814.
Email Sent
You'll receive an email in a few minutes. Please check this email to find your requested username.
If you do not receive an email or you are having trouble logging into My Account, please call us at 1-800-221-0814.
BOTSWANA
Compare Our Adventures
Click 'Select to Compare' to see a side-by-side comparison of up to adventures below—including
activity level, pricing, traveler excellence rating, trip highlights, and more
Trip Experience
Experience A Day in the Life of a village in Zimbabwe, where you'll help the women with their daily chores and learn a lesson or two from the smiling students at their school. Plus, meet a village chief, and set out on up to 19 game-viewing drives.
17 DAYS FROM $5,195 • $ 306 / DAY
Small Group Adventure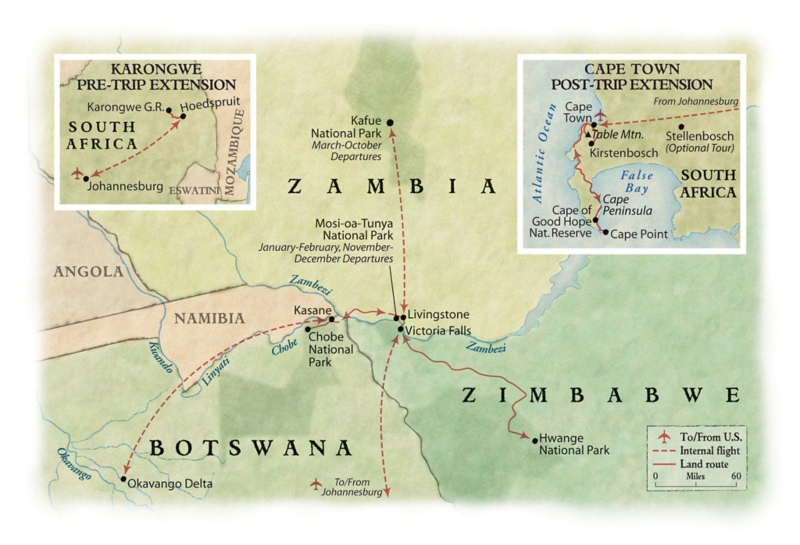 Zimbabwe: Hwange, Victoria Falls • Zambia: Kafue • Botswana: Chobe, Okavango Delta
42 meals—daily breakfast, 13 lunches, and 14 dinners
Enjoy up to 10 game-viewing excursions in the company of expert driver-guides
Ply the waters of the Okavango Delta in a traditional mokoro dugout canoe
Stay in O.A.T.-exclusive tented camps and lodges, spending 3 nights in Chobe National Park and 3 nights in the Okavango Delta region
Meet the local women of Mabele Village, and enjoy a demonstration of traditional basket weaving
Trip Itinerary
Track your journey through five countries and see what awaits you, from Chobe to the Serengeti.
34 DAYS FROM $9,890 • $ 291 / DAY
Small Group Adventure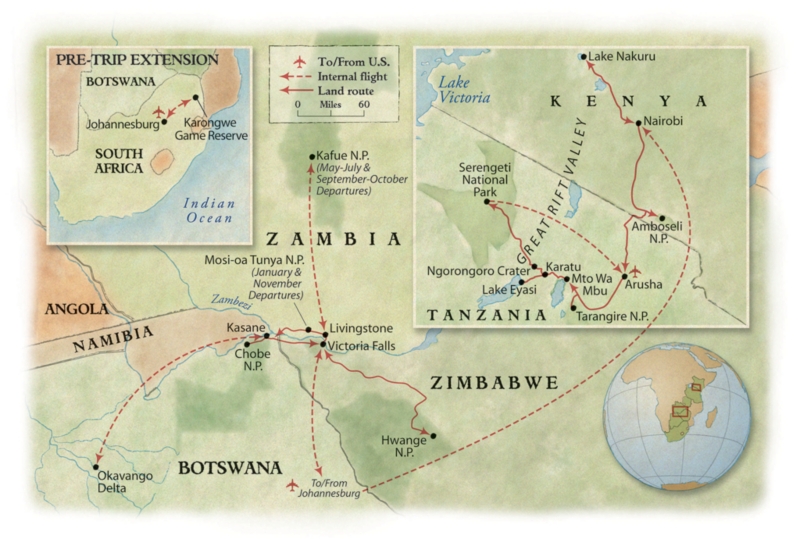 Zimbabwe: Hwange • Zambia: Kafue • Botswana: Chobe, Okavango Delta • Zimbabwe: Victoria Falls • Kenya: Nairobi, Lake Nakuru, Amboseli • Tanzania: Tarangire, Ngorongoro Highlands & Crater, Serengeti National Park
90 meals—daily breakfast, 29 lunches, and 29 dinners
Enjoy up to 10 game-viewing excursions
Spend 3 nights in Chobe National Park and 3 nights in the Okavango Delta region
Channel the region's outdoor-loving attitude while you relish a traditional braai, or barbecue
Trip Itinerary
See a detailed overview of the adventures that await you on our Zimbabwe, Botswana, and South Africa travel experience.
18 DAYS FROM $5,695 • $ 317 / DAY
Small Group Adventure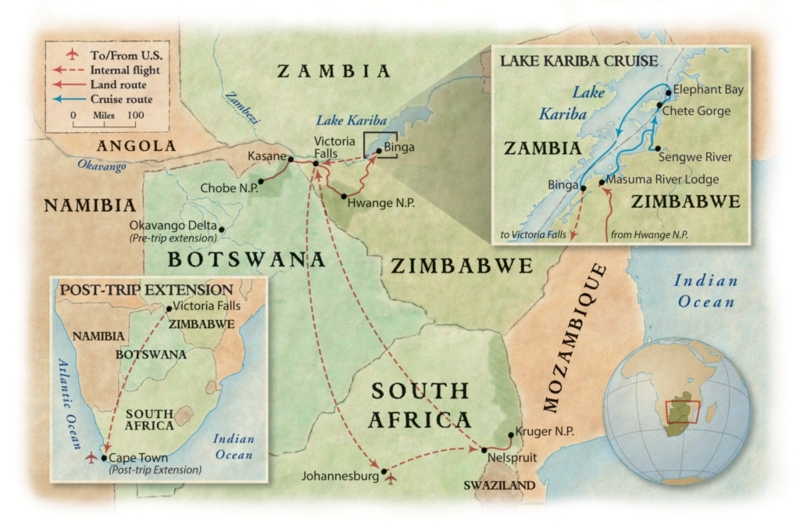 South Africa: Kruger • Zimbabwe: Hwange, 3-night Lake Kariba Cruise, Victoria Falls • Botswana: Chobe
46 meals—daily breakfast, 15 lunches, and 15 dinners
Enjoy up to 5 game-viewing excursions, accompanied by expert driver-guides
Spend 3 nights in Chobe National Park, including a boat cruise along the Chobe River
Compare Adventures
Find the Adventure That's Right for You
Our Activity Level rating system ranks adventures on a scale of 1 to 5 to help you determine if a trip is right for you. See the descriptions below for more information about the physical requirements associated with each rating.
Travelers should be able to climb 25 stairs consecutively, plus walk at least 1-2 miles over some uneven surfaces without difficulty. Walks typically last at least 1-2 hours at a time. Altitude can range from zero to 5,000 feet.
Activity Level 2:
Moderately Easy
Travelers should be able to climb 40 stairs consecutively, plus walk at least 2-3 miles over some uneven surfaces without difficulty. Walks typically last for at least 2-3 hours at a time. Altitude can range from zero to 5,000 feet.
Activity Level 3:
Moderate
Travelers should be able to climb 60 stairs consecutively, plus walk at least 3 miles over some steep slopes and loose or uneven surfaces without difficulty. Walks typically last for 3 or more hours at a time. Altitude can range from 5,000 to 7,000 feet.
Activity Level 4:
Moderately Strenuous
Travelers should be able to climb 80 stairs consecutively, plus walk at least 4 miles over some steep slopes and loose or uneven surfaces without difficulty. Walks typically last for 4 or more hours at a time. Altitude can range from 7,000 to 9,000 feet.
Activity Level 5:
Strenuous
Travelers should be able to climb 100 or more stairs consecutively, plus walk at least 8 miles over some steep slopes and loose or uneven surfaces without difficulty. Walks typically last for 4 or more hours at a time. Altitude can range from 10,000 feet or more.
Hide Acivity Level
PRICE
including international airfare
HIGHLIGHTS & ACTIVITIES IN BOTSWANA
*This information is not available for our trip extensions. You must reserve the main trip to participate on this extension.
**This information is not currently available for this trip. Please check back soon.
Recommended Viewing
Watch this video showcasing what makes this country so unforgettable
Ultimate Africa in February 2017
Let these snapshots and videos of distinct flora, spectacular wildlife, and welcoming locals in Chobe National Park, Kafue National Park, and more taken by traveler Linnea H. from Albuquerque, New Mexico transport you to Africa.
Submitted by Linnea Hendrickson, 3-time traveler
Recommended Videos
Watch your fellow travelers' favorite films & videos
Ultimate Africa
Witness the majestic wildlife of Africa, including elephants, rhinos, and leopards, during a series of game-viewing drives in the national parks with traveler John B. from Fort Collins, Colorado.
Submitted by John Balza, 16-time traveler
Crocodile Quest
Explore Botswana's Okavango Delta as you follow divers in search of fascinating (and dangerous) crocodiles.
Produced by Kirsten Horne
Indie Thread
African Air
Witness the beauty of Africa's diverse landscapes, from the Atlas Mountains in Morocco and the Congo River to the plains of Tanzania, from the eyes of a paraglider.
Produced by MediaStorm
Friend Share Experience - Ultimate Africa
Discover southern Africa through the eyes of traveler Hailey S. from El Paso, Texas as she sets off on game-viewing drives and participates in local tribal traditions.
Submitted by Hailey Soderlund, first-time traveler
ReelEarth: The Basket Weavers of Botswana
Hear from local women in Botswana who work as weavers, creating intricate, handmade baskets, purses, bangles, and more to provide for their families.
Produced by Ian Miller
Botswana: Month-by-Month
There are pros and cons to visiting a destination during any time of the year. Find out what you can expect during your ideal travel time, from weather and climate, to holidays, festivals, and more.
Botswana in January & February
Thunderstorms are common and temperatures are high, but this is also a hot time to catch the greatest variety among Botswana's 550 species of birds. Colorful residents like the lilac-breasted roller are joined by seasonal migrants who are only here during the wet season, with many birds in full breeding plumage.
Regular rainfall keeps the grasslands green, which helps to nourish young grazing animals like zebras, antelopes, and wildebeest. These grazers need all the strength and speed they can muster to evade the predators that stalk them, including lions and leopards.
Holidays & Events
January 1st: Food, music, and festivities fill the streets each year for New Year's Day celebrations.
February 2nd: World Wetlands Day is celebrated, honoring environmental conservation efforts.
Watch this film to discover more about Botswana
Shari and Barbara's Botswana Trip Experience
Meet Shari and Barbara, two cousins who explored Africa together with O.A.T., and learn why they think it's important to step out of your comfort zone to try new things with those closest to you.
Botswana in March & April
As the rains taper off, hyenas raise their pups and hippos immerse themselves in local rivers. Warthogs, the only wild pig adapted to living on the savanna, continue to take advantage of the well-watered grasslands.
Nighttime temperatures grow cooler and male antelopes begin to engage in head-butting contests as the mating season begins. Male impalas establish mating territories and defend the females within them from potential rivals.
Holidays & Events
Maitisong Festival: In late March or Early April, a week-long annual celebration takes place in Botswana's capital in support of performing arts.
Maun Festival: A two-day celebration of Botswana's rich tribal culture that takes place every April.
Watch this film to discover more about Botswana
Shari and Barbara's Botswana Trip Experience
Meet Shari and Barbara, two cousins who explored Africa together with O.A.T., and learn why they think it's important to step out of your comfort zone to try new things with those closest to you.
Botswana in May-August
As the dry season begins around May, the weather continues to get cooler and the rain clears up. Roaming prides of lions become easier to spot. African wild dogs (also called painted dogs) stalk prey including the kudu (a large antelope), and anglers may find 20-pound catfish biting in the Kafue River.
Large animals including giraffes and water buffalo gather around the remaining water sources as the dry season advances, keeping a watchful eye for lurking crocodiles. Lions mate at this time, and throughout much of the dry season. Lucky observers sometimes glimpse rhinos, but these animals are rare and not always seen.
By July, Botswana is in the heart of its dry season. Though, the Okavango Delta follows its own seasonal rhythm, with channels fed by distant sources filling with water between June and October. The movements of local wildlife are affected by the rising waters, which also facilitate exploring by mokoro dugout canoe.
In August, the weather warms up, with dry conditions continuing to offer excellent wildlife-viewing opportunities. Among predators, lions and hyenas are most frequently seen, while sightings of leopards, cheetahs, or wild dogs are less common.
Holidays & Events
President's Day – each year on the third Monday in July, Botswana's President's Day is celebrated. Many citizens return to the villages where they were born to attend celebrations.
Kuru Dance Festival – taking place in the Kalahari Desert, this three-day festival features traditional bushmen music, the perfect soundscape to accompany the largest gathering of San dancers in the world.
Must See
A mokoro is a traditional African canoe dug out from the trunks of indigenous trees like the mongongo tree. While not always possible due to safety concerns associated with the changing water levels, exploring the Okavango Delta by mokoro is an excellent way to take in the scenery and wildlife. As you let the waterways whisk you into the wilderness, and the spectacles of nature surround you, enjoy a unique vantage point you simply can't get on land excursions.
Watch this film to discover more about Botswana
Shari and Barbara's Botswana Trip Experience
Meet Shari and Barbara, two cousins who explored Africa together with O.A.T., and learn why they think it's important to step out of your comfort zone to try new things with those closest to you.
Botswana in September & October
This time of year the days are hot and sunny, the plains are bone-dry, and the trees are leafless—which is good for game viewing. The flooded Okavango Delta offers a contrasting scene, with water-loving sitatunga, red lechwe, and puku antelopes enjoying its marshy expanses.
Mid-day temperatures can exceed 100°F, especially in October, so wildlife activity shifts to early and late in the day. The larger mammals are active during the cooler hours, along with notable birds including the ostrich and the secretary bird. This time of year also brings the largest concentration of elephants to the banks of the Chobe River.
Holidays & Events
Botswana Day – October 1st marks a day of celebration in honor of the country's socioeconomic achievements.
Domboshaba Festival of Culture & History – usually in late September or early October, this is an annual celebration held near the Domboshaba ruins, unique remnants of the Banyayi-Bakalanga empire
Watch this film to discover more about Botswana
Shari and Barbara's Botswana Trip Experience
Meet Shari and Barbara, two cousins who explored Africa together with O.A.T., and learn why they think it's important to step out of your comfort zone to try new things with those closest to you.
Botswana in November & December
As the transition from dry to rainy season nears its end, the grazing animals of the plains give birth to their young. By the end of November, food and water become more plentiful.
More than 450 species of migratory birds begin to arrive as the rain-watered landscape is blooming and green. Although large animals are more widely dispersed at this time of year, Botswana experts note that to fully experience the country's natural riches, one should see it both during the dry season when big game is most concentrated and in the rainy season when the landscape is lush, green, and alive with birds.
Holidays & Events
Christmas – on what may be the country's most celebrated holiday, as most Batswana are Christian, local choirs host caroling concerts, restaurants and pubs offer Christmas-themed meals, and families come together to celebrate.
Watch this film to discover more about Botswana
Shari and Barbara's Botswana Trip Experience
Meet Shari and Barbara, two cousins who explored Africa together with O.A.T., and learn why they think it's important to step out of your comfort zone to try new things with those closest to you.
Average Monthly Temperatures
Botswana Interactive Map
Click on map markers
below to view information about top Botswana experiences
Click here to zoom in and out of this map
Chobe National Park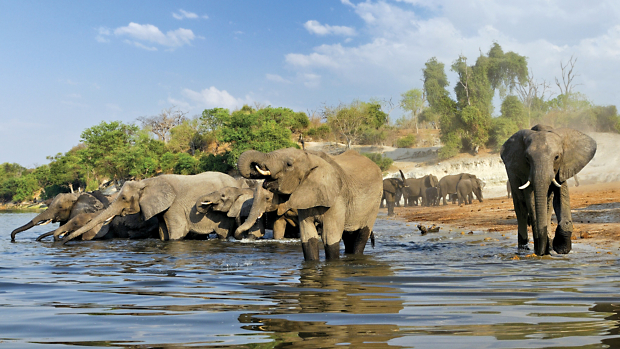 Botswana's first-ever national park—and third largest by area—Chobe is made up of four distinct ecosystems that together offer one of the greatest concentrations of wildlife in all of Africa. The park's elephant population alone exceeds 50,000, and is comprised of the world's largest elephants in existence—the Kalahari elephant. Floodplains and woodlands along the banks of the Chobe River are home to giraffe, buffalo, and birds such as spoonbills, Egyptian geese, cormorants, darters, and carmine bee-eaters. Marshes, savannahs, and grasslands attract warthog, zebra, and wildebeest. Lions, leopards, and hippos can be found in and around the park's riverine woodlands and lagoons. And, deep within some of the park's hills, rock art paintings reveal traces of the San Bushmen, some of Botswana's original inhabitants.
Explore Chobe National Park with O.A.T. on:
Mokoro ride in the Okavango Delta
In a mokoro, or traditional African dug-out canoe, the waterways of the Okavango Delta will carry you into the wilderness. Take in your surroundings as hippos emerge from the water in the distance, a plethora of birds nest in the neighboring mangroves and trees, and all around you the colors and sounds of nature come alive. Join the natural flow of African wildlife and let the scenic Okavango Delta region captivate you as it floats past you on both sides. While not always possible due to safety concerns associated with the delta's changing water levels, when conditions allow, a mokoro ride through the delta is highly recommended.
Making Makoro
Let a local fisherman from Siankaba, Zambia, show you how to make a makoro—an African dugout canoe—with four tools and a mongongo tree.
Courtesy Oliver Hartman
Take a mokoro ride with O.A.T. on:
Game-viewing drives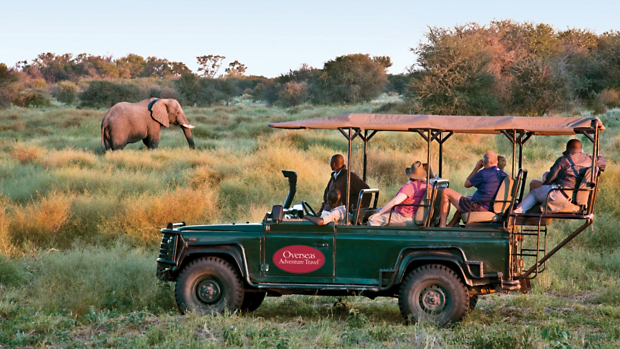 Join a local guide for game-viewing drives through Chobe National Park and the Okavango Delta region. With your guide's expertise on the behavioral patterns of local wildlife, they'll be able to anticipate the location and movements of animals that would have gone unnoticed by the ordinary observer. Look on as a leopard lounges on a tree branch, its most recent prey lying discarded on the ground below … see a dazzle of zebra flit past your vehicle as a lion roars off in the distance … eavesdrop on a mother elephant bathing her calf in a nearby watering hole. Watch nature scenes unfold all around you as elephant, lion, Cape buffalo, crocodile, and more roam the savannah plains.
Enjoy game-viewing drives in Botswana with O.A.T. on:
Scenic flight over Okavango Delta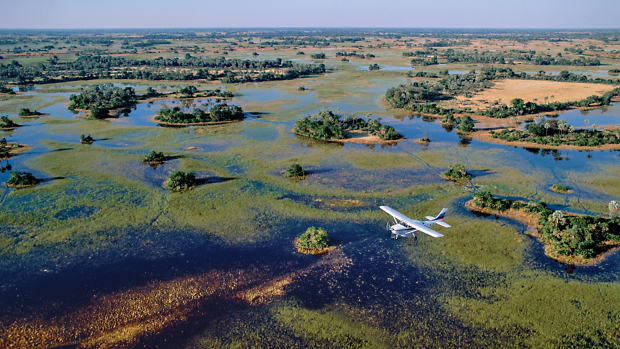 Flying over the Okavango Delta may be the best way to appreciate the full expanse of its meandering waterways. Enjoy breathtaking aerial views of the floodplains as you soar over in a light aircraft. From here, the landscape transforms into vivid splashes of blue and green, intertwining like impressionist brushstrokes across the delta canvas. Watch from above as hippos and elephants navigate the waters, and get a bird's-eye view of African wildlife's natural patterns of movement across the land.
Take a scenic flight over the Okavango Delta with O.A.T. on:
Visit to Mabele Village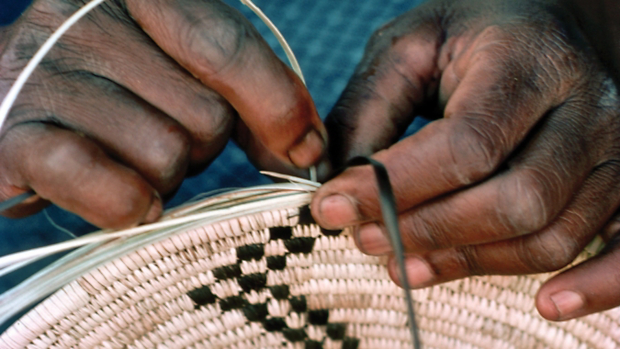 Get a sense of what life is like in a small village when you visit Mabele. Learn about the local culture and way of life when you interact with a small community of women who weave baskets for a living. Here, you can interact with the local people, ask questions about their society, and perhaps even learn how to weave baskets yourself.
Visit Mabele Village with O.A.T. on:
Okavango Delta
Originally part of ancient Lake Makgadikgadi, Botswana's Okavango Delta is one of the world's largest inland river deltas. The region is well-known for its fluctuations between high and low water levels caused both by native rains, and from run-off that makes its way down from the Angola highlands. The largest floods from Angola come during Botswana's "dry season" (typically June through August), and the delta becomes a spread-out network of shallow waterways—a sanctuary to animals from far and wide. Botswana's rainy season (typically November to March), transforms the delta into a massive floodplain, bringing with it an increase in water-based game-viewing, and birdwatching opportunities.
Herds of Cape buffalo, sable antelope, kudu, and elephant roam the delta's surrounding lands while the waterways feature a variety of birdlife, including the lilac-breasted roller and pygmy goose. On rare occasions, you may even see the elusive, nocturnal Pel's fishing owl during the day. Hippos spend their days submerged in the delta waters, and sitatunga and red lechwe frequent the swamps as well as dry land. The rich biodiversity and sheer magnitude of the delta earned it the 1,000th spot on the list of UNESCO World Heritage Sites in 2014.
Crocodile Quest
Explore Botswana's Okavango Delta as you follow divers in search of fascinating (and dangerous) crocodiles.
Courtesy Kirsten Horne
Explore the Okavango Delta with O.A.T. on:
Featured Reading
Immerse yourself in Botswana with this selection of articles, recipes, and more
ARTICLE
Writer Alison Rohrs reflects on her Ultimate Africa adventure, and learns about the real side of her Trip Experience Leader—beyond her life as a guide.
ARTICLE
Elephants were once the monarch of the savanna, but ironically, it was the elephants' built-in weapon—their tusks—that proved to be their greatest weakness.
ARTICLE
Kalahari lions can go months without drinking water—discover more fascinating facts about these felines here.
ARTICLE
Learn how to snap wildlife photos like a pro with a few expert tips from Photo Editor Greg Palmer.
Guiding Lights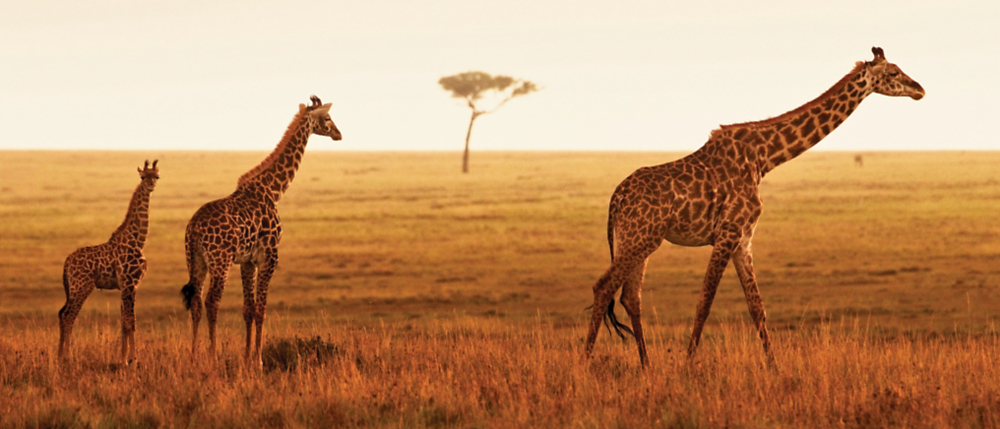 The experts who revealed Africa to me, by day and night
by Alison Rohrs, from Dispatches
Our Land Rover paused on one of the dirt roads in Chobe National Park. Up ahead, a trio of long giraffe necks protruded above the treetops. This was our second day of safari, and we had seen more than a dozen giraffes already. Strangely, these three animals seemed to be cooperating, standing perfectly still as if posing for their photograph.
I started to make a joke about our three models, but Priscillah, our Trip Experience Leader, put her finger to her lips. "Shhh …" The previous day, she had overflowed with stories and trivia about each animal we saw on our game drives, so I was surprised by the change in her attitude. And then I began to catch on.
The giraffes remained completely frozen. But they weren't trying to be good models for us—they were staring into the nearby scrub, watching, listening, and waiting. It only took Priscillah a moment to follow their sightline. "Something is in the bushes over there," she whispered. "A predator."
Our driver-guide, Matsuda, got the message and began to slowly coax the Land Rover around a bend in the dusty road. As we moved forward, Priscillah kept turning back and forth in her seat, following the giraffes' gaze and pointing to the spot where they had fixed their collective stare. An invisible line from the tip of her finger led us the rest of the way, and then all of a sudden there they were: three full-grown lionesses.
With yellow-brown coats and thick, tall grass toc amouflage them in their environment, we could have driven past them were it not for Priscillah's spotting ability. Matsuda maneuvered our open-air vehicle around to give us a better view. We were a stone's throw away from a group of wild lions—close enough to count the whiskers on their faces. When the shock and exhilaration began to wear off, all I could think about was how Priscillah tracked them down.
Exotic animals had brought me to Africa in the first place, but what stayed with me after our first lion sighting was our good fortune to have Priscillah as our Trip Experience Leader. I had come for the wildlife. By the time I left, I had fallen in love with the people, too.
Nothing but nature
Priscillah insisted that luck also helped, explaining that she couldn't find animals that weren't there. To me this sounded like modesty. In the dense bush of Botswana, Zambia, and Zimbabwe, it can take an expert to spot animals that are as close as a dozen feet away.
I think that's why OAT calls this trip "Ultimate Africa." It's an immersive experience. As the days went by, Priscillah and our driver guides taught us to hunt cats: recognizing their paw prints, listening for alarm calls from birds, and watching the behavior of their prey. We never knew what new discoveries each morning would hold. (One exception might be the ubiquitous impala, a sighting that Priscillah jokingly referred to as our "money-back guarantee.")
In Chobe National Park, "off the beaten path" is anything a cliché. The dirt roads were narrow, dusty, and usually bumpy. On our first day, we drove for hours without seeing another vehicle, but would frequently pull up alongside a Cape buffalo or a dazzle of zebras—so called for the mesmerizing effect their stripes have on predators as they turn tail and run.
When we got back to camp on our second afternoon, still flying high from the lion sighting, we found a herd of elephants there waiting for us. I suppose I shouldn't have been surprised. The 4,200-square-mile Chobe National Park contains Botswana's largest population of these pachyderms, an estimated 70,000 in total.
When we saw them from our vehicles, they were gentle giants who passively observed us as we stopped to take photographs. On foot, though, people were a threat and it wasn't safe to return to our tents. We waited ten or fifteen minutes for them to move downhill to the Chobe River, but after our much-needed afternoon siesta, they were back again, slowly climbing toward our camp.
I was watching them patiently from our porch when I saw Priscillah trying to shoo the big matriarch out of our walkway. Before I realized what was happening, the gentle giant shifted gears and charged at Priscillah. Just as quickly, Priscillah darted up the stairs to her bungalow and shut the door. She escaped unscathed, and remarkably her plan worked—the elephants cleared out soon afterwards.
"Weren't you scared?" I asked her later that evening,
"Of course I was scared. That was a huge, wild animal charging at me."
"Why did you do it?"
"They need to know that the bungalows are not their territory. I want you to feel safe even if I need to be less safe," she said.
The real Priscillah
I soon learned that Priscillah rarely let fear get in her way. That night at dinner, someone asked her about where her name came from. She started laughing. "My parents named me Elizabeth," she said, smiling. "But I changed my name, and you might find the story controversial."
She went on to tell us the story of her childhood, growing up in the small Zimbabwean village of Rusape. Her elementary school education was free, and she graduated at the top her class in the eighth grade. Secondary school required fees, though, and her out-of-work father
was unable to afford the expense. Most girls her age who didn't pass their exams or didn't have money for school fees married off quickly. She pursed her lips when she thought about it. "That was fine for some of them—it's what they wanted. But for me?" She shook her head.
Rallying to support her in any way they could, her father doubled down on his job search, and her mother devised a plan to keep her daughter in school. They found a friend who created a new birth certificate for her and let her pick a new name. She chose the name "Priscillah" after her favorite niece. Then her mother brought her to the next township over, where she registered for eighth grade again. By the time she finished the school year—again at the top of her class—her father had saved enough to send her to high school.
Priscillah earned a scholarship to study wildlife in college, and as soon as she started working, she sent money home to pay the school fees for her brothers, sisters, and nieces and nephews.
When she finished her story, she looked around the table and asked us if we thought she and her family had done the right thing. Not one person in our group said no.
Guiding the way
We did have some animal encounters that practically fell into our laps, like the elephants in our Chobe camp. But most of the time, experienced trackers led us to the big game. In addition to Priscillah, who stayed with us throughout the trip, I was amazed at the knowledge and dedication of the other guides we had along the way, from drivers to pilots and even kitchen staff.
Leaving Chobe on our way to the airport in Kasane, our local motorcoach driver spotted hyenas and wild dogs and pulled over so we could watch them jog along the shoulder of the highway. And in the Okavango Delta, our next destination in Botswana, the cook noticed a rare pangolin just outside of our boma (barbecue area). Our driver guides were particularly impressed with the chef's sighting of this armadillo-like mammal. "I've only seen five of those, and I've lived and worked in the bush my whole life," one said.
Even our pilots got in on the game viewing. One flew low to show us a particularly large herd of elephant and Cape buffalo. Another noticed three safari vehicles crowded around something below, and circled back to give us an aerial glimpse of a lion with her fresh impala kill.
By night, driver guides in Zambia showed off their multitasking skills—driving the 4x4s, shining a handheld spotlight on the bush, tracking animals, and even squeezing in a few jokes.
Some of my favorite encounters didn't involve animals at all. O.A.T. was usually the only group at each of our small camps, so we got to know the staff that much better. At our Zambian campsite above the Kafue River, we spent the warmer hours between game drives playing Mancala, an African bead game. One of the camp managers, Evidence, stopped by to give us some tips on the Zambian way of playing.
We invited him to join us, and soon learned about his life. Although he loved working at the camp, he was trying to earn more money for his upcoming wedding, an event that he and his fiancée expected would draw upwards of 350 guests—everyone in her village. He set up a side business, selling grain sacks to farmers near the camp. As a result, the farmers could get their produce to the markets more easily, and Evidence picked up extra cash for his upcoming nuptials.
When I chose the Ultimate Africa safari, my main concern was spotting as many animals as I could. Botswana, Zimbabwe, and especially Zambia have recently earned a reputation as the next best safari spots, with dense game populations and knowledgeable guides. Unlike the Eastern African parks in Kenya and Tanzania, these locations receive fewer visitors. In order to spend twelve days on safari, I thought I'd have to sacrifice learning about the local culture. I knew we'd have A Day in the Life visit to a local village, but other than that, I expected Ultimate Africa to be all about the animals.
We did see more wildlife in the first two days than I had counted on seeing the whole trip—but I realize that some of my favorite memories from this adventure are of the people I met along the way. Evidence's entrepreneurial spirit stands out just as much the watering hole where dozens of hippos popped up. Priscillah's resilience, strength, and sense of humor stay with me just as much as the thrill of discovering a warthog hiding under our Land Rover.
The experts who revealed Africa to me, by day and night
Botswana's Elephants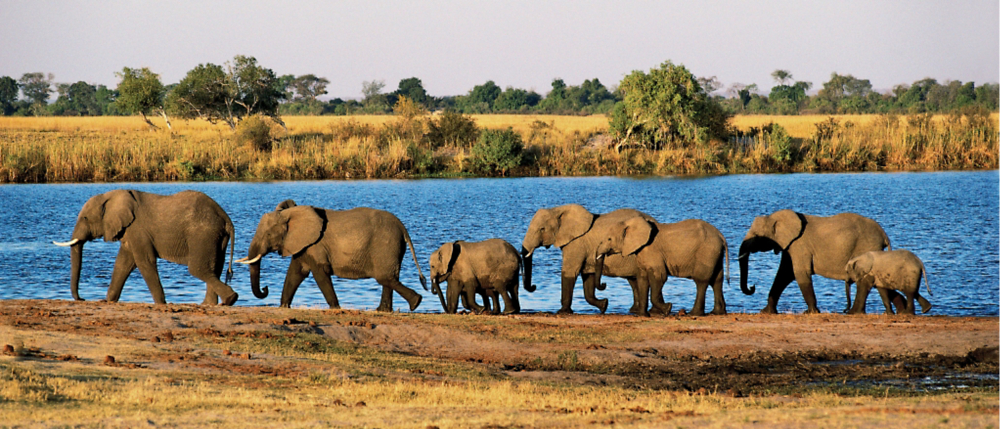 A glimmer of hope as their neighbors fight for survival
by Jenna Thomas, from Dispatches
Elephants were once the undisputed monarch of the African savanna. Standing ten feet tall and weighing in at six tons, they cut a majestic figure—and an intimidating one, with gleaming white tusks that come to an elegantly threatening point.
At the peak of their dominance, with almost no predators brave enough to take them on, the African elephant numbered as high as 26 million and roamed from the Mediterranean coast to the far southern reaches of the continent.
Ironically, it was the elephants' built-in weapon, their tusks, that proved to be their greatest weakness. That lustrous ivory was irresistible to European colonists, and the danger in facing down an elephant to procure it only heightened the romance that drove the worldwide demand for ivory goods. By the time European empires came to dominate Africa, the demand for ivory combs, piano keys, billiard balls, and décor was insatiable—in 1913, only ten million African elephants remained.
That decline, as dramatic as it was, is nothing compared to the loss of elephants that Africa has experienced in the last century. A growing middle class in China— where carving ivory is a national art form—sent demand for raw materials sky-high, and elephant poaching evolved into a sophisticated industry. In 2014, conservationists knew the situation was dire, but they lacked the data to prove it. That year, Microsoft co-founder Paul Allen and a team of philanthropists launched the Great Elephant Census, an aerial survey of 18 African countries that covered 93 percent of the African elephants' territory. It took nearly three years, but in 2016 they announced their results—they counted just 352,271 elephants throughout Africa, a decline of nearly 97 percent in just one century.
Over a third of Africa's remaining elephants can be found in Botswana, one of the few places on the continent where the population has remained stable in recent decades. With its ban on trophy hunting, vast national parks, and anti-poaching military task force, Botswana has made big strides in the fight to save the African elephant. The country's relative political stability and small human population certainly help.
However, even in Botswana, the fight is far from over. The military task force has no jurisdiction across borders, and in Botswana's northern reaches poachers can flee to Zimbabwe, Namibia, or Zambia within minutes—long enough to kill an elephant and take its tusks. While demand for ivory continues, the slaughter of elephants will persist.
On that front, conservationists have long recognized the need for government action and lobbied for ivory bans. In the last several years, two of the world's biggest ivory markets—the United States and China—agreed to nearly complete bans on the ivory trade. The U.S. ban went into effect last June. And this March, China began the unprecedented step of shutting down all of its licensed ivory carving factories and retailers. It has yet to be seen whether the bans on legal ivory will help, since legally-traded ivory has traditionally come from elephants that died naturally. Some fear that the ban will give black-market traders (those who keep poachers in business) a lucrative monopoly.
The value of a living elephant—their majesty, wisdom, and innate appeal—is undeniable to anyone who has encountered one in the wild. It remains to be seen whether that will be enough to override the human appetite for ivory in time to save them from extinction.
A glimmer of hope as their neighbors fight for survival
Lions of Northern Botswana
by Leigh Kemp
Lions are the most sociable of the big cats, living in prides that vary in size from a few individuals to more than 30. And in Botswana, this extreme is noticeable as the habitats are so different, from the dry reaches of the Kalahari to the floodplains of the Okavango Delta.
Lions of Northern Botswana: A study in inter-species differences
In northern Botswana, the lions display a wide range of habitat preference and prey choice. Habitats in northern Botswana range from the wetlands of the Okavango Delta to the arid semi desert areas of the Central Kalahari Game Reserve and Savuti—and lions successfully inhabit all these regions.
Do lions like water?
Central to Northern Botswana is the Okavango Delta, a unique wilderness area made up of permanent channels, seasonal floodplains, and islands. The seasons of the delta are intriguing in that the water is at its highest in the dry season and at its lowest at the start of the rainy season. This is due to the fact that the delta receives most of its water from the highlands of Angola, 1700 km away. The water can take up to six months to reach the seasonal floodplains—long after the last rains have fallen in the delta.
The lions of the Okavango Delta destroy the theory that lions do not like water. When the delta flood is at its peak, the dry land area of the home ranges of the lions is limited to islands, and in order to hunt they have to cross water between the islands. They do this readily. The lions of the Okavango Delta are generally stronger in the forequarters than other lions as they spend a great deal of time on the floodplains.
Extremes in Lion Behavior
There are prides within 100 km of each other that display extremes in behavior, and in particular when it comes to feeding and drinking. The lions of the drier central Kalahari regions can go without drinking water for months at a time—they get their moisture from the food they eat—and their home ranges are far greater than other parts as the prey is widely spread. The prides are generally smaller in the drier areas and the prey species are smaller.
In the northern-most parts of Botswana, there are lion prides within a fifty-kilometer radius of each other that have specialized in killing very different prey species. There is a pride in Linyanti that has taken to killing hippo—not a popular prey species in other parts of Africa—and just west of this are three prides that prey almost solely on buffalo. Southeast of these two areas is the Savuti Marsh where the pride has specialized in killing adult elephant. Why these specializations came to be is uncertain.
Elephant killers
It was in the Savute that the elephant killing was first recorded. The pride began by taking down young elephants that they managed to separate from the herd before progressing on to sub-adults. In time, they began to hunt and kill adult elephants. At the height of their prowess, the lions were killing more than thirty elephants a year, but there has been a downturn in the numbers of elephants killed in recent years due to the pride splitting up.
The Savute area has a fascinating geological history, in that the channel dries up and flows for indeterminate periods of time—and this has an effect on the elephant hunting of the lion pride in the region. It was during a dry spell that the pride was at its 32 member peak, and killing elephants regularly. But, with the area now wet with the flowing channel, the pride has split up and the elephant killing has stopped.
While most lion prides in Botswana will hunt buffalo, there are two prides in the Duba Plains area of the Okavango Delta that prey solely on the big buffalo herds of the region. These delta prides have adapted to using the water in their hunting techniques.
Behind the Lens: On Safari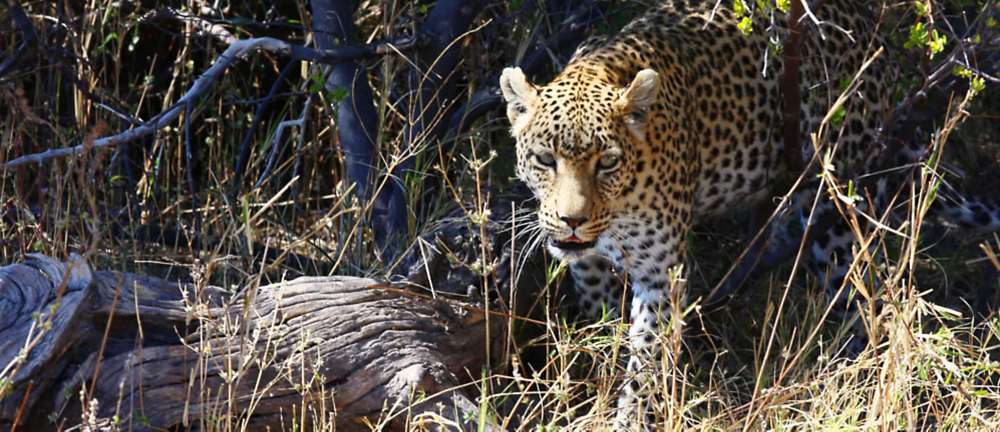 3 tips to enhance your wildlife photography
by Amanda Morrison and Greg Palmer
In September of 2014, Photo Editor Greg Palmer set off for our Ultimate Africa safari for a 3-week photo shoot. Below, he shares 3 tips you can't leave home without if you're the kind of traveler who always packs your camera.
1. "Don't even think about going on safari without a 400mm lens"
One of the challenges of wildlife photography is that approaching your subject can be dangerous. But you can maintain a safe distance by simply zooming in with this lens. And don't worry so much about the body of the camera—it's all about the glass.
2. "Compose in camera"
The best travel photos capture the essence of a destination, and to achieve that in the wild, it can help to think of this formula: animal + habitat. It's about giving your subject context. In the photo above, that leopard had been resting in the shade, and here he is emerging, intense and unblinking as sunlight bathes his face. His expression is totally fierce on its own, but you can really feel his ferocity against that backdrop of brambles and shadows.
3. "Apply the rule of thirds"
For the uninitiated, here's a quick summary: If you were to divide a photograph into boxes, 3x3, like tic-tac-toe, your main focus should fall on one of those points where the lines intersect. It's more aesthetically pleasing when your subject isn't centered.
Bonus Tip!
"Learn your camera before you leave—not while you're on your trip"
Sometimes the simplest advice is the easiest to ignore. But when you're ten feet away from that leopard, knowing how to adjust your lens can be the difference between a decent photo and a great one.
3 tips to enhance your wildlife photography