Vacation Ambassador Referral Program

Sharing your love of travel has never been so rewarding
It's easy to start enjoying the benefits—here's how:
REFER
Inspire friends to reserve any 2017 adventure, and they'll save $100 instantly
EARN
You'll earn $100 CASH when your first friend reserves, and up to $5900 for eight referrals
REPEAT
Each time another friend reserves, you'll earn more CASH—it's unlimited
We offer the BEST referral program in the travel industry
But don't take our word for it—watch Vacation Ambassadors reveal, in their own words, why they choose to share their love of travel with others.
Our Top Trips for New Travelers
"First we referred my sister and our neighbors… Then, we referred my cousin, and she
thanked us for her discount. We were surprised how quickly we earned a free trip!"
Barbara & Raymond Greinke
12-time travelers
Find tips and tools for sharing your love of travel— and start earning rewards!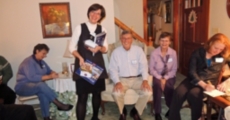 Travel Parties
Hosting a travel party is an easy—
and fun—way to earn a free trip
Learn More
Referral Cards
Print your own referral cards so you'll always have some handy
Download Cards
Did you know?
Since 2013 ...
$9,469,618
In Total Rewards
See how rewarding our Vacation Ambassador Referral Program can be
Program Details
Call us to reserve your next adventure
1-800-955-1925