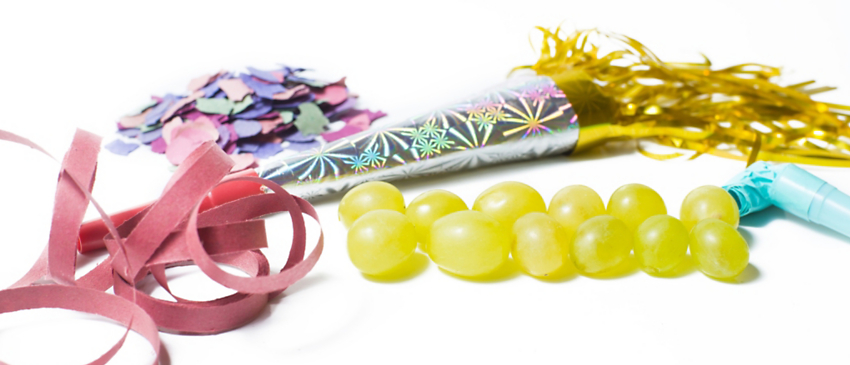 Question: In Spain, eating twelve of what food—in rapid succession—will ensure luck in the New Year?
Answer: Grapes.
On New Year's Eve in the U.S., it's safe to say that we consume most of our grapes in the form of sparkling wine. Spain also rings in the New Year with grapes—albeit a bit more literally.
As the stroke of midnight approaches, revelers throughout the country prepare by pre-portioning twelve grapes for each guest: one representing each month of the year. Eat them all, and you're guaranteed good luck for all twelve months—but it's easier said than done, because you're racing against a very famous clock. On New Year's Eve, just as you might turn your TV to the ball drop in Times Square, Spaniards are watching the clock tower of Puerta del Sol, the main square in Madrid. After a few warning chimes—be careful not to false start!—the clock rings twelve times in succession.
According to tradition, you must time your grape-eating to coincide with all twelve chimes, which are only spaced out by a second or two. Failure is said to bring bad luck. If swallowing one grape per second doesn't sound challenging enough, you could opt for the more macho method of chugging them all down at once—but slow and steady seems to have a better chance of success … and lower chance of a mess.
The people of Spain have been doing this since the 1880s, possibly in response to a French bourgeoisie custom of enjoying grapes and champagne on the last day of the year. In the early 20th century, wine growers in the Alicante region popularized the tradition to help sell a bumper crop of grapes. Today, you can buy your twelve grapes in single-serving tins—seedless and peeled for ease of consumption.
By the end of the twelfth chime, your grapes should be completely swallowed; thorough chewing is optional but recommended. Then and only then—with your good fortune secured—should you join in the applause and toast with a glass of cava.
12 More Old Traditions to Ring in the New Year
In Denmark, don't throw away the glasses and plates you chip throughout the year. Save them instead for New Year's Eve, when it's acceptable—and encouraged—to smash them against a friend's front door. You're symbolically destroying their problems from the past year.


Bells are rung 108 times in Japan: one chime each for the 108 different desires that cause human suffering, according to Buddhist belief. The Japanese also eat soba noodles, which represent longevity—as long as you take care not to break the long strands.


In Peru, an old Quechua tradition encourages fistfights between friends and family members—just to make sure all differences are settled before beginning a fresh new year. Fights are accompanied by much pomp and circumstance, including processions, costumes, and singing.


The Scottish celebration of Hogmanay lasts three days, beginning with a fiery parade of torch-bearers on December 30. On January 1, you can balance the heat with a Loony Dook: a plunge into a freezing river initially conceived as a hangover cure.


Looking forward to a travel-filled year? Head to Colombia on New Year's Eve, and don't put away your suitcase: At midnight, you'll need to carry it while running around the block as fast as you can.


In Ireland, swat away bad luck and usher in a plentiful new year by banging bread against the walls.


Seven is an auspicious number in Estonia—so what better way to ensure good luck in the new year than by eating seven different meals? Don't get too greedy, however: a portion of each should be left behind for the spirits of visiting ancestors.


In the Hillbrow neighborhood of Johannesburg, South Africa, one New Year's tradition is actually a health hazard: Locals throw old furniture and appliances from the roofs of tall buildings, endangering passersby—most of whom know to avoid the neighborhood, though a few patrolling police officers are unfortunately hit every year.


Italy has adopted a similar tradition of tossing old possessions to symbolize a fresh start, but sticks to small, soft objects to avoid bodily harm.


You've heard of reading tea leaves—but what about reading tin? In Finland, molten tin is dropped into cold water, where it solidifies. The resulting shapes are interpreted to predict a person's fortune.


In Ecuador, it's common to burn a scarecrow effigy of someone you don't like—often a celebrity. Panama does the tradition one better by stuffing the figures full of fireworks.


In Turkey, ringing in the New Year in red underwear is considered good luck—and gift-giving is common on New Year's Eve, so don't be offended if you receive a pair. Incidentally, red underwear is also good luck in Spain—so wear some for added insurance in case you don't finish your grapes.
Discover Spain's Old World traditions and modern interpretations when you join our newly enhanced Iberian Voyage: Lisbon to Barcelona Small Ship Adventure.