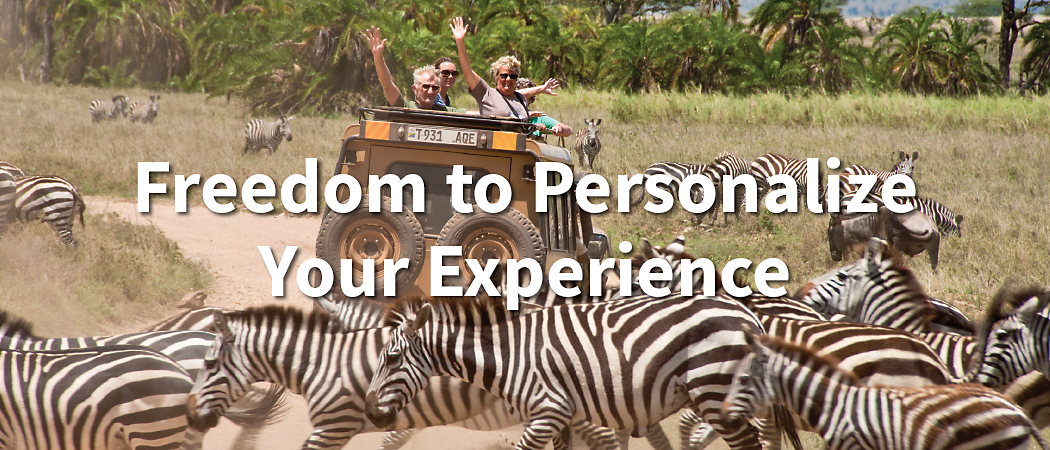 Your Choice, Your Adventure, Your Way
We recommend you spend extra time in a destination to truly make your adventure everything you've ever dreamed about. More and more of our travelers are choosing to make their adventures their own—in fact, 85% of our travelers now take advantage of the freedom and flexibility to personalize their trip. From spending more time abroad by arriving early, staying late, or adding pre- and post-trip extensions, to choosing your preferred airline, departure city, and upgrade options, below are some of the most common ways our travelers are personalizing their adventures. Call us at 1-800-955-1925 to discuss personalizing your small group experience today.
Define Your Ideal Length of Stay
Extending the length of your stay in a destination can improve your overall travel experience by giving you time to adjust—to a new time zone, culture, or cuisine—and allow you to seek out even more eye-opening cultural experiences. With local Trip Leaders who share a wealth of insider knowledge about their home countries, and regional offices around the world, we're here to provide you with the freedom of choice to make your adventure all you want it to be.
When your Trip Leader reaches out to you before your departure—an O.A.T.-exclusive service—be sure to let them know what kind of personalized experiences you're looking for, and they'll be more than happy to provide recommendations. With their unmatched understanding of local culture, and commitment to enriching your experiences, it'll be no surprise to you that 94% of our travelers rate their Trip Leader excellent. From extending your travels—whether with us or on your own—to building in time to ensure a smooth beginning and end to your Small Group Adventure, the choice is yours. Here are some of your options:
Pre- and Post-Trip Extensions: Maximize your discoveries and your value
Pre- and post-trip extensions give you the opportunity to explore more of the destinations you've come so far to see. Plus, they give you more time, allowing you to get refreshed and acclimated before your adventure begins or before your return to the U.S. You'll maximize your discoveries—often in an even smaller group than your main adventure—and your value by lowering your average per-day costs because you're taking advantage of your already included international airfare.
"Break Away" Options: 30% of our travelers choose to arrive early or stay late to spend more time exploring a destination on their own
Before or after your main adventure or trip extension, you can extend your time abroad and "break away" anywhere you'd like to do more exploring entirely on your own. Perhaps you're looking to build in time to get acclimated before your adventure begins—or before your return flight to the U.S. Or, maybe there's a city you've always wanted to witness on your own. Whether you want to build in extra time for yourself to relax, refresh, and get adjusted, or give yourself even more opportunities to immerse yourself in local culture, it's up to you. Make the most of your time abroad with the following options:
Spend more time before your adventure in the main trip's first location, or after your adventure in the main trip's final destination
Stay overnight (or for a few days) in a common connecting city, or in a destination of your choice
Please note: Our Adventure Specialists can help you plan your airfare if you'd like to "break away," however since this option is completely on your own, you will need to plan your own accommodations, meals, tours, and transfers.
Stopover: Relax, refresh, and explore on your own with included hotel, transfers, and breakfasts
We're pleased to provide our travelers with this opportunity to refresh, explore on their own, and perhaps even add another stamp to their passports. On more than 17 trips to Asia, Africa, and the South Pacific, our Stopover option features two- or three-night stays in iconic locales like Paris, Hong Kong, Dubai, Auckland, or Amsterdam, where you can spend time on your own before you begin your main adventure—or before your pre-trip extension.
Maybe you have a friend in Amsterdam that you'd love to connect with on your way to Africa. Or maybe you've always been curious about Dubai, a place where your flight to India stops en route to Delhi. This is your opportunity to conveniently expand the scope of your journey, and what you do during your Stopover is completely up to you!
All Stopovers include:
Roundtrip airport transfers with an O.A.T. representative
2-3 nights in a centrally-located hotel
Daily breakfasts
Please note: No O.A.T. representative will be available at your hotel during your 2- or 3-night Stopover. All activities are on your own.
Back-to-Back Adventures: Combine two adventures to see even more of the world
Think about it: If you're already overseas, why not see more of the world and avoid the expense and length of another international flight? Many of our travelers have taken two or three consecutive trips before returning home, and 90% of travelers rate their Back-to-Back experience excellent. Plus, enjoy these additional benefits by reserving Back-to-Back adventures:
Combining two of our trips can save you up to $3100 per person compared to the cost of returning home and taking each trip separately
When you reserve two trips "Back-to-Back," we'll deduct an additional $250 per person
In addition, you'll save on not having to purchase multiple roundtrip international flights
You can immediately apply the Frequent Traveler Credits you will earn on your first trip to your second trip for even greater savings
Private Adventures: Travel in an exclusive group of friends or family
Reserve an exclusive departure with as few as four travelers. It's simple: You choose the people you travel with, the departure date, and the size of your group. O.A.T. does the rest. Check out the benefits.
Air Options: Start off your adventure with the air experience you want
Did you know that you have control over the way you want to fly with us? In fact, more than 40% of our travelers choose to customize their air options. O.A.T's team of Adventure Specialists makes every effort to provide you with non-stop flights and acceptable connection times to and from your destination. You also have several other ways you can personalize your air itinerary, which include:
Choose your departure city and airline: We list the most popular gateway cities on our website, but not all of them. If you don't see yours listed, or there's one that better suits your needs, let us know. You can also tell us if you have an airline preference and we will try to accommodate your request.
Depart from one city and return to another: Just because your flight leaves from one city doesn't mean you have to return there. Maybe you flew out of Boston and wish to visit friends in Los Angeles after your trip is over. Tell us where you want to go and we'll do our best to get you there.
Upgrade your seat: We'll gladly arrange a flight upgrade to business or premium economy class if it's available.
Fly the way you want to: When you fly economy class, we'll do our best to see that you get your choice of seating preference or even add a special meal request if you have dietary restrictions or needs.
How will you personalize your dream adventure?
Call us at 1-800-955-1925 to get started — or
Find Your Adventure
Call us to reserve your next adventure
1-800-955-1925