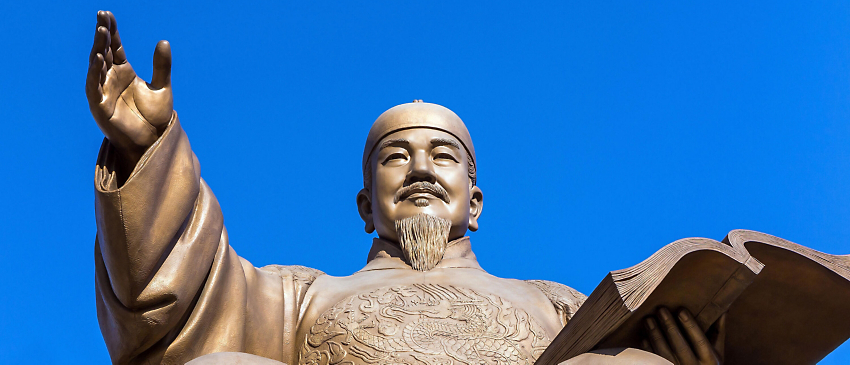 Question: What do the Cherokee and Korean languages have in common?
Answer: Each was created by a single person
Written languages typically develop over a long period of time, evolving as amalgamations of oral tradition, modifications of existing alphabets, and social custom. Almost never does an entire language rise from the mind of a single person, but it has happened at least twice: in Korea and among America's native Cherokee people.
Up until the mid-15th century, Koreans wrote in Chinese, the language of their dominant neighbor. But the Chinese characters did not entirely translate all of the Korean cultural understandings. King Sejong the Great (see below) decided his nation needed a language of its own. He turned to top scholars for advice before beginning a two-year process to create Hangul, which gives every symbol its own sound and meaning, so that anyone—scholar or pauper—could sound it out once they memorized each symbol. This democratization was popular with the people but it took a while to become the norm: Chinese remained the official language for generations. Even after Hangul was universally adopted, it was deemed a threat: Japan banned its use while occupying Korea during World Wars I and II. But, in the end, Hangul has prevailed, used in both North and South Korea, yielding near 100% literacy.
The Cherokee (or, in their language Tsalagi) alphabet is 400 years younger, created about 200 years ago by a trader named Sequoyah. His constant dealings with non-natives showed him the value of a written language, which his people did not have. In fact, they viewed writing as a suspicious European trait. Unlike English, which may combine several letters to make a single sound, Sequoyah (like Sejong) opted for simplicity: every symbol made only one sound, and in his case, each was a syllable of a word. Just like in Korea, there was initial opposition. The Cherokee nation put him on trial for sorcery, but when his judges witnessed that he and his daughter (his first pupil) were able to "talk" to each other on paper, they asked Sequoyah to teach them, too, and the language was born. The U.S. government tried to thwart its growth, removing children from Cherokee-language homes in the 20th century, but at least 20,000 users still live in the United States and it now has its own unicode for computing. As in Korea, the language one man made for his people still endures.
What Made Him Great? 11 Facts About Korea's King Sejong
Sejong was not supposed to be king, as he was merely the third son of King Taejong, but his father could see his talents and skipped over both older brothers (one a playboy, the other a monk) and installed Sejong.


Breaking with tradition, King Sejong populated the government with people from all social classes, the first time commoners were allowed to become civil servants.


Over the objections of his own officials, Sejong hired one such commoner, Jang Yeong-sil, to be a court scientist, leading to the invention of new water clocks, sundials, rain gauges, and a world globe.


Sejong's astronomers stopped using Chinese coordinates and created their own time measurements, allowing them to accurately predict solar and lunar eclipses as never before.


To ensure family stability, Sejong the Great enacted a maternity leave for poor working women, offering them more than four months off (30 days before birth and 100 days after); a few years later, he added a month of paternity leave for fathers.


Being fair-minded, Sejong allowed the people of Korea to vote on whether to maintain the existing tax code or endorse a new one, and then abided by the code chosen by 57% of the people.


Because farmers were crucial to the nation's success, Sejong decreed that farmers' tax rates would vary by the outcome of the harvest, ensuring no farm would go under due to a single bad season.


To improve the farmers' chances, he edited the first book of Korean agriculture, a guide to successful soil cultivation, planting, and harvesting.


Sejong was a writer as well, with four volumes of his work, including the famous Songs of Flying Dragons and a dictionary.


Drawing together the greatest thinkers of the age, Sejong established an academic research center named "The Hall of Worthies," as an intellectual resource to help solve the nation's issues.


Even today, you will see King Sejong's face everywhere, as he is featured on the Korean 10,000-won bill.
Explore more of the society so influenced by Sejong the Great during O.A.T.'s South Korea & Japan: Temples, Shines & Seaside Treasures adventure.