What Makes O.A.T. the Leader in Small Group
Adventure Travel?
With itineraries designed exclusively for experienced American travelers, we've been providing indelible travel memories for more than 37 years. Our success can be attributed to many factors, including our unique brand of small group discoveries, our team of dedicated local Trip Leaders, and our unbeatable value. Here's what makes O.A.T. the undisputed leader in small group travel along the road less traveled.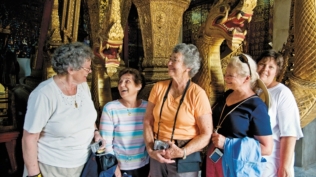 Unsurpassed value—guaranteed
Our unbeatable per diems means that you'll travel at the lowest prices per day while enjoying a wealth of included features, like all accommodations, most meals, daily cultural activities, and even most gratuities. No other travel company offers you more world discovery for less. In fact, we guarantee that you won't find a lower price on a comparable trip from another small group tour company—and if you do, we'll match it.
The O.A.T. Experience
See how O.A.T.'s unique brand of small group travel sets us apart from the competition.
Small groups, big discoveries
You'll see more of the world by traveling in a small group of 10-16 on our Land Adventures and 16-25 on our Small Ship Adventures—guaranteed. Our group size allows you to experience unique modes of local transportation to take you to the heart and soul of your destination—you might journey by rickshaw, raft, mokoro canoe, or even on the back of an elephant. And our small groups allow us to spend most nights in more intimate lodgings, including smaller family-run hotels or historic paradores. Learn more in this video.
Trip Leader
Listen to Madodana Ncube, a Trip Leader on Ultimate Africa, talk about the ways cultural exchanges break down barriers.
The services of a local Trip Leader
As residents of the regions you'll be exploring, our congenial Trip Leaders—provide the kind of firsthand knowledge and insight that only a local can provide. In addition to sharing controversial topics with you, these enthusiastic men and women from around the world set our adventures apart and will make traditions, history, and culture come alive for you.
A Day in the Life
Watch travelers spending time in a village in Ranthambore on our Heart of India adventure.
Authentic cultural connections
You'll get to engage with local people throughout each adventure, as well as have the opportunity to immerse yourself in village life with our unique A Day in the Life experience—see for yourself in this video. Typical experiences on this memorable day might include a village walking tour, a meeting with a community leader, shopping at a local market, a visit with children at their school, and a Home-Hosted meal with some local families.
Solo Travel
Hear from solo travelers like Inge Brockbank sharing their reasons for exploring the world
with OAT.
The leader in solo friendly travel
We believe solo travelers shouldn't have to pay a premium to explore the world. That's why we offer FREE Single Supplements on every adventure and trip extension—which means solo travelers never pay more for their own hotel room or ship cabin. And with dedicated Trip Leaders and regional offices nearby for support, you'll always feel safe and secure. Learn more in this video.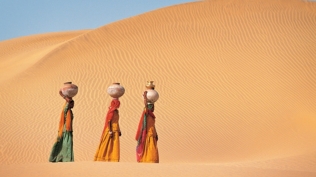 Personalize your Adventure—make it even more special
We offer a variety of ways for you to create your own unique travel experience. You can "break away" before or after your trip, customize your flight itinerary, extend your discoveries and make the most of your international airfare with a pre- or post-trip extension, and much more. We can even arrange for you and a few close friends or family members to enjoy a private adventure. Just let us know and we'll make it happen.
NEW Best Price Guarantee
We promise you won't find a lower price on a comparable trip from another small group tour company—even with international airfare included. If you do, we'll match it. Learn More »
Refer and Earn
Enjoy the most rewarding referral program in travel—and earn rewards up to a FREE TRIP—as a Vacation Ambassador.
Learn More »
Call us to reserve your next adventure
1-800-955-1925