Forgot Your Username
If you have forgotten your username, please provide your email address in the box below. We'll send you an email with your requested username. If you are having trouble, please call us toll-free at 1-800-221-0814.
Email Sent
You'll receive an email in a few minutes. Please check this email to find your requested username.
If you do not receive an email or you are having trouble logging into My Account, please call us at 1-800-221-0814.
VIETNAM
Compare Our Adventures
Click 'Select to Compare' to see a side-by-side comparison of up to adventures below—including
activity level, pricing, traveler excellence rating, trip highlights, and more
Compare Adventures
Find the Adventure That's Right for You
Our Activity Level rating system ranks adventures on a scale of 1 to 5 to help you determine if a trip is right for you. See the descriptions below for more information about the physical requirements associated with each rating.
Travelers should be able to climb 25 stairs consecutively, plus walk at least 1-2 miles over some uneven surfaces without difficulty. Walks typically last at least 1-2 hours at a time. Altitude can range from zero to 5,000 feet.
Activity Level 2:
Moderately Easy
Travelers should be able to climb 40 stairs consecutively, plus walk at least 2-3 miles over some uneven surfaces without difficulty. Walks typically last for at least 2-3 hours at a time. Altitude can range from zero to 5,000 feet.
Activity Level 3:
Moderate
Travelers should be able to climb 60 stairs consecutively, plus walk at least 3 miles over some steep slopes and loose or uneven surfaces without difficulty. Walks typically last for 3 or more hours at a time. Altitude can range from 5,000 to 7,000 feet.
Activity Level 4:
Moderately Strenuous
Travelers should be able to climb 80 stairs consecutively, plus walk at least 4 miles over some steep slopes and loose or uneven surfaces without difficulty. Walks typically last for 4 or more hours at a time. Altitude can range from 7,000 to 9,000 feet.
Activity Level 5:
Strenuous
Travelers should be able to climb 100 or more stairs consecutively, plus walk at least 8 miles over some steep slopes and loose or uneven surfaces without difficulty. Walks typically last for 4 or more hours at a time. Altitude can range from 10,000 feet or more.
Hide Acivity Level
TRAVELER EXCELLENCE RATING
PRICE
including international airfare
HIGHLIGHTS & ACTIVITIES IN VIETNAM
*This information is not available for our trip extensions. You must reserve the main trip to participate on this extension.
**This information is not currently available for this trip. Please check back soon.
Recommended Viewing
Watch this video showcasing what makes this country so unforgettable
Trip Experience
ReelEarth: The Vietnamese Mushroom Hunter
Meet this young man from Tam Ky, Vietnam, who treks deep into the jungles to find mushrooms that have been known for their health benefits for centuries.
Directed by Ehrin Macksey
Recommended Videos
Watch your fellow travelers' favorite films & videos
Trip Experience
Candyce and Pam's Experience in Vietnam
Get to know Candyce and Pam, two good friends who experienced Vietnam together—from cruising through spectacular Halong Bay to visiting a ceramics village near Hanoi.
Tho Ha Village & Cu Chi Tunnels
Join traveler Elliot L. from Carlsbad, California as he witnesses a rice paper-making demonstration in Hanoi, enjoys a sing-along at the home of a Vietnamese man, and learns about the history of the Viet Cong during a discussion with his local Trip Experience Leader.
Submitted by Elliott Lum, 5-time traveler
Vietnam's hidden street food delights
Find a hidden café in Ho Chi Minh City and discover the natural beauty beyond the old prisons of Can Dao Island.
Courtesy of CNN
A Veteran's Return to Vietnam
A veteran reflects on his time in the Vietnam War—and its impact—as he travels through Vietnam to historically-rich areas like Ho Chi Minh City.
Courtesy of Compass Light Productions
Vespa Adventures in Vietnam
Roam Ho Chi Minh City (Saigon) by day and night, traveling by motorbike from a bird park and a flower market to a local musician's favorite café.
Courtesy of CNN
Vietnam: Month-by-Month
There are pros and cons to visiting a destination during any time of the year. Find out what you can expect during your ideal travel time, from weather and climate, to holidays, festivals, and more.
Vietnam in January-February
Vietnam in January and February is peak tourism season, meaning popular destinations will be crowded. Before the temperatures get too warm, you can experience a relatively comfortable climate with low humidity. Prices will also be higher as Vietnamese Tet New Year is around this time.
Nights in North Vietnam are quite cold, so if traveling at this time, it's advisable to bring warm clothes for sleeping. In the morning, Halong Bay is covered in a thick mist, a serene and cloudy backdrop for a calming excursion.
Holidays & Events
February 16: Tet New Year is the biggest celebration in Vietnam. In Ho Chi Minh City, and virtually everywhere else in the country, parades—rife with dancing and music—fill the streets. See stunning fireworks displays in larger cities.
February 28: The Lim Festival takes place in the town of Lim to celebrate Nguyen Dinh Dien, an 18th-century resident of the area who, according to Buddhist tradition, amassed much merit for the community. Stages are built in several communities, featuring folk music and dancing.
Must See
Tet New Year—the most important holiday in Vietnam—brings a striking shade of red that dominates cities and towns. Ornate parades and dragon costumes take over the streets, and thrilling fireworks displays in larger cities, such as Ho Chi Minh City and Hanoi, take over the skies.
Watch this film to discover more about Vietnam
My City: Ho Chi Minh City
Get a local's perspective on Ho Chi Minh City, the "powerhouse of Vietnam."
This film was produced by the BBC and was first published on BBC.com Travel
Vietnam in March-April
March and April are part of peak season in Vietnam. While there's more to do in terms of attractions, popular sites and cities will be more crowded—and likely more expensive. Temperatures begin to climb, creating higher humidity. The mist over Halong Bay clears away, revealing the reflection of blue skies on the water's surface.
Holidays & Events
Early March: The Perfume Pagoda Festival takes place when the pilgrimage to the Perfume Pagoda—the most popular pilgrimage site in Vietnam—attracts hundreds of thousands of people. Many come from all over to pray and worship together.
March: The Hoi An Lantern Festival takes places every 14th day of every lunar month in the town of Hoi An in preparation of the full moon. Small paper lanterns with candles inside are set down the river as an offering to ancestors and local gods.
April: The Phu Giay Festival is a celebration during the first ten days of the third lunar month in the village of Phu Giay. Celebrating the Mother Saint Lieu Hanh, a procession of women in the village climb to the two area temples and make offerings in her honor.
Late April-early May: The Hué Festival celebrates the culture of the city of Hué. From a massive stage ornate celebrations in dance and music amid neon lights entertain thousands who visit the city.
Must See
As the mist over Halong Bay has cleared away, the bright blue skies create a stunning reflection off the water. Navigating between the small islands jutting into the sky along slow waters, few places are as beautiful and serene in Vietnam.
Watch this film to discover more about Vietnam
My City: Ho Chi Minh City
Get a local's perspective on Ho Chi Minh City, the "powerhouse of Vietnam."
This film was produced by the BBC and was first published on BBC.com Travel
Vietnam in May-June
In May and June, Vietnam's temperatures are rising, so day-tripping to the beaches and highlands offers a welcome respite. Monsoon season also begins in the south, dropping torrential downpours through October. The levels of the Mekong Delta rise from the falling rains, making it easier to sail on clear days.
Holidays & Events
May 17: The Buddha's birthday is one of the most important holidays in Mahayana Buddhism, which is practiced in Vietnam. Pagodas around the country are decorated, and thousands of monks will travel to pray and meditate together.
May 19: Ho Chi Minh's Birthday
Must See
Vietnam celebrates the birth of Ho Chi Minh, a revolutionary leader who helped secure the country's independence and led its communist government until 1969. Government officials hold a memorial ceremony in his honor, and patriotic festivals, film screenings, and other events examining Vietnam's progress take place.
Watch this film to discover more about Vietnam
My City: Ho Chi Minh City
Get a local's perspective on Ho Chi Minh City, the "powerhouse of Vietnam."
This film was produced by the BBC and was first published on BBC.com Travel
Vietnam in July-August
Vietnam in July and August is the hottest time of the year in the north, with plenty of rain. This is low tourism season, so prices will be lower. Taking trips to higher-elevation areas and central Vietnam, such as Dalat and Hoi An, are great due to a comfortable climate.
Holidays & Events
August 25: Wandering Souls Day
Must See
Wandering Souls Day is a Buddhist tradition celebrating the release of souls trapped in Hell for one day. Paper lanterns are sent down local rivers, and offerings of food are laid out for deceased relatives.
Watch this film to discover more about Vietnam
My City: Ho Chi Minh City
Get a local's perspective on Ho Chi Minh City, the "powerhouse of Vietnam."
This film was produced by the BBC and was first published on BBC.com Travel
Vietnam in September-November
From September through November, the central coast is drenched with rain, while northern Vietnam dries up with higher temperatures. Tourism season begins picking up around November, so expect prices to increase and crowds at popular attractions and sites.
Holidays & Events
September 2: National Day
September 24: The Mid-Autumn Festival is an ancient celebration of the rice harvest, celebrated across much of East Asia. Friends and family come together, enjoying company and moon cakes, a traditional delicacy.
Must See
National Day in Vietnam celebrates the reunification of the country after the Vietnam War. Patriotism floods the country—speeches and parades fill public squares, and fireworks light up the skies.
Watch this film to discover more about Vietnam
My City: Ho Chi Minh City
Get a local's perspective on Ho Chi Minh City, the "powerhouse of Vietnam."
This film was produced by the BBC and was first published on BBC.com Travel
Vietnam in December
All across Vietnam, temperatures are on the rise and most regions are experiencing low humidity. Southern Vietnam's beaches are especially comfortable and popular this time of year.
Christmas is a big holiday in Vietnam, with costumed Santas parading through the streets of many large cities.
Holidays & Events
December 25: Christmas in Vietnam is at times as lively as in western countries—expect parades, performances, and people in Santa costumes, especially in larger cities.
Must See
Though the majority of religiously-affiliated people in Vietnam are Buddhist, Christmas brings both Christians and non-Christians together. A walk through Hanoi's neighborhoods, you'll see shoes left on the porch in anticipation of Santa leaving gifts. City and town squares are decorated with traditional red, white, and green dressings, and Christmas carols fill the air.
Related Video:
My City: Ho Chi Minh City
Get a local's perspective on Ho Chi Minh City, the "powerhouse of Vietnam."
This film was produced by the BBC and was first published on BBC.com Travel
Average Monthly Temperatures
Vietnam Interactive Map
Click on map markers
below to view information about top Vietnam experiences
Click here to zoom in and out of this map
Halong Bay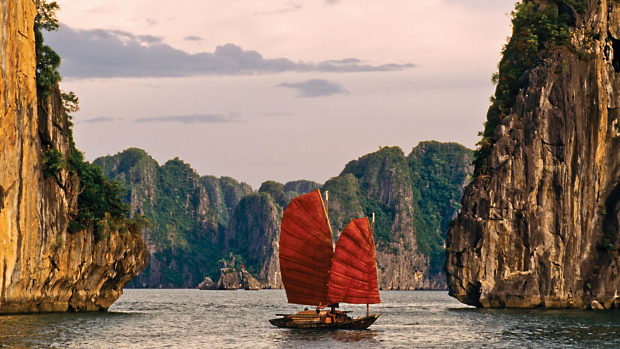 Halong Bay, appropriately named the Emerald Bay, boasts stunning scenery of craggy limestone pillars, draped in velvety vegetation, that seemingly rise from the water to give way to a quiet serenity. The stunning display of natural wonder here is equally as incredible as the historical preservation of the site.
Over 1600 islands dot the bay—the majority of which are uninhabited. However, a few larger islands, including Cat Ba—Halong's largest island—are home to developed towns and thriving tourism industries. The bay also hosts four floating villages—Cửa Vạn, Ba Hang, Cống Tàu and Vông Viêng—that utilize the water as a base for their homes. These villages are comprised of boats and hundreds of floating homes that are typically occupied by fishermen and their families.
Despite the large tourism industry and fishermen who utilize Halong Bay for their businesses, the area has remained in near pristine condition, which led to Halong Bay's designation as a UNESCO World Heritage Site in 1994.
Experience Halong Bay with O.A.T. on:
Mekong Delta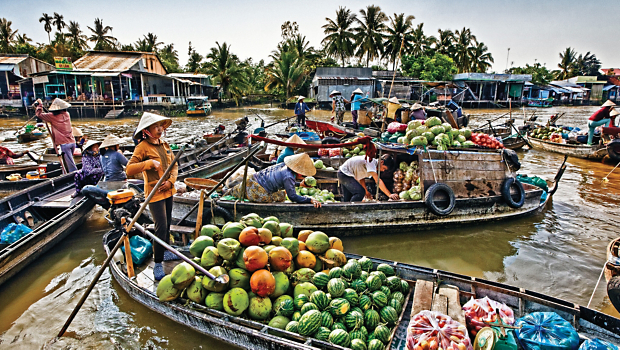 The Mekong River snakes 2700 miles down through China, Myanmar, Laos, Thailand, Cambodia, and Vietnam before slithering into the South China Sea. The River is the twelfth longest river in the world and the seventh longest in Asia.
Life along the river is fairly consistent in each country where agricultural businesses thrive. Rice is one of the leading industries along the Mekong due to the rich soil that lines the river and the wet landscape—Vietnam's land that hugs the Mekong is referred to as the "rice bowl." Fishing also contributes greatly to the region's economy. This industry has a positive impact on the GDPs of Vietnam, Cambodia, Laos, and Thailand where in recent years, an estimated 4 million tons of fish caught along the Mekong made up 13% of the world's fishing business.
Experience the Mekong Delta with O.A.T. on:
Ho Chi Minh City
Feel the exhilarating energy of life in Ho Chi Minh City, formerly Saigon, as a dizzying array of motorcycles, mopeds, and cars whiz through the chaotic streets. The city has a history that is equally as exciting as its present-day atmosphere.
Most notable is Saigon's role in the Vietnam War. The southern Vietnam city was used as a haven for American soldiers fighting against the communists of the north. After the last American forces left Vietnam in 1973, the northern troops began moving down south. In 1975, the northern Vietnamese forces took control of Saigon, renaming it Ho Chi Minh City after their leader Ho Chi Minh. His name means "bringer of light" and he is credited with unifying northern and southern Vietnam.
Today, locals still call Ho Chi Minh City Saigon, but despite this old name, the city has a youthful feel. Of the eight million people living in Ho Chi Minh City, more than half of them are under 35. This young population has contributed to Ho Chi Minh City being named the second most dynamic city in the world—a ranking based on innovation in technology. While Ho Chi Minh city has an identity all its own, it draws major culinary and architectural inspiration from France and America.
My City: Ho Chi Minh City
Get a local's perspective on Ho Chi Minh City, the "powerhouse of Vietnam."
Courtesy BBC.com Travel
Explore Ho Chi Minh City with O.A.T. on:
Mỹ Sơn Sanctuary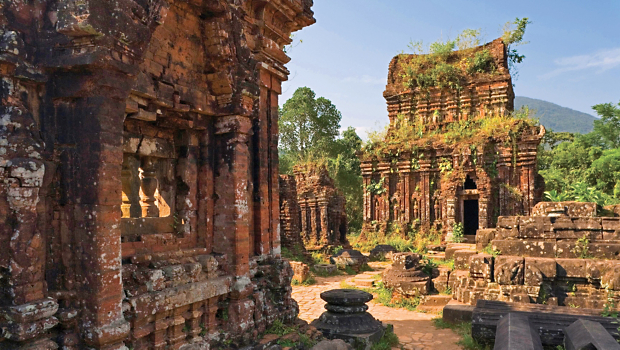 Journey back to antiquity to one of Vietnam's famous sites, My Son Sanctuary. These red-brick ruins were originally built between the fourth and 13th centuries as the cultural center of the Champa Kingdom. The Champa are an ancient group that descended from the Han dynasty, and were greatly influenced by Indian culture. They ruled from the second century to the 17th century.
The detailed architectural wonders were built to honor Hinduism and serve as a political capital for the Champa. Each of the temples boast religious and mythological symbols, including Vishnu, Krishna, and Shiva, which are represented as relief sculptures. The ruin's main structure is named after Mount Meru. Similar to Greek mythology's Mount Olympus, this sacred mountain is home to Hindu gods.
As you traverse the mossy pathways, you'll pass remnants of the Vietnam War. During an American air raid focused on eliminating the Viet Cong in this area, several temples were caught in the bombings and suffered irreparable damage. The preservation of what was left after the war and the cultural importance of these ruins resulted in the sanctuary's designation as a UNESCO World Heritage Site in in 1999.
Explore Mỹ Sơn Sanctuary with O.A.T. on:
Xom Gio Village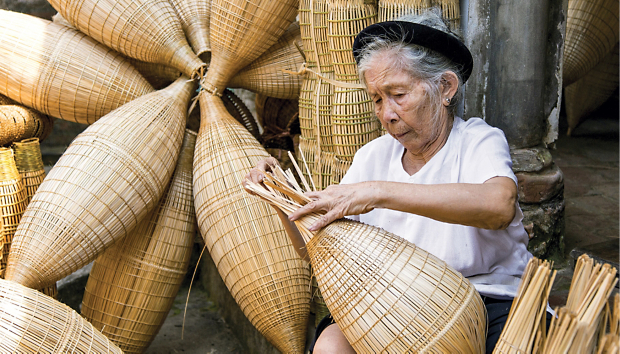 Get an authentic taste of rural life during a visit to Xom Gio Village where the warm and gracious locals will share a little part of their culture with you. Share a laugh with the village chief when he invites you into his home to help prepare a traditional meal—perhaps you'll savor Banh Canh, a Vietnamese bread and noodle soup.
During this intimate glimpse into the village's daily routine, you'll meet some of the village's youngest residents during a visit to a local kindergarten. Enjoy the opportunity to play games with the children and discuss the village's educational system with the principal.
Your day in this quaint village includes lessons in using chopsticks and basket making. Witness the delicate skill and patience that is needed to produce a woven basket for which the village is known for.
Explore Xom Gio Village with O.A.T. on:
Hué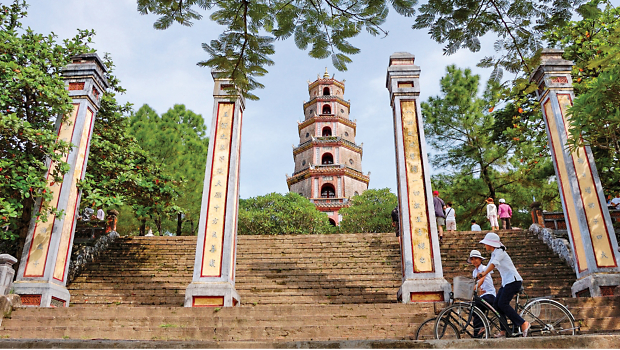 Everywhere you explore in the historically-rich city of Hué reveals part of its imperial past. They city's location along the Perfume River, a picturesque landscape where mountains peak from behind placid waters and boats seemingly glide across the river, was ideal for controlling the movement of trade and boats on the river. When the Nguyen family came into power in 1802, ruling over all of Vietnam, they chose Hué as their capital. This dynasty ruled until 1945, making it Vietnam's last dynasty.
Before the Nguyen's reign, they contributed the seven-story Thien Mu Pagoda, which stands as the country's tallest religious structure. Generations of the Nguyens have helped preserve this temple since its construction in 1601. Inside, the temple holds an important, historical, vintage car. In the early 20th century, Catholicism was widely accepted while Buddhists faced fierce discrimination. In protest of this prejudice, one man set himself on fire outside of his car in Saigon, which led to a wave of similar protests. The car at the scene is the one you currently see inside the temple today.
It's hard to imagine violence in such a tranquil city, but in addition to the Buddhist self-immolations that swept through the country, Hué was also the site of a bloody battle during the Vietnam War. In 1968, the Viet Cong attacked the forces protecting the walled city. After bloodshed and partial destruction of the city, American troops recaptured Hué. Today, statues of a dragon and a tiger stand watch over the city and are symbols of protection.
Hué was designated a UNESCO World Heritage Site in 1993 due to the abundance of historical sites and the significance of the city through the nation's history.
Explore Hué with O.A.T. on:
Featured Reading
Immerse yourself in Vietnam with this selection of articles, recipes, and more
ARTICLE
Delve into Vietnam's markets to discover its rich history and culture—from French influences to remnants of the Vietnam War.
ARTICLE
Take a journey to Vietnam—navigating the bustling streets and slurping your way through the traditional cuisine, pho.
ARTICLE
Under the guise of equality, Vietnam's women still struggle to defy antiquated traditions.
ARTICLE
There is no place on Earth quite like Halong Bay with its enchanting landscapes and mystical legends.
RECIPE
Bring the fusion of French and Vietnamese flavors into your home with this Bánh mi recipe.
The Markets of Vietnam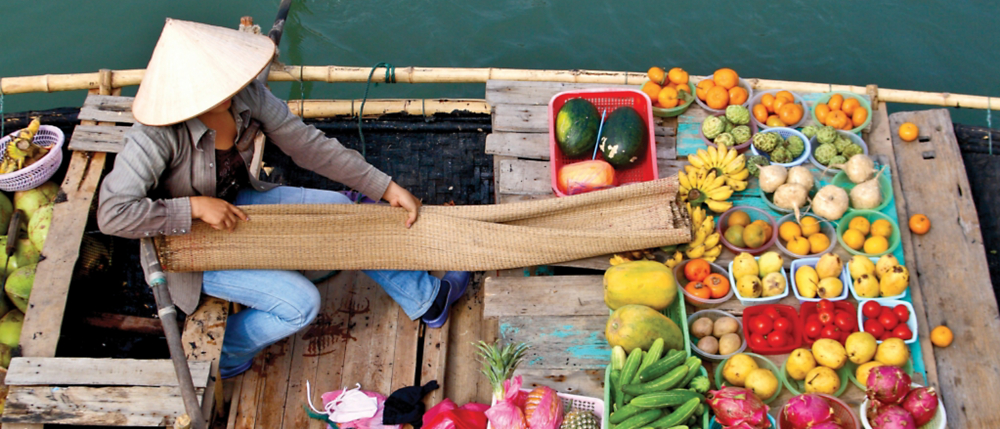 Four marketplaces reveal a forward-looking country
by Alison Rohrs, for O.A.T.
This sweaty, exhilarating affair couldn't be farther from the American shopping mall experience.
Now this is a lunch worth traveling for, I thought, as I watched the quick-handed woman behind the counter toss cooked shrimp, pork, mushrooms, and mung beans into her wok. She deftly maneuvered her spatula under the thin yellow crepe that coated the pan, folded it in half, and placed it on the plate before me. She smiled knowingly as she handed it to me, confident in her work.
It was an explosion of flavors and textures. The crisp lettuce gave way to the warm, saffron-infused crepe. The freshness of the mint and the tanginess of the sweet-and-sour sauce balanced the richness of the pork and shrimp. Smiling, I gave the vendor a thumbs-up sign and said "gaam uhn"—my best approximation of "thank you" in Vietnamese.
When I began my Vietnam travels, I expected to learn about the horrors of the American-Vietnam War and the injustice of the French colonization. What I didn't expect was the memories like this at Ben Thanh: the faces of the vendors and shop proprietors, eager to share their products and passions with me. Amidst museums and mausoleums, it's the markets and family-owned shops where I learned the most about Vietnamese resilience and pride.
Enterprising eateries in Ben Thanh Market
Begun as a street market by Vietnamese in the 17th century, walled in by the French, and finally reclaimed by modern city dwellers, the Ben Thanh Market is a microcosm of South Vietnam's history. When Ho Chi Minh City was still known as Saigon, French colonizers built the concrete structure as Les Halles Centrale in 1870 and moved local "wet market" vendors (proprietors of fresh food, including meats, fish, and produce) indoors.
In 1912, locals gave the market its Vietnamese name, Cho Ben Thanh, and today, little of the French influence remains. Now, a walk through its aisles is an immediate introduction to local clothing, customs, and food. Near the clock tower entrance, the "wet market" section remains surprisingly close to its traditional form, with stands of raw meats and fresh fish. Moving inside, seasonal flowers and fresh fruits are a more appetizing display for visitors.
The small, family-owned businesses at first surprised me in Vietnam. Didn't the Communists win? But I soon learned that following a period of economic reforms in the 1980s known as doi moi (renovation), the country has opened its stance to private business. While state-owned enterprises still account for about 40% of the GDP, the government continues to liberalize its economy, including an announcement this year that it will restructure state-owned enterprises, banking, and public investment between 2012 and 2015.
What's new in Hanoi's Old Quarter
At first glance, the tangle of 36 streets that is Hanoi's Old Quarter seems overwhelmingly modern, swarming with a sea of motorbikes and draped with knots of electrical wiring. But the origins of the Old Quarter can be traced back some 1,000 years, when the founder of the Dai Viet Empire, Ly Thai To, established his capital in what is now Hanoi, and artisan workshops sprung up around his palace. As the city became more established, the craftsmen joined into guilds to safeguard their trade secrets and share materials.
Today, the guilds have disintegrated, but the craftsmen have maintained the tradition of grouping their shops by specialty, forming a sort of market neighborhood of shops and open-air stalls. One of the most idyllic lanes in this neighborhood is Hang Quat Street, or "Street of Fans," lined with open shop houses selling colorful lanterns and Buddhist and Confucian shrines. In the middle of the lane, an entrepreneur sells Hanoi-brewed draft beer, called "bia hoi," for around 4,000 dong (20 U.S. cents) per glass. In the evening, visitors can hear Vietnamese men toast, "Tram phan tram!" which roughly means, "Drink it all at once!"
Tailor-made in Hoi An
Yet the best place in Vietnam to surround yourself with preserved shop houses is Hoi An. It was the country's busiest port in the early 1600s, and Chinese and Japanese merchants filled the town in the 17th and 18th centuries. Since then, skilled tailors have settled here in droves. Some estimates say there are nearly 400 tailoring and cloth shops in the town, and the competition is fierce. To keep pace with their neighbors, the craftsmen make high-quality and intricate pieces in a matter of hours.
It's an altogether unique experience to visit the tailor stalls in the town's market. Entire aisles are lined with sewing machines and stacks of fabric taller than the vendors who own them. When someone finds a stand, a style of clothing, and a price they like, the tailor takes measurements and discusses fabrics before naming a time when the buyer should return for the finished item. In all, this sweaty, exhilarating affair couldn't be farther from the American shopping mall experience.
A friendly future in Dong Ba
Hué's traditional market, Cho Dong Ba, covers some 17,000 square feet between the Perfume River and the 19th-century Citadel. The market remains an irresistible draw for residents seeking out fresh meals, clothing, and housewares.
For many Americans, Hué is best known for the 1968 Tet Offensive—a pivotal moment in the Vietnam-American War when the North Vietnamese forces broke a cease-fire agreement during the New Year's festival of Tet. The Communist troops held the city for 25 days, leveling buildings and killing nearly 3,000 civilians.
Yet, when stepping into the bustling Dong Ba Market, the busy vendors tell a different story. Eager for commerce and skilled in their trades, no one in the market is looking toward the past. Instead, they're proud to share their talents with visitors. And when you recognize that, they're usually happy to share a smile and a good snack with you, too.
Four marketplaces reveal a forward-looking country
Sweating the Small Stuff in Vietnam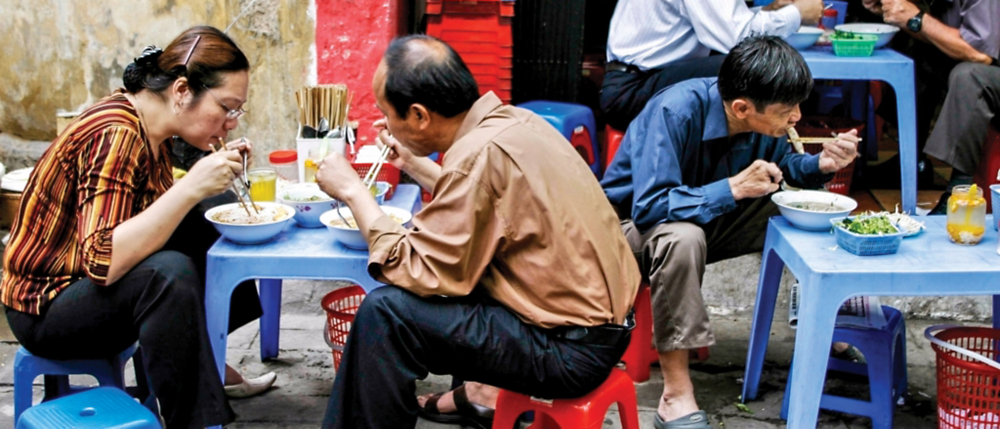 by Maryclaire Dugre, for O.A.T.
It was never on my bucket list. Beyond a growing addiction to pho and a hazy mental picture of rice paddies and conical hats, my associations with Vietnam were few—aside from the Big One of course, the war. I could hear it in the voices of my friends when I told them about my upcoming Vietnam travels: "Vietnam? Interesting." They were echoing my own thoughts, the ones I had buried under daydreams of unlimited spring rolls and white-sand beaches: What is the national mood in the decades following such devastation? How will modern day Vietnamese treat me as an American? And simply, what's it like over there?
Over the next 17 days, I lose myself—and my worries—in the beautiful sensory overload that is Vietnam. Of course, there are vestiges of war everywhere, from vintage propaganda posters to the eerie Hoa La Prison in Hanoi. But it's hard to focus on the past when the present commands all of my attention. For me, the small moments remain the most vivid. I eat—no, devour—the complex, colorful cuisine. I meet warm, forward-thinking people who take pride in their work. I feel the pulse of modern, steamy Ho Chi Minh City. I fall hard and fast for Vietnam. And I sweat … a lot.
A taste of Hanoi's Old Quarter
The Old Quarter is buzzing. Or maybe I'm just buzzed. I've discovered Vietnamese iced coffee, ca phe da—a strong, dark brew sweetened with condensed milk—and I'm currently jittering at the intersection of sugar high and caffeine surge. But it's not only me. At half past eight, the streets are already teeming with rickshaws and motorbikes toting young professionals, iPhone-wielding teenagers, and teetering mountains of exotic fruits and vegetables. Coffee shops spill onto sidewalks, cluttered with plastic chairs and tables. Women bend over stock pots to ladle soup into bowls on the curb. Vendors pile their goods up in haphazard clusters, turning sidewalks into obstacle courses. Good morning, Vietnam.
I hustle to keep up with Tee, my Trip Experience Leader, keeping one eye on his spiky hair and arm tattoo and another on the frenzy of activity around me. Each street in the labyrinthine Old Quarter specializes in something—bowls, shoes, bamboo housewares—like a giant department store turned inside out. It's sweltering. I push my bangs back for the umpteenth time, wishing we would find the street for bobby pins. I'm counting reasons to shave my head when Tee stops abruptly in front of a nameless street kitchen, crowded with pho-slurping locals. "Breakfast," he says.
We hunch over a tiny blue plastic table and squat on tiny blue plastic stools—the kind I used to stand on to reach the medicine cabinet. There is no place for my knees; I'm a grownup at the kids' table. I wipe my brow on my sleeve and wonder if Tee can see my glistening face. Plunk. A steaming bowl of pho arrives under my nose. I take my cue from Tee, who's turning his soup into a Pollock masterpiece with dollops of chili paste, splashes of fish sauce, and sprinkles of leafy green basil.
"Try some chili pepper." Tee expertly plucks three tiny red rings with his chopsticks and drops them in my bowl. I'm wary, but I tuck in anyway, slurping, savoring, and—FIRE. Instantly I'm a sweating, coughing, eye-watering mess. What is the cure for gargling lava? Beer. The lady running the kitchen hurries over with a glass. I force it down the hatch and put out the fire. My sinuses clear, and the flavors are suddenly so much more intense—anise, coriander, citrus. It's unfamiliar and delicious.
She's still standing over me, a wrinkle of concern across her brow. "You like?" I like. Tee is laughing at me. I go back for more.
Half-dressed in Hoi An: Vietnam's charming silk roads
I'm in my bra in a tailor shop with no dressing room. I think my eyebrows are sweating. It's 97 degrees, and I'm struggling to yank my new custom-made silk blouse over my sticky body (and eyebrows). I feel like a chubby six-year-old at the pool again, Dad shoving my arm into a plastic swim float that he forgot to wet first.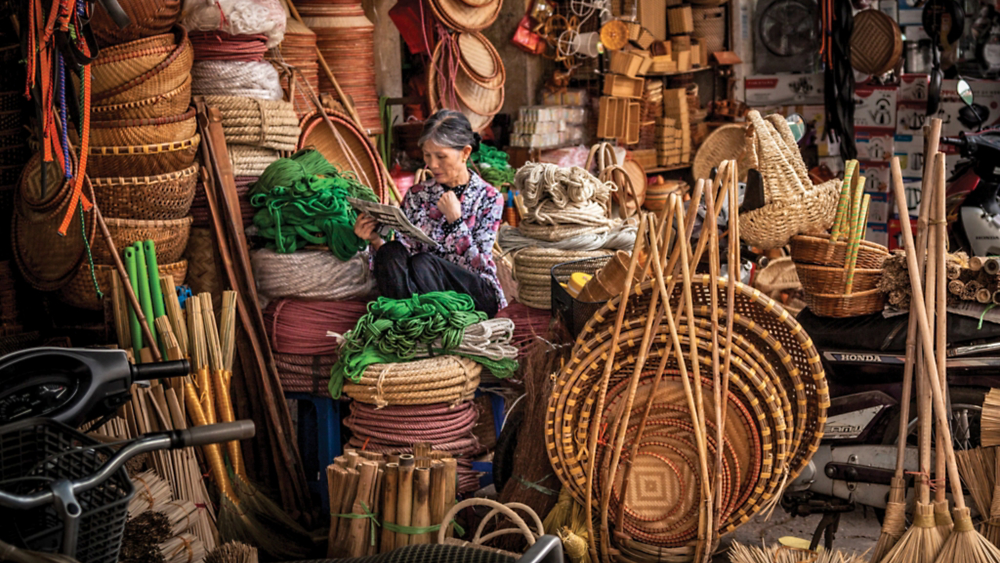 I don't know why I chose this particular tailor shop yesterday. Hoi An, one of the few places spared during the war, oozes old-world charm—narrow alleys glow with strings of lanterns, candy-colored boats bob along the Thu Bon River, and the ancient Japanese Covered Bridge still remains from the city's bygone days as a major trading port. Today, it's known for its industrious tailors, and the lightening-fast speed at which they can churn out quality, custom-fit silk apparel. There are a handful of tailor shops on every street in Hoi An—Vietnam's very own silk roads—but somehow, I found myself in Phuong's shop.
I meant only to browse, but within minutes, Phuong was taking my measurements for a royal blue silk blouse. As she sized me up, she pelted me with questions. What was America like? Had I been to Hollywood? Did I like my freckles? How did I stay so fair? She told me how Vietnamese women often covered themselves up head to toe to prevent suntans. I perspired more vigorously at the thought of wearing socks in this humidity.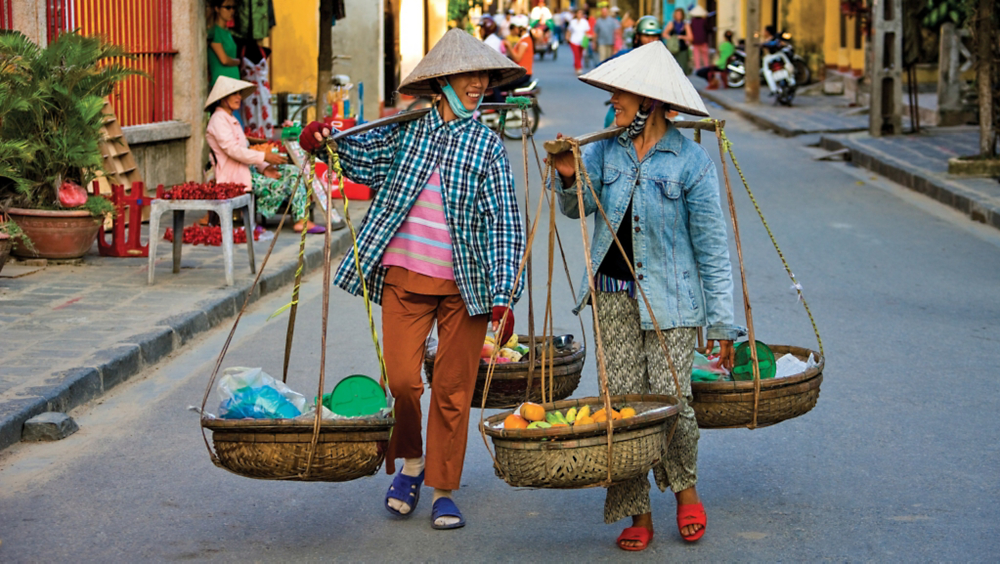 But we're in no mood for chitchat now. Phuong is on tip-toe, trying to guide my messy bun through the collar. She may have fashioned this blouse by hand in under 24 hours, but my head is one needle she can't thread. The other tailors have stopped working to observe the tall, squirming, half-naked white girl before them; I try to remember what bra I am wearing.
Finally, she locates a skillfully hidden side zipper. The fabric gives way and I'm in. I look at Phuong and feel the relief that washes over her face. We are bonded in this sweaty, silky struggle. We stand side by side in front of the mirror, our heads tilted, and consider her handiwork. It's perfect. I smile, Phuong smiles back at me through the mirror. I wonder how I will ever put this shirt on again without her.
A joy ride in Ho Chi Minh City
It's stifling in this helmet. I've finally mustered the courage to ride my first motorcycle on my last day in Vietnam. The driver fires up the engine, and I slide in behind him. Swarms of motorbikes whiz past us like bullets, leaving in their wake a cacophony of beeps that feels like a warning—maybe this is bad idea.
Too late; we're off. I grip the sides of the bike as we enter the throng. We maneuver around blurs of people and tires and fall into place. I am mesmerized by this organized chaos, a graceful choreography in rush hour traffic. My driver weaves in and out of the mob, flirting with disaster at every turn but never fumbling.
Speed up, slow down, speed up again. There's a jerky, staccato rhythm to this dance. We come to a stop at a congested intersection. To my left, a girl on a red motorbike texts on her smartphone in the seat behind her boyfriend. Up ahead, a mother holds a small child on her lap while another one clings to her from behind. We lurch forward again, and I try to take in the scenery around me: skyscrapers, narrow apartment buildings, restaurants, and street kitchens—was that Starbucks on the right?
Smartphone girl passes us on the left. This time she's looking up and smiling at me. It's the same open, welcoming expression I've seen on Tee and Phuong—another invitation to enjoy the best of Vietnam, the vibrant, youthful, intoxicating side I never knew about. I accept.
Suddenly it hits me: I'm not sweating. My hair is whipping back and forth because air is actually moving! So this is how they find relief. I relax my white-knuckle grip just as we come to a stop on the side of the road. I lean in and tell the driver to take me around the block again. This trip isn't over yet. I've finally found my breeze in the streets of Saigon, and it feels pretty good.
When Progress and Tradition Collide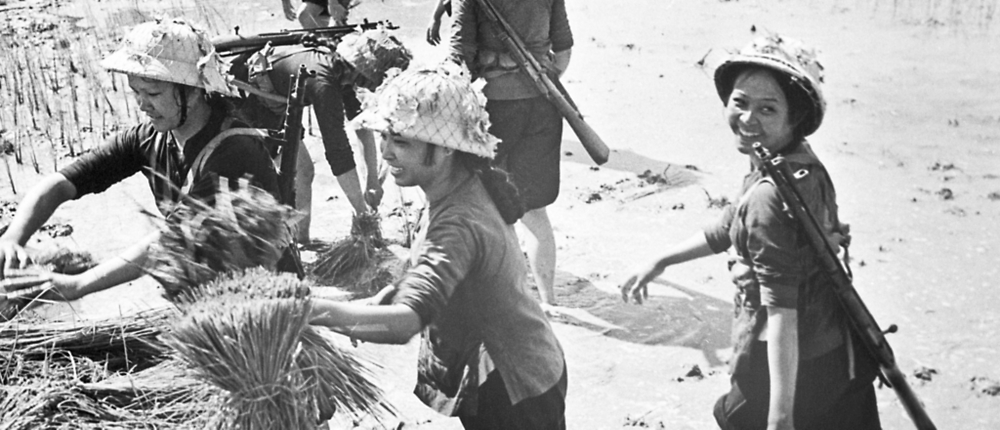 The Changing Role of Women in Vietnam
by Pamela Schweppe, from Dispatches
If you were to travel to Vietnam, the sight of women in their graceful ao dai—the country's traditional costume—might make you think that not much had changed for women over the centuries. But in fact Vietnamese women are caught in a crucible of transition as the country struggles with gender equality.
For centuries, Vietnamese women had been second-class citizens within their own culture. It was war that served as the momentum for change. For 30 years, from 1945 to 1975, North Vietnam and the Viet Cong fought against the South Vietnamese and its allies—first France and then the U.S. Women became active participants in the conflict. They served as patrol guards, supply carriers, nurses, and spies. Some spread propaganda, others recruited soldiers for the military. Some even served in combat. It was an effective tactic against Westerners who, at the time, didn't expect to see women in active duty.
As a result of their patriotism and service, women were rewarded with a trend toward equal rights. Early marriages and domestic violence declined sharply. And the government became an active proponent of equality. As early as the 1930s, Vietnam's Communist Party was advocating for it; by 1954, it was a focus of political indoctrination.
Socially, however, Vietnamese women have continued to face traditional expectations. Even today, women are expected to be respectful and obedient to their husbands and to raise the children and manage the household—regardless of the demands placed on them outside the home. The situation is even harsher for women in rural areas. Economic reforms of 1986 known as doi moi shifted agricultural labor from cooperatives back to individual households. As men looked for higher-paying work in urban areas, the burden of low-paying farm work fell increasingly on women.
Women fell prey to other social ills, as well. During the late years of the war, domestic violence began to rise again. With so many men lost to war, many women were compelled into polygamous marriages. And an increasing—and alarming—number of young teenagers became involved in prostitution.
Still, there have been advances. Literacy rates are close to par between the sexes, standing at 90.5% for women and 95% for men, as of 2009. Equal pay provisions are written into the country's constitution (though not always enforced), and women enjoy support such as paid maternity leave of up to six months.
In addition, Vietnam leads the continent in the percentage of women in the National Assembly, and it ranks 68 out of 140 countries on the Gender-Related Development Index of the United Nations' 2009 Human Development Index.
Despite explicit support from the government, however, women still must navigate the conflict between social and economic pressures. Further, career options may be limited by retirement regulations. With the retirement age for women five years earlier than that of men (55 as opposed to 60), by the time a woman qualifies for a potential promotion to a position of power, she is often passed over as being too close to retirement. And despite their political gains, women remain far outnumbered in the powerful Party Central Committee.
Hope may come in the form of the party-controlled Women's Union, which promotes women's rights politically, economically, legally—and in the home. For example, the Women's Union is addressing the gender discrimination inherent in climate change, with women more vulnerable to natural disasters because of their more limited economic and social resources. The Women's Union is also offering microfinancing programs to help women become entrepreneurs.
It remains to be seen whether women in Vietnam can liberate themselves just as effectively from cultural attitudes that are as old as their beautiful ao dai.
The Changing Role of Women in Vietnam
Halong Bay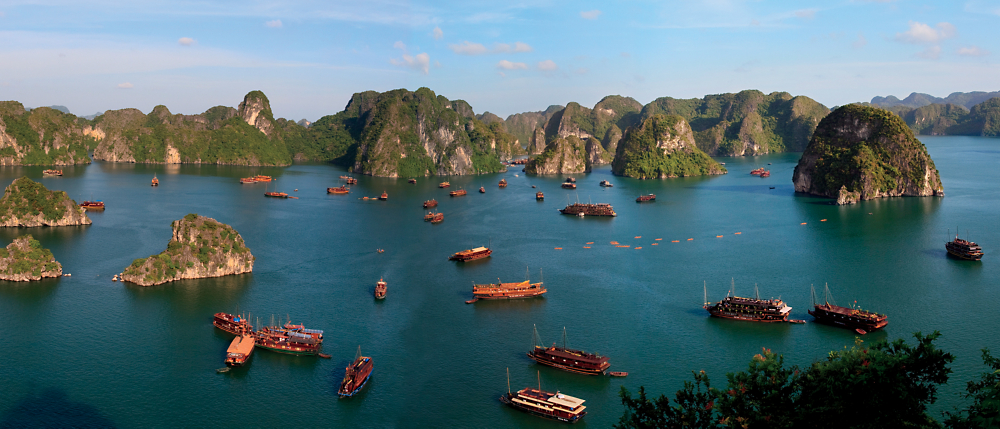 Vietnam's legendary emerald waters
by Molly Mastantuono, for O.A.T.
This surreal seascape, the "Bay of Descending Dragons," is an enduring symbol of what it means to be Vietnamese.
For centuries, the ethereal beauty of Vietnam's Halong Bay has cast a spell on locals and visitors alike, often rendering observers incapable of speech: John Rey, an early 20th century French journalist, concluded that what lay before him was "an indescribable, fanciful scene." And Revolutionary leader Ho Chi Minh matter-of-factly hailed Halong Bay as "A marvelous scene that no one person could communicate to another."
As more and more American travelers are discovering, it's quite common to feel awestruck (and inarticulate) upon encountering this UNESCO World Heritage Site and its otherworldly landscape. A wide expanse of emerald-green water off the northeastern coast of Vietnam, Halong Bay is punctuated by nearly 2,000 schist and limestone islands of varying shapes and sizes, each crowned with lush vegetation and often shrouded in mist.
According to geologists, these iconic islands formed around 250-280 million years ago, when tectonic shifts forced thousands of limestone mountains to rise up from the seafloor. As water levels subsided, these submerged mountains became sun-dappled islands, which have been transformed by erosion into their evocative present-day shapes.
But for those who live here, Halong Bay is cherished for more than its spectacular scenery. In a land where fantastic legends are regarded as sober fact, and ancestors are likened to omnipotent deities, this surreal seascape is an enduring symbol of what it means to be Vietnamese.
Mystical Origins
For many Vietnamese, the history of Vinh Ha Long is immortalized in its name, which translates as "Bay of Descending Dragons." As the story goes, a fierce mother dragon and her equally feisty children were dispatched from heaven to defend the Vietnamese people from Chinese invaders sailing south through Halong Bay. The benevolent beasts did so by spewing forth thousands of pearls and jade gemstones which, upon striking the water (or the ships), turned into the dramatic islands that visitors see today.
Of the nearly 2,000 islands scattered throughout the bay, roughly half have been named—and their often whimsical appellations are directly attributable to their animalistic, gravity-defying forms. For example, there's Hon Con Coc, or Toad Islet, which bears a striking resemblance to an oversized (nearly 30-foot-tall) amphibian. But other limestone formations in the bay aren't as easily discernible. To wit: a pair of towering, close-set islets with astonishingly narrow bases known as Hon Trong Mái, or Male and Female Chicken Islands. (These islands are so popular locally that they were chosen to appear on the official seal of Halong Bay created by the Vietnam National Tourism Administration.)
Much like snowflakes, it appears that no two islands are alike—which is one reason why travelers find Halong Bay so enchanting. And after boarding sleek traditional wooden junks and threading their way among the islands, visitors soon discover that no two vistas are alike, either. Rather, the constant interplay of sunlight and shadow on stone ensures visitors will encounter sublime scenery, wherever—and whenever—they look.
Hidden Charms
Quite a few of these seemingly solid limestone masses are home to extraordinary subterranean settings: vast caverns, or grottos, festooned with garlands of stalactites and stalagmites and accented by the occasional placid pond or rushing stream.
Perhaps unsurprisingly, each of these caves comes with its own special story of creation. And, just as the shapes of the islands influenced the names they were given, the distinct geological formations found within each grotto lend credence to its mythical origins. Such is the case with Thien Cung, or Heavenly Palace, grotto, the narrow entrance to which makes the first glimpse of the 427-foot-long cavern all the more breathtaking.
According to a popular folk tale, the Dragon Prince and his beloved bride, May, chose Thien Cung as the site for their lavish wedding, which lasted for seven days and seven nights. A motley crew of guests attended the nuptial celebrations, and their visages—including a group of dancing fairies, two lions with flowing manes, sinuous snakes, and several elephants—are ostensibly reflected in the vivid "fossils" that appear on the grotto's walls.
Historic Halong
While the unique patterns on the rocky interior of Thien Cung hint at what may have happened there, other grottoes have yielded actual fossils that prove humans have long inhabited Halong Bay.
In 1967, archaeologists discovered a veritable treasure trove of artifacts—including human teeth and bone fragments, stone axes and other tools, and petrified snail and mollusk shells—in Soi Nhu grotto. After thoroughly analyzing the find, scientists concluded that these early Vietnamese inhabitants lived in Soi Nhu between 5,000 and 10,000 years ago, making it one of the earliest known settlements in the country. Today, most Vietnamese regard Soi Nhu culture—and Halong Bay—as the birthplace of their national culture and identity.
Other archaeological finds reflect more recent Vietnamese history. In Dau Go grotto, experts found pieces of wooden stakes they believe are linked with a 13th-century military battle against invading Mongols. In 1288, General Tran Hung Dao used the cave to make and store hundreds of ironwood stakes, which he then planted in the riverbeds of the Bach Dang River. Tran tricked the Mongols into sailing into the river at low tide, where the stakes effectively turned them into sitting ducks, facilitating an easy Vietnamese victory. The site of one of the most important military triumphs in Vietnamese history, Dau Go grotto is perhaps the most revered site in Halong Bay.
With so much history and folklore attached to this scenic expanse in the Gulf of Tonkin, there's clearly more to Halong Bay than meets the eye. Indeed, it seems there's a legend to explain both the existence and importance of every alluring limestone island—which, considering there are nearly 2,000 of them, explains why so many visitors are left slack-jawed with awe after encountering Vietnam's watery wonderland.
Vietnam's legendary emerald waters
A Tasty Ode to Vietnam's French Roots
Bánh mì
from Harriet's Corner
This Vietnamese staple—topped with fresh cilantro (or coriander leaves, as the locals know it) and fiery Sriracha—packs some serious flavor at street-food's low price. And while there are many varieties of the scrumptiously spicy fare, this pork and pâté Bánh mì is an easy at-home spin on a tried-and-true classic.

Ingredients:
Filling:
1 1/2 cups rice wine vinegar
1 tsp. Sriracha, plus additional to taste
1 large carrot, shredded
2 cucumbers, peeled, seeded and cut into strips
1 red onion, thinly sliced
1 lb. thin boneless pork chops
Salt and freshly ground pepper
4 baguettes
Mayonnaise
Pâté (store-bought), thinly sliced
2 jalapeños, sliced
Fresh cilantro bunch
Preparation:
In a small bowl, whisk together rice wine vinegar and Sriracha until mixed. Add sliced carrots, cucumbers, and onion, and toss to coat. Place in the refrigerator and let sit 20 to 30 minutes.
Sprinkle pork chops with salt and pepper. In a sauté pan over medium-high heat, cook pork until browned, just a few minutes on each side. Remove from pan and cut on the bias.
Split the baguettes down the middle, and coat with thin layer of mayonnaise. Add the desired amount of Sriracha over the mayo. Layer with pork chop slices, pâté, jalapeños, and marinated vegetables. Top sandwich with cilantro, and serve.
Serves: 4
Bánh mì