Forgot Your Username
If you have forgotten your username, please provide your email address in the box below. We'll send you an email with your requested username. If you are having trouble, please call us toll-free at 1-800-221-0814.
Email Sent
You'll receive an email in a few minutes. Please check this email to find your requested username.
If you do not receive an email or you are having trouble logging into My Account, please call us at 1-800-221-0814.

TANZANIA
After earning its independence from Britain in the early 1960s, Tanzania—made up of what was then Tanganyika and Zanzibar—became a united republic in 1964, and subsequently, East Africa's largest country. Its flag, issued the same year, combines yellow, blue, green, and black—colors that symbolize the sun, the Indian Ocean, the nation's naturally rich landscapes, and the native Swahili people, respectively. Heavily dependent on agriculture, which represents over 80% of the country's jobs and exports, Tanzania was a one-party state until its first democratic election in 1995. Since then, its biggest political challenges in modern history have revolved around managing relations with Zanzibar, a nearby archipelago and technically semi-autonomous extension of the nation's mainland territory.
From the sun-drenched plains of the Serengeti to the exotic beaches and spice plantations of Zanzibar, Tanzania is a wildly beautiful and culturally rich country, where expansive wilderness, and intimate interactions in small tribal villages, are equally accessible to adventurous souls. Journeys through Tanzania span from Africa's lowest point—Lake Tanganyika— to its highest point—Mount Kilimanjaro—revealing all of the country's true colors along the way.
Tanzania Interactive Map
Click on map markers
below to view information about top Tanzania experiences
Click here to zoom in and out of this map
Most Popular Films
Films featuring Tanzania from international, independent filmmakers
A Surreal Safari
Let an O.A.T. traveler guide you through the wild plains of Tanzania with footage from his "surreal" adventure.
Produced by Victor Castroverde
Exotic Zanzibar, Tanzania
Follow Regina and Pat to the spice fields, streets, and forests of Zanzibar—an island you can visit on our extension.
Produced by Regina Fraser and Pat Johnson
Aerial Tanzania
Fly over Serengeti National Park for stunning vistas of Tanzania's wildlife.
Produced by Electric Peak Creative
Travelogue: Arusha, Tanzania 1950
Venture back nearly 70 years to witness Tanzania's Ngorongoro Crater and Maasai tribal lands in this vintage 16mm footage.
Produced by David Conover & Paul Villanova
The Rhythms of Tanzania
We've been working with independent international filmmakers to provide you with videos that portray the people, culture, and lifestyles of the countries you're interested in visiting. We believe this video offers a unique perspective on Tanzania.
Produced by Nichole Sobecki and Brad Kimbrough ©2014 The New York Times
Featured Reading
Immerse yourself in Tanzania with this selection of articles, recipes, and more
ARTICLE
This ancient group carries traditions with them, but faces the struggle of adapting to modernity.
ARTICLE
Follow wildebeest and zebras as they migrate 18,640 square miles across the Serengeti—the longest migration in the world.
ARTICLE
These awkward but lovable giraffe is a biological marvel. Discover how its body works and how this creature evolved.
ARTICLE
Discover the hardships the Maasai women endure in their communities and the steps being taken to better their lives.
Tanzania: Month-by-Month
There are pros and cons to visiting a destination during any time of the year. Find out what you can expect during your ideal travel time, from weather and climate, to holidays, festivals, and more.
Tanzania in January-February
While the Northern Hemisphere experiences some of its coldest weather around this time of year, January and February bring heat and high humidity to Tanzania during its green season. The landscapes are lush, and many animals give birth to their offspring around this time which means it's a prime time for wildlife viewing: calving season means plenty of baby wildebeest, but also plenty of active predatory kills. Migratory birds are present and visible around this time of year, and as many animals are heading north in search of vegetation and water, you're more likely to spot them grazing. While the humidity is high in surrounding areas, the high altitude of Ngorongoro Crater makes it a cooler haven for animals and travelers alike.
Holidays & Events
January: Throughout the month, the Wanyambo Festival in northern Dar es Salaam celebrates all aspects of Tanzanian culture, including dance, music, fashion, and food.
February 8-11: Sauti za Busara is an African music festival that takes place annually in Stone Town, Zanzibar.
Must See
Because this is calving season, baby wildebeest are filling the plains and attracting larger preditors. You may be surprised to see that wildebeest calves are born with the ability to walk, and may even begin running minutes after birth.
Tanzania in March-May
March begins a period of heavy rains that typically continues through May, though in recent years it's become less predictable, with May being uncharacteristically dry. With the torrential rains come floods, and even higher humidity. Due to flooding, Tanzania's roads are sometimes subject to closure, meaning certain safari camps don't operate this time of year. Depending on the year, this may mean less access to national parks, but also less tourists. Some even say it's the best time to go when there are fewer crowds and more animals taking advantage of the abundant water sources.
Holidays & Events
April 26: Union Day (also known as Unification Day) commemorates the 1964 joining of Tanganyika with the People's Republic of Zanzibar to form what is today known as Tanzania.
Must See
The heavy rains this time of year bring higher water levels to Ngorongoro Crater, increasing your chances of seeing huge flocks of flamingo populate the area.
Tanzania in June-August
June begins Tanzania's dry season, attracting the largest crowds of the year. Late June is usually when there are the most safari vehicles. Decreases in both temperature and humidity make it a very comfortable time to be out on safari. June is also the mating season for migrating wildebeests. As the land becomes drier, watering holes disappear, meaning larger groups of animals congregate at whatever water sources they can find. July begins to warm up a bit and we continue to see clear skies. Still one of the driest times of the year, this is when you typically begin to see clouds of dust generating from safari vehicles. (Pro-tip: bring a scarf and sunglasses if you choose to go on safari this time of year.) By August, the dry conditions clearly have taken a toll on the thinning grasslands, making animals easier to spot from far distances.
Holidays & Events
July: Zanzibar International Film Festival
July 23/24: the annual Mwaka Kogwa Festival in Zanzibar is a traditional celebration of the Shirazi or Persian new year.
Must See
As the land dries out starting in June, millions of wildebeest, antelope, and zebra head north in search of water and better grazing opportunities in what is known as the Great Migration. Individuals form groups, and those groups combine and grow into larger and larger herds as they start to relocate. While catching sight of this sought-after phenomenon is rare, you may see the herds encountering crocodiles as they struggle to make their way across the Serengeti's Grumeti River, one of the first dramatic obstacles nature throws their way. By August, many of the surviving members of the large herd will have made it into Kenya.
Tanzania in September-October
Dry, less humid weather continues around this time of year, and the moderate climate and reduced cloud covering make it a great time to climb Mt. Kilimanjaro. Because peak season is over and the animals of Ngorongoro Crater don't migrate, this is also prime time for wildlife viewing at the world's largest inactive volcanic caldera. Though most are still up north, some of the animals of the great migration may begin their journey back south from Kenya. Come October, the temperatures are back on the rise and rainfall begins a gradual increase, though it's still nowhere near that of the wet season.
Tanzania in November-December
Short overnight rains in the north signal the beginning of the green season and attract animals who had previously left in search of more hospitable lands. In the southern and western regions of Tanzania, these rains may continue through May. Any of the animals who still haven't returned from the great migration typically will have come back to the Serengeti from Kenya by November. Short rains persist into December, freshening up landscapes that had become powdered with dust.
Holidays & Events
December 25: Christmas
December: Swahili Fashion Week is an annual showcase for fashion and accessory designers from Swahili speaking countries.
Average Monthly Temperatures
Compare Our Adventures
Click 'Select to Compare' to see a side-by-side comparison of up to adventures below—including
activity level, pricing, traveler excellence rating, trip highlights, and more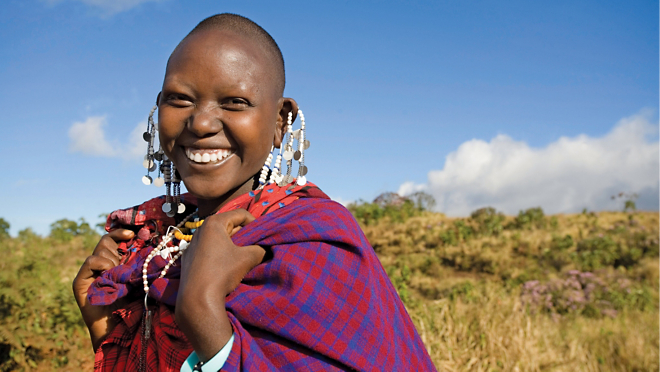 13 DAYS FROM $5,495 • $ 423 / DAY
Small Group Adventure
Tanzania: Arusha, Tarangire, Oldupai Gorge, Serengeti National Park, Ngorongoro Highlands & Crater
33 meals—daily breakfast, 11 lunches, and 11 dinners
Enjoy up to 10 game-viewing drives
Visit a Maasai village
Explore Ngorongoro Crater
Witness the historic Oldupai Gorge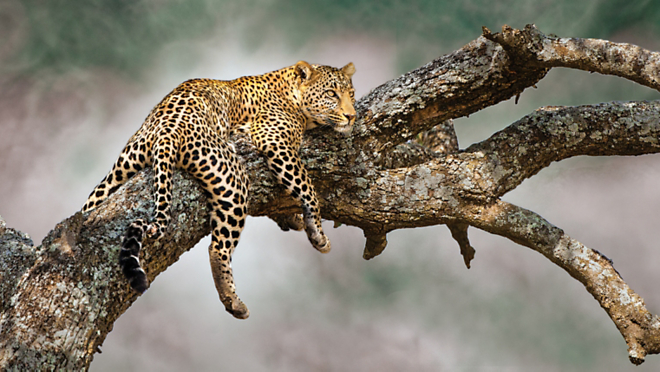 18 DAYS FROM $6,495 • $ 361 / DAY
Small Group Adventure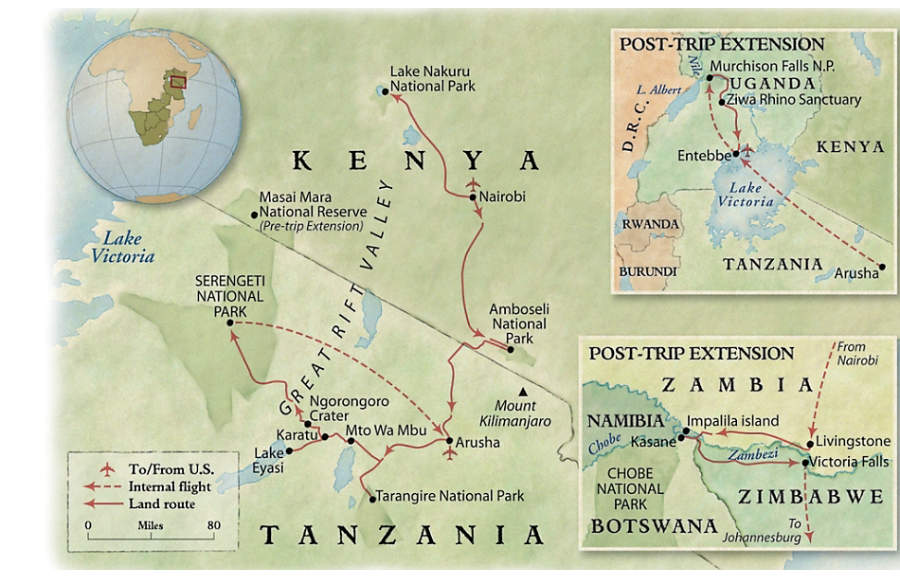 Kenya: Nairobi, Lake Nakuru, Amboseli • Tanzania: Tarangire, Lake Manyara, Ngorongoro Highlands & Crater, Serengeti National Park
47 meals—daily breakfast, 16 lunches, and 15 dinners
Enjoy up to 12 game-viewing drives
Visit the Hadzabe and Datoga tribes
Explore Ngorongoro Crater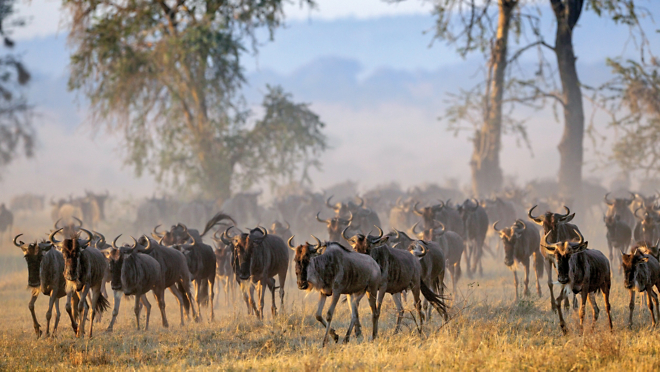 34 DAYS FROM $11,090 • $ 327 / DAY
Small Group Adventure
Zimbabwe: Hwange • Zambia: Kafue • Botswana: Chobe, Okavango Delta • Zimbabwe: Victoria Falls • Kenya: Nairobi, Lake Nakuru, Amboseli • Tanzania: Tarangire, Ngorongoro Highlands & Crater, Serengeti National Park
90 meals—daily breakfast, 29 lunches, and 29 dinners
Enjoy up to 12 game-viewing drives
Visit the Hadzabe and Datoga tribes
Explore Ngorongoro Crater