The Leader in Personalized Small Group Adventures on the Road Less Traveled

SPAIN
"I would sooner be a foreigner in Spain than in most countries," George Orwell once said. "How easy it is to make friends in Spain!" A country known for its lively festivals, vibrant night life, and a penchant for shared plates (that's tapas, for those in the know)—one can easily imagine slipping into the friendly, fun-loving embrace of Spain. The Spanish have a knack for extracting as much of life's pleasures as possible—whether savoring small dishes of fresh, local cuisine, setting a dance floor ablaze with a fiery flamenco, or running through the streets with a stampede of bulls. But they also know when to slow things down, opting to take midday siestas—resting up for another night of dancing, wine, and camaraderie.
Long before Spain was known as a country of party goers, it was a land of explorers. Christopher Columbus led the charge during the age of exploration and eventual colonization of the Americas which helped Spain grow to become the most powerful European country at the time. Once Spain discovered the "New World," as the Europeans then called it, the monarchy sent waves of people to South America, led by the infamous Conquistadors. The Conquistadors' search for gold, slaves, lucrative trade routes, and—of course—international fame helped Spain create their enormous empire.
In the more recent past, however, Spain has become more known for its contribution to the arts. Artists like Pablo Picasso and Salvador Dalí put Spain on the map, and the country sought to cultivate this appreciation for culture with the construction of lauded museums such as the Guggenheim. And art was not limited to paintings or sculptures—architects such as Antoni Gaudí created Modernist masterpieces like the awe-inspiring Sagrada Família.
Spain exudes natural beauty as well—its landscape varies dramatically from rolling fields of olive trees to craggy mountains and spectacular coastlines along both the Atlantic Ocean and Mediterranean seas. No matter where you find yourself, Spain makes sure you are surrounded by beautiful sights, vibrant culture, and new-found friends.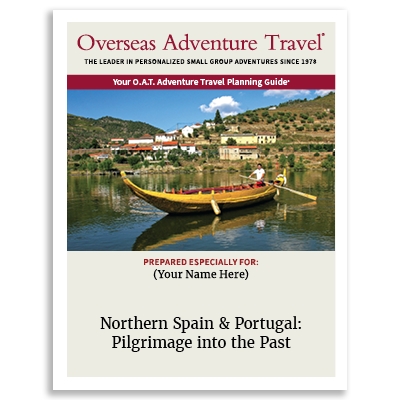 Get your FREE personalized Spain Travel Planning Guide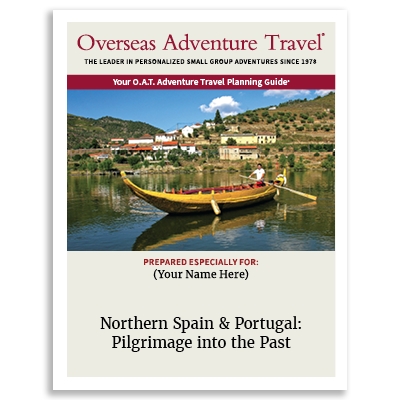 Get your FREE personalized Spain Travel Planning Guide
To help you get the most out of your Spain travel experience, we've complied a comprehensive, 88-page Travel Planning Guide containing everything you need to know to prepare for an unforgettable adventure. Not only will it highlight the daily experiences that await, but it will also provide you with the many options you have to personalize your experience. Sign in or register for a My Account to receive more information about Spain, including:
A detailed Day-to-Day itinerary
Available departure dates & prices
Monthly weather & climate by region
Regional history & demographics
Packing suggestions
Optional tours
Trip extensions
Options to personalize your experience
Electrical information
Recommended movies, books, and more
Request a Travel Planning Guide
Compare Our Adventures
Click 'Select to Compare' to see a side-by-side comparison of up to adventures below—including
activity level, pricing, traveler excellence rating, trip highlights, and more
Recommended Viewing
Watch this video showcasing what makes this country so unforgettable
Unscripted in Ronda
Let Trip Experience Leader Victor Garrido show you more of Ronda beyond the itinerary in this video as he leads you to a churrería, prehistoric caves, and an abandoned Roman city.
Recommended Videos
Watch your fellow travelers' favorite films & videos
Smart Travels with Rudy Maxa: Madrid
Join Emmy award-winning travel expert Rudy Maxa in the extravagant city of Madrid, "the next thing to heaven."
Vernona and Linda's Spain Trip Experience
Follow along as this mother-daughter pair treks the Camino de Santiago across Northern Spain, stopping to learn about the running of the bulls and taste the flavors of local markets.
A Photographer's Guide to Seville
Follow a photographer in Seville as he uses both his lens and his senses to capture favorite locales.
Taste of the Andalucia
Feel the pulse of daily life in Seville as locals share helpful tips, from the ideal Spanish breakfast to ordering tapas.
Spain: Month-by-Month
There are pros and cons to visiting a destination during any time of the year. Find out what you can expect during your ideal travel time, from weather and climate, to holidays, festivals, and more.
Spain in December-February
Though temperatures can vary across the country, winter in Spain is generally much milder than in most other European destinations. For example: In Madrid, Spain's geographical heart, highs around 50⁰F and lows of 38⁰F are typical. In fact, many travelers prefer to visit in December through February precisely to avoid Spain's famous sizzling summers. While some shops, restaurants, and minor sites may close early (or not open at all) at this time of year, larger cities keep the same pace—and operating hours—no matter the season.
Holidays & Events
December 6: Constitution Day; marks the date in 1978 that Spain ratified its constitution, officially ending its 40-year period of dictatorship.
December 8: Inmaculada; known in English as the Feast of the Immaculate Conception, this religious holiday honors the Virgin Mary with Mass, parades, and fireworks.
December 25: Christmas
February: Carnival; numerous festivals are celebrated throughout the period before Lent.
Must See
Spain's Christmas traditions are a varied as the country itself: Each city has its own way of celebrating the season. In Valencia, for example, a seasonal circus act runs from Christmas Eve through January 6. A few days before Christmas, Santo Tomás Fair draws artisans and locals alike to Bilbao, and those who stick around are treated to a city-wide parade. And in Malaga, on the temperate Costa del Sol, revelers take to the streets for the Verdiales Music Festival, where flamenco takes center stage and turrón (almond nougat) is plentiful.
Watch this film to discover more about Spain
Spain & the Basque Country
Take a journey through Spain's Basque country, from its coastal marinas to its architecturally-rich city streets.
Spain in March-May
Warmer spring-like temperatures in southern Spain make March to May a great time to enjoy the outdoors. Even lows of 55 degrees are mild enough to allow one to enjoy the stunning golden glow of Malaga sunsets over the Mediterranean. Visiting Valencia and Madrid is exceedingly comfortable, especially in April—and as it is the off-season for tourism, your travel dollars will go farther.
Holidays & Events
Mid- to late March: The Fiesta de la Magdalena in Castellón celebrates the city's relocation in 1251 to its current locale.
March 3: The Feste de Sant Medir in Barcelona features thousands of tons of candy thrown into spectating crowds from a frenetic parade.
March 15 to March 19: The Fallas Festival in Valencia is one for the books. Various communities in the city come together to produce elaborate floats, often depicting political and comedic themes. As the energetic parades, accompanied by people in elaborate cultural dress, come to a close, many of the floats are set on fire. At this point, the city is filled with people drinking, dancing, and playing music.
Late March: For the price of 10 Euros, sample the fare of hundreds of beer brewers who have come together for two days with brews from around the continent.
Mid- to late April: The Seville Fair; a 6-day, city-wide festival which features parades of elaborate carriages and colorfully-costumed revelers during the day, and eating, drinking, and dancing all night.
Must See
Easter Week, or Semana Santa, is a massive country-wide celebration in Spain. In Malaga, haunting processions of men in pointed white and black masks proceed down the cobble-stone streets with torches. Often also carrying ornate floats depicting Jesus Christ, thousands of clergy-men and laymen alike carry the floats silently, often to the tune of Chopin's "Funeral March".
Watch this film to discover more about Spain
Spain & the Basque Country
Take a journey through Spain's Basque country, from its coastal marinas to its architecturally-rich city streets.
Spain in June-August
From the balmy coast to the sun-baked interior, the whole of Spain in summer is quite the hot-spot—both literally and figuratively. Cities such as Seville, Cordoba, and Madrid can get extremely warm in summer and one-hundred degree days are not out of the question. These high temperatures do keep the crowds away, so it's a great time to explore the country's iconic sights. However, you should plan for quiet afternoons; the Spanish tradition of taking a siesta—a midday rest or nap to escape the heat—means that many restaurants, shops, and even banks will be closed for a few hours.
If you don't fancy a nap, you could spend your siesta at one of Spain's famously beautiful beaches. With 5,000 miles of coastline and 300 days of sunshine a year, every summer day is a good day for relaxing by the sea.
Holidays & Events
June 23: St. John's Eve; marks the beginning of summer, and is celebrated at the beach with bonfires and fireworks. Many revelers will leap over these fires at midnight, believing it will bring them good luck.
July 25: Feast of Saint James the Apostle; many Christians believe that the remains of the saint are buried in Galicia's Santiago de Compostela.
Aug 15: Assumption of Mary; a Catholic holiday marking the Mother of Christ ascending into Heaven.
Last Wednesday of August: La Tomatina; a wild tomato fight that takes place in the town of Buñol at the end of a week of parades, parties, and street markets.
Must See
While Spain is the hottest during the summer months, this also means popular places like Granada are free of its regular crowds. The Sierra Nevada is especially gorgeous in the abundant sunshine. Along the coast, visitors can catch a sea breeze while admiring iconic sights such as the ancient Roman lighthouse in A Coruna.
If you're looking for festivals and fairs, August is the best time to find them in Spain. The August Fair in Malaga boasts an entire week full of activities and events, day and night. During the feria de dia (fair during the day), you can stroll bustling street markets and enjoy traditional music and flamenco dances. The feria de noche (fair during the night) is a lively party, offering food stalls and dance tents.
In Barcelona, the magical Fiestas de Gracia is celebrated in mid-August. The streets are alive with color, lights, and extravagant decorations as each neighborhood vies for the best decorated prize. Also competing for your attention are street acrobats, outdoor concerts, and fireworks displays at night.
Watch this film to discover more about Spain
Spain & the Basque Country
Take a journey through Spain's Basque country, from its coastal marinas to its architecturally-rich city streets.
Spain in September-November
In fall, the scorching heat of summer begins to cool, making it an ideal time to visit cities like Madrid, Seville, and Cordoba. The southern coast is still bathed in sunshine and warmth, so you can enjoy Spain's beautiful beaches—without the summer crowds. In the north, the weather will tend towards cooler and rainy, so be sure bring along an umbrella as well as a light jacket.
Holidays & Events
September 11: Catalonia National Day; commemorates the end of the siege of Barcelona in 1714.
Late September: Feria de San Miguel; celebrated in Sevilla with traditional bullfights.
October 12: Spanish National Day; commemorates Christopher Columbus first arriving in the Americas in 1492.
Early to mid-October: Fiestas del Pilar; an annual festival celebrated in the city of Zaragoza in honor of the patron saint of the city, the Virgen del Pilar.
November 1: All Saints' Day
Must See
September in Spain is over-flowing with festivals—from the Fiesta de la Virgen de Guadalupe and the Feria de Pedro Romero in Ronda, to the grape harvests in La Rioja. The biggest harvest celebration is the San Mateo fiestas in Logroño which takes place over the last two weeks of September. During this time, expect lively street celebrations, traditional grape-crushing demonstrations, and bullfights. Meanwhile, in Barcelona, the city comes alive during the Festa La Mercè—a festival chock-full of street entertainment like castellers (acrobats), parades, and correfocs (fire runs).
Inland, Spanish cuisine is the main event. The hearty fare of Castille, including Segovia's suckling pig, savory roast lamb, and Burgos's rich morcilla (blood sausage), is the perfect complement for autumn's cooling temperatures.
Watch this film to discover more about Spain
Spain & the Basque Country
Take a journey through Spain's Basque country, from its coastal marinas to its architecturally-rich city streets.
Average Monthly Temperatures
Spain Interactive Map
Click on map markers
below to view information about top Spain experiences
Click here to zoom in and out of this map
Featured Reading
Immerse yourself in Spain with this selection of articles, recipes, and more
ARTICLE
Discover what ignited Ernest Hemingway's passion for the Spanish city of Pamplona.
ARTICLE
Discover the iconic dance that embodies the heart and soul of Spain's passionate people.
ARTICLE
Get a taste of the origins and variations of this flavorful Spanish dish.