Forgot Your Username
If you have forgotten your username, please provide your email address in the box below. We'll send you an email with your requested username. If you are having trouble, please call us toll-free at 1-800-221-0814.
Email Sent
You'll receive an email in a few minutes. Please check this email to find your requested username.
If you do not receive an email or you are having trouble logging into My Account, please call us at 1-800-221-0814.

SPAIN
"I would sooner be a foreigner in Spain than in most countries," George Orwell once said. "How easy it is to make friends in Spain!" A country known for its lively festivals, vibrant night life, and a penchant for shared plates (that's tapas, for those in the know)—one can easily imagine slipping into the friendly, fun-loving embrace of Spain. The Spanish have a knack for extracting as much of life's pleasures as possible—whether savoring small dishes of fresh, local cuisine, setting a dance floor ablaze with a fiery flamenco, or running through the streets with a stampede of bulls. But they also know when to slow things down, opting to take midday siestas—resting up for another night of dancing, wine, and camaraderie.
Long before Spain was known as a country of party goers, it was a land of explorers. Christopher Columbus led the charge during the age of exploration and eventual colonization of the Americas which helped Spain grow to become the most powerful European country at the time. Once Spain discovered the "New World," as the Europeans then called it, the monarchy sent waves of people to South America, led by the infamous Conquistadors. The Conquistadors' search for gold, slaves, lucrative trade routes, and—of course—international fame helped Spain create their enormous empire.
In the more recent past, however, Spain has become more known for its contribution to the arts. Artists like Pablo Picasso and Salvador Dalí put Spain on the map, and the country sought to cultivate this appreciation for culture with the construction of lauded museums such as the Guggenheim. And art was not limited to paintings or sculptures—architects such as Antoni Gaudí created Modernist masterpieces like the awe-inspiring Sagrada Família.
Spain exudes natural beauty as well—its landscape varies dramatically from rolling fields of olive trees to craggy mountains and spectacular coastlines along both the Atlantic Ocean and Mediterranean seas. No matter where you find yourself, Spain makes sure you are surrounded by beautiful sights, vibrant culture, and new-found friends.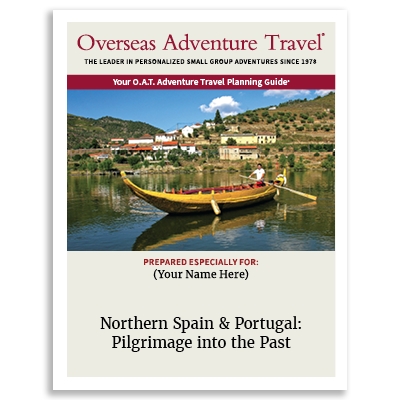 Get your FREE personalized Spain Travel Planning Guide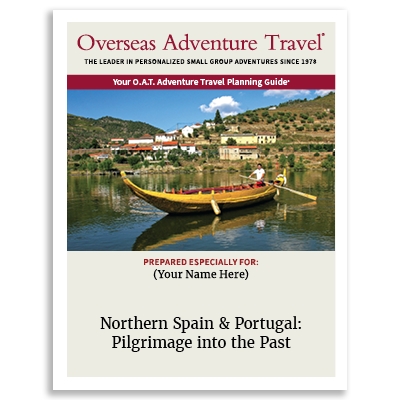 Get your FREE personalized Spain Travel Planning Guide
To help you get the most out of your Spain travel experience, we've complied a comprehensive, 80-page Travel Planning Guide containing everything you need to know to prepare for an unforgettable adventure. Not only will it highlight the daily experiences that await, but it will also provide you with the many options you have to personalize your experience. Sign in or register for a My Account to receive more information about Spain, including:
A detailed Day-to-Day itinerary
Available departure dates & prices
Monthly weather & climate by region
Regional history & demographics
Packing suggestions
Optional tours
Trip extensions
Options to personalize your experience
Electrical information
Recommended movies, books, and more
Request a Travel Planning Guide
Compare Our Adventures
Click 'Select to Compare' to see a side-by-side comparison of up to adventures below—including
activity level, pricing, traveler excellence rating, trip highlights, and more
Compare Adventures
Find the Adventure That's Right for You
Our Activity Level rating system ranks adventures on a scale of 1 to 5 to help you determine if a trip is right for you. See the descriptions below for more information about the physical requirements associated with each rating.
Travelers should be able to climb 25 stairs consecutively, plus walk at least 1-2 miles over some uneven surfaces without difficulty. Walks typically last at least 1-2 hours at a time. Altitude can range from zero to 5,000 feet.
Activity Level 2:
Moderately Easy
Travelers should be able to climb 40 stairs consecutively, plus walk at least 2-3 miles over some uneven surfaces without difficulty. Walks typically last for at least 2-3 hours at a time. Altitude can range from zero to 5,000 feet.
Activity Level 3:
Moderate
Travelers should be able to climb 60 stairs consecutively, plus walk at least 3 miles over some steep slopes and loose or uneven surfaces without difficulty. Walks typically last for 3 or more hours at a time. Altitude can range from 5,000 to 7,000 feet.
Activity Level 4:
Moderately Strenuous
Travelers should be able to climb 80 stairs consecutively, plus walk at least 4 miles over some steep slopes and loose or uneven surfaces without difficulty. Walks typically last for 4 or more hours at a time. Altitude can range from 7,000 to 9,000 feet.
Activity Level 5:
Strenuous
Travelers should be able to climb 100 or more stairs consecutively, plus walk at least 8 miles over some steep slopes and loose or uneven surfaces without difficulty. Walks typically last for 4 or more hours at a time. Altitude can range from 10,000 feet or more.
Hide Acivity Level
PRICE
including international airfare
HIGHLIGHTS & ACTIVITIES IN SPAIN
*This information is not available for our trip extensions. You must reserve the main trip to participate on this extension.
**This information is not currently available for this trip. Please check back soon.
Recommended Viewing
Watch this video showcasing what makes this country so unforgettable
Unscripted in Ronda
Let Trip Experience Leader Victor Garrido show you more of Ronda beyond the itinerary in this video as he leads you to a churrería, prehistoric caves, and an abandoned Roman city.
Recommended Videos
Watch your fellow travelers' favorite films & videos
Smart Travels with Rudy Maxa: Madrid
Join Emmy award-winning travel expert Rudy Maxa in the extravagant city of Madrid, "the next thing to heaven."
Vernona and Linda's Spain Trip Experience
Follow along as this mother-daughter pair treks the Camino de Santiago across Northern Spain, stopping to learn about the running of the bulls and taste the flavors of local markets.
Local Perspective
Meet a pilgrimage route volunteer, a musician, and a professor as you explore Spain and Portugal.
A Photographer's Guide to Seville
Follow a photographer in Seville as he uses both his lens and his senses to capture favorite locales.
Taste of the Andalucia
Feel the pulse of daily life in Seville as locals share helpful tips, from the ideal Spanish breakfast to ordering tapas.
Spain: Month-by-Month
There are pros and cons to visiting a destination during any time of the year. Find out what you can expect during your ideal travel time, from weather and climate, to holidays, festivals, and more.
Spain in December-February
Though temperatures can vary across the country, winter in Spain is generally much milder than in most other European destinations. For example: In Madrid, Spain's geographical heart, highs around 50⁰F and lows of 38⁰F are typical. In fact, many travelers prefer to visit in December through February precisely to avoid Spain's famous sizzling summers. While some shops, restaurants, and minor sites may close early (or not open at all) at this time of year, larger cities keep the same pace—and operating hours—no matter the season.
Holidays & Events
December 6: Constitution Day; marks the date in 1978 that Spain ratified its constitution, officially ending its 40-year period of dictatorship.
December 8: Inmaculada; known in English as the Feast of the Immaculate Conception, this religious holiday honors the Virgin Mary with Mass, parades, and fireworks.
December 25: Christmas
February: Carnival; numerous festivals are celebrated throughout the period before Lent.
Must See
Spain's Christmas traditions are a varied as the country itself: Each city has its own way of celebrating the season. In Valencia, for example, a seasonal circus act runs from Christmas Eve through January 6. A few days before Christmas, Santo Tomás Fair draws artisans and locals alike to Bilbao, and those who stick around are treated to a city-wide parade. And in Malaga, on the temperate Costa del Sol, revelers take to the streets for the Verdiales Music Festival, where flamenco takes center stage and turrón (almond nougat) is plentiful.
Watch this film to discover more about Spain
Spain & the Basque Country
Take a journey through Spain's Basque country, from its coastal marinas to its architecturally-rich city streets.
Spain in March-May
Warmer spring-like temperatures in southern Spain make March to May a great time to enjoy the outdoors. Even lows of 55 degrees are mild enough to allow one to enjoy the stunning golden glow of Malaga sunsets over the Mediterranean. Visiting Valencia and Madrid is exceedingly comfortable, especially in April—and as it is the off-season for tourism, your travel dollars will go farther.
Holidays & Events
Mid- to late March: The Fiesta de la Magdalena in Castellón celebrates the city's relocation in 1251 to its current locale.
March 3: The Feste de Sant Medir in Barcelona features thousands of tons of candy thrown into spectating crowds from a frenetic parade.
March 15 to March 19: The Fallas Festival in Valencia is one for the books. Various communities in the city come together to produce elaborate floats, often depicting political and comedic themes. As the energetic parades, accompanied by people in elaborate cultural dress, come to a close, many of the floats are set on fire. At this point, the city is filled with people drinking, dancing, and playing music.
Late March: For the price of 10 Euros, sample the fare of hundreds of beer brewers who have come together for two days with brews from around the continent.
Mid- to late April: The Seville Fair; a 6-day, city-wide festival which features parades of elaborate carriages and colorfully-costumed revelers during the day, and eating, drinking, and dancing all night.
Must See
Easter Week, or Semana Santa, is a massive country-wide celebration in Spain. In Malaga, haunting processions of men in pointed white and black masks proceed down the cobble-stone streets with torches. Often also carrying ornate floats depicting Jesus Christ, thousands of clergy-men and laymen alike carry the floats silently, often to the tune of Chopin's "Funeral March".
Watch this film to discover more about Spain
Spain & the Basque Country
Take a journey through Spain's Basque country, from its coastal marinas to its architecturally-rich city streets.
Spain in June-August
From the balmy coast to the sun-baked interior, the whole of Spain in summer is quite the hot-spot—both literally and figuratively. Cities such as Seville, Cordoba, and Madrid can get extremely warm in summer and one-hundred degree days are not out of the question. These high temperatures do keep the crowds away, so it's a great time to explore the country's iconic sights. However, you should plan for quiet afternoons; the Spanish tradition of taking a siesta—a midday rest or nap to escape the heat—means that many restaurants, shops, and even banks will be closed for a few hours.
If you don't fancy a nap, you could spend your siesta at one of Spain's famously beautiful beaches. With 5,000 miles of coastline and 300 days of sunshine a year, every summer day is a good day for relaxing by the sea.
Holidays & Events
June 23: St. John's Eve; marks the beginning of summer, and is celebrated at the beach with bonfires and fireworks. Many revelers will leap over these fires at midnight, believing it will bring them good luck.
July 25: Feast of Saint James the Apostle; many Christians believe that the remains of the saint are buried in Galicia's Santiago de Compostela.
Aug 15: Assumption of Mary; a Catholic holiday marking the Mother of Christ ascending into Heaven.
Last Wednesday of August: La Tomatina; a wild tomato fight that takes place in the town of Buñol at the end of a week of parades, parties, and street markets.
Must See
While Spain is the hottest during the summer months, this also means popular places like Granada are free of its regular crowds. The Sierra Nevada is especially gorgeous in the abundant sunshine. Along the coast, visitors can catch a sea breeze while admiring iconic sights such as the ancient Roman lighthouse in A Coruna.
If you're looking for festivals and fairs, August is the best time to find them in Spain. The August Fair in Malaga boasts an entire week full of activities and events, day and night. During the feria de dia (fair during the day), you can stroll bustling street markets and enjoy traditional music and flamenco dances. The feria de noche (fair during the night) is a lively party, offering food stalls and dance tents.
In Barcelona, the magical Fiestas de Gracia is celebrated in mid-August. The streets are alive with color, lights, and extravagant decorations as each neighborhood vies for the best decorated prize. Also competing for your attention are street acrobats, outdoor concerts, and fireworks displays at night.
Watch this film to discover more about Spain
Spain & the Basque Country
Take a journey through Spain's Basque country, from its coastal marinas to its architecturally-rich city streets.
Spain in September-November
In fall, the scorching heat of summer begins to cool, making it an ideal time to visit cities like Madrid, Seville, and Cordoba. The southern coast is still bathed in sunshine and warmth, so you can enjoy Spain's beautiful beaches—without the summer crowds. In the north, the weather will tend towards cooler and rainy, so be sure bring along an umbrella as well as a light jacket.
Holidays & Events
September 11: Catalonia National Day; commemorates the end of the siege of Barcelona in 1714.
Late September: Feria de San Miguel; celebrated in Sevilla with traditional bullfights.
October 12: Spanish National Day; commemorates Christopher Columbus first arriving in the Americas in 1492.
Early to mid-October: Fiestas del Pilar; an annual festival celebrated in the city of Zaragoza in honor of the patron saint of the city, the Virgen del Pilar.
November 1: All Saints' Day
Must See
September in Spain is over-flowing with festivals—from the Fiesta de la Virgen de Guadalupe and the Feria de Pedro Romero in Ronda, to the grape harvests in La Rioja. The biggest harvest celebration is the San Mateo fiestas in Logroño which takes place over the last two weeks of September. During this time, expect lively street celebrations, traditional grape-crushing demonstrations, and bullfights. Meanwhile, in Barcelona, the city comes alive during the Festa La Mercè—a festival chock-full of street entertainment like castellers (acrobats), parades, and correfocs (fire runs).
Inland, Spanish cuisine is the main event. The hearty fare of Castille, including Segovia's suckling pig, savory roast lamb, and Burgos's rich morcilla (blood sausage), is the perfect complement for autumn's cooling temperatures.
Watch this film to discover more about Spain
Spain & the Basque Country
Take a journey through Spain's Basque country, from its coastal marinas to its architecturally-rich city streets.
Average Monthly Temperatures
Featured Reading
Immerse yourself in Spain with this selection of articles, recipes, and more
ARTICLE
Discover what ignited Ernest Hemingway's passion for the Spanish city of Pamplona.
ARTICLE
Discover the iconic dance that embodies the heart and soul of Spain's passionate people.
ARTICLE
Get a taste of the origins and variations of this flavorful Spanish dish.
A Literary Love Affair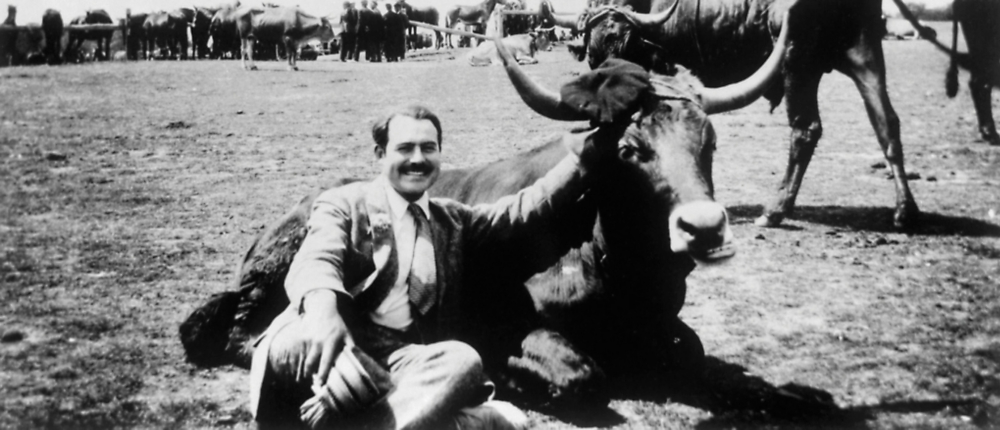 Hemingway and the city of Pamplona
by David Valdes Greenwood, for O.A.T.
"To me a heaven would be a big bull ring with me holding two barrera (ringside) seats …" wrote Ernest Hemingway in a 1925 letter to fellow novelist F. Scott Fitzgerald. Hemingway was about to return to Pamplona, a Spanish city that had become precious to him, and one he often encouraged others to visit—just as a mentor had once inspired him.
Two years earlier, Hemingway had sought out Pamplona on the advice of Gertrude Stein, a literary titan and fellow American. In fact, without Stein, The Sun Also Rises—Hemingway's debut novel about a group of ex-pats who venture to Pamplona for its annual running of the bulls—might not have been written at all.
The woman behind the journey
Stein and her partner Alice B. Toklas were avid art collectors and traders who sold a Matisse during World War I to fund their Spain travel. While there, they found the sunny island of Mallorca especially to their liking and later returned for a longer stay. Though Stein called Mallorca a "paradise," she knew such an idyllic setting wouldn't appeal to everyone; so when she became close to Hemingway in the post-war years, she steered him to the city of Pamplona instead.
According to Hemingway's grandson John, "[Stein] knew my grandfather well and probably thought, where else in Europe could a war veteran go and expect to find the same danger and exhilaration that comes from living on the edge, the same camaraderie and apparent contradictions that [he] had seen on the Austrian front in Italy in 1918?"
Following his mentor's advice, Hemingway headed for Spain and came back a changed man. In fact, the experience was so influential that when Hemingway's son Jack was born a year later, he was given two middle names—one of which was Nicanor, after Pamplona matador Nicanor Villalta.
Into the ring
Some historians errantly claim that Hemingway was just an observer of the corridas (bullfights) and the annual running of the bulls during Pamplona's San Fermín festival. But he leapt at the chance to experience these passionate traditions firsthand, as photos from his first two trips make clear.
In 1924, Stein received a postcard featuring a black and white photograph of a bullring filled with multiple sets of matadors and banderilleros (essentially the matador's back-up squad). Hemingway and several of his friends are shown in the scrum. On the back of the card, Hemingway describes getting around the bull's horns and finally getting the beast's head down.
In letters to other friends that same year, he describes being thrown several times, but also successfully passing the cape over the bull in moves known as veronicas and naturales. He may have even run with the bulls, as a photo on display at the John F. Kennedy Library in Boston shows him decked in white at the end of the run, close on the horns of an angry animal.
Apparently, Hemingway didn't feel like his actual exploits were good enough for storytelling, so he made up a press release claiming he and a friend had been gored, a falsehood that was reprinted on the front pages of newspapers from Chicago to Toronto. Though untrue (he wasn't hurt at all and the wounded friend had broken ribs but was not gored), it helped establish his reputation early on as an adventurer and rogue.
Despite the gap between fact and fiction, Hemingway did, in actuality, know firsthand what he was talking about when he wrote, "A really brave fighting bull is afraid of nothing on Earth … and, to me, is the finest of all animals to watch in action and repose."
Hemingway's haunts
Many of the locations Hemingway frequented during his nine trips to Pamplona—as well as those mentioned in The Sun Also Rises—can still be found in the modern-day city, where they continue to draw curious visitors.
For instance, sprawling more than three acres in the heart of the city is Plaza del Castillo, where covered arcades outline a pedestrian square as popular now as it was then. Hemingway's characters stayed in a hotel overlooking the expanse, eating and drinking in cafés below. Their favorite coffee shop, Café Iruña, remains fully recognizable after 90 years, with its Art Nouveau black-and-white tile flooring, mirrored walls, ornately adorned pillars, and white globe chandeliers.
Nearby sits Bar Txoko, Hemingway's tavern of choice on his last visit. Smaller, simpler, and devoid of buzz, it's now just a spot for a casual bite or a drink in the narrow bar area. It may be harder to feel the period flavor of the Hemingway era, but it's still easy to slip inside for a cocktail or two—a very Hemingway-esque pursuit.
On the northeast corner of the plaza, the Gran Hotel La Perla was Hemingway's favorite hotel. His room (the number of which changed from 217 to 201 after renovations) has gained a new bathroom since his visits but otherwise retains its character, with the same pink loveseat, white rotary telephone, twin beds, and writing desk.
And of course, visitors to Pamplona can still retrace the half-mile route of the running of the bulls on foot, starting below Town Hall on Santo Domingo Street and then following Mercaderes. And on the long chute-like stretch of narrow Estafeta Street, it's easy to imagine the space between man and bull collapsing—understanding how rapidly things could go wrong, and how much adrenaline must be pumping to get a runner safely into the Plaza del Toros at the finish.
The end of an era
A love of Pamplona stayed with Hemingway throughout his life—even as his time in Spain dwindled, with nearly three decades between the first seven visits and the final two. By the end of the 1950s, his grandson John says Hemingway came to a sober realization about Pamplona and life alike: "You don't own it. Nothing is permanent and everything is ephemeral and passing."
When Hemingway sipped cocktails at Txoko in 1959, he didn't know for sure it would be his last visit, but he had an inclination that his legend would live on in Pamplona. That bittersweet trip is echoed in his final book, The Dangerous Summer: "The wine was as good as when you were twenty-one, and the food as marvelous as always. There were the same songs and good new ones that cracked and suddenly pounded onto the drums and the pipes. The faces that were young once were old as mine, but everyone remembered how we were."
Hemingway and the city of Pamplona
Flamenco: Heart of Spanish Dance
A national culture displayed through fiery movements & a pulsing beat
by Carley Thornell
The resounding chords of a furiously strumming guitarist keep the precise rhythms of compas, Spanish metre and time signature. An impassioned vocalist claps and walks to the beat. The vibrations from a cajon drum box beat like a collective heartbeat. And a dancer assumes the spotlight.
This woman with dark bun, swirling ruffles, fringed shawl, ruby lips, and nails to match, has come to symbolize the very essence of flamenco. This lined yet beautiful face, this body that is no longer slender but still lithe, belongs to one of the art form's most recognizable women: Matilde Coral.
This septuagenarian embodies the essence of the duende, or soul of flamenco. Unlike other forms of dance, where dancers turn professional early and youth is often the most valued quality, flamenco dancers don't peak until they're in their 30s—or beyond. It's an art form that embraces wisdom and experience, all channeled into passionate, and at times plaintive, movements. The Spanish Civil War-era poet, dramatist, and theater director Frederico Garcia Lorca wrote of this essence:
"The duende, then, is a power … I have heard an old maestro of the guitar say, 'The duende is not in the throat, the duende climbs up inside you, from the soles of the feet."
For Matilde, this spirit was cultivated from the time the soles of her feet learned to walk on the Andalusian terrain. Born in 1935 in Seville—credited as the birthplace of flamenco dance (baile), guitar (toque), and song (cante)—she started dancing in clubs at age 16, borrowing the ID of her 18-year-old cousin to work legally. At age 20, she was hired to work at El Guajiro, the seminal club that pioneered the phasing in of tablao flamenco establishments in lieu of cabarets nationwide. There, amidst the mirrored walls and bullfighting posters, she met her husband, Rafael El Negro.
Though she has found fame in her footwork, Matilde's experience isn't uncommon in that her training started in her mother's small living room; likewise for Rafael, often referred to as a "gypsy dancer." Traditional flamenco artists rarely received formal training, instead learning by listening and watching relatives, friends, and neighbors. In its most authentic form, flamenco can be seen danced informally at Gitano (gypsy) weddings and gatherings in Spain, and etymology of the dance and its eponymous music is, in the eyes of many historians and countrymen, synonymous with this nomadic people.
Those many different forms have evolved, flamenco puro, with hips moving and arms curving around the head and body, is considered to be closest to these Gitano origins. This dance is performed solo, improvised rather than choreographed. Voluminous, commercialized costumes are discouraged, and props like castanets and fans are sometimes frowned upon. There have been no greater proponents of puro than Matilde and the late Rafael, whose Seville School of Andalusian Dance, founded in 1967, promotes these traditions.
Throughout the rest of Europe, where ballet uses academies and encourages precision and grace, its tutu-clad primas never outshine the choreography, each move executed as planned. Romance-language words ballet and baile sound similar, but they are worlds apart, the latter a poor man's dance, of and for the people.
A national culture displayed through fiery movements & a pulsing beat
The Birthplace of Paella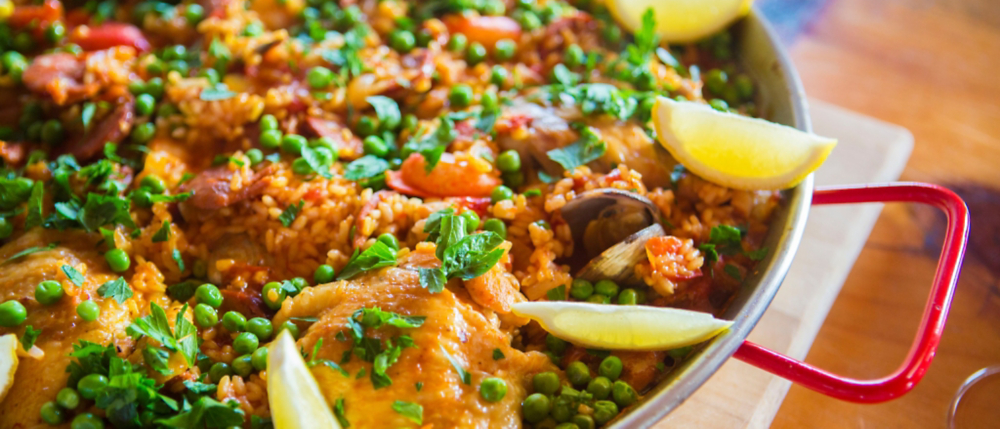 Where a world-famous dish was born
by Amanda Read, from Insider
Paella, the Spanish rice dish known the world over, originated in Valencia. So naturally the best and purest paellas are here. To be exact, Albufera, a large freshwater lagoon just outside of Valencia, is where the tradition began. In the 8th century, the Moors began planting rice in the lagoon. Workers cooked the rice right in the fields, adding delicious local ingredients—and the rest is delicious history.
Today, the two classic dishes are Paella Valenciana and Paella de Marisco. Both dishes use Spanish rice, saffron, some vegetables and olive oil, but the Valenciana uses chicken (and often rabbit!) and the Marisco is a seafood dish. Chefs add calamari, mussels, shrimp, lobster, or clams to the latter, always with their shells still intact. A third type that came about later on is Paella Mixta, which mixes both meat and seafood. Valencians view this dish as inauthentic and inferior, which is why even though it's popular elsewhere, it's rather difficult to find in the city. While not classical paella, Valencia offers other delicious rice dishes as well. Arroz Negro is a paella-type dish cooked in squid ink. And Fideua is a dish similar to paella but with noodles in place of the rice.
Paella gets its name from the pan used to serve it, called a paellera. Because this dish is meant to be a social one, shared among at least two people, the pan is very large and can go directly from sitting atop a wood fire directly to the tabletop. (We recommend anyone going to Spain travels light—this way you may be able to bring one home as a souvenir.) For large fiestas or gatherings, Valencians have begun making record-breaking sized portions of paella. Valencian restaurateur Juan Galbis claims to have made the world's largest paella in 2001, feeding about 110,000 people(!) and was even featured in the Guinness Book of World Records.
Valencians are very proud of their paella history and consider it a symbol of their city. Of course recipes vary, even here. Locals compete for the honor of best paella, which means that it's the customer who is the true winner.
Where a world-famous dish was born
Your FREE Personalized Spain Travel Planning Guide
Thank you for your interest—you may view your Spain Travel Planning Guide below. We hope to see you on the road less traveled soon!
Your FREE Personalized Spain Travel Planning Guide is on its way
Thank you for your interest. Your Spain Travel Planning Guide will arrive in 7-14 business days. We hope to see you soon on the road less traveled.
Back Roads of Iberia: Spanish Paradores & Portuguese Pousadas
View Online
Northern Spain & Portugal: Pilgrimage into the Past
View Online
Want to continue learning about Spain? Return to our Spain destination page.
Go Back To Spain
Please note: To complete your registration, check your email—we sent you a link to create a password for your account. This link will expire in 24 hours.