Forgot Your Username
If you have forgotten your username, please provide your email address in the box below. We'll send you an email with your requested username. If you are having trouble, please call us toll-free at 1-800-221-0814.
Email Sent
You'll receive an email in a few minutes. Please check this email to find your requested username.
If you do not receive an email or you are having trouble logging into My Account, please call us at 1-800-221-0814.
KENYA
Some of the earliest evidence of our human ancestors has been found in Kenya's arid Great Rift Valley, giving this fascinating equatorial country the nickname "The Cradle of Humanity." From these early beginnings stem the rich culture and fortitude of the Kenyan people, who in 1963 ended their long and bitter struggle for uhuru ("freedom") and gained their independence from British colonial rule. Today, Kenya has the most powerful economy in East Africa and a wealth of ethnic groups, including the Maasai, united in their strong sense of national pride.
From the sweeping grasslands of the savannah to the permanently snow-capped peaks of Mount Kenya, this East African country is a rich tapestry of dramatic natural beauty and diverse wildlife. Kenya is home to some of the world's best game parks, where lions stalk their prey and giraffes graze peacefully among the tall grass. Lucky visitors may be treated to nature's finest act: the annual wildebeest migration between the endless plains of Tanzania and the crocodile-infested waters of Kenya's Masai Mara.
Kenya Interactive Map
Click on map markers
below to view information about top Kenya experiences
Click here to zoom in and out of this map
Most Popular Films
Films featuring Kenya from international, independent filmmakers
In Kibera: A Girl's Life
Venture to Kibera, Kenya's largest slum, where young girls are working hard to turn their dreams into realities.
Produced by Josh Hayward
Travelogue: East Africa 1952
Looking behind the mask: discover the traditional grooming practices of Maasai tribesmen.
Produced by David Conover & Paul Villanova
Fire and Ice: Dramatizing the Disappearance of Mount Kenya's Glaciers
Learn how a team of photographers used fire to track Kenya's melting Lewis Glacier over 70 years.
Produced by Antonio Olmos and Ekaterina Ochagavia
©2014 THE NEW YORK TIMES
Featured Reading
Immerse yourself in Kenya with this selection of articles, recipes, and more
ARTICLE
This ancient group carries traditions with them, but faces the struggle of adapting to modernity.
ARTICLE
Discover the hardships the Maasai women endure in their communities and the steps being taken to better their lives.
ARTICLE
These awkward but lovable giraffe is a biological marvel. Discover how its body works and how this creature evolved.
Kenya: Month-by-Month
There are pros and cons to visiting a destination during any time of the year. Find out what you can expect during your ideal travel time, from weather and climate, to holidays, festivals, and more.
Kenya in January-March
In the beginning of the year, Kenya sees relatively hot and dry weather with chances of short afternoon rains. Temperatures are on the rise and newborn animals tempt large cats and other predators roaming the plains. With enough water having accumulated during the height of the wet season, animals may be seen congregating at water holes, rivers and lakes. As January turns to February, and February turns to March, the climate becomes even drier, ushering in what's typically the year's lowest levels of precipitation. And the thoroughly-grazed plains leave big game exposed for easier viewing on safari drives.
Holidays & Events
March: The East Africa Arts Festival, hosted by the Kenyan National Museum, is an annual celebration of arts and culture—from music and literature to fashion, crafts, and more.
Must See
Depending on water levels, March may be the best time to witness the sought-after flocks of flamingos that congregate on the banks of Kenya's Lake Nakuru.
Kenya in April-June
In April, and even into May, heavy rains paint the plains green. Flowers are in bloom and lush vegetation spreads across the land. Some parks may be flooded and harder to access, and while the number of travelers may decline with the colder climate, dramatic scenes of nature unravel across the verdant, stormy plains. With the right safari gear, the height of the wet season can be the optimal time for travelers interested in capturing unforgettable wildlife photography. By June, the rains begin to die down, welcoming drier, but still relatively cool, weather. While the climate grows more comfortable, and before the migration season is fully upon us, this time of year typically offers a nice balance of mild weather and mild crowds. Some years, the great wildebeest migration will have crossed from Tanzania into Kenya by June, but often it's not until July that the spectacle reveals itself.
Holidays & Events
May: Marsabit-Lake Turkana Cultural Festival is an annual celebration showcasing cultural traditions and performances from 14 different ethnic communities.
Kenya in July-September
By July, the great migration has most likely worked its way from Tanzania into Kenya, toward Lake Victoria, and east toward the Masai Mara area. The cool, dry weather continues, and hoards of travelers flock to the region in hopes of catching a glimpse of the wildebeest. Though it may be peak time for game-viewing, the rains from previous months leave the plains covered in long grasses, obstructing distant animals from view and requiring more diligent searches. Throughout the dry season, the vegetation thins out, and game-viewing becomes easier. By August, the wildebeest migration typically settles and can be seen grazing in the newly-inhabited Kenyan plains. September mornings and evenings remain cooler, but by now, overall temperatures begin a steady rise.
Holidays & Events
Midyear: the Maralal International Camel Derby is a competitive camel race that takes place in Kenya annually. It attracts spectators from around the world and is a celebratory, entertaining social event.
Must See
During this time of year, sometimes lucky travelers get to witness the great migration of wildebeest across the crocodile-infested Mara River.
Kenya in October-December
Temperatures continue to rise into October, and November's short rains signify the end of Kenya's dry season, and the beginning of the great migration's return to Tanzania. The heaviest rains typically occur in the afternoons and evenings, making early morning game-viewing drives a popular option. This time of year typically attracts fewer crowds, but still offers excellent game-viewing opportunities. By mid-December, the short rains have usually died down, beginning anew the dry season that lasts approximately until April.
Holidays & Events
November: Organized by Kenya's Ministry of Tourism, the Mombasa Carnival consists of two converging parades honoring Mombasa's multicultural communities.
Dec 12: Jamhuri Day marks the celebration of Kenya's independence from Britain.
Average Monthly Temperatures
Compare Our Adventures
Click 'Select to Compare' to see a side-by-side comparison of up to adventures below—including
activity level, pricing, traveler excellence rating, trip highlights, and more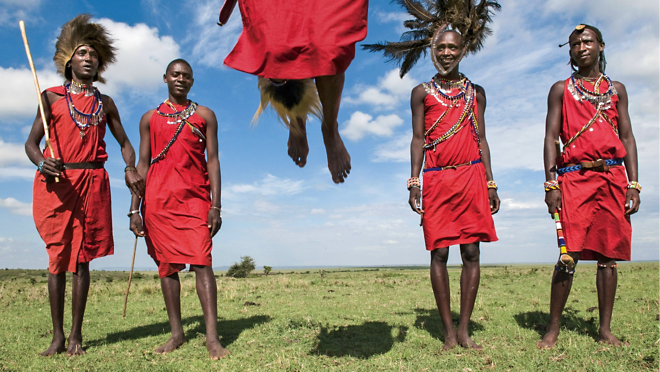 34 DAYS FROM $11,090 • $ 327 / DAY
Small Group Adventure
Zimbabwe: Hwange • Zambia: Kafue • Botswana: Chobe, Okavango Delta • Zimbabwe: Victoria Falls • Kenya: Nairobi, Lake Nakuru, Amboseli • Tanzania: Tarangire, Ngorongoro Highlands & Crater, Serengeti National Park
90 meals—daily breakfast, 29 lunches, and 29 dinners
Experience A Day in the Life of a Maasai village
Search for rhinos and flamingos at Lake Nakuru
Enjoy multiple game-viewing drives in Amboseli National Park
Visit a museum dedicated to Out of Africa author Karen Blixen
18 DAYS FROM $6,495 • $ 361 / DAY
Small Group Adventure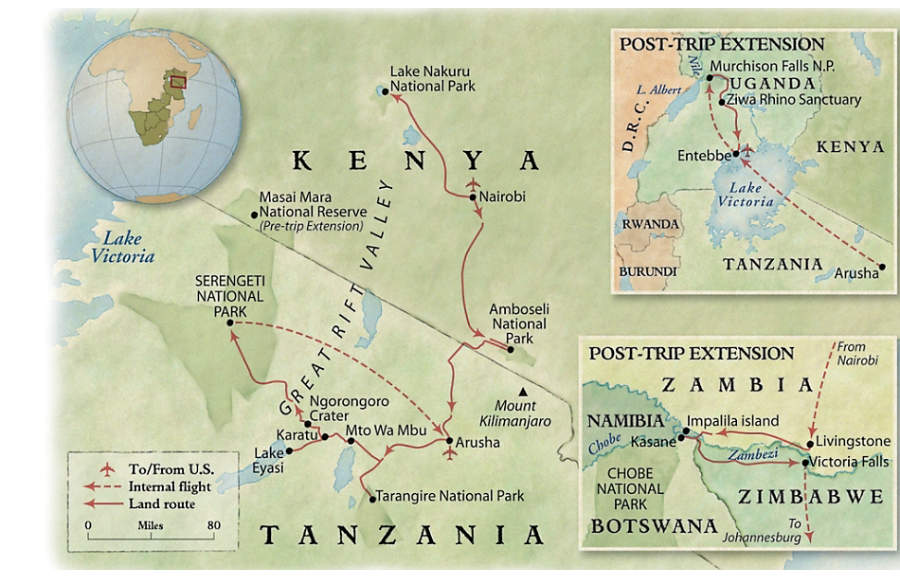 Kenya: Nairobi, Lake Nakuru, Amboseli • Tanzania: Tarangire, Lake Manyara, Ngorongoro Highlands & Crater, Serengeti National Park
47 meals—daily breakfast, 16 lunches, and 15 dinners
Experience A Day in the Life of a Maasai village
Search for rhinos and flamingos at Lake Nakuru
Enjoy multiple game-viewing drives in Amboseli National Park
Visit the home of Out of Africa author Karen Blixen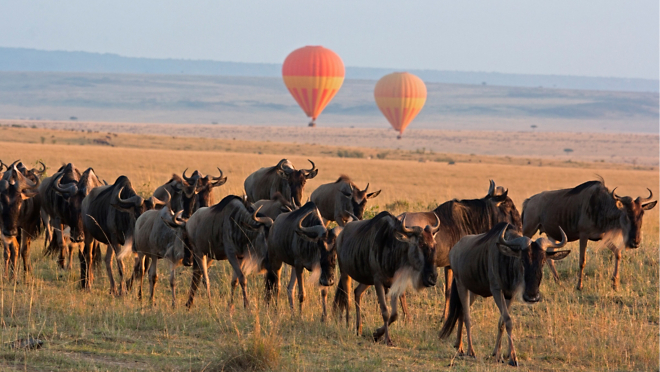 ;
4 NIGHTS FROM FROM $1,795
Catch sweeping views of Masai Mara on an optional hot-air balloon ride
Enjoy up to 5 game-viewing drives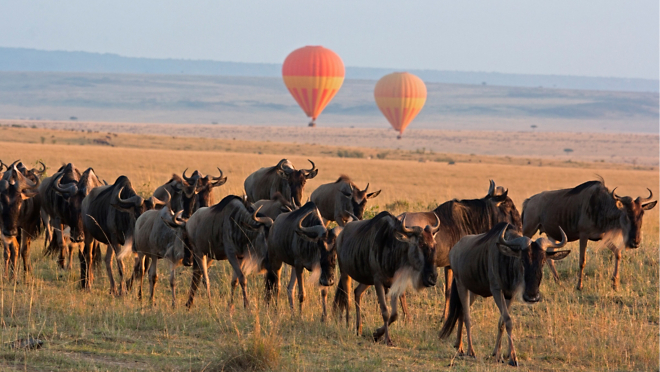 Not Applicable*
Not Applicable*
10 meals—4 breakfasts, 3 lunches, and 3 dinners
Catch sweeping views of Masai Mara on an optional hot-air balloon ride
Enjoy up to 5 game-viewing drives