The Leader in Personalized Small Group Adventures on the Road Less Traveled
You're receiving this message because your web browser
is no longer supported
We recommend upgrading your browser—simply click the button below and follow the instructions that will appear. Updating will allow you to accept Terms and Conditions, make online payments, read our itineraries, and view Dates and Prices.
To get the best experience on our website, please consider using:
Safari (for Mac or iPad Devices)
Update Browser
kenya
Some of the earliest evidence of our human ancestors has been found in Kenya's arid Great Rift Valley, giving this fascinating equatorial country the nickname "The Cradle of Humanity." From these early beginnings stem the rich culture and fortitude of the Kenyan people, who in 1963 ended their long and bitter struggle for uhuru ("freedom") and gained their independence from British colonial rule. Today, Kenya has the most powerful economy in East Africa and a wealth of ethnic groups, including the Maasai, united in their strong sense of national pride.
From the sweeping grasslands of the savannah to the permanently snow-capped peaks of Mount Kenya, this East African country is a rich tapestry of dramatic natural beauty and diverse wildlife. Kenya is home to some of the world's best game parks, where lions stalk their prey and giraffes graze peacefully among the tall grass. Lucky visitors may be treated to nature's finest act: the annual wildebeest migration between the endless plains of Tanzania and the crocodile-infested waters of Kenya's Masai Mara.
Your FREE Personalized Kenya Travel Planning Guide
Thank you for your interest—you may view your Kenya Travel Planning Guide below. We hope to see you on the road less traveled soon!
Your FREE Personalized Kenya Travel Planning Guide is on its way
Thank you for your interest. Your Kenya Travel Planning Guide will arrive in 7-14 business days. We hope to see you soon on the road less traveled.
Want to continue learning about Kenya? Return to our Kenya destination page.
Go Back To Kenya
Please note: To complete your registration, check your email—we sent you a link to create a password for your account. This link will expire in 24 hours.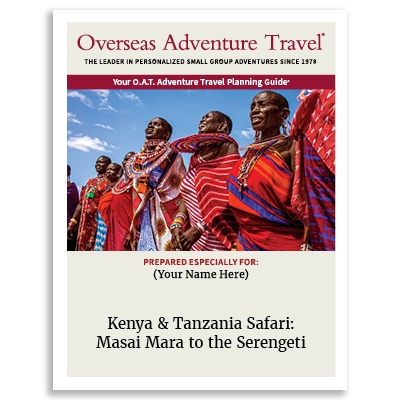 Please Send Me a Complimentary Kenya O.A.T. Adventure Travel Planning Guide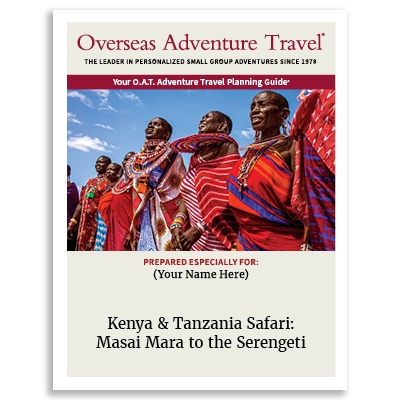 Please Send Me a Complimentary Kenya O.A.T. Adventure Travel Planning Guide
Each of our complimentary O.A.T. Adventure Travel Planning Guides contains more than 80 pages detailing everything you need to know in order to make the most of your next adventure, including:
Detailed hour-by-hour itinerary with suggestions for free time
Incisive overviews of the culture, cuisine, language, history, religion, and more


How to personalize your experience with options to extend your stay, combine adventures, Stopover, and more
Practical tips on packing, currency, and weather
Suggested books and films, useful apps, and websites
Receive Your Complimentary Copy
Compare Our Adventures
Click 'Select to Compare' to see a side-by-side comparison of up to adventures below—including
activity level, pricing, traveler excellence rating, trip highlights, and more
View 2021 Itinerary Video
See a detailed overview of this itinerary, including pre- and post-trip extensions and adventure highlights.
Spend 6 days in Kenya on
O.A.T. Adventure by Land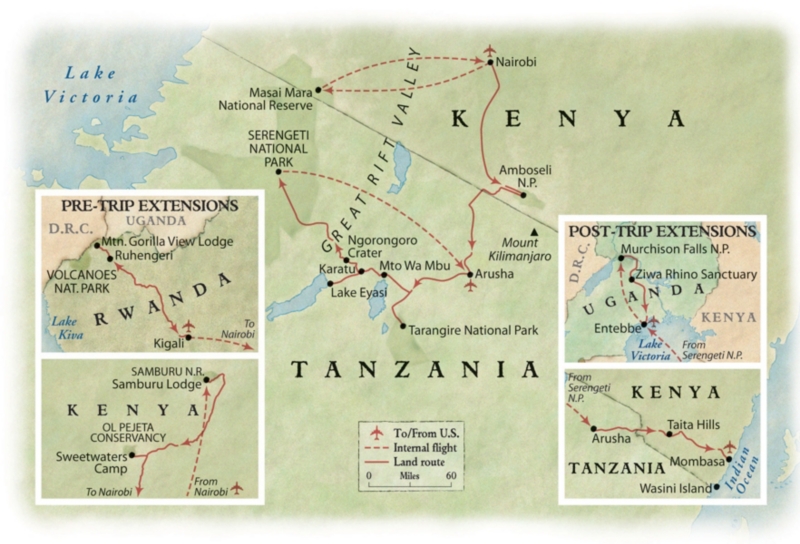 Kenya: Nairobi, Masai Mara National Reserve, Amboseli National Park | Tanzania: Tarangire National Park, Ngorongoro Highlands & Crater, Serengeti National Park
50 meals—17 breakfasts, 17 lunches, and 16 dinners
Experience A Day in the Life of a Maasai village
Search for rhinos and flamingos at Lake Nakuru
Enjoy multiple game-viewing drives in Amboseli National Park, accompanied by expert driver-guides
Visit the home of Out of Africa author Karen Blixen
Trip Extension—Kenya's Masai Mara National Reserve
Explore Kenya's wild grasslands on our optional Masai Mara extension.
Spend 4 days in Kenya on our
Pre-trip Extension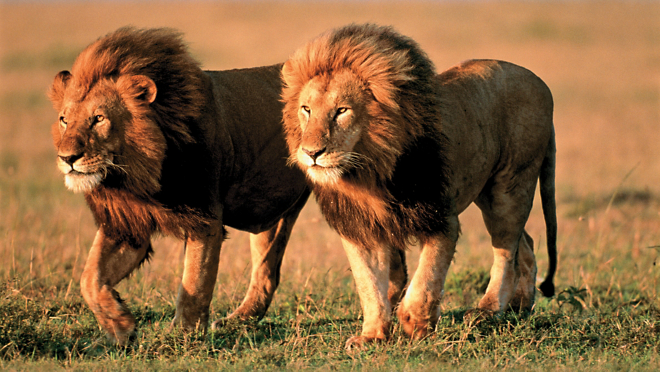 Not Applicable*
Not Applicable*
11 meals—4 breakfasts, 4 lunches, and 3 dinners
Catch sweeping views of Masai Mara on an optional hot-air balloon ride
Enjoy up to 5 game-viewing drives
Compare Adventures
Find the Adventure That's Right for You
Our Activity Level rating system ranks adventures on a scale of 1 to 5 to help you determine if a trip is right for you. See the descriptions below for more information about the physical requirements associated with each rating.
Travelers should be able to climb 25 stairs consecutively, plus walk at least 1-2 miles over some uneven surfaces without difficulty. Walks typically last at least 1-2 hours at a time. Altitude can range from zero to 5,000 feet.
Activity Level 2:
Moderately Easy
Travelers should be able to climb 40 stairs consecutively, plus walk at least 2-3 miles over some uneven surfaces without difficulty. Walks typically last for at least 2-3 hours at a time. Altitude can range from zero to 5,000 feet.
Activity Level 3:
Moderate
Travelers should be able to climb 60 stairs consecutively, plus walk at least 3 miles over some steep slopes and loose or uneven surfaces without difficulty. Walks typically last for 3 or more hours at a time. Altitude can range from 5,000 to 7,000 feet.
Activity Level 4:
Moderately Strenuous
Travelers should be able to climb 80 stairs consecutively, plus walk at least 4 miles over some steep slopes and loose or uneven surfaces without difficulty. Walks typically last for 4 or more hours at a time. Altitude can range from 7,000 to 9,000 feet.
Activity Level 5:
Strenuous
Travelers should be able to climb 100 or more stairs consecutively, plus walk at least 8 miles over some steep slopes and loose or uneven surfaces without difficulty. Walks typically last for 4 or more hours at a time. Altitude can range from 10,000 feet or more.
Hide Acivity Level
PRICE
including international airfare
HIGHLIGHTS & ACTIVITIES IN Kenya
*You must reserve the main trip to participate on this extension.
**This information is not currently available for this trip. Please check back soon.
Recommended Viewing
Watch this video showcasing what makes this country so unforgettable
ReelEarth: Hope and Hustle in Nairobi
Produced by Nathan Collett
Meet Kenyan hip-hop artist Octopizzo and hear about how the struggles and challenges of growing up in Kibera, Nairobi's largest slum, have informed his music.
Kenya: Month-By-Month
There are pros and cons to visiting a destination during any time of the year. Find out what you can expect during your ideal travel time, from weather and climate, to holidays, festivals, and more.
Kenya in January-March
In the beginning of the year, Kenya sees relatively hot and dry weather with chances of short afternoon rains. Temperatures are on the rise and newborn animals tempt large cats and other predators roaming the plains. With enough water having accumulated during the height of the wet season, animals may be seen congregating at water holes, rivers and lakes. As January turns to February, and February turns to March, the climate becomes even drier, ushering in what's typically the year's lowest levels of precipitation. And the thoroughly-grazed plains leave big game exposed for easier viewing on safari drives.
Holidays & Events
March: The East Africa Arts Festival, hosted by the Kenyan National Museum, is an annual celebration of arts and culture—from music and literature to fashion, crafts, and more.
Must See
Depending on water levels, March may be the best time to witness the sought-after flocks of flamingos that congregate on the banks of Kenya's Lake Nakuru.
Watch this film to discover more about Kenya
The Masai Mara from Above
Produced by Arnold Kopff
Admire the subtle beauty of the Masai Mara during a serene hot air balloon ride over the park.
Kenya in April-June
In April, and even into May, heavy rains paint the plains green. Flowers are in bloom and lush vegetation spreads across the land. Some parks may be flooded and harder to access, and while the number of travelers may decline with the colder climate, dramatic scenes of nature unravel across the verdant, stormy plains. With the right safari gear, the height of the wet season can be the optimal time for travelers interested in capturing unforgettable wildlife photography. By June, the rains begin to die down, welcoming drier, but still relatively cool, weather. While the climate grows more comfortable, and before the migration season is fully upon us, this time of year typically offers a nice balance of mild weather and mild crowds. Some years, the great wildebeest migration will have crossed from Tanzania into Kenya by June, but often it's not until July that the spectacle reveals itself.
Holidays & Events
May: Marsabit-Lake Turkana Cultural Festival is an annual celebration showcasing cultural traditions and performances from 14 different ethnic communities.
Watch this film to discover more about Kenya
The Masai Mara from Above
Produced by Arnold Kopff
Admire the subtle beauty of the Masai Mara during a serene hot air balloon ride over the park.
Kenya in July-September
By July, the great migration has most likely worked its way from Tanzania into Kenya, toward Lake Victoria, and east toward the Masai Mara area. The cool, dry weather continues, and hoards of travelers flock to the region in hopes of catching a glimpse of the wildebeest. Though it may be peak time for game-viewing, the rains from previous months leave the plains covered in long grasses, obstructing distant animals from view and requiring more diligent searches. Throughout the dry season, the vegetation thins out, and game-viewing becomes easier. By August, the wildebeest migration typically settles and can be seen grazing in the newly-inhabited Kenyan plains. September mornings and evenings remain cooler, but by now, overall temperatures begin a steady rise.
Holidays & Events
Midyear: the Maralal International Camel Derby is a competitive camel race that takes place in Kenya annually. It attracts spectators from around the world and is a celebratory, entertaining social event.
Must See
During this time of year, sometimes lucky travelers get to witness the great migration of wildebeest across the crocodile-infested Mara River.
Watch this film to discover more about Kenya
The Masai Mara from Above
Produced by Arnold Kopff
Admire the subtle beauty of the Masai Mara during a serene hot air balloon ride over the park.
Kenya in October-December
Temperatures continue to rise into October, and November's short rains signify the end of Kenya's dry season, and the beginning of the great migration's return to Tanzania. The heaviest rains typically occur in the afternoons and evenings, making early morning game-viewing drives a popular option. This time of year typically attracts fewer crowds, but still offers excellent game-viewing opportunities. By mid-December, the short rains have usually died down, beginning anew the dry season that lasts approximately until April.
Holidays & Events
November: Organized by Kenya's Ministry of Tourism, the Mombasa Carnival consists of two converging parades honoring Mombasa's multicultural communities.
Dec 12: Jamhuri Day marks the celebration of Kenya's independence from Britain.
Watch this film to discover more about Kenya
The Masai Mara from Above
Produced by Arnold Kopff
Admire the subtle beauty of the Masai Mara during a serene hot air balloon ride over the park.
Average Monthly Temperatures
Kenya Interactive Map
Click on map markers
below to view information about top Kenya experiences
Click here to zoom in and out of this map
Nairobi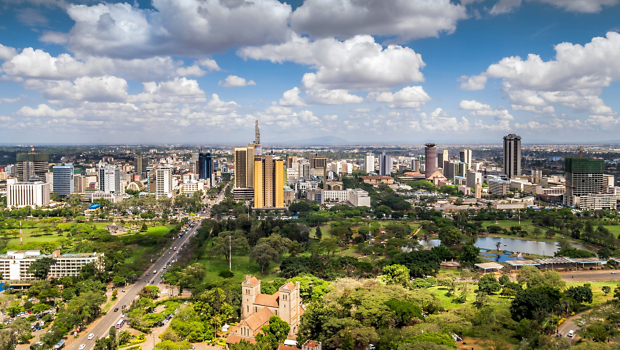 After Kenya gained its independence in 1963, Nairobi—meaning "cool water" in Maa, the language of the Maasai people—became the young country's new capital. Today, Nairobi is a modern, cosmopolitan city with a multicultural population of over three million. It is a city of contradictions: an influx of foreign businesses and new construction has brought both wealth and heavy traffic to the capital; the elegant suburb of Karen (named for Karen Blixen, of Out of Africa fame) contrasts wildly with Kibera, one of the largest urban slums on the African continent.
Explore Nairobi with O.A.T. on:
Lake Nakuru National Park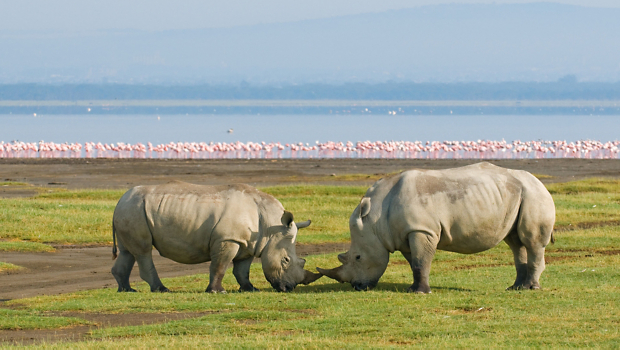 Looking to lay eyes on the elusive black rhino? Head to Lake Nakuru National Park for a chance to spot this rare creature. Thanks to recent conservation efforts and the naturally high alkalinity of Lake Nakuru, the park serves as an important sanctuary for many of Africa's most threatened species.
As a "soda lake," Nakuru's naturally high alkalinity helps to sustain the rich ecological diversity of the park. In addition to the black rhino, you may see over 400 species of birds, including seasonal sightings of African fish eagle, pied kingfisher, and the flamingo, whose brightly colored plumes cast an iridescent pink sheen over the water. Make sure to bring your binoculars to this bird lover's paradise.
Witness the beauty of Lake Nakuru National Park with O.A.T. on:
Amboseli National Park
Set in the shadow of Mount Kilimanjaro, Amboseli National Park straddles the Kenyan/Tanzanian border, where many Maasai tribespeople live today. Amboseli—which means "salty dust" in Maa—contains five different ecological climates, ranging from the swampy wetlands in which hippos bathe to the dried up bed of Lake Amboseli. The park is home to approximately 400 species of birds and is most famous for its herds of "tuskers," said to be some of the largest elephants in the country. With stunning views of Africa's tallest mountain and free-roaming herds of wildebeest, zebra, and even the elusive gerenuk, it's no wonder why Amboseli is one of Kenya's most popular parks.
Amboseli
Produced by Stephen Fish
Feel the pulse of life in Amboseli National Park where the wildlife takes center stage.
Venture into Amboseli National Park with O.A.T. on:
Masai Mara National Game Reserve
A hot spot for the annual great migration, the Masai Mara Game Reserve is patrolled regularly by rangers to prevent poaching, and is one of the few safari areas that limits the number of vehicles permitted to enter—giving you unspoiled access to the splendor of wildlife that awaits. As you drive over wide open grass plains, beneath grand plateaus, and past majestic acacia trees, you may spot the Big 5—elephant, rhino, lion, buffalo, and leopard—prowling for prey, sipping at a freshwater stream, or dozing in the bush.
The Masai Mara from Above
Produced by Arnold Kopff
Admire the subtle beauty of the Masai Mara during a serene hot air balloon ride over the park.
Explore Masai Mara National Game Reserve with O.A.T. on:
Featured Reading
Immerse yourself in Kenya with this selection of articles, recipes, and more
ARTICLE
This ancient group carries traditions with them, but faces the struggle of adapting to modernity.
ARTICLE
Discover the hardships the Maasai women endure in their communities and the steps being taken to better their lives.
ARTICLE
These awkward but lovable giraffe is a biological marvel. Discover how its body works and how this creature evolved.
Meeting the Maasai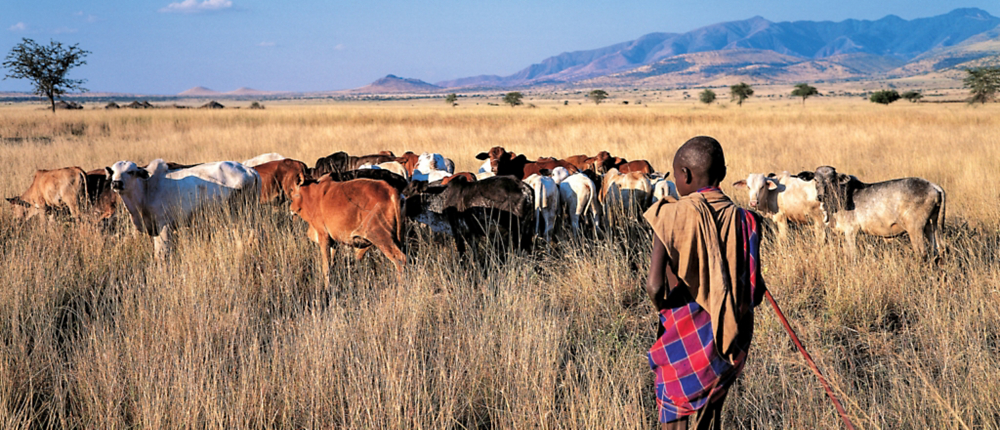 The people and culture of East Africa's well-known tribe
The more cattle a Maasai man has, the richer he is, the better fed his family, and the more respect he commands.
Even if you haven't met a Maasai warrior, you've probably seen one. Called moran, the tall, handsome figure in his distinctive red and blue robe, standing on one foot, gazing across the savannah at his cattle, is one of the most iconic images of tribal Africa—though today, you might just as easily see this elegant figure standing in the plains with a cell phone in hand. It's that dichotomy—an ancient semi-nomadic lifestyle butting up against encroaching modernity—that 21st century Maasai society must resolve.
Their semi-nomadic lifestyle makes it difficult to obtain an accurate census, but recent estimates suggest that there are about 900,000 Maasai people living today across Kenya and Tanzania. The Maasai originated in the lower Nile valley near Lake Turkana, and began migrating south during the 15th century.
Their society was based entirely on cattle herding—a role that the Maasai believe was bestowed on them by a single god, whom they call Engai (or Ngai). The more cattle a man has, the richer he is, the better fed his family, and the more respect he commands. Until recently, the Maasai were notorious cattle rustlers, frequently raiding neighboring tribes to poach the precious livestock. The ensuing fights added to the Maasai's reputation as fierce warriors, though the Maasai themselves did not view this as thievery, since they believe they are merely reclaiming their rightful legacy.
A Maasai's coming-of-age
Of course, cattle need to graze, so the Maasai became semi-nomadic people, moving with the herds as they sought greener pastures. Families traditionally live in kraals or manyattas, which are clusters of circular huts surrounded by stockade fences, with corrals for livestock. Women build the dwellings, fetch water and firewood, feed livestock, milk cows, and cook, while the men tend to the cattle. By the age of four, a young Maasai boy may be in charge of calves or goats; by twelve he will be taking them far afield to new pastures.
It's also about this time when the young Maasai boys begin preparation for the most important rite of passage: becoming a warrior. They will spend months at a time in the bush, living together with members of their age-set (the central social unit) in special manyatta where they undergo many trials to help overcome pride, selfishness, and egotism. They must learn to share their cattle, and make periodic visits back to the village where they are expected to provide cattle for celebrations and sacrifices. For Maasai children the endurance of pain is meant as preparation for adulthood—removal of canine teeth, ear and body piercing, tattooing, ritual body burns, and even beatings. The process culminates with emorata, or ritual circumcision, which boys must undergo without anesthesia.
Until recently most Maasai girls also underwent female circumcision, or more accurately, excision, in which the clitoris and labia were cut. For girls the ritual is longer and more painful, with more debilitating aftereffects. Still, it was considered essential preparation for marriage and childbirth, ensuring that the girl would fetch a handsome brideprice (which warriors must pay for the privilege of marrying). If a girl became pregnant prior to circumcision, she was banished for life. The practice is highly controversial, and though it is now illegal in Kenya and Tanzania, it persists in many enclaves. Recently, activists have had some success introducing a new "cutting with words" ceremony that replaces the physical mutilation with singing and dancing—while still conferring marriageable status upon the girl.
Marriage is a hugely important institution, though a far different one from here in the west. Since wealth is measured not just in cattle but in children, Maasai men were traditionally encouraged to take several wives—a practical adaptation to high infant and warrior mortality rates. By the same token, men must share their wives with any visiting member of their age-set and accept any resulting child as their own. (Women do have a say as to whose bed they will share, and their ability to produce many children is a badge of honor.)
Surviving in the modern world
To everything there is a season, and now, the Maasai must turn from their pastoral culture to new ways of living. From its peak in the mid-19th century, Maasai territories have been reduced to a fraction of their size. British and German colonialists forced them into smaller settlements; later, the governments of Kenya and Tanzania began taking more and more Maasai land for game parks, private farms and ranches, and hunting concessions. The problem of dwindling pasture land has been compounded by conservation efforts, which make it illegal for Maasai (or anyone) to kill lions and other predators that frequently attack their cattle.
It's not the first time the Maasai have faced privation. The tribe was nearly decimated between 1887 and 1903, a period called the "Maasai Emutai," when epidemics of rinderpest and bovine pneumonia killed off eighty percent of their herds, causing widespread famine. This was followed by a smallpox epidemic and drought. Nearly two thirds of the Maasai perished during this scourge. Ironically, the Maasai's ability to herd and farm in desert and scrubland has recently prompted many global experts to view it as a model for adapting to climate change.
Will the Maasai prevail? Today, many have turned to farming or selling traditional medicines, crafts, and dairy products. More and more children are seeking formal education, and gravitating towards urban areas to work as security guards, store clerks, or other wage earners—occupations once scorned as undignified. Still even the most assimilated of this generation routinely visit their old villages, don Maasai robes, and celebrate the traditions of their youth. That goes for the privileged few who receive educations abroad, too. As the old Maasai proverb says, "A zebra takes its stripes wherever it goes."
Women of the Maasai Tribe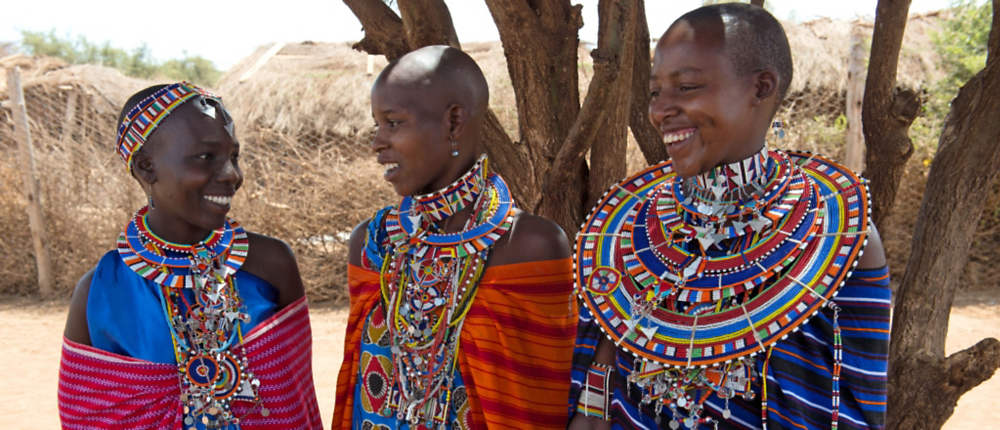 Trials and tradition in the modern age
by Rachel Fox, from Dispatches
The women of the pastoral, semi-nomadic Maasai tribe of southern Kenya and northern Tanzania are recognized by their hand-beaded collars, jewelry, and vibrantly colored robes, called shuka. They're also recognized as care-givers, taking on traditional roles to support the well-being of their family and community. These responsibilities include building the family's boma (a hut made from mud, grass, sticks, and cow dung), tending to cattle, collecting water and firewood, taking care of their children, and cooking for the family. The women of the tribe are also tasked with warmly greeting visitors to their village with traditional dance, song, and tea ceremonies.
What is omitted from many guidebooks—but is nonetheless a fact of life—is the social and familial subordination Maasai women face throughout their lives. As early as age 11, a Maasai girl can be entered into an arranged polygamist marriage by her parents in exchange for cattle and a small dowry. Before this occurs, the girl first typically undergoes female genital mutilation (FGM), or circumcision, which is seen as a rite of passage into adulthood within the tribe. Though many in western cultures view FGM as a human rights violation, the procedure is often the only way a Maasai man will accept a wife. While some Maasai are changing their stance on the necessity of female circumcision, the majority view the refusal of this practice as an act of cowardice, and a disgrace to both the girl and her family.
Lack of education is seen as a major contributing factor to the Maasai tribe's health and economic standing as a whole. Women and girls, in particular, are often denied the right to attend school in favor of marriage—or due to their family's belief that the cost of obtaining an education outweighs the benefits. Though primary school is free, the required uniforms are often unaffordable for families, and walking to schools usually takes several hours each way. In addition, rural day schools in the region can have a student-teacher ratio of about 100 to 1, and are inadequate to prepare students for national standardized tests—factors that result in a very small percentage of girls graduating to secondary school, and hinder their pursuit of educational and economic empowerment.
Fortunately, the women of the Maasai tribe are not standing alone in their struggles. Though a metamorphosis such as this takes time and matures slowly, there are several organizations dedicated to advocate on their behalf. The Maasai Girls Education Fund (MGEF) is a non-profit organization working to educate Maasai women and their community on the issues of health (HIV/AIDS and FGM), economic wellbeing, and literacy. Through donor support, MGEF provides scholarships, workshops, and supplies needed to facilitate knowledge and independence throughout the tribe. The Maasai Women Development Organization (MWEDO) started as a grassroots non-governmental group that now consists of over 5,000 women members from the Arusha and Manyara regions of Tanzania. MWEDO currently provides support to more than 400 Maasai girls through literacy programs, boarding, transportation, and medical coverage—and they opened up their own secondary school in 2011.
In addition to finding educational support, Maasai women have taken steps to put their entrepreneurial spirit and crafting talents to good use. Organizations like the Ethical Fashion Program—along with Spanish shoe company, Pikolinos—have partnered with Maasai women to employ bead workers and artisans to make elaborate shoes, clothing, and jewelry. These fair-trade products directly benefit the Maasai community and contribute to the economic independence of its women.
With all of the inequalities and hardships Maasai women seem to face, the fact remains that they are strong, integral parts of their communities. Though outside non-profit organizations can make great strides in their advancement, change amongst these deeply traditional and noble people must come from within the tribe.
Trials and tradition in the modern age
Amazing Adaptation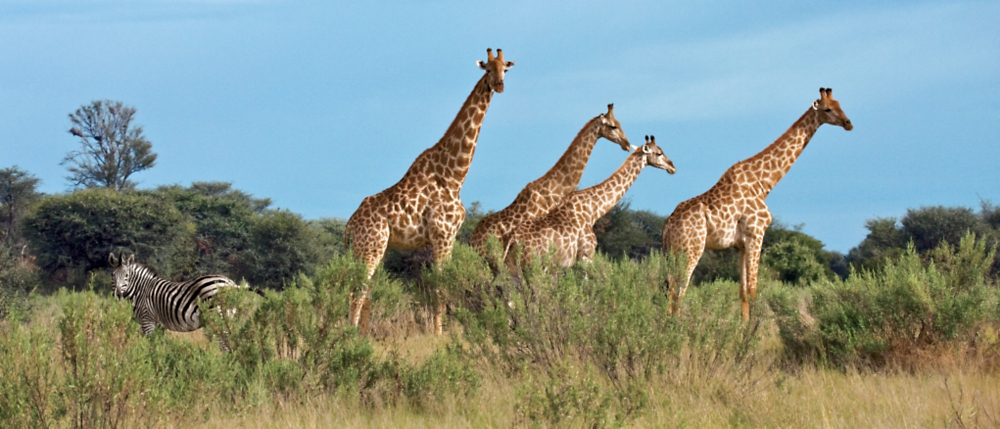 The unique evolution of the giraffe
by Laura Chavanne, from Dispatches
When the ancient Romans first encountered the giraffe, they interpreted it as a composite creature—a fantastical hybrid between a camel and a leopard. An early description reads, "… a creature combining, though with infinitely more grace, yet some of the height and even the proportions of a camel, with the spotted skin of the pard." Until the 19th century, the giraffe was known as camelopard—which survives today as its species name, camelopardalis.
In reality, the earliest known ancestors of the giraffe lived during the Miocene and Pliocene eras. Those deer- and horse-like creatures probably looked no more like their modern descendant than the giraffe's only living relative does today: the okapi, which rather resembles a zebra, and reaches nowhere near a giraffe's 16 to 20 feet in height.
Indeed, to call the giraffe singular would be an understatement. On the African savanna, no animal creates such a striking silhouette as a group of them—collectively called a "tower"—craning their necks toward the acacia treetops that no other herbivore can reach. But while the neck of a giraffe was once commonly believed to have evolved out of competition for food, naturalists now believe that it may be more about sexual selection: In competition between males, which involves the rather brutal swinging and battering of necks, the longer and stronger competitor prevails.
Regardless of the driving evolutionary force behind this one-of-a-kind feature, numerous other physiological traits have evolved to accommodate it. Giraffes have twice the blood pressure of a human and a heart rate of about 170 beats per minute, both of which are necessary to get blood to the brain. As a result, the hard-working heart of a giraffe can weigh more than 25 pounds and reach two feet in length. A series of one-way valves in the neck facilitate blood flow even further.
With so much blood being rapidly propelled upwards at all times, what happens if suddenly the giraffe drops its head below its heart—like when it bends down to drink? While they don't need to drink often, preferring instead to obtain most of their water from vegetation, giraffes will do so when given the opportunity—despite the fact that by all appearances, they really weren't designed for it. A giraffe's grace abandons it once it bends to reach the water, splaying its forelegs awkwardly to the side. In this case, the neck isn't quite long enough to get the job done.
Awkwardness aside, the giraffe happens to be perfectly equipped to counteract sudden rushes of blood to the head, which would otherwise cause it to lose consciousness. A mechanism called the rete mirabile—a complex network of veins and arteries that also regulates heat in birds and oxygen in fish—regulates pressure on the brain by restricting excess blood flow.
Conversely, the giraffe also runs the risk of blood pooling in the lower legs due to enormous pressure from above. To counteract this, its skin is extremely thick and tight—maintaining extravascular pressure much like a pilot's anti-gravity suit inflates at high altitudes to direct blood to the heart and brain. In fact, NASA has looked to giraffe skin while researching ways to help astronauts' circulatory systems readjust to gravity upon returning to Earth.
It's little wonder that the ancient Romans believed the giraffe was a fantastical creature, given its unique appearance—but the science behind its complex inner workings is even more amazing. So the next time you're lucky enough to see a "tower" of giraffe traversing the savanna, think about what makes them tick … and remember that the 25-pound heart is just the beginning.
The unique evolution of the giraffe