Forgot Your Username
If you have forgotten your username, please provide your email address in the box below. We'll send you an email with your requested username. If you are having trouble, please call us toll-free at 1-800-221-0814.
Email Sent
You'll receive an email in a few minutes. Please check this email to find your requested username.
If you do not receive an email or you are having trouble logging into My Account, please call us at 1-800-221-0814.

IRELAND
Ireland is a country small in size, but large in personality. It is home to poets, musicians, writers, dancers, and storytellers of all kinds. The land seamlessly changes from rolling green hills and stone walls to modern cities and bustling towns. There is much to discover here—but every discovery begins and ends with its gregarious, welcoming people.
Of course, a country also known as the Emerald Isle has its fair share of natural wonders. Ireland's vibrant green fields—often dotted with fluffy sheep and the occasional cow—earned Ireland its famous nickname. Iconic sights like the Ring of Kerry and lush Dingle Peninsula immediately come to mind. But a surprising variety of landscapes can be found throughout the country. Along the wild, rugged coastline of western Ireland are some of the highest sea cliffs in Europe, such as the dramatic Cliffs of Moher, plunging straight down into the churning Atlantic. In the north, the legendary Giant's Causeway stretches out across the coast, comprised of approximately 40,000 interlocking basalt columns, the result of an ancient volcanic eruption (though local lore gives the credit to a giant by the name of Finn McCool).
Comfortably residing beside Ireland's natural beauty are remnants of the island's long history—haunting ruins left to crumble in the middle of a field or by the roadside. From tumbled-down stone structures left behind by the Vikings to traces of medieval culture found in countryside castles and Dublin city's cobblestones, Ireland's history is always on display. Some of the country's more tragic history has also left its mark in the resilient character of its people, such as the Great Potato Famine of 1845-1852—a period of mass starvation, disease, and emigration.
As beautiful as Ireland is to behold, it is its people that give the country its heart and soul. From cities to small towns, a strong sense of camaraderie connects every community. Locals gather together at the pub to exchange stories, join in a song, listen to musicians play a traditional Irish session, and most importantly enjoy the craic—an Irish word that essentially means having a good time with good friends. And when you're in Ireland, you will more likely than not find yourself warmly welcomed to share in the craic as well.
Ireland Interactive Map
Click on map markers
below to view information about top Ireland experiences
Click here to zoom in and out of this map
Most Popular Films
Films featuring Ireland from international, independent filmmakers
Bó
Follow a local Irish farmer around his countryside property and hear why he treats his cows just like family.
Produced by Oisin Bickley
36 Hours in Belfast
What's the buzz about Belfast? Embrace the craic of Northern Ireland—featured on our pre-trip extension—in this film.
Produced by Fritzie Andrade, Max Cantor, Chris Carmichael, Will Lloyd
©2015 The New York Times
Mystical Island of Ireland
Wander wordlessly through the emerald scenery of Ireland in this well-edited short film.
Produced by Caspar Diederick
Featured Reading
Immerse yourself in Ireland with this selection of articles, recipes, and more
ARTICLE
The castles of the British Isles each have a story to tell. Read about some of the best here.
ARTICLE
Try making this delicious potato and leek soup that is quintessentially Irish and super creamy.
ARTICLE
See how Celtic, Anglo- Saxon, and Christian customs grew into a wealth of charms, superstitions, and traditions.
ARTICLE
Uncover the millennia of history and spectacular geological features nestled within Ireland's "rebel county."
ARTICLE
Find out how a few notable talents transformed the genre in the 20th century, from Julia Clifford to Enya.
Ireland: Month-by-Month
There are pros and cons to visiting a destination during any time of the year. Find out what you can expect during your ideal travel time, from weather and climate, to holidays, festivals, and more.
Ireland in January-February
While Ireland is a year-round travel destination, it can get quite chilly during January and February—but perhaps not as cold as one would expect during the height of winter. Frost is common, but it seldom snows and temperatures rarely drop much below freezing. With the winds blowing off the Atlantic throughout the year, dressing in layers is almost always advisable. Many rural sights may not be open during these months but cities like Dublin are crowd-free and it's also the most inexpensive time of year to explore the wonders of the Emerald Isle.
Holidays & Events
February 1: Saint Brigid's Day, a celebration of Ireland's most important female saint, also marks the beginning of spring.
February 13: Shrove Tuesday (the day before Ash Wednesday) is more popularly known as Pancake Day in Ireland, where the tradition of eating pancakes developed as a way to use up stocks of milk, butter, and eggs—items forbidden during the abstinence of Lent.
Must See
Temple Bar TradFest is an annual five-day music and culture festival that takes place in late January and celebrates traditional Irish and folk music at various venues in Dublin's cultural quarter of Temple Bar.
Ireland in March-April
Weather in Ireland is unpredictable, but during the spring months of March and April temperatures generally range from the mid-40s to the mid-50s (°F). With the onset of milder weather, markets open and flowers start to bloom throughout the countryside. Although it can rain at any time, April is also one of the sunniest months of the year in Ireland—and as far as March goes, most people in Ireland say that with St Patrick's Day falling on the 17th, the weather during this month doesn't matter at all!
Holidays & Events
April 23-29: Cúirt International Festival of Literature is a six-day international literary event that takes place in Galway.
Must See
There's no bigger celebration in Ireland than on March 17—St Patrick's Day. Ireland's national holiday features parades and festivals celebrating Irish culture in almost every city and town—with the biggest parade in Dublin.
Ireland in May-June
May and June are two of Ireland's most pleasant traveling months, with temperatures averaging in the mid- to high-60s (°F). Not quite peak tourist time yet, May and June are perfect for witnessing Ireland's trademark green countryside or viewing the wildlife in the picturesque islands scattered along the west coast.
Holidays & Events
May: Cathedral Quarter Arts Festival is an annual festival of music, art, and literature that takes place during the first weeks of May in Belfast's Cathedral Quarter.
June 16: Bloomsday celebrates the life of James Joyce with events of his novel Ulysses relived along the streets of Dublin.
June 15-24: Cork Midsummer Festival is a massive annual arts festival at various venues in Cork that features dance, theatre, music, food, and more.
Ireland in July-August
July and August are peak travel times in Ireland, with cities and coastal locales seeing their biggest crowds of the year. This is also the warmest time to visit—yet temperatures rarely make it even into the 70s (°F). Adding to the allure of these summer months are long days (with 6am sunrises and 10pm sunsets), calm seas, and the opening of all parks, restaurants, museums, and sightseeing attractions throughout the country.
Holidays & Events
July 16-29: The Galway International Arts Festival features two weeks of live music, theater, street performances, and more in the city of Galway.
August 27-28: The Auld Lammas Fair, Ireland's oldest traditional market fair, is held each year in Northern Ireland's coastal town of Ballycastle.
Ireland in September-October
Considered the "shoulder season" in Ireland, this is when the tourist crowds begin to thin out, B&Bs start to close, and the hillsides turn purple as the heather flowers—with the changing hues of the season reaching their peak in October. With cooler temperatures, twelve hours of daylight, and fewer crowds, this is still a great time to visit Ireland.
Holidays & Events
September 29-30: Galway International Oyster and Seafood Festival attracts people from around the world to witness culinary events and indulge in oysters and other bounty from the sea.
Mid-October: Kinsale Gourmet Festival is a two-day celebration of local food in a variety of restaurants around the seaside town of Kinsale.
Must See
The 2018 All-Ireland Football Finals are scheduled to be held in Dublin in early September.
Ireland in November-December
The winter months can be cold and dreary in Ireland, but holiday festivities get underway at the beginning of December, with bustling Christmas markets and towns and cities aglow with decorative lights. And with all the crowds gone, the countryside offers visitors serene and delightful scenes of frost-covered hills and trees.
Holidays & Events
December 26: Wren Day is an Irish tradition consisting of "hunting" a fake wren, putting it on top of a decorated pole, and groups of locals dressing up and parading through towns and villages.
Average Monthly Temperatures
Compare Our Adventures
Click 'Select to Compare' to see a side-by-side comparison of up to adventures below—including
activity level, pricing, traveler excellence rating, trip highlights, and more
16 DAYS FROM $4,795 • $ 300 / DAY
Small Group Adventure
First Departure 3/24/2018
Days in Ireland
15
Ireland: County Clare, Connemara, Donegal • Northern Ireland: Derry, Belfast • Ireland: Dublin
30 meals—14 breakfasts, 7 lunches, and 9 dinners (including 1 Home-Hosted Dinner)
Explore Belfast, Northern Ireland by black taxi
Learn about traditional tweed-weaving in Donegal
Marvel at the geological wonders of Giant's Causeway
Become part of everyday Irish culture in a Dublin pub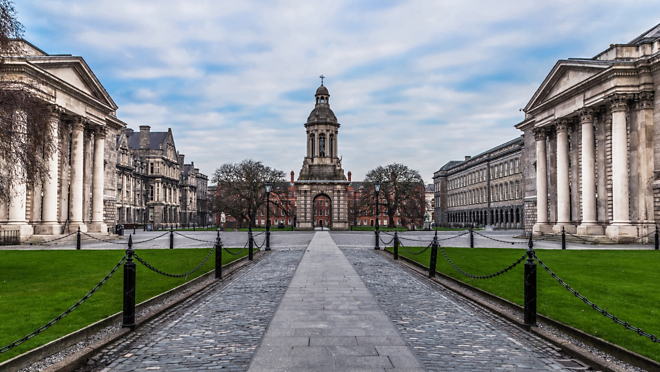 15 DAYS FROM $7,795 • $ 520 / DAY
Small Ship Adventure
England: London, Tresco • Wales: Fishguard, Caernarfon • Ireland: Dublin • Northern Ireland: Belfast • Scotland: Barra, Stornoway, Stromness, Aberdeen, Edinburgh
36 meals—daily breakfasts, 11 lunches, and 12 dinners (plus all onboard house beer & wine, as well as soft drinks)
Uncover the city of Dublin, Ireland's gregarious capital
See St. Mary's Cathedral, built on the site of a twelfth century Cistercian Abbey
Visit Trinity College to view the ninth-century Book of Kells
Explore Belfast, Northern Ireland by black taxi