Forgot Your Username
If you have forgotten your username, please provide your email address in the box below. We'll send you an email with your requested username. If you are having trouble, please call us toll-free at 1-800-221-0814.
Email Sent
You'll receive an email in a few minutes. Please check this email to find your requested username.
If you do not receive an email or you are having trouble logging into My Account, please call us at 1-800-221-0814.

IRELAND
Compare Our Adventures
Click 'Select to Compare' to see a side-by-side comparison of up to adventures below—including
activity level, pricing, traveler excellence rating, trip highlights, and more
Trip Itinerary
Get a glimpse of the destinations you'll explore in Ireland—from County Clare to Dublin.
16 DAYS FROM $4,795 • $ 300 / DAY
Small Group Adventure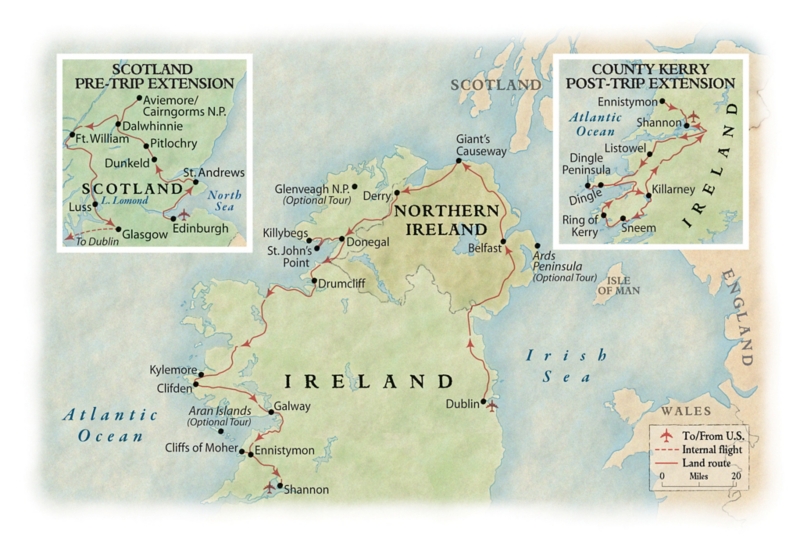 Ireland: Dublin • Northern Ireland: Belfast, North Coast • Ireland: Donegal, Connemara, County Clare
30 meals—14 breakfasts, 7 lunches, and 9 dinners (including 1 Home-Hosted Dinner)
Discover both Ireland and Northern Ireland on this comprehensive adventure
Explore Belfast, Northern Ireland by black taxi and get insight into the region's turbulent history from your local driver
Learn about traditional tweed-weaving in Donegal
Marvel at the geological wonders of Giant's Causeway
Become part of everyday Irish culture in a Dublin pub
Trip Itinerary
Discover the history of the British Isles, from castles to the Book of Kells, and enjoy the unique culture here.
15 DAYS FROM $8,095 • $ 540 / DAY
Small Ship Adventure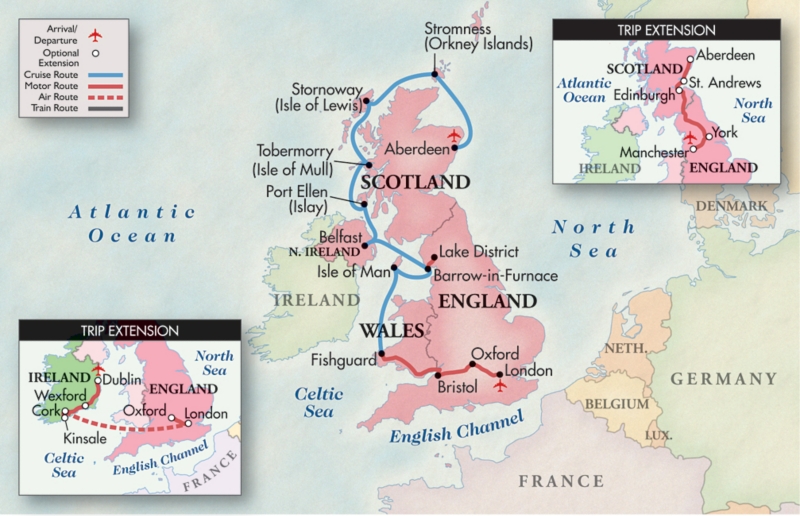 England: London, Tresco • Wales: Fishguard • Ireland: Dublin • Isle of Man • Northern Ireland: Belfast • Scotland: Oban, Stornoway, Stromness, Aberdeen, Edinburgh
37 meals—daily breakfasts, 11 lunches, and 12 dinners (plus all onboard house beer & wine, as well as soft drinks)
Uncover the city of Dublin, Ireland's gregarious capital
Witness the unique physical and political position on the tiny Isle of Man
Visit Trinity College to view the ninth-century Book of Kells
Explore Belfast, Northern Ireland by black taxi
Compare Adventures
Find the Adventure That's Right for You
Our Activity Level rating system ranks adventures on a scale of 1 to 5 to help you determine if a trip is right for you. See the descriptions below for more information about the physical requirements associated with each rating.
Travelers should be able to climb 25 stairs consecutively, plus walk at least 1-2 miles over some uneven surfaces without difficulty. Walks typically last at least 1-2 hours at a time. Altitude can range from zero to 5,000 feet.
Activity Level 2:
Moderately Easy
Travelers should be able to climb 40 stairs consecutively, plus walk at least 2-3 miles over some uneven surfaces without difficulty. Walks typically last for at least 2-3 hours at a time. Altitude can range from zero to 5,000 feet.
Activity Level 3:
Moderate
Travelers should be able to climb 60 stairs consecutively, plus walk at least 3 miles over some steep slopes and loose or uneven surfaces without difficulty. Walks typically last for 3 or more hours at a time. Altitude can range from 5,000 to 7,000 feet.
Activity Level 4:
Moderately Strenuous
Travelers should be able to climb 80 stairs consecutively, plus walk at least 4 miles over some steep slopes and loose or uneven surfaces without difficulty. Walks typically last for 4 or more hours at a time. Altitude can range from 7,000 to 9,000 feet.
Activity Level 5:
Strenuous
Travelers should be able to climb 100 or more stairs consecutively, plus walk at least 8 miles over some steep slopes and loose or uneven surfaces without difficulty. Walks typically last for 4 or more hours at a time. Altitude can range from 10,000 feet or more.
Hide Acivity Level
TRAVELER EXCELLENCE RATING
PRICE
including international airfare
HIGHLIGHTS & ACTIVITIES IN IRELAND
*This information is not available for our trip extensions. You must reserve the main trip to participate on this extension.
**This information is not currently available for this trip. Please check back soon.
Recommended Viewing
Watch this video showcasing what makes this country so unforgettable
ReelEarth: Marc Mulholland: A Belfast Basketball Story
Follow Marc Mulholland's journey as he overcomes health issues and transforms basketball culture in Northern Ireland with an NCAA tournament held in Belfast.
Produced by Marty Stalker
Recommended Videos
Watch your fellow travelers' favorite films & videos
Irish Adventure, Part I
Follow O.A.T. traveler Penny P. from St. Louis, Missouri as her Trip Experience Leader shows her Ireland's natural beauty and daily life—from the Cliffs of Moher and ancient seaside towns to a local pub and a Gaelic Games demonstration.
Submitted by Penny Parker, 21-time traveler
Smart Travels with Rudy Maxa: Dublin & Beyond
Discover Celtic treasures and cultural delights during a Dublin walking tour with Emmy award-winning travel expert Rudy Maxa.
Produced by Small World Productions
Indie Thread
Mystical Island of Ireland
Wander wordlessly through the emerald scenery of Ireland in this short film.
Produced by Caspar Diederick
Indie Thread
Bó
Follow a local Irish farmer around his countryside property and hear why he treats his cows just like family.
Produced by Oisin Bickley
Ireland: Month-by-Month
There are pros and cons to visiting a destination during any time of the year. Find out what you can expect during your ideal travel time, from weather and climate, to holidays, festivals, and more.
Ireland in January-February
While Ireland is a year-round travel destination, it can get quite chilly during January and February—but perhaps not as cold as one would expect during the height of winter. Frost is common, but it seldom snows and temperatures rarely drop much below freezing. With the winds blowing off the Atlantic throughout the year, dressing in layers is almost always advisable. Many rural sights may not be open during these months but cities like Dublin are crowd-free and it's also the most inexpensive time of year to explore the wonders of the Emerald Isle.
Holidays & Events
February 1: Saint Brigid's Day, a celebration of Ireland's most important female saint, also marks the beginning of spring.
February (or early March): Shrove Tuesday (the day before Ash Wednesday) is more popularly known as Pancake Day in Ireland, where the tradition of eating pancakes developed as a way to use up stocks of milk, butter, and eggs—items forbidden during the abstinence of Lent.
Must See
Temple Bar TradFest is an annual five-day music and culture festival that takes place in late January and celebrates traditional Irish and folk music at various venues in Dublin's cultural quarter of Temple Bar.
Watch this film to discover more about Ireland
Smart Travels with Rudy Maxa: Ireland's West Coast
Be charmed by the Celtic culture that abounds on Ireland's west coast with Emmy-award winning travel expert Rudy Maxa.
Produced by Small World Productions
Ireland in March-April
Weather in Ireland is unpredictable, but during the spring months of March and April temperatures generally range from the mid-40s to the mid-50s (°F). With the onset of milder weather, markets open and flowers start to bloom throughout the countryside. Although it can rain at any time, April is also one of the sunniest months of the year in Ireland—and as far as March goes, most people in Ireland say that with St Patrick's Day falling on the 17th, the weather during this month doesn't matter at all!
Holidays & Events
Late April: Cúirt International Festival of Literature is a six-day international literary event that takes place in Galway.
Must See
There's no bigger celebration in Ireland than on March 17—St Patrick's Day. Ireland's national holiday features parades and festivals celebrating Irish culture in almost every city and town—with the biggest parade in Dublin.
Watch this film to discover more about Ireland
Mystical Island of Ireland
Wander wordlessly through the emerald scenery of Ireland in this short film.
Produced by Caspar Diederick
Ireland in May-June
May and June are two of Ireland's most pleasant traveling months, with temperatures averaging in the mid- to high-60s (°F). Not quite peak tourist time yet, May and June are perfect for witnessing Ireland's trademark green countryside or viewing the wildlife in the picturesque islands scattered along the west coast.
Holidays & Events
May: Cathedral Quarter Arts Festival is an annual festival of music, art, and literature that takes place during the first weeks of May in Belfast's Cathedral Quarter.
Mid June: Bloomsday celebrates the life of James Joyce with events of his novel Ulysses relived along the streets of Dublin.
Late June: Cork Midsummer Festival is a massive annual arts festival at various venues in Cork that features dance, theatre, music, food, and more.
Watch this film to discover more about Ireland
Dublin - Time Lapse in Colour
Sit back and watch the flow of city life go by against the backdrop of Ireland's beautiful capital.
Produced by Richard Waghorn
Ireland in July-August
July and August are peak travel times in Ireland, with cities and coastal locales seeing their biggest crowds of the year. This is also the warmest time to visit—yet temperatures rarely make it even into the 70s (°F). Adding to the allure of these summer months are long days (with 6am sunrises and 10pm sunsets), calm seas, and the opening of all parks, restaurants, museums, and sightseeing attractions throughout the country.
Holidays & Events
July: The Galway International Arts Festival features two weeks of live music, theater, street performances, and more in the city of Galway.
Late August: The Auld Lammas Fair, Ireland's oldest traditional market fair, is held each year in Northern Ireland's coastal town of Ballycastle.
Watch this film to discover more about Ireland
Smart Travels with Rudy Maxa: Dublin & Beyond
Discover Celtic treasures and cultural delights during a Dublin walking tour with Emmy award-winning travel expert Rudy Maxa.
Produced by Small World Productions
Ireland in September-October
Considered the "shoulder season" in Ireland, this is when the tourist crowds begin to thin out, B&Bs start to close, and the hillsides turn purple as the heather flowers—with the changing hues of the season reaching their peak in October. With cooler temperatures, twelve hours of daylight, and fewer crowds, this is still a great time to visit Ireland.
Holidays & Events
Late September: Galway International Oyster and Seafood Festival attracts people from around the world to witness culinary events and indulge in oysters and other bounty from the sea.
Mid October: Kinsale Gourmet Festival is a two-day celebration of local food in a variety of restaurants around the seaside town of Kinsale.
Must See
The 2018 All-Ireland Football Finals are scheduled to be held in Dublin in early September.
Watch this film to discover more about Ireland
How to Make Irish Soda Bread
Bring the warmth of an Irish kitchen into your home with this quintessential soda bread recipe.
Produced by Epicurious
Ireland in November-December
The winter months can be cold and dreary in Ireland, but holiday festivities get underway at the beginning of December, with bustling Christmas markets and towns and cities aglow with decorative lights. And with all the crowds gone, the countryside offers visitors serene and delightful scenes of frost-covered hills and trees.
Holidays & Events
December 26: Wren Day is an Irish tradition consisting of "hunting" a fake wren, putting it on top of a decorated pole, and groups of locals dressing up and parading through towns and villages.
Watch this film to discover more about Ireland
Planet Food: Ireland
From hearty stews to perfect pints, take a mouthwatering look at the culinary traditions of the Emerald Isle.
Produced by Silvia Santamaria and Ian Cross
Average Monthly Temperatures
Ireland Interactive Map
Click on map markers
below to view information about top Ireland experiences
Click here to zoom in and out of this map
Dublin
Wilde. Swift. Yeats. The pubs, people, and places of Dublin inspired these literary giants, making the city a mecca to many literary traditions we know today. Dublin and its citizens—known to be among the friendliest in the world—are an experience melding together a storied medieval history with modern progress. To walk down the streets and alleyways of this city means immersing yourself in a proud and vibrant culture always looking back and reaching forward.
First and foremost, the people of Dublin are its lifeblood. Festivals and street celebrations abound, with a rich tradition of music and dancing that makes Dublin a great place to let your hair down year round. These people and the traditions that came from them—the iconic Irish pub experience and James Joyce's Ulysses being among many—make Dublin the cultural center of Ireland.
Settled in around the ninth century, Dublin changed hands between native Irish settlers, the Vikings, and eventually the Normans coming from Wales. It was then that Ireland ultimately came under the control of King Henry II of England until Ireland gained its independence in 1922. Echoes of Dublin's medieval history permeate throughout the city. Dublin Castle, built in the 13th century following a quintessential Norman style, once served as the center of power for the King of England and today is the location of presidential inaugurations and foreign affairs events. Christ Church Cathedral, constructed in 1030 AD, is a stone Gothic building which held the preserved heart of St. Lawrence O'Toole until 2012 when it was stolen.
Dublin is also home to Trinity College, the alma mater of Jonathan Swift, Oscar Wilde, and many more heroes of the literary world. Founded in 1592 by Queen Elizabeth I of England, it was modeled after the universities of Oxford and Cambridge. Though modern construction has been incorporated, much of Trinity College is a gleaming example of the Georgian aspic style.
For a tranquil respite from the bustling city, many Dubliners enjoy taking peaceful strolls around the pond of St. Stephen's Green. Once marshy grazing land, the green is now a brilliantly manicured, lush green getaway from the city.
Dublin
Dance your way through a day in Dublin, the Emerald Isle's lively capital city.
Courtesy of Alex Pescosta
Explore Dublin with O.A.T. on:
Belfast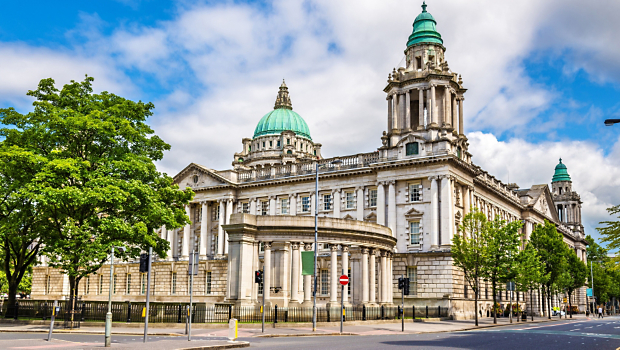 Birthplace of the ill-fated Titanic, Belfast is a city with a turbulent past and bright future. From the quickly-blossoming arts and culture scene to the exquisite baronial-style Belfast Castle, this self-proclaimed "Athens of Ireland" is a paragon for progress while embracing its storied past.
From 1966 to 1998, Belfast was center stage for "The Troubles," a decades-long conflict between Catholics and Protestants—the former fighting to unite Northern Ireland with the Republic of Ireland, and the latter wishing to remain separate and part of the United Kingdom—which resulted in bombings, assassinations, and street violence between the two groups. Though the rival factions officially came to a peace agreement before the turn of the century, sparse violence still flares up occasionally.
Yet, while Belfast has a dark past, the beauty to be found is in many ways fairy-tale-like. Arching over the road leading up to the historic home of the royal House of Stuart—known as Gracehill Manor—intertwining beech trees create a canopy known as the Dark Hedges. The Crumlin Road Gaol—infamously known as "The Crum"—was the home of Belfast's prisoners from 1846 to 1996, and site of births, deaths, and marriages as well as executions, and escapes. Now a music venue, restaurant, and event hall, The Crum is a microcosm of Belfast's transformation.
As new investment creates more opportunity in the city, modern architecture is beginning to mix in with the Edwardian-style buildings of the city's classic past. Riding around in one of the city's famous black taxis, the traveler can see how the blending of past and present inspired some of Belfast's more famous natives, including author C.S. Lewis and singer-songwriter Van Morrison. Whether complex and inspiring history, the fruits of a modern cultural hub, or sipping great beer in one of its classic pubs is your goal, resurgent Belfast awaits the traveler looking for an immersive experience.
Explore Belfast with O.A.T. on:
County Clare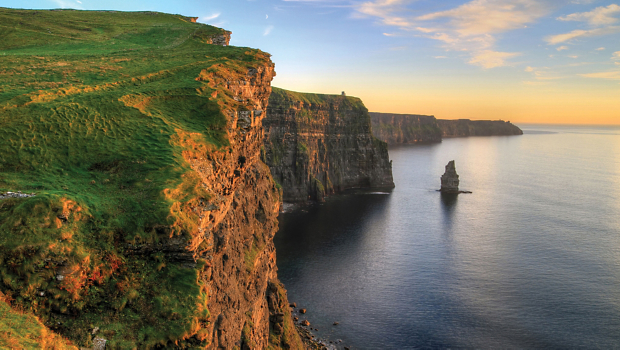 In the wild west of Ireland, County Clare beguiles with dramatic landscapes and a centuries-old heritage. The rolling green fields emblematic with Ireland give way to a surreal rocky terrain known as The Burren. Drive along this stony coastline and eventually … you'll come to the edge of the world.
At least, that is how it may seem when you encounter the Cliffs of Moher—a collection of sheer sea cliffs that are estimated to be around 300 million years old. For five miles, the cliffs dominate the landscape, plunging down into the steely waves below. A massive 702 feet at their highest point, the Cliffs of Moher also offer magnificent views of the Aran Islands, Galway Bay, and the mountains of Connemara—if the temperamental Irish weather cooperates.
Those who wish to explore some of Ireland's most far-flung locales can board a ferry in Galway Bay and set off for the Aran Islands. Inis Oirr (Inisheer) is the smallest of the islands, with a population of approximately 250 people. The tiny island is easily traversed by foot or by horse-and-trap tour. Its main attraction is the eerie shipwreck of the M/V Plassey, a cargo ship that ran aground in 1960 and was left behind—its rusted shell looming from the shore.
Back on the mainland stands a slightly more elegant ruin: Ennis Friary. Founded in the 13th century, the Friary boasts dozens of 15th- and 16th-century limestone sculptures, including a famous statue of St. Francis displaying the stigmata, as well as scenes from the Passion story.
Explore County Clare with O.A.T. on:
Donegal
The town of Donegal offers travelers a mix of serene natural beauty—from its charming harbor, picturesque beaches, and craggy mountain passes—to manmade delights such as the iconic tweed that bears the town's name.
For centuries, Donegal has continued to produce their tweed using traditional methods and local materials. Sheep's wool is still spun on a flax wheel and woven on a loom, and the rich purple and green colors come from plants such as blackberries, fuchsia, and moss. The tweed is then crafted into caps, suits, and vests prized by locals and travelers alike.
Rising in the center of town is elegant Castle Donegal. Constructed in the 15th century, its origins are contested—some say it was built by local Irish chieftains while others believe it to have initially been a Viking fort. The structure lay in ruins for 200 years before it was recently restored to its former glory.
Natural and manmade beauty can be found at Glenveagh Castle and National Park, the second largest park in Ireland. The castle was commissioned in 1870 by Captain John Adair. While the end result was stunning, Adair is not remembered kindly by the people of Donegal, as he forcibly evicted 224 tenants from the land all for the sake of his own personal hunting estate. In an ironic twist of fate, Adair died before his lavish castle was completed. Today, the castle and grounds are open to the public; and the lakes, forests, and glens—not to mention a herd of wild red deer—are free for everyone to enjoy.
Explore Donegal with O.A.T. on:
Killarney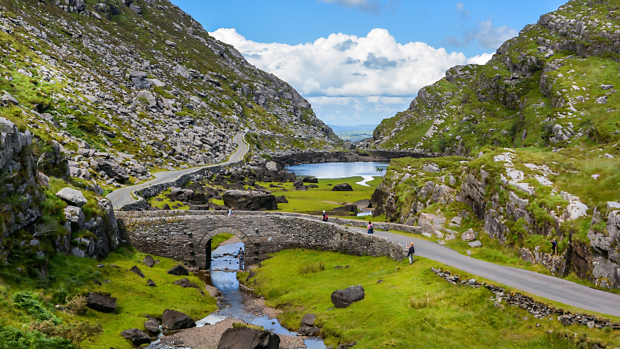 Killarney is a scenic town located in County Kerry that is marked by three lakes and more than 40 islands. Its verdant landscape is sprinkled with moss-covered ruins, stone castles, and historic cathedrals. This land has been inhabited for centuries and rose to prominence during the Bronze Age due to the availability of copper ore found on Ross Island—a scenic piece of the 26,000-acre Killarney National Park. Another treasure of Ross Island is the 15th-century Ross Castle, which was believed to have been one of the last sites to surrender to the English during the 17th-century Irish Confederate Wars, which were civil wars fought between the Irish, English, and Scottish.
About a mile away from Ross Island is another island that sits in the National Park, Innisfallen, which is located on the Lough Leane Lake. In the seventh century, the island was vacant and isolated until a monk who sought solitude to pray moved to Innisfallen and established a monastery. Today, the monk is known as Saint Finian and the island is known for this ancient site.
While these famous Killarney attractions are currently some of the town's main allures, in the 19th century, the construction of the railway and visits from royalty and important novelists boosted the town's popularity. Today, Killarney is also known for its expansive stretches of green fields and craggy mountains, lush forests and tranquil waterfalls, charming downtown streets and exciting pub culture.
Explore Killarney with O.A.T. on:
Isle of Man
Nestled squarely between England, Ireland, Wales, and Scotland, the Isle of Man's physical location is symbolic of its political position. Neither a part of the United Kingdom nor a completely autonomous nation, the tiny island occupies a special middle ground as a self-governing Crown dependency: The U.K. is responsible for its international well-being, while the island's own parliament oversees domestic affairs. As a result of its relative physical and political isolation, the Isle of Man maintains a culture all its own: Its nearly 86,000 residents (known as "Manx") are famously self-sufficient and patriotic; Manx Gaelic is considered an official language, along with English; and the country even has its own sport—a stick-and-ball game called cammag.
Explore the Isle of Man with O.A.T. on:
Featured Reading
Immerse yourself in Ireland with this selection of articles, recipes, and more
ARTICLE
The castles of the British Isles each have a story to tell. Read about some of the best here.
ARTICLE
Try making this delicious potato and leek soup that is quintessentially Irish and super creamy.
ARTICLE
See how Celtic, Anglo- Saxon, and Christian customs grew into a wealth of charms, superstitions, and traditions.
ARTICLE
Uncover the millennia of history and spectacular geological features nestled within Ireland's "rebel county."
ARTICLE
Find out how a few notable talents transformed the genre in the 20th century, from Julia Clifford to Enya.
Written in Stone
Castles of the British Isles each have a story to tell
by David Valdes Greenwood, for Grand Circle
William the Conqueror. Richard the Lionheart. Henry VIII. It's hard to imagine these iconic rulers commanding their kingdoms from any other setting than a castle. Yet these fortifications didn't come into being until 1066, when William first began constructing them as military bulwarks. The first castles were mixed use, equal part military stronghold and living quarters. Soon, they became the homes from which royals and nobles ruled.
Over time, castles came to contain all the elements of feudal life in one setting: the ruling class, the servant class, and soldiers who defended them all. With medieval standards of living, castles were cold and dark much of the time, but became ever more elaborately decorated over the years, and the scene of the grandest pageantry of the day. With groundskeepers, stable hands, kitchen staff, and servants living in or near the castles, in addition to the lords and the military, these strongholds were like miniature cities unto themselves, often long before cities appeared.
The castles of England, Scotland, Ireland, and Wales have since become iconic symbols of history and culture, and each has a story of its own. With no one-size-fits-all approach to feudal architecture, these seats of power are as varied and colorful as the nations in which they rise.
Shoring up the Isles of Scilly
Like any island, Tresco was vulnerable to attack from the sea, and, with a central location among the Isles of Scilly, being captured provided its holders with access to other islands. Despite the first castle being named for King Charles, it was actually young King Edward VI who determined that Tresco was at risk of falling into the hands of the covetous French, and he ordered construction of a worthy fortress in the mid-16th century.
Built in the shape of a semi-hexagon, King Charles's Castle boasted a massive central chamber with openings that gave its crew the ability to fire on vessels below in five directions simultaneously. This would have been more impressive had the architects considered their design a little more carefully. Because the edifice rose a full 130 feet over the harbor, the only way to fire its weapons was to aim them dramatically downward; but in this position, cannonballs simply rolled out before they could be fired. Only interlopers who came ashore were in actual danger, as soldiers above were well-armed with bows and arrows. No wonder then, that in 1651 during the English Civil War, the anti-royalist forces led by Robert Blake simply sailed past the harbor and went ashore elsewhere, to take not only Tresco but St. Mary's, the next island.
To embellish his point, Blake sent a team to partially blow up King Charles's Castle, then used some of the rubble as stone for a new castle. Named for Oliver Cromwell, this castle was closer to the harbor and was thus actually useful. With its six gun ports on a two-story façade, it was definitely the bigger, badder brother to the first castle. Showing more foresight than Edward VI, Blake got it right: No one could gain control of the island without passing in the line of fire from the castle. Meanwhile, its shape and size made it unlikely that the castle could be destroyed from sea—and, in fact, it still stands.
In for a pretty penny, out for a pound
Although some castles changed hands due to political shifts or as the spoils of war, 15th-century Kisimul Castle off the Isle of Barra in Scotland has been strongly associated with the fortunes of a single family for nearly 600 years. For most of that time, this castle—which covers an islet but seems from a distance to float on the water—was the property of Clan MacNeil, which traces its roots back to a legendary High King of Ireland, Niall of the Nine Hostages. The head of the MacNeil family was called the chief and 20 consecutive chiefs oversaw Kisimul as their own.
In 1838, however, with the family fortunes falling, the 40th chief sold the island (and with it, the castle), and much of the clan moved to America, Canada, and other English-speaking lands. With no clan to maintain the castle, it fell into disrepair, some of its masonry being hauled away for paving stone. But 100 years later, Robert Lister MacNeil, an America-born clan descendant, determined to set things right. Using all of the money he'd earned as an architect in the States, as well as most of his wife's inheritance, he bought back the island and set to work restoring the castle, which became one of Scotland's treasures as the only remaining significant medieval castle in the Hebrides.
In 2011, 46th clan chief Roderick MacNeil, trying to avoid letting the island fall into disrepair ever again, made an unusual offer: The family would lease the castle to Historic Scotland, a National Trust organization, for 999 years. The terms? Rent of one British pound per year—and a bottle of Scotch whisky. It was an offer Scotland could not refuse.
Haunted house
At Dublin's Malahide Castle, many families and political factions have walked the halls—and some, it is said, still do. Built in the 12th century by King Henry II of England and given as home to the family of his knight Sir Richard Talbot, the stone manse was expanded in the 18th century to include more imposing towers, and boasts a 22-acre garden with 5,000 species of plants. But what makes Malahide Castle stand out in the Irish imagination is its legendary ghosts, an array of colorful figures from 800 years of history.
There's Miles Corbet, who sided with Oliver Cromwell against King Charles I in the English Civil War, and briefly claimed the castle. After Cromwell's overthrow, Corbet was hung, drawn, and quartered, to set a grisly example for future anti-monarchists. His was the first ghost said to haunt the castle, often in full armor. As if it is not enough to encounter a ghost to begin with, his specter might fall apart, separating into quarters before your eyes.
Corbet was followed by Walter Hussey, who was murdered by a spear-throwing rival on his way to his own wedding. Adding to insult to (fatal) injury, his bride-to-be later married the rival, so Hussey's ghost is said to wander the halls clutching his side asking if anyone has seen his former sweetheart. One Malahide couple, Maud Plunkett and her husband the Lord Chief Justice, never parted at all—it's said that she can be seen chasing him through the castle at night, hounding him in the afterlife the way she is said to have done in their mortal years.
Puck, the four-foot-tall jester, haunts Malahide in a different fashion. He provided amusements for the ruling family and fell in love with Lady Elenora Fitzgerald, who had been detained at the castle under suspicion of plotting against King Henry VIII. Puck was found murdered, likely by pro-Henry forces, but his death was attributed to suicide. Legend says his ghost promised never to hurt anyone, and that remains true. But he also refuses to be forgotten and is said to show up unwanted in photographs taken inside the castle.
The original dream home
One of the oldest Welsh tales is that of Macsen Wledig, emperor of the Western Roman Empire in Britain, who dreamed of sailing a ship and crossing the sea to a land that was home to the world's greatest castle and most beautiful maiden. After leaving Britain for Rome, the emperor found no such castle or maiden, and sank into despair. He sailed back to Britain—but when he ventured ashore in Wales, he found a castle at Caernarfon as great as he imagined, and a maiden beyond his hopes. He settled there, refusing to ever return to Rome. Macsen Wledig was a real person but the story was a myth, created long after his passing, which somehow caught the Welsh fancy. By the time Edward I ruled the British Empire in the 13th century, the story was part of local lore, and Edward was determined to build a castle as impressive as the one of legend. Replacing a smaller castle (which itself had replaced a smaller Roman fort that bore no resemblance to Macsen's grand dream), mighty Caernarfon Castle rose in less than five years, with massive polygonal towers, multicolored stone meant to invoke the glories of Constantinople, and a stone enclosure wall that encompassed all of the original town as well.
Impressed with his own handiwork, Edward determined to make this castle a formal part of British royal tradition. He achieved this by insisting that his wife be moved to Caernafon for the birth of their first child, so that the Prince of Wales would be, in fact, English. To this day, Caernafon is the site of investiture for the Prince of Wales, including His Royal Highness Prince Charles in 1969.
It is likely that Prince William will follow suit, should his father Charles assume the throne in the coming years.
Last queen standing
Not every royal family is as close as the current House of Windsor. Mary, Queen of Scots, maintained a running battle with cousin Queen Elizabeth I that can only be called epic.
Mary's seat of power seemed secure enough: Edinburgh Castle sits atop a chunk of 350-million year-old volcanic rock 390 feet above sea level, a truly immutable base. But even before she arrived in the 16th century, the castle had evolved multiple times over the years. First built in 1093 as the Castle of the Maidens, it had been damaged often in the continual battles with the English, requiring a steady stream of repairs. In 1360, King David II added 90-foot towers, and a century later, King James III brought the rest of the castle into line with more elegant furnishings and elaborate royal apartments.
Mary was by far the most famous of its residents, but when Elizabeth forced Mary to abdicate, a cadre of Mary's supporters barricaded themselves in the castle to support their queen and sustain local rule. That turned out to be a bad idea, because Elizabeth, at her boiling point, simply gave orders to retake the castle. Her forces did considerable damage—including felling David's mighty towers—in the process. The nobles lost, Mary was later executed, and the castle itself never recovered its height. Nonetheless, like all great castles, its value to the culture, and the history written in its stonework, endures to this day.
Castles of the British Isles each have a story to tell
Recipe: Potato Soup
from Harriet's Corner
Nutritious, satisfying, and incredibly versatile, potatoes have been a cornerstone of Irish cooking since they were introduced to the Emerald Isle in the early 17th century. Tiny plots could yield enough tubers to feed a large family and turn a profit, making them the perfect crop for subsistence farmers. Today, the enchanting island produces nine varieties of potato. The Irish favor the high-starch, fluffy varieties—ideal for mashing, baking, and pureeing into soups. But some low-starch, waxy potatoes are grown there, and their firmer texture means they hold their shape through boiling, roasting, and steaming. No matter your preferred preparation, you're sure to get your potato fill on Maritime Jewels of the British Isles & Ireland.
Potato and Leek Soup
When the mercury drops in the fall, nothing satisfies quite like a steamy bowl of soup. In Ireland—where the temperatures rarely climb above 70 degrees Fahrenheit—soup is always a welcome addition to the menu. This delicious potato and leek version is quintessentially Irish, and relies on the preferred high-starch potatoes for creaminess. With just seven ingredients, it requires minimal prep, and makes enough to feed a hungry family or freeze for a future chilly day.
Ingredients
1 lb (3 medium) leeks, chopped into 1 inch pieces
3 Tbsp butter
1 medium onion, chopped
1 lb. (3-4 medium) Russet potatoes, peeled and chopped
5 cups chicken stock
Salt and pepper to taste
Preparation
Soak the chopped leeks in cold water to clean, and drain.
Melt the butter in a heavy-bottomed saucepan. Add the leeks and onion, cover with a tight lid, and sweat until the leeks are soft.
Add the chopped potatoes, cover, and cook for an additional 10 minutes, watching carefully so they don't burn.
Add the chicken stock and simmer for 30 minutes until the potatoes are cooked.
Season well with salt and pepper, and blend the soup until smooth and creamy.
Serve hot with crusty bread.
Serves: 6
Try making this delicious potato and leek soup that is quintessentially Irish and super creamy.
Lucky or charmed? Irish folklore casts a spell
See how Celtic, Anglo- Saxon, and Christian customs grew into a wealth of charms, superstitions, and traditions
by Lyette Mercier for Insider
With 5,000 years of history and mythology to draw from, it's no surprise that Irish tradition is overflowing with charms and superstitions about everything—from finding love to buying a cow. The Emerald Isle's inhabitants adapted and mixed Celtic, Anglo- Saxon, and Christian customs to create a rich and varied lore of folk wisdom.
When people talk about "the luck of the Irish" nowadays, it's meant sincerely—but the origin of the phrase was dark, as Ireland suffered through centuries of poverty, famine, and political oppression under British rule. So it's unsurprising that many Irish superstitions revolve around all things lucky and unlucky. Black cats, crowing hens, whistling girls, and knitting at night are unlucky. A hen wandering into your house, hearing a cuckoo call on your right, and meeting a white lamb on the road are all good omens.
Magpies, ubiquitous in Ireland and known for their cleverness and thievery, have a whole host of superstitions surrounding them. One magpie at your door foretells death, but two is a sign that good luck is coming. It's unlucky to meet a magpie on a journey, though meeting two magpies on your right is lucky. But then again, three magpies on your left is unlucky.
These contradictory beliefs were most famously collected together in the book Irish Cures, Mystic Charms & Superstitions, compiled in 1888 by Lady Jane Wilde. Lady Wilde's book brings together traditions from all over Ireland, and it's certain that some were regional or even confined to a village or two. But the comprehensiveness of the traditions and lore in the book give a fascinating glimpse into life in pre-modern Ireland, where residents relied heavily on faith and folk wisdom in their everyday lives.
Although many of the home remedies Lady Wilde lists seem cringeworthy (it's hard to believe anyone ever actually tried to cure a fever by eating a live spider rolled into a lump of butter) at least one now has modern science behind it. The seemingly poor choice to use spiderwebs to cover wounds and stop bleeding turns out to be based on the fact that spider webs are rich in Vitamin K, which encourages blood to clot.
Other superstitions took their basis from Christian beliefs. Killing a robin, whose red breast symbolized the blood of Christ, meant bad luck for life. And Friday was believed to have been the day of Adam's creation, the expulsion from the Garden of Eden, and Christ's death, "hence," according to Lady Wilde, "its evil repute and fatal influence." Haircuts, business deals, moving house, and starting trips were all verboten on Fridays.
Another major influence on Irish superstitions is belief in fairies, usually called "fair folk," "good neighbors," or just "The Folk" in conversation, since saying their name out loud is said to catch their attention. Irish fairies are not the pixie-dust sprinkling, benevolent creatures of modern children's stories. Some legends say they are the Tuatha De Danann, the pagan gods of Ireland angry at being consigned to the underworld by conquering Christians. Other, Christianized versions of their origin call them fallen angels, demons who didn't make it all the way to hell. In any case, they regard humanity with malice.
The Sidhe, the fairy race, were said to steal babies and replace them with weak, ugly "changelings." So families were to lock every drawer and cabinet in a house as soon as a baby was born to keep fairies from lying in wait to kidnap the baby. Other fairy-related superstitions include avoiding building on a known fairy-path or moving a fairy mound, which is a doorway between our world and the fairies' realm. Inconveniencing fairies led to their wrath, which meant personal and financial ruin for any human foolish enough to cross them.
While few people still believe in changelings, some fairy stories are taken seriously even today. When Irish developer Sean Quinn, once the nation's richest man, lost his entire fortune in 2012, locals in County Cavan said it was the fairies revenge for Quinn moving a local fairy mound to build a quarry on the site. For the unfortunate Quinn, in this case, the original meaning of "luck of the Irish" held true.
See how Celtic, Anglo- Saxon, and Christian customs grew into a wealth of charms, superstitions, and traditions.
County Kerry: Land of Lakes, Loss, and Legend
The millennia of history nestled within the Emerald Isle's "rebel county"
by Lyette Mercier for Grand Circle
Thanks to its geographic diversity and relative inaccessibility before modern-day travel, much of County Kerry continues ancient Irish traditions.
Located in Ireland's southwest, County Kerry is home to some of the Emerald Isle's most ethereal natural beauty and iconic history. Best known for the scenic Ring of Kerry, Kerry's spectacular geological features date back to the end of the last ice age ten thousand years ago, when retreating ice sheets cut into the landscape, creating the lakes, valleys, and mountains that enchant visitors to this day.
These spectacular sights—including the interconnected Lakes of Killarney, the breathtaking mountain pass of Moll's Gap, and the verdant flora throughout the ring—are the rolling green hills of Ireland writ large. Killarney National Park's 25,000 acres of pristine landscape encompass Ireland's magical natural beauty: Much of what is today known as the Ring of Kerry rests in this park. Established in 1932, when the owners of the grand Victorian estate Muckross House gifted their 4,000 acres of land to the Irish government, the park was expanded in the 1970s to cover more than 25,000 acres of protected land.
The Lakes of Killarney—glacial Lough Leane, Muckross Lake, and the Upper Lake—make up about a quarter of the park. Each lake boasts a unique and diverse ecosystem, with thriving populations of cormorants, deer, salmon, and trout. The park also boasts the country's largest area of ancient oakwoods, and is home to MacGillycuddy's Reeks, Ireland's tallest mountain range, whose peaks top out at a modest 3,414 feet.
Humans have inhabited the area for more than 4,000 years, since the Bronze Age; the remains of a copper mine on the Ross Island peninsula provide evidence of Ireland's earliest known metalwork. And Christianity arrived in Kerry in the middle of the first millennium, leaving behind early Christian settlement ruins still visible today. Among them is the monastery Saint Finian the Leper founded on Inisfallen Island in Lough Leane (Gaelic for "Lake of Learning.") Established in the seventh century AD, it remained occupied until the 14th century.
"Rebel county" turned tourist hotspot
In addition to ancient roots, Kerry has a long and proud history as "The Kingdom County," intermittently warring against British subjugation from the 12th century Norman invasion to the 1918 War for Independence, when Kerry was a republican stronghold. Among its most significant losses in the long fight against England was the end of the Nine Years' War in 1603, when much of Kerry's land was confiscated by the British and given to English settlers. Irish farmers, unable to own land and forced tenants to the British, were kept poor by the rents they were required to pay the crown.
A century and a half later, Thomas Browne, 4th Viscount of Kenmare and a prominent Irish landowner and politician, came up with the idea of improving the local economy through the modern tourist trade. By promoting the area's pristine nature as an idyllic spot for visiting English gentry to enjoy their fishing and hunting holidays, the town of Killarney developed from a modest village into a thriving center for tourism and trade.
Kerry's renown had grown so much by 1861 that Queen Victoria herself came to see the sights. Ladies' View, a scenic spot between Killarney and Kenmare, was named for the queen's ladies in waiting, who vocally admired the magnificent views there. The writings of famed poets, including Tennyson and Wordsworth, further cemented Killarney's reputation as an international vacation destination.
While English rule developed the world's appreciation for Kerry's beauty, it proved ill-suited for the management of the county's people. The landlord/tenant system disintegrated when farmers' main crop and food source—the potato—failed. During the Great Irish Famine of 1845-1852, approximately one million citizens died; just as many emigrated to escape such a fate. Areas of County Kerry lost up to 30% of their population, a loss that still contributes to the county's areas of windswept isolation today.
Ancient traditions in a modern day
Thanks to its geographic diversity and relative inaccessibility before modern-day travel, much of County Kerry continues ancient Irish traditions. Six Kerry towns are classified by the government as Gaeltacht (Irish-speaking), with Gaelic spoken as the primary language. The fishing town of Dingle, on a craggy peninsula of the same name, is the largest of these, with a population of nearly 2,000. Although areas where Gaelic Irish is spoken as a first language are in decline, it is still taught in schools, in hopes of preserving this precious tradition for the future.
From its formation in the ice age to 4,000 years of human habitation, County Kerry retains memories both natural and manmade from its entire varied history. Its beauty and longevity will no doubt continue to enchant visitors for generations to come.
Uncover the millennia of history and spectacular geological features nestled within Ireland's "rebel county."
Women in Irish Music
by Philip McCluskey for Insider
The people of Ireland have expressed their joys and sorrows through song for centuries— chronicling their pain and pride with haunting ballads and dance-friendly ditties. For most of that time, men dominated the Celtic music scene—but thanks to some talented women, the landscape of Irish music has been transformed over the past several decades.
During centuries of British occupation of Ireland, every aspect of Irish culture was suppressed. British forces even confiscated musical instruments, leading the Irish to express themselves through a cappella singing, known as sean-nos ("old-style"). When restrictions were eased in the late 1800s, there was enthusiastic interest in a revitalizing Irish customs—including participation in feis cheoil ("music festival involving competition"). Women were sometimes the subjects of songs at these events, but they weren't often at the center of the stage. This started to change, however slowly, in the 20th century.
Julia Clifford was one woman who helped pave the way for women in Irish music during this time. Clifford was so well respected as a traditional fiddler in the 1960s that a type of Irish folk music was named after her style of play (as well as others from her area). The style, called Sliabh Luachra for the region from which she hailed, was rhythmic, wild, and suited to dancing.
The vocalist Bridie Gallagher was another trailblazer. Nicknamed the "Girl from Donegal," she began as a singer in a ceili band in her native Creeslough before going on to sing at the Sydney Opera House, Carnegie Hall, and Royal Albert Hall.
Female musicians from Ireland continued to garner praise through the latter half of the 20th century, but it wasn't until the 1990s that some became household names. One of the faces of modern Irish music is Enya, whose real name is Eithne Ní Bhraonáin. Like Gallagher, Enya is from Donegal, but her music is very different. She uses mostly synthesizers and multi-layered vocal tracks to achieve a distinctive style influenced by Irish music—in fact, many of her songs have Irish-language lyrics.
Enya has sold more than 75 million albums, making her Ireland's most successful solo musician. Glenageary native Sinead O' Connor skyrocketed to fame with her 1990 pop song "Nothing Compares 2 U." In the mid-90s, Limerick-born singer Dolores O'Riordan and her rock band, The Cranberries, sold more than 35 million albums over a period of ten years. O'Connor and O'Riordan's singing both included "keening"—a distinctive wail that is considered one of the oldest forms of Irish music. (The word "keening" is said to be derived from the Irish term caoineadh, meaning to cry or weep.)
Though each of these modern women was influenced by the music of her homeland, their songs were a departure from the oldtime tunes of Clifford, Gallagher, and their predecessors. As it turned out, though, this time period brought a renewed interest in traditional Irish music as well.
A prime example is A Woman's Heart, a collaborative album created by esteemed Irish folk artists Mary Black, Delores Keane, Sharon Shannon, and others. Released in 1992, the album wasn't expected to do well—the musicians only hoped to move a few thousand records—but it struck a chord with listeners: The record sold 750,000 copies worldwide.
More recently, the band Celtic Woman has built upon the global interest in female focused music from the Emerald Isle. The all-woman ensemble has been called "Riverdance of the voice," and plays modern favorites as well as classic Celtic tunes. The group has become a cultural phenomenon, selling millions of albums and performing at sold-out arenas worldwide.
Today, Irish women continue to garner critical and commercial success, and have become some of the most well-known musicians in the world. It is clear that in a genre once dominated by men, Irish women no longer take second fiddle.
Find out how a few notable talents transformed the genre in the 20th century, from Julia Clifford to Enya.