Forgot Your Username
If you have forgotten your username, please provide your email address in the box below. We'll send you an email with your requested username. If you are having trouble, please call us toll-free at 1-800-221-0814.
Email Sent
You'll receive an email in a few minutes. Please check this email to find your requested username.
If you do not receive an email or you are having trouble logging into My Account, please call us at 1-800-221-0814.

EGYPT
Commanding pyramids reaching towards the gods ... piercing obelisks adorned with hieroglyphics ... caravans of camels trudging across ocher sand dunes—Egypt is a land of profound majesty and mystery, and a magnet for treasure hunters, history lovers, and adventure seekers. At its heart is the mighty Nile, a true oasis in the desert and the life-blood for Egypt's enduring history and culture. The first settlers were drawn to its fertile banks in the tenth millennium BC, making Egypt one of the world's oldest nation states. Over time, these primitive hunter-gatherers evolved into a formidable civilization ruled by pharaohs and marked by incredible prosperity. During their dynasties, these rulers left indelible marks on the Egyptian landscape. Tombs, temples, and monuments sprung up all along the Nile, and culture flourished, too: Writing, agriculture, and organized religion all developed under the pharaohs' authority.
But their power was fleeting. Egypt's prime location between Africa and Asia made it a target for conquerors, beginning with the Persians in 343 BC, and followed by the Greeks, Romans, Arabs, Ottomans, and Europeans. Each of these rulers left their own mark (the Arabs, for example, transformed Egypt from a Christian country to an Islamic one). However, none of these governments could undo the pharaohs' spell—their influence is as profound now as it was millennia ago, and relics of their reign are regularly uncovered by eager archaeologists and everyday Egyptians alike.
In recent years, Egypt's ruling class has been in turmoil once again: the Arab Spring unseated longtime president Hosni Mubarak in 2011, and his successor, Mohamed Morsi was removed from power just two years later. Yet in spite of this unrest, there's one thing that Egypt's 92 million residents can be sure of—that the ancient allure of their country will always endure.
Egypt Interactive Map
Click on map markers
below to view information about top Egypt experiences
Click here to zoom in and out of this map
Most Popular Films
Films featuring Egypt from international, independent filmmakers
Um Hashem's Story
Hear of a mother's fight to keep her daughter in school despite her father's wishes to marry her off.
Produced by Oliver Wilkins
7 Days in Egypt
Take a panoramic tour of Egypt's most beloved highlights, from the Pyramids and the Sphinx to Karnak Temple.
Produced by Kristian Hampton
Compare Our Adventures
Click 'Select to Compare' to see a side-by-side comparison of up to adventures below—including
activity level, pricing, traveler excellence rating, trip highlights, and more
17 DAYS FROM $8,095 • $ 477 / DAY
Small Ship Adventure
First Departure 10/18/2017
Days in Egypt
4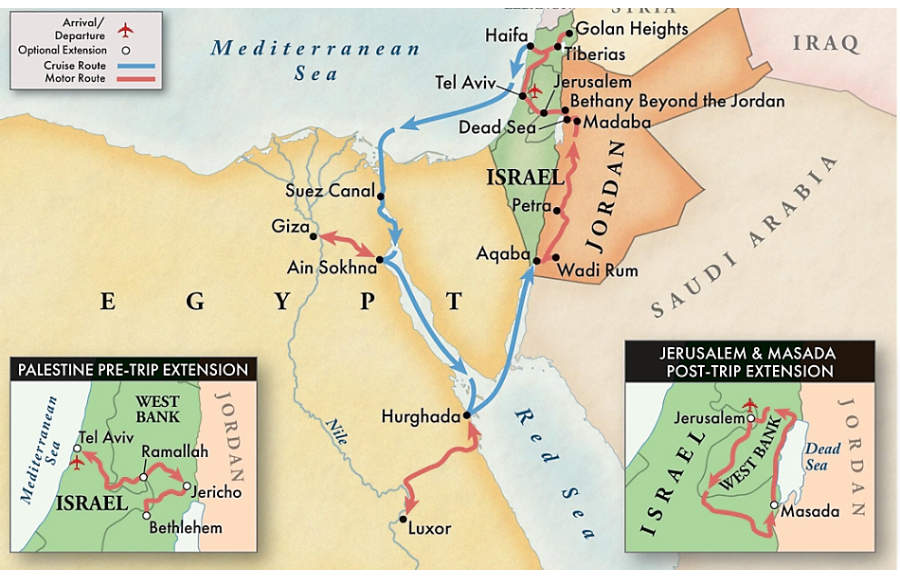 Israel: Tel Aviv, Jaffa, Haifa, Tiberias, Golan Heights • Egypt: Suez Canal, Giza Pyramids, Luxor & Valley of the Kings • Jordan: Aqaba, Wadi Rum, Petra, Madaba, Mount Nebo, Dead Sea, Bethany Beyond the Jordan • Allenby Bridge Border Crossing • Israel: Jerusalem
42 meals—daily breakfasts, 14 lunches, and 13 dinners (plus all onboard house beer & wine, as well as soft drinks)
Behold the Great Pyramid of Giza, the surrounding Khafre and Menkaure pyramids, and the commanding Sphinx
Explore the underground tombs in the Valley of the Kings
Witness a captivating Sound & Light Show at Karnak Temple
Cross the Nile River aboard a traditional felucca (wooden sailboat)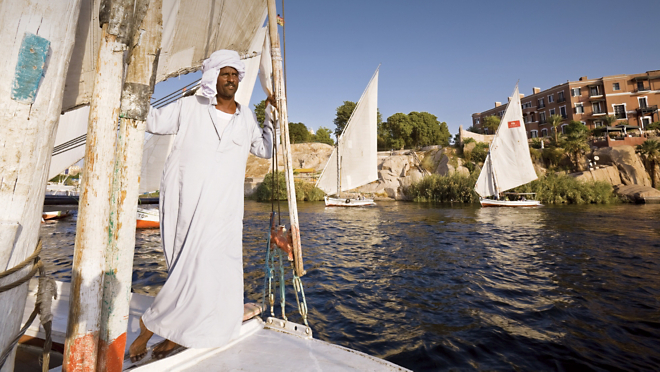 16 DAYS FROM $4,195 • $ 263 / DAY
Small Ship Adventure
First Departure 09/15/2018
Days in Egypt
15
Egypt: Cairo, Luxor, 5-night Nile River-Yacht cruise, Abu Simbel, Aswan, Cairo
Enjoy five nights cruising from Luxor to Aswan aboard a classic, private river-yacht
Visit Abu Simbel's elaborate temple during the day and experience it at night during a light and sound show
Discover the treasures of Cairo, including Giza's mighty pyramids and the mysterious sphinx
Behold the tomb of the boy king Tutankhamen during an exploration of Luxor's the Valley of the Kings
Meet with local Nubian people to learn about their efforts to preserve their traditions and culture