Small Groups: 8-16 travelers-guaranteed!
(average of 13)

EGYPT
Commanding pyramids reaching towards the gods ... piercing obelisks adorned with hieroglyphics ... caravans of camels trudging across ocher sand dunes—Egypt is a land of profound majesty and mystery, and a magnet for treasure hunters, history lovers, and adventure seekers. At its heart is the mighty Nile, a true oasis in the desert and the life-blood for Egypt's enduring history and culture. The first settlers were drawn to its fertile banks in the tenth millennium BC, making Egypt one of the world's oldest nation states. Over time, these primitive hunter-gatherers evolved into a formidable civilization ruled by pharaohs and marked by incredible prosperity. During their dynasties, these rulers left indelible marks on the Egyptian landscape. Tombs, temples, and monuments sprung up all along the Nile, and culture flourished, too: Writing, agriculture, and organized religion all developed under the pharaohs' authority.
But their power was fleeting. Egypt's prime location between Africa and Asia made it a target for conquerors, beginning with the Persians in 343 BC, and followed by the Greeks, Romans, Arabs, Ottomans, and Europeans. Each of these rulers left their own mark (the Arabs, for example, transformed Egypt from a Christian country to an Islamic one). However, none of these governments could undo the pharaohs' spell—their influence is as profound now as it was millennia ago, and relics of their reign are regularly uncovered by eager archaeologists and everyday Egyptians alike.
In recent years, Egypt's ruling class has been in turmoil once again: the Arab Spring unseated longtime president Hosni Mubarak in 2011, and his successor, Mohamed Morsi was removed from power just two years later. Yet in spite of this unrest, there's one thing that Egypt's 100 million residents can be sure of—that the ancient allure of their country will always endure.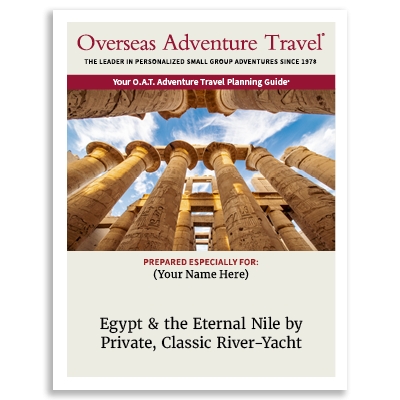 Get your FREE personalized Egypt Travel Planning Guide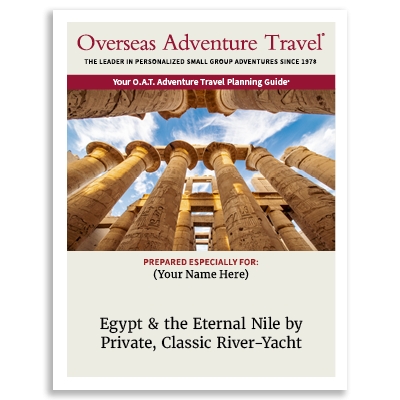 Get your FREE personalized Egypt Travel Planning Guide
To help you get the most out of your Egypt travel experience, we've complied a comprehensive, 96-page Travel Planning Guide containing everything you need to know to prepare for an unforgettable adventure. Not only will it highlight the daily experiences that await, but it will also provide you with the many options you have to personalize your experience. Sign in or register for a My Account to receive more information about Egypt, including:
A detailed Day-to-Day itinerary
Available departure dates & prices
Monthly weather & climate by region
Regional history & demographics
Packing suggestions
Optional tours
Trip extensions
Options to personalize your experience
Electrical information
Recommended movies, books, and more
Request a Travel Planning Guide
Get the Details On Our Egypt Trips
Click 'Select to Compare' to see a side-by-side comparison of up to adventures below—including
activity level, pricing, traveler excellence rating, trip highlights, and more
Egypt: Month-by-Month
There are pros and cons to visiting a destination during any time of the year. Find out what you can expect during your ideal travel time, from weather and climate, to holidays, festivals, and more.
Egypt in January-March
Situated in the desert, Egypt's temperatures remain relatively warm year-round, but the winter months usher in more mild weather and a chance of rain. At times, areas in the western desert even reach freezing. The cooler climate also means peak tourism season—along with Egypt's prime business time—when hordes of people travel to the country's top sites, potentially creating snaking lines and uncomfortable crowds.
Visiting in March allows travelers to avoid much of the winter tourist rush while still enjoying the ideal weather that makes it easier to explore during the day.
Holidays & Events
January 25: On this date each year, patriotic processions take place in honor of Revolution Day, when Egyptians celebrate the beginning of the 2011 uprising that ousted President Hosni Mubarak.
Late February: The Abu Simbel Sun Festival is held twice a year, in late February and late October, when sunlight illuminates the interior of the Abu Simbel Temple, a feature designed by King Ramses II in 1250 BC to mark the day he ascended to the throne and his birthday. Along with viewing the phenomenon, Egyptians hold music and dance performances and enjoy local foods nearby.
Watch this film to discover more about Egypt
Israel, Jordan, and Egypt via Suez Canal
Submitted by William C. Thornton, 20-time traveler from Georgetown, Texas
Follow traveler William T. on his journey through the Middle East.
Egypt in April-June
Temperatures start to climb between the springtime and the start of summer in June—but travelers during this time must be aware of the Khamsin Wind, a blistering hot sandstorm that sweeps across the country for a few days in April and May. The wind can blow at up to 140 kilometers (or about 87 miles) per hour, picking up sand along the way and impeding any sightseeing adventures.
But with warmer weather, the springtime is also an excellent opportunity to sunbathe, swim, snorkel, or scuba dive in the Red Sea region.
Holidays & Events
Late April: Sinai Liberation Day commemorates the withdrawal of the last Israeli soldier from the Sinai Peninsula in 1982 after a 15-year occupation. The patriotic holiday features military air and water shows, concerts, and parades.
April/May: To mark the beginning of spring, Egyptians celebrate Sham al Nessim. On the day after the Coptic Orthodox Church's Easter, people typically spend time outside picnicking and eating the holiday's traditional foods: boiled colored eggs, green onions, lupin beans called tirmis, lettuce, and a salted fish called fesikh.
Must See
The Dahab coral reef in the Red Sea remains a top snorkeling location all year with its distinctive Blue Hole, colorful coral, and rich marine life. But dolphin-watching season in Egypt begins in April, making the late spring and summer months the best time to see dolphins, whether from a boat or swimming alongside them.
Watch this film to discover more about Egypt
Israel, Jordan, and Egypt via Suez Canal
Submitted by William C. Thornton, 20-time traveler from Georgetown, Texas
Follow traveler William T. on his journey through the Middle East.
Egypt in July-September
The dry heat of the scorching summer months in Egypt borders on oppressive and drives many tourists away—though temperatures do start to drop in September. But while the heat leaves people aching for a drink and a rest, it also means the impressive ancient sites, like the Great Pyramids, are far less crowded.
As a respite from the heat, Egyptians and vacationers escape to the Red Sea region, which offers its best snorkeling and scuba diving during these summer months. Under the water lies exotic marine life, colorful coral reefs, and a world-renowned marine sinkhole called the Blue Hole.
Holidays & Events
July 23: Beginning the evening before, Egyptians commemorate the coup d'état that overthrew King Farouk in 1952 on Revolution Day with elaborate festivities planned by the minister of defense that feature military parades and patriotic concerts.
September: The Islamic New Year inaugurates the beginning of the Hijri calendar, which falls in September in 2018. During the celebration, Egypt's streets transform into a public carnival with people of all ages dancing, singing, making music, and enjoying traditional foods and treats sold by vendors.
Must See
For centuries, the Nile River would rise and overflow following rains in the highlands and bring life and water to Egypt's ancient civilization, who attributed the annual cycle to the gods. Even though the river no longer floods due to the building of the Aswan High Dam in 1970, the Egyptian people still recognize the river and its importance with a festive, two-week celebration in early August called Wafaa El-Nil—marked by boat and flower parades, water sports like rowing or windsurfing, and picnicking along the Nile.
Watch this film to discover more about Egypt
Israel, Jordan, and Egypt via Suez Canal
Submitted by William C. Thornton, 20-time traveler from Georgetown, Texas
Follow traveler William T. on his journey through the Middle East.
Egypt in October-December
Egypt's peak tourism season kicks off in December—but already in the preceding months, the summer heat relents, affording a comfortable, yet warm visit. The fall proves to be the ideal time to cruise down the Nile River because temperatures in the country's interior have dropped, making excursions to Egypt's main tourist sites more feasible at any point during the day.
It's a time when the local markets come alive with bustling people and stalls stocked with produce, livestock, and other goods. But the nicer weather also means more tourists have already begun flocking to the popular locales, creating larger crowds.
Holidays & Events
October: Coinciding with October's full moon, the Siyaha Festival in Gebel Dakrur is an opportunity for the members of the Siwan people to celebrate the harvest, settle their conflicts, and renew friendships. Following noon prayer each day, the people gather together for a large feast of traditional foods.
December: In the third month of the Islamic Calendar—December 1 in 2018—the people of Egypt celebrate the birth of the prophet Muhammad during a holiday called Mawlid. Bakeries and sweet shops sell toys made of sugar syrup for children, and the people participate in street processions with chanting, singing, and drumming.
Related Video:
Israel, Jordan, and Egypt via Suez Canal
Submitted by William C. Thornton, 20-time traveler from Georgetown, Texas
Follow traveler William T. on his journey through the Middle East.
Average Monthly Temperatures
Egypt Interactive Map
Click on map markers
below to view information about top Egypt experiences
Click here to zoom in and out of this map
Featured Reading
Immerse yourself in Egypt with this selection of articles, recipes, and more
ARTICLE
Discover the extraordinary life of British military officer T. E. Lawrence.
ARTICLE
Learn about the Egyptian pharaoh Hatshepsut, one of the first great women rulers in all of recorded history.
RECIPE
Learn how to make a traditional Egyptian vegetable dish with this recipe.