The Leader in Small Groups on the Road Less Traveled in Over 85 Countries

CROATIA
Located at the crossroads of Europe, with more than 1100 miles of prime Adriatic coastline, Croatia has long been a prize for ambitious kings and emperors: Roman, Venetian, Austro-Hungarian influences are all apparent in the country's architecture and cuisine. But in spite of these outside influences, Croatia—which only gained independence in 1991—boasts an identity unlike any other. The jewel in its crown is the Dalmatian Coast, a sun-dappled stretch of pebbly beaches and clear, sapphire waters speckled with more than 1200 islands and alive with fishermen vying for the catch of the day. Further inland, dense forests teem with wildlife, alpine mountains cast long shadows over crystalline lakes, and pastoral farmlands roll across the countryside. But no matter where in Croatia you find yourself, you're sure to experience the warm hospitality and deep national pride inherent to the local identity.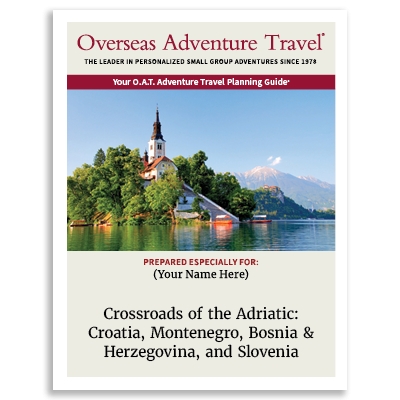 Get your FREE personalized Croatia Travel Planning Guide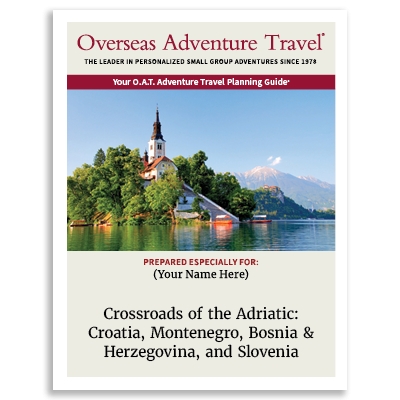 Get your FREE personalized Croatia Travel Planning Guide
To help you get the most out of your Croatia travel experience, we've complied a comprehensive, 96-page Travel Planning Guide containing everything you need to know to prepare for an unforgettable adventure. Not only will it highlight the daily experiences that await, but it will also provide you with the many options you have to personalize your experience. Sign in or register for a My Account to receive more information about Croatia, including:
A detailed Day-to-Day itinerary
Available departure dates & prices
Monthly weather & climate by region
Regional history & demographics
Packing suggestions
Optional tours
Trip extensions
Options to personalize your experience
Electrical information
Recommended movies, books, and more
Request a Travel Planning Guide
Compare Our Adventures
Click 'Select to Compare' to see a side-by-side comparison of up to adventures below—including
activity level, pricing, traveler excellence rating, trip highlights, and more
Recommended Viewing
Watch this video showcasing what makes this country so unforgettable
Smart Travels with Rudy Maxa: Croatia's Dalmatian Coast
Discover Croatia's Dalmatian Coast—including its crown jewel of Dubrovnik—with Emmy award-winning travel expert Rudy Maxa.
Recommended Videos
Watch your fellow travelers' favorite films & videos
ReelEarth: A Dog in Dubrovnik
Follow Monkey—a shelter dog with the odds stacked against him—and his dedicated owner, Diana, on their training path to becoming members of the Croatian Mountain Rescue Service.
Travelogue: Dubrovnik, Croatia 1969
Get a glimpse of Dubrovnik as it was in 1969—from a vintage tram to a crowded food market.
Trip Experience
A village nun, a country chef, and a local historian offer a tantalizing glimpse into the traditions and local ways of life that await travelers in Croatia in this captivating video.
The Adriatic - Dubrovnik to Mostar
Submitted by Jack Carswell, 13-time traveler from Augusta, Georgia
Follow traveler Jack C. on the first leg of his Adriatic adventure, from the medieval streets of Dubrovnik to an ancient bridge in Mostar.
Crossroads of the Adriatic - Back to Croatia
Submitted by Penny Parker, 21-time traveler from Saint Louis, Missouri
Follow along with traveler Penny P. as she samples culinary favorites at a local family farm and explores the historic city of Zagreb.
Croatia: Month-by-Month
There are pros and cons to visiting a destination during any time of the year. Find out what you can expect during your ideal travel time, from weather and climate, to holidays, festivals, and more.
Croatia in December-February
During the winter months, the Adriatic keeps Croatia's coast relatively insulated—even in January (the coldest month) the temperature almost never dips below 41⁰F and snow is rare. So while it might not be possible to swim in the country's characteristically enticing seas, it is still comfortable enough to explore seaside gems like Dubrovnik and Split.
It's a slightly different story for the inland areas, which experience low temperatures of around 30⁰F in chilly January. Snow is also common, but when it dusts the slopes of Mount Sljeme, it transforms northern Croatia into an undiscovered (and extremely affordable) ski destination.
No matter where you chose to go, you'll enjoy lighter crowds and lower prices, as travelers don't typically visit during this time of year.
Holidays & Events
December 25: Christmas Day
December 31: New Year's Eve
Carnival: Numerous festivals are celebrated throughout the period leading up to Lent
Must See
Throughout the Advent season, the streets of Zagreb are festooned with lights, and festive décor and activities can be found around every corner—including an ice skating rink, a nativity scene, and countless stalls selling mulled wine, cabbage rolls, and sweet štrukli (cheese-filled pastry). Can't make it before Christmas? The merriment typically continues through the first week of the New Year.
Carnival offers another opportunity for revelry. From Split to Dubrovnik to the island of Pag, many Croatian destinations mark the event with traditional masks and merriment. But for an all-out jamboree, Rijeka is the place to be. During the week leading up to the main event, the city hosts a charity ball (attended by sports stars and politicians alike), a car rally, and a children's parade. The celebration culminates in an afternoon march, followed by "the burning of the Pust," when a puppet symbolizing the last year's woes is taken out to sea and set alight.
Watch this film to discover more about Croatia
Bare Feet: Croatia's Dalmatian Coast
Explore the Dalmatian Coast and learn about Croatian history and culture through its traditional dances.
Croatia in March-May
Easter heralds the beginning of Croatia's spring season, which is marked by rising temperatures and longer days. Many of the country's island resorts open their doors in March (though it's usually still too cool for an ocean dip). Inland attractions also benefit from the changing seasons: As snow begins to melt, the Plitvice Lakes swell to their highest levels, and Krka Falls course with the run off. What's more, the rising temperatures coax local flora and fauna out of hibernation, creating a spectacular display of life in the country's national parks. By May, balmy weather has arrived, but summer's crowds are just beginning to trickle in, making the month ideal for outdoor enthusiasts who would rather rub elbows with locals than foreign visitors.
Holidays & Events
March/April: Easter
May 1: Labor Day; also known as May Day, this public holiday honors the working class. A free lunch of grah (bean soup)—a true workers' dish—is served throughout the country
Must See
Since 1997, Croatia has welcomed the arrival of sailing season with an annual Easter Regatta. Over a four-day period, yachts fill up the harbors of Hvar Island to compete in tests of seamanship across the tranquil waters of the Adriatic.
Not to be outdone, the mainland kicks off its cultural season in April. From a harp festival and garden show in Zagreb, to asparagus and wine tastings in Istria, and a feast for the patron saint of Spilt, Croats find any excuse to step outside and enjoy the warmer weather come April.
Before summer kicks off in earnest, Zagreb hosts the first of two annual Fashion Weeks to highlight the season's upcoming trends. The event not only brings together big-name designers from around the world, but is also an opportunity for up-and-coming Croats to showcase their contributions to the world of style. It's an appropriate festival for the country responsible for one of fashion's most enduring accessories—the necktie.
Watch this film to discover more about Croatia
Bare Feet: Croatia's Dalmatian Coast
Explore the Dalmatian Coast and learn about Croatian history and culture through its traditional dances.
Croatia in June-August
Warm weather, sunny skies, and low precipitation make summer an ideal season for discovering Croatia—and travelers have caught on. Temperatures peak in July and remain high throughout August, and so does the number of visitors. For a summertime feel without elbow-to-elbow crowds, opt for June, when the average high hovers around 77⁰F and sunshine is plentiful. Whether you come at the start of the season or at its height, one thing is certain: Croatia will be lively with holidays and cultural festivals.
Holidays & Events
June 22: Anti-Fascist Struggle Day; marks the start of the uprising against the Nazi and Italian forces that occupied the country in 1941
June 25: Statehood Day; marks the day that Croatia formally proclaimed independence from Yugoslavia in 1991
August 5: Thanksgiving Day; also known as Victory Day, this public holiday celebrates Croatia's War of Independence—in particular, Operation Storm, which brought an end to the country's Serbian separatist movement
Must See
If you find yourself in Zagreb, you may experience the International Folklore Festival, which is marked by five days of stage performances, concerts, and exhibitions highlighting Croatian heritage. Around the same time, the coastal town of Omis honors traditional song with its week-long Festival of Dalmatian Klapa.
With a long scholarly history and a deep appreciation for bygone traditions, it's no surprise that Dubrovnik's most famous cultural festival is more intellectually-minded. Founded in 1949, the Dubrovnik Summer Festival is a month-and-a-half-long celebration of classical theater and music. From Shakespearean tragedies to Viennese orchestras, the city's Renaissance squares and Baroque palaces resound with a cacophony of timeless creativity.
Tiny Motovun takes a more modern approach to its artistic celebration: It hosts an independent film festival that was launched in 1999 as a response to the dominance of Hollywood blockbusters in Croatian cinemas. Dubbed "the Woodstock of film," more than 40,000 movie buffs descend on the sleepy medieval town to enjoy late-night screenings that run continuously for nearly a week.
For a more low-key holiday, head toward the sea. With a lengthy coastline and hundreds of islands, the country is a haven for beachgoers. Boasting blue-green waters and hidden coves, the Dalmatian Coast is considered Croatia's Riviera, attracting international vacationers and celebrities alike.
Watch this film to discover more about Croatia
Bare Feet: Croatia's Dalmatian Coast
Explore the Dalmatian Coast and learn about Croatian history and culture through its traditional dances.
Croatia in September-November
Fall ushers in a change of pace in Croatia. While temperatures and crowd levels remain high at the start of September, they start to taper off toward the end of the month—though not so quickly that ocean-lovers can't linger on the beach into the start of October. As autumn progresses and the air cools, leaves begin to show off their coppery hues. The changes are especially evident in the national parks, where deciduous trees create a canopy of color. For most of the season, daylight lingers and precipitation holds off, creating the perfect environment for enjoying harvest celebrations. But when November arrives, night comes earlier, a chill sets in, and the heaviest rain of the year begins to fall.
Holidays & Events
October 8: Independence Day; commemorates the Croatian Parliament's decision to sever legal ties with Yugoslavia in 1991
November 11: St. Martin's Day; a harvest celebration marking the day grape juice traditionally turns into wine. After the wine is "baptized," Croatians typically enjoy goose and mlinci (dried flatbread) dinners.
Must See
If you visit Split in early September, you may be surprised to see toga-clad locals and epic gladiator battles. It's all part of the Days of Diocletian, a festival honoring the city's Roman founder. In addition to elaborate costumes and performances, horse-drawn-carriage parades, booming drums, and Mediterranean cuisine also add to the ancient atmosphere.
For a more traditional fall fête, Opatija beckons with Marunada. This 45-year-old festival celebrates the maruni, a large, sweet chestnut variety that grows at the foot of nearby Mount Učka. Revelers can sample a number of treats made with maruni, from pancakes to goulash to pie.
Truffles are another highlight for foodie travelers. Croatia's Istrian peninsula abounds with them, and late autumn is prime truffle-hunting season. Many of the region's smaller towns celebrate their newfound availability, so if you'd like to sample this delicacy, head to Livade for Zigante Truffle Days, or to Buzet for The Weekend of Truffles.
Watch this film to discover more about Croatia
Bare Feet: Croatia's Dalmatian Coast
Explore the Dalmatian Coast and learn about Croatian history and culture through its traditional dances.
Average Monthly Temperatures
Croatia Interactive Map
Click on map markers
below to view information about top Croatia experiences
Click here to zoom in and out of this map
Featured Reading
Immerse yourself in Croatia with this selection of articles, recipes, and more
ARTICLE
In Croatia, locals proudly adorn themselves with the morcic to bring good luck. Learn more about this special symbol.
ARTICLE
Learn about Croatia's unique aloe lace tradition—intricate pieces that are woven by Benedictine nuns.
ARTICLE
Follow along as a travel writer recounts her journey through the Balkans—chock-full of surprises and hidden gems.
ARTICLE
See how the Republic of Ragusa, the heart of which we now know as the city of Dubrovnik, became a progressive culture.