The Leader in Small Groups on the Road Less Traveled in Over 85 Countries

COSTA RICA
Costa Rica may be a small Central American country, occupying just .03% of the world's landmass, but the country boasts 5% of the world's biodiversity. Situated between the Caribbean Sea and the Pacific Ocean, Costa Rica boasts lush mountains, active volcanoes, and verdant valleys. The country's nutrient-rich soil is ideal for cultivating cash crops like coffee, pineapples, sugar, and bananas. In fact, Costa Rica is one of the largest exporter of bananas in the world.
While the agricultural industry dominates Costa Rica's economy, it also emits large amounts of carbon dioxide into the atmosphere. As a result, the nation has been implementing new agricultural practices and making strides toward becoming the first carbon-neutral country in the world by 2021.
Costa Rica's former president, Jose Figueres, sparked the country's passion for environmental change in 1948 when he eliminated the nation's military. This bold move boosted funds for environmental protection, healthcare, and education. Costa Rica provides universal healthcare to all residents and expatriates living in the country, and the healthcare system ranks higher than the United States. Funding for education has also proved beneficial. Costa Rica is one of the most literate Latin American countries in the Western Hemisphere with a 96.3% literacy rate. This sustainable way of life, and these economic and environmental efforts, are why Costa Rica was named the world's happiest country in 2016 by the New Economics Foundation.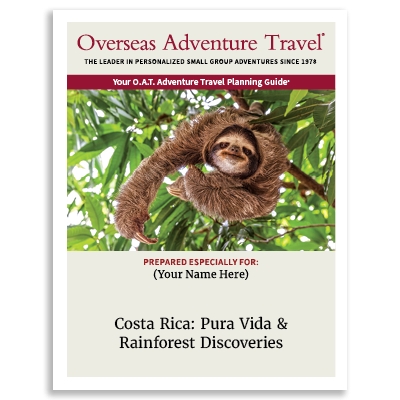 Get your FREE personalized Costa Rica Travel Planning Guide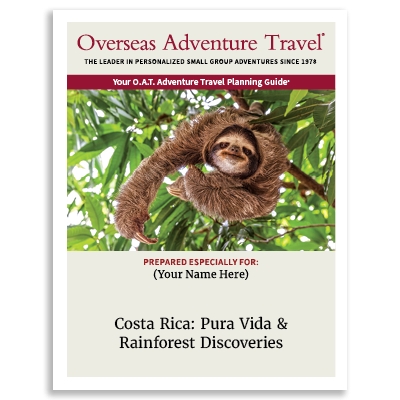 Get your FREE personalized Costa Rica Travel Planning Guide
To help you get the most out of your Costa Rica travel experience, we've complied a comprehensive, 88-page Travel Planning Guide containing everything you need to know to prepare for an unforgettable adventure. Not only will it highlight the daily experiences that await, but it will also provide you with the many options you have to personalize your experience. Sign in or register for a My Account to receive more information about Costa Rica, including:
A detailed Day-to-Day itinerary
Available departure dates & prices
Monthly weather & climate by region
Regional history & demographics
Packing suggestions
Optional tours
Trip extensions
Options to personalize your experience
Electrical information
Recommended movies, books, and more
Request a Travel Planning Guide
Compare Our Adventures
Click 'Select to Compare' to see a side-by-side comparison of up to adventures below—including
activity level, pricing, traveler excellence rating, trip highlights, and more
Trip Itinerary
See a detailed overview of the types of experiences you'll have on this adventure through Costa Rica.
14 DAYS FROM $2,495 • $ 179 / DAY
O.A.T. Adventure by Land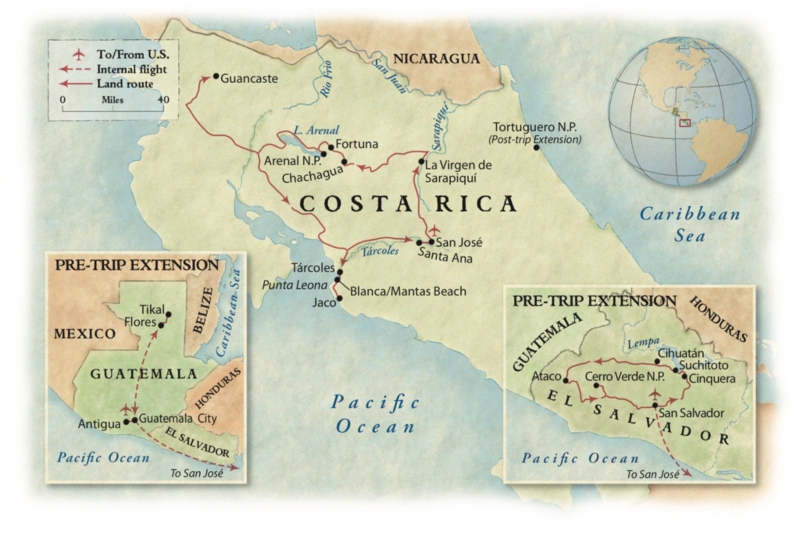 Costa Rica: Santa Ana, Sarapiquí, La Fortuna, Guanacaste, Pacific Coast
32 meals—daily breakfast, 9 lunches, 10 dinners (including 1 Home-Hosted Lunch)
Experience the cultural and natural wonders of Poás National Park
Discover Manuel Antonio National Park's biologically diverse landscape
Enjoy the therapeutic thermal pools in Guanacaste
White water raft down the Sarapiqui rapids
Trip Itinerary
Journey through Costa Rica—from the capital of San José to bucolic San Gerardo de Dota.
13 DAYS FROM $2,595 • $ 200 / DAY
O.A.T. Adventure by Land
Costa Rica: San José, Aguas Zarcas, Arenal, Monteverde, Manuel Antonio, San Gerardo de Dota
29 meals—daily breakfast, 9 lunches, and 8 dinners (including 1 Home-Hosted Lunch)
Discover Manuel Antonio National Park's wondrous wildlife
Witness the natural diversity of Monteverde Cloud Forest Biological Reserve
Set out to San Gerardo de Dota to spot the legendary Quetzal
Get acquainted with

San José during a sightseeing tour of the city's highlights
Recommended Viewing
Watch this video showcasing what makes this country so unforgettable
ReelEarth: Los Caminos de San José
Meet María, a young Costa Rican woman, as she studies for the bar exam—which is not only her path to becoming a lawyer, but symbolizes her hope for a better life.
Recommended Videos
Watch your fellow travelers' favorite films & videos
Glenn's Costa Rican Adventure
Submitted by Glenn Gillaspie, 6-time traveler from Beverly Hills, California
Follow traveler Glenn G. on his Costa Rica adventure as he explores the metropolitan streets of San José, watches students perform a traditional dance during his A Day in the Life experience, and zip-lines through the canopy of the Monteverde Cloud Forest.
Trip Experience
Take a journey through Costa Rica's rain forests and witness the diverse wildlife that inhabits its protected lands.
Costa Rica 2017 with O.A.T.
Submitted by William Benson & Vicki Sieber-Benson, 19-time travelers from Westlake, Oregon
Discover Costa Rica with travelers William and Vicki B.—from exhilarating experiences like river rafting and zip-lining to visiting a local school and spotting colorful wildlife during nature walks.
Pura Vida
Let this impressionistic film give you a sense of everyday life for Costa Rica's people, rain forests, and beaches.
Drone de Costa Rica
Get a bird's-eye view of Costa Rica's misty rain forests and verdant hills in this video.
Costa Rica: Month-by-Month
There are pros and cons to visiting a destination during any time of the year. Find out what you can expect during your ideal travel time, from weather and climate, to holidays, festivals, and more.
Costa Rica in January-April
The months between January and April are considered Costa Rica's dry season, but visitors can still count on the occasional tropical shower. Along the coastline, temperatures remain warm and humid while the Central Valley enjoys more comfortable, spring-like conditions. No matter where in the county you are, Costa Rica offers a warm respite for those wishing to escape the cold northern hemisphere winters.
The allure of a warm winter getaway does make this Costa Rica's high season. You'll encounter more crowds and should expect higher prices, especially in January and around Easter time, as visitors from abroad as well as domestic travelers arrive for celebrations.
The dry season also offers the best conditions for viewing wildlife and taking part in adventure activities like zip-lining and horseback riding. It's also a great time for beach-goers and party-seekers—the nightlife in San Jose in particular is popular with locals and tourists alike.
Holidays & Events
Mid January: Santa Cruz Fiestas; held in honor of the Black Christ of Esquipulas, the celebrations include traditional music, folkloric dancing, and bullfighting.
April 11: Juan Santamaria Day; a public holiday commemorating Juan Santamaria—one of Costa Rica's most famous national heroes—with parades and fireworks.
March/April: Semana Santa; a week-long celebration leading to Easter which includes parades, massive religious processions, and mini-festivals throughout the country.
Must See
For two weeks in mid-January, Costa Rica holds one of its most highly-anticipated events—the Palmares Fiestas. This popular festival is really a two-week party, and features a myriad of events, including horse parades, Costa Rican-style bullfighting, lantern processions, concerts, plenty of food and drink, and fireworks at night.
Watch this film to discover more about Costa Rica
The Squirrel Monkey of Costa Rica
Let an expert naturalist tell you about Manuel Antonio National Park's most iconic resident.
Costa Rica in May-June
May marks the beginning of hurricane season in the Caribbean which runs through November. But rainstorms are usually limited to the afternoon and early evenings, so visitors can spend their early daytime exploring. Surfing is particularly good this time of year as the change in weather produces bigger ocean swells. And mornings offer travelers the best chance of viewing Arenal volcano cloud-free.
Holidays & Events
Mid May: San Isidro Labor Day; celebrated only in towns bearing the name San Isidro, this holiday honors the Patron Saint of farmers with blessings of future crops and livestock. Revelry includes parades and fiestas.
Watch this film to discover more about Costa Rica
The Squirrel Monkey of Costa Rica
Let an expert naturalist tell you about Manuel Antonio National Park's most iconic resident.
Costa Rica in July-August
Rainstorms begin to increase in frequency, but are typically limited to the afternoons and early evenings. The cloud forests are a particularly beautiful sight to see, becoming lush during the rainy season. The Pacific coast of the region is generally drier and crowds are light, with travel rates reasonable.
Holidays & Events
July 25: Guanacaste Day; street fiestas, folk dancing, traditional bullfighting, rodeos and horse shows celebrate the annexation of Guanacaste from Nicaragua in 1824.
August 2: Virgen de Los Angeles; celebrating the patron saint of Costa Rica, La Negrita, masses and a religious procession from San Jose to La Basilica de Cartago fill the streets.
Must See
This is peak season for nesting turtles and you may be able get a glimpse of one of Costa Rica's most beloved seaside visitors at Tortuguero National Park.
Related Video:
The Squirrel Monkey of Costa Rica
Let an expert naturalist tell you about Manuel Antonio National Park's most iconic resident.
Costa Rica in September-October
The rainy season is in full swing, with September as one of the wettest month of the year in the west. Rural roads may be impassible due to flooding and fallen trees. Meanwhile, the Caribbean coast on the east may experience less rain fall, with daytime temperatures in the 80s, though there is the risk of a hurricane moving through the region.
Holidays & Events
September 14: Independence Day; this celebration starts with parades, street parties, music, and dancing, culminating with the arrival of the Freedom Troch in Cartago that is delivered via relay runners.
Related Video:
The Squirrel Monkey of Costa Rica
Let an expert naturalist tell you about Manuel Antonio National Park's most iconic resident.
Costa Rica in November-December
The "green season" begins to wind down in November, with rains tapering off. While there may still be showers throughout the month, there is also a mix of sunny skies prevailing, too. December ushers in the start of dry season and leading up to the holidays, crowds are heavy and travel costs are high. With temperatures in the 70s to mid-80s, exploring outdoor highlights are enjoyable.
Holidays & Events
The second Saturday of December: Festival de la Luz; illuminating the streets, this festival of lights takes over downtown San Jose with a parade including floats, masquerades, live music, and fireworks.
December 25: Christmas
Must See
The Tope Nacional de Caballos horse parade in San Jose is the largest in the country. On December 26, thousands of riders show off their riding skills and don decorative costumes, celebrating the rich equine tradition with music and revelry in the street.
Watch this film to discover more about Costa Rica
The Squirrel Monkey of Costa Rica
Let an expert naturalist tell you about Manuel Antonio National Park's most iconic resident.
Average Monthly Temperatures
Costa Rica Interactive Map
Click on map markers
below to view information about top Costa Rica experiences
Click here to zoom in and out of this map
Featured Reading
Immerse yourself in Costa Rica with this selection of articles, recipes, and more
ARTICLE
These strange, but lovable creatures are more complex than one might think. Learn more about these slow animals.
ARTICLE
Costa Rica's pacifist practices have been put to the test over the years—discover how this country has kept the peace.
ARTICLE
It's as if an artist took every color from his palette and painted Costa Rica's landscape with a colorful array of birds.