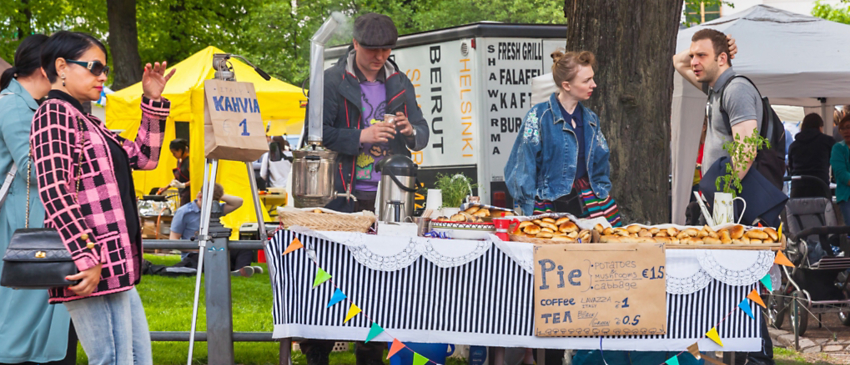 Question: In Helsinki, who eats at unregistered restaurants with no licenses or permanent staff?
Answer: Everyone who hasn't opened one themselves!
Nine years ago, Helsinki native Tino Santala had a dream of opening a rolling bicycle tapas bar that he could pedal from neighborhood to neighborhood, dispensing drinks and nibbles along the way. Helsinki is famous for its regimented approach to civic life and the paperwork required for Santala's idea was so byzantine (and the process so slow) he was stymied—until his friend Antti Tuomola proposed a tasty revenge. They reached out to fellow cooks and entrepreneurs around the city and launched Restaurant Day, a protest in which dozens of people opened illegal, one-day pop-up restaurants all over the city at once: in retail shops, private homes, public transportation stops, and boats in the harbor.
The police didn't arrest anyone, but could have written up the participants and fined them heavily. Traditional restaurant owners were especially vocal in their opposition to these instant competitors. However, word of mouth made the pop-ups crazily popular, and city officials were faced with a dilemma: spend court resources on charging all these people and chasing after them to collect fines, or embrace the event as a festival. Wisely, Helsinki chose the latter, and a second Restaurant Day was held six months later. By then, the word of this revolution had spread to other parts of Finland and more cities joined in.
Several things contributed to its popularity. For one thing, Finns aren't the chatty type in public, but Restaurant Day invites conversation and communality. For another, Santala made it flexible: there's no central person in charge, no formal rules, only announced dates and the idea of making food to sell. Since then, everyone from elementary school children to Michelin chefs have gotten in on the act, with offerings that vary from the classics of Finland (see below) to world cuisine. Often, the proceeds are donated to charity.
In recent years, Restaurant Day has spread around the globe, spanning 50 countries from Iceland to Nicaragua. There's no predicting what will be on the menu, from an elegant Parsi dinner in Mumbai to a restaurant in Italy switching things up and serving traditional British fish and chips. At home in Helsinki, it's now quarterly, happening on the third Saturday of February, May, August, and November. And in 2016, Helsinki hired Santala to work with the city on food culture, seeing him no longer seen as a rebel but a resource.
7 Foods That Mean You're in Finland
In 2017, Finns voted ruisleipä (rye bread) the official national food. It comes in a variety of forms, from rye crisps (hapankorppu) to soft round loaves of reikäleipä (with a hole in the middle), and is served at breakfast and lunch, as well as making for a common snack.


The rye theme continues with karjalanpiirakka, rye-crust hand pies filled with rice pudding, which originated in the Karelia region (now part of Russia). You can eat them as is, but many Finns slather them with munavoi, a creamy spread made of butter and chopped hard-boiled egg.


Nicknamed black gold, salmiakki (which translates to salty licorice) is like black licorice with a serious kick, courtesy of ammonium chloride. Eaten as a candy, it's popular as a flavoring for vodka, ice cream, and chocolate. If you get hooked, you can double down with turkinpippuri: hard salmiakki filled with straight salmiakki powder.


Kids may call it "squeaky cheese" (for the sound it makes when you bite into it), while adults call it "bread cheese," but every one eats leipäjuusto, an oven-baked cheese made from the milk of cows, reindeer, or goats which have recently given birth.


Korvupuusti, the Finnish version of a cinnamon bun, has cinnamon rolled into the filling, but an even richer flavor, with cardamom blended into the pastry dough. No one can say for sure how it got its name—korvupuusti means "slap on the ear"—but they're a perfect start to the morning.


Finland's most popular fish is salmon (no small claim in a country that consumes so much seafood) and the most popular dish is lohikeiitto (salmon soup). You can start a fight among home cooks about whether the broth should be creamy or clear, but you can always expect potatoes, carrots, and leeks.


Rye makes a return in the form of the rye flour used in the batter of paistetut muikut, Finland's version of fish and chips, featuring vendace, a small freshwater fish found in just about every lake in the land. You can make your own at home, but it's easier to grab piping hot paistetut muikut at a market.


Every day is a good day to savor the flavors of Helsinki's cuisine, as you'll discover during your Fjord Cruise & Lapland: Norway, Finland & the Arctic Small Ship Adventure.