Share the O.A.T. Experience with a Friend
Travel is the ultimate bonding experience: Journeying far from home, to exotic landscapes and unfamiliar cultures, provides the type of once-in-a-lifetime experiences that strengthen the relationship between travel companions.
Consider joining the 25% of O.A.T. travelers who are choosing to share their adventure with a sister, daughter, or friend. Their reasons are many: Some prefer not to travel solo, some don't want to miss out because a partner can or no longer wants to travel, and some simply enjoy the companionship and quality time an adventure presents. But whatever their reason, these travelers have shared that they've experienced unforgettable moments with their travel companions—moments like gazing at the Sahara's starry skies from atop a sandy dune, or slurping pho in the home of a local family in Vietnam—that are made all the more special for being shared with a friend.
Most Popular Adventures to Share with a Friend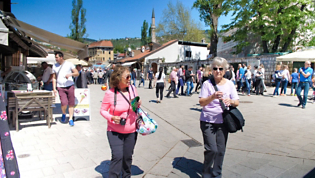 Enhanced! Crossroads of the Adriatic: Croatia, Montenegro, Bosnia & Herzegovina, and Slovenia
Croatia: Dubrovnik, Karanac, Zagreb, Plitvice Lakes, Opatija Montenegro: Kotor Bosnia & Herzegovina: Mostar, Sarajevo Slovenia: Ljubljana, Lake Bled
Shirley and Carole's Bosnia & Herzegovina Trip Experience
View Itinerary
Northern Italy: The Alps, Dolomites & Lombardy
Italy: Lecco, Tirano, Franciacorta, Trento, Bressanone (Dolomites)
Linda and Nanette's Northern Italy Trip Experience
View Itinerary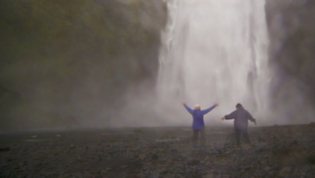 Untamed Iceland
Iceland: Westman Islands Post-trip: Greenland: Ammassalik, Kulusuk, Reykjavik
Irene and Marian's Iceland Trip Experience
View Itinerary
Why Bring a Friend on Your Next O.A.T. Adventure?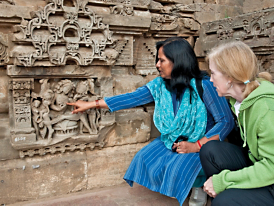 Local Trip Experience Leaders
You and your travel companion will have a dedicated local Trip Experience Leader by your side throughout your entire trip. He or she will guide you through the streets of your destination, provide suggestions on where to explore or eat, and translate the local dialect. Plus, you can depend on their resourcefulness and skills in group dynamics to help bring like-minded travelers together.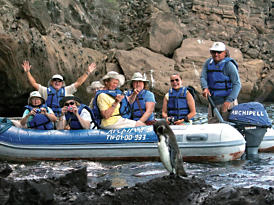 Explore in Small Groups
Our small groups—8 to 16 travelers (with an average of 13) on O.A.T. adventures and no more than 25 on our Small Ship Adventures—are the ideal size for fostering camaraderie. So you'll be able to make connections and forge new friendships with like-minded members of your group, even while sharing your adventure with the comfort and security of a travel companion.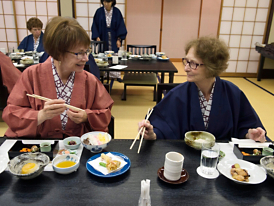 Try New Things
Maybe you're a picky eater, while your friend would happily munch on roasted crickets in Thailand. Or perhaps you love history, and bringing your friend to look at ancient ruins in Israel turns out to be the highlight of her trip. One of the best parts of travel is the opportunity it brings to try new things—and sharing your experience with a friend can give you both the nudge you need to step outside of your comfort zones.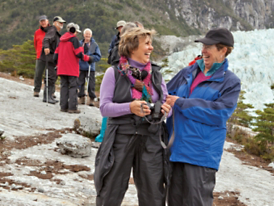 Share Lasting Memories
Travel is full of true "pinch me" moments—like hearing the roar of a nearby lion outside your tent at night, or standing atop windswept Cape Horn at the end of the world. When you share your adventure with a travel companion, you'll experience these unforgettable moments together, making them all the more special. Plus, you'll strengthen your bond by creating memories you will cherish for a lifetime.
Share the O.A.T. Experience
Hear from Harriet, her daughter, Charlotte, and other travelers on why sharing their adventures allows them to forge deeper bonds and new discoveries.
Traveler Stories

Hear from our travelers—in their own words—about what it's like to join O.A.T. with a travel companion.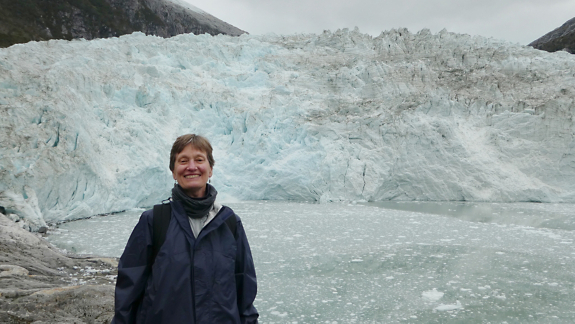 A Wonderful Adventure with Friends
by Betsy McGee, 4-time traveler, Larkspur, CA
My husband decided to take a short break from traveling, but I've long wanted to explore South America. So I decided to take O.A.T.'s The Wilderness Beyond: Patagonia, Tierra del Fuego & the Chilean Fjords with friends—and I'm so glad I did!
My experience on all O.A.T. trips has been very positive; it's easy to connect with other travelers on the trip, solo or otherwise. The small group size make this so easy. Plus, O.A.T. has the best prices (and no upcharge for solo travelers) along with busy and interesting itineraries filled with "learning and discovery."
I wasn't completely "solo" on this trip, since three other friends came along. I am lucky to have many friends who enjoy traveling, and we love sharing the experience together. In fact, my good pal, Nancy, and I hope to take other O.A.T. trips as "solo" travelers. But even if I didn't have friends to travel with, I wouldn't hesitate to go by myself: It's easy to connect with other travelers on O.A.T. trips, solo or otherwise. The groups are small and everyone gets to know each other quickly. We become a "family" for our time together.
Our trip to Argentina and Chile had it all. We witnessed the beauty of Patagonia's golden steppe landscape and got up close to Perito Moreno glacier (wow!). We saw wildlife (eagles, condors, rheas, and guanacos), and learned much about the history and culture of the region in Torres del Paine National Park. On another morning we touched our toes into glacial meltwater on the way to a lovely lookout at the mountains. During our cruise of the Chilean fjords, I was enthralled by the beautiful glaciers that greeted us before dawn of our first morning at sea. This was truly a wonderful adventure!
Throughout our Patagonia travels we were accompanied by outstanding local guides who taught us much about the region's human and natural history. I also want to say how lucky we were to be accompanied by Carlos Segura, our Trip Experience Leader. A veteran O.A.T. Trip Experience Leader, Carlos was everything you could ask for: attentive, thoughtful, friendly and fun! He made sure our diverse group of 24 travelers had everything we needed, from special meals, a little extra care on hikes, the right rooms at our hotels, and plenty of bathroom stops!
I highly recommend this trip. You'll enjoy the adventure and be awestruck by this beautiful and remote region of our planet.
Learn More About This Adventure:
15
Sisters Sharing Life Experiences— and Friendship—in Iceland
by Nancy Clarke, 2-time traveler, Verona, NJ
I've always wanted to travel to Iceland. I know several people from the country, and have friends who have visited, so I've heard a lot of wonderful things. I was intrigued by the welcoming people, unique geography, and small population—plus, I thought it would just be a fun place to go.
I asked my sister, Isabel Stevens, if she'd like to come with me. We've traveled together before—sometimes with her husband, and sometimes with other family members (including a family "reunion" of sorts on our first O.A.T. trip), but we decided to do this trip on our own. We get along really well, and share similar interests, which makes our travels together very rewarding. For example, Isabel is interested in historical manuscripts. During our visit to Reykjavik, she was able to explore some of the wonderful manuscripts on display, and although it's not something I go out of my way to find, I found the history interesting as well. And I was able to share my love of horses when we visited the horse farm on the way to Akureyi, an included part of the trip.
I had so many "first" experiences in Iceland. I'd never been whale-watching, but the included tour during our trip to Husavik was one of the reasons I was interested in this particular adventure. It was amazing to see a whale riding alongside our boat for about an hour. Our Trip Experience Leader explained that it was a minke whale, known for its friendliness. As we all enjoyed the view, the whale rolled onto its back and showed us its stomach! Definitely something special.
And I enjoy horseback riding, so one morning, while the rest of the group visited the Blue Lagoon, my Trip Experience Leader arranged for me to visit a stable, where I was able to ride and experience the "tolt," a special gait unique to Icelandic horses.
And although I'm not a big hiker, I did plenty of hiking in Iceland. During our visit to Stykkisholmur, we went to Helgafell, a sacred hill about 250 feet high. Legend has it that if you're able to climb to the top of the mountain in silence, and make a wish when you reach the top, your wish will be granted. I'm not sure if that's true, but I was able to make it to the top without making a sound!
This trip to Iceland was beyond my expectations. Our fellow group members were so interesting and different. That's another thing I love about travel: You meet so many different people. Everyone brings their own life experiences, and with these experiences comes knowledge. Some people love farming, or geology, or birds. And we're able to share these interests to learn from one another. There was even another pair of sisters traveling in our group of 15!
And in the same way, that's what makes these trips with my sister so special. We don't live near one another, so these travels let us talk about our lives and what's happened since we were last together. We're able to share being sisters and friends, and the experiences we encounter on the trip. And that's what's most important.
Learn More About This Adventure:
16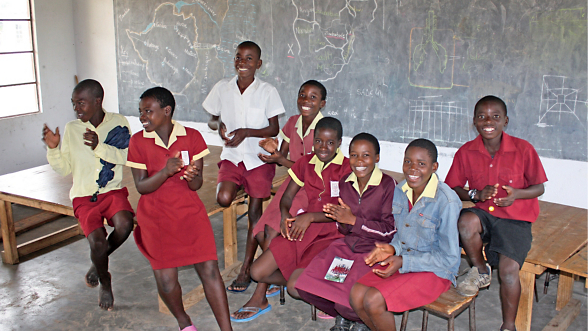 Trekking Through Africa with Mom
by Susan Giaccotto, 9-time traveler, Farmington, CT
My mom and I always travel together. We've been on five O.A.T. trips, including three to Africa. We are best friends and share the same adventuresome spirit. We love to travel "off the beaten path"—and that's why we continue to travel with O.A.T.
We feel that traveling with O.A.T. enables us to feel a part of the places and people we visit. In our small group, the possibilities for adventure and unique experiences with the locals are great, and wildlife encounters rate high on our list.
We really enjoy all of the learning and discovery opportunities when we can interact with the local people—playing "Ring Around the Rosie" with youngsters in Namibia, learning about the ways of life in remote Zimbabwe from village elders, teaching schoolchildren who are learning English the song "Heads, Shoulders, Knees, and Toes," and relating to and laughing with teachers (I taught second grade for 33 years and am now retired).
Traveling with my mom has brought us closer together as friends. We have always been "two peas in a pod" because of our looks, sense of humor, and enjoyment of being around and interacting with people—however, traveling and sharing the same unique adventures has given us such unbelievable moments to share with one another.
Because of the experiences and memories that my O.A.T. travels in Africa have given me (and my mom), we are easily able to understand why so many travelers have fallen in love with this continent, for we have experienced the people and places of Africa and are forever changed.
Learn More About This Adventure:
17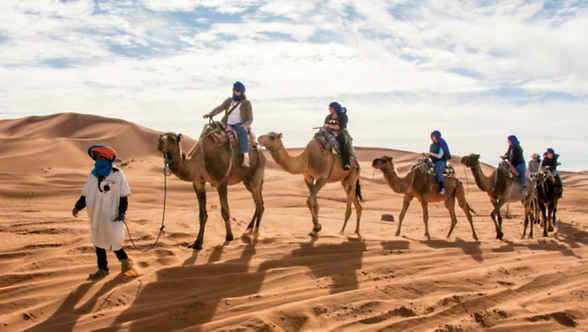 Friendships Old and New on Morocco Sahara Odyssey
by Judith Shifrin, 15-time traveler, Valencia, PA
I often travel with two friends of mine, and one day they sent me an email saying they'd booked us all on Morocco Sahara Odyssey. Of course, I had the option to cancel, but when it comes to travel, I am game for most any new adventure!
Our Moroccan Trip Experience Leader was Abdullah, a guide with over 20 years of experience who could solve any problem, big or small, quickly and efficiently. He was at our hotel when we arrived a day early. Our luggage had not arrived with us in Casablanca. He immediately asked for the luggage claim receipts and got on his phone to Delta baggage. The luggage was traced and arrived the next day. We were in very good hands with Abdullah!
Special experiences in Morocco happened every day. This was a new world for me, and a safe place to learn about the Arab and Berber cultures and history. I was especially interested in the Moors & Jews from Andalusia, who immigrated to Morocco in the late 1400s. In fact, this trip piqued my interest enough that I've reserved O.A.T.'s Back Roads of Iberia adventure to learn more about the Moors and Jews in Andalusia.
Morocco Sahara Odyssey was my 14th trip with O.A.T. I like the small groups; in a group of 16, everyone is always together, and I find O.A.T. travelers make an effort to get to know and be agreeable to one another. When my friends and I travel together, we like to mix with the rest of the group and not always stay together in our own little group. I've made lasting friendships on O.A.T. trips—I even met up with some of my new friends during a recent stop in Boston. I stayed with one who took me around Boston, and we met the other two for dinner. We had a great time. I am thankful for their friendship!
Learn More About This Adventure:
16
Morocco Sahara Odyssey
Casablanca • Rabat • Fez • Sahara Tented Camps • High Atlas Mountains • Marrakesh • Casablanca