Freedom. Independent. Liberating. Alive. These are a just a few of the words solo travelers use to describe what it feels like to travel on their own. When you do, your adventure becomes your own: You don't have to worry about accommodating another person's schedule, interests, or needs. You can decide what you want to do when you want to do it. Whether you're traveling independently for the first time, or you're already a seasoned solo traveler, we will take care of all of the details—as O.A.T. has been since 1978—making it affordable, easy, and more enjoyable for you to see the world on your own. In 2022, we are offering 30,000 single spaces—92% of which are FREE. And if single spaces are sold out on your preferred departure, there are other ways for independent travelers to join us, such as our Roommate Matching Program. Or, consider bringing a friend to share the adventure. Travelers taking advantage of this increasingly popular option express that they create memories with their traveling companions that will be cherished for a lifetime.
Onward: Discovering the World Anew with O.A.T.
Listen as Vice Chairman Harriet Lewis and O.A.T. women travelers reflect on past adventures—and learn why they're ready to plan new ones.
NEW 101+ Tips for Solo Women Travelers
This complimentary booklet features savvy travel tips from our seasoned solo women travelers, including packing like a pro, safety for solo travelers, helpful travel apps, self-care on the road, and more. Choose how you would like to receive your complimentary copy of this booklet here »
Most Popular Adventures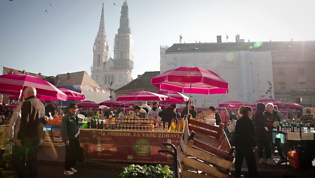 Enhanced! Crossroads of the Adriatic: Croatia, Montenegro, Bosnia & Herzegovina, and Slovenia
Croatia: Dubrovnik, Karanac, Zagreb, Plitvice Lakes, Opatija Montenegro: Kotor Bosnia & Herzegovina: Mostar, Sarajevo Slovenia: Ljubljana, Lake Bled
Watch Trip Experience Video
View Itinerary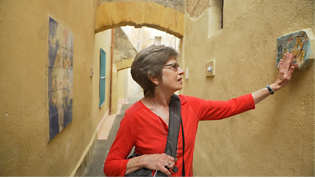 Sicily's Ancient Landscapes & Timeless Traditions
Sicily: Palermo, Mazara del Vallo, Piazza Armerina, Ragusa, Catania
Mary's Sicily Trip Experience
View Itinerary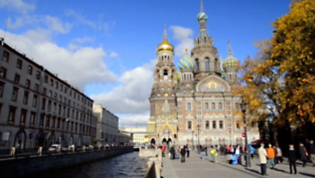 Enhanced! The Baltic Capitals & St. Petersburg
Lithuania: Vilnius, Klaipeda Latvia: Riga Estonia: Tallinn Russia: St. Petersburg
Watch Trip Experience Video
View Itinerary
Nancy Scott: Full Circle
Thirteen-time traveler Nancy Scott describes how an eventful solo journey helped her honor her late husband, and how it reinvigorated her own spirit of discovery.
FREE or Low-Cost Single Supplements
O.A.T. is committed to supporting solo travelers, which is why 92% of our 30,000 single spaces are FREE on all 2022 adventures. The remaining 8% have the lowest Single Supplements in the industry, and we offer FREE Single Supplements on every trip extension and Stopover. Plus, wherever you're headed, you'll enjoy additional savings with our Vacation Ambassador referral program, Frequent Traveler Credit program, multiple trips benefit, and Good Buy Plan.
Traveler Stories

Hear from our travelers—in their own words—about what it's like to join O.A.T. on their own or with a friend.
Why Travel Solo With O.A.T.?
Local Trip Experience Leaders
You'll have a dedicated, expert Trip Experience Leader by your side throughout your entire trip. He or she will guide you through the streets of your destination, provide suggestions on where to explore or eat, and translate the local dialect. Plus, you can depend on their resourcefulness and skills in group dynamics to help bring like-minded travelers together.
Comfort & Security
With 36 regional offices around the world, you can rest assured that your safety and security is our first priority. Our regional associates have helped plan every detail of your itinerary—so they know your adventure inside and out. Plus, they will be ready to help you and your group at a moment's notice.
Travel Solo, But Not Alone
Our small groups—8 to 16 travelers (with an average of 13) on O.A.T. adventures and no more than 25 on our Small Ship Adventures—are the ideal size for fostering camaraderie with your fellow travelers. One out of four O.A.T. travelers explore independently—and 85% of our solo travelers are women—so you are sure to forge special bonds as you experience unforgettable moments together.
Recent Solo
Travel Awards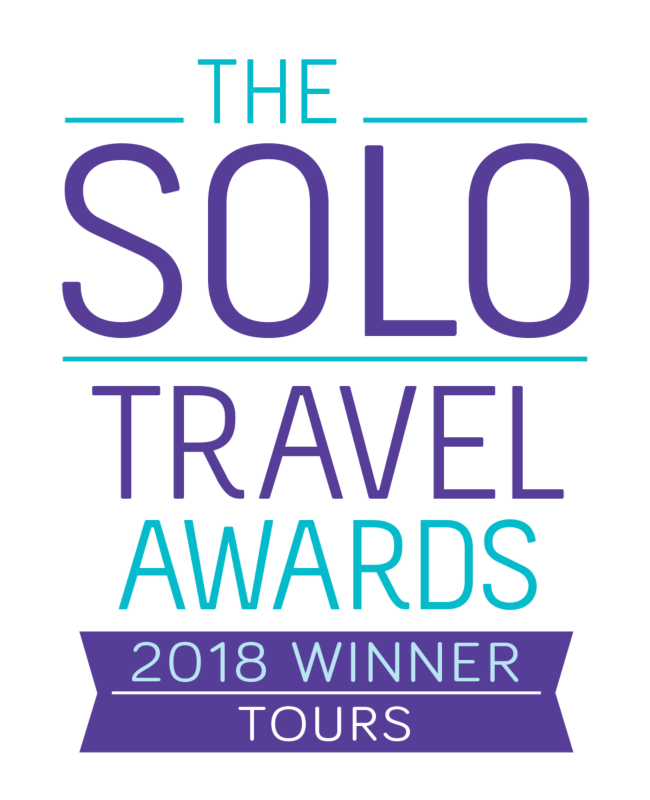 Winner of "Best Tours" Award Two Years in a Row

Presented by Solo Traveler
Best in Solo Travel
Kiplinger's Personal Finance 2016 "Best List"
"This was my third trip with O.A.T.—always as a solo traveler. The small group ensures you don't get lost in the crowd and I've met many wonderful people."
8-time solo traveler
The Villages, FL
"Traveling with friends provides me a sense of comfort, security, and companionship … It was also fun to share our experiences with each other every day."
5-time traveler, Ridgewood, NJ
Fresno, CA
Frequently Asked Questions
Yes. Please visit our active online "Community" section of our website to connect with other travelers within our Travel Forum, and join us on Facebook.

You'll be in the hands of our dedicated, local Trip Experience Leaders, who strive to make all of our travelers—but particularly our solo travelers—feel welcome, comfortable, and included. Whether you need help ordering a meal at a local restaurant or wish to pursue special interests, your Trip Experience Leader will be happy to assist you.

Each O.A.T. itinerary is different and includes a mix of included tours, activities, and free time. You have the freedom to make your trip your own—whether that means participating in all activities and optional tours with your fellow travelers, or spending time exploring a destination independently. Your Trip Experience Leader will be available to offer suggestions based on your interests, as well as provide recommendations on restaurants, museums, local shops, and more.

Whether you purchase airfare through O.A.T. or arrange your own flight and our airport transfer, you will be met upon arrival at the airport by your Trip Experience Leader or an O.A.T. representative who will help transport you to the hotel. For included meals, the group will dine together. You can choose to spend as much or as little time as you want with the group. Our solo travelers share that they always feel included in the small group and have made lifelong friends on their adventures with us.

Yes. When you take advantage of our FREE Roommate Matching Program, we'll help you find a same-gender roommate. And if we're unable to find a match, your Single Supplement is FREE.

Travelers who take advantage of our FREE or low-cost Single Supplements may not combine this benefit with any other special savings, including last minute travel deals and offers. We are committed to supporting our solo travelers in exploring the world, but we can no longer give additional savings to our solo travelers without impacting the overall price of adventures for all of our travelers. While travelers taking advantage of FREE or low-cost Single Supplements may no longer combine this benefit with any other special savings, please keep in mind that you may continue to receive additional savings with our Vacation Ambassador referral program, Frequent Traveler Credit program, multiple trips benefit, and Good Buy Plan.
Recharging My Batteries in India
Kathleen Brose, 6-time traveler, Seattle, Washington
I lead a pretty busy life: As the mother of an adult child with high-functioning autism, and sharing the responsibility of caring for my mom with my sister, most of my time is devoted to others. I love my family, but sometimes the task of caring for them can drain my body and my mind. Because our business doesn't allow for my husband and I to take many trips together, he encouraged me to take some time away for myself and travel somewhere I'd always wanted to go to recharge my batteries. I wanted adventure and to get lost in another culture—and I knew India would provide me with both. I also wanted to explore a destination that would give me an attitude adjustment: to remind me to be grateful for what I have, and not what I wish I had.
Since I normally travel with my family, I didn't realize that this adventure gave me the opportunity to be completely selfish—something I don't normally get to be when I'm at home. I almost forgot what it felt like to not have to worry about anyone but myself.
Did India help me to recharge my batteries and remind me to cherish what I have? Absolutely. I came home with a fresher mind: I wasn't on edge and didn't get upset about the little things.
Today, when I find myself trudging through the mundane tasks of everyday life, and I begin to feel drained, I remember strolling down that Varanasi street sipping chai tea … and I remember how lucky I am that I was able to experience such amazing memories, and to cherish the wonderful blessings I already have.
Learn More About This Adventure:
17
Heart of India
Delhi • Jaipur • Ranthambore • Agra • Khajuraho • Varanasi
A Wonderful Adventure with Friends
by Betsy McGee, 4-time traveler, Larkspur, CA
My husband decided to take a short break from traveling, but I've long wanted to explore South America. So I decided to take O.A.T.'s The Wilderness Beyond: Patagonia, Tierra del Fuego & the Chilean Fjords with friends—and I'm so glad I did!
My experience on all O.A.T. trips has been very positive; it's easy to connect with other travelers on the trip, solo or otherwise. The small group size make this so easy. Plus, O.A.T. has the best prices (and no upcharge for solo travelers) along with busy and interesting itineraries filled with "learning and discovery."
I wasn't completely "solo" on this trip, since three other friends came along. I am lucky to have many friends who enjoy traveling, and we love sharing the experience together. In fact, my good pal, Nancy, and I hope to take other O.A.T. trips as "solo" travelers. But even if I didn't have friends to travel with, I wouldn't hesitate to go by myself: It's easy to connect with other travelers on O.A.T. trips, solo or otherwise. The groups are small and everyone gets to know each other quickly. We become a "family" for our time together.
Our trip to Argentina and Chile had it all. We witnessed the beauty of Patagonia's golden steppe landscape and got up close to Perito Moreno glacier (wow!). We saw wildlife (eagles, condors, rheas, and guanacos), and learned much about the history and culture of the region in Torres del Paine National Park. On another morning we touched our toes into glacial meltwater on the way to a lovely lookout at the mountains. During our cruise of the Chilean fjords, I was enthralled by the beautiful glaciers that greeted us before dawn of our first morning at sea. This was truly a wonderful adventure!
Throughout our Patagonia travels we were accompanied by outstanding local guides who taught us much about the region's human and natural history. I also want to say how lucky we were to be accompanied by Carlos Segura, our Trip Experience Leader. A veteran O.A.T. Trip Experience Leader, Carlos was everything you could ask for: attentive, thoughtful, friendly and fun! He made sure our diverse group of 24 travelers had everything we needed, from special meals, a little extra care on hikes, the right rooms at our hotels, and plenty of bathroom stops!
I highly recommend this trip. You'll enjoy the adventure and be awestruck by this beautiful and remote region of our planet.
Learn More About This Adventure:
15
Discovery and Friendship in Morocco
by Patricia Calzia, 20-time traveler, Brighton, Colorado
People were surprised to hear that I was traveling solo to Morocco. They'd ask me who was going with me—who'd be looking out for me. I told them I'd be with 15 friends; I just hadn't met them yet. On O.A.T. trips, the rest of the group is so welcoming that it never feels like you're alone. Married couples don't act like they're joined at the hip. They bring others into their circle, and we become a community for a little while. It's always possible to find someone else who wants to do what you want to do, even during your free time.
What made Morocco so good was the combination of a fantastic itinerary and Aziz Kebiri, our Trip Experience Leader. He was a natural-born storyteller. That's how he taught us about his country—through stories. Every single day, there was something interesting to learn, something that made us rethink what we thought we knew. Aziz had told us that Morocco wasn't like other Muslim countries, and it was just like he said. It was everything I expected, and nothing like I'd anticipated.
I bought a piece of alabaster from one of the local craftsmen; I like to bring home things that are iconic to the regions where I travel. Aziz was able to do the translating for me, and I could tell that this little old man I was buying the piece from was so pleased to be making the sale. I could hear it in his voice, and see it in the careful way he wrapped the item for me. He wasn't just excited for the money—he was thrilled to see something that he'd made, something representing his country, going to America, where other people would see it and admire the craftsmanship.
Camping for two nights in the Sahara Desert was something I'll never forget. It was absolutely amazing to go out at night and look at the stars in that vast blackness. You'd hear voices, because people would sit in the chairs in front of their tents and chat. You're with like-minded people, and, in that safe setting, it gives you the freedom to do what you want to do. In the Sahara, you could just sit on your own and be quiet, or you could join others, talking and pointing out the constellations together. It was just spectacular.
I'm already planning future travel. I'm going to the Galápagos later this year with three ladies I met in Morocco. We didn't know each other beforehand, but we became close during the trip. That's how it is with these groups. Not only do you have your Trip Experience Leader, but you suddenly have 15 new friends looking out for you, too.
Learn More About This Adventure:
16
Morocco Sahara Odyssey
Casablanca • Rabat • Fez • Sahara Tented Camps • High Atlas Mountains • Marrakesh • Casablanca
Sisters Sharing Life Experiences— and Friendship—in Iceland
by Nancy Clarke, 2-time traveler, Verona, NJ
I've always wanted to travel to Iceland. I know several people from the country, and have friends who have visited, so I've heard a lot of wonderful things. I was intrigued by the welcoming people, unique geography, and small population—plus, I thought it would just be a fun place to go.
I asked my sister, Isabel Stevens, if she'd like to come with me. We've traveled together before—sometimes with her husband, and sometimes with other family members (including a family "reunion" of sorts on our first O.A.T. trip), but we decided to do this trip on our own. We get along really well, and share similar interests, which makes our travels together very rewarding. For example, Isabel is interested in historical manuscripts. During our visit to Reykjavik, she was able to explore some of the wonderful manuscripts on display, and although it's not something I go out of my way to find, I found the history interesting as well. And I was able to share my love of horses when we visited the horse farm on the way to Akureyi, an included part of the trip.
I had so many "first" experiences in Iceland. I'd never been whale-watching, but the included tour during our trip to Husavik was one of the reasons I was interested in this particular adventure. It was amazing to see a whale riding alongside our boat for about an hour. Our Trip Experience Leader explained that it was a minke whale, known for its friendliness. As we all enjoyed the view, the whale rolled onto its back and showed us its stomach! Definitely something special.
And I enjoy horseback riding, so one morning, while the rest of the group visited the Blue Lagoon, my Trip Experience Leader arranged for me to visit a stable, where I was able to ride and experience the "tolt," a special gait unique to Icelandic horses.
And although I'm not a big hiker, I did plenty of hiking in Iceland. During our visit to Stykkisholmur, we went to Helgafell, a sacred hill about 250 feet high. Legend has it that if you're able to climb to the top of the mountain in silence, and make a wish when you reach the top, your wish will be granted. I'm not sure if that's true, but I was able to make it to the top without making a sound!
This trip to Iceland was beyond my expectations. Our fellow group members were so interesting and different. That's another thing I love about travel: You meet so many different people. Everyone brings their own life experiences, and with these experiences comes knowledge. Some people love farming, or geology, or birds. And we're able to share these interests to learn from one another. There was even another pair of sisters traveling in our group of 15!
And in the same way, that's what makes these trips with my sister so special. We don't live near one another, so these travels let us talk about our lives and what's happened since we were last together. We're able to share being sisters and friends, and the experiences we encounter on the trip. And that's what's most important.
Learn More About This Adventure:
16