***Forgot Your Username?
***If you have forgotten your username, please provide your email address in the box below. We'll send you an email with your requested username. If you are having trouble, please call us at 1-800-221-0814.......
Email Sent!!
***You'll receive an email in a few minutes. Please check this email to find your requested username.
If you do not receive an email or you are having trouble logging into My Account, please call us at 1-800-221-0814.
Greece: Thessaloniki, Meteora, Zagoria • Albania: Gjirokaster, Tirana • Macedonia: Ohrid, Skopje
18 Days from only $4595 including international airfare
FROM
$4595
18 DAYS
$256/DAY
including international airfare
17 DAYS FROM $3695 Small Group Adventure Only
Eleni Maria Nikolaidou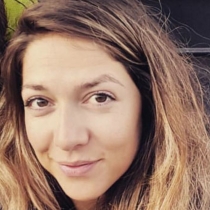 Born

Surrey, UK

Resides

Thessaloniki, Greece

Languages

Greek and English

Hobbies & Interests

Hiking, rock climbing, skiing, and scuba diving.

With us since

2016
I was born in the UK to an English mother and Greek father but moved to Greece at a very young age. As a child, my dual nationality originally made me feel as though I didn't belong in either place, but I later realized that I was lucky to belong to both and get the best of both worlds. Apart from being able to speak two languages fluently it also gave me the ability to see things from different perspectives and made me more accepting of diversity.
I've always been fascinated by the history and archaeology of my country. Even as a child, I would make my family take trips around Greece to visit archaeological sites. This fascination quickly turned into a passion that led me to study history and archaeology at the University of Thessaloniki, my hometown. I later went on to complete a masters in Museum Studies in London, being interested in the stories that can be told through the remains of the past. My goal at the time was to become a curator and work at a big London museum. However, the financial crisis brought me back to Greece where I had to help out with the family business. At first I felt like I was giving up on my own dreams, but it actually turned out to be one of the best things that ever happened to me.
Returning home gave me the chance to travel, rediscover my own country, and fall madly in love with it. There are so many things that make my country unique: the weather, the food, the music, the diverse landscapes, incredible natural beauty, and rich culture and history. Greece really does have it all. But what I love most are the people. Despite the difficulties Greeks are experiencing with the current financial and socio-political crisis, they remain open and friendly. There has been a huge movement of solidarity among Greeks, toward strangers, and toward all the refugees that arrived in the country last year. It has been inspiring to see how resilient and generous the Greek spirit is.
After I returned home, a friend of mine suggested I get certified as a guide since I loved sharing the stories of my country's past and present so much. Shortly after, I heard O.A.T. was looking for Trip Leaders. Even after only working for O.A.T. for a few months, I already had many memorable experiences from my trips. From evening strolls on the promenade of Thessaloniki and watching the sun set behind Mt Olympus, to dancing traditional Greek dances under the magnificent rocks of Meteora, I couldn't have found a more perfect job.