Forgot Your Username
If you have forgotten your username, please provide your email address in the box below. We'll send you an email with your requested username. If you are having trouble, please call us toll-free at 1-800-221-0814.
Email Sent
You'll receive an email in a few minutes. Please check this email to find your requested username.
If you do not receive an email or you are having trouble logging into My Account, please call us at 1-800-221-0814.
ZAMBIA
Known as Northern Rhodesia from the late 19th century until gaining independence from Britain in 1964, Zambia is home to 13 million people, including more than 70 tribes. The discovery of copper deposits during Britain's colonization of the area in 1895, led to the metal quickly becoming not only Zambia's most lucrative export, but a single crutch upon which the country's entire economy continues to lean with all its weight. Today, its agriculture and tourism industries represent beacons of hope as modern-day Zambia works towards ensuring stability by way of economic diversification.
The only place on earth where you can find Rhodesian giraffes and Kafue Lechwe, Zambia's woodlands, grasslands, and forests contain more than 12,000 plant and animal species. And in addition to its diverse wildlife, well-preserved remnants of its 19th-century British colonial roots and their enduring social impacts—especially visible in Livingstone—make Zambia an ideal destination for those looking to explore African nature, culture, and history.
Zambia Interactive Map
Click on map markers
below to view information about top Zambia experiences
Click here to zoom in and out of this map
Most Popular Films
Films featuring Zambia from international, independent filmmakers
Travelogue: Zambia 1948
Watch this vintage 16mm footage of a Zulu tribe taken in 1948 by two adventurous film enthusiasts in what is now Zambia.
Produced by David Conover & Paul Villanova
Victoria Falls
Soak in the beauty of Victoria Falls in this film illuminating the wildlife, scenery, and outdoor adventures that attract thrill-seeking visitors.
Produced by Tom Varley
Wildlife of Southern Africa
Let the wildlife and scenery of Southern Africa captivate you in this 2-minute film showcasing the natural rhythm of life out in the open plains.
Produced by Rudi Zisterer
Featured Reading
Immerse yourself in Zambia with this selection of articles, recipes, and more
ARTICLE
Did you know you can discover Africa's wilderness without the use of a vehicle? Consider a walking safari.
ARTICLE
Learn how to snap wildlife photos like a pro with a few expert tips from Photo Editor Greg Palmer.
Zambia: Month-by-Month
There are pros and cons to visiting a destination during any time of the year. Find out what you can expect during your ideal travel time, from weather and climate, to holidays, festivals, and more.
Zambia in January-March
These are the wettest months in Zambia, and you may experience torrential downpours on many afternoons. Temperatures during the day average in the mid-70s (°F), and the humidity is high. Game parks are less crowded with safari vehicles, and birdwatchers enjoy these months, when Zambia's more than 750 species of birds sport their fanciest breeding plumage.
Must See
Victoria Falls is even more spectacular during the rainy months as the falls become increasingly swollen due to surging waters arriving from upstream.
Zambia in April-June
Zambia's rains taper off during these months, leaving a landscape that is still lush and green but beginning to dry. Days are warm but nighttime temperatures start to drop, especially in higher locations. With water flowing over Victoria Falls at its greatest volume during these months, the giant spray often gets in the way of ideal viewing, and the cascades are best seen from the air.
Holidays & Events
May (but varies): Kuomboka is a traditional ceremony that marks the end of the rainy season.
June: Kazanga Ceremony is Zambia's oldest traditional ceremony. It has been celebrated by the Nkoya people for over 500 years and takes place the first weekend of June.
Must See
Kuomboka Festival, Zambia's biggest festival, takes place each year to mark the end of the summer rains. It dates back some 300 years and takes its name from a Lozi word that means "to get out of the water." A highlight of Kuomboka is the ceremonial movement of the king from a palace in the flood plains to one on higher land, and he is paddled in two huge canoes by 50 Zambian oarsmen.
Zambia in July-September
This is the peak tourist season in Zambia, but it also arrives with increasing heat. Daytime temperatures in July often hit the high 70s (°F) and can reach the 90s by September. Walking safaris are excellent during these months due to much drier ground in the bush. And with water sources beginning to dry, large quantities of game flock to Zambia's waterholes and rivers.
Holidays & Events
July: Lwiindi is a festival of the Tonga-speaking people that takes place on the first weekend of July each year to give thanks for the harvest.
August: Likumbi Lya Mize is a ceremony held on the last weekend of August that features Makishi dancers who recreate events from Luvale mythology.
Must See
Each September, huge flocks of beautiful Carmine bee-eaters head for the steep banks of Zambia's Luangwa River and build their nests in a riot of color and sound. For bird lovers, this amazing photographic opportunity is tough to beat.
Zambia in October
With daytime temperatures in the mid-90s (°F), October is Zambia's hottest month. Wildlife viewing is still excellent, however, but safari game drives are usually confined to the early morning and evening hours to avoid the heat of day.
Holidays & Events
October: Shimunenga is a traditional ceremony of the Ila people held on the Kafue Flats to express devotion to divine ancestors.
Zambia in November-December
November marks the start of Zambia's "green season," with light rains beginning in the second half of the month and heavier rains throughout December. Both months are still hot and humid, but they offer prime wildlife viewing, as the rains usually arrive at night or during late afternoon. The landscapes are beginning to become green and lush, and the rolling storm clouds often make for dramatic views of the surrounding scenery. The Zambian side of Victoria Falls is reduced to a trickle during these months.
Must See
The annual impala calving takes place in Zambia during these months and the wobbly antics of baby impalas are a joy to watch—but they also attract lots of predator activity.
Average Monthly Temperatures
Compare Our Adventures
Click 'Select to Compare' to see a side-by-side comparison of up to adventures below—including
activity level, pricing, traveler excellence rating, trip highlights, and more
17 DAYS FROM $5,195 • $ 306 / DAY
Small Group Adventure
Zimbabwe: Hwange • Zambia: Kafue • Botswana: Chobe, Okavango Delta • Zimbabwe: Victoria Falls
42 meals—daily breakfast, 13 lunches, and 14 dinners
Enjoy up to 4 game-viewing excursions in Kafue National Park
Go fishing on the Kafue River
Spend 3 nights in a tented camp in Kafue National Park
Enjoy a sundowner cruise on the Kafue River
Enjoy up to 3 game-viewing excursions in Mosi-oa-Tunya National Park (on select departures)
Learn to track wild white rhinos during a game-viewing excursion on foot (on select departures)
Explore the culture and history of Livingstone, Zambia (on select departures)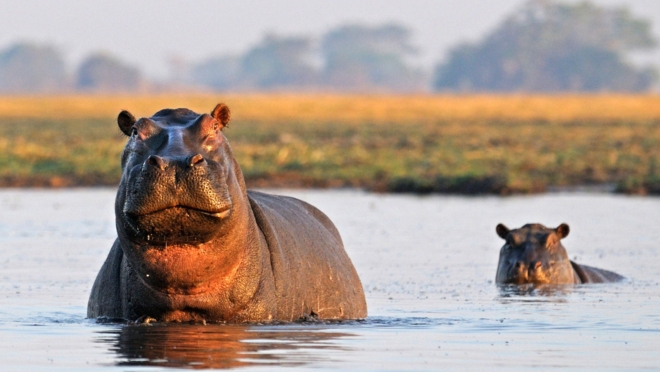 34 DAYS FROM $11,090 • $ 327 / DAY
Small Group Adventure
Zimbabwe: Hwange • Zambia: Kafue • Botswana: Chobe, Okavango Delta • Zimbabwe: Victoria Falls • Kenya: Nairobi, Lake Nakuru, Amboseli • Tanzania: Tarangire, Ngorongoro Highlands & Crater, Serengeti National Park
90 meals—daily breakfast, 29 lunches, and 29 dinners
Enjoy up to 4 game-viewing excursions in Kafue National Park
Go fishing on the Kafue River
Spend 3 nights in a tented camp in Kafue National Park
Enjoy a sundowner cruise on the Kafue River