Forgot Your Username
If you have forgotten your username, please provide your email address in the box below. We'll send you an email with your requested username. If you are having trouble, please call us toll-free at 1-800-221-0814.
Email Sent
You'll receive an email in a few minutes. Please check this email to find your requested username.
If you do not receive an email or you are having trouble logging into My Account, please call us at 1-800-221-0814.

WALES
Get the Details On Our Wales Adventure
Find out more about the adventure, including activity level, pricing, traveler excellence rating, included meals, and more
Trip Itinerary
Get more information about your detailed itinerary, like optional tours, exclusive Discovery Series events, and more.
16 DAYS FROM $8,695 • $ 544 / DAY
Small Ship Adventure
England: London, Tresco • Wales: Fishguard • Ireland: Dublin • Isle of Man • Northern Ireland: Belfast • Scotland: Barra, Stornoway, Stromness, Aberdeen, Edinburgh
37 meals—daily breakfasts, 11 lunches, and 12 dinners (plus all onboard house beer & wine, as well as soft drinks)
Discover Wales's legendary history at Caernarfon Castle
Explore the quaint seaside town of Fishguard
Pay your respects to the tomb of Saint David, patron saint of Wales, at St Davids Cathedral
Taste fresh milk at a working farm
Adventure Details
Find the Adventure That's Right for You
Our Activity Level rating system ranks adventures on a scale of 1 to 5 to help you determine if a trip is right for you. See the descriptions below for more information about the physical requirements associated with each rating.
Travelers should be able to climb 25 stairs consecutively, plus walk at least 1-2 miles over some uneven surfaces without difficulty. Walks typically last at least 1-2 hours at a time. Altitude can range from zero to 5,000 feet.
Activity Level 2:
Moderately Easy
Travelers should be able to climb 40 stairs consecutively, plus walk at least 2-3 miles over some uneven surfaces without difficulty. Walks typically last for at least 2-3 hours at a time. Altitude can range from zero to 5,000 feet.
Activity Level 3:
Moderate
Travelers should be able to climb 60 stairs consecutively, plus walk at least 3 miles over some steep slopes and loose or uneven surfaces without difficulty. Walks typically last for 3 or more hours at a time. Altitude can range from 5,000 to 7,000 feet.
Activity Level 4:
Moderately Strenuous
Travelers should be able to climb 80 stairs consecutively, plus walk at least 4 miles over some steep slopes and loose or uneven surfaces without difficulty. Walks typically last for 4 or more hours at a time. Altitude can range from 7,000 to 9,000 feet.
Activity Level 5:
Strenuous
Travelers should be able to climb 100 or more stairs consecutively, plus walk at least 8 miles over some steep slopes and loose or uneven surfaces without difficulty. Walks typically last for 4 or more hours at a time. Altitude can range from 10,000 feet or more.
Hide Acivity Level
TRAVELER EXCELLENCE RATING
PRICE
including international airfare
HIGHLIGHTS & ACTIVITIES IN WALES
*This information is not available for our trip extensions. You must reserve the main trip to participate on this extension.
**This information is not currently available for this trip. Please check back soon.
Recommended Viewing
Watch this video showcasing what makes this country so unforgettable
Bath and South Wales
Let travel expert Rudy Maxa guide you through Bath and South Wales historic landscapes.
Produced by Small World Productions
Wales: Month-by-Month
There are pros and cons to visiting a destination during any time of the year. Find out what you can expect during your ideal travel time, from weather and climate, to holidays, festivals, and more.
Wales in January-March
Winter through early spring is a cold, rainy time of year in Wales—with an average temperature of 44⁰F. Snow also makes its yearly appearance, but rarely lasts long in the lower lying parts of the country—it's in the mountains where snowfall is significant, and can even close roads. All this precipitation causes waterfalls off the mountainsides to roar down at full force, which makes for a spectacular sight to see.
The Welsh don't slow down during this chillier season, however. Winter sports like rugby, football (what we call soccer), and ice hockey keep spectators entertained, while pubs offer locals and visitors alike a cozy spot to warm up with friends over a pint and hearty dishes like lamb Cawl (a traditional Welsh stew) or rarebit (cheese on toast).
Holidays & Events
January 13: Hen Galan; Welsh New Year. While the majority of the UK recognizes New Year's Day as the first of January, the locals of Pembrokeshire in the Gwaun Valley celebrate the New Year on the 13th, which adheres the ancient Julian calendar (predating the more traditionally used Gregorian calendar). On this day, children sing to receive their Calennig—New Year gifts, which are usually fruit, candy, or money.
March 1: Saint David's Day; the feast day celebrating Saint David, patron saint of Wales.
Must See
Cardiff is the place to be for Near Year's Eve in Wales. The capital city provides revelers old and young with plenty of outdoor festivities, such as a Winter Wonderland filled with ice skating rinks, fairground rides, and an Alpine Village of seasonal refreshments—culminating with fireworks at midnight.
New Year's Day, on the other hand, is packed with opportunities to prove your mettle during one of the country's annual wintertime swims. Participants, besides braving the icy water, also dress up in costume for their plunge, while raising funds for various charities. The Walrus Dip in Pembrey Country Park, Saundersfoot New Year Swim, and the Barry Island New Year's Day Dip are a few ways the Welsh take a bracing swim for a good cause.
Watch this film to discover more about Wales
Curious About... Wales
Why is there a red dragon on the Welsh flag? Satisfy your curiosity about Wales in this film.
Produced by Christine van Blockland and David Zelski
Wales in April-June
Spring in Wales can sometimes be a little unpredictable—a mild day can just as easily be followed by a sudden snow squall. But as the season soldiers on, trees and flowers begin to bloom and the days become both warmer and longer—with earlier sunrises and later sunsets.
This season is also exciting for wildlife lovers. The countryside and coast bustle with life this time of year—from the return of migratory birds and the birth of baby deer in the forests to dolphin sightings, puffins hatching, and seal pups napping on the rocks along the shore.
Holidays & Events
May 14: Dylan Day; a day set aside to celebrate the life and work of Welsh poet Dylan Thomas.
May 24-June 3: The Hay Festival; not farm-related as the name suggests, but instead is an annual literature festival which attracts writers, poets, and other artists from across the UK.
Must See
As the weather becomes warmer in Wales, outdoor festivals pop up throughout the country. In May, for example, the Royal Welsh Spring Festival showcases myriad aspects of rural life—from livestock and horse exhibits to workshops on gardening, artisanal food to sample, and shooting and archery lessons.
Watch this film to discover more about Wales
Curious About... Wales
Why is there a red dragon on the Welsh flag? Satisfy your curiosity about Wales in this film.
Produced by Christine van Blockland and David Zelski
Wales in July-September
Summer is the most popular time to visit Wales. The sunny, warmer weather beckons travelers to explore the country's various landscapes—from the lush, green mountains to the stunning coastline. The seas are calmest this time of year and the beaches are plentiful, so expect them to attract both locals and travelers. The Pembrokeshire coast in particular is a hot spot for summer tourists; the warm Gulf Stream helps to make the waters off these shores quite comfortable for swimming.
Holidays & Events
June 21: Summer Solstice
August 4-14: National Eisteddfod Festival; an annual celebration of music, literature, and live performances.
Must See
The last weekend of September each year, Cardiff becomes a haven for cheese lovers. The Great British Cheese Festival, a celebration of all things cheese, is a tasty event featuring stalls of the UK's best cheeses, as well as local craft beers, wines, and ports—plus unconventional activities like cheese rolling and cheese-making demonstrations.
Watch this film to discover more about Wales
Curious About... Wales
Why is there a red dragon on the Welsh flag? Satisfy your curiosity about Wales in this film.
Produced by Christine van Blockland and David Zelski
Wales in October-December
October heralds in true autumnal weather in Wales, as September can still be relatively sunny and warm. Cool, foggy mornings give way to crisp, clear days perfect for leaf-peeping. Wales puts on a stunning color show each season, with trees in a vibrant array of red, gold, and orange.
With schools back in session and the weather cooling down, tourists begin to clear out—making it a good time for a quiet visit. The seas can get rough this season, however, so take that into account if you plan to travel by ship.
Holidays & Events
September 22-23: Autumn Equinox
October 27-29: Conwy Feast; an annual weekend festival of art, food, and music set against the dramatic backdrop of Conwy's medieval castle.
December 26: Gŵyl San Steffan; known as St. Stephan's Day or Boxing Day throughout the rest of the UK.
Must See
In the northwest of Wales, the intimidating Caernarfon Castle looms above the coast—its unusual polygonal towers striking an imposing silhouette against the sky. What better time to visit this well-preserved medieval castle than on Halloween? During this spooky season, the World Heritage site transforms into a haunted castle, where visitors are invited to explore the dark passages and creepy towers in search of a ghostly knight.
Watch this film to discover more about Wales
Curious About... Wales
Why is there a red dragon on the Welsh flag? Satisfy your curiosity about Wales in this film.
Produced by Christine van Blockland and David Zelski
Average Monthly Temperatures
Wales Interactive Map
Click on map markers
below to view information about top Wales experiences
Click here to zoom in and out of this map
Caernarfon
The mighty stone towers and intimidatingly thick walls of Caernarfon Castle leave little of the castle's original intent to the imagination: King Edward I built this "monster in masonry" in the late 13th-century as a symbol and stronghold of English power over the recently conquered Welsh people.
Caernarfon took more than 40 years to complete and is now the largest and most famous castle in Wales. Unlike the round towers characteristic of other fortresses built in this period, Caernarfon's towers are polygonal—some have as many as ten sides—to better repel invaders. With turreted battlements lining its walls, spiral staircases that lead to cavernous secret passages, and its strategic position at the mouth of the Seiont River, Caernarfon is an impressive and well-fortified example of medieval military architecture.
While no longer a seat of power, Caernarfon's historic relevance has endured. In 1284, one year after construction began, Edward I's son was born within the castle's walls; seizing on this opportunity to solidify his Welsh dominion, Edward gave his son the title "Prince of Wales," thus establishing the storied tradition of reigning monarchs bequeathing this title on their heir. Today, Caernarfon Castle is perhaps most famous as the site of the investiture of Charles, the current Prince of Wales, in 1969.
Despite Edward I's long-ago attempts to cement England's position here, Caernarfon town and the surrounding area still remain a bedrock of Welsh pride and nationalism—in fact, over 80% of the town's population speak Welsh. With few cars on the road and welcoming locals, this friendly little town showcases the legendary history and warmth of the Welsh people.
Explore Caernarfon with O.A.T. on:
Fishguard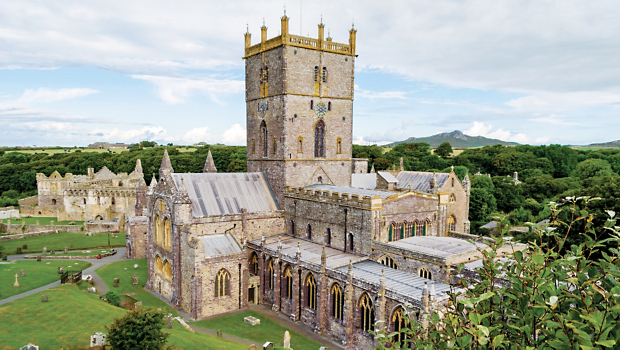 Nestled in a picturesque harbor and surrounded by steep coastal cliffs, Fishguard brims with quaint Welsh simplicity. This snug little village has an outsized history: It is best known as the site of the Last Invasion of Britain, a two-day siege by the French in 1797. The invading French forces were quickly defeated by the hearty Fishguard townspeople, including Jemima Nichols, the "Welsh Heroine" who singlehandedly captured twelve French soldiers. The so-called Battle of Fishguard is commemorated in a colorful 100-foot tapestry, sewn by the women of Fishguard on its bicentennial.
Nearby, St Davids Cathedral beckons the religious faithful and history buffs alike. As the burial site of Saint David, patron saint of Wales, the Cathedral occupies an integral place in the Welsh national narrative and has been drawing pilgrims since the sixth century. Explore the leaning pillars of the stone nave (a product of the swampy land on which the Cathedral is built) and pay a visit to Saint David's tomb in the Holy Trinity chapel.
Beyond the town of St Davids and amid the rolling green hills of the Welsh countryside is the family-run Alan James Farm. After touring the property and learning about the inner workings of this busy farm, get an authentic taste of rural Welsh life today: Enjoy fresh milk in the milking parlor and have tea in the farmer's home.
Discover Fishguard with O.A.T. on:
Featured Reading
Immerse yourself in Wales with this selection of articles, recipes, and more
ARTICLE
The castles of the British Isles each have a story to tell. Read about some of the best here.
Written in Stone
Castles of the British Isles each have a story to tell
by David Valdes Greenwood, for Grand Circle
William the Conqueror. Richard the Lionheart. Henry VIII. It's hard to imagine these iconic rulers commanding their kingdoms from any other setting than a castle. Yet these fortifications didn't come into being until 1066, when William first began constructing them as military bulwarks. The first castles were mixed use, equal part military stronghold and living quarters. Soon, they became the homes from which royals and nobles ruled.
Over time, castles came to contain all the elements of feudal life in one setting: the ruling class, the servant class, and soldiers who defended them all. With medieval standards of living, castles were cold and dark much of the time, but became ever more elaborately decorated over the years, and the scene of the grandest pageantry of the day. With groundskeepers, stable hands, kitchen staff, and servants living in or near the castles, in addition to the lords and the military, these strongholds were like miniature cities unto themselves, often long before cities appeared.
The castles of the British Isles have since become iconic symbols of history and culture, and each has a story of its own. With no one-size-fits-all approach to feudal architecture, these seats of power are as varied and colorful as the nations in which they rise.
Haunted house
At Dublin's Malahide Castle, many families and political factions have walked the halls—and some, it is said, still do. Built in the 12th century by King Henry II of England and given as home to the family of his knight Sir Richard Talbot, the stone manse was expanded in the 18th century to include more imposing towers, and boasts a 22-acre garden with 5,000 species of plants. But what makes Malahide Castle stand out in the Irish imagination is its legendary ghosts, an array of colorful figures from 800 years of history.
There's Miles Corbet, who sided with Oliver Cromwell against King Charles I in the English Civil War, and briefly claimed the castle. After Cromwell's overthrow, Corbet was hung, drawn, and quartered, to set a grisly example for future anti-monarchists. His was the first ghost said to haunt the castle, often in full armor. As if it is not enough to encounter a ghost to begin with, his specter might fall apart, separating into quarters before your eyes.
Corbet was followed by Walter Hussey, who was murdered by a spear-throwing rival on his way to his own wedding. Adding to insult to (fatal) injury, his bride-to-be later married the rival, so Hussey's ghost is said to wander the halls clutching his side asking if anyone has seen his former sweetheart. One Malahide couple, Maud Plunkett and her husband the Lord Chief Justice, never parted at all—it's said that she can be seen chasing him through the castle at night, hounding him in the afterlife the way she is said to have done in their mortal years.
Puck, the four-foot-tall jester, haunts Malahide in a different fashion. He provided amusements for the ruling family and fell in love with Lady Elenora Fitzgerald, who had been detained at the castle under suspicion of plotting against King Henry VIII. Puck was found murdered, likely by pro-Henry forces, but his death was attributed to suicide. Legend says his ghost promised never to hurt anyone, and that remains true. But he also refuses to be forgotten and is said to show up unwanted in photographs taken inside the castle.
The original dream home
One of the oldest Welsh tales is that of Macsen Wledig, emperor of the Western Roman Empire in Britain, who dreamed of sailing a ship and crossing the sea to a land that was home to the world's greatest castle and most beautiful maiden. After leaving Britain for Rome, the emperor found no such castle or maiden, and sank into despair. He sailed back to Britain—but when he ventured ashore in Wales, he found a castle at Caernarfon as great as he imagined, and a maiden beyond his hopes. He settled there, refusing to ever return to Rome. Macsen Wledig was a real person but the story was a myth, created long after his passing, which somehow caught the Welsh fancy. By the time Edward I ruled the British Empire in the 13th century, the story was part of local lore, and Edward was determined to build a castle as impressive as the one of legend. Replacing a smaller castle (which itself had replaced a smaller Roman fort that bore no resemblance to Macsen's grand dream), mighty Caernarfon Castle rose in less than five years, with massive polygonal towers, multicolored stone meant to invoke the glories of Constantinople, and a stone enclosure wall that encompassed all of the original town as well.
Impressed with his own handiwork, Edward determined to make this castle a formal part of British royal tradition. He achieved this by insisting that his wife be moved to Caernafon for the birth of their first child, so that the Prince of Wales would be, in fact, English. To this day, Caernafon is the site of investiture for the Prince of Wales, including His Royal Highness Prince Charles in 1969.
It is likely that Prince William will follow suit, should his father Charles assume the throne in the coming years.
Last queen standing
Not every royal family is as close as the current House of Windsor. Mary, Queen of Scots, maintained a running battle with cousin Queen Elizabeth I that can only be called epic.
Mary's seat of power seemed secure enough: Edinburgh Castle sits atop a chunk of 350-million year-old volcanic rock 390 feet above sea level, a truly immutable base. But even before she arrived in the 16th century, the castle had evolved multiple times over the years. First built in 1093 as the Castle of the Maidens, it had been damaged often in the continual battles with the English, requiring a steady stream of repairs. In 1360, King David II added 90-foot towers, and a century later, King James III brought the rest of the castle into line with more elegant furnishings and elaborate royal apartments.
Mary was by far the most famous of its residents, but when Elizabeth forced Mary to abdicate, a cadre of Mary's supporters barricaded themselves in the castle to support their queen and sustain local rule. That turned out to be a bad idea, because Elizabeth, at her boiling point, simply gave orders to retake the castle. Her forces did considerable damage—including felling David's mighty towers—in the process. The nobles lost, Mary was later executed, and the castle itself never recovered its height. Nonetheless, like all great castles, its value to the culture, and the history written in its stonework, endures to this day.
Castles of the British Isles each have a story to tell