The Leader in Small Groups on the Road Less Traveled in Over 85 Countries
You're receiving this message because your web browser
is no longer supported
We recommend upgrading your browser—simply click the button below and follow the instructions that will appear. Updating will allow you to accept Terms and Conditions, make online payments, read our itineraries, and view Dates and Prices.
To get the best experience on our website, please consider using:
Safari (for Mac or iPad Devices)
Update Browser

UZBEKISTAN
Get the Details On Our Uzbekistan Adventure
Find out more about the adventure, including activity level, pricing, traveler excellence rating, included meals, and more
Trip Itinerary
See a detailed overview of the experiences that await you in the heart of Central Asia on our new journey to Turkmenistan & Uzbekistan.
18 DAYS FROM $5,495 • $ 306 / DAY
O.A.T. Adventure by Land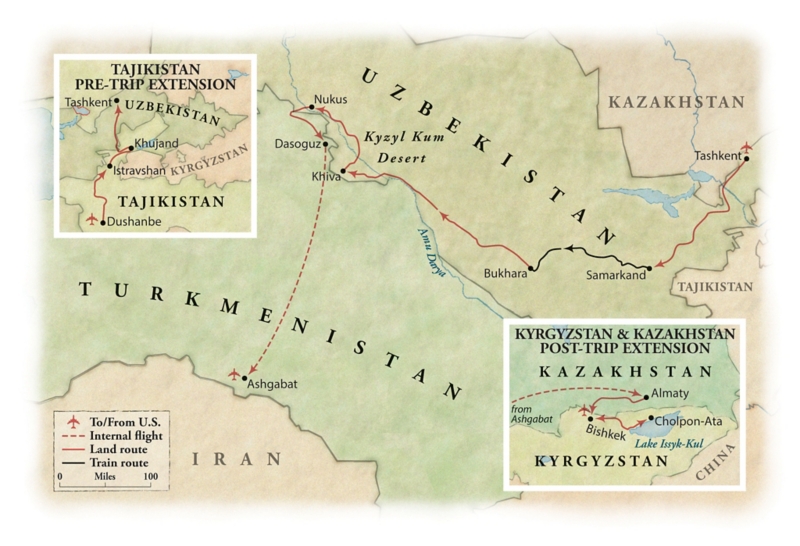 Uzbekistan: Tashkent, Samarkand, Bukhara, Khiva, Nukus • Turkmenistan: Ashgabat
35 meals—daily breakfast, 12 lunches, and 10 dinners (including 1 Home-Hosted Lunch)
Meet the locals as we explore Bukhara's famous domed bazaars
Get a taste of the local culture during a Home-Hosted Lunch in Nayman
Visit

Gijduvan's ceramic master and delve into the history of the village's famous pottery
Spend two nights in Nukus and hear a performance by a traditional Karakalpak throat singer
Adventure Details
Find the Adventure That's Right for You
Our Activity Level rating system ranks adventures on a scale of 1 to 5 to help you determine if a trip is right for you. See the descriptions below for more information about the physical requirements associated with each rating.
Travelers should be able to climb 25 stairs consecutively, plus walk at least 1-2 miles over some uneven surfaces without difficulty. Walks typically last at least 1-2 hours at a time. Altitude can range from zero to 5,000 feet.
Activity Level 2:
Moderately Easy
Travelers should be able to climb 40 stairs consecutively, plus walk at least 2-3 miles over some uneven surfaces without difficulty. Walks typically last for at least 2-3 hours at a time. Altitude can range from zero to 5,000 feet.
Activity Level 3:
Moderate
Travelers should be able to climb 60 stairs consecutively, plus walk at least 3 miles over some steep slopes and loose or uneven surfaces without difficulty. Walks typically last for 3 or more hours at a time. Altitude can range from 5,000 to 7,000 feet.
Activity Level 4:
Moderately Strenuous
Travelers should be able to climb 80 stairs consecutively, plus walk at least 4 miles over some steep slopes and loose or uneven surfaces without difficulty. Walks typically last for 4 or more hours at a time. Altitude can range from 7,000 to 9,000 feet.
Activity Level 5:
Strenuous
Travelers should be able to climb 100 or more stairs consecutively, plus walk at least 8 miles over some steep slopes and loose or uneven surfaces without difficulty. Walks typically last for 4 or more hours at a time. Altitude can range from 10,000 feet or more.
Hide Acivity Level
PRICE
including international airfare
HIGHLIGHTS & ACTIVITIES IN UZBEKISTAN
*This information is not available for our trip extensions. You must reserve the main trip to participate on this extension.
**This information is not currently available for this trip. Please check back soon.
Recommended Viewing
Watch this video showcasing what makes this country so unforgettable
ReelEarth: Brothers of the Red Sands
Meet two brothers from the rural Uzbek village of Eski Dongalak—one who stayed home to continue the family tradition of caring for camels and one who moved to the city of Navoi to study.
Recommended Videos
Watch your fellow travelers' favorite films & videos
Central Asia
Submitted by William C. Thornton, 20-time traveler from Georgetown, Texas
Adventurous traveler William T. took the "silk" road less traveled and captured some truly remarkable faces, places, and cultural facets of Central Asia, including Uzbekistan and Turkmenistan.
Marie and Nancy's Uzbekistan Trip Experience
Join this mother-daughter duo on their journey along the Silk Road as they witness the iconic sites of the Stans, interact with local people on the streets, and enjoy a Home-Hosted meal with an Uzbek family.
Uzbekistan: The Gem of the Silk Road
Discover the gems of the Silk Road in Uzbekistan, from Samarkand, Tashkent, Bukhara, and Nukus, to abandoned fortresses among the sweeping sands of the Kyzyl Kum Desert.
Aunt Zoja
Meet Aunt Zoja—a local Uzbekistani who dreams of peace and understanding throughout the world.
Uzbekistan: Month-by-Month
There are pros and cons to visiting a destination during any time of the year. Find out what you can expect during your ideal travel time, from weather and climate, to holidays, festivals, and more.
Uzbekistan in December-February
The winter months bring the coldest weather of the year to Uzbekistan, especially in the north, where temperatures may dip below freezing. However, with the impact of climate change, as evidenced in part by the drying out of the Aral Sea over the past four decades, recent winters have been much more mild than in the past, with less wind, snow, and precipitation than previously recorded. And while ski season is in full swing in the Tien Shan mountains, tourism is on the decline around this time of year. With crowds dissipating, winter visitors may have easier access to Uzbekistan's natural and historic sites.
Holidays & Events
January: The annual Yillar festival takes place in honor of the new year, and similar to how Christmas is celebrated in other countries, people decorate trees and exchange gifts.
Watch this film to discover more about Uzbekistan
Women's dance: Bukhara, Uzbekistan
Behold the beauty of a traditional Uzbekistani dance performed by local women in Bukhara.
Uzbekistan in March-June
As the sunny weather rolls around, Uzbekistan fills up with more travelers than are seen during the winter months. The number of visitors begins to increase in March and April, and even more so into May and June. While the climate warms up significantly, it's a mild heat, and the chance of rain increases, providing the arid land with a much needed watering.
Holidays & Events
Late March: Navruz is an annual celebration of the springtime new year, honoring the start of the yearly agricultural cycle.
May: Uzbekistan's yearly Silk and Spices Festival celebrates the country's culture, crafts, and more. Performances ensue, which showcase traditional music and costumes.
Must See
Depending on exactly where you go, sometimes you may be lucky enough to catch the brief but beautiful blooming of wildflowers in the otherwise desolate desert.
Watch this film to discover more about Uzbekistan
Women's dance: Bukhara, Uzbekistan
Behold the beauty of a traditional Uzbekistani dance performed by local women in Bukhara.
Uzbekistan in July-August
By now, Uzbekistan begins to really heat up and dry out, with average temperatures in the 90s. Despite the heat, this is the busiest time of year for tourism, and cities like Tashkent liven up with crowds. The dry climate makes this time of year ideal for trekking in the desert.
Holidays & Events
August: Sharq Taronalari is a yearly music festival held in Samarkand showcasing traditional styles of music.
Watch this film to discover more about Uzbekistan
Women's dance: Bukhara, Uzbekistan
Behold the beauty of a traditional Uzbekistani dance performed by local women in Bukhara.
Uzbekistan in September-November
The average temperatures begin to cool down, but the days stay relatively warm into the fall, and just like the springtime, the comfortable weather attracts larger crowds. Autumn is a perfect time for exploring the old towns along the legendary Silk Road.
Holidays & Events
September 1: Uzbekistan's Independence Day
Must See
During the height of harvest season, the colorful Uzbeki markets are ablaze with fresh produce and teeming with locals. This is a great time of year to immerse yourself in their culture, and perhaps sample some of their homemade cuisine.
Related Video:Watch this film to discover more about Uzbekistan
Women's dance: Bukhara, Uzbekistan
Behold the beauty of a traditional Uzbekistani dance performed by local women in Bukhara.
Average Monthly Temperatures
Uzbekistan Interactive Map
Click on map markers
below to view information about top Uzbekistan experiences
Click here to zoom in and out of this map
Khiva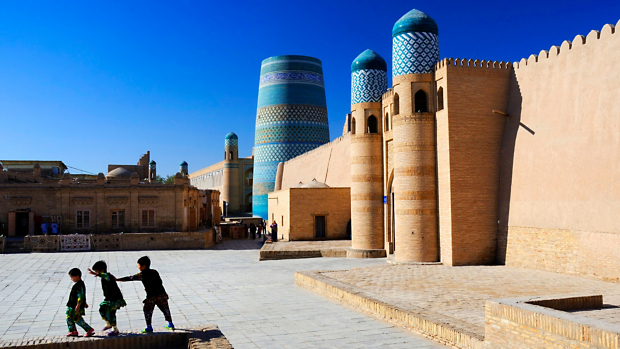 For centuries, Khiva was known as an important hub for the slave trade on the Silk Road. Khiva was the capital of an Islamic khanate, meaning an area ruled by a khan, in the 16th century and served as an important religious hub for Islam. Because of the highly-preserved 94 mosques, 63 madrassahs, and numerous minarets, the city was named a UNESCO World Heritage site in 1990.
Split into two parts by ten-meter crenelated walls dating back to the 17th century, the Ichon-Qala, meaning "within the wall," houses most all of the stunning Islamic architecture constructed within the past 600 years. On the other hand, most of the city's 50,000 residents and its modern area are in the Dichon-Qala, meaning "outside the wall."
Explore Khiva with O.A.T. on:
Bukhara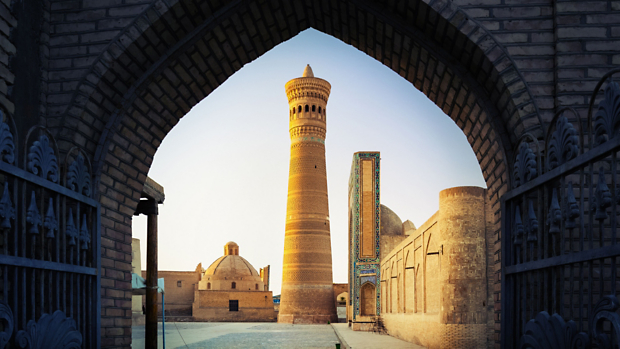 Bukhara, which means "abbey" in Sanskrit, was one of the most important trade destinations on the Silk Road. With over 140 architectural and archaeological sites, Bukhara is one of the pillars of Central Asian history and art, as well as a UNESCO World Heritage Site.
Set on the western side of the city, the Ark of Bukhara is the historic seat of power. The walled fortress contained temples, barracks, government offices, a local mint, warehouses, workshops, stables, the arsenal, and a prison. Constructed in the fifth century, the seven towers of the Ark were planned based on the position of the stars that make up the constellation Ursa Major.
Just south of the Ark is the Po-i-Kalyan complex, the site of the Kalyan Mosque, the Mir-i-Arab Madrassah, and the Kalyan Minaret, known as the Tower of Death. At 150 feet high, the yellow brick minaret was where the muezzin—the person who called Muslims to prayer—gave their daily invocations as well as where criminals sentenced to capital punishment were thrown from the top of the tower.
Explore Bukhara with O.A.T. on:
Nukus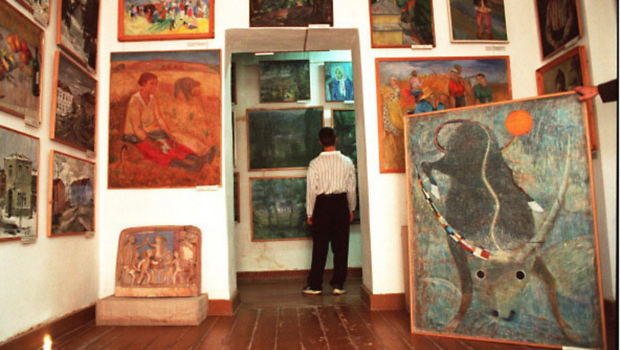 Before 1932, Nukus was a small village, but by the 1950s, the Soviet Union modernized the city by constructing large apartment complexes and wide avenues. Because of its isolated locale, Nukus was also the site of a major Soviet chemical weapons testing facility. Today, it is the capital of the semi-autonomous Republic of Karakalpakstan, and is home to over 250,000 residents.
What sets the city apart is the Karakalpakstan State Museum of Art's Savitsky Gallery, founded by famed Russian painter and collector Igor Savitsky. The gallery is home to the second-largest collection of modern Russian avant-garde, featuring such influential Soviet-era artists as Solomon Nikritin and Kliment Redko. There is also a large collection of work from many dissenting Soviet-era artists; during the Stalinist regime, art was only permitted to express quintessentially-Soviet ideals. Pieces exploring the area's former abundance of flora and fauna and the Aral Sea, both depleted from over-farming by the Soviets, also feature prominently in the gallery.
Explore Nukus with O.A.T. on:
Samarkand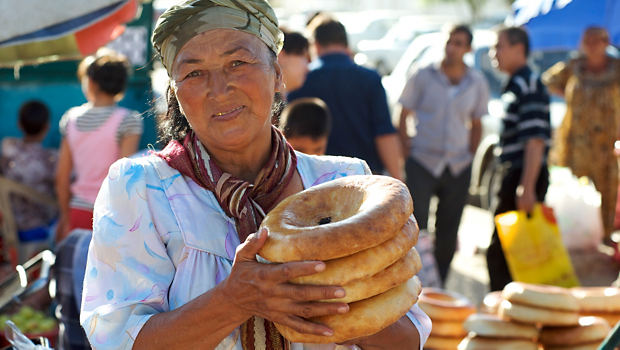 Samarkand is a city of reincarnation. From being named "Marakanda" by Alexander the Great, to changing hands between tribal, Arab, and Mongol rulers, to complete decimation and eventually becoming a thriving mercantile and intellectual oasis, Samarkand is for history buffs a white whale.
One of the oldest-inhabited cities in Central Asia, settlements in Samarkand date back nearly 40,000 years. Traders of the ancient Sodgian civilization, which inhabited Samarkand and the surrounding area in the fourth century BC, created extensive trade networks spanning the Middle East and China. Eventually, the city was conquered by many different rulers, including Genghis Khan, who destroyed the city in AD 1220.
In AD 1370, another ruler, Tamerlane, also known as Timur, rebuilt the city into a mercantile and artistic center and made Samarkand the capital of the Timurid Empire. Later, Timur's grandson Ulugh Beg built an observatory and made the city a scientific center. An astronomer himself, Beg was able to create the most complete map of the stars since that of Ptolemy in the second century.
Today, Samarkand is known not only for its rich historic heritage, but its famous non, or bread. Typically stuck to the top of stone ovens, the bread is imprinted with intricate designs from special stamps called chekich.
Explore Samarkand with O.A.T. on:
Tashkent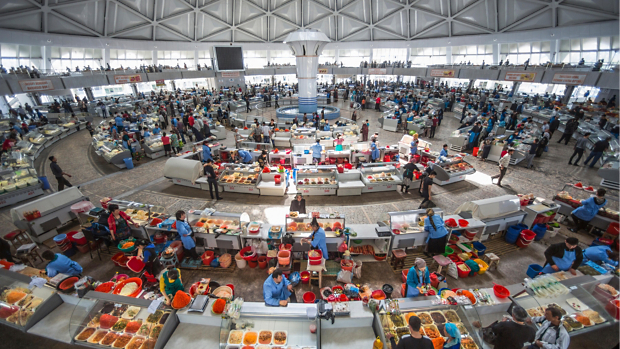 The capital of Uzbekistan, Tashkent—meaning "stone village"—is both the most populous and economically important city in Central Asia. The Soviet occupation of Uzbekistan in 1917 left a legacy of Russian speakers throughout the country, but especially in Tashkent. Most all people speak Russian and Uzbek, with many signs printed in both languages as well as English. Monuments around the city are also reminders of Tashkent's Soviet past, like Mustaqillik Maydoni, or "Independence Square," which commemorates Uzbekistan's independence from the Soviet Union in 1991. A monument in the square dedicated to Russian Bolshevik revolutionary Vladimir Lenin was taken down and was replaced with a tower holding a golden globe prominently displaying an outline of Uzbekistan. Opposite the monument is a statue of a woman holding a child, symbolizing the nation being the motherland of its people.
The Barak-Khan Madrassah, an Islamic education center, is one of few buildings still left from Tashkent's past. After a major earthquake in 1966 that destroyed most of the old city, the Soviet Union sent thousands of workers and engineers to rebuild. Now, Tashkent is characterized by wide avenues and modern apartment complexes and government buildings. The Monument of Courage, a sculpture depicting a man, woman, and child facing insurmountable challenges, was erected in honor of the bravery of citizens after the destruction.
At the heart of the old city, Chorsu Bazaar, meaning "four streams" in Persian, has offered a wide array of goods for travelers on the Silk Road for centuries. Under the breathtaking triangulated ceiling of the spectacular ocean-blue dome, one can find anything from local fruits, grains, spices, and dairy. While a major trade hub, Tashkent also has a strong commodities industry—leather and cotton are important products. Also, when the Soviet Union moved factories to the city during World War II, Tashkent became a major automotive manufacturing center.
Explore Tashkent with O.A.T. on:
Gijduvan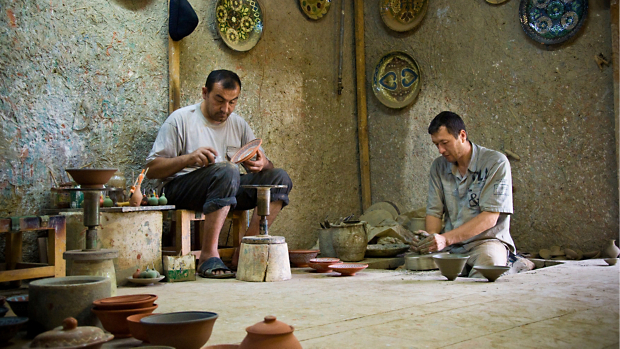 Gijduvan, located 29 miles north of Bukhara, may not be a well-known city, but it is home to some of the world's most exquisite ceramics. Creating brightly colored and intricate patterns is Gijduvan's signature, which is a skill that is distinct to this 38,000-person town thanks to Abdullah Narzullaev—one of Uzbekistan's famous craftsmen. Narzullaev was so dedicated to this art that he set up the Gijduvan School of Ceramics, which teaches other local craftsmen how to design patterns for which the town has become known for. Today, sixth generation descendants of Narzullaev lead the school. The pottery has attracted world leaders like the Prince of Wales and Hillary Clinton who have traveled to Gijduvan to view this art, and it also inspired the town to build a museum dedicated to these ceramics. The pottery isn't the only impressive feature of Gijduvan though, but the town's architecture showcases impressive patterns and eye-catching colors as well. The 15th-century Ulugbek-Medrese and the towering Vabkent minaret are reflective of Gijduvan's attention to detail and creative spirit.
Explore Gijduvan with O.A.T. on:
Featured Reading
Immerse yourself in Uzbekistan with this selection of articles, recipes, and more
ARTICLE
Trace the history of Tamerlane, whose legacy in Uzbekistan teeters between hero and butcher.
Tamerlane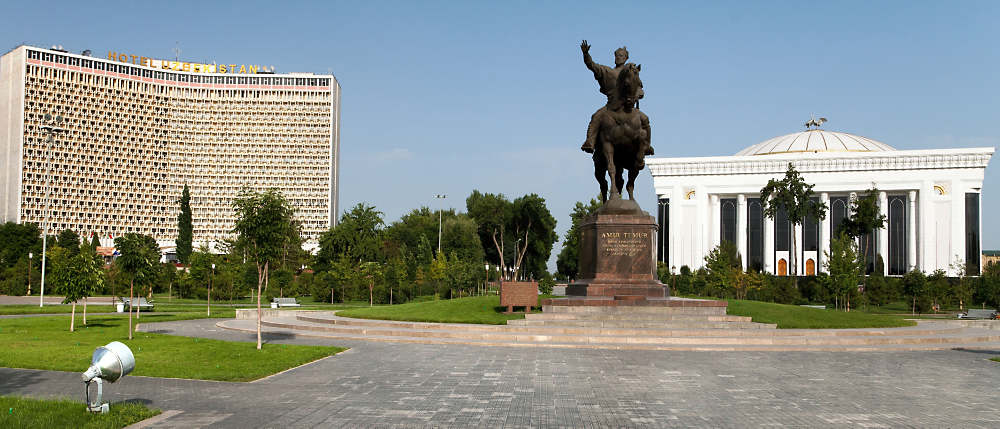 The hero and terror of Central Asia
by Jenna Thomas
"Tamerlane" has been a folk hero in Uzbekistan since their independence from the Soviet Union.
Tamerlane is considered one of history's most infamous butchers, known for slaughtering millions of people during his reign in Central Asia. On the other hand, he has been a folk hero in Uzbekistan since their independence from the Soviet Union. It is a fittingly complicated legacy for a man whose interests ranged from the conquest of China to collecting art.
His name has a twisted history as well. Tamerlane was actually named Timur. His Persian nickname "Timur I Leng," or "Timur the Lame" stemmed from his lifelong limp and evolved into "Tamerlane" in Europe. Even the source of his limp is up for discussion. Some say he was shot with an arrow while stealing sheep as a young man, and some say he was injured in battle during his mercenary days.
The early life of a born conqueror
Timur was born in modern-day Uzbekistan in 1336, during a tumultuous time for the region. Timur's clan, rumored to be descended from the Mongol Genghis Khan dynasty, clashed constantly with local nomadic tribes. Power changed hands often. A young Timur saw opportunity in the chaos. He declared an alliance with powerful Mongols outside the country, who repaid his loyalty by putting him in charge.
Timur immediately betrayed his clansmen by forming an uneasy partnership with a tribal leader, Amir Hussein. Timur married Hussein's sister Aljai to cement his new loyalty. Timur and Hussein installed themselves as joint rulers, using Timur's tactical skills and large following to bring neighboring lands under their control.
Becoming a butcher
By 1370, Timur and Hussein governed an area that included modern-day Uzbekistan, Tajikistan, southern Kyrgyzstan and part of Kazakhstan. That year, Aljai died and Timur saw no reason to continue his partnership with Hussein. Timur executed Hussein, consolidated his power by establishing a capital in Samarkand, and set about the task of building an empire.
Within a decade, Timur was the undisputed ruler of Central Asia. He turned his focus outward, leading campaigns to conquer Persia, Iraq and Asia Minor. By this time, his violent strategies were well-known and widely feared. When local populations revolted, he responded by leveling cities, building pyramids with the skulls of the vanquished, and in one case, ordering the murder of 70,000 residents of Isfahan, Persia.
With victories from Moscow to Baghdad, Timur's taste for conquest was far from sated. He now had an army of 90,000 men, and enough confidence to invade India. Within three months, he had ruined the city of Delhi and executed 100,000 Hindu prisoners before the city gates. Subsequent campaigns in Turkey, Syria, and Egypt were equally ruthless.
Timur returned to Samarkand as he neared his 70s, but soon decided that China's Ming dynasty was ripe for a takedown. This would prove to be his undoing. Timur was so eager to go that he headed east during an especially harsh winter. Scores of soldiers died and Timur caught a cold that killed him within a month.
The legacy of Tamerlane
According to historians, Timur's army killed up to 17 million people. The empire covered an area between Russia, India, the Mediterranean Sea and Mongolia, but Timur had left each corner in ruins and never bothered to set up a governing structure. After his death, chaos returned to the region and his empire fell apart.
Centuries later, after the fall of the Soviet Union, newly-independent Uzbekistan needed a folk hero for inspiration. Uzbek leaders turned to Timur, their countryman who had conquered most of Asia and turned Samarkand into the beautiful city that it still is. An officially-sanctioned biography compared him to George Washington. Monuments, museums and streets were dedicated to him. In the 1990s, the government spent millions of dollars restoring Samarkand and the Bibi Khanum mosque, places Timur had intended to be the jewels of Islam.
Even in the West, Timur is remembered. Edgar Allen Poe's poem "Tamerlane" tells the fictional story of Timur's deathbed confession to a friar—but it has much more to do with long-lost love than empire-building and bloodthirsty armies.
Today, visitors to Samarkand can see Timur's elaborate and beautiful mausoleum, itself the scene of some intrigue. In 1941, Soviet archaeologists opened the tomb and read the inscription, "Whoever opens this will be defeated by an enemy more fearsome than I." In spite of the warning, the Soviets removed Timur's body for research. Two days later, the Nazi army invaded the Soviet Union unannounced. When the research on Timur's body was finished, Stalin ordered that it be replaced in his tomb. The Soviet army triumphed over Hitler within a month. Coincidence or not, it was enough to start rumors that Timur was as vengeful in death as he had been in life.
The hero and terror of Central Asia