Forgot Your Username
If you have forgotten your username, please provide your email address in the box below. We'll send you an email with your requested username. If you are having trouble, please call us toll-free at 1-800-221-0814.
Email Sent
You'll receive an email in a few minutes. Please check this email to find your requested username.
If you do not receive an email or you are having trouble logging into My Account, please call us at 1-800-221-0814.
THAILAND
Thailand's population of just over 65 million people is divided between expansive metropolitan cities and quiet rural regions, but one factor remains constant throughout the country: sanuk. This is the philosophy that life should be fun. Smiles, laughs, and a general levity abound in the southeastern Asian nation because sanuk is a part of daily life here. Despite this quirky attitude, Thailand still maintains a respect for its history and religion. Around 95% of Thais consider themselves a sect of Buddhism—a religion that is so widely practiced that Thai men are expected to commit at least three months of their lives to be Buddhist monks.
This preservation of religion may be due to the lack of western influence in Thailand, which is the only southeastern Asian nation that has never been colonized by a western society. Siam, as Thailand was known until the 20th century, saw a series of kingdoms and dynasties throughout its vast history—from the 13th century Sukhothai Kingdom, which is thought to be the nation's first kingdom, to the Chakri Dynasty, which has been ruling over Thailand since the 17th century. With a constitutional monarchy still in place, Thailand holds on to its historical roots.
Thailand Interactive Map
Click on map markers
below to view information about top Thailand experiences
Click here to zoom in and out of this map
Most Popular Films
Films featuring Thailand from international, independent filmmakers
What to see and do in Bangkok
Witness both the chaos and the tradition of Bangkok as you're taken through some favorite hotspots of locals.
Courtesy CNN
Sa Wad Dee Thailand
See why Thailand is called the "Land of Smiles" as you get a glimpse at the local lifestyle.
Produced by Curtis Woodbury
More "Bang" for your buck
Set off for an adventure around Bangkok, where you'll bargain at an outdoor market and take a wild ride on a tuk tuk.
Earth Diaries - Thai Dance
A Thai dance instructor reveals the gestures, costumes—and even body types—that are part of this national tradition.
Produced by Cynthia Younker
Featured Reading
Immerse yourself in Thailand with this selection of articles, recipes, and more
ARTICLE
Discover why Thailand has tiny, embellished, house-like structures sprinkled throughout the country.
RECIPE
Bring the spices and herbs of Southeast Asia into your kitchen with this recipe for lemongrass chicken.
ARTICLE
Not sure what to do when visiting a Buddhist temple? Here are seven disrespectful acts you should avoid.
ARTICLE
Discover the significance of Buddhist acts and ideas—like karma—that determine your fate in this life and the next.
Thailand: Month-by-Month
There are pros and cons to visiting a destination during any time of the year. Find out what you can expect during your ideal travel time, from weather and climate, to holidays, festivals, and more.
Thailand in March-May
Though Thailand is generally hot year-round, temperatures from March to May can reach up to 100 degrees. Along with high humidity, large parts of northern Thailand are covered in a thick haze. Northern Thai farmers begin burning their farmlands in preparation for the new growing season, and the smoke sits heavily in the moist air. An occasional shower will clear the air temporarily, but rainfall—except in eastern Thailand, where the rains begin earlier than anywhere else—is sparse.
Thailand's southern beaches, with their pristine white sands and azure waters, are a welcome respite from the north's high humidity. Benefiting from cool ocean breezes, southern Thailand's beaches and islands are especially comfortable. They're also popular, so expect tourists and the higher prices that accompany them.
Holidays & Events
April to June: The Rocket Festival takes place at various times throughout Thailand. Originally a rain-summoning festival, modern celebrations see the firing of homemade rockets, sexually suggestive floats, and cross-dressing.
April 13: Songkran is Thailand's New Year festival.
Every full moon: The community of Koh Pha Ngan, a small island town off the coast of Thailand, holds an especially beautiful "Full Moon Party" once a month.
May 5: Coronation Day marks the ascension of former King Bhumibol Adulyadej, who passed away in 2016.
Must See
Songkran is one of Thailand's most celebrated holidays. For three days, locals pour water over Buddha statues for good merit in the morning. Thais young and old will take to the streets, battling in frenetic water fights. In many communities, an ornate ceremony of parades, and the crowning of "Miss Songkran", enliven town and city squares.
Chiang Mai's Songkran celebration is considered one of the best in Thailand. The entire city is enveloped in a "water war", while processions of dancers and a golden Buddha float take over the streets.
Though this is low season for tourism in northern Thailand, Chiang Mai is filled with people from all over the world—expect extremely heavy crowds, and streets brimming with energy. Public performances, streetside vendors, and smells of sweet and savory Thai food electrify the city at this time.
Thailand in June-October
The crowds generally avoid Thailand during its rainy season between June and October. It's still very hot, and humidity can sometimes reach 80 percent. Some of the larger and more congested cities—such as Bangkok and Chiang Mai—experience severe road closures and flooding from frequent downpours. Especially heavy rainfall in northern Thailand can make some parts of the countryside inaccessible.
As this time is low tourism season, your travel dollar will buy more, especially in keepsakes and souvenirs.
Holidays & Events
August 12: Mother's Day celebrates the coronation of former Queen Sirikit, revered as being benevolent to the needy and poor in Thailand. Processions and elaborate parades around the Grand Palace in Bangkok bring energy to the streets. This is also a day to celebrate mothers throughout Thailand.
Thailand in November-February
Between November and February, pleasantly warm days and lower humidity make traveling through Thailand much more comfortable.
Tourism season hits its peak at this time, so Bangkok and Chiang Mai are typically crowded. Many of Thailand's ancient sites, such as the ancient city of Sukhothai, will also be popular.
Most prices from the previous season have gone back up from the surge of visitors. Christmas season brings a strong push in tourism as westerners look to trade the cold and snow for Thailand's sun-kissed beauty.
Journeying through northern Thailand's highlands is much more manageable with lower temperatures. The verdant foothills of the region make for great hiking opportunities, and exploring rural Thailand can reveal vibrant countryside vistas. Farmers are starting their growing season, so it's easier to catch a glimpse of a slower pace of life.
Holidays & Events
November 23: Loi Krathong—which translates into "to float a basket"—is a light festival marked by baskets made of banana leaves set to sail down local rivers.
December 5: Father's Day, marked by former king Bhumibol's birthday, sees many Thais wearing yellow—known here as the King's color. The Thai people hold their former king in deep reverence, and make offerings to Buddhist monks in his honor. Children uphold an age-old tradition of offering a vibrant orange-red canna flower to their fathers and grandfathers.
December 31: Bangkok comes to life on New Year's Eve. Voted the seventh-best countdown celebration in the world, Bangkok becomes a stage to showcase Thailand's singular ability to light up the sky in fireworks.
February 2: The Chiang Mai Flower Festival floods the city in resplendent color. Elaborate sculptures and floats—covered in ornate arrays of vibrant flowers—fill the streets. Parades of women dressed in complex flower arrangements proceed through the streets performing traditional dances.
February 16: Chinese New Year, celebrated all over eastern Asia, brings fireworks and street celebrations to cities and towns in Thailand.
Must See
Loi Krathong is celebrated on the full moon of the twelfth month of the Thai lunar year. Small banana leaf baskets—known as krathong in Thai—are decorated with delicate flowers and candles. Then, they are brought to a river and sent downstream with a coin inside, as an offering to the gods. Rumored to have started in Sukhothai, the Yom River running south through the province is awash in soft light from the sailing krathongs.
Average Monthly Temperatures
Compare Our Adventures
Click 'Select to Compare' to see a side-by-side comparison of up to adventures below—including
activity level, pricing, traveler excellence rating, trip highlights, and more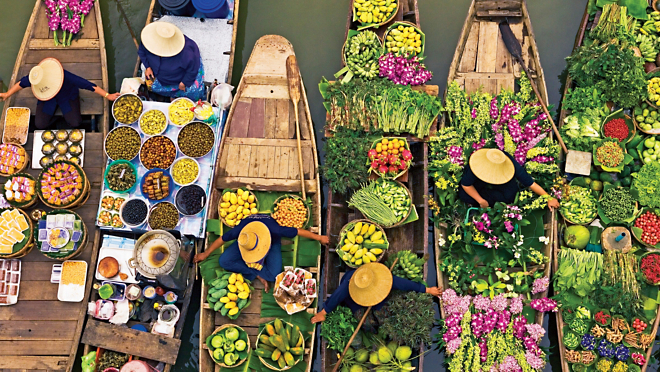 16 DAYS FROM $3,195 • $ 200 / DAY
Small Group Adventure
Thailand: Bangkok, Kanchanaburi, Sukhothai, Chiang Rai, Chiang Mai
33 meals—daily breakfast, 10 lunches, and 9 dinners (including 1 Home-Hosted meal)
Visit the colorful Damnoen Sadouk floating market
Get a glimpse of daily life during an exploration of a local village
Explore Thailand's largest collection of ruins at Sukhothai
Meet hill tribe locals of northern Thailand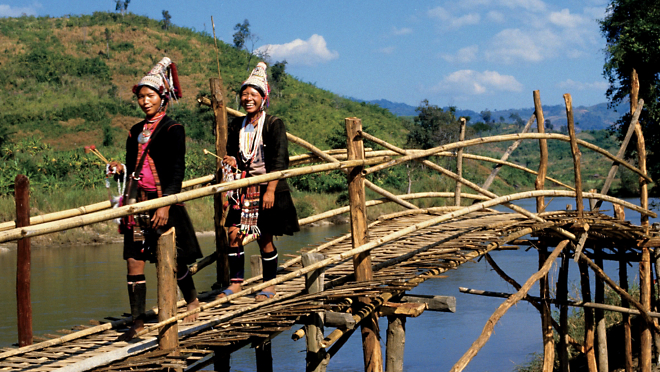 33 DAYS FROM $4,990 • $ 152 / DAY
Small Group Adventure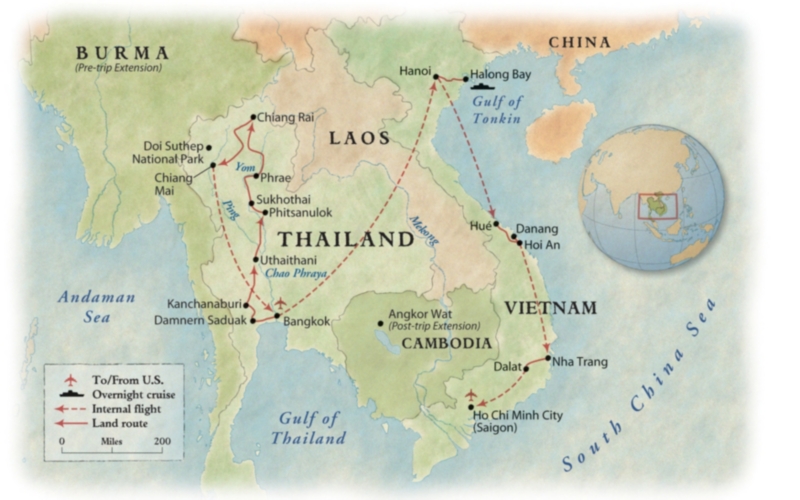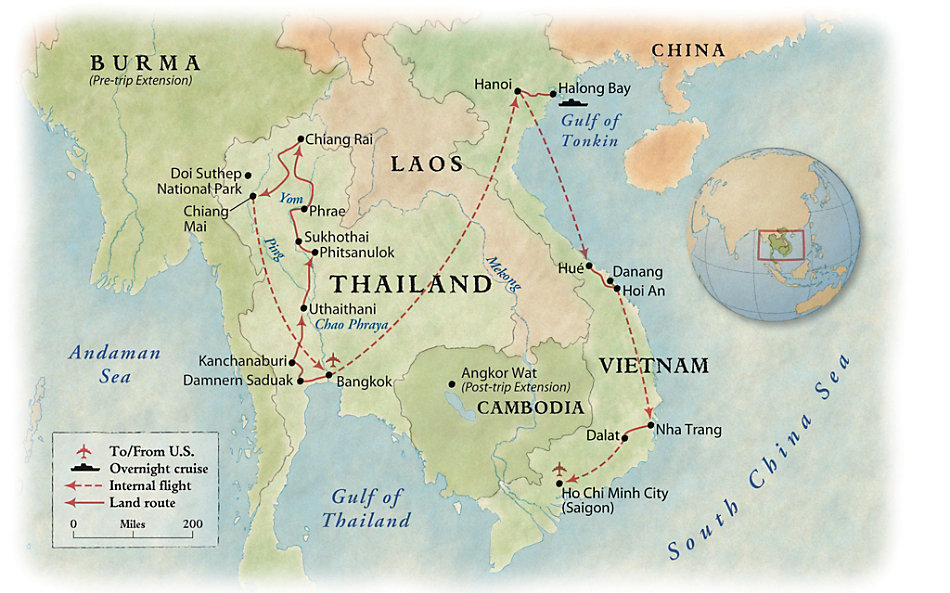 Thailand: Bangkok, Kanchanaburi, Sukhothai, Chiang Rai, Chiang Mai • Vietnam: Hanoi, Halong Bay, Hué, Hoi An, Nha Trang, Dalat, Ho Chi Minh City
73 meals—daily breakfast, 23 lunches, and 19 dinners (including 2 Home-Hosted Dinners)
Visit the colorful Damnoen Sadouk floating market
Get a glimpse of daily life during an exploration of a local village
Explore Thailand's largest collection of ruins at Sukhothai
Meet hill tribe locals of northern Thailand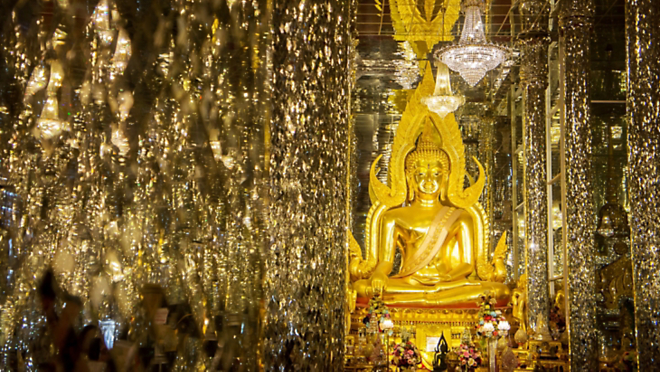 20 DAYS FROM $3,995 • $ 200 / DAY
Small Group Adventure
Thailand: Bangkok • Laos: Luang Prabang, Mekong River Cruise, Vientiane • Cambodia: Phnom Penh, Angkor Wat • Vietnam: Ho Chi Minh City (Saigon)
40 meals—daily breakfast, 13 lunches, and 9 dinners (including 1 Home-Hosted Dinner and 1 community lunch)
Behold the Wat Phra Kaew temple's Emerald Buddha
Explore ancient Ayutthaya
Visit the colorful Damnoen Sadouk floating market
Enjoy a ride on a traditional long-tail boat