The Leader in Personalized Small Group Adventures on the Road Less Traveled
You're receiving this message because your web browser
is no longer supported
We recommend upgrading your browser—simply click the button below and follow the instructions that will appear. Updating will allow you to accept Terms and Conditions, make online payments, read our itineraries, and view Dates and Prices.
To get the best experience on our website, please consider using:
Safari (for Mac or iPad Devices)
Update Browser
thailand
Compare Our Adventures
Find out more about the adventure, including activity level, pricing, traveler excellence rating, included meals, and more
View 2021 Itinerary Video
See a detailed overview of this itinerary, including pre- and post-trip extensions and adventure highlights.
20 DAYS FROM $4,095 • $ 205 / DAY
O.A.T. Adventure by Land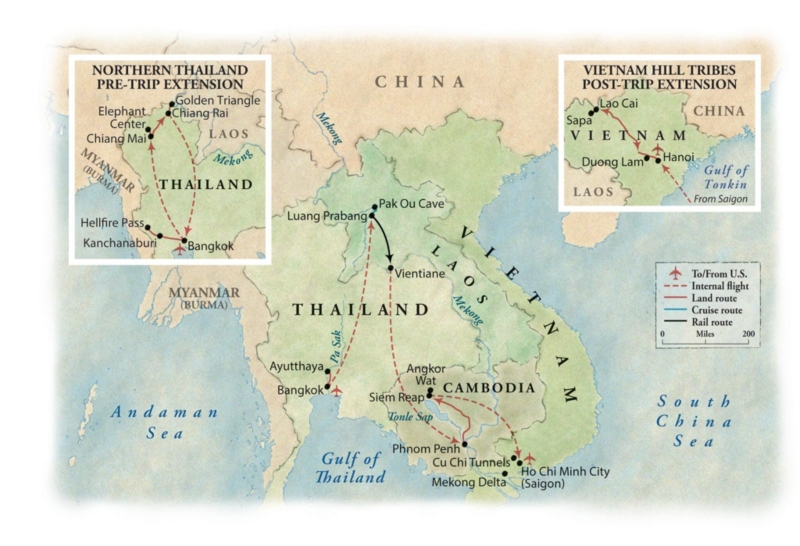 Thailand: Bangkok • Laos: Luang Prabang, Mekong River Cruise, Vientiane • Cambodia: Phnom Penh, Angkor Wat • Vietnam: Ho Chi Minh City (Saigon)
40 meals—18 breakfasts, 15 lunches, and 7 dinners (including 2 Home-Hosted meals)
Behold the Wat Phra Kaew temple's Emerald Buddha
Explore ancient Ayutthaya
Float down the Chaophraya River through the heart of Bangkok
Adventure Details
Find the Adventure That's Right for You
Our Activity Level rating system ranks adventures on a scale of 1 to 5 to help you determine if a trip is right for you. See the descriptions below for more information about the physical requirements associated with each rating.
Travelers should be able to climb 25 stairs consecutively, plus walk at least 1-2 miles over some uneven surfaces without difficulty. Walks typically last at least 1-2 hours at a time. Altitude can range from zero to 5,000 feet.
Activity Level 2:
Moderately Easy
Travelers should be able to climb 40 stairs consecutively, plus walk at least 2-3 miles over some uneven surfaces without difficulty. Walks typically last for at least 2-3 hours at a time. Altitude can range from zero to 5,000 feet.
Activity Level 3:
Moderate
Travelers should be able to climb 60 stairs consecutively, plus walk at least 3 miles over some steep slopes and loose or uneven surfaces without difficulty. Walks typically last for 3 or more hours at a time. Altitude can range from 5,000 to 7,000 feet.
Activity Level 4:
Moderately Strenuous
Travelers should be able to climb 80 stairs consecutively, plus walk at least 4 miles over some steep slopes and loose or uneven surfaces without difficulty. Walks typically last for 4 or more hours at a time. Altitude can range from 7,000 to 9,000 feet.
Activity Level 5:
Strenuous
Travelers should be able to climb 100 or more stairs consecutively, plus walk at least 8 miles over some steep slopes and loose or uneven surfaces without difficulty. Walks typically last for 4 or more hours at a time. Altitude can range from 10,000 feet or more.
Hide Acivity Level
PRICE
including international airfare
HIGHLIGHTS & ACTIVITIES IN THAILAND
*This information is not available for our trip extensions. You must reserve the main trip to participate on this extension.
**This information is not currently available for this trip. Please check back soon.
Recommended Viewing
Watch this video showcasing what makes this country so unforgettable
ReelEarth: A Muay Thai Pilgrimage
Produced by Mohammad Homouda
Meet Angela Chang from New York City, and witness her new life in Bangkok, Thailand, as she trains for the Topking World Series in Muay Thai fighting.
17:47
Recommended Videos
Watch your fellow travelers' favorite films & videos
Going Local: Bangkok
This film was first published on BBC.com Travel. Produced by BBC's The Travel Show
Let Bangkok locals show you around the city of temples, tuk-tuks, and temptations.
Thailand 2017
Submitted by Penny Parker, 21-time traveler from Saint Louis, Missouri
Follow along as traveler Penny P. from St. Louis, Missouri explores Bangkok's Grand Palace, crosses over the original bridge on the River Kwai, and experiences a Mon village.
What To See and Do in Bangkok
Courtesy CNN
Witness both the buzzing energy and the traditions of Bangkok as you're taken through some favorite hotspots of locals.
More "Bang" for your buck
Courtesy CNN
Set off for an adventure around Bangkok, where you'll bargain at an outdoor market and take a wild ride on a tuk tuk.
Travelogue: Chiang Mai, Thailand 1957
Produced by David Conover & Paul Villanova
Take a behind-the-scenes look at Chiang Mai's traditions—from bronze buddhas to broommaking.
Thailand: Month-by-Month
There are pros and cons to visiting a destination during any time of the year. Find out what you can expect during your ideal travel time, from weather and climate, to holidays, festivals, and more.
Thailand in March-May
Though Thailand is generally hot year-round, temperatures from March to May can reach up to 100 degrees. Along with high humidity, large parts of northern Thailand are covered in a thick haze. Northern Thai farmers begin burning their farmlands in preparation for the new growing season, and the smoke sits heavily in the moist air. An occasional shower will clear the air temporarily, but rainfall—except in eastern Thailand, where the rains begin earlier than anywhere else—is sparse.
Thailand's southern beaches, with their pristine white sands and azure waters, are a welcome respite from the north's high humidity. Benefiting from cool ocean breezes, southern Thailand's beaches and islands are especially comfortable. They're also popular, so expect tourists and the higher prices that accompany them.
Holidays & Events
April to June: The Rocket Festival takes place at various times throughout Thailand. Originally a rain-summoning festival, modern celebrations see the firing of homemade rockets, sexually suggestive floats, and cross-dressing.
Mid-April: Songkran is Thailand's New Year festival.
Every full moon: The community of Koh Pha Ngan, a small island town off the coast of Thailand, holds an especially beautiful "Full Moon Party" once a month.
Early May: Coronation Day marks the ascension of former King Bhumibol Adulyadej, who passed away in 2016.
Must See
Songkran is one of Thailand's most celebrated holidays. For three days, locals pour water over Buddha statues for good merit in the morning. Thais young and old will take to the streets, battling in frenetic water fights. In many communities, an ornate ceremony of parades, and the crowning of "Miss Songkran", enliven town and city squares.
Chiang Mai's Songkran celebration is considered one of the best in Thailand. The entire city is enveloped in a "water war", while processions of dancers and a golden Buddha float take over the streets.
Though this is low season for tourism in northern Thailand, Chiang Mai is filled with people from all over the world—expect extremely heavy crowds, and streets brimming with energy. Public performances, streetside vendors, and smells of sweet and savory Thai food electrify the city at this time.
Watch this film to discover more about Thailand
ReelEarth: A Muay Thai Pilgrimage
Produced by Mohammad Homouda
Meet Angela Chang from New York City, and witness her new life in Bangkok, Thailand, as she trains for the Topking World Series in Muay Thai fighting.
Thailand in June-October
The crowds generally avoid Thailand during its rainy season between June and October. It's still very hot, and humidity can sometimes reach 80 percent. Some of the larger and more congested cities—such as Bangkok and Chiang Mai—experience severe road closures and flooding from frequent downpours. Especially heavy rainfall in northern Thailand can make some parts of the countryside inaccessible.
As this time is low tourism season, your travel dollar will buy more, especially in keepsakes and souvenirs.
Holidays & Events
Mid-August: Mother's Day celebrates the coronation of former Queen Sirikit, revered as being benevolent to the needy and poor in Thailand. Processions and elaborate parades around the Grand Palace in Bangkok bring energy to the streets. This is also a day to celebrate mothers throughout Thailand.
Watch this film to discover more about Thailand
ReelEarth: A Muay Thai Pilgrimage
Produced by Mohammad Homouda
Meet Angela Chang from New York City, and witness her new life in Bangkok, Thailand, as she trains for the Topking World Series in Muay Thai fighting.
Thailand in November-February
Between November and February, pleasantly warm days and lower humidity make traveling through Thailand much more comfortable.
Tourism season hits its peak at this time, so Bangkok and Chiang Mai are typically crowded. Many of Thailand's ancient sites, such as the ancient city of Sukhothai, will also be popular.
Most prices from the previous season have gone back up from the surge of visitors. Christmas season brings a strong push in tourism as westerners look to trade the cold and snow for Thailand's sun-kissed beauty.
Journeying through northern Thailand's highlands is much more manageable with lower temperatures. The verdant foothills of the region make for great hiking opportunities, and exploring rural Thailand can reveal vibrant countryside vistas. Farmers are starting their growing season, so it's easier to catch a glimpse of a slower pace of life.
Holidays & Events
Mid-November: Loi Krathong—which translates into "to float a basket"—is a light festival marked by baskets made of banana leaves set to sail down local rivers.
December 5: Father's Day, marked by former king Bhumibol's birthday, sees many Thais wearing yellow—known here as the King's color. The Thai people hold their former king in deep reverence, and make offerings to Buddhist monks in his honor. Children uphold an age-old tradition of offering a vibrant orange-red canna flower to their fathers and grandfathers.
December 31: Bangkok comes to life on New Year's Eve. Voted the seventh-best countdown celebration in the world, Bangkok becomes a stage to showcase Thailand's singular ability to light up the sky in fireworks.
Early February: The Chiang Mai Flower Festival floods the city in resplendent color. Elaborate sculptures and floats—covered in ornate arrays of vibrant flowers—fill the streets. Parades of women dressed in complex flower arrangements proceed through the streets performing traditional dances.
Mid-February: Chinese New Year, celebrated all over eastern Asia, brings fireworks and street celebrations to cities and towns in Thailand.
Must See
Loi Krathong is celebrated on the full moon of the twelfth month of the Thai lunar year. Small banana leaf baskets—known as krathong in Thai—are decorated with delicate flowers and candles. Then, they are brought to a river and sent downstream with a coin inside, as an offering to the gods. Rumored to have started in Sukhothai, the Yom River running south through the province is awash in soft light from the sailing krathongs.
Watch this film to discover more about Thailand
ReelEarth: A Muay Thai Pilgrimage
Produced by Mohammad Homouda
Meet Angela Chang from New York City, and witness her new life in Bangkok, Thailand, as she trains for the Topking World Series in Muay Thai fighting.
Average Monthly Temperatures
Thailand Interactive Map
Click on map markers
below to view information about top Thailand experiences
Click here to zoom in and out of this map
Bangkok
Before the late 18th century, Ayuthaya was the capital of Thailand, but King Rama I of the Chakri Dynasty feared that this location was sensitive to Burmese attacks, therefore, he moved the capital's location to the banks of the Chao Phraya River. In honor of the new capital's consecration, the king presented the city's new, 21-word ceremonial name, which currently holds the world record for the longest capital name. As the city became an economic hub, tradesman began to refer to the city as Baang Mákàwk because of the abundance of plum trees. This name eventually fused together into Bangkok. Today, locals still refer to Bangkok by its shortened ceremonial name, Krung Thep, or "City of Angels."
Equally as impressive as Bangkok's original name is the city's exciting cultural landscape. Bangkok used to be a small trading post, but today there's nothing small about Thailand's capital, which is home to more than eight million residents. A million additional visitors travel to Bangkok every year, making the city one of the top travel destinations in the world. From its former royal residence, the ornate Grand Palace, to the city's many gilded wats, or temples, it's no wonder travelers flock to this wondrous city.
Chatuchak Market
Produced by Jordan Lee
Watch locals go about their daily routines and feel the rhythm of life at the Chatuchak Market in Bangkok, Thailand.
Explore Bangkok with O.A.T. on:
Chiang Mai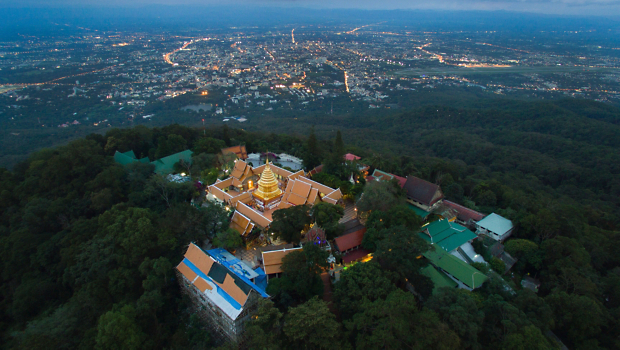 In the 13th century, Chiang Mai was named the capital of the Lanna Kingdom in northern Thailand, which was also referred to as the "Kingdom of a Million Rice Fields." At this time, the city served as a religious center for the kingdom, even holding meetings for the Buddhist council. Later in the 16th century, the city was captured by the Burmese, who ruled over Chiang Mai for 200 years before being recaptured by the Thais. It wasn't until 1933 that Chiang Mai was absorbed by Siam—linking the far north and central Siam.
Despite its history, Chiang Mai still has a newness to it—the dazzling Wat Phra Doi Suthep temple is in pristine condition even though it has been standing since the 14th century. Although the temple sits atop a hill—a 300-stair climb—this is still Chiang Mai's most famous site. Today, Chiang Mai offers a nice, quiet contrast to Bangkok's energetic urbanity. The northern Thai city has a quaint urban setting that allows for more intimate discoveries. It's also home to the Hmong hill tribe—the second largest hill tribe in Thailand. This group is known for their colorful embroideries, which the women wear daily.
Explore Chiang Mai with O.A.T. on:
Sukhothai
Sukhothai, developed in 1238, was Siam's first kingdom. This ancient city was a center for thinkers and innovators for over 100 years during what was considered to be Thailand's Golden Age. This exciting moment in Thailand's history fostered the leadership of Sukhothai's King Ramkhamhaeng who developed the Thai alphabet and is revered as the founder of unified Thailand.
Today, Sukhothai, a UNESCO World Heritage Site, provides a glimpse into the city's history with its highly preserved temples, monasteries, and sculptures. One notable feature that is hard to miss while exploring the ancient ruins is the prominence of Buddha. While you may spot numerous Buddha statues that still dot the landscape today, centuries ago King Rama I, the ruler of Siam in the 18th and 19th centuries, ordered more than 2000 Buddha statues be removed from the site for preservation purposes.
Explore Sukhothai with O.A.T. on:
Ban Na Sraloi Village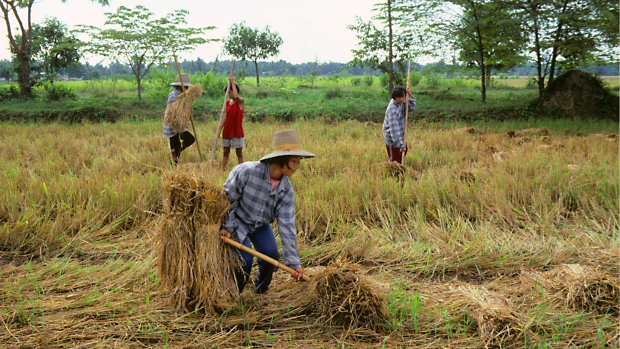 The Ban Na Sraloi Village is a farming community located in rural Thailand, worlds away from the bustling urban hubs of Bangkok, Phuket, and Chiang Mai. With more than half of the country's farm land dedicated to rice cultivation, it's no surprise that the village is home to rice mills, in addition to crop fields for the growth of staples like corn and bananas.
Although the rural village is far from Thailand's major cities, education remains a pillar of the community's success. To prevent its people from falling behind the educational curve—Thailand's literacy rate is at 93%—the younger residents attend an onsite school. Ban Na Sraloi is also keeping up with the times by ensuring the women villagers hold leadership positions within the community. Overall, this remote village offers a unique glimpse into Thailand's culture, traditions, and its people's way of life.
Explore Ban Na Sraloi Village with O.A.T. on:
River Kwai Bridge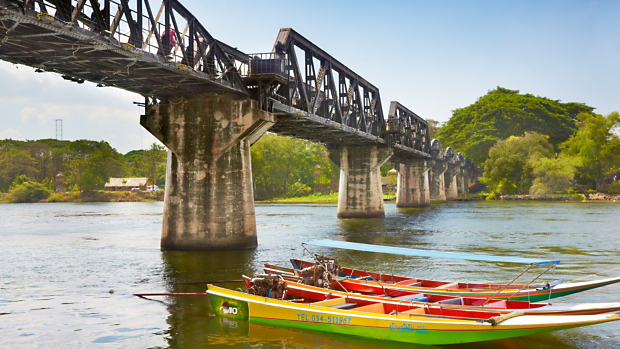 This Thai landmark was immortalized in the fictional 1957 war drama, The Bridge on the River Kwai,, but the real story of the railroad, known as the "Death Railway," built over this famous river is less dramatic and more tragic. Thousands of POWs from nations like the United States, Great Britain, and Australia—in addition to 90,000 Asian labor workers—were captured by Japanese forces in Thailand during World War II and forced to work under life-threatening conditions. These laborers were forced to build a railroad linking Thailand and Burma. Tens of thousands of prisoners died from disease and construction accidents during this period. In 1943, the railroad was completed. Today, visitors can see the section of the railroad that spans the Kwai River on foot or by train.
Discover the River Kwai Bridge with O.A.T. on:
Golden Triangle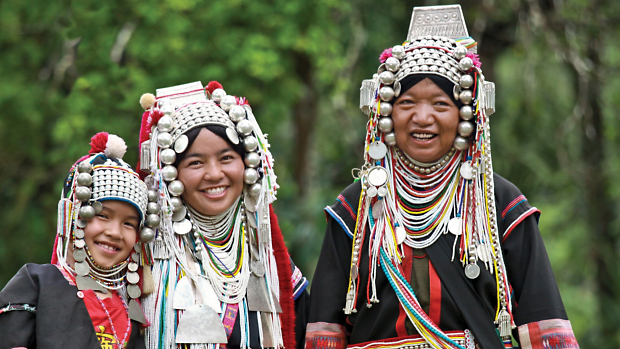 The Golden Triangle is where three countries—Myanmar, Laos, and Thailand—and two rivers—the Mekong and Ruak Rivers—converge. Here, you'll find a wealth of history and culture waiting to be discovered. Two hill tribes live in nearby Chiang Rai—the Karen and the Akha. From a young age, the Karen women's necks are fitted with rings, which are continually expanded upon—giving the women the appearance of elongated necks. This tribe, mainly Burmese immigrants, have carried out this tradition for nearly 2000 years. The other tribe of Chiang Rai is the Akha who settled in Thailand in the early 20th century. Unique from most hill tribes and the majority of Thailand is the village's practice of Christianity. Another major distinction that not only sets the Akha apart from other Thai hill tribes, but also Akha hill tribes in other countries, are the women's distinct headdresses which are embellished with metal work and colorful threads.
A more controversial side of the Golden Triangle is its role in the opium trade, which gained traction beginning in the 1950s. As the United States forces aimed to combat communism in Vietnam, they found allies in the country's warlords. As a way of preserving these friendly relations, American troops offered the warlords protection, leading to the boom of the opium business. Despite efforts to reduce opium trade through the Golden Triangle today, the region is still one of the leading producers of the drug. Trace the history of opium at the Golden Triangle's Hall of Opium Museum—from its colonial past to its modern production.
Explore the Golden Triangle with O.A.T. on:
Featured Reading
Immerse yourself in Thailand with this selection of articles, recipes, and more
ARTICLE
Discover why Thailand has tiny, embellished, house-like structures sprinkled throughout the country.
RECIPE
Bring the spices and herbs of Southeast Asia into your kitchen with this recipe for lemongrass chicken.
ARTICLE
Not sure what to do when visiting a Buddhist temple? Here are seven disrespectful acts you should avoid.
ARTICLE
Discover the significance of Buddhist acts and ideas—like karma—that determine your fate in this life and the next.
Thai Spirit Houses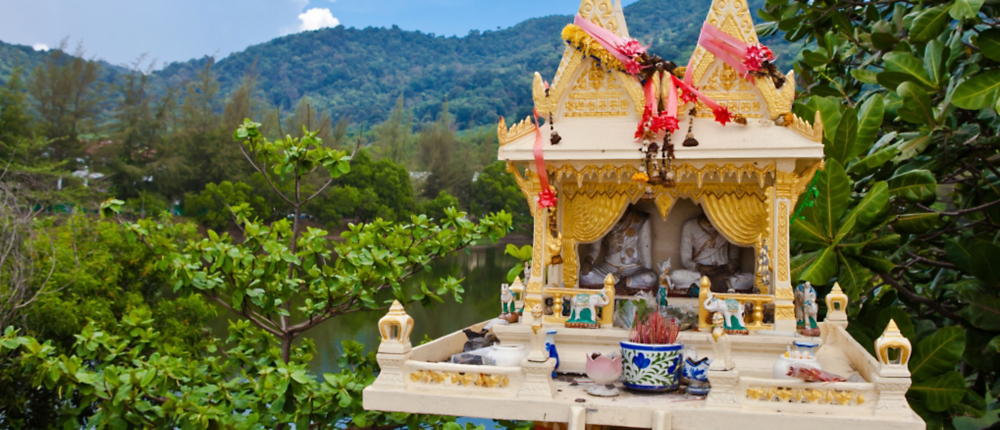 Keeping Animism alive in Thailand's front yards
by Andrea Calabretta, for O.A.T.
Though 95 percent of Thai people identify as Buddhists, many of their unique spiritual traditions spring from a long history of Animism.
Walk along any street in Thailand—be it an alleyway in Bangkok or a rural road in the countryside—and you're sure to see tiny, ornate structures like dollhouses or birdhouses perched atop pedestals. These miniature buildings are known as san phra phum, or "spirit houses."
Their purpose is exactly what the name suggests: dwelling places for the spirits of the dead, as well as the celestial beings that inhabit the land, air, and trees. Though 95 percent of Thai people identify as Buddhists, many of their unique spiritual traditions spring from a long history of Animism.
Over time, animist rituals have become intertwined with Buddhist and even Hindu practices to create a religion quite distinct from, for instance, Theravada Buddhism as it is practiced in Sri Lanka. As a result, most Thai office buildings, homes, bars, restaurants, and other businesses have corresponding spirit houses. In a city like Bangkok, with more than six million people, this can get a little crowded. You'll even find spirit houses right beside Buddhist temples—the idea being that if the spirits have a place of their own to dwell, they won't need to come into the temple to make mischief.
When a new building is constructed, a spiritual advisor must be called in to consult on the exact position of a house for the spirits displaced by the building. The shadow of the main structure must never reach it, and its architectural design and degree of grandeur should be on par with those of the main building. Another expert does the work of actually constructing the spirit house, often from teak wood, which is indigenous to Thailand. And once it is built, the owners host an elaborate housewarming party for it—presided over by monks who bless the spirit house and sometimes loop a string from it to the main house to symbolize their connection. If the owner neglects to hold a proper celebration, he or she may be the victim of unhappy spirits, who can cause misfortunes like marital disputes, financial ruin, fires, robberies, and even death.
Families keep the spirits appeased with regular offerings, which are placed on the tiny balcony that surrounds the house. These might include sticks of incense, flower garlands, bowls of rice, bananas, tea, bottles of Fanta, sweets—and even small figures to act as servants to the spirits and carved wooden elephants so they can travel. And it's of utmost importance that the food items be prepared especially for the spirits—never leftovers from the family meal.
Passersby may stop to wai (bow with the hands pressed together in prayer position) before the spirit house as a sign of reverence, particularly at places like schools or airports, where the spirits might influence a score on an exam or a safe journey. In fact, a traditional spirit house even stands at the ultramodern international airport in Bangkok—just so travelers can stop to pay their respects.
Keeping Animism alive in Thailand's front yards
Market-Fresh Flavors from Southeast Asia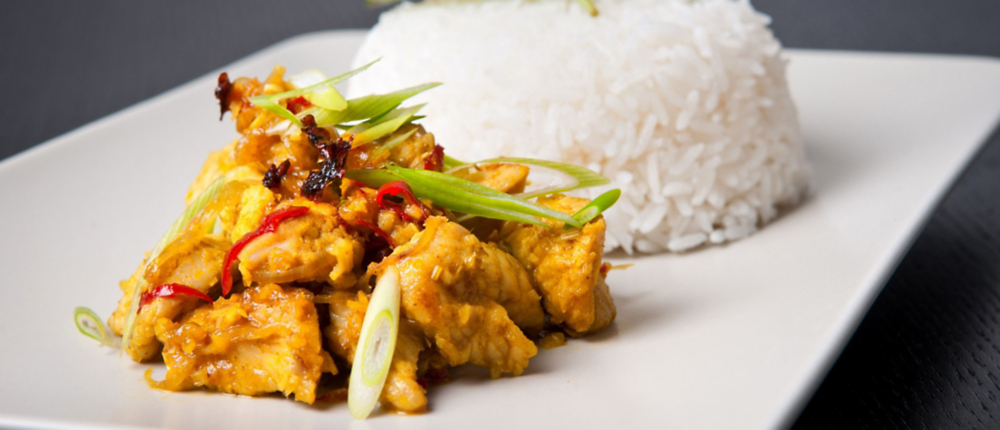 Lemongrass chicken
from Harriet's Corner
There's nothing like a good stroll through Southeast Asia's colorful markets. One of my favorite things to do is admire the fragrant spices, herbs, and exotic (at least to us!) fruits and vegetables, sampling as I wander. It always makes me think about re-creating the flavors of this region at home—and thankfully, many of these ingredients are becoming available more widely in grocery stores Stateside. Here is a recipe for delectable lemongrass chicken from top-rated Trip Experience Leader Panu Apasat.
Ingredients:
1 lb. skinless, boneless chicken breast, cubed
2 stalks lemongrass
2 small red chilies (or to taste), finely minced
1 tsp. sugar
3 Tbs. nuoc mam (fish sauce)
3 Tbs. vegetable oil
4 cloves garlic, minced
1/2 cup chicken broth
Salt and pepper
Optional: chopped cilantro leaves, sliced scallions, chopped peanuts

Preparation:
Remove the tough outer leaves from the lemongrass. Trim off the bulbous root end and the dark green portion of the stalk (this can be saved to flavor soups and stews). With a sharp knife, finely chop the yellow portion of the stalk.
Combine the cubed chicken with chopped lemongrass, chilies, and garlic. Season with salt and pepper and allow to marinate at least an hour.
Heat oil in a wok or heavy skillet. Add chicken and stir-fry until almost cooked through, about one minute on medium-high heat or until lightly browned.
Add nuoc mam and broth. Cover and simmer until liquid is reduced and chicken is cooked through, about 5 minutes.
Season to taste with nuoc mam or salt. Garnish with cilantro, scallions, or peanuts (or all three), and serve over steamed white rice or noodles.
Serves: 4
Lemongrass chicken
7 Things You Should Never Do in a Buddhist Temple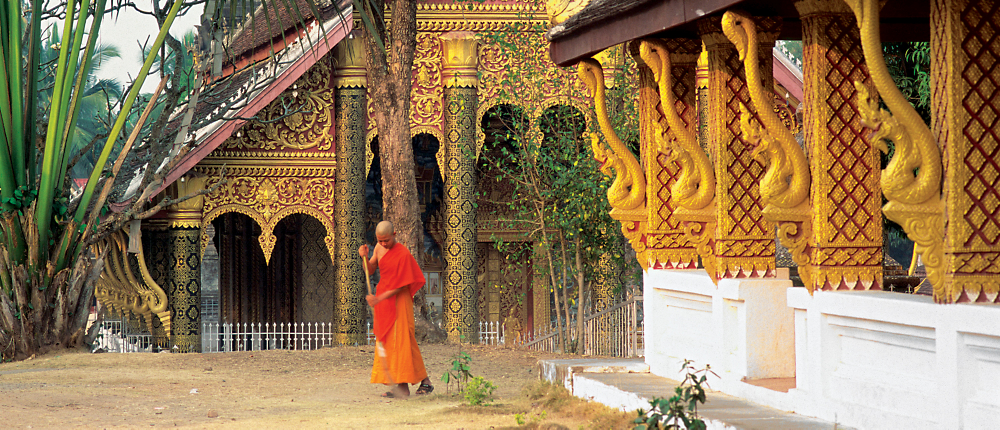 by Maryclaire Dugre
From Bangkok's glittering Grand Palace to the stone spires of Angkor Wat, Southeast Asia's temples are stunning in scale and complexity. But even more intricate than the bejeweled stupas is the unique code of conduct for temple-goers. Here's what not to do at a Buddhist place of worship:
1. Wear shoes or a hat
Always remove your shoes and hat before entering the main worship area—look where others have dropped theirs, and add yours to the pile.
Temple tip: Wear slip-on flats or no-fuss sandals for easy removal.
2. Show too much skin
Even in sweltering Southeast Asia, Buddhists dress conservatively, especially at religious sites. Avoid shorts, sleeveless tops, and dresses or skirts that fall above the knee. If you forget, many temples will lend you a cover-up, sometimes for a small fee.
Wardrobe win: For women, a scarf or shawl is a versatile travel essential. In a bind, it can be draped over your shoulders or tied as a long skirt.
3. Touch the Buddha
Buddha statues can be dazzling, alluring works of art, but be sure to appreciate them with your eyes, not your hands. Getting too close or leaning on the platform is also a sign of disrespect.
Buddha boundaries: Unsure of how close you can get? Take your cue from the monks or worshippers around you—never walk in front of them while they're praying.
4. Point
Pointing at people or things is considered rude in many Asian cultures. In a temple, it's an even graver offense when the subject is a monk, nun, elder, or the Buddha statue itself.
The proper point: To gesture at something, extend your right hand with the palm facing upwards. When sitting, tuck your feet under you or angle them away from the Buddha.
5. Touch or hand something to a monk (women)
Women should never touch, get too close, or pass something to a monk. At the slightest brush against their robes, a monk must perform a cleansing ritual (even if the woman is his mother).
Monk manners: If you'd like to make an offering to a monk, pass it first to a man or set it down before him.
6. Kill an insect
For a Buddhist, purposely destroying a living being—even a creepy crawler—promises bad karma. Try to wave away (rather than kill) any that buzz by you in a temple.
Brush away the bugs: When you see a monk sweeping the entrance stairs, chances are he's not tidying the temple—he's brushing away—and protecting—any insects that may be trampled by visitors.
7. Snap a photo without permission
Many temples do allow photography—but always confirm before using your camera. Never take a photo of the Buddha statue during worship, and as a general rule, turn your flash off.
A thoughtful thank you: After taking your photos, making a small donation is always appreciated (but not mandatory).
Making Merit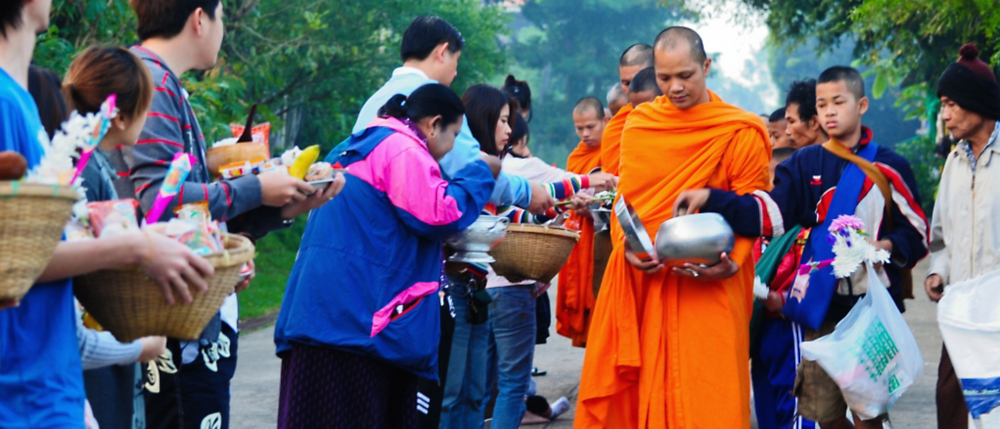 How the meaning of karma influences Buddhists in Southeast Asia
Lyette Mercier, for O.A.T.
If you do good you will receive good; if you do evil you will receive evil.
— Thai proverb
Making merit—doing good—is a vital part of Buddhist life in Southeast Asia, and the proverb above elegantly illustrates why. In Buddhist teaching, you accumulate merit throughout your life to bring future happiness, strength, and peace—and to carry it into your next life.
Making merit, giving alms
In Thailand, Laos, and Cambodia, where the majority of the population is Buddhist, the most common form of merit-making is giving alms to Buddhist monks, who take to the streets each morning in their bright saffron robes holding "begging bowls" into which people can place goods. The most common gift is food, but flowers, money, soap, and other goods useful to the monastery are also accepted. The amount of merit a giver receives is determined by many variables. First, the giver must have pure intentions, a clear mind, and not give anything that is not theirs to give. The quality of the gift also contributes to the merit received. Home-cooked foods are more merit-worthy than ones bought pre-prepared, and giving your leftovers to the monks is considered both rude and unworthy of merit. Finally, the more observant the monk being given alms (with the most observant perfectly obeying all 227 precepts of Buddhism), the more merit granted the giver.
In daily life, people can also gain merit through honoring others, offering help and service, involving others in good deeds, and being thankful for others' good deeds. This focus on aiding and appreciating the people around you shows in the friendliness and spirit of fellowship among the people of Southeast Asia. After all, when you can bring a bit of good into your current or future life simply by smiling at a stranger or acknowledging a kindness, why not make a habit of it?
Candles for good eyesight
Of course, Buddhists understand that they may not see the results of their merit in this life and generally do not expect immediate results from their good deeds. But certain types of gifts are sometimes thought to accumulate specific kinds of merit for a giver's next life. For example, giving textbooks to children is said to ensure that you will be intelligent in your next life, and offering candles or lights will give you bright eyes and good eyesight. Merit can also be "transferred" to the person of the giver's choosing (often a deceased loved one) to lessen that person's suffering in their next life.
Holidays and festivals provide opportunities for celebratory merit-making. The birthday of Thailand's king, for example, is celebrated annually with ceremonies in which citizens give alms to monks on behalf of the king, donating the accumulated merit to the monarch as a birthday gift. Another common form of birthday merit-making is to release fish. The tradition stems from saving creatures stranded in rice paddies by receding floods. In the coastal province of Samut Prakan, one million shrimp were released into the river for the king's birthday in 2011.
Karma
The practice of gaining merit stems from the Buddhist concept of karma, which means "doing." Everything a person does, says, and thinks is a karma, and the accumulation of good and bad karma influences both this life and the next. Two stories from the Buddha's life form the basis of the tradition. In the first tale, two merchants came upon the newly-enlightened Buddha and were so impressed by his virtue that they spontaneously gave him their provisions. The second story tells of the Buddha carrying a begging bowl as he traveled, with those who passed giving him food and goods so that he could continue to spread his teachings.
Almost 2,500 years later, the Buddha's lessons of kindness, giving, and gaining merit continue to have a profound influence on the actions and culture of people throughout Southeast Asia.
How the meaning of karma influences Buddhists in Southeast Asia