Forgot Your Username
If you have forgotten your username, please provide your email address in the box below. We'll send you an email with your requested username. If you are having trouble, please call us toll-free at 1-800-221-0814.
Email Sent
You'll receive an email in a few minutes. Please check this email to find your requested username.
If you do not receive an email or you are having trouble logging into My Account, please call us at 1-800-221-0814.
SWEDEN
With its ten million citizens, Sweden is the largest of the Nordic countries, and its roots are richly diverse. It is famed, of course, for the Viking era, and evidence of that legendary history abounds. There are burial mounds and enigmatic runes seemingly everywhere, while remnants of ancient ports and walled cities tell tales of glories past. But that is not the only memorable culture here: the indigenous Sami people of Sweden's rural north boast their own traditions established through centuries of reindeer herding and nomadic living. Contemporary Sweden is known for its embrace of the arts, its sleek design style, and its peaceable nature—the nation hasn't been at war since 1815.
Perhaps the greatest unifying factor for all Swedes is their embrace of their nation's bountiful natural resources. With year-round options, outdoor pursuits are a national obsession. When the land is emerald green, Swedes are out hiking, sailing, canoeing, and cycling, often into the wee hours of the Midnight Sun. When the vistas are white with snow, families strap on skis and skates to take advantage of the crystalline beauty. The bounty finds its way to the table, from locally sourced vegetables and dairy, to seafood from the coastline (and, naturally, reindeer meat). No wonder then that Sweden so often ranks among the happiest countries on earth.
Sweden Interactive Map
Click on map markers
below to view information about top Sweden experiences
Click here to zoom in and out of this map
Most Popular Films
Films featuring Sweden from international, independent filmmakers
Stockholm and Sweden
Witness the natural and man-made beauty of Sweden with travel expert Rudy Maxa.
Produced by Small World Productions
Intersection: Sodermalm, Stockholm
Hear Swedish locals from the Sodermalm district describe the country's streamlined fashion scene.
Produced by Shern Sharma
©2014 The New York Times
Travelogue: Scandinavia 1967
See the bustling cities of Stockholm and Copenhagen, where familiar icons stand out against a 1960s back-drop.
Produced by David Conover & Paul Villanova
Featured Reading
Immerse yourself in Sweden with this selection of articles, recipes, and more
Sweden: Month-by-Month
There are pros and cons to visiting a destination during any time of the year. Find out what you can expect during your ideal travel time, from weather and climate, to holidays, festivals, and more.
Sweden in January-March
Days are short and snow blankets much of Sweden during these winter months, and you'll have to dress for the cold if you plan to visit. February is the coldest month, when temperatures in Stockholm average in the mid-20s (°F). Few tourists visit Sweden during this time of year, but the locals take advantage of numerous cold-weather activities including dog-sledding, ice-skating, and cross-country skiing—although the near total darkness of northern Sweden means that the mountain slopes must be artificially lit.
Holidays & Events
January 23-28: The Kiruna Snow Festival takes place each year in Sweden's most northerly city, with icy attractions that include snow sculptures, reindeer races, and events celebrating Sami culture.
January 26-February 5: The Göteborg Film Festival brings films from all over the world to Göteborg and is the leading Scandinavian film festival.
Must See
The Northern Lights is one of the most eerie and fascinating things you can experience during the winter months in Sweden. They are best viewed in Abisko National Park, in the heart of Swedish Lapland.
Sweden in April-June
After a long dark winter, Sweden's biting cold begins to yield to the warming rays of spring, and in the countryside wildflowers burst into bloom. In Stockholm, April temperatures average in the 40s (°F) and climb into the 50s by June. These are excellent months for lovers of the outdoors, especially for those who enjoy taking hikes along Sweden's uncrowded forest trails.
Holidays & Events
April 30: Walpurgis Night (Witches' Night) is an ancient festival to welcome the spring weather and to drive away evil spirits.
Must See
The Midnight Sun is a natural phenomenon when the sun remains visible for 24 hours of the day and bathes the countryside in a warm, welcoming light. The best time to view the magic of the Midnight Sun in Swedish Lapland is the end of May until the summer solstice (about June 21). And the farther north you go the longer it lasts.
Sweden in July-September
With warm temperatures (but never uncomfortably so), these summer months are peak tourist season in Sweden. It's also the peak time for summer festivals, outdoor dining, and heading into the countryside for sailing and swimming in glassy lakes and mountain hiking without having to don any winter gear. In June, July, and August, temperatures in Stockholm can reach the mid-70s (°F), occasionally even higher.
Holidays & Events
June/July: Round Gotland Race is an annual two-day regatta featuring about 300 sailing boats in the Baltic Sea near Stockholm.
July/August: Medieval Week in Gotland is one of Sweden's biggest historic festivals, with medieval music, markets, crafts, tournaments, and more.
Sweden in October-December
Temperatures begin to dip in October and snow is possible in the north of the country. By November and December, Stockholm temperatures average in the low 30s (°F), and much colder in the northern regions. This is the time for winter sports, including snowmobiling, skiing, and ice skating. From late November until Christmas, many Swedish restaurants feature a julbord, the traditional Swedish Christmas buffet
Holidays & Events
December 10: Nobel Day caps a week-long celebration of cultural events with the awarding of the Nobel Prizes in Stockholm (all except for the Peace Prize, which is awarded in Oslo, Norway).
Average Monthly Temperatures
Compare Our Adventures
Click 'Select to Compare' to see a side-by-side comparison of up to adventures below—including
activity level, pricing, traveler excellence rating, trip highlights, and more
14 DAYS FROM $7,295 • $ 522 / DAY
Small Ship Adventure
Denmark: Copenhagen, Ronne • Poland: Gdansk • Sweden: Visby, Stockholm • Latvia: Riga • Estonia: Tallinn • Russia: St. Petersburg • Finland: Helsinki
34 meals—12 breakfasts, 10 lunches, and 12 dinners (plus all onboard house beer & wine, as well as soft drinks)
Enjoy a city tour of Stockholm including the famed Stadshuset (City Hall)
Discover Visby on a panoramic tour, with visits to Gotlands Museum and the Botanical Garden
Explore historic Stockholm with free time at your leisure on our trip extension
Elect to join an optional Vasa Museum & Skansen tour on our trip extension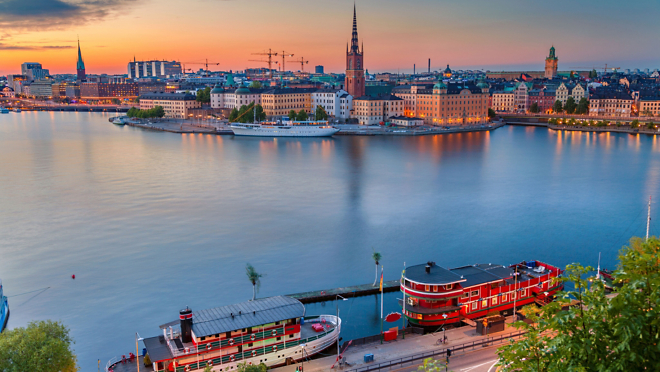 ;
3 NIGHTS FROM FROM $1,495
Enjoy a city tour of Stockholm including the famed Stadshuset (City Hall)
Visit Kungliga Slottet, Stockholm's Royal Palace
Elect to join an optional Vasa Museum & Skansen tour
Explore the city with free time for your own discoveries in historic Stockholm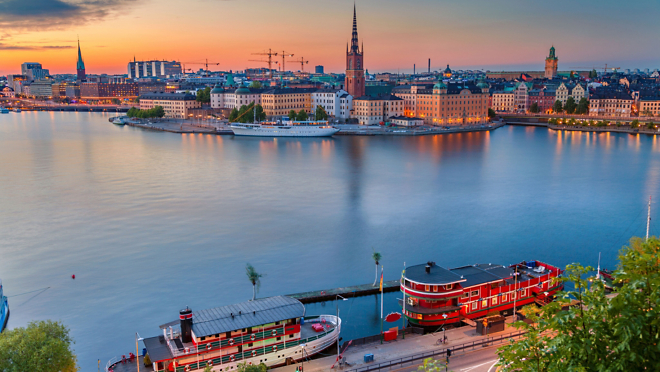 Not Applicable*
Not Applicable*
5 meals—daily breakfasts, 1 lunch, and 1 dinner
Enjoy a city tour of Stockholm including the famed Stadshuset (City Hall)
Visit Kungliga Slottet, Stockholm's Royal Palace
Elect to join an optional Vasa Museum & Skansen tour
Explore the city with free time for your own discoveries in historic Stockholm