The Leader in Personalized Small Group Adventures on the Road Less Traveled
You're receiving this message because your web browser
is no longer supported
We recommend upgrading your browser—simply click the button below and follow the instructions that will appear. Updating will allow you to accept Terms and Conditions, make online payments, read our itineraries, and view Dates and Prices.
To get the best experience on our website, please consider using:
Safari (for Mac or iPad Devices)
Update Browser

south africa
Set to the tune of trumpeting elephants, roaring lions, and the cawcaw of eager cormorants, South Africa brims with an untouched wildlife just waiting to be explored. This former colony at the southern tip of Africa boasts a staggering array of diverse ecosystems within its borders, from the charming coastline and verdant winelands to the desert sands of the Kalahara and the sweeping grasslands in between. Heed the call of the wild and venture out on safari: Some of the continent's best game-viewing parks—Kruger, Dinokeng, and Addo Elephant National Park—are all here. Keep your binoculars at the ready as you traverse South Africa's golden savannahs in search of the Big Five.
But South Africa's diversity extends beyond its varied landscapes and bountiful wildlife. The country's strategic position at the meeting of two oceans has tempted foreign powers since the 15th century, with Portuguese, British, and Dutch colonizers all leaving their mark; the effects of this tumultuous history have been seen and felt in the country's cultural and political landscape ever since. In 1961, Africa finally threw off the mantle of colonialism and became an independent republic, but the white supremacist policies of the National Party forced the young nation into an ugly period of apartheid.
Over the next three decades, South Africa would experience rising inequality, riots, and increasingly violent terrorist attacks, until—with the eyes of the world watching— Nelson Mandela was finally freed from an unjust 27-year prison sentence and the National Party was forced to hold the country's first democratic elections in 1994. Today, the "Rainbow Nation" is celebrated for its multicultural identity and unique hodgepodge of peoples and cultures. Come listen to the melodic counterpoint that rings so uniquely true in South Africa, where the comforting tones of a developed, westernized nation intermingle with the exotic harmonies of the open wilderness.
Your FREE Personalized South Africa Travel Planning Guide
Thank you for your interest—you may view your South Africa Travel Planning Guide below. We hope to see you on the road less traveled soon!
Your FREE Personalized South Africa Travel Planning Guide is on its way
Thank you for your interest. Your South Africa Travel Planning Guide will arrive in 7-14 business days. We hope to see you soon on the road less traveled.
Southern Africa Safari & Lake Kariba Cruise: South Africa, Zimbabwe & Botswana
View Online
Want to continue learning about South Africa? Return to our South Africa destination page.
Go Back To South Africa
Please note: To complete your registration, check your email—we sent you a link to create a password for your account. This link will expire in 24 hours.
Please Send Me a Complimentary South Africa O.A.T. Adventure Travel Planning Guide
Please Send Me a Complimentary South Africa O.A.T. Adventure Travel Planning Guide
Each of our complimentary O.A.T. Adventure Travel Planning Guides contains more than 80 pages detailing everything you need to know in order to make the most of your next adventure, including:
Detailed hour-by-hour itinerary with suggestions for free time
Incisive overviews of the culture, cuisine, language, history, religion, and more


How to personalize your experience with options to extend your stay, combine adventures, Stopover, and more
Practical tips on packing, currency, and weather
Suggested books and films, useful apps, and websites
Receive Your Complimentary Copy
Compare Our Adventures
Click 'Select to Compare' to see a side-by-side comparison of up to adventures below—including
activity level, pricing, traveler excellence rating, trip highlights, and more
Compare Adventures
Find the Adventure That's Right for You
Our Activity Level rating system ranks adventures on a scale of 1 to 5 to help you determine if a trip is right for you. See the descriptions below for more information about the physical requirements associated with each rating.
Travelers should be able to climb 25 stairs consecutively, plus walk at least 1-2 miles over some uneven surfaces without difficulty. Walks typically last at least 1-2 hours at a time. Altitude can range from zero to 5,000 feet.
Activity Level 2:
Moderately Easy
Travelers should be able to climb 40 stairs consecutively, plus walk at least 2-3 miles over some uneven surfaces without difficulty. Walks typically last for at least 2-3 hours at a time. Altitude can range from zero to 5,000 feet.
Activity Level 3:
Moderate
Travelers should be able to climb 60 stairs consecutively, plus walk at least 3 miles over some steep slopes and loose or uneven surfaces without difficulty. Walks typically last for 3 or more hours at a time. Altitude can range from 5,000 to 7,000 feet.
Activity Level 4:
Moderately Strenuous
Travelers should be able to climb 80 stairs consecutively, plus walk at least 4 miles over some steep slopes and loose or uneven surfaces without difficulty. Walks typically last for 4 or more hours at a time. Altitude can range from 7,000 to 9,000 feet.
Activity Level 5:
Strenuous
Travelers should be able to climb 100 or more stairs consecutively, plus walk at least 8 miles over some steep slopes and loose or uneven surfaces without difficulty. Walks typically last for 4 or more hours at a time. Altitude can range from 10,000 feet or more.
Hide Acivity Level
PRICE
including international airfare
HIGHLIGHTS & ACTIVITIES IN South Africa
*You must reserve the main trip to participate on this extension.
**This information is not currently available for this trip. Please check back soon.
Recommended Viewing
Watch this video showcasing what makes this country so unforgettable
Discover Southern Africa
Submitted by Mary & Walter Cooper, 8-time travelers from Garnet Valley, Pennsylvania
In this winning entry from our 2019 Women's Traveler Video Contest, follow travelers Mary & Walter C. around southern Africa as they get up close with wildlife, visit local villages, and get to know young students at a school.
South Africa: Month-By-Month
There are pros and cons to visiting a destination during any time of the year. Find out what you can expect during your ideal travel time, from weather and climate, to holidays, festivals, and more.
South Africa in November-March
Unlike countries further north in Africa, South Africa does experience distinct seasons. Starting in November, temperatures rise toward 85 degrees Fahrenheit. In the eastern half of the country, summer is rainy season. While Kruger and Johannesburg see thunderstorms and higher humidity this time of year, the storms are also interspersed with brilliant sunshine. Lush greenery, fueled by the rain, makes wildlife harder to spot—although birdlife is at its most abundant.
In the western half of South Africa, summer is hot and dry. The summer months are an ideal time to visit Cape Town and enjoy a road trip along the coastal Garden Route. Throughout the country, hotels and parks are busy and crowded; it is best to plan well in advance for a summertime trip through South Africa.
Holidays & Events
Mid January-mid February: The Maynardville Open Air Theater, a stunning park-like venue in Cape Town, presents a month of Shakespeare's works every summer.
Late February: Cape Town Pride Festival
February-March: Dance Umbrella is an annual festival in Johannesburg, showcasing new works by South African contemporary dance troupes.
March-April: The Cape Town International Jazz Festival
Must See
After slavery came to an end in South Africa, freed slaves formed dance groups called minstrels—which are still going strong today. Every January 2—the one day a year that slaves were given as a holiday—the minstrel groups march through the streets of Cape Town. The groups perform music and dance for thousands of spectators in an event called Kaapse Klopse or Tweede Nuwe Jaar (Second New Year). After the January 2 celebrations come to a close, the minstrel groups spend the next six Saturdays competing in categories like "Best Dressed Team," "Best Band," and more.
Watch this film to discover more about South Africa
ReelEarth: Cape Town's Beach Calligrapher
Directed by Neil Shaw
Meet a man who translated his calligraphy skills into a new art form, using sand as his medium and Cape Town's beach as his canvas.
South Africa in April-May
Fall is an excellent time to explore South Africa, as temperatures are still warm (around 65 degrees Fahrenheit during the day), summer crowds have dissipated, and the dry season has begun in the east—making for excellent wildlife viewing in Kruger National Park. Nights can be chilly in the fall, with temperatures as low as 45 degrees Fahrenheit in May. Vibrant autumn foliage is an added bonus, especially in the wine-growing regions around Cape Town.
Holidays & Events
Early April: The Klein Karoo National Arts Festival is South Africa's largest art festival and features over 1,000 artists performing or exhibiting over 200 works.
May: The Good Food & Wine Show takes place in Cape Town every May, with an outpost in Durban in July and Johannesburg in September.
Must See
As the dry season begins in eastern South Africa, the lack of foliage provides excellent viewing conditions for wildlife. Autumn is the best time of year for safari drives in Kruger National Park.
Watch this film to discover more about South Africa
ReelEarth: Cape Town's Beach Calligrapher
Directed by Neil Shaw
Meet a man who translated his calligraphy skills into a new art form, using sand as his medium and Cape Town's beach as his canvas.
South Africa in June-August
Along South Africa's Western Cape and Cape Town, winters are rainy and cool with high temperatures in the 60 degree Fahrenheit range and lows near 45 degrees Fahrenheit. High elevations see occasional snow, but in most areas, windy rainstorms are the worst winter weather. Elsewhere, winters are sunny and dry with similar temperatures. In game reserves, animals gather around the few watering holes that remain this far into the dry season, making them easy to spot.
In July, migrating whales pass along the coastal Garden Route.
Holidays & Events
June-July: The National Arts Festival
Early July: The Knysna Oyster Festival is a South African celebration of the good life, with wine and oyster tastings and lots of fitness challenges.
August: The Oppikoppi Bushveld Festival showcases South African alternative music.
Must See
With whales often coming close to shore along the cliffs of the Garden Route, South Africa is one of the world's best places for land-based whale-watching. The migratory season, from July to October, provides near-daily opportunities to spot southern right whales, humpbacks, and over a hundred other species of whale.
Watch this film to discover more about South Africa
ReelEarth: Cape Town's Beach Calligrapher
Directed by Neil Shaw
Meet a man who translated his calligraphy skills into a new art form, using sand as his medium and Cape Town's beach as his canvas.
South Africa in September-October
When springtime arrives, South Africa warms up with daytime temperatures reaching toward 75 degrees Fahrenheit. South Africa's normally-dry west coast blossoms in a kaleidoscope of color during the spring months. Flowers aren't the only new life springing into view this time of year—wildlife and livestock give birth across the country, making this an interesting (and adorable) time to visit a game reserve. It's also peak whale-watching season along the Garden Route. In eastern South Africa, spring marks the beginning of the rainy season.
Spring is a shoulder season in South Africa, meaning that popular attractions like the Winelands are less crowded.
Holidays & Events
End of September: The Hermanus Whale Festival celebrates the migration of Southern Right Whales past the Garden Route town.
September: Every spring, Johannesburg hosts the month-long Arts Alive festival in venues throughout the city.
October: The town of Pretoria celebrates the blossoms of spring with its Jacaranda Festival, while the jacaranda trees that line the city streets are in full purple bloom.
Must See
Every spring, the Western Cape of South Africa is carpeted in wildflowers for a heady, six-week period from late August to early October. Even within Cape Town, the flanks of Table Mountain are obscured under a parti-color blanket—but further afield, travelers can view thousands of flowers in the town of Clanwilliam or the West Coast National Park
Watch this film to discover more about South Africa
ReelEarth: Cape Town's Beach Calligrapher
Directed by Neil Shaw
Meet a man who translated his calligraphy skills into a new art form, using sand as his medium and Cape Town's beach as his canvas.
Average Monthly Temperatures
South Africa Interactive Map
Click on map markers
below to view information about top South Africa experiences
Click here to zoom in and out of this map
Kruger National Park
What started as the Sabie Game Reserve, originally founded in 1898 by Transvall President Paul Kruger in an effort to protect local wildlife, expanded in 1926 to become Kruger National Park as we know it today. South Africa's first national park, and one of Africa's largest game reserves, Kruger boasts over 500 avian species, some native only to South Africa. The Crocodile River draws many animals to its banks, from the "Big Five"—lion, elephant, leopard, Cape buffalo, and rhino—to zebra, giraffe, wildebeest, impala, kudu, and baboons. The park's towering acacia trees provide nourishment for giraffes and elephants, and its subtropical terrain even sustains a small population of endangered African Wild Dogs.
Safari South Africa
Produced by Tyler Fairbank
We've been working with independent international filmmakers to provide you with videos that portray the people, culture, and lifestyles of the countries you're interested in visiting. We believe this video offers a unique perspective on South Africa.
Explore Kruger National Park with O.A.T. on:
Cape Town & the Cape Peninsula
Originally a late-17th-century Dutch trading post, Cape Town is now South Africa's second largest city, and a hot spot for fine food, culture, scenic coastal beauty, and of course world-famous winelands. From the charming brick-paved streets, shops, and restaurants of Victoria & Alfred Waterfront, to the dramatic backdrop of Table Mountain—or the mesmerizing city views from its peak, and from aboard the cable car ride that takes you there—this area is filled with exciting locales, and stunning iconic natural landmarks.
Along the Cape Peninsula, the rocky coastline juts out into the Atlantic, providing dramatic views of Africa's southwestern tip. At the southern end of the peninsula, opposite Table Mountain, is the Cape of Good Hope, where the Atlantic and Indian oceans are said to meet. Along the eastern side of the peninsula known as False Bay, a series of inlets appropriately named Boulders Beach nurtures an impressively resilient colony of African Penguins, that from 1982 until today has grown from just two pairs of penguins to thousands.
My City: Cape Town
This film was first published on BBC.com Travel. Produced by the BBC
Discover a Malay district, mischievous baboons, and a puppet workshop in Cape Town.
Explore Cape town & the Cape Peninsula with O.A.T. on
The Garden Route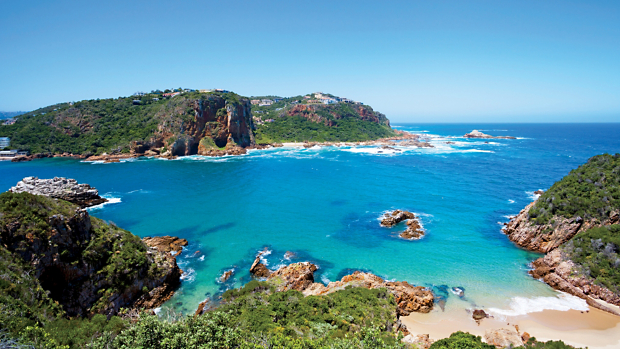 Spanning 300 kilometers of South African coastline, the Garden Route is a stretch of charming villages, sandy shorelines, rolling vineyards, and South African fynbos, a flowering shrub native only to the southern tip of Africa. Here, mountains tower over golden-sand beaches, and hiking trails lead from vast yellowwood pine and eucalyptus forests down to the picturesque shores of the Indian Ocean. The largest town along the Garden Route is Port Elizabeth, well-known for its relatively frequent whale sightings, and the remarkable Cape Recife Nature Reserve. Bird-watchers and nature-enthusiasts get swept away by the town's unspoiled beaches, walking trails, and rock pools that are so characteristic of the Garden Route.
Explore the Garden Route with O.A.T. on:
Johannesburg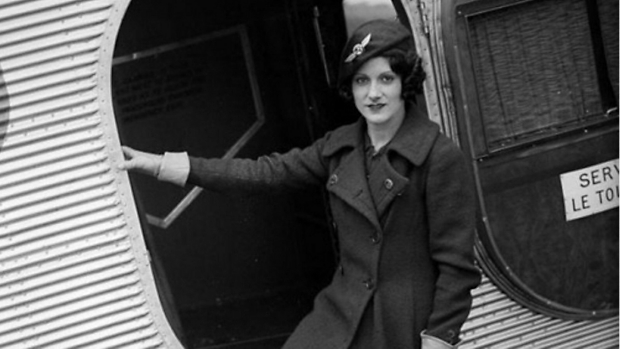 The largest city in South Africa, Johannesburg is a bustling metropolis where progress and history intermingle daily. As the seat of the Constitutional Court, Jo'burg (as it is known locally) is where South Africa's new post-apartheid constitution is interpreted and applied. Clusters of towering buildings, some of the tallest structures on the entire continent, draw the eye upward toward the city's crystal clear skies. The city is also home to historic sites like the Old Fort Prison and the Apartheid Museum, and architectural feats like the Nelson Mandela Bridge, which connects Jo'burg's two largest business districts.
Explore Johannesburg with O.A.T. on:
Townships
Townships are former shantytowns where non-white racial groups were forced to live starting in the late 19th century. Generally located on the outskirts of major cities, they reveal a great deal about South Africa's history and efforts to rebuild after the end of Apartheid. Venturing outside Cape Town to the townships of Langa, Guguletu, and Bonteheuwel, or outside Johannesburg to Soweto, travelers can learn about the culture and daily life in these towns, which now contain vital, energetic, and thriving urban communities.
Explore townships with O.A.T. on:
Private Game Reserve
South Africa's vast expanses of open savannah are home to nearly 150 mammals and Africa's "Big Five," including the elusive leopard. With the Drakensberg Escarpment looming dramatically in the distance and the Matsuki River running through it, this rugged landscape is a nature-lover's paradise. And, because you'll be on a private reserve, safari vehicles are permitted off-road here, and you may even enjoy a game-viewing walk through the wilderness.
Explore a Private Game Reserve with O.A.T on:
Featured Reading
Immerse yourself in South Africa with this selection of articles, recipes, and more
ARTICLE
Learn about the proud history of the art of traditional Zulu storytelling.
ARTICLE
Find out what makes a few of the parks you'll visit on this Small Group Adventure so very special.
Zulu Folk Tales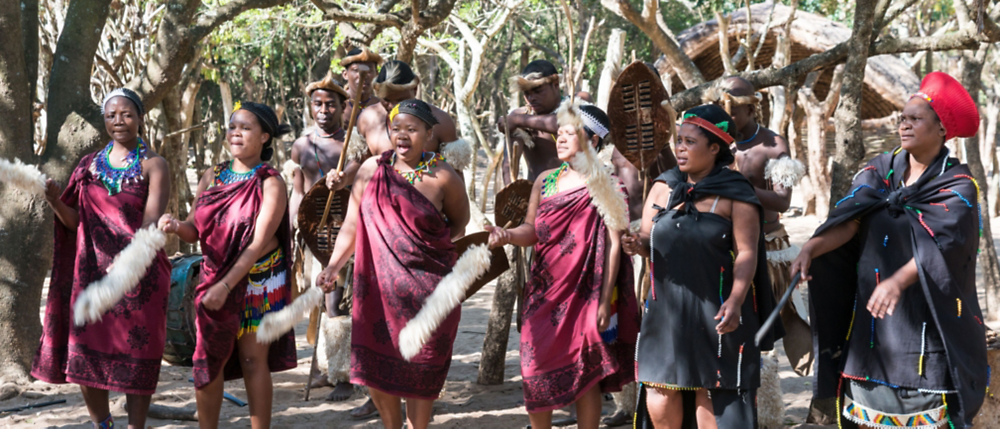 by Jerry O'Brien from Insider
Once upon a time ...
South African storytellers of old would say that the tales they shared with their listeners were not of their own creation. Instead, the stories came to them on the wind, they said, from a place somewhere behind a mountain, overtaking them as they rested by the side of the road during a long journey. More than mere modesty, this myth of the origin of storytelling itself ascribes to a force beyond humankind: the human impulse to tell stories, to share wisdom, to continue a legacy—ultimately, to prove that we are here. Stories arrive from elsewhere, as a gift—but a gift that arrives to one who is willing and prepared to receive.
This sense of connectedness, of rootedness, is at the heart of Zulu folk tales. And this quality ties to their anonymity. The concept of individual ownership of a story is alien among the Zulu, who believe that attribution belongs to a collective genius. For centuries, the Zulu storyteller—usually a grandmother or an older aunt—would meet her audience personally, gathering with all the members of the homestead. One of the great advantages of the oral tradition, in any society, is its flexibility. The teller adds her own sense of drama, of atmosphere, of style with each retelling, making every event unique.
It takes a village to raise a tall tale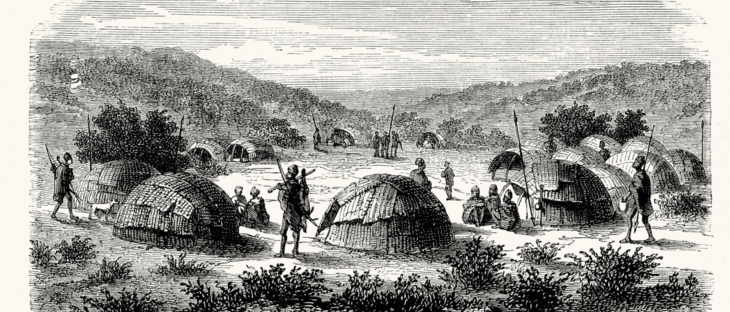 In some South African tribes, cultural anthropologists have found that the teller is assisted by as many as six tribe members, who might add sound effects (birdcalls, the sound of the rushing wind) or actually perform dialogue, making the telling quite similar to our radio dramas of old and to the contemporary radio program A Prairie Home Companion. The men, women, and children in the audience are permitted to participate, too, and even allowed to interrupt the story narrative with questions, giving the teller the opportunity to insert digressions. Some of these insertions to the main story would be very familiar to the audience and would prompt great feelings of anticipation and satisfaction. Remember when Johnny Carson, in his Tonight Show monologues, would say it was really cold? The studio audience and those of us watching at home were ready to shout, "How cold was it?" We'd expect a funny line to follow ("It was so cold that ..."), and it would. The narrative principle is exactly the same.
Zulus speak one of the southern Bantu languages, and common among this language group is the understanding that iintsomi—fictitious tales like those about mythological figures—cannot be told during the daytime. The day is the time for food-gathering and other essential work activities. To tell these stories during the day would jeopardize the welfare of the group. In fact, Zulus believed that anyone who violated this prohibition would grow horns.
An ambitious mission to preserve oral traditions
The gradual European conquest and eventual colonization of southern Africa had dramatic effects on all aspects of native life. The Zulu felt these changes with particular harshness in the wake of the British battle victories of 1879, which destroyed the Zulu state, led to the confiscation of their land, and in time shackled them with apartheid. With the loss of land, family members migrated to cities to find work, which in turn deprived storytellers of their audiences. Centuries of oral tradition were jeopardized with extinction.
It was in this setting that a new generation of storytellers emerged—academically trained writers who collected the old tales, scouring the former Zulu lands for storytellers and recording their stories before they disappeared. Notable among these is A.C. Jordan, who was born in Mbokothwana Mission in 1908. Jordan was inspired to rediscover his own South African storytelling heritage after lecturing on classical Greek mythology. His 1973 book, Tales from South Africa, is an invaluable collection.
Common themes of Zulu folktales
Zulu folk tales display nature as an active force, regenerative, vindictive, or ennobling, depending on the behavior of the protagonist. In many of the tales—as in the European folk tales of the Brothers Grimm and the Scandinavian fairy tales of Hans Christian Andersen—a youth of humble origin seeks the hand of a beautiful princess and must pass through a series of difficult tests before winning the approval of the king and the love of the princess. In other tales, devious servants put on the clothes of the royal family and temporarily become great, before ultimately being punished and sent back to their proper social status.
In "The House in the Middle of the Road"—retold by Verna Aardema in Behind the Back of the Mountain: Black Folktales from Southern Africa—a widow named Unanana leaves her two small children with a young girl named Nontando while she goes out to hunt for wild potatoes. Unanana shares with the girl a magic saying—"These are the children of Unanana. They are protected by her magic power."—that will protect them from attacking animals. In turn, a baboon, a leopard, and a lion come by and are sent back by the magic saying. As one part goes:
Unanana was no sooner out of sight than a baboon came along. He said, "Whose fat children are those?"
"They belong to Unanana," said Nontando. "They are protected by her magic power."
"They are beautiful," said the baboon. "If they were not Unanana's I would carry them off."
An elephant with one tusk arrives and, immune to the magic saying, gobbles up the children as Nontando climbs up a tree for safety. When Unanana returns with her potatoes, she hears what has happened, so she sets out with a knife and a bowl of amasi (similar to cottage cheese) to recover her children. As she hunts the one-tusked elephant, the baboon, leopard, and lion help her. She finally finds the elephant, who gobbles her up whole:
When Unanana reached the stomach of the beast, she found trees, plants, people, dogs, and goats that had been swallowed. And sitting under a bush, all huddled together, were her own children. She fed them the amasi, for they were very hungry.
Then Unanana took her knife and cut a great slit between the rib bones of the elephant. The beast fell dead, and people and dogs and goats rushed out of the opening.
In honor of her bravery, the people whom Unanana saved "kept bringing gifts to the house in the middle of the road. So Unanana and her children became very rich."
We can only imagine the different voices the storyteller would use for the characters, her sense of drama, her playfulness, her rich descriptions and expressive body language. How wonderful it must have been for Zulu children to experience collective storytelling—how tragic that their living heritage was torn from them. Fortunately, thanks to the lifelong work of A.C. Jordan and many others, we have a link with an ever-receding past.
Once upon a time ...
Highlights of South Africa's National Parks
by Bob Hammerling
South Africa is home to some of the world's most exciting wilderness and wildlife, and the nation is extremely dedicated to keeping it safe, with more than 20 national parks covering approximately 4% of the country's landmass. We've chosen a handful of essential national parks and game reserves for you to experience: Read on to learn more about what makes some of them so unique.
South Africa's first and finest
First set aside as protected land in 1898, Kruger is South Africa's oldest national park, and still its most notable.
Covering an area of more than 7,500 square miles, Kruger National Park is the size of a small country, and provides an unparalleled introduction to South Africa's wildlife. Within its borders, you'll find six unique ecosystems, which are home to a staggering amount of life, including 336 species of tree, 147 mammals (more than any other park in Africa), and 507 species of bird.
A birdwatcher's paradise
Kruger National Park is home to more than half of the recorded species in all of South Africa, including the "Big Six" (an appellation invented for famous birds found in Kruger National Park alone): the kori bustard, martial eagle, lappet-faced vulture, pel's fishing owl, saddle-billed stork, and southern ground hornbill.
There's no such thing as a bad time of year for birdwatching in Kruger, but, the ideal time for a birder to visit is between November and April, when approximately 200 species of migratory birds from Europe, Asia, and North Africa make the game reserve their winter home.
Located in the heart of Zulu territory, these wildlife-rich lands were originally protected by King Shaka as the royal hunting grounds for himself and his warriors. Today, the land is set aside for an opposite purpose: The conservation of some of Africa's most precious species.
The last refuge of the Wild Dog
The African Wild Dog was hunted nearly to extinction by farmers who considered them a nuisance—only a little more than 400 of them survive today in South Africa. Spotting a pack of Wild Dogs is one the rarest safari experiences you can enjoy—and Hluhluhwe-Umfolozi is one of the best places to find them, owing to the efforts of dedicated park researchers who observe and do their best to propagate the species. Keep your eye out for packs of these highly social predators as you travel, and don't miss the chance to observe their surprisingly intelligent behavior.
Saving the white rhino from extinction
If you spot a white rhinoceros during your travels in South Africa, be sure to take a moment and thank the conservations of Hluhluwe-Umfolozi Game Reserve.
In the late 19th century, only 20 white rhinos remained in the world—all of them located in the boundaries of what would soon be protected as Hluhluwe-Umfolozi. After a few decades of dedicated conservation efforts, the species had replenished and it was time to commence "Operation Rhino:" an ambitious effort to translocate the mighty animal—with the use of helicopters, strong trucks and even stronger tranquilizers—to other parks throughout South Africa and neighboring countries. To date, more than 20,000 white rhinos live in the world today.
The Big Five in a small package
Entabeni is a private game reserve, covering a comparatively small 85 square mile area. On our Big Five Bush Safari pre-trip extension, you'll embark on six separate game viewing drives over a period of three days, showing off the park's five distinct ecosystems at different times of day to give you the complete safari experience.
This gives you plenty of chances to spot the Big Five—cape buffalo, elephant, lion, rhino, and leopard—as well as hundreds of other species.
Fall asleep to the sounds of the bush
You'll be staying in a comfortable thatched-roof tented chalet located directly on the grounds of the game reserve, allowing you to make rare finds on early-morning expeditions—perhaps you'll glimpse nocturnal predators at work—and to stare up into the unpolluted starry sky at night. You might even have the chance to spot animals from the comfort of your lodge.