Forgot Your Username
If you have forgotten your username, please provide your email address in the box below. We'll send you an email with your requested username. If you are having trouble, please call us toll-free at 1-800-221-0814.
Email Sent
You'll receive an email in a few minutes. Please check this email to find your requested username.
If you do not receive an email or you are having trouble logging into My Account, please call us at 1-800-221-0814.
SLOVENIA
Slovenia Interactive Map
Click on map markers
below to view information about top Slovenia experiences
Click here to zoom in and out of this map
Ljubljana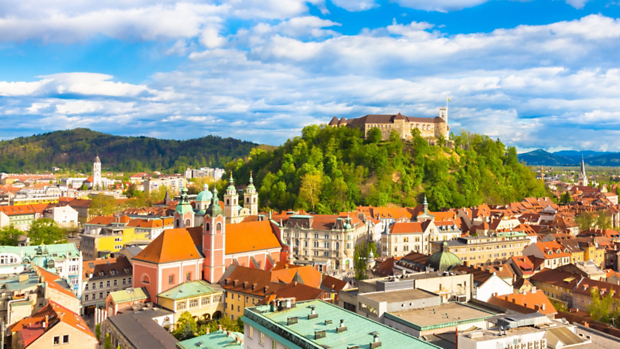 Rebuilt by local architect Joze Plecnik after nearing complete destruction in an 1895 earthquake, Ljubljana—Slovenia's capital, and Europe's greenest city—combines original medieval, Baroque designs with more innovative elements from its early 20th-century reconstruction. The emerald-green Ljubljanica River bisects the city center, dividing the modern-day commercial section to the west from the baroque section, with its ancient castle ruins, to the east. Traffic is restricted here, which adds to the city's slowed down, relaxed atmosphere. Quaint bridges connect the two sides of the city center, and cafes line the narrow streets of the Old Town.
Visit Ljubljana with O.A.T. on:
Lake Bled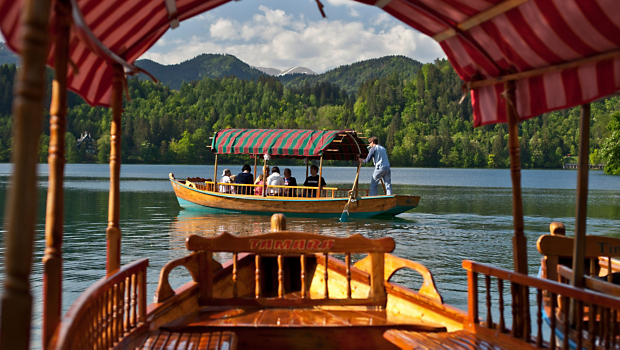 Surrounding Bled island, and flanked by towering mountains and lush forest, lies perhaps the most iconic vista in all of Slovenia: Lake Bled. A piercing blue oasis in a sea of green, Lake Bled captivates visitors with the fairy-tale imagery it evokes. With medieval Bled Castle perched on a precipice above its north shore, and bells ringing from the 17th-century church on the island in its center, spending time around Lake Bled is a breathtaking experience. Pletnas, traditional wooden boats, ferry people back and forth from Bled island, and local legend has it that the mystical church bells reverberating from its center have the power to make wishes come true.
Witness the beauty of Lake Bled with O.A.T. on:
Postojna Cave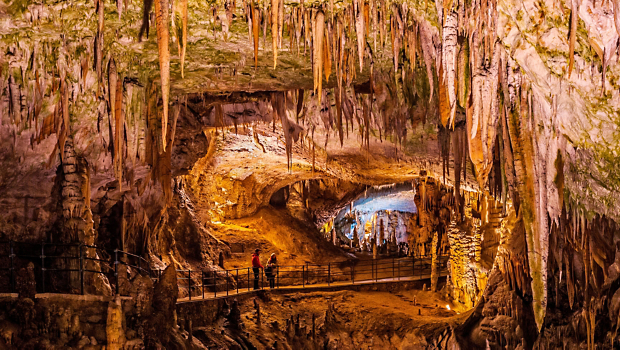 Two million years old and twelve miles long, Postojna Cave is a limestone labyrinth that was hollowed out by the Pivka River. For 140 years, a railway has been running through the cave, allowing visitors to explore its mysterious underground tunnels, which happen to connect to Predjama Castle, the world's largest cave castle. Stalactites—sharp, icicle-like mineral deposits left behind by water dripping through the cave from above—reach down from the ceilings toward stalagmites, or mineral mounds, that line the ground. And, if you're lucky, you might spot sightless, amphibious, snake-like Olms, which only reside in Postojna Cave.
Venture into Postojna Cave with O.A.T. on:
Recommended Viewing
Watch this video showcasing what makes this country so unforgettable
ReelEarth: Marija's Workshop
Produced by Andro Kajzer
Join Marija at her small shop in Ljubljana, where she works tirelessly to keep her late father's legacy alive by using his traditional techniques and tools for repairing umbrellas.
08:13 | 2023 views
Slovenia: Month-by-Month
There are pros and cons to visiting a destination during any time of the year. Find out what you can expect during your ideal travel time, from weather and climate, to holidays, festivals, and more.
Slovenia in January-February
Heavy snowfalls, chilly winds, and sleeting rains mark January and February in Slovenia. These are the coldest months of the year, and as such many sites and tourists attractions can be closed.
But Slovenians aren't deterred by the frosty temperatures: Winter sports are a popular way to survive—and even thrive—during January and February. Slovenia has a small but growing ski industry, and the ski season is in full swing these months.
Holidays & Events
February 8: Prešeren Day, or the Slovenian Cultural Holiday, is celebrated in remembrance of the Slovenian poet France Prešeren, the country's best-known writer and artist and author of the Slovenian national anthem.
Watch this film to discover more about Slovenia
Maja: A 365 Docobites Film
Produced by Epiphany Morgan
Discover the treasured local tradition associated with Slovenia's Mount Triglav.
Slovenia in March-April
As March's last frosts give way to mild April, Slovenia comes to life: Outdoor markets return to village squares, tourist attractions open after winter's hibernation, and temperatures creep towards a more pleasant 57 degrees Fahrenheit. Yet even with the rising temperatures and sunnier days, rain and cold snaps can still occur throughout the early spring, so it's best to pack a warm rain jacket—but travelers who persevere will be rewarded with few fellow tourists to compete with and the beauty of the Slovenian countryside beginning to bloom.
Holidays & Events
Late April: Each year, St George's Fair brings a taste of the medieval to Ptuj, a pretty town in northeastern Slovenia known for its red roofs and charming cobbled lanes. The town square plays host to a medieval market, where vendors sell handcrafts and traditional Slovenian foods in stalls.
April 27: National Resistance Day commemorates the efforts of the Slovenian Liberation Front, a Nazi resistance group formed during World War II. This national holiday celebrates the Slovenian values of freedom, courage, and ingenuity.
Watch this film to discover more about Slovenia
Martin: A 365 Docobites Film
Produced by Epiphany Morgan
Dive into the culture of Ljubljana, Slovenia's capital city, from a local perspective.
Slovenia in May-June
May and June usher in warmer weather, with temperatures that reach up to 75 degrees Fahrenheit. This is an ideal time to explore Slovenia's outdoors: Flowers are in bloom across the country, and myriad hiking trails meander along trickling streams and splendid waterfalls from the snowmelt.
While the crowds of summer have yet to arrive, a number of popular music festivals throughout the country bring the locals out in droves.
Holidays & Events
Early June: The Medieval Days at Bled Castle offers casual explorers and history buffs alike the chance to step into Slovenia's medieval past. The Bled Castle—a 1,000-year-old fortress perched on a sheer cliff face—puts on a series of events each June to celebrate the nation's history, including archery and sword fighting lessons, a fire-breathing show, and a knight's tournament.
Late June: The Ljubljana Jazz Festival is an annual five-day ode to jazz music featuring workshops, discussions, and musical performances from emerging artists and jazz greats.
Watch this film to discover more about Slovenia
Trip Extension: Bled, Slovenia
Get to know the many treasures of Bled, Slovenia: stunning scenery, folk music, gingerbread, and distinctive history.
Slovenia in July-August
Summers here are pleasant and warm, without being too hot: Daytime temperatures rarely soar higher than 80 degrees Fahrenheit, making this an exceptionally great time of year for exploring the country's charming cities and pristine national parks. Other travelers think so, too: July and August are Slovenia's peak season, and Lake Bled can get quite busy.
August is considered the best time to climb Mount Triglav, Slovenia's beloved 9,000-foot peak. Alpine regions throughout the country remain cooler than the cities, so if you plan on visiting higher elevations it's wise to pack a warm jacket.
Holidays & Events
Early-mid July: The Bled International Music Festival is a two-week extravaganza celebrating all genres of music, but focusing primarily on classical. This is considered one of the cultural highlights of the year in Bled.
Mid-July: The Festival of Beer and Flowers brings more than 120,000 visitors to the small town of Laško each year for a celebration of traditional Slovenian customs. Over four days, the festival hosts colorful street parades, evening fireworks shows, traditional food stalls, and musical performances ranging from Slovenian folk to modern pop.
July-August: For two months each year, Ljubljana comes alive during the Summer Festival. More than 80 musical performances grace venues across the city, drawing crowds of locals and visitors alike to Slovenia's capital.
Must See
If you are in Slovenia during July, you won't want to miss Bled Days, an annual festival held in the charming town of Bled. Traditional Slovenian crafts and dress are on display during the festival, which culminates in Bled Night, when thousands of candle-filled egg shells are launched across Lake Bled.
Slovenia in September-October
While temperatures remain warm in September, the summer's warmth is gone by October when the weather cools and the rains of autumn begin. The changing weather means fewer tourists visit during these months, allowing for a less crowded Slovenian experience.
During the fall the leaves change colors, igniting locations like Lake Bled, Vintgar Gorge, and Lake Bohinj with vibrant reds, oranges, and yellows. The colorful fall foliage creates a scenic backdrop for those hiking or boating.
Holidays & Events
October: The Old Wine Festival in Maribor signifies the harvest of the world's oldest grape vine and culminates with the beginning of wine season in November. The celebration features cultural and culinary traditions like grape harvesting, wine and food tastings, and hiking and bike tours.
October 31: To recognize the anniversary of the Protestant Reformation and the translation of the Bible into the Slovenian language, Slovenians celebrate Reformation Day with pageants, plays, and religious services.
Must See
Hosted on the reflective Lake Bohinj in a village that seems stuck in time, the Cow Ball coincides with the return of the cow herds from their mountain pastures. The best cow wins a bouquet while the people enjoy folk music, traditional dances, and local food and drink.
Slovenia in November-December
Moving into November, fog and damp weather rolls in over Slovenia. And while it's the wettest month, especially in the capital city of Ljubljana, and the weather cools, it's not cold enough yet for snow to fall. The gloomy, rainy weather, however, means crowds remain thin throughout the month.
December brings drier weather with freezing temperatures that anticipate winter's first snow. During the holiday season, the country lights up with the spirit of Christmas as Christmas markets large and small pop up in cities and towns.
Holidays & Events
November 11: Slovenia launches wine season on St. Martin's Day with festivals featuring autumn dancing, wine tastings, and typical dishes such as shredded flat bread called mlinci and sweet breads like potica and pogača.
Must See
Despite the dreary November weather, this is the best time for wine lovers to visit as St. Martin's Day kicks off Slovenia's wine season and a series of wine festivals like those in Ljubljana, Kranj, and Maribor. Those who prefer the magic and joy of the holidays should explore the famous open-air Christmas Market in Ljubljana's old town, one of the top ranked Christmas markets in Europe, for mulled wine, crafts, and sweets. Or consider the winter wonderland of Bled's Festive Winter Village promenade with cultural entertainment, treats, and music.
Average Monthly Temperatures
Compare Our Adventures
Click 'Select to Compare' to see a side-by-side comparison of up to adventures below—including
activity level, pricing, traveler excellence rating, trip highlights, and more
Compare Adventures
Find the Adventure That's Right for You
Our Activity Level rating system ranks adventures on a scale of 1 to 5 to help you determine if a trip is right for you. See the descriptions below for more information about the physical requirements associated with each rating.
Activity Level 1:
1 2 3 4 5
Easy
Travelers should be able to climb 25 stairs consecutively, plus walk at least 1-2 miles over some uneven surfaces without difficulty. Walks typically last at least 1-2 hours at a time. Altitude can range from zero to 5,000 feet.
Activity Level 2:
1 2 3 4 5
Moderately Easy
Travelers should be able to climb 40 stairs consecutively, plus walk at least 2-3 miles over some uneven surfaces without difficulty. Walks typically last for at least 2-3 hours at a time. Altitude can range from zero to 5,000 feet.
Activity Level 3:
1 2 3 4 5
Moderate
Travelers should be able to climb 60 stairs consecutively, plus walk at least 3 miles over some steep slopes and loose or uneven surfaces without difficulty. Walks typically last for 3 or more hours at a time. Altitude can range from 5,000 to 7,000 feet.
Activity Level 4:
1 2 3 4 5
Moderately Strenuous
Travelers should be able to climb 80 stairs consecutively, plus walk at least 4 miles over some steep slopes and loose or uneven surfaces without difficulty. Walks typically last for 4 or more hours at a time. Altitude can range from 7,000 to 9,000 feet.
Activity Level 5:
1 2 3 4 5
Strenuous
Travelers should be able to climb 100 or more stairs consecutively, plus walk at least 8 miles over some steep slopes and loose or uneven surfaces without difficulty. Walks typically last for 4 or more hours at a time. Altitude can range from 10,000 feet or more.
Hide Acivity Level
PRICE
including international airfare
HIGHLIGHTS & ACTIVITIES IN SLOVENIA
*This information is not available for our trip extensions. You must reserve the main trip to participate on this extension.
**This information is not currently available for this trip. Please check back soon.