The Leader in Personalized Small Group Adventures on the Road Less Traveled
You're receiving this message because your web browser
is no longer supported
We recommend upgrading your browser—simply click the button below and follow the instructions that will appear. Updating will allow you to accept Terms and Conditions, make online payments, read our itineraries, and view Dates and Prices.
To get the best experience on our website, please consider using:
Safari (for Mac or iPad Devices)
Update Browser

slovakia
Get the Details On Our Slovakia Adventure
Find out more about the adventure, including activity level, pricing, traveler excellence rating, included meals, and more
View 2021 Itinerary Video
See a detailed overview of this itinerary, including pre- and post-trip extensions and adventure highlights.
Spend 2 days in Slovakia on
O.A.T. Adventure by Land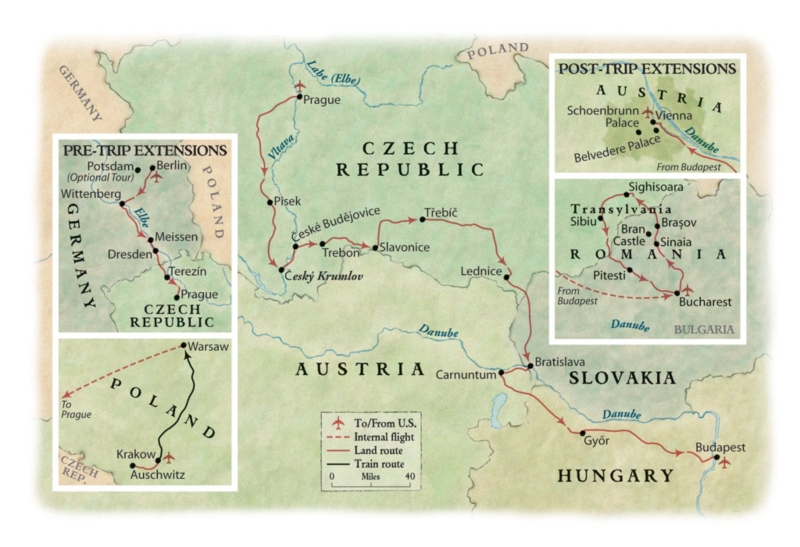 Czech Republic: Prague, Cesky Krumlov, Slavonice • Slovakia: Bratislava • Hungary: Budapest
30 meals—13 breakfasts, 9 lunches, and 8 dinners (including 1 Home-Hosted Dinner)
Visit St. Martin's Cathedral, the most significant Gothic building in Slovakia
Explore Old Town Bratislava on an included tour of its 14th- and 15th-century structures
Discover Bratislava at leisure, from Habsburg palaces to green public parks
Adventure Details
Find the Adventure That's Right for You
Our Activity Level rating system ranks adventures on a scale of 1 to 5 to help you determine if a trip is right for you. See the descriptions below for more information about the physical requirements associated with each rating.
Travelers should be able to climb 25 stairs consecutively, plus walk at least 1-2 miles over some uneven surfaces without difficulty. Walks typically last at least 1-2 hours at a time. Altitude can range from zero to 5,000 feet.
Activity Level 2:
Moderately Easy
Travelers should be able to climb 40 stairs consecutively, plus walk at least 2-3 miles over some uneven surfaces without difficulty. Walks typically last for at least 2-3 hours at a time. Altitude can range from zero to 5,000 feet.
Activity Level 3:
Moderate
Travelers should be able to climb 60 stairs consecutively, plus walk at least 3 miles over some steep slopes and loose or uneven surfaces without difficulty. Walks typically last for 3 or more hours at a time. Altitude can range from 5,000 to 7,000 feet.
Activity Level 4:
Moderately Strenuous
Travelers should be able to climb 80 stairs consecutively, plus walk at least 4 miles over some steep slopes and loose or uneven surfaces without difficulty. Walks typically last for 4 or more hours at a time. Altitude can range from 7,000 to 9,000 feet.
Activity Level 5:
Strenuous
Travelers should be able to climb 100 or more stairs consecutively, plus walk at least 8 miles over some steep slopes and loose or uneven surfaces without difficulty. Walks typically last for 4 or more hours at a time. Altitude can range from 10,000 feet or more.
Hide Acivity Level
PRICE
including international airfare
HIGHLIGHTS & ACTIVITIES IN Slovakia
*You must reserve the main trip to participate on this extension.
**This information is not currently available for this trip. Please check back soon.
Recommended Viewing
Watch this video showcasing what makes this country so unforgettable
Jewels of Bohemia: Three Capitals
Submitted by Penny Parker, 21-time traveler from St. Louis, Missouri
Witness the historic gems of Europe's Old-World capital cities with traveler Penny P.—from the mighty Bratislava Castle to the iconic Budapest Parliament Building lit up at night.
Slovakia: Month-By-Month
There are pros and cons to visiting a destination during any time of the year. Find out what you can expect during your ideal travel time, from weather and climate, to holidays, festivals, and more.
Slovakia in December-February
After the last of the autumn leaves fall across heavily-forested Slovakia, cold descends and snow moves in. Winter is chilly here—about 30 degrees Fahrenheit on average—and very quiet, as few tourists visit during the winter months. In Bratislava, the holidays bring teeming Christmas markets to each of the city's central squares, where red-and-white stalls sell all manner of traditional Slovak cuisine and locally-made crafts. Even after the holidays end, central Bratislava's old pastel buildings, narrow streets, and orange-tile roofs are particularly charming as snowflakes fall.
Outside of Bratislava and the High Tatras, most of Slovakia's tourist sites close during the winter months.
Holidays & Events
December 25: Christmas
December 31-January 1: New Year's Eve is a massive party in central Bratislava, and a popular 10k the following day rings in the new year.
January 6: The Feast of the Epiphany is an important holiday in Slovakia, and it marks the beginning of

fašiangy, or Slovakian Carnival, which lasts until the beginning of Lent.
Must See
The High Tatras span the Slovakia-Poland border, and winter is a particularly beautiful time to visit these alpine peaks. Winter sports like cross-country and downhill skiing are popular at several mountain resorts, and winter hiking is also an option. During the holidays, Bratislava turns up the charm with cozy Christmas markets that rival the more commercial festivities in Western Europe.
Slovakia in March-May
Warming days herald the arrival of spring in Slovakia, from a high of around 43 degrees Fahrenheit in March, to highs in the 60s in May. Flowers bloom across the country and fruit trees, which line Slovak roads, send out heady blossoms. Bratislava's botanical garden opens in early April every year, and cafes and restaurants in the pedestrian center set up their patios and sidewalk seating areas in anticipation of long summer days.
With mild temperatures and fewer tourists than the summer months, this can be an ideal time to visit Slovakia.
Holidays & Events
Easter celebrations in Slovakia bring old traditions to the forefront, including the practice of dousing young women with buckets of water to impart vitality and strength.
Last week of April: Fjuzn is Bratislava's Festival of Minorities, featuring workshops, concerts, performances, and exhibits highlighting the cultures of the many minorities in Slovak society.
May 1: International Worker's Day is similar to the American Labor Day. Some businesses close for the day.
May 8: Victory in Europe (VE) Day is a national holiday in Slovakia, marking the surrender of Nazi Germany to Allied forces.
Slovakia in June-August
Summers in Slovakia are short and hot, with an average temperature of 85 degrees Fahrenheit. Occasional heat waves bring the mercury up to 95 degrees Fahrenheit in the lowlands, while the High Tatra mountains are more comfortable in the mid-70s. Frequent showers pass through Slovakia in July, the rainiest month of the year. Of course, summer is the busiest month for tourism in Slovakia.
Holidays & Events
June: Bratislava's Junifest is Slovakia's answer to Oktoberfest—a celebration of beer that also features a variety of concerts.
July 5: Slovaks commemorate their patron saints with a national holiday on Saints Cyril and Metodius Day.
August 29: National Uprising Day recognizes the 1944 armed uprising against German occupation of Slovakia.
Must See
Summer is a popular time to visit Slovensky raj ("Slovak Paradise") National Park, a forested enclave of narrow gorges, caves, waterfalls, and meadows. The unique topography, with plenty of shade and rushing water, provides a break from the heat and plenty of opportunity for adventure.
Slovakia in September-November
With forests covering so much of Slovakia, fall colors sweep across the landscape in September and October. Temperatures cool a bit—dipping into the low 40s Fahrenheit by late November. Generally, the weather remains warm and stable, and since tourist traffic dies down after summer ends, this is an excellent time to visit. North of Bratislava, where vineyards stretch across low hills, autumn is the time for grape harvest and wine festivals. In the city, classical and jazz festivals bring music to well-established concert venues, and independent rock festivals enliven the streets.
Holidays & Events
September 1: Slovak Constitution Day is the country's national holiday.
November 17: Struggle for Freedom and Democracy Day commemorates student protests against Nazi occupation and later Communist rule in Czechoslovakia, and is now celebrated in both Slovakia and the Czech Republic.
Must See
Across Slovakia, stunning autumn foliage provides a beautiful backdrop for stately castles and charming cobblestone villages. Grapevines turn a burnished red-gold during the harvest as well. When the weather turns cold, Bratislava's cozy coffeehouses and hip underground bars are a welcome respite from wind and rain.
Average Monthly Temperatures
Slovakia Interactive Map
Click on map markers
below to view information about top Slovakia experiences
Click here to zoom in and out of this map
Bratislava's Old Town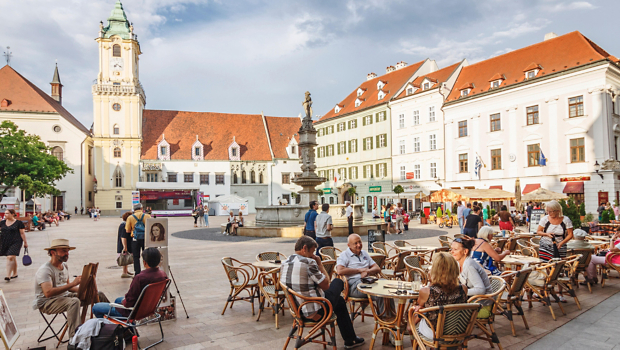 Though it has only been a capital city since 1993, Bratislava has been a destination since the Old Town was rising in the 14th and 15th centuries. Its Old Town Hall and Neo-classical Archbishop's Palace transport visitors across the centuries, as does Gothic St. Martin's Cathedral, where the Kings and Queens of the Habsburgs were crowned. Compact in size, Old Town is perfect for a stroll down to the banks of the nearby Danube. Visitors are only steps away from the spire-dotted neighborhoods that boomed in the 18th century, when artists and entrepreneurs filled the city's cafés and corridors. Bratislava's leisure heyday was interrupted by the Socialist era, and you can still see heavy-looking architecture and political statues that call to mind those years. But that era is just a memory now, and the Old Town feels new again.
Explore Bratislava with O.A.T. on:
Bratislava Castle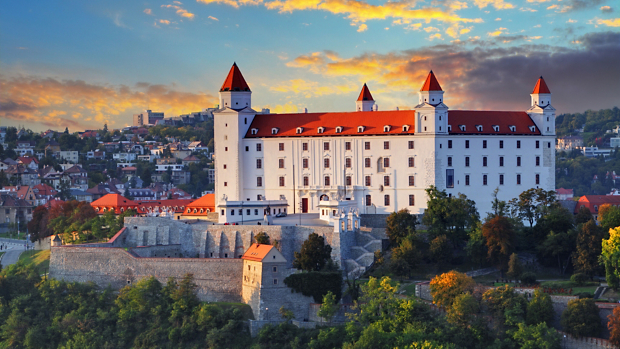 The hills above what is now Bratislava have been settled since the Stone Age, when the Celts called the land Oppidum. But the first reference to Bratislava in writing comes from 907, when a military fortification began to rise. Over the next 800 years, the castle that we see today took shape, its final elements put in place by Maria Theresa in 1768. With its white walls reflecting the light and four red-roofed towers, it looks like a fairytale illustration. Visitors seek out its Crown Tower for the best views of the city and the winding Danube beyond. Inside, the castle boasts fine art, like the Baroque Assumption of the Virgin Mary, and historical collections from the Middle Ages.
Explore Bratislava Castle with O.A.T. on:
St. Martin's Cathedral
Between 1563 and 1830, there was nowhere more regal in (what was then) the Kingdom of Hungary than St. Martin's Cathedral of Bratislava. This was where king and queen after king and queen were crowned, 19 in succession, including the famed Maria Theresa. Built during the 13th and 14th centuries, and set into the town walls as part of the fortifications, the cathedral had been enlarged and expanded upon by the time it was coronation central. Despite boasting a solid gold crown atop its spire, the interior was originally fairly sparse, letting the pomp and circumstance of royalty provide the flash. Today, the cathedral contains Baroque and Gothic artwork, huge altars, an underground crypt with catacombs, and one of those legendary crowns, a model from the 19th century.
Explore St. Martin's Cathedral with O.A.T. on:
Little Carpathians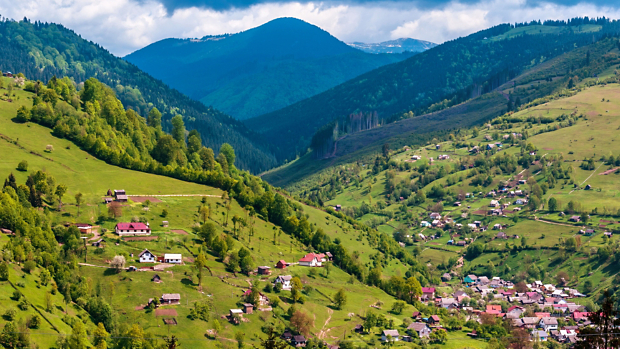 This relatively small mountain range—just 62 miles long—runs perpendicular to the Danube River in Bratislava. Hidden treasures abound here, including castle and church ruins, and the verdant slopes boast tranquil panoramic views of the river, grassy fields, and surrounding deciduous forests.
The Little Carpathians are the ideal setting to cultivate wine vineyards, which is why numerous viticultural centers are located here. Journey to the base of these mountains to sample traditional Slovakian wines, and tour a wine cellar to get a better idea of how this local business runs.
Explore the Little Carpathians with O.A.T. on: