The Leader in Personalized Small Group Adventures on the Road Less Traveled
You're receiving this message because your web browser
is no longer supported
We recommend upgrading your browser—simply click the button below and follow the instructions that will appear. Updating will allow you to accept Terms and Conditions, make online payments, read our itineraries, and view Dates and Prices.
To get the best experience on our website, please consider using:
Safari (for Mac or iPad Devices)
Update Browser

sicily
Compare Our Adventures
Click 'Select to Compare' to see a side-by-side comparison of up to adventures below—including
activity level, pricing, traveler excellence rating, trip highlights, and more
Compare Adventures
Find the Adventure That's Right for You
Our Activity Level rating system ranks adventures on a scale of 1 to 5 to help you determine if a trip is right for you. See the descriptions below for more information about the physical requirements associated with each rating.
Travelers should be able to climb 25 stairs consecutively, plus walk at least 1-2 miles over some uneven surfaces without difficulty. Walks typically last at least 1-2 hours at a time. Altitude can range from zero to 5,000 feet.
Activity Level 2:
Moderately Easy
Travelers should be able to climb 40 stairs consecutively, plus walk at least 2-3 miles over some uneven surfaces without difficulty. Walks typically last for at least 2-3 hours at a time. Altitude can range from zero to 5,000 feet.
Activity Level 3:
Moderate
Travelers should be able to climb 60 stairs consecutively, plus walk at least 3 miles over some steep slopes and loose or uneven surfaces without difficulty. Walks typically last for 3 or more hours at a time. Altitude can range from 5,000 to 7,000 feet.
Activity Level 4:
Moderately Strenuous
Travelers should be able to climb 80 stairs consecutively, plus walk at least 4 miles over some steep slopes and loose or uneven surfaces without difficulty. Walks typically last for 4 or more hours at a time. Altitude can range from 7,000 to 9,000 feet.
Activity Level 5:
Strenuous
Travelers should be able to climb 100 or more stairs consecutively, plus walk at least 8 miles over some steep slopes and loose or uneven surfaces without difficulty. Walks typically last for 4 or more hours at a time. Altitude can range from 10,000 feet or more.
Hide Acivity Level
PRICE
including international airfare
HIGHLIGHTS & ACTIVITIES IN Sicily
*You must reserve the main trip to participate on this extension.
**This information is not currently available for this trip. Please check back soon.
Recommended Viewing
Watch this video showcasing what makes this country so unforgettable
ReelEarth: Angelo the Shepherd
Produced by Cecily Pingree
Discover how a young shepherd and his family use a mix of old and new techniques to produce pecorino and ricotta cheese.
Sicily: Month-By-Month
There are pros and cons to visiting a destination during any time of the year. Find out what you can expect during your ideal travel time, from weather and climate, to holidays, festivals, and more.
Sicily in December-February
Come wintertime in Sicily, the temperatures cool down, the crowds thin out, and many attractions close or hold shorter visiting hours. But while some activities may slow down at this time, others are in full swing. The local opera season runs from November to July—so the winter months are a prime opportunity to watch a classic Italian opera or a newer production at one of Palermo's or Catania's famous opera houses, including the Teatro Massimo.
In addition, with its wealth of local produce, Sicily offers bountiful shopping options year-round. But during the winter, the citrus trees grow heavy with fruit, making a trip to the outdoor market for oranges, mandarins, or lemons a worthwhile endeavor. The more adventurous of travelers, however, may prefer to grab a pair of skis to ride down Mt. Etna, Sicily's active volcano.
Holidays & Events
February 3-5: During the Festival of Sant'Agata, as many as one million Catanians celebrate their patron saint with days of processions, with the most important being the procession of her statue through the city
Carnevale: various festivals and feasts throughout Sicily mark the week before Lent
Must See
In February, the white and pink flowers of Sicily's almond trees open in full bloom, a joyful sign for all Sicilians that the winter is ending. The finest spring scenes are found in the Valley of the Temples, where a parade through the trees kicks off Agrigento's Festa del Fiore del Mandorlo in honor of the blooms and the coming spring season. The rest of the 10-day festival features folk dance, music, and other performances.
Ancient Landscapes of Sicily
Submitted by Sharon Kay Kurtz, 7-time traveler from Dallas, Texas
Join traveler Sharon K. as she marvels at Mt. Etna, sips fresh limoncello, and browses bustling outdoor markets on her journey through Sicily.
Sicily in March-April
March and April bring springtime to Sicily, when days grow longer, temperatures warm, and a mix of sunshine and rain showers kick off the growing season. The season's bounty can be seen throughout the island: In the countryside, colorful wildflowers garnish the hillsides, while in towns and cities Sicily's legendary outdoor markets serve up wild strawberries and artichokes—perfect for making carciofi ripieni (stuffed artichokes).
Visitors to Sicily in spring will benefit from pleasant exploring weather and fewer crowds—but be aware that not all attractions or even hotels will be open until Easter, which marks the unofficial start of the tourist season.
Holidays & Events
Easter Week: La Processione dei Misteri, or the Procession of the Mysteries, is a 400-year-old Easter celebration in Trapani, when wooden floats depicting the Passion and Death of Christ parade through the Sicilian city's streets.
April 23: The Feast of St. George, patron saint of Modica, is celebrated each year when a statue of St. George on horseback is carried through the streets of town, followed by lively street parties and a nighttime firework show.
Late April: The 3-day Ricotta Festival is an annual celebration of Sicily's most famous dairy product. Visit the town of Vizzini, renowned for its ricotta production, to sample the creamy white cheese in everything from cannoli to cassata.
Must See
In devout Sicily, Easter is a week-long affair celebrated con gusto from the capital city of Palermo to tiny fishing villages along the coast. Throughout the Holy Week, colorful—yet somber—processions of heavy wooden floats make their way through cobbled streets and piazzas thronged with the faithful. The festivities culminate on Easter Sunday, a day Sicilians spend at Mass and with their families.
Ancient Landscapes of Sicily
Submitted by Sharon Kay Kurtz, 7-time traveler from Dallas, Texas
Join traveler Sharon K. as she marvels at Mt. Etna, sips fresh limoncello, and browses bustling outdoor markets on her journey through Sicily.
Sicily in May-June
Similar to spring in the states, the prime time for warm weather in Sicily is spring. Strategically avoiding crowds of summer visitors, you'll arrive in time to witness the blossoming of captivating wildflowers. Given the pleasant weather, walking and hiking the Aeolian Islands—a spectacular archipelago of volcanic islands to Sicily's north—is a popular activity among visitors.
Holidays & Events
June 23: To celebrate the Feast of Corpus Christi, Sicilians as well as Italians, participate in Infiorata festivals. These festivals take place nine weeks after Easter, and feature art created from flower petals.
Must See
Should you visit Sicily during May and June, you may witness Matanza. This is arguably the best time of year for fisherman residing in western parts of Sicily. Around this time, Mediterranean Bluefin Tuna swim past the coasts allowing the fisherman to capture them easily. This tradition dates back hundreds of years. Since Sicilians are famous for their fishing skills, a lot of their traditional dishes include fish; make sure to try breaded fried tuna steaks, a local specialty.
Ancient Landscapes of Sicily
Submitted by Sharon Kay Kurtz, 7-time traveler from Dallas, Texas
Join traveler Sharon K. as she marvels at Mt. Etna, sips fresh limoncello, and browses bustling outdoor markets on her journey through Sicily.
Sicily in July-August
Summer in Sicily is a scorcher, with bright, sun-drenched days and temperatures that can soar over 100˚F. To beat the heat, locals and visitors alike flock to the island's sandy beaches for a cooling dip in the Mediterranean. (As this is Sicily's peak tourist season, expect to share the sand with plenty of other beachgoers.) At night, take in a concert or play in one of the island's many open-air Greek amphitheaters—a timeworn tradition stretching back a millennium.
But as temperatures on the island warm up, the pace slows down. Look to locals and Italians on their annual vacation for instruction on how to master "la dolce far niente," the sweetness of doing nothing.
Holidays & Events
July 14: Each year, residents of Palermo celebrate the Feast of St. Rosalia in remembrance of the saint's role in fighting a 17th-century plague that struck the city. A statue of the beloved saint is paraded through Palermo in a chariot, and the evening's festivities are capped off with a spectacular fireworks display.
August 15: Ferragosto, or the Feast of the Assumption, is a national holiday in Italy celebrating the day the Virgin Mary ascended into heaven. In Sicily, Ferragosto festivities include processions, street parties, and for the devout, attendance at Catholic mass.
Ancient Landscapes of Sicily
Submitted by Sharon Kay Kurtz, 7-time traveler from Dallas, Texas
Join traveler Sharon K. as she marvels at Mt. Etna, sips fresh limoncello, and browses bustling outdoor markets on her journey through Sicily.
Sicily in September-November
With pleasant temperatures, warm seas, and no summer crowds to deal with, September, October, and November are great months for exploring Sicily. By late November, both chilly weather and rain start making their way across the island and many seaside communities begin closing up for the oncoming winter months—while opera season gets into full swing in cities like Palermo and Catania.
Along with the colors of fall to enjoy in the varied landscapes of Sicily, it's also olive harvest time during these months, which varies across the island depending on the altitude at which the olives are grown.
Must See
Sicily's unique and diverse island climate and topography means that grape harvest season lasts for up to 100 days—the longest in the world. Don't miss the opportunity for a pleasant nature hike to observe the hues and changing colors of the island's rolling vineyards during this special time of year.
Ancient Landscapes of Sicily
Submitted by Sharon Kay Kurtz, 7-time traveler from Dallas, Texas
Join traveler Sharon K. as she marvels at Mt. Etna, sips fresh limoncello, and browses bustling outdoor markets on her journey through Sicily.
Average Monthly Temperatures
Sicily Interactive Map
Click on map markers
below to view information about top Sicily experiences
Click here to zoom in and out of this map
Palermo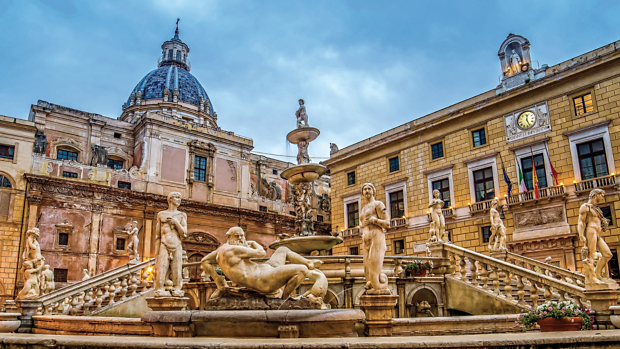 Sicily's capital, Palermo, is a city vibrating with life and steeped in culture and history. Over its more than 2,700-year history, Palermo has inherited a fusion of traditions from a succession of rulers of Byzantine, Arab, and Norman descent—from maze-like streets and souk-style markets to countless castles and cathedrals whose architectural styles coexist. A visit to Monreale just outside Palermo reveals Norman and Byzantine edifices while a walk through the historic quarter of Kalsa evokes a period of Arab rule. The graffiti-marked walls in prisoner cells at Palazzo Chiaramonte Steri unveil a darker period of history in Palermo, while its modern architecture and wide boulevards demonstrate the innovative spirit that followed Italy's unification in the 19th century.
With its characteristic blend of Eastern and Western influences, Palermo's artistic legacy manifests in the architecture of these historic buildings, the sculptures and paintings preserved in its museums, and its musical style. Opera remains a popular source of entertainment in Palermo, which is home to a collection of ornate opera houses. But most notably, it boasts Italy's largest opera house: Teatro Massimo, which hosted its inaugural performance in 1897.
Then, tucked within the ancient streets, Palermo's famous outdoor markets buzz with the calls of sellers inviting shoppers into their stalls and residents making their regular visits to peruse the home supplies, local produce, and fresh fish. With some having operated for centuries, these markets form the center of Palermo's commercial history. But they also prove to be the best place to taste authentic street food, like chickpea fritters or a thin slice of sfincione, or Sicilian pizza.
Explore Palermo with O.A.T. on:
Agrigento
Agrigento, on the southern coast, is one of Sicily's oldest settlements, dating back to the sixth century BC. Between the clifftop modern city and the sparkling turquoise Mediterranean Sea lies the Valley of the Temples. This UNESCO World Heritage Site puts Sicily's Greek legacy on full display, bringing visitors back into the past as soon as they step through the ancient walls into what was the legendary city of Akragas. The star of the show, the Concordia temple, has remained nearly intact since its construction in 430 BC—its impressive facade may look familiar, as it inspired the UNESCO logo.
Also worth exploring are the smaller temples, whose partially ruined state lends an air of windswept beauty to the site, and the Kolymbetra Garden. This valley was filled with water via a complex tunnel system during the Greek era. In the ninth century, Moorish conquerors turned the valley into a lush garden, and it remains in this state today.
In March, this atmospheric valley hosts a celebration, the Festival of the Flowering Almond Tree. The delicate blooms herald the arrival of spring, and for ten days, partiers welcome warm weather with music, dance, and a parade.
ReelEarth: Angelo the Shepherd
Produced by Cecily Pingree
Discover how a young shepherd and his family use a mix of old and new techniques to produce pecorino and ricotta cheese.
Explore Agrigento with O.A.T. on:
Syracuse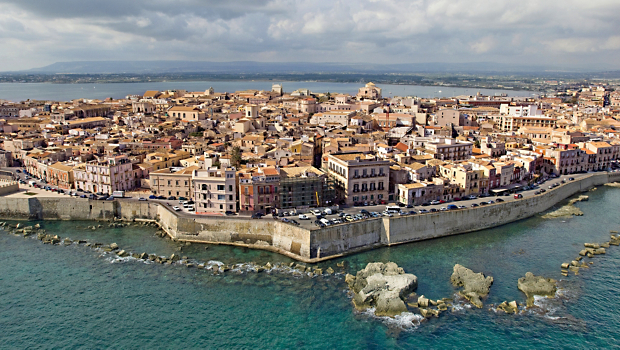 The famous Roman orator Cicero called Syracuse (Siracusa) "the greatest Greek city and the most beautiful of them all." Nestled along Sicily's Mediterranean southeastern coast, Syracuse was founded in 734 BC by Greek colonists from Corinth and soon developed into one of the wealthiest city-states of the ancient world. In a great military battle in 413 BC, Syracuse held off invading Athenians and continued to flourish until it was conquered by the Romans some two centuries later. Archimedes, the most-famous mathematician and inventor in ancient Greece, was born here in 287 BC—and is said to have ran naked through the city streets shouting "Eureka" upon his discovery of water volume after he stepped into his bath. Modern-day Syracuse is divided into two distinct areas—the mainland and the island of Ortygia (also, Ortigia), the ancient city jutting out into the sea that was first inhabited by the Greeks. An archaeological park on the mainland is home to a remarkably preserved ancient Greek theater where the plays of Aeschylus and Euripides are still performed each summer—just as they were more than 2,000 years ago. With its remarkable Duomo, fine examples of Baroque art and architecture, and dramatic Greek and Roman ruins, Syracuse is still one of the most beautiful Sicilian cities of them all.
Explore Syracuse with O.A.T. on:
Taormina
Perched on the side of a mountain and overlooking the Ionian Sea, Taormina was once described by Ernest Hemingway as "so pretty it hurts to look." While this fashionable destination on Sicily's eastern coast has been attracting travelers for well over a century, Taormina is not just a seaside resort for the rich and famous. Thought to have been first inhabited around 700 BC, Taormina was ruled by a host of people over the centuries, including the Arabs, Normans, Spanish, and of course, the Greeks, who left a remarkable amphitheater here as their legacy. With its breathtaking views of Mount Etna, it is considered the most dramatically situated Greek theater in the world. Built in the third century BC, it was expanded by the Romans, who enlarged the stage and added a partial roof to the structure. While the roof is no longer in existence, the horseshoe-shaped theater continues to host dramatic performances and a variety of international arts and film festivals.
Teatro Greco, Taormina, Sicily
Courtesy of Lawrence Edward Clift
Rise up for a bird's-eye view of the Greco-Roman theater of Taormina, Sicily, and its environs.
Explore Taormina with O.A.T. on:
Mount Etna
While ancient navigators considered it the highest point on Earth, Mount Etna is actually about 10,900 feet high. It is not just the highest volcano in Europe, but one of most active in the entire world. On a clear day, the magnificent silhouette of this imposing volcano situated near the city of Catania can be seen from well over half of Sicily. Living up to its volatile reputation, Etna is in an almost constant state of activity—yet it's a relatively safe volcano to visit. Eruptions tend more toward plumes of ash and smoke with slow lava flows rather than massive explosions. And since Etna's volcanic soil is extremely fertile, the mountain's lower slopes are also home to many picturesque villages, orchards, and vineyards where the area's renowned DOC wines are produced. Amidst the lush greenery and varied landscapes, Etna's slopes are also dotted with a variety of caves, craters, and old lava flows that resemble frozen black rivers. As of May 2013, UNESCO recognized Mount Etna as a World Heritage Site, thanks to it being "globally recognized on basis of its notoriety, scientific importance, cultural and educational value, superlative natural phenomena and exceptional aesthetic importance as iconic volcanic site."
Explore Mount Etna with O.A.T. on:
Ragusa
Ragusa is a city with two souls—Ragusa Superiore and Ragusa Ibla, each district set like a crowning jewel on its own hilltop. Ragusa Ibla is the original, a jumble of medieval palaces, churches, and piazzas connected by a warren of stairs and narrow streets. It was nearly leveled in the great earthquake of 1693, and wealthy townspeople rebuilt on an even higher hilltop nearby. Most development over the last few centuries has taken place in the "new" city, Ragusa Superiore, leaving the lower ancient town intact. This well-preserved historic center seems designed for getting lost—though wandering here is a real pleasure. Highlights of exploring Ragusa Ibla include baroque cathedrals, the local wine-flavored gelato, and the Giardini Iblei public garden.
Explore Ragusa with O.A.T. on:
Featured Reading
Immerse yourself in Sicily with this selection of articles, recipes, and more
RECIPE
Enjoy the sweet delight of these traditional Sicilian cookies—along with the aroma of cinnamon and fruit in your kitchen.
ARTICLE
Although it's part of the Italian Peninsula, Sicily has a culture all its own—discover what sets the island apart.
ARTICLE
Get a sampling of what you can expect to savor in Sicily—from hearty stews to crispy potatoes.
RECIPE
Learn how to make traditional arancini di riso with this recipe.
Sicilian Sweets
Cuccidatini (stuffed cookies)
from Harriet's Corner
In a country renowned for its culinary traditions, no part of Italy rules the dessert quite like Sicily. Influenced by Arab cultures as early as the tenth century, Sicilians are renowned for their sweets, which often incorporate apricots, figs, sugar, citrus, raisins, nutmeg, cloves, and cinnamon. At no time of year is consuming dessert more popular than Christmas, which makes now a great time to try one of the island's most iconic treats—cuccidati, fig-stuffed cookies (pronounced goo-ji-data).
Ingredients:
Filling:
1 cup dried figs, chopped
6 Tbsp. brandy
1 (8-oz.) jar honey
1/4 cup raisins
1/4 cup dates
1/4 cup dried cherries
1/4 cup citron or candied pineapple
1 cup walnut pieces, toasted
1 cup whole, blanched almonds, toasted
1/4 tsp. ground nutmeg
1/2 tsp. ground cinnamon
2 pinches ground clove
Rind of 1 lemon (remove white pith)
Rind of 1 orange (remove white pith)
Pastry:
2 1/2 cups all-purpose flour
1/3 cup sugar
3/4 tsp. baking powder
1/2 tsp. salt
8 Tbsp. butter, chilled and cut into small pieces
3 eggs (1 whisked with 1 tsp. water, to make an egg wash)
1/4 cup milk
Icing:
1 cup confectioners' sugar
1/2 tsp. vanilla extract
1 to 2 Tbsp. milk
Colored sprinkles, or small dots
Preparation:
To make the filling, combine the figs with 4 tablespoons of brandy and let soak overnight or up to 1 week in a bowl.
In a food processor, combine the soaked figs, the remaining 2 tablespoons brandy, and all the remaining filling ingredients. Process until chopped and well combined. Keep chilled until ready to use.
To make the pastry, combine the flour, sugar, baking powder, and salt in a food processor and pulse to mix. Add the butter and pulse until it looks like fine crumbs. In a small bowl, whisk together the 2 eggs and milk. While the motor is running, pour the liquid through the feed tube until just combined and a dough is formed. Form the dough into a disk and chill 30 minutes.
On a floured work surface, roll out the dough 1/8-inch thick. With a sharp knife or pizza cutter, cut out large (3-inch long) almond-shaped pieces from the dough. Transfer the pieces to a sheet pan; then chill.
To assemble the cookies, gather the filling, the chilled dough pieces, the egg wash and a pastry brush, and a sharp knife. Paint the edges of the dough pieces with egg wash and place 1 teaspoon of filling shaped into an oval in the center of half the pieces. Top each with a second piece of dough and carefully pinch the edges together to seal. Trim the excess dough from around the edges. If you wish to make them into shapes (crescents or wreaths) do so at this step, and rechill until ready to bake.
To bake, preheat the oven to 350 degrees Fahrenheit.
Brush the top of the cookies with the egg wash. Bake the cookies until lightly golden brown, about 20 minutes.
While they are baking, make the icing by whisking together all of the icing ingredients.
Toss the cookies with the icing in a plastic resealable bag while they're warm, put them on a plate covered in wax paper, and then drop on your sprinkles. You may also place the icing in a plastic bag and cut a tip off and drizzle the icing on top, then use your cleaned pastry brush to spread the icing before using sprinkles. Make sure to lay parchment or wax paper down on your decorating surface first. Alternately, some cooks leave these cookies plain without icing or sprinkles.
Yield: 5 dozen cookies
Enjoy the sweet delight of these traditional Sicilian cookies—along with the aroma of cinnamon and fruit in your kitchen.
Sicily: The Soul of Italy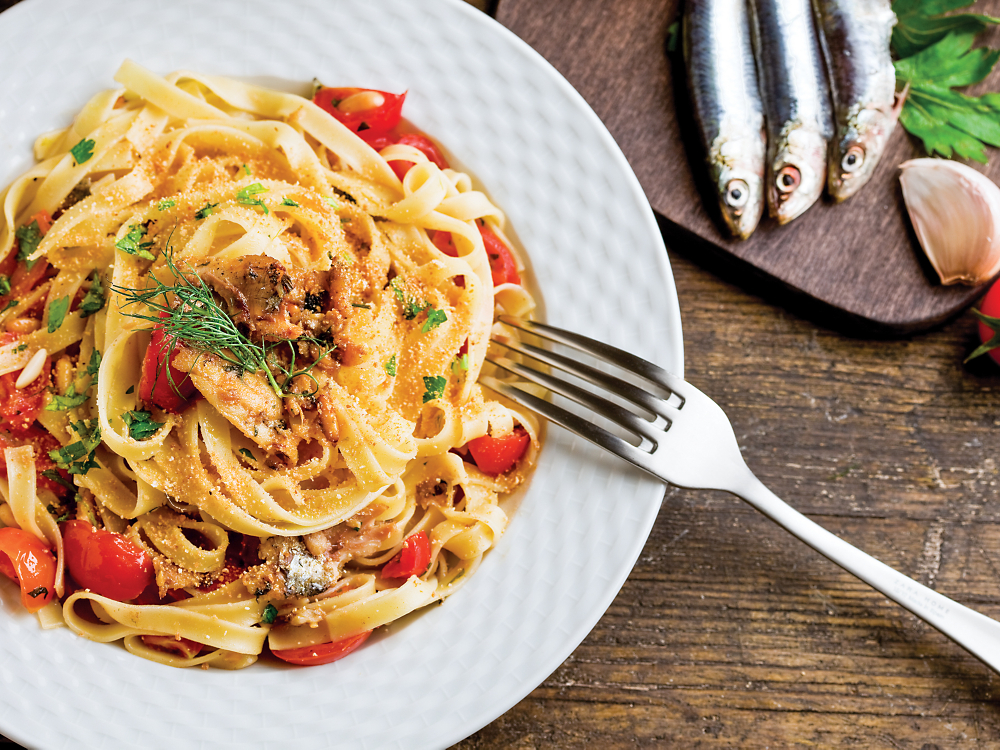 The rise of a unique culture just off the Italian mainland
by Amanda Read, for O.A.T.
'To have seen Italy without having seen Sicily is to not have seen Italy at all, for in Sicily lies the key to everything.' —Johann Wolfgang von Goethe, Italian Journey
Perhaps Goethe was a bit overzealous when he called Sicily the "key to everything" (or maybe he had enjoyed a bit too much Sicilian wine), but he was certainly on to something. Sicily's natural beauty, culture, and history are outstanding. But Sicily's doors don't necessarily swing open to its visitors as easily as its more well-known Italian neighbors to the north. Like a cautious gambler, the island won't normally reveal its hand easily. If Venice and Rome are like exquisitely made up divas, then Sicily is the naturally gorgeous girl next door who is blissfully unaware of her charms. Those who dare to unlock Sicily's mysteries will find an authentic, Old-World Italian island full of life and character—a true diamond in the rough.
Situated in the heart of the Mediterranean Sea, Sicily lies at the tip of the "boot" of the Italian peninsula. Thanks to its fertile volcanic soils and its advantageous position at the crossroads of Europe's oldest trade routes, Sicily became a desirable catch for endless invaders and occupiers. Everyone wanted her, and the island became the playground for numerous cultures.
A tumultuous past
The Greeks were the first to be attracted to Sicily's shores almost 3,000 years ago. Romans, Carthaginians, Byzantines, Arabs, Normans, and Spaniards followed—just to name a few. Each of these peoples left their unique mark on Sicily, before being pushed out by the next wave of intruders, resulting in one of the most captivating cultural mélanges in the world. Where else can one see ancient Greek temples, Roman amphitheaters, Norman fortresses, and Baroque cathedrals all in one place?
While the cultural treasures left behind by Sicily's numerous conquerors were certainly a blessing, almost 3,000 years of foreign domination also took its toll on the island. Plundered and subjugated by so many different powers, Sicily ended up a rather poor and impoverished region. Having been exploited for so long, Sicilians built up a strong sense of kinship among themselves while trying to survive in a cruel world, as well as a deep-rooted mistrust of all sorts of government authority. This is originally how the mafia gained a toehold here. Formed as a secret organization to fight against the rulers who had crushed the country and its people for centuries, it later became something more sinister.
Sicily is different
Locals think of themselves as Sicilian first and Italian second; when Sicilians visit the Italian mainland, they are off to "Il Continente." Although the Strait of Messina separating Sicily from the rest of Italy is only 2.5 miles wide, the cultural gap couldn't be greater. Sicily seems a world apart.
And speaking about differences: not only does the Sicilian dialect sound distinctly different than those of other parts of Italy, the cuisine here differs even more. The food alone makes a trip here worthwhile. One could consider it the original fusion cuisine—a blend of ingredients from Arab, North African, Greek, Italian, and Spanish traditions to create exquisite and exotic dishes. This diversity makes the Sicilian kitchen the most versatile in the Mediterranean.
Sicily's rich culinary tradition dates back to when the first Greek colonists arrived here in the eighth century BC. In fact, the very first cookbook in Europe was written in Sicily by the ancient Greek chef Mithoecus. And one of Sicily's classics, Spaghetti con le Sarde—pasta with sardines, pine nuts, wild fennel, and raisins—is thought to date back to the Arab's first expedition into Sicily in the year AD 827. The story goes that the army cooks were ordered to forage for food and found sardines at the port, wild fennel from the fields, and raisins drying in the vineyards. Somehow the combination worked.
Perhaps the thing that most distinguishes Sicily from the rest of the country, though, is its people and their unique way of living. Those who enjoy Italy for its warm-hearted people and their joy of life (la dolce vita) will never forget the intensity of the Sicilian experience. It is here where they have truly mastered the sweet art of doing nothing (dolce far niente). Sicily is still authentic, Old World Italy at its best.
The rise of a unique culture just off the Italian mainland
Snack like a Sicilian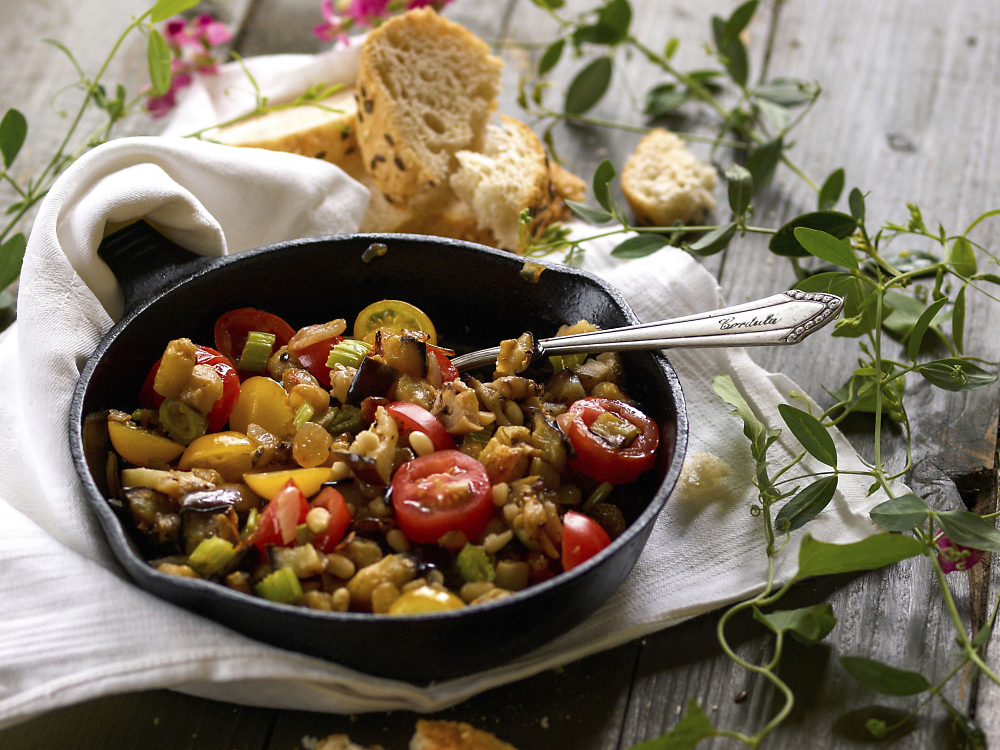 Your guide to the island's best antipasti
by Tom Lepisto
In Italy, antipasti is a variety of tasty tidbits served "before the pasta" in a multi-course meal. And if there's a spot that's serving it best, Sicily is a top contender. Here's what you can look forward to savoring if you find yourself on the island:

Caponata:
This classic, stew-like appetizer has a sweet-and-sour flavor, and is made from sautéed eggplant, tomato sauce, Sicilian olives, onions, capers, celery, and sometimes anchovies.
Polpette di melanzane:
Cooked, shredded eggplant is mixed with eggs, then breaded, fried, and rolled into balls. They're typically served with tomato sauce.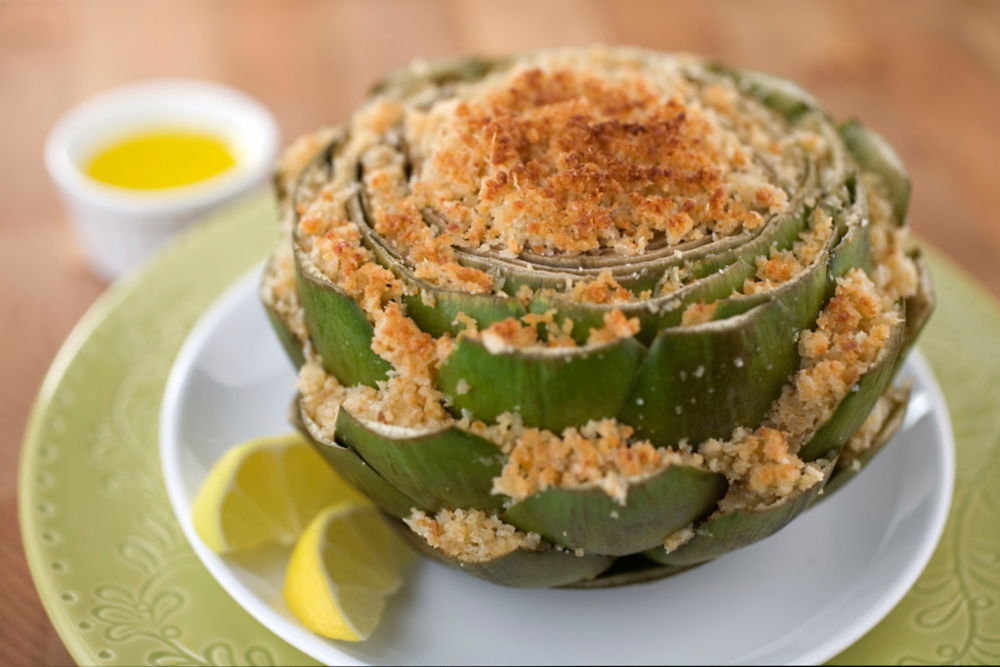 Carciofi ripieni:
Whole artichokes are stuffed with sautéed garlic and breadcrumbs prior to being steamed. If you want to mix it up, you can fry the hearts and eat them on the side.
Arancinette:
These are a smaller version of arancini (rice balls), blending risotto with pasta sauce or besciamella—the Italian version of béchamel.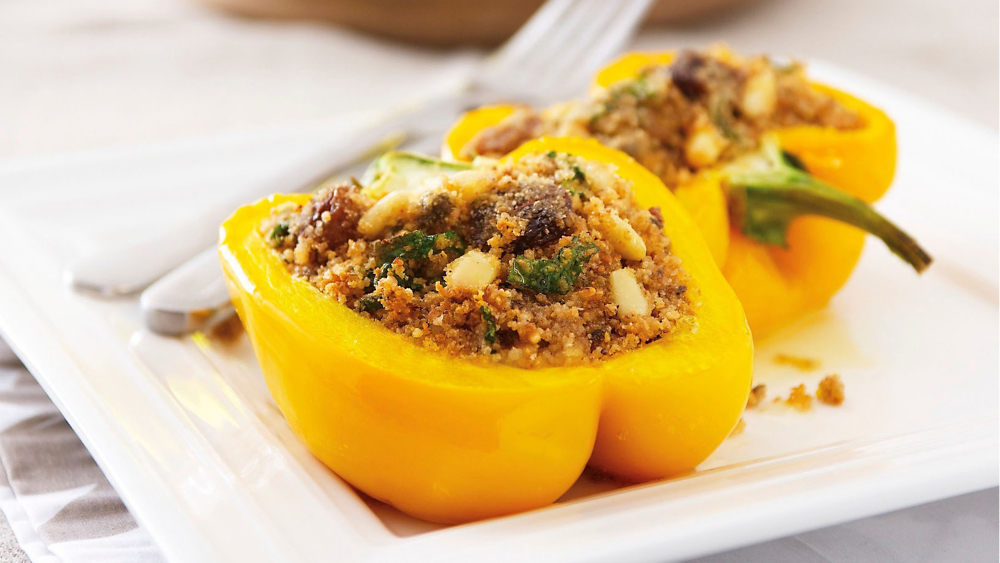 Peperoni ripieni:
The baked peppers in this colorful dish are stuffed with pine nuts, currants, and cheeses that can include Caciocavallo and grated Pecorino Romano.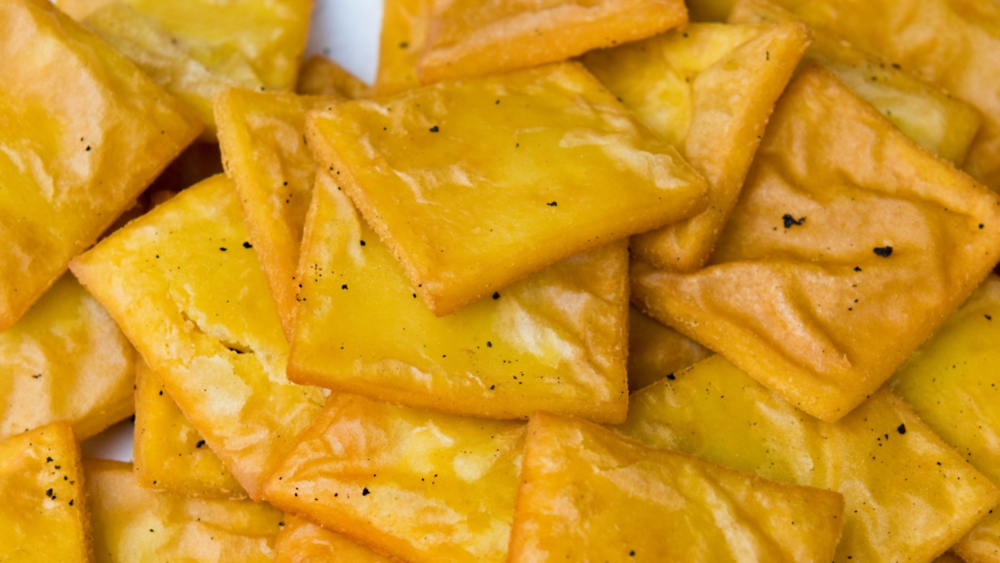 Panelle:
Though simply seasoned with parsley and salt, the chickpea flour gives these fritters a subtly nutty flavor. (It's best to eat them while they're hot.)
Frittata:
This omelet-like wonder of layered eggs, cheese, and tomato sauce is often cut into bite-sized squares.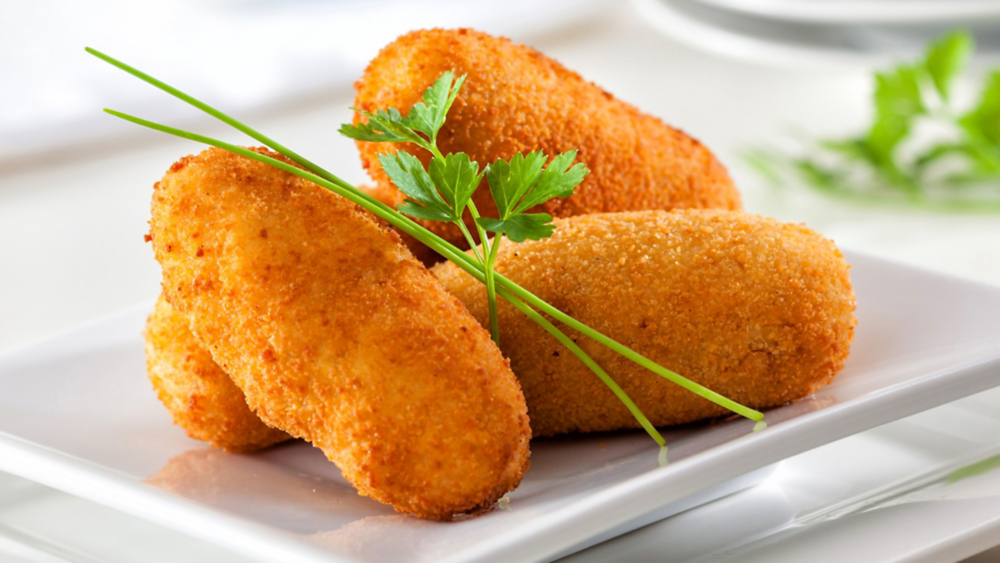 Potato croquettes:
Potatoes are a regional staple, and in this dish they're mashed, pressed into mini logs, breaded with parsley, and fried.
Marinated mushrooms:
Portobellos are sliced and flavor-soaked in wine, vinegar, olive oil, garlic, pepper, and bay leaves.
Your guide to the island's best antipasti
Recipe: Arancini di Riso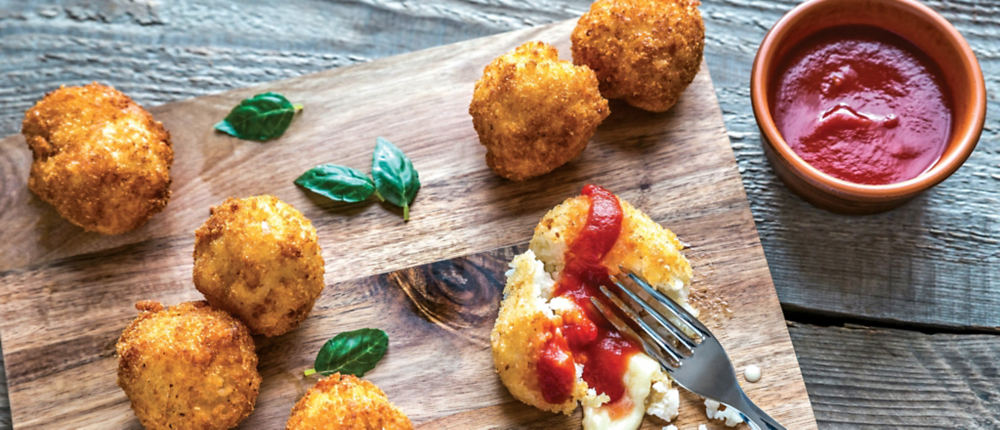 Courtesy of Epicurious
Ingredients:
3 cups leftover cooked risotto
1/2 cup grated Parmesan cheese
2 tablespoons heavy cream
2 tablespoons minced fresh flat-leaf parsley, chives, oregano, or basil
1 large egg yolk
Salt and freshly ground pepper
5 ounces mozzarella or Fontina cheese
All-purpose flour for dredging
Egg wash: 1 large egg whisked with 2 tablespoons cold milk or water
1 cup fresh white bread crumbs
Vegetable oil for deep-frying
2 cups tomato sauce
Preparation:
In a large bowl, combine the risotto with the Parmesan, heavy cream, herbs, and egg yolk. Season with salt and pepper.
Cut the cheese into 16 cubes. Scoop up about 3 tablespoons of the risotto mixture and pack it around a cube of cheese to make a croquette, a ball the size of a Ping-Pong ball. Repeat to form 16 croquettes.
Put the flour, egg wash, and bread crumbs in 3 separate bowls. Dredge the croquettes in the flour, dip in the egg wash, and roll in the bread crumbs. Chill thoroughly, 2-24 hours.
Pour oil into a tall pot to a depth of 5 inches. Heat the oil over medium-high heat until it registers 375°F on a deep-frying thermometer. Deep-fry the croquettes in batches, without crowding, until they are evenly browned, 4-5 minutes. Using a slotted spoon or tongs, transfer to paper towels to drain briefly.
Serve on a pool of warmed tomato sauce.
Preparation Time: 30 minutes
Total Time: 24 hours
Servings: 8 appetizer servings
See the experts make arancini in this film: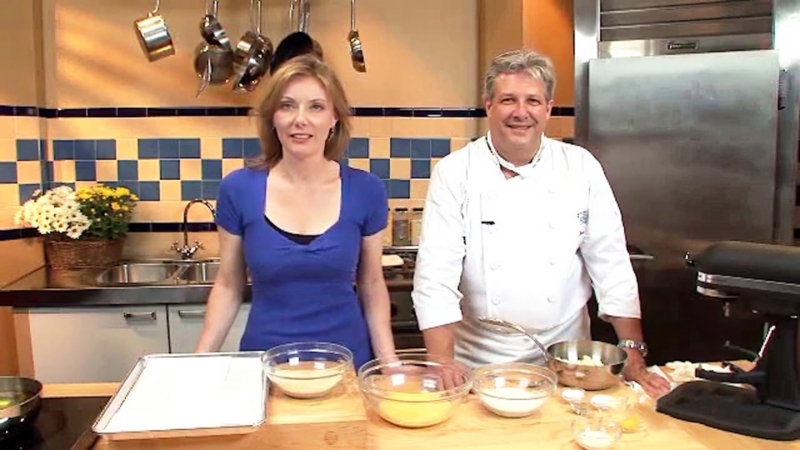 Learn how to make traditional arancini di riso with this recipe.