The Leader in Small Groups on the Road Less Traveled in Over 85 Countries
You're receiving this message because your web browser
is no longer supported
We recommend upgrading your browser—simply click the button below and follow the instructions that will appear. Updating will allow you to accept Terms and Conditions, make online payments, read our itineraries, and view Dates and Prices.
To get the best experience on our website, please consider using:
Safari (for Mac or iPad Devices)
Update Browser

SCOTLAND
Get the Details On Our Scotland Adventure
Find out more about the adventure, including activity level, pricing, traveler excellence rating, included meals, and more
Trip Itinerary
Preview the experiences that await you in Scotland—from ancient castles and rolling pastures to lively pubs and Edinburgh's Royal Mile.
15 DAYS FROM $5,195 • $ 347 / DAY
O.A.T. Adventure by Land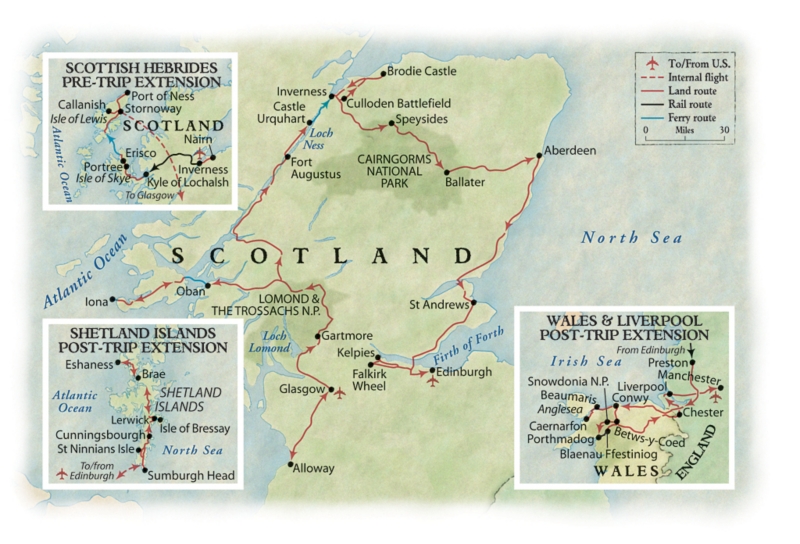 Scotland: Glasgow, Oban, Inverness, St. Andrews, Edinburgh
24 meals—daily breakfast, 4 lunches, and 7 dinners (including 1 Home-Hosted Dinner)
Meet the people of Scotland, including a fisherman in Oban and a scholar at the University of St. Andrews
Learn about the whiskey-making process at a local distillery and sample this famous libation
Explore St. Andrews—the launching site of the 16th-century Scottish Reformation, home to Scotland's oldest university, and the birthplace of golf
Adventure Details
Find the Adventure That's Right for You
Our Activity Level rating system ranks adventures on a scale of 1 to 5 to help you determine if a trip is right for you. See the descriptions below for more information about the physical requirements associated with each rating.
Travelers should be able to climb 25 stairs consecutively, plus walk at least 1-2 miles over some uneven surfaces without difficulty. Walks typically last at least 1-2 hours at a time. Altitude can range from zero to 5,000 feet.
Activity Level 2:
Moderately Easy
Travelers should be able to climb 40 stairs consecutively, plus walk at least 2-3 miles over some uneven surfaces without difficulty. Walks typically last for at least 2-3 hours at a time. Altitude can range from zero to 5,000 feet.
Activity Level 3:
Moderate
Travelers should be able to climb 60 stairs consecutively, plus walk at least 3 miles over some steep slopes and loose or uneven surfaces without difficulty. Walks typically last for 3 or more hours at a time. Altitude can range from 5,000 to 7,000 feet.
Activity Level 4:
Moderately Strenuous
Travelers should be able to climb 80 stairs consecutively, plus walk at least 4 miles over some steep slopes and loose or uneven surfaces without difficulty. Walks typically last for 4 or more hours at a time. Altitude can range from 7,000 to 9,000 feet.
Activity Level 5:
Strenuous
Travelers should be able to climb 100 or more stairs consecutively, plus walk at least 8 miles over some steep slopes and loose or uneven surfaces without difficulty. Walks typically last for 4 or more hours at a time. Altitude can range from 10,000 feet or more.
Hide Acivity Level
PRICE
including international airfare
HIGHLIGHTS & ACTIVITIES IN SCOTLAND
*This information is not available for our trip extensions. You must reserve the main trip to participate on this extension.
**This information is not currently available for this trip. Please check back soon.
Recommended Viewing
Watch this video showcasing what makes this country so unforgettable
Bare Feet: Hogmanay in Scotland
Let an adventurous traveler lead you to Scotland's hidden gems—including a traditional Hogmanay festival.
Recommended Videos
Watch your fellow travelers' favorite films & videos
A Ghost Tour of Edinburgh
Take a behind-the-scenes tour of Edinburgh, including a haunted section of the Royal Mile and a beloved local hangout.
Breathing through Scotland
Journey through the serene natural landscapes of the Scottish countryside and feel the locals' warm welcome.
Glyn: A 365 Docobites Film
Meet a Scottish man who's been playing the bagpipes since he was a schoolboy—and who now fills the streets of Edinburgh with the pipe's unmistakable trill.
Bare Feet: Hogmanay in Scotland
Let an adventurous traveler lead you to Scotland's hidden gems—including a traditional Hogmanay festival.
John: A 365 Docobites Film
Get to know John, the owner of a kitschy Scottish collectibles shop that hasn't changed much since the 1920s.
Smart Travels with Rudy Maxa: Edinburgh and Scotland
Follow Emmy award-winning travel expert Rudy Maxa to Scotland's legendary sights, including Edinburgh Castle.
Smart Travels with Rudy Maxa: Bath and South Wales
Let Emmy award-winning travel expert Rudy Maxa guide you through Bath and South Wales' historic landscapes.
Wild Scotland
Soar over Scotland's mountains gliding past stone ruins, and run alongside a herd of reindeer through the countryside.
Edinburgh's Maritime Attractions
See the seaside wildlife of the Firth of Forth and meet a kilt designer in this unique look at Scotland's capital.
Scotland: Month-by-Month
There are pros and cons to visiting a destination during any time of the year. Find out what you can expect during your ideal travel time, from weather and climate, to holidays, festivals, and more.
Scotland in January-February
The winter months bring short days and dreary weather to Scotland. High temperatures hover in the low 40 degree Fahrenheit range, with frequent driving rain in the lowlands; in the Highlands, snow-covered peaks welcome skiers and snowboarders. Scots are fond of saying "there's no such thing as bad weather, only unsuitable clothing," so wintertime travelers are advised to dress in layers topped off with a waterproof coat.
Perhaps the best way to cope with Scotland's winter weather is to hunker down by a roaring fire in one of the country's countless traditional pubs. Hearty Scotch fare like haggis, mince and tatties (ground beef and mashed potatoes), and clootie dumplings (a steamed pudding) is made for cold days, and a dram of whisky provides a warming glow.
Holidays & Events
January 25: Burns Night is an annual celebration of Scottish poet Robert Burns. The festivities include a haggis supper accompanied by a reading of "Address to a Haggis," many whisky toasts, and a rousing rendition of "Auld Lang Syne."
Late February: The Fort William Mountain Festival is a celebration of mountain culture and the spirit of adventure, with film screenings, workshops, competitions, and even winter hiking.
Watch this film to discover more about Scotland
Smart Travels with Rudy Maxa: Edinburgh and Scotland
Follow Emmy award-winning travel expert Rudy Maxa to Scotland's legendary sights, including Edinburgh Castle.
Scotland in March-May
Although the Highland peaks are still frosted with white this time of year, the snow begins to melt throughout most of Scotland, leaving a carpet of daffodils and bluebells in its wake. Mild breezes bring the daily temperatures into the mid-50 degrees Fahrenheit range.
Springtime is a wonderful season for exploring Scotland's outdoors, with woodland creatures emerging from their winter dens, new lambs appearing in pastures, and migratory birds returning north. The contrast of snowy peaks and green, flower-bedecked valleys is irresistible for mountain hikers, known locally as "fell-walkers." In oft-rainy Edinburgh, April brings a succession of dry days in which to enjoy a hike up Arthur's Seat or a sedate stroll through the blooming Princes Street Gardens.
Holidays & Events
May 1: Beltane is the Gaelic fire festival, marking the end of winter. A chosen May Queen and Green Man lead a parade that ends with the lighting of a bonfire—accompanied by much feasting and merrymaking, of course.
First weekend of May: The Spirit of Speyside Whisky Festival celebrates the world's finest single malt scotch whiskies, many of which come from this very region (Speyside is home to 84 working distilleries, after all). Attendees enjoy tastings, distillery tours, live music, and whisky-appreciation classes.
Watch this film to discover more about Scotland
Smart Travels with Rudy Maxa: Edinburgh and Scotland
Follow Emmy award-winning travel expert Rudy Maxa to Scotland's legendary sights, including Edinburgh Castle.
Scotland in June-August
As Scotland's spring turns into summer, daylight hours stretch into the evening; this far north, a summer day lasts up to 17 hours. The weather is mild and still changeable, but overall remains pleasant with temperatures rising toward 65 degrees Fahrenheit. Wildflowers and soft purple heather bloom throughout the summer, and the countryside is one green vista after another, from gentle hillocks in the lowlands to craggy peaks in the Highlands.
With so much daylight, there is ample time for bird-watching, outdoor exploration, and sightseeing. This is also the best time of year to visit Scotland's islands, as the seas are calm for boat crossings and island shops are open. Late summer is Scotland's busiest time for tourism, as the world-renowned Edinburgh Military Tattoo and Edinburgh Festival Fringe attract festival-goers by the thousands.
Holidays & Events
August: During the same three-week period in August, the Edinburgh International Festival and the Festival Fringe bring music, comedy, dance, theater, and performance art to Edinburgh. The International Festival hand-selects its acts, while the Fringe is open to just about any performer who wants an audience. While the International Festival is more prestigious, the Festival Fringe lays claim to being the world's largest arts festival, with over 2,500 shows to choose from.
August: At the same time as Edinburgh's two performing arts festivals, the Royal Edinburgh Military Tattoo presents a series of military tattoos (military music performances) on the esplanade of Edinburgh Castle.
Must See
Throughout the summer, whales feed off of Scotland's coasts. From the Shetland Isles to the Inner and Outer Hebrides, whale-watchers can spot minke whales, sperm whales, pilot whales, humpback whales, and orcas.
Watch this film to discover more about Scotland
Smart Travels with Rudy Maxa: Edinburgh and Scotland
Follow Emmy award-winning travel expert Rudy Maxa to Scotland's legendary sights, including Edinburgh Castle.
Scotland in September-October
Autumn burnishes the hills and glens of Scotland in tawny shades of red, copper, and bronze. This is the season for hunting and eating duck, pheasant, deer, and hare—plus the freshest local seafood including oysters, herring, and mackerel. Temperatures in autumn are cool (between 40 and 55 degrees Fahrenheit) and while September is often sunny, October sees frequent rainfall.
Holidays & Events
First Saturday in September: Regularly attended by the British monarch, the Braemar Gathering is the biggest and most important iteration of the Highland Games, which take place throughout Scotland all summer long. The celebration of Gaelic culture involves competitions of all kinds, including bagpiping, Highland dancing, hammer throw, and dog herding.
Watch this film to discover more about Scotland
Smart Travels with Rudy Maxa: Edinburgh and Scotland
Follow Emmy award-winning travel expert Rudy Maxa to Scotland's legendary sights, including Edinburgh Castle.
Scotland in November-December
After the leaves fall, Scotland is painted in shades of gray, from leaden skies to smoldering seas. The countryside is quiet, with rural areas all but closing down to visitors. But the approach of the holidays brings a glow to city streets, as Glasgow and Edinburgh host festive Christmas markets. Skiers and snowboarders celebrate the advent of winter at Scotland's five ski areas, which see close to a hundred snowy days every year.
Holidays & Events
November 30: Saint Andrew's Day is Scotland's national holiday in recognition of its patron saint. By law, all buildings in Scotland must display the saltire (the X symbol on the Scottish flag), and the day is marked with traditional Scottish food, music, and dance.
December 30-January 1: Hogmanay is Scotland's biggest holiday, a relic from the country's Viking past that incorporates elements of the Gaelic Samhain holiday and the traditional German Yuletide. The celebration begins with a torchlit procession and continues with fireworks, concerts, and dancing.
Must See
With three days of festivities engulfing the country, Hogmanay is a can't-miss Scottish holiday. Concerts, fireworks, and street parties overtake most cities and towns, while bonfires and torch processions provide a decidedly pagan flavor. And here in Scotland, where Gaelic persists as a local language, singing"Auld Lang Syne" at midnight on New Year's takes on an even richer meaning.
Watch this film to discover more about Scotland
Smart Travels with Rudy Maxa: Edinburgh and Scotland
Follow Emmy award-winning travel expert Rudy Maxa to Scotland's legendary sights, including Edinburgh Castle.
Average Monthly Temperatures
Scotland Interactive Map
Click on map markers
below to view information about top Scotland experiences
Click here to zoom in and out of this map
Edinburgh
The past lingers in every corner of Edinburgh, from its 11th-century hilltop castle down the Royal Mile to the ruins of Holyrood Abbey and the neighboring Palace of Holyroodhouse, still home to the British monarch for one week every year. Edinburgh's medieval Old Town and 18th century "New Town" may be a museum-quality UNESCO World Heritage Site, but they are very much alive and thriving.
Home to the world's largest annual arts festival, Edinburgh was known for a time as the Athens of the North—a place for literature and learning, philosophy and thinking. There is certainly no shortage of inspiration here—the green hills and black cliffs that rise throughout town provide stunning views, and a dram of rich, peaty Scotch can turn anyone into a deep thinker. But it's not all serious; the locals are renowned for their warmth and wry sense of humor.
Edinburgh's Maritime Attractions
See the seaside wildlife of the Firth of Forth and meet a kilt designer in this unique look at Scotland's capital.
Explore Edinburgh with O.A.T. on:
Glasgow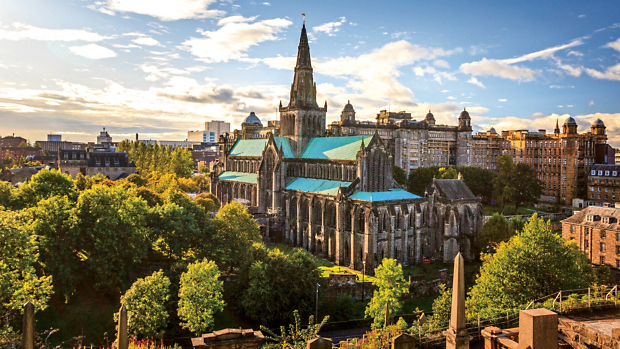 Scotland's most populous city, bustling Glasgow is a haven for travelers seeking cosmopolitan sophistication with a side of welcoming locals. "People make Glasgow" is a popular saying around the city, but this buzzing metropolis is also home to an unmatched arts scene. Glasgow's stone-paved streets are bursting with free-to-enter museums and galleries such as the Kelvingrove Art Gallery & Museum, which houses 8,000 artworks and artifacts within its ornate walls. Even the city itself is a piece of art: Elaborate stone Victorian buildings share streets with ornate structures built in the "Glasgow Style," which is characterized by art nouveau influences. A UNESCO City of Music, Glasgow hosts an average of 130 weekly music events, many at the renowned Barrowland Ballroom where legends like David Bowie, The Clash, and Bob Dylan have performed.
Explore Glasgow with O.A.T. on:
Inverness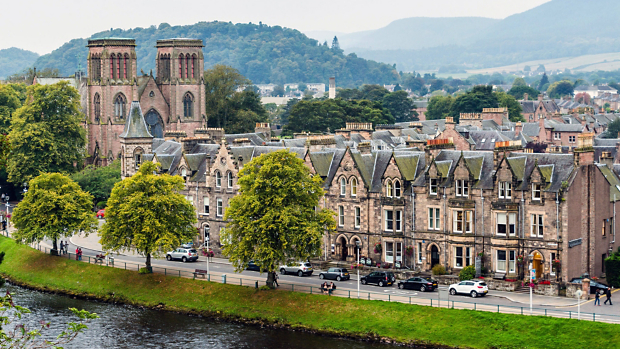 Located in the northern Highlands, Inverness is a storybook city of modest stone homes and an enchanting castle that appears straight from a fairy tale. Adding to the city's magical charm, the legendary Loch Ness runs through the center of the city and is believed to be the home of a mystical aquatic monster.
In addition to its charming setting, Inverness also boasts a rich history. Just outside of the city is Culloden Battlefield. On April 16, 1746, the last major battle fought on mainland British soil occurred here, and as a result more than 1500 soldiers perished. This battlefield was the site of the final Jacobite uprising, an effort to restore the House of Stuart to the British throne. The battle only lasted one hour and came to a close when Government forces led by the Duke of Cumberland crushed the army of Prince Charles Edward Stuart.
Explore Inverness with O.A.T. on:
Oban
With a name that means "Little Bay" in Scottish Gaelic, Oban is a picturesque port situated on Scotland's west coast. The bayside jewel is bedecked with striking Victorian architecture that emerges from lush green landscapes, and peppered with top-notch seafood spots and pubs to cozy up in with a pint. The unofficial capital of Scotland's Western highlands, the town was built around the Oban distillery, where locals and travelers alike have been coming to sip iconic Scotch whiskey since 1794. The enchanting area's history extends much further back, though, with evidence of cave dwellers from the Mesolithic times found throughout the town center, and the 13th-century Dunollie Castle standing proudly over the sea.
Explore Oban with O.A.T. on:
St. Andrews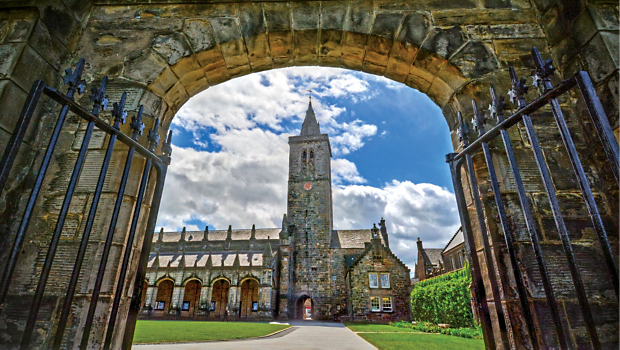 St. Andrews is a city rich in history and culture. In the 16th century, a clash of Protestant ideas and the traditional beliefs of Christianity ignited conflict throughout Europe. Considered to be the ecclesiastical capital, this city was the first location in Scotland to feel the impacts of the Protestant Reformation in the 16th century. For years, this religious conflict deeply affected the country's ruling parties.
St. Andrews is also home to the oldest university in the country and one of the oldest colleges in the world. The University of St. Andrews was founded here in the 15th century. During that time, Scottish students wanted to establish higher education opportunities in their own country instead of having to seek out education abroad. Notable alumni include a certain Duke and Duchess of Cambridge.
And, you can't mention St. Andrew's history without including the history of golf. The Old Course is the location of the first game of golf, which was played in the 15th century. Follow in the footsteps of some of this sport's greats, like James Braid or Old Tom Morris, during a visit to this famous location.
Explore St. Andrews with O.A.T. on:
Urquhart Castle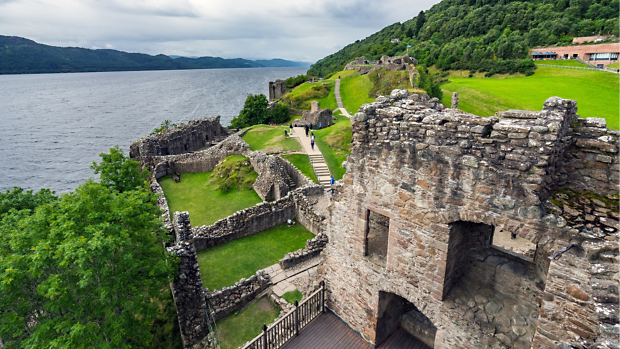 Perched atop a cliff, the crumbling ruins of Urquhart Castle boast expansive views of Loch Ness. Its stunning beauty is matched by a fascinating past. The castle's 1000-year history has seen the face of Scotland change over time as this is the location that Irish abbot and missionary St. Columba is believed to have performed many miracles in the 1500s, and where clans clashed with the English in battles for power.
Explore Urquhart Castle with O.A.T. on:
Featured Reading
Immerse yourself in Scotland with this selection of articles, recipes, and more
ARTICLE
Learn about Edinburgh's mysterious tales of falsely accused witches, sneaky prisoners, and paranormal activity.
ARTICLE
While the historic origins of this cake recipe are a bit unclear, there's no question that it's a favorite of Queen Elizabeth II. Follow along with this recipe and try it for yourself.
Edinburgh Castle: Shrouded in Secrets
The myths and mysteries of Scotland's iconic landmark
by Catherine Groux, Grand Circle associate
With more than 800 years of history, Edinburgh Castle is shrouded in secrets. Centuries of royals lived within its illustrious chambers and great halls, while countless prisoners awaited their death deep in its dungeons. While today one of Scotland's most popular tourist attractions, drawing more than a million visitors a year, at various points, the castle served as execution site, royal treasury, and even a fortress. Over the years, Edinburgh has spawned mysterious tales of spying kings, falsely accused witches, sneaky prisoners, ancient relics, and paranormal activity. Below is just a sample of the many myths and mysteries of Edinburgh Castle and the people who lived and died there:
The Stone of Destiny
Protected in Edinburgh Castle is a mysterious block of sandstone. Bearing only a Latin cross, there is little remarkable about its appearance—but throughout history, the Stone of Destiny has inspired legends, sparked great reverence, and spurred several conflicts between Scotland and England.
Beginning in the ninth century, the stone was used during the crowning of the kings who would go on to shape Scotland's history. Some say the stone has biblical origins, claiming that Jacob used it as a pillow in Bethel when he dreamt of a ladder to heaven. Others believe it came from Scotland or Ireland. But as the stone traveled from Iona to Scone to serve Scotland's crowned rulers, it became revered as a national relic—a symbol of Scotland's power and independence.
It was for this reason that Edward I of England, after invading Scotland in 1296, moved the Stone of Destiny to London's Westminster Abbey, where he put it under the Coronation Chair—sending a message to Scots that the English ruler was their ruler as well. To many Scots' dismay, the stone remained in Westminster until Christmas morning 1950, when a group of Scottish students stole it—claiming they were taking the ancient relic back to its rightful owners in Scotland. After performing the bold heist (and breaking the stone in half in the process), the nationalists smuggled it back to Scotland, dousing it in whiskey to welcome it home.
After police questioning, however, the students eventually gave up the stone, leaving it in Arbroath Abbey. When it was found, it was moved back to London until 1996, when the British government agreed to return it to Edinburgh Castle. While this was cause for celebration for many Scots, others say the stone you see in the castle today is not the original. Some historians believe the true Stone of Destiny was hidden in the Perthshire hillside when the English invaded in the 13th century—meaning Edward I plundered a counterfeit—while others say the Scots hid the real stone after the 1950 heist, returning a fake to England.
The Lone Piper
Edinburgh Castle is reputed to be one of the most haunted places in the world, and though countless visitors claim to have seen various ghosts wandering the grounds, one of the castle's most famous paranormal residents is the Lone Piper. Legend says that in the 19th century, a series of underground tunnels was discovered below the castle, connecting Edinburgh to the Royal Mile and Holyrood Palace. Because the tunnels were too small for adults, the authorities asked a young piper to investigate, telling him to play his bagpipes while he explored. As the boy made his way through the mysterious tunnels, the authorities tracked his movements with the sound of his pipes, until the boy stopped playing—vanishing into the dark, underground labyrinth. No one knows what happened to the boy, but visitors still report hearing the ghostly sound of pipes on the castle grounds.
The Witches' Well
Near the entrance to the castle esplanade sits a small wall fountain called the Witches' Well. Although the well would be easy to miss, it serves as a reminder of one of the darker times in Scottish history. Between 1479 and 1722, more than 300 suspected witches were burned at the stake near the site of the well. Among them was Janet Douglas, a.k.a. Lady Glamis, a noblewoman whose husband suddenly died while eating alone. Lady Glamis was charged with poisoning him, but when she was deemed innocent, King James V acted on his deep hatred of the Douglas family and accused her of another crime—trying to kill him with witchcraft. Although it seems clear that Lady Glamis was innocent, the king tortured her loved ones until they were willing to testify that she conspired to murder the monarch. Lady Glamis was ultimately condemned and burned at the stake on the castle's esplanade, along with countless others who met this unfortunate fate.
The Escape Artists
Deep below the Great Hall and Queen Anne Building are stone vaults that housed countless prisoners of war, from a group of Caribbean pirates to a five-year-old drummer boy captured in the Battle of Trafalgar. Over the years, several of these prisoners tried to escape. In 1799, for example, a prisoner tried to sneak out of the castle by hiding in a dung barrel. Unfortunately, the man's plans were dashed when a guard dumped him—and the other contents of the barrel—over the castle wall. During another famous escape in 1811, a group of 49 French prisoners managed to break through a wall and use a cloth rope to lower themselves down the south crag. Unfortunately, the Frenchmen didn't escape scot-free. One prisoner fell to his death and four were captured almost immediately. The rest were caught within six weeks, after a successful ad in the Edinburgh Evening Courant named and described each one.
Recipe: Queen Elizabeth Cake
On February 6, 1952, Queen Elizabeth II, Britain's longest reigning monarch, first took the throne. Her father, King George VI, passed away in his sleep after a long illness—and as the eldest of his two daughters, Princess Elizabeth was next in line to succeed him.
She was on tour with her husband, Philip, in Kenya at the time, having already begun to stand in for her father at public appearances. She had yet to return home when the Accession Council first proclaimed her succession to the throne; a second meeting was held on February 8, during which Elizabeth took oath. Additional proclamations followed in Australia, Canada, New Zealand, and South Africa. The Queen's official coronation, however, would not take place until June of 1953, after the obligatory mourning period for her father.
While history can't say for sure that Queen Elizabeth Cake originated with the coronation ceremony—it may have been created for that of the Queen Mother—the cake enjoyed a surge in popularity, appearing in many magazines and coronation-themed cookbooks that year. Often, the recipe included a request from the Queen that it not be shared freely, but sold for charitable purposes. This practice has fallen by the wayside, and we share an adaptation of the original 1953 recipe here. We don't think Elizabeth II will mind.
Ingredients:
For the cake:
1 cup chopped dates
1 tsp baking soda
1 cup brown sugar
1/4 cup butter
1 egg, beaten
1 tsp vanilla extract
1 1/2 cups flour, sifted
1 tsp baking powder
1/2 tsp salt
1/2 cup chopped pecans or walnuts
For the icing and topping:
5 Tbsp brown sugar
5 Tbsp cream
2 Tbsp butter
2 cups unsweetened shredded coconut
Preparation:
Combine dates and baking soda, and cover with 1 cup boiling water. Let stand while you prepare the cake batter.
Preheat oven to 350 degrees Fahrenheit. Butter and flour a 9x12 cake pan.
In a large bowl, mix butter and sugar until creamy. Add egg and vanilla. Beat well.
Add flour, baking powder, salt, date mixture, and nuts. Mix well.
Pour batter into pan and transfer to preheated oven. Bake 25 to 30 minutes, until golden brown on top.
For the icing, mix the brown sugar, cream, and butter in a small saucepan. Bring to a boil and cook three minutes.
Turn out cake onto a platter. Pour icing over and spread evenly. Sprinkle with shredded coconut.
Servings: 10-12