The Leader in Small Groups on the Road Less Traveled in Over 85 Countries
You're receiving this message because your web browser
is no longer supported
We recommend upgrading your browser—simply click the button below and follow the instructions that will appear. Updating will allow you to accept Terms and Conditions, make online payments, read our itineraries, and view Dates and Prices.
To get the best experience on our website, please consider using:
Safari (for Mac or iPad Devices)
Update Browser

RWANDA
Compare Our Adventures
Find out more about the adventure, including activity level, pricing, traveler excellence rating, included meals, and more
Trip Itinerary
From the gleaming streets of Kigali and mist-covered slopes of the Virunga volcanoes to the wonders of Akagera National Park, see how your itinerary will unfold.
Please call for pricing
O.A.T. Adventure by Land
Rwanda: Kigali, Akagera National Park, Volcanoes National Park
13
Go for a trek in Volcanoes National Park for a face-to-face encounter with one of the last remaining families of endangered mountain gorillas on the planet
Hike along the lower slopes of Volcanoes National Park to witness the antics of a troop of rare golden monkeys
Seek out Africa's "Big Five" on up to 4 game-viewing drives—and a safari boat cruise—in Akagera National Park
Visit a Women's Opportunity Center in the Rwandan countryside where women farmers and genocide survivors gather to put their lives back together
Spend time at one of Rwanda's Millennium Villages, an international project dedicated to lifting communities out of poverty
Adventure Details
Find the Adventure That's Right for You
Our Activity Level rating system ranks adventures on a scale of 1 to 5 to help you determine if a trip is right for you. See the descriptions below for more information about the physical requirements associated with each rating.
Travelers should be able to climb 25 stairs consecutively, plus walk at least 1-2 miles over some uneven surfaces without difficulty. Walks typically last at least 1-2 hours at a time. Altitude can range from zero to 5,000 feet.
Activity Level 2:
Moderately Easy
Travelers should be able to climb 40 stairs consecutively, plus walk at least 2-3 miles over some uneven surfaces without difficulty. Walks typically last for at least 2-3 hours at a time. Altitude can range from zero to 5,000 feet.
Activity Level 3:
Moderate
Travelers should be able to climb 60 stairs consecutively, plus walk at least 3 miles over some steep slopes and loose or uneven surfaces without difficulty. Walks typically last for 3 or more hours at a time. Altitude can range from 5,000 to 7,000 feet.
Activity Level 4:
Moderately Strenuous
Travelers should be able to climb 80 stairs consecutively, plus walk at least 4 miles over some steep slopes and loose or uneven surfaces without difficulty. Walks typically last for 4 or more hours at a time. Altitude can range from 7,000 to 9,000 feet.
Activity Level 5:
Strenuous
Travelers should be able to climb 100 or more stairs consecutively, plus walk at least 8 miles over some steep slopes and loose or uneven surfaces without difficulty. Walks typically last for 4 or more hours at a time. Altitude can range from 10,000 feet or more.
Hide Acivity Level
PRICE
including international airfare
HIGHLIGHTS & ACTIVITIES IN RWANDA
*This information is not available for our trip extensions. You must reserve the main trip to participate on this extension.
**This information is not currently available for this trip. Please check back soon.
Rwanda: Month-by-Month
There are pros and cons to visiting a destination during any time of the year. Find out what you can expect during your ideal travel time, from weather and climate, to holidays, festivals, and more.
Rwanda in December-February
Due to Rwanda's high altitude and location just south of the equator, temperatures remain moderately comfortable year-round. But during these months, the country experiences the shorter of its two dry seasons, when rainstorms give way to occasional light rain showers. The dry months prove an ideal time for gorilla trekking or game-viewing safaris to see the "Big Five"—though for this reason, it's also a time when Rwanda draws larger crowds.
Rwanda in March-May
As Rwanda's longer rainy season sets in, the country sees a deluge of rainstorms ranging from sudden downpours to persistent rains. April is the wettest month, with the highest amount of rainfall during the year. Thanks to this ample rainfall, the jungle trees and flowers flourish and bloom during these months.
As hikes become slippery and trickier to navigate, fewer tourists visit Rwanda during this time. But those who do head out on treks during this season will have the mountains, lakes, jungles, and other natural landscapes to themselves. They will also benefit from better photography lighting as less harsh sunlight shines through the foliage, and will be more likely to see newborn animals. In addition, trekking permits can be less expensive during this season.
Holidays & Events
April 7: International Day of Reflection is a time when people hold memorial and candle-lighting ceremonies in honor of victims of the 1994 genocide
Mid-May: The Kigali International Peace Marathon draws participants from around the country and world and features a full marathon, a half marathon, and a run for peace
Rwanda in June-September
These months are considered the best time to visit Rwanda for trekking and game-viewing. June kicks off the country's longer dry season, though some light rainfall may occur, while July and August are the driest months during the year. As a result, the jungle trails and ground become less muddy and slippery, making gorilla trekking less strenuous. In addition, travelers can more easily spot animals during game-viewing drives at Akagera National Park as lions, giraffes, zebras, and other creatures gather around the remaining waterholes for a drink.
However, this is also the most popular time for tourists to visit Rwanda because conditions are ideal for animal viewing and schools in the Northern Hemisphere close for summer break.
Holidays & Events
July: KigaliUP is an annual two-day festival of African and other world musical styles
July-September: Kwita Izina: Rwanda's annual "gorilla-naming" ceremony
September: The Rwanda Film Festival is an annual week-long event—also known as "Hillywood"—celebrating local and international films
Must See
Just like newborn babies are named in human families, Volcanoes National Park marks the birth of newborn gorillas each year with a "gorilla naming" ceremony. Called Kwita Izina, the program was introduced in 2005 as a way to celebrate the first set of baby gorillas born in the park and to raise awareness of the importance of growing the endangered mountain gorilla population. Since then, more than 258 mountain gorillas have been given different names at this exciting annual event that takes place on various summer dates each year.
Rwanda in October-November
October ushers in the short rainy season, when tropical rains come in short, heavy bursts—often leaving the rest of the day clear. November is the second wettest month of the year, but this shouldn't dissuade visitors from gorilla trekking. Brief storms and slippery ground may make trekking more difficult, but rain can make for excellent photo opportunities if the young gorillas decide to play in the shower. In addition, the jungle sees more birdlife with the rains as the undergrowth and trees grow more dense and lush.
Holidays & Events
October: Festival Arts Azimuts (FAAZ) brings together dancers, musicians, and visual artists from both Rwanda and abroad
Average Monthly Temperatures
Rwanda Interactive Map
Click on map markers
below to view information about top Rwanda experiences
Click here to zoom in and out of this map
Akagera National Park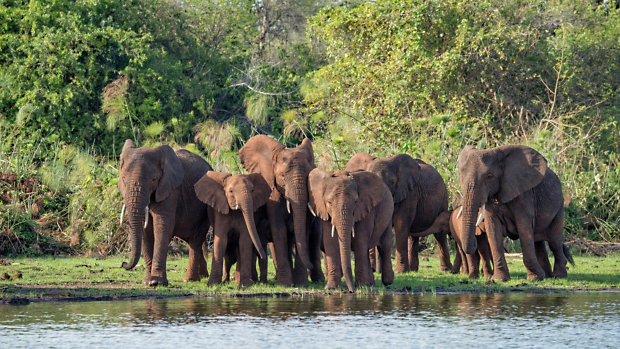 Nestled along the border with Tanzania in northeastern Rwanda, Akagera National Park was originally established in 1934, making it one of Africa's oldest national parks. It is also the largest protected wetland on the continent. Consisting of about 400 square miles of savanna, woodlands, and wetlands, Akagera's rich and varied terrain provides shelter to zebras, giraffes, elephants, lions, and more than 500 species of birds, including the rare shoebill stork. Another attraction of Akagera is the opportunity to experience water safaris. A boat ride on Lake Ihema in the park's southern section offers a relaxing way to observe wildlife emerging from the dense woodlands for a drink or to cool off along the shore—and the lake waters themselves teem with crocodiles and one of Africa's greatest populations of hippos.
Akagera was once much bigger than its current size, however. Almost half of its land was given over to refugees returning to Rwanda after the 1994 genocide. Poaching and cultivation during this period also led to the loss of the park's lion and rhino populations—but after a recent program to reintroduce these species, beautiful Akagera National Park is once again home to Africa's "Big Five."
Explore Akagera National Park with O.A.T. on:
Kigali
Rwanda's capital and largest city was founded in 1907 by German colonists. Situated in the geographical heart of the country, Kigali is ringed by mountains and sprawls across several ridges and lush valleys. Currently home to about a million people, Kigali is a forward-focused city that offers a remarkable mix of red-roofed homes, terraced farm plots, ultra-modern buildings, trendy restaurants, and brilliant green foliage. As one of the focal points of Rwanda's 1994 genocide, Kigali is also home to several memorials that honor the victims and ensure that these dark days are never repeated—including the Kigali Genocide Memorial. One of Africa's best museums, this moving memorial features exhibits that trace the roots of the Rwandan genocide and is located on the site where more than 250,000 people who died during the fighting were buried in mass graves. A modern-day reminder of Kigali's role in the genocide is encompassed by a stay at the popular Hotel des Mille Collines—whose famous story about lives that were saved during the genocide inspired the film Hotel Rwanda.
In recent years, Rwanda's capital has worked tirelessly to reshape its image and has successfully transformed itself into a model of urban development. In addition to a ban on plastic bags, men and women are regularly seen on the sides of roads picking up trash or sweeping. In fact, all citizens are required once a month to partake in a neighborhood cleaning effort—including Rwanda's president. The level of upkeep along the streets of Kigali is so exceptional that the United Nations declared it as the most beautiful city in Africa.
Explore Kigali with O.A.T. on:
Volcanoes National Park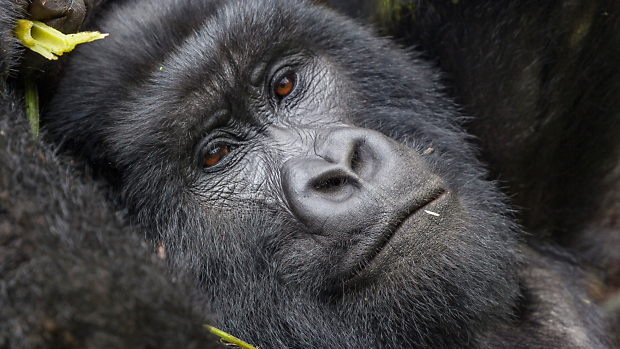 Tucked into Rwanda's northwestern corner, Volcanoes National Park (or Parc National des Volcans) protects the Rwandan sector of the Virunga Volcanoes—a magnificent range of six extinct and three active volcanoes that straddle the border with Uganda and the Democratic Republic of Congo (DRC). About a two-hour drive from Kigali, the forested slopes of Volcanoes National Park provide a dramatic natural setting for one of mankind's closest living relative: the endangered mountain gorilla. Dian Fossey, the American primatologist who fell in love with these gentle giants in the 1960s (and went on to live among them for about 20 years), described this region as "so high up that you shiver more than you sweat." And she called the Virungas "great, old volcanoes towering up almost 15,000 feet, and nearly covered with rich, green rainforest."
With fewer than a thousand mountain gorillas left in the world, roughly half of them make up the ten habituated families currently living on the Rwandan slopes of the Virungas. A face-to-face encounter with these rare creatures is one of the world's most thrilling and sought-after wildlife experiences. Tracking mountain gorillas can take anywhere from an hour to a day—it all depends on what they are doing and how fast they are moving. But mountain gorillas aren't the only endangered primates living in Volcanoes National Park. Golden monkeys are often seen swinging from treetop to treetop in the bamboo forests of the Virungas—although at a lower altitude than the mountain gorillas. Large troops of golden monkeys living here are also habituated to human contact—and following the antics of these playful primates can really keep visitors on their toes.
Explore Volcanoes National Park with O.A.T. on: