The Leader in Personalized Small Group Adventures on the Road Less Traveled
You're receiving this message because your web browser
is no longer supported
We recommend upgrading your browser—simply click the button below and follow the instructions that will appear. Updating will allow you to accept Terms and Conditions, make online payments, read our itineraries, and view Dates and Prices.
To get the best experience on our website, please consider using:
Safari (for Mac or iPad Devices)
Update Browser

poland
Compare Our Adventures
Click 'Select to Compare' to see a side-by-side comparison of up to adventures below—including
activity level, pricing, traveler excellence rating, trip highlights, and more
View 2021 Itinerary Video
See a detailed overview of this itinerary, including optional pre- and post-trip extensions and highlights of this adventure—like learning about Latvia's history of Soviet oppression from locals who lived through it.
Spend 1 days in Poland on
O.A.T. Adventure by Small Ship
Denmark: Copenhagen, Bornholm • Poland: Gdansk • Sweden: Visby, Stockholm • Latvia: Riga • Estonia: Tallinn • Russia: St. Petersburg • Finland: Helsinki
34 meals: 12 breakfasts, 10 lunches, 12 dinners—including 1 Home-Hosted Dinner—plus all onboard house beer, wine, and soft drinks
Embark on a walking tour of the Stare Miasto (Old Town) of Gdansk
Visit St. Mary's Church, one of the largest brick churches in the world, during free time in Gdansk
Share a meal with a local Polish family
Trip Extension—Poland: Krakow, Auschwitz & Warsaw
Discover the rich culture and turbulent past of two of Poland's most historic cities on this extension.
Spend 5 days in Poland on our
Pre-trip Extension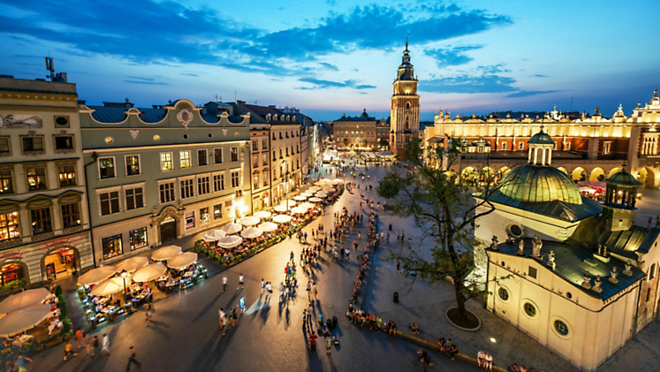 Not Applicable*
Not Applicable*
10 meals—5 breakfasts, 3 lunches, and 2 dinners
Witness the tragic history of Auschwitz
Explore Krakow, one of Europe's most beautiful cities
Visit the legendary "Black Madonna" at the shrine of

Czestochowa
Marvel at the

Wieliczka Salt Mines on an optional tour
Compare Adventures
Find the Adventure That's Right for You
Our Activity Level rating system ranks adventures on a scale of 1 to 5 to help you determine if a trip is right for you. See the descriptions below for more information about the physical requirements associated with each rating.
Travelers should be able to climb 25 stairs consecutively, plus walk at least 1-2 miles over some uneven surfaces without difficulty. Walks typically last at least 1-2 hours at a time. Altitude can range from zero to 5,000 feet.
Activity Level 2:
Moderately Easy
Travelers should be able to climb 40 stairs consecutively, plus walk at least 2-3 miles over some uneven surfaces without difficulty. Walks typically last for at least 2-3 hours at a time. Altitude can range from zero to 5,000 feet.
Activity Level 3:
Moderate
Travelers should be able to climb 60 stairs consecutively, plus walk at least 3 miles over some steep slopes and loose or uneven surfaces without difficulty. Walks typically last for 3 or more hours at a time. Altitude can range from 5,000 to 7,000 feet.
Activity Level 4:
Moderately Strenuous
Travelers should be able to climb 80 stairs consecutively, plus walk at least 4 miles over some steep slopes and loose or uneven surfaces without difficulty. Walks typically last for 4 or more hours at a time. Altitude can range from 7,000 to 9,000 feet.
Activity Level 5:
Strenuous
Travelers should be able to climb 100 or more stairs consecutively, plus walk at least 8 miles over some steep slopes and loose or uneven surfaces without difficulty. Walks typically last for 4 or more hours at a time. Altitude can range from 10,000 feet or more.
Hide Acivity Level
PRICE
including international airfare
HIGHLIGHTS & ACTIVITIES IN Poland
*You must reserve the main trip to participate on this extension.
**This information is not currently available for this trip. Please check back soon.
Recommended Viewing
Watch this video showcasing what makes this country so unforgettable
Poland – Warsaw and Krakow: Sophisticated Sister Cities
Produced by Regina Fraser, Pat Johnson, and Kathy Monk
Join the Grannies on Safari as they explore Poland's rich history, cultural traditions, and beautiful craftsmanship.
Poland: Month-By-Month
There are pros and cons to visiting a destination during any time of the year. Find out what you can expect during your ideal travel time, from weather and climate, to holidays, festivals, and more.
Poland in December-February
Winter in Poland is very cold, especially in January, when the average temperature is 27 degrees Fahrenheit—with nights dipping into the low negatives. Though it's not typically targeted as the most desirable time of year to visit, if you pack right and prepare for the snow, wind, and rain, you'll be here to appreciate the beauty of Poland's snow-covered cities and holiday spirit without the crowds that warmer weather brings.
Holidays & Events
January 1: New Year's Day
January 6: In Poland, Epiphany is celebrated with a series of parades symbolically welcoming the Wise Men. Songs are sung, performances come to life in the streets, and celebratory religious rituals are carried out at churches on the parade routes. With the day off from work, throngs of Poles join in the festivities, and Epiphany has come to signify the ringing in of zapusty, or carnival season.
Must See
Typically beginning in the last week of November, the Christmas market in Krakow is not to be missed. Dozens of wooden stalls fill Rynek Glowny, the city's main square, and vendors sell anything from Christmas decorations, jewelry, and other crafts, to savory meals, desserts, and alcoholic beverages.
Watch this film to discover more about Poland
Traveler's Perspective: Scandinavia & the Baltics
Submitted by Sarah Young, 21-time traveler from Rogers, Arkansas
Follow fellow traveler Sarah Y. as she journeys through Scandinavia and the Baltics.
Poland in March-May
March ushers in more sun, though temperatures remain relatively cool with the average around 40 degrees Fahrenheit. By May, the average temperature has typically worked its way up to just below 60. Frequent rains nourish the land, and like the delicate crescendo of a Chopin piano trill, vegetation rises gently from the earth, gradually transforming the surrounding landscapes into a vibrant sea of green. As the forests throughout Poland grow more dense, the idyllic, castle-laden countryside emits an undeniable European charm.
Holidays & Events
April 1: Easter
May 1: May Day is a celebration to welcome in the warmer weather. The holiday tends to also serve as an honorary Labor Day, with occasional marches taking place to celebrate workers' rights.
May 3: Poland's Constitution Day commemorates the 1791 declaration of the country's constitution. Citizens get the day off from work, and often attend parades, speeches by public figures, and other celebratory events.
Must See
Easter is a very important holiday in Poland with traditions typically beginning a week before, on Palm Sunday, when many people bring dried pussy willow branches (actual palms don't grow here) to church to be blessed. You're likely to see people filling the streets, proudly displaying their beautiful handcrafted "palms." The ritual symbolizes Jesus' return to Jerusalem before his crucifixion. Some towns even hold contests to see who made the tallest, most intricate, or impressive makeshift palm.
The following week leading up to Easter is a very popular time for people to take care of their spring cleaning and housework. For some, this week is observed as a period of fasting, and many take time to visit ornately decorated representations of Jesus' tomb to pray. The famous egg-painting tradition usually occurs the Saturday night before Easter. Known in Poland as pisanki— which stems from a root word meaning "to write"—the tradition is meant to ensure a productive harvest, and actually dates back 5,000 years to a time when eggs were thought to have magical properties. Depending on how the eggs are painted, some results turn out incredibly detailed, with beautiful, festive patterns on them.
On Easter Day, aside from traditional religious ceremonies, many Poles dedicate their time to elaborate feasts, usually with an extensive array of Easter cakes. After the actual holiday comes to a close, the final tradition is known as Wet Monday—a quirky, yet captivating day when boys are known to run through the streets, throwing water at girls in their neighborhoods. As a spectator, you may want to bring a poncho.
Watch this film to discover more about Poland
Traveler's Perspective: Scandinavia & the Baltics
Submitted by Sarah Young, 21-time traveler from Rogers, Arkansas
Follow fellow traveler Sarah Y. as she journeys through Scandinavia and the Baltics.
Poland in June-August
Explore Poland during June, July, and August, and expect an average temperature of about 77 degrees Fahrenheit. Tourists flock to Poland around this time, as festivals and concerts are in full swing, and there's plenty of lody (Polish ice cream) to go around. If you're having trouble choosing which summer month is right for you, it may help to note that July tends to be the rainiest.
Holidays & Events
July: Krakow's annual Crossroads Festival takes place in the city center and showcases traditional and folk music.
July and August: Every Saturday, outdoor jazz concerts take place in Warsaw and are open to the public. Known as "Jazz at the Old Town," it is one of the longest festivals in all of Europe. Polish jazz musicians are joined by performers from all over the world, and diverse musical acts attract people far and wide to enjoy the lively festivities.
Mid-summer: On the banks of Krakow's Wisla River, the annual Wianki festival takes place. Translated into English as "wreaths," this event includes music, cultural arts, and a wreath decorating contest.
Watch this film to discover more about Poland
Traveler's Perspective: Scandinavia & the Baltics
Submitted by Sarah Young, 21-time traveler from Rogers, Arkansas
Follow fellow traveler Sarah Y. as she journeys through Scandinavia and the Baltics.
Poland in September-November
The vibrant greens of summer give way to yellows and oranges as September stains the thickly forested mountains a tapestry of autumnal shades. Fall in Poland welcomes temperatures ranging from the high 30s to the high 50s (Fahrenheit). As peak tourism season begins to die down, and rains pick up, it's a nice quiet time to visit, but layering your clothing is key.
Holidays & Events
October: The 10-day Warsaw International Film Festival celebrates international filmmakers and highlighting new and exciting trends in the film industry.
November 1: Also a day to remember and honor those who have passed, and sometimes referred to as the Day of the Dead, All Saints Day is celebrated each year, mainly to commemorate saints.
November 11: Polish Independence Day is celebrated annually in recognition of the country's 1918 establishment of the sovereign Second Polish republic.
November: All Souls Jazz Festival, Europe's oldest jazz festival, takes place in Krakow, and brings musicians from all over the world together for a night of music and celebration.
Related Video:
Traveler's Perspective: Scandinavia & the Baltics
Submitted by Sarah Young, 21-time traveler from Rogers, Arkansas
Follow fellow traveler Sarah Y. as she journeys through Scandinavia and the Baltics.
Average Monthly Temperatures
Poland Interactive Map
Click on map markers
below to view information about top Poland experiences
Click here to zoom in and out of this map
Krakow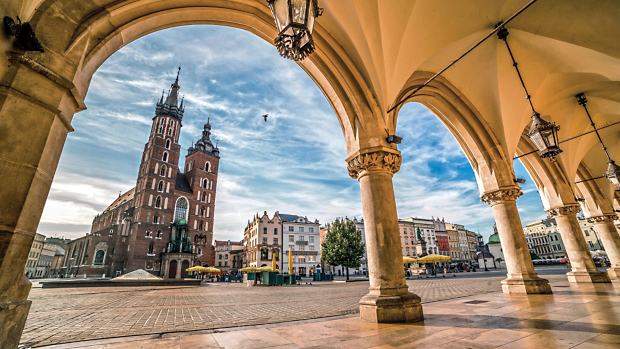 Spread along the banks of the Vistula River in southern Poland, Krakow is the cultural and intellectual epicenter of the nation, a lively university town with a reputation for producing avant-garde art and groundbreaking scientific contributions—it was here, for example, that Copernicus first posited that the sun, and not the earth, was at the center of the universe.
Legend has it that Krakow was founded more than a thousand years ago to honor Krak, a local man who vanquished a monstrous, maiden-eating dragon and became king. Today, Poland's second city retains its mythical heritage: Wander the cobblestone lanes of the Old Town, visit the 16th-century Wawel Castle, or take a stroll around Rynek Główny, the largest medieval market square in Europe, to soak up the fairytale charm of this historic city.
Like most of Poland, Krakow was devastated by World War II. Many of Krakow's Jewish residents were forced into the Podgórze Ghetto before being deported to Auschwitz; visit the city's Jewish quarter to learn more about their tragic fates, and to witness the monuments standing in their honor. You can also visit Schindler's Factory, made famous in Steven Spielberg's Academy Award-winning film "Schindler's List."
While the trauma of World War II has left its scars on the city's psyche, Krakow's stunning assemblage of Gothic, Renaissance, and Baroque architecture managed to emerge from the war unscathed, and it is still considered one of the most beautiful cities in central Europe.
Explore Krakow with O.A.T. on:
Auschwitz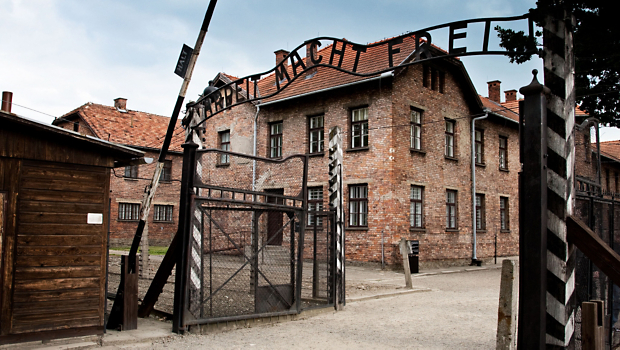 Deep in the Polish countryside, the Auschwitz-Birkenau State Museum stands as a somber testament to one of the most horrific chapters in human history. Here, between 1940 and 1945, more than 1.1 million men, women, and children were murdered as part of Nazi Germany's "Final Solution."
In their haste to flee, the Nazis were only partially able to destroy the Auschwitz-Birkenau compound, which has since been preserved by the State Museum and granted UNESCO World Heritage status. Visitors to the camp can trace the footsteps of Auschwitz's prisoners: Follow the train tracks beneath the infamous "Arbeit Macht Frei" ("Work will set you free") gate and witness the sprawling collection of dilapidated bunks and red brick work houses. A visit to the museum's permanent collection, with its overflowing display of shoes, eye glasses, and other personal effects confiscated from the prisoners, offers a sobering opportunity to comprehend the staggering scale of the tragedy that took place here.
Explore Auschwitz with O.A.T. on:
Warsaw
Destroyed by the horrors of World War II, Poland's capital city is a mishmash of architectural styles that reflect the city's turbulent history: painstakingly restored Gothic marvels, concrete blocks hearkening back to the days of communism, and sleek modern constructions made of glass and steel. Warsaw is also home to some of the best museums in the country. Delight in the music of the city's most famous resident, Chopin, or visit the Museum of the History of Polish Jews for a solemn look into the history and destruction of Europe's largest Jewish community.
Catholicism's roots have a strong hold in Poland, and the religion continues to play an integral role in Polish life today. Each year, tens of thousands of pilgrims make the 128-mile journey from Warsaw to Częstochowa in southern Poland on foot to celebrate the Feast of the Assumption. Their pilgrimage ends at the legendary "Black Madonna," housed in Częstochowa's Jasna Góra monastery. This famous Byzantine painting has been a symbol of Polish nationalism since the 17th century, when a small band of monks and soldiers defended the monastery against an attack by the Swedes.
Explore Warsaw with O.A.T. on:
Wieliczka Salt Mines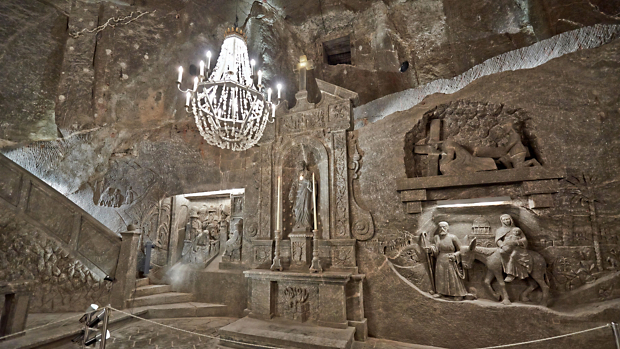 Journey 443 feet and nine levels underground to behold a wondrous masterpiece made from … salt.
The Wieliczka Salt Mines were first discovered in the 13th century. Since then, miners have carved a labyrinth of chapels and halls, intricate sculptures, and spectacular architectural designs into the salt, including the Chapel of St. Kinga, the mine's largest—and most impressive—chapel. The sprawling 5000-square-foot room boasts salt relief sculptures that are illuminated by chandeliers hanging overhead. The chapel's designs were so masterfully sculpted that you seem to be looking at marble instead of salt.
In addition to being aesthetically incredible, the salt mines are used to produce 700 tons of salt per day and are even believed to have healing properties that treat allergies. It's no surprise that this Polish wonder was designated a UNESCO World Heritage Site in 1978.
Explore the Wieliczka Salt Mines with O.A.T. on:
Gdansk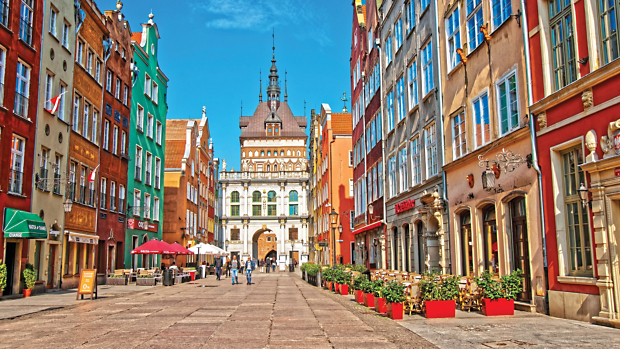 Gdansk's pastel-hued cookie-cutter buildings are more evocative of Baltic charm than a Polish city with a complicated history. It's difficult to believe that the Stare Miasto (Old Town)—with its picturesque café-lined cobbled streets—was once reduced to rubble and building silhouettes.
In the 16th century, Gdansk experienced a moment of prosperity when it served as an important trade port for Poland due to its proximity to the Baltic Sea. With this success came a wave of German immigrants who later altered the Polish city's history in the 20th century. By the mid-19th century, the city hosted a large German population, which made it easier for the Nazi's to gain political power. World War II first broke out in Gdansk, which destroyed the city's infrastructure and spirit, but only temporarily.
Gdansk took nearly 20 years to rebuild, but treasures from the past withheld the destruction of the war, including the city's three historic gates—the Green Gate, Golden Gate, and Upland Gate—and the 17th-century Neptune Fountain, which was believed to have spouted Goldwasser, Gdansk's iconic liquor.
Experience Gdansk with O.A.T. on:
Featured Reading
Immerse yourself in Poland with this selection of articles, recipes, and more
RECIPE
Polish Torun is baked in the shape of hearts, then covered in chocolate. Try making them for yourself.
Recipe: Torun Gingerbread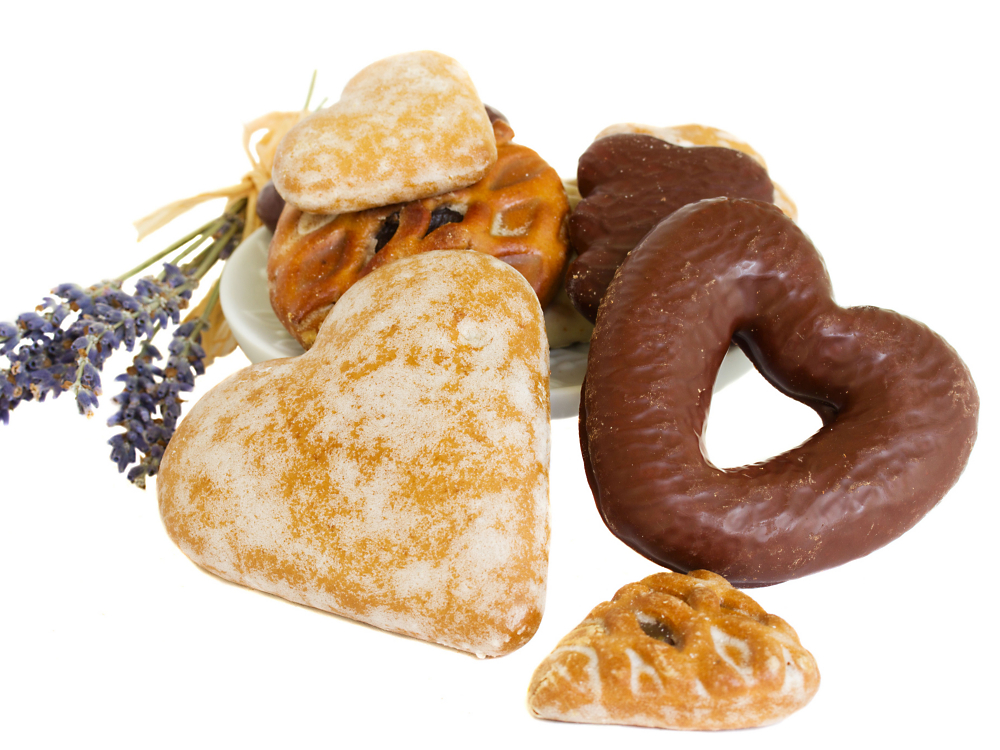 from Harriet's Corner
Torun gingerbread
Baked using a mold or formed into the shape of hearts, then covered in chocolate, Torun are made year-round—not just during the holidays. Much like Vienna honors the legendary composer with Mozartkugel truffles, Poland's largest Torun producer has a special heart-shaped version featuring native son Frederic Chopin on the wrapper. But even without the fancy wrapper these cookies are quite tasty when made at home.
Ingredients
Gingerbread cookies:
2 large eggs
1 cup sugar
1 tsp. cinnamon
1 tsp. ginger
1/2 tsp. cloves, powdered (you may grind using a mortar and pestle)
1 tsp. baking soda dissolved in 3 Tbsp. water
1 cup honey
3 cups all-purpose flour
Optional Chocolate Glaze:
1/2 cup chopped semisweet chocolate
1/2 cup butter
1 Tbsp. water
Preparation
Beat eggs with sugar in a large bowl until bright yellow. Add the spices, honey, and mixture of baking soda and water, mixing well. Add flour gradually and mix until a stiff dough forms. Shape into a ball, wrap in plastic and let rest for 30 minutes at room temperature.
Heat oven to 400° Fahrenheit. On parchment paper cut to fit your baking pans, roll the dough to a 1/4-inch thickness. Use a cookie cutter to make into your desired shape, or turn a drinking glass upside down to form circles. Lift the parchment paper by opposite corners and place on the baking pans. Bake for 10 minutes on the middle rack of your oven, or until lightly brown around the edges.
Glaze cookies after they have cooled by combining all of the glaze ingredients in a bowl and microwaving for 20 seconds at a time, until almost completely melted. Stir until smooth. Use immediately.
Makes 3 dozen cookies