The Leader in Personalized Small Group Adventures on the Road Less Traveled

peru
The story of Peru has been written over the ages by a number of ancient kingdoms—most notably the Inca, who left lofty Machu Picchu hiding high in the Andes for later explorers to puzzle over, but also other cultures, like the Nazca, who scratched thousand-foot geoglyphs into the southern deserts, and the Chimu, who built Chan Chan, the largest earthen city in pre-Columbian America. Modern Peru still holds many of the old traditions dear—for example curanderos, or shaman healers, can be found plying their trade in the countryside.
The country's diverse history is matched by its variety of landscapes, each of which dazzle in their own unique way. In the Andean Highlands, you'll trek under impossibly blue skies backdropped by snowcapped peaks; in the Amazon you'll enjoy the company of exotic flora and fauna underneath a colorful rainforest canopy; and in sultry Lima you'll find Spanish colonial architecture built along a beautiful Pacific coast.
Peru has elevated Latin cooking into an art, making expert use of local ingredients—for example, potatoes, tubers, corn, tropical Amazonian fruits, seafood, poultry, llama, and alpaca—while also gracefully fusing European, African, and Asian influences into its recipes. Peruvian culinarians famously invented ceviche, raw fished "cooked" in citrus juice. Whatever your tastes may be, Peru is sure to make an impression.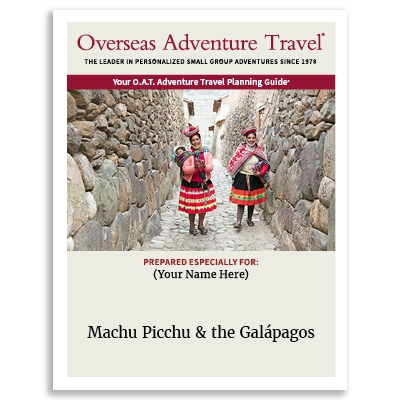 Get your FREE personalized Peru Travel Planning Guide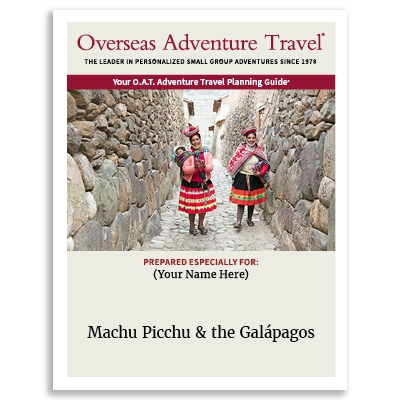 Get your FREE personalized Peru Travel Planning Guide
To help you get the most out of your Peru travel experience, we've complied a comprehensive, -page Travel Planning Guide containing everything you need to know to prepare for an unforgettable adventure. Not only will it highlight the daily experiences that await, but it will also provide you with the many options you have to personalize your experience. Sign in or register for a My Account to receive more information about Peru, including:
A detailed Day-to-Day itinerary
Available departure dates & prices
Monthly weather & climate by region
Regional history & demographics
Packing suggestions
Optional tours
Trip extensions
Options to personalize your experience
Electrical information
Recommended movies, books, and more
Request a Travel Planning Guide
Compare Our Adventures
Find out more about the adventure, including activity level, pricing, traveler excellence rating, included meals, and more
View Itinerary Video
See a detailed overview of the types of experiences you'll have on this adventure in the land of the Incas.
11 DAYS FROM $2,495 • $ 227 / DAY
O.A.T. Adventure by Land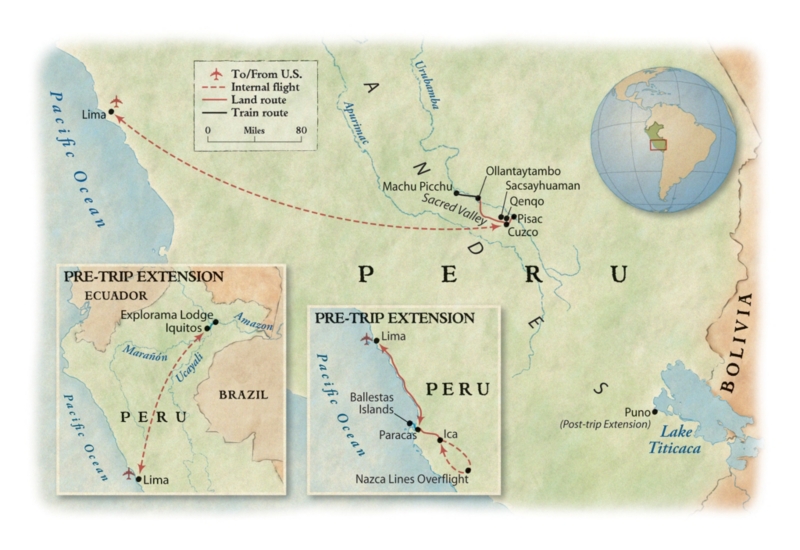 Peru: Lima, Sacred Valley, Machu Picchu, Cuzco
24 meals—daily breakfast, 9 lunches, and 5 dinners (including 1 Home-Hosted Lunch)
Visit Machu Picchu twice, including an early morning excursion to beat the crowds
Discover Lima for three nights, including the Miraflores District and San Francisco Church
Spend six days in bustling Cuzco, including a visit to the Plaza de Armas
Stay in the Sacred Valley for two nights, and raft the Urubamba River
Recommended Viewing
Watch this video showcasing what makes this country so unforgettable
Christine and Linda's Peru Trip Experience
Follow friends Christine and Linda through Peru as they delve into local culture while visiting a cemetery, learn to make Peruvian-style tortillas during their A Day in the Life experience, and connect with their fellow travelers.
10:18
Recommended Videos
Watch your fellow travelers' favorite films & videos
Local Culture of Peru and Ecuador
Submitted by Donald Vincent, first-time traveler from Madison, Wisconsin
Experience the local culture of Peru and Ecuador with Donald V. as he dances in the traditional Marinera style, visits a family-owned bakery, and witnesses a traditional healing ceremony conducted by a curandero (Andean medicine man).
Machu Picchu with Overseas Adventure Travel 2012
Submitted by Penny Parker, 21-time traveler from Saint Louis, Missouri
Behold the wonders of Machu Picchu, from the breathtaking mountain views to the ancient stone temples, alongside traveler Penny P.
Peru's Machu Picchu, October 2012
Submitted by Keith Olstad, 4-time traveler from Minneapolis, Minnesota
Follow traveler Keith O. on a photographic journey through the ancient ruins and stunning natural beauty of Machu Picchu.
Peru – Cuzco & Machu Picchu
Discover the folk art of Cuzco and the history of Machu Picchu with two adventurous women who call themselves the Grannies on Safari.
Travelogue: Lima, Peru 1950
Journey back in time to Lima, Peru in 1950, where the spirit—and costumes—of the Quechua people remain unchanged today.
Peru: Month-by-Month
There are pros and cons to visiting a destination during any time of the year. Find out what you can expect during your ideal travel time, from weather and climate, to holidays, festivals, and more.
Peru in January - February
January and February mark Peru's wet season. You can expect rain at least once per day, and more in the lush, tropical climate of the Amazon Jungle. But the season's showers usher in the bounty of Mother Nature: verdant, healthy vegetation blooms in the Sacred Valley, and frequent rainbows make this one of the best times to visit Cuzco. Trekkers hoping to hike the Inca Trail will find it closed for cleaning and maintenance, but Machu Picchu remains open throughout the wet season and plays host to gloriously few visitors.
This is also the best time of year to visit Peru's stunning—and overlooked—beaches. The rains so common in the mountains and jungles are less frequent here, while temperatures along the coast remain high. And with fewer tourists to compete with, your travel dollar will go further.
Holidays & Events
Early January: Three Kings Day
Pisco Sour Day: The first Saturday of February is set aside to honor Peru's national drink
Must See
Carnival is celebrated across Peru with lively street parties, featuring water balloon fights. The end of the festivities is marked by the yunsa ritual, when a yunsa tree laden with gifts is brought to the festival. People dance around the tree, and couples compete to knock it down with an axe, releasing the gifts.
Watch this film to discover more about Peru
Carolyn's Experience in Peru
Follow Carolyn Caldwell, a solo traveler, through Peru as she connects with the local culture—from dancing alongside local women to learning about Machu Picchu's history.
Peru in March - May
March, April, and May—Peru's fall—usher in milder temperatures and the start of the dry season. The main tourist season hasn't yet begun, so you can expect fewer crowds at Peru's many ancient ruins and must-see sites. These are some of the best months to visit Machu Picchu—and if you do, you'll witness the additional delight of orchids in bloom, which carpet the Sacred Valley and are visible on the train ride from Cuzco to Machu Picchu.
Peruvians' religious beliefs are a blend of native animist traditions and the Roman Catholicism brought over by Spanish colonists, but Catholicism reigns during the Easter season. Depending on when Easter falls, much of March or April may be given over to religious celebrations. During Holy Week, expect the celebrations to kick into high gear, with religious processions occurring in cities and towns throughout the country.
Holidays & Events
Early May: Feast day for Señor Muruhuay, who is renowned throughout Peru for his help in caring for the sick during a smallpox epidemic. In his honor, thousands of hopefuls embark on a pilgrimage or write a Carta a Dios, or Letter to God, asking for miracles or giving thanks for miracles already received. The Señor Muruhuay pilgrimage is considered one of the most important in Peru.
Watch this film to discover more about Peru
Carolyn's Experience in Peru
Follow Carolyn Caldwell, a solo traveler, through Peru as she connects with the local culture—from dancing alongside local women to learning about Machu Picchu's history.
Peru in June - September
Peru's winter months are the official peak of the dry season—and the tourist season. Drawn by cloudless skies, visitors flock to the mysterious ruins of Machu Picchu, which can see as many as 2,000 tourists a day. In the lowlands, few mosquitos and low humidity make this the best time of year to explore the Amazon basin, while in Lima, a dense fog known as La Garua blankets the city in a misty drizzle.
Despite Lima's gloom, Peru's winter months are the most popular time of year to visit, so it's best to plan your visit in advance.
Holidays & Events
May 1: Labor Day
July 28-29: Fiestas Patrias. Peru's national holidays are a two-day affair that celebrate the country's independence from Spain in style: fireworks blaze across the night sky; the Gran Corso (Great Parade) dances through Lima with a trail of colorful floats, costumed performers, and marching bands; and Pisco sours flow freely from the nation's watering holes.
Watch this film to discover more about Peru
Carolyn's Experience in Peru
Follow Carolyn Caldwell, a solo traveler, through Peru as she connects with the local culture—from dancing alongside local women to learning about Machu Picchu's history.
Peru in October - December
October in Peru offers sunshine and mild temperatures, while late November heralds the start of the wet season. Despite the occasional downpour, December is still largely pleasant—and with less crowds to compete with, many travelers are willing to risk getting a little wet for a chance of uninterrupted time at Peru's popular attractions.This is also an excellent time of year for viewing wildlife and birds—of the latter, Peru has more species than any nation except for Colombia.
Holidays & Events
October 8: Battle of Angamos, which commemorates a naval battle fought between Peru and Chile during the War of the Pacific (1879-1883).
November 1: All Saints' Day
December 8: Feast of the Immaculate Conception
Must See
Christmas Eve (December 24) is a festive event throughout this predominantly Catholic country, but in Cuzco, Santurantikuy Market is the place to be. The market is a riot of activity as shoppers buy last-minute presents, Andean vendors sell local plants and grasses for the nativity manger, and families enjoy seasonal treats like hot chocolate.
Watch this film to discover more about Peru
Carolyn's Experience in Peru
Follow Carolyn Caldwell, a solo traveler, through Peru as she connects with the local culture—from dancing alongside local women to learning about Machu Picchu's history.
Average Monthly Temperatures
Peru Interactive Map
Click on map markers
below to view information about top Peru experiences
Click here to zoom in and out of this map
Featured Reading
Immerse yourself in Peru with this selection of articles, recipes, and more
ARTICLE
Learn more about the stars in the night sky—as seen by the Incas.
ARTICLE
Learn how the ancient Incas engineered their landscape and waterways many years ago.
ARTICLE
Learn how to make a traditional Peruvian ceviche with this recipe.
ARTICLE
Uncover the life of Hiram Bingham, the man credited with discovering the Inca site almost 100 years ago.
RECIPE
Bring the flavors of Peru into your home with this hearty stew recipe.
ARTICLE
Woven into the Quechua heritage is the gift to create hand-crafted baskets, belts, and textiles. Learn about them here.
ARTICLE
True or false: There are no current inhabitants of Machu Picchu. Find out here.
ARTICLE
Peru takes great pride in its native bird: the Andean Condor. Learn about it here.
ARTICLE
Learn how the Uros tribe has gone unharmed, while kingdoms and villages around them have fallen to invaders.
ARTICLE
These suave dolphins are the full package: They are the smartest river dolphin species and come with a legendary backstory.
ARTICLE
Don't worry: Bats aren't here to suck your blood—they will protect you from insects though.