The Leader in Personalized Small Group Adventures on the Road Less Traveled

MOROCCO
Diverse Morocco is unlike any other African country: home to towering peaks, a windswept coast, and of course, the dunes of the Sahara, it also contains a multitude of cultural influences. From the Roman empire, through Arab conquest, to its French protectorate status in the 20th century, Morocco has formed its own, highly unique culture through absorbing the influence of its conquerors and visitors. Well-preserved medinas throughout the country hearken back hundreds of years with their maze of streets, sidewalk market stalls, and hidden courtyards. Men and women alike emerge refreshed and relaxed from neighborhood hammams, timeless bathhouses where steam, water, and vigorous massage come together in a unique cultural experience. And the art of negotiation gets fierce in the atmospheric souks, where visitors and locals buy everything from carpets to handbags to dried fruit.
From well-spiced tagines and raisin-studded couscous, to mint tea and fresh orange juice—the flavor of Morocco is vibrant and tantalizing. There is something fascinating for every visitor, whether it's the country's rich past, the thrill of wandering a vivacious city, or the outdoor pursuits in Morocco's varied landscapes.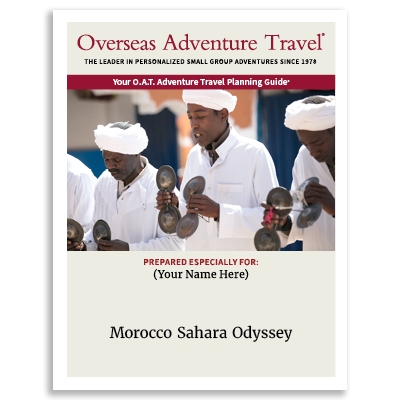 Get your FREE personalized Morocco Travel Planning Guide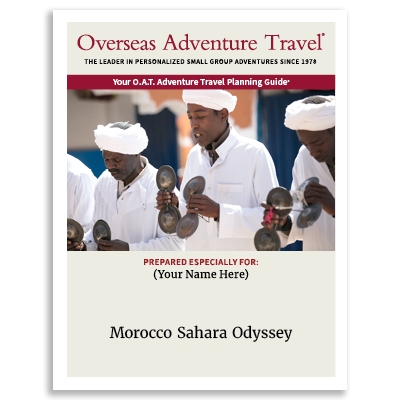 Get your FREE personalized Morocco Travel Planning Guide
To help you get the most out of your Morocco travel experience, we've complied a comprehensive, 80-page Travel Planning Guide containing everything you need to know to prepare for an unforgettable adventure. Not only will it highlight the daily experiences that await, but it will also provide you with the many options you have to personalize your experience. Sign in or register for a My Account to receive more information about Morocco, including:
A detailed Day-to-Day itinerary
Available departure dates & prices
Monthly weather & climate by region
Regional history & demographics
Packing suggestions
Optional tours
Trip extensions
Options to personalize your experience
Electrical information
Recommended movies, books, and more
Request a Travel Planning Guide
Compare Our Adventures
Click 'Select to Compare' to see a side-by-side comparison of up to adventures below—including
activity level, pricing, traveler excellence rating, trip highlights, and more
Trip Itinerary
Watch a detailed overview of the discoveries you'll enjoy on your adventure through Morocco.
16 DAYS FROM $3,595 • $ 225 / DAY
O.A.T. Adventure by Land
Morocco: Rabat, Fez, Sahara Tented Camp, High Atlas Mountains, Ouarzazate, Marrakesh, Casablanca
34 meals—daily breakfast, 9 lunches, and 11 dinners (including 2 Home-Hosted meals)
Visit Casablanca's stunning Hassan II mosque
Enjoy two nights at an exclusive O.A.T. tented camp in the Sahara Desert, and multiple stays in riads—traditional Moroccan homes that have been converted into ornately-tiled hotels with elegant, Andalusian-style courtyards
Enjoy an O.A.T.-exclusive visit to a Women's Association for Rural Development during A Day in the Life of the village of Aït Benhaddou
Indulge your senses in the nightly festival of Marrakech's Djemaa el-Fna square
Trip Itinerary
See a detailed overview of the experiences that await you on the Iberian Peninsula on our new Small Ship Cruise Tour.
15 DAYS FROM $8,695 • $ 580 / DAY
O.A.T. Adventure by Small Ship
Portugal: Lisbon, Portimao | Spain: Seville, Cordoba, Malaga, Cartagena, Valencia, Barcelona | Morocco: Tangier | Gibraltar
35 meals: All breakfasts, 11 lunches, 11 dinners—plus all onboard house beer, wine, and soft drinks
Behold where the Mediterranean and Atlantic meet at Cape Spartal
Explore the souk for an open-air market experience
Savor mint tea with a local bazaar owner
Feel the beat of the music during a belly dancing show
Recommended Viewing
Watch this video showcasing what makes this country so unforgettable
Trip Experience
Follow along as O.A.T. travelers ride through the Sahara Desert by camelback, explore Fez's centuries-old medina, and more, on our Morocco adventure.
Recommended Videos
Watch your fellow travelers' favorite films & videos
Moroccan Treasures
Submitted by Marty Luster, 4-time traveler from Gloucester, Massachusetts
Follow Marty Luster on his Morocco journey from Rabat to Fez to Tineghir, with stops at the Royal Mausoleum, the ancient Volubilis archaeological site, and so many other Moroccan treasures in this traveler video.
Jackie and Robin's Morocco Trip Experience
Meet this mother-daughter duo and follow along as they explore Morocco's Sahara Desert and learn to see the world through other people's eyes.
Old Meets New in Morocco's "Red City"
Let a group of locals, including a female hotel-owner and a writer, take you on a tour of Marrakesh, showing you the city's ancient souks and other hidden gems.
O.A.T. Moroccan Adventure
Submitted by Mike Sanders, 2-time traveler from Corvallis, Oregon
See Morocco's culture, ceramics, cuisine, and colors through snapshots and videos taken by traveler Mike S. in Meknes, Fez, the Sahara, and more.
Tough Trucks - Morocco
Set off on a hazardous journey over the Tichka Pass in the High Atlas Mountains, and then brace yourself during exhilarating drives through the Sahara Desert, Volubilis, Fez, Meknes, and Rabat—all aboard a series of tough trucks.
Morocco: Month-by-Month
There are pros and cons to visiting a destination during any time of the year. Find out what you can expect during your ideal travel time, from weather and climate, to holidays, festivals, and more.
Morocco in December-February
When winter comes to Morocco, it brings dramatically different weather to each unique region of Morocco. In the inland cities like Fez and Marrakesh, days can be warm, with temperatures in the range of 50-60 degrees Fahrenheit, while nights are cool. Along the coasts, winter is mild, but cloudy and rainy. The onset of winter brings fewer visitors to Morocco's sometimes-crowded cities and attractions, and the mild daytime temperatures make exploring comfortable.
Things are slightly different in the Sahara Desert, where days are mild but nights are downright cold, and the High Atlas mountains, where it is truly wintry. There, temperatures drop below freezing, with snow and even skiing—the season for winter sports is brief, however, lasting only a month between the middle of January and the middle of February. Winter sports enthusiasts should be warned that blizzards in the High Atlas can come on suddenly, and ski slopes are rarely groomed.
In February, almond blossoms herald the forthcoming spring season.
Must See
In Morocco's temperate zones, almond trees are a major crop—and in February, they soften a sometimes-harsh landscape with clouds of pink-and-white blossoms. February visitors have the chance to see a more pastoral Morocco, a unique perspective of a country more closely associated with wind-carved desert sands.
Watch this film to discover more about Morocco
Highlights of Morocco
Submitted by Sharon Kay Kurtz, 7-time traveler from Dallas, Texas
Delve into Morocco's unique culture with traveler Sharon K. as she explores the colorful markets of Fez and samples the local cuisine during dinner in Tangier.
Morocco in March-May
Spring is an ideal time to visit many of Morocco's diverse landscapes. In the Sahara, daytime temperatures are warm without the overwhelming heat of the summer. Lucky travelers may witness a far-off sandstorm kicked up by the legendary Sirocco wind (when this wind reaches Europe to the north, it is still carrying Moroccan sand, which it then releases in a red-tinged "blood rain"). In the High Atlas mountains, spring is a perfect time for hiking, with warm days and dramatic waterfalls fueled by melting snow.
Elsewhere in Morocco, the countryside is surprisingly bucolic, as wildflowers and sprouting greenery paint the landscape a rainbow of springtime hues. In cities like Marrakesh and Fez, the narrow and sometimes-crowded medinas have not yet reached summertime capacity, and mild days make exploring enjoyable.
Holidays & Events
May-July: Ramadan falls during the ninth month of the Islamic calendar, which in 2018 straddles the Gregorian calendar's May and June. Muslims fast during the daylight hours, so many restaurants operate during limited hours or close altogether. However, the chance to see families breaking their fast and celebrating together after dark more than makes up for any inconvenience.
Early May: Locals in the Dades Valley, a sea of pink Persian roses, celebrate the rose harvest with a festive—and floral—festival that involves music, dancing, a pop-up souk or market, and the crowning of a Rose Queen.
May: The World Sacred Music Festival brings outdoor concerts of all types of world music to the Fez medina for a week every May.
Must See
With an ideal climate for visiting the desert, spring is the time to watch the sun rise and set over the red-gold dunes of the Sahara.
Watch this film to discover more about Morocco
Highlights of Morocco
Submitted by Sharon Kay Kurtz, 7-time traveler from Dallas, Texas
Delve into Morocco's unique culture with traveler Sharon K. as she explores the colorful markets of Fez and samples the local cuisine during dinner in Tangier.
Morocco in June-August
When summer heat descends on Morocco, some areas remain livable while others are downright hostile. The Sahara desert becomes unbearably hot for everyone except the resident snakes and insects. Marrakesh and Fez are hot too, with highs climbing toward 95 or 100 degrees Fahrenheit. It helps that humidity is low throughout the country, and Moroccan buildings themselves mitigate heat, with thick walls and fountain-studded inner courtyards. Cooler nights, when temperatures drop into the 60s, offer a respite from the sometimes-stifling heat.
Despite the heat, summer is the most popular season for Moroccans themselves to travel, since school is out. Locals and visitors alike head for the two coasts—the Mediterranean in the north, and the Atlantic to the west. Beach towns like Essaouira, Assilah, and Agadir benefit from a cool breeze off the water, and shorelines are crowded all summer long. The High Atlas mountains also remain comfortable, with their high altitude keeping the temperatures moderate.
Holidays & Events
May-July: The Gnaoua World Music Festival enlivens waterfront Essaouira with a mix of traditional sub-Saharan folk music, plus a dash of jazz, pop, and rock for good measure. Two main stages host free concerts, while tickets can be purchased for more intimate shows throughout the small beach town.
June or July: For a month every summer (the timing depends on the year), frenetic Marrakesh steps up the energy even further with the Marrakesh Popular Arts Festival. Fire dancers, snake charmers, storytellers, singers, and entertainers of every stripe descend on the medina for the city's oldest festival, founded by King Mohamed V in 1959 to preserve Morocco's traditional heritage.
Must See
Despite the heat, summer is a rewarding time to visit Morocco—two world-class festivals put Morocco's rich cultural heritage on display, giving visitors a whirlwind introduction to the country's outstanding traditional arts.
Watch this film to discover more about Morocco
Highlights of Morocco
Submitted by Sharon Kay Kurtz, 7-time traveler from Dallas, Texas
Delve into Morocco's unique culture with traveler Sharon K. as she explores the colorful markets of Fez and samples the local cuisine during dinner in Tangier.
Morocco in September-November
In a land of extremes, fall is the one time of year when Morocco's diverse regions reach a happy medium. From the Sahara desert to the High Atlas Mountains, and from the inland cities of Marrakesh and Fez to the Atlantic and Mediterranean coasts, the weather is warm and comfortable—although savvy travelers pack an umbrella in November, Morocco's rainiest month. Overall, fall is an excellent season for mountain hikes and desert trekking.
In the cities, summer crowds have dissipated, making this an easy-going time to explore. South of Ouarzazate, in the oases of the Draa Valley, fall is the season for date-harvesting and celebratory harvest festivals.
Holidays & Events
September: Tanjaz Festival. Held annually for three to five days in September, this international jazz festival takes place in multiple locations in Tangier featuring renowned artists as well as emerging musicians. Workshops are also available throughout the city for those interested in music and dance.
Early October: Erfoud Date Festival. The exact dates (no pun intended) depend on Mother Nature, but for three days every fall, Erfoud celebrates its abundant date harvest with prayers, parades, camel races, and feasting.
Must See
In September, nomadic Berber communities move down from high elevations, where they spend the summer, to the lower slopes of the High Atlas and Rif mountain ranges. Goats, sheep, tents, and entire multi-generational families are along for the trip, but this way of life is quickly vanishing as younger Berbers begin to live more stationary lives in Morocco's cities.
Watch this film to discover more about Morocco
Highlights of Morocco
Submitted by Sharon Kay Kurtz, 7-time traveler from Dallas, Texas
Delve into Morocco's unique culture with traveler Sharon K. as she explores the colorful markets of Fez and samples the local cuisine during dinner in Tangier.
Average Monthly Temperatures
Morocco Interactive Map
Click on map markers
below to view information about top Morocco experiences
Click here to zoom in and out of this map
Featured Reading
Immerse yourself in Morocco with this selection of articles, recipes, and more
ARTICLE
Morocco's lively, but sophisticated aura has inspired countless writers—discover its significance in the literary world.
RECIPE
Is there a more perfect pairing than savory and sweet in the culinary world? Find out for yourself with this recipe for a traditional bastilla.
ARTICLE
Live vicariously through the experiences of an O.A.T associate's memorable adventures in Morocco.