Forgot Your Username
If you have forgotten your username, please provide your email address in the box below. We'll send you an email with your requested username. If you are having trouble, please call us toll-free at 1-800-221-0814.
Email Sent
You'll receive an email in a few minutes. Please check this email to find your requested username.
If you do not receive an email or you are having trouble logging into My Account, please call us at 1-800-221-0814.

MONTENEGRO
Montenegro may be small—almost the same size as Connecticut—but what it lacks in size it makes up for in spectacular natural wonders, rich culture, and a fascinating history. That history began in antiquity and had everything to do with Montenegro's ideal location. Situated on the border of eastern and western Europe—and in possession of a perfect port—Montenegro became the object of an international tug-of-war. Empires from the Ancient Roman to the Medieval Venetians left their marks; much later, the tiny country was under a 50-year Communist rule. After gaining its independence in 2006, Montenegro has evolved into a Mediterranean melting pot of cultures eager to welcome visitors to its small yet lovely doorstep.
Towering mountains, pristine beaches, and the staggeringly beautiful Bay of Kotor set the stage for Montenegro's charming walled towns and friendly fishing villages. And beyond the coastline, adventurers can find hiking, kayaking, and friendly local communities all waiting to be explored.
Montenegro Interactive Map
Click on map markers
below to view information about top Montenegro experiences
Click here to zoom in and out of this map
Most Popular Films
Films featuring Montenegro from international, independent filmmakers
Montenegwhoa
Follow one traveler as she takes on Montenegro's majestic natural beauty.
Produced by Philip Carrel
Kotor for all seasons
Enjoy this musical journey highlighting the unspoiled beauty of Kotor, Montenegro.
Produced by Dušan Vuleković
Featured Reading
Immerse yourself in Montenegro with this selection of articles, recipes, and more
ARTICLE
Find out why this area, the 33-mile jewel box of Montenegro, has been so coveted throughout the centuries.
Montenegro: Month-by-Month
There are pros and cons to visiting a destination during any time of the year. Find out what you can expect during your ideal travel time, from weather and climate, to holidays, festivals, and more.
Montenegro in December-February
The winter months see Montenegro blanketed in white, as snow falls heavily in the mountainous regions. There is less snow, and milder temperatures, along the Adriatic coast. While many tourist attractions shut down in the winter months, the Orthodox Christian holiday season makes this a unique time of year to visit.
Montenegro is a winter wonderland for skiers and other snow sports enthusiasts—90 percent of this small Balkan country is covered by mountainous terrain. As it is also one of the most overlooked ski areas in Europe, those who make the trip will be rewarded with uncrowded trails and affordable lift tickets.
Holidays & Events
January 7: In accordance with the Julian calendar, Orthodox Christmas falls each year on or near January 7. Most Montenegrins celebrate the day with a Badnjak (Yule Log), public bonfires, and a traditional round bread known as cesnica. If you find a coin buried in the cesnica, local lore says you'll be lucky for a year.
January 14: The Orthodox New Year is ushered in on this day.
Mid-February: Now in its 49th year, the annual Mimosa Festival draws crowds to the medieval town of Herceg Novi, when the mimosa trees begin to bloom, promising the arrival of spring.
Must See
For two weeks each February, Kotor gives itself over to Venetian splendor with masked balls, colorful parades, and costumed performances for its Winter Carnival, the last hurrah before the solemnity of the Lenten season.
Montenegro in March-May
The spring months are some of the best times to visit Montenegro. Warm, pleasant temperatures make for great exploring weather, and the shoulder season can offer good deals before the summer crowds arrive.
In May, white-water rafting season begins, as the snow melting in the mountains has subsided and the rivers are not too strong. Tara Canyon is perhaps the best place in the country to raft: Carving through the majestic Durmitor National Park, the canyon—and the river that runs through it—is the second deepest in the world, and affords unrestricted views of the park's nature and wildlife.
Holidays & Events
Mid-March: Camellia Day is a Kotor tradition that celebrates the camellia flowers blooming and the start of spring. The day's biggest event is the Camellia Ball, in which a local woman is crowned the "Lady of Camellia."
April 8: Depending on the Julian calendar, Orthodox Easter could happen anytime between March and May, but in 2018 it falls in April.
Must See
Alpine meadows become a blaze of colors as wildflowers erupt into life.
Montenegro in June-August
Montenegro's Adriatic coastline is bathed in near-constant sunshine during the summer months, luring locals and visitors alike to swim in the crystal-clear waters. Head inland to escape the crowds: Though it gets hotter, you'll have the pristine nature all to yourself, and frequent thunderstorms in the mountains bring relief from humidity.
A variety of outdoor festivals also makes this a particularly fun time of year to visit.
Holidays & Events
Late June: Now in its fourth year, the Southern Soul Festival brings an eclectic mix of musical acts to the white-sand beaches of Montenegro's southern coast.
July: Held in the small town of Bijelo Polje, in northeastern Montenegro, the Tamburaši Festival is a three-day folk music celebration. The tambura—a traditional Montenegrin instrument similar to a mandolin—is the star of the event.
June-August: During the summer months, Budva—nicknamed the "Theatre City"—plays host to artists, actors, and musicians as part of the Summer Festival. Performances take place in the city center and along the more than 30 beaches of the Budva Riviera, making this Montenegro's summer culture capital.
Early August: The Montenegro Film Festival showcases the country's best new films for a week each August, and features Q & A sessions with actors and directors.
Must See
Held on the third Saturday of each August, Boka Night shows off medieval Kotor at its finest: dramatic fireworks light up the night skies, town squares come alive with open-air music and dance parties, and a parade of boats gracefully glide across the bay.
Montenegro in September-November
September is an excellent month to visit Montenegro, as the heat and humidity of summer have dissipated—taking the crowds with them—but the ocean is still warm enough for a dip. October brings a delightful riot of color, painting the trees shades of orange, yellow, and brown, while November is known as the wettest month. Good deals can be found throughout the shoulder season, though some restaurants and hotels along the coast may be closed.
Holidays & Events
Late October: The Days of Plijevlja Cheese festival celebrates the local highland cheese and dairy produce of the Plijevlja region in northern Montenegro.
Late November: The ancient Roman town of Stari Bar is home to a 2,000 year old olive tree, reputed to be the oldest olive tree in Europe. So it is only natural that Stari Bar hosts a lively annual olive harvest festival each year, celebrating their most famous local product with traditional music, folk costumes, and, of course, plenty of olives.
Average Monthly Temperatures
Compare Our Adventures
Click 'Select to Compare' to see a side-by-side comparison of up to adventures below—including
activity level, pricing, traveler excellence rating, trip highlights, and more
16 DAYS FROM $5,845 • $ 366 / DAY
Small Ship Adventure
Croatia: Zagreb, Plitvice Lakes, Split, Hvar, Korcula, Dubrovnik, Gromaca • Montenegro: Kotor, Perast • Albania: Butrint, Saranda • Greece: Corfu, Delphi, Athens
37 meals—daily breakfasts, 11 lunches, and 12 dinners (plus all onboard house beer & wine, as well as soft drinks)
Sail through Kotor Bay aboard our private ship
Board a local boat to visit the Our Lady of the Rocks shrine
Visit Centinje on an Optional Tour ($100 per person), including a guided tour of the palace of King Nikola
15 DAYS FROM $3,395 • $ 227 / DAY
Small Ship Adventure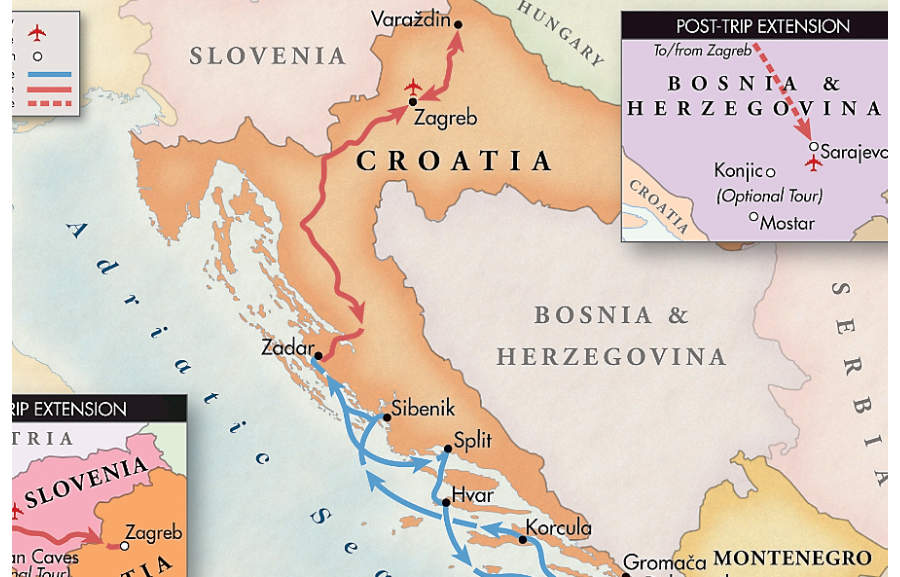 Croatia: Zagreb, Zadar, Sibenik, Split, Hvar, Dubrovnik • Montenegro: Kotor • Croatia: Korcula • Bosnia, Herzegovina: Mostar • Croatia: Ploce, Opatija
36 meals—13 breakfasts, 11 lunches, and 12 dinners (plus all onboard house beer & wine, as well as soft drinks)
Sail through Kotor Bay aboard our private ship during the off-season—when there will be fewer boats in the water
Board a local boat to visit the Our Lady of the Rocks shrine
Visit Centinje on an Optional Tour ($100 per person), including a guided tour of the palace of King Nikola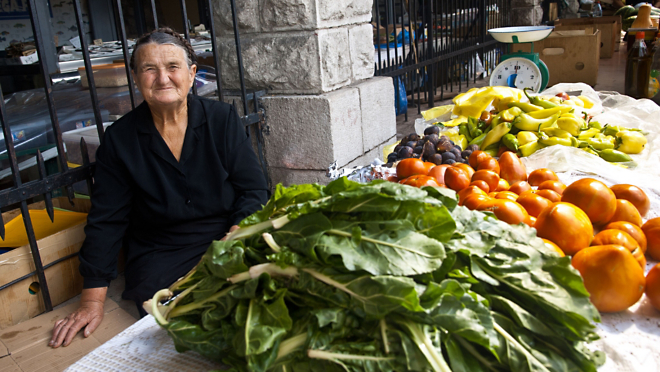 17 DAYS FROM $3,795 • $ 224 / DAY
Small Group Adventure
Croatia: Dubrovnik • Bosnia & Herzegovina: Sarajevo • Croatia: Karanac, Zagreb, Plitvice Lakes, Opatija • Slovenia: Ljubljana
30 meals—daily breakfast, 7 lunches, and 8 dinners (including 2 Home-Hosted meals)
Board a local boat to visit the Our Lady of the Rocks shrine
Explore the medieval walled town of Kotor and enjoy views of the Bay
Hike to the Church of Our Lady of Remedy, a 16th-century structure built into the mountainside