Forgot Your Username
If you have forgotten your username, please provide your email address in the box below. We'll send you an email with your requested username. If you are having trouble, please call us toll-free at 1-800-221-0814.
Email Sent
You'll receive an email in a few minutes. Please check this email to find your requested username.
If you do not receive an email or you are having trouble logging into My Account, please call us at 1-800-221-0814.

MONGOLIA
With wide-open plains, never-ending steppes, and an otherworldly desert landscape, the best word to describe Mongolia is: vast. This is a country where you can roam for days without seeing another person and whose very name conjures an image of untamed wilderness—which isn't surprising, as Mongolia has the lowest population density of any independent country in the world. Journey to the "Land of the Blue Skies" to encounter pristine nature and a wild remoteness untouched by humanity.
Nomadism has deep roots in Mongolia: various nomadic empires controlled these lands until 1206, when Genghis Khan and his legendary horseback warriors galloped across the steppe to create the Mongol Empire, the largest land empire in history. Today, 97% of Mongolia's population is still nomadic or semi-nomadic, living in traditional gers or yurts and herding yaks to survive. Horses remain as important to the local culture as ever, and the annual Naadam Festival celebrates the "three manly sports" of wrestling, archery, and, of course, horse racing.
Throughout much of the 20th century, Mongolia was ruled by the Soviet Union. With the dissolution of communism in the early 1990s, Mongolia conducted its own peaceful democratic revolution and enthusiastically entered the free market economy. But despite this initial foray into modernity, traditional Mongolia still remains a land largely passed over by time.
Mongolia Interactive Map
Click on map markers
below to view information about top Mongolia experiences
Click here to zoom in and out of this map
Most Popular Films
Films featuring Mongolia from international, independent filmmakers
Mongolia's Nomads: Herding Life
Share the freedom of the steppes with Mongolian men and women who live the herding lifestyle still common in this country.
Produced by Lauren Knapp
Mongolian Naadam: Archery
Meet a Mongolian woman who is a champion sharpshooter with bow and arrow, and learn about this enduring national tradition.
Produced by Lauren Knapp
Mongolian Naadam: Horse Racing
Cheer for 10-year-old jockey Maralmaa as she races her horse during the Naadam Festival, when Mongolians gather to compete.
Produced by Lauren Knapp
Mongolian Naadam: Shagai
Take a look a Shagai, a Mongolian game recently added to the traditional competitions at the country's Naadam Festival.
Produced by Lauren Knapp
Mongolian Naadam: Wrestling
Learn about the passion Mongolians have for wrestling, which has centuries of history and symbolism in their country.
Produced by Lauren Knapp
Featured Reading
Immerse yourself in Mongolia with this selection of articles, recipes, and more
ARTICLE
There are around 22 Gobi bears left in the Gobi Desert. Discover what other endangered species roam this arid land.
RECIPE
Before there was fondue, there was Mongolian Hot Pot—get the recipe here.
Mongolia: Month-by-Month
There are pros and cons to visiting a destination during any time of the year. Find out what you can expect during your ideal travel time, from weather and climate, to holidays, festivals, and more.
Mongolia in November-February
Through the winter season, Mongolia experiences clear skies with harsh sunlight and frigid temperatures on a daily basis, earning Ulaanbaatar the title of coldest capital city in the world. Sudden snowstorms and freezing winds can blanket the northern part of the country during this time.
Nicknamed "Land of the Blue Sky," Mongolia sees up to 260 days of sunshine each year, even though daylight is limited during the winter. But the clear weather makes winter ideal for stargazing, and freezing temperatures allow for activities like dog sledding, ice skating, and skiing—not to mention a decrease in tourism.
Holidays & Events
November 26: On Republic Day, Mongolians commemorate the day in 1924 when it adopted its first constitution, establishing the Mongolian People's Republic, after gaining independence from China.
December 29: On Independence Day, the country recognizes the day in 1911 when it originally declared its independence from China, though it was later occupied by both China and Russia before creating its constitution.
January/February: During mid-winter, Mongolians celebrate the Lunar New Year, known as Tsagaan Sar, the first day of the Mongolian lunisolar calendar. Holiday traditions include greeting and meeting with family, lighting candles, wearing national costumes, and eating traditional foods like a pyramid of special cookies, rice with raisins, and steamed dumplings with meat called buuz.
February: Held on the frozen water of Lake Khovsgol, the annual Ice Festival features winter activities and competitions like ice skating and sleigh rides, tug-of-war, and ice sumo.
Must See
The skies are clear, the winter nights are long, and light pollution hardly exists in the unpopulated wilderness of Mongolia, making it one of the world's top spots to stargaze. Visitors can enjoy the heavenly lights all year round—especially when staying in the traditional ger camp—but should be prepared for freezing evenings if gazing up during the winter months.
Mongolia in March-May
Temperatures stay cool into May with the unpredictable weather oscillating between snowstorms, sun, and wind. Strong dust and sand storms often sweep across the Gobi region in the southern part of Mongolia during March and April while melting snow in other parts exposes a stark landscape.
During May, the country begins to thaw, making the month a good time for travelers to enjoy more mild weather and fewer crowds, especially those interested in staying with nomadic families.
Holidays & Events
Early March: Taking place in the Gobi Desert, the Thousand Camel Festival celebrates the endangered, two-humped Bactrian camel. Festivities include camel races, musical performances, and the one thousand camels parade that gives the festival its name.
March 21-22: The Kazakh nomadic people who live in Mongolia celebrate the Nauryz Festival during the spring equinox with traditional clothing, crafts, games, concerts, and foods to kick off the new year.
Must See
With the onset of spring, the families of the Kazakh nomadic people trek 90 miles across the Altai Mountains with their herds during spring migration. Thousands of yak along with camels, goats, and eagles are led by their owners on horseback across the frozen, snow-covered terrain to reach their spring camp.
Mongolia in June-August
With warmer temperatures, the summer months in Mongolia are peak tourism time. The capital city Ulaanbaatar draws crowds of visitors, especially in July during the annual Naadam Festival. Other regions in the north also become more accessible to tourists and Mongolians during the summer, including Lake Khovsgol and the Mongol Empire ruins at Karakorum.
Summers are a prime opportunity for horseback riding and trekking as well as staying in the traditional ger camps still used by a large portion of Mongolia's population. Visitors wanting to visit the Gobi Desert in summer should aim for June before the sweltering temperatures of late summer arrive, though they could experience some dust storms. During July and August, thunderstorms also hit much of Mongolia, creating picturesque views as the country and mountainsides bloom with vibrant wildflowers and grasses.
Holidays & Events
July: Marked by arts, sports, and boozy parties, the Naadam Festival in Ulaanbaatar is Mongolia's largest festival and a celebration of the country's culture and history. During the festival's main events, participants take part in archery, wrestling, and horse racing competitions while wearing traditional clothing. While the capital's Naadam is the largest, smaller associated events also occur in other regions throughout the year.
July 23: Mongolia hosts the second largest population of yak in the world, and its people celebrate the animal's value during the Yak Festival with yak races and lassoing, song and dance, and foods made of yak meat and milk.
Must See
Also called "the three games of men" in Mongolian, the Naadam Festival in the capital city of Ulaanbaatar is one of the top attractions in the country, and its cultural importance earned the event a place on UNESCO's Intangible Cultural Heritage of Humanity list. While the archery, wrestling, and horse racing competitions historically only included men, women have started participating in archery and racing. Visitors can expect a colorful display of nomadic culture, national pride, and a celebration of humanity.
Mongolia in September-October
Fall ushers in cooler temperatures again, though the weather remains mild and crowds thin out in September, making it the best time to visit the Gobi Desert. Traditional ger camps continue to offer visitors the best means of viewing the scenery and wildlife, but many close starting in October when it may begin snowing and the climate becomes unpredictable.
While the wet summer months leave behind a colorful display of fall foliage in the north and lush grasslands around the desert, the rain does cause flooding and makes travel more difficult.
Holidays & Events
October: During the first weekend of October, Western Mongolian golden eagle hunters flock to the Altai Mountains in the Bayan Olgii province to demonstrate their birds' speed and agility. The event is known as the Eagle Festival and is planned by the Kazakh nomads to preserve the hunting tradition.
Must See
Stretching through the northern parts of Mongolia, forests of larch, poplar, and birch trees grow green and lush in the summer rains. But come autumn, their leaves turn to bright shades of yellow, orange, and red, covering the land with vibrant fall foliage.
Average Monthly Temperatures
Compare Our Adventures
Click 'Select to Compare' to see a side-by-side comparison of up to adventures below—including
activity level, pricing, traveler excellence rating, trip highlights, and more
18 DAYS FROM $5,795 • $ 322 / DAY
Small Group Adventure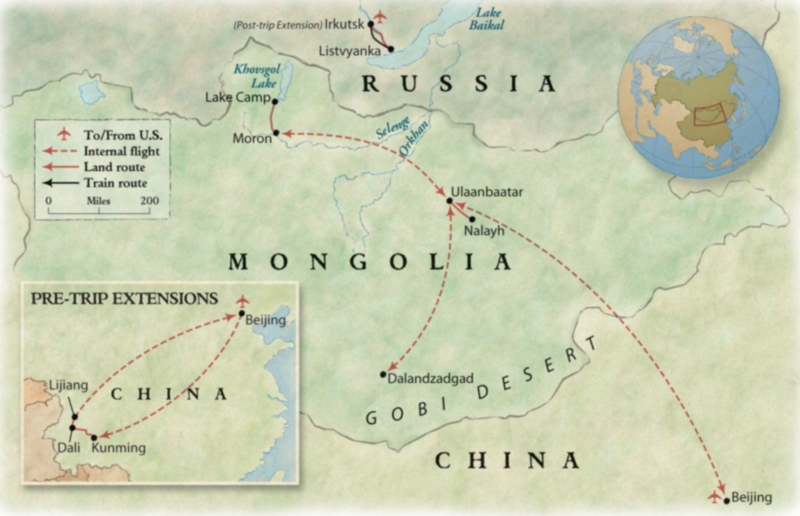 Mongolia: Ulaanbaatar, Gorkhi-Terelj National Park, Khovsgol Lake • Gobi Desert
39 meals—daily breakfast, 13 lunches, and 11 dinners (including 2 Home-Hosted meals)
Explore the capital city of Ulaanbaatar
Marvel at the Gandan Monastery, Mongolia's main center of Buddhism
Stay in the traditional dwelling known as a ger
Eat lunch with locals in their home and learn about modern-day nomadic practices
Take a boat ride on the crystal-clear waters of Lake Khovsgol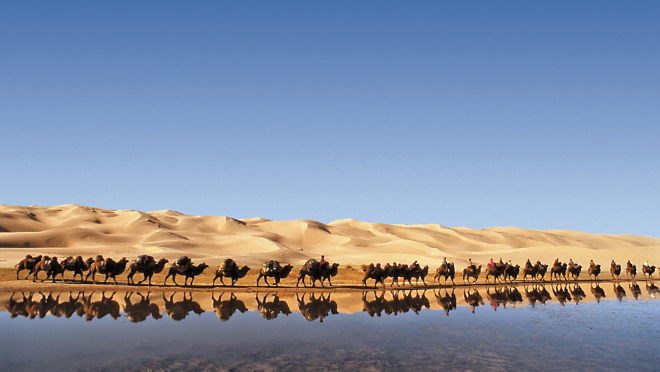 ;
7 NIGHTS FROM FROM $2,845
Explore the capital city of Ulaanbaatar
Marvel at the Gandan Monastery, Mongolia's main center of Buddhism
Stay in the traditional dwelling known as a ger
Admire the vast dunes and Flaming Cliffs of the Gobi Desert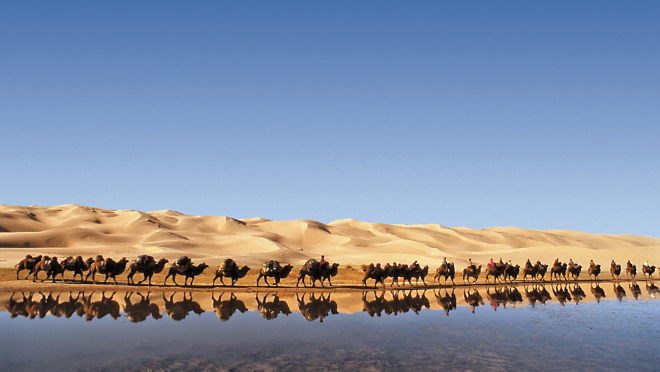 Not Applicable*
Not Applicable*
19 meals—7 breakfasts, 6 lunches, and 6 dinners
Explore the capital city of Ulaanbaatar
Marvel at the Gandan Monastery, Mongolia's main center of Buddhism
Stay in the traditional dwelling known as a ger
Admire the vast dunes and Flaming Cliffs of the Gobi Desert