Forgot Your Username
If you have forgotten your username, please provide your email address in the box below. We'll send you an email with your requested username. If you are having trouble, please call us toll-free at 1-800-221-0814.
Email Sent
You'll receive an email in a few minutes. Please check this email to find your requested username.
If you do not receive an email or you are having trouble logging into My Account, please call us at 1-800-221-0814.

MONGOLIA
With wide-open plains, never-ending steppes, and an otherworldly desert landscape, the best word to describe Mongolia is: vast. This is a country where you can roam for days without seeing another person and whose very name conjures an image of untamed wilderness—which isn't surprising, as Mongolia has the lowest population density of any independent country in the world. Journey to the "Land of the Blue Skies" to encounter pristine nature and a wild remoteness untouched by humanity.
Nomadism has deep roots in Mongolia: various nomadic empires controlled these lands until 1206, when Genghis Khan and his legendary horseback warriors galloped across the steppe to create the Mongol Empire, the largest land empire in history. Today, 97% of Mongolia's population is still nomadic or semi-nomadic, living in traditional gers or yurts and herding yaks to survive. Horses remain as important to the local culture as ever, and the annual Naadam Festival celebrates the "three manly sports" of wrestling, archery, and, of course, horse racing.
Throughout much of the 20th century, Mongolia was ruled by the Soviet Union. With the dissolution of communism in the early 1990s, Mongolia conducted its own peaceful democratic revolution and enthusiastically entered the free market economy. But despite this initial foray into modernity, traditional Mongolia still remains a land largely passed over by time.
Mongolia Interactive Map
Click on map markers
below to view information about top Mongolia experiences
Click here to zoom in and out of this map
Most Popular Films
Films featuring Mongolia from international, independent filmmakers
Mongolia's Nomads: Herding Life
Share the freedom of the steppes with Mongolian men and women who live the herding lifestyle still common in this country.
Produced by Lauren Knapp
Mongolian Naadam: Archery
Meet a Mongolian woman who is a champion sharpshooter with bow and arrow, and learn about this enduring national tradition.
Produced by Lauren Knapp
Mongolian Naadam: Horse Racing
Cheer for 10-year-old jockey Maralmaa as she races her horse during the Naadam Festival, when Mongolians gather to compete.
Produced by Lauren Knapp
Mongolian Naadam: Shagai
Take a look a Shagai, a Mongolian game recently added to the traditional competitions at the country's Naadam Festival.
Produced by Lauren Knapp
Mongolian Naadam: Wrestling
Learn about the passion Mongolians have for wrestling, which has centuries of history and symbolism in their country.
Produced by Lauren Knapp
Featured Reading
Immerse yourself in Mongolia with this selection of articles, recipes, and more
ARTICLE
There are around 22 Gobi bears left in the Gobi Desert. Discover what other endangered species roam this arid land.
RECIPE
Before there was fondue, there was Mongolian Hot Pot—get the recipe here.
Compare Our Adventures
Click 'Select to Compare' to see a side-by-side comparison of up to adventures below—including
activity level, pricing, traveler excellence rating, trip highlights, and more
18 DAYS FROM $5,795 • $ 322 / DAY
Small Group Adventure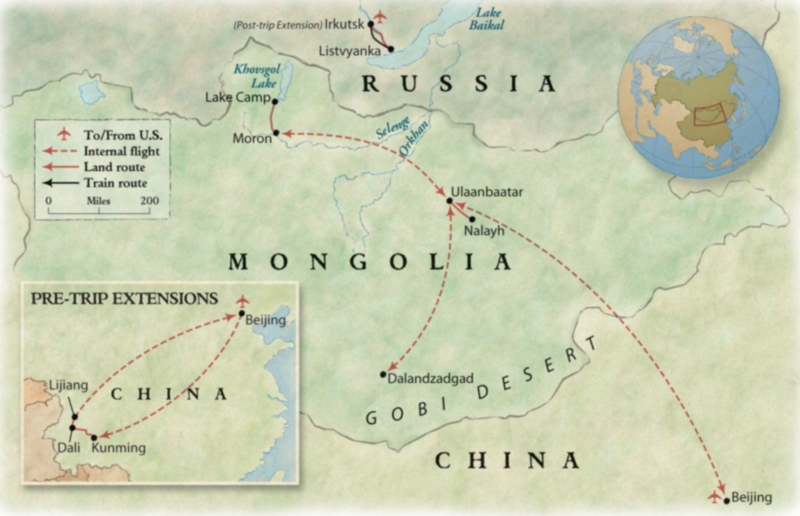 Mongolia: Ulaanbaatar, Gorkhi-Terelj National Park, Khovsgol Lake • Gobi Desert
39 meals—daily breakfast, 13 lunches, and 11 dinners (including 2 Home-Hosted meals)
Explore the capital city of Ulaanbaatar
Marvel at the Gandan Monastery, Mongolia's main center of Buddhism
Stay in the traditional dwelling known as a ger
Eat lunch with locals in their home and learn about modern-day nomadic practices
Take a boat ride on the crystal-clear waters of Lake Khovsgol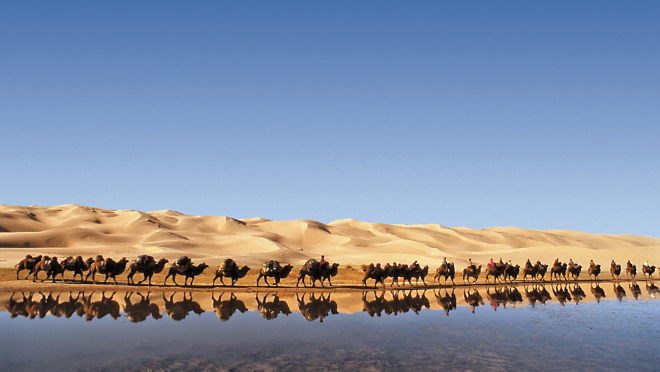 ;
7 NIGHTS FROM FROM $2,845
Explore the capital city of Ulaanbaatar
Marvel at the Gandan Monastery, Mongolia's main center of Buddhism
Stay in the traditional dwelling known as a ger
Admire the vast dunes and Flaming Cliffs of the Gobi Desert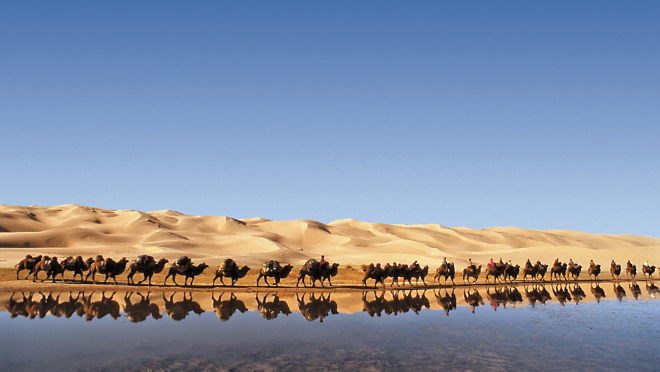 Not Applicable*
Not Applicable*
19 meals—7 breakfasts, 6 lunches, and 6 dinners
Explore the capital city of Ulaanbaatar
Marvel at the Gandan Monastery, Mongolia's main center of Buddhism
Stay in the traditional dwelling known as a ger
Admire the vast dunes and Flaming Cliffs of the Gobi Desert