The Leader in Personalized Small Group Adventures on the Road Less Traveled
You're receiving this message because your web browser
is no longer supported
We recommend upgrading your browser—simply click the button below and follow the instructions that will appear. Updating will allow you to accept Terms and Conditions, make online payments, read our itineraries, and view Dates and Prices.
To get the best experience on our website, please consider using:
Safari (for Mac or iPad Devices)
Update Browser

mongolia
With wide-open plains, never-ending steppes, and an otherworldly desert landscape, the best word to describe Mongolia is: vast. This is a country where you can roam for days without seeing another person and whose very name conjures an image of untamed wilderness—which isn't surprising, as Mongolia has the lowest population density of any independent country in the world. Journey to the "Land of the Blue Skies" to encounter pristine nature and a wild remoteness untouched by humanity.
Nomadism has deep roots in Mongolia: various nomadic empires controlled these lands until 1206, when Genghis Khan and his legendary horseback warriors galloped across the steppe to create the Mongol Empire, the largest land empire in history. Today, 97% of Mongolia's population is still nomadic or semi-nomadic, living in traditional gers or yurts and herding yaks to survive. Horses remain as important to the local culture as ever, and the annual Naadam Festival celebrates the "three manly sports" of wrestling, archery, and, of course, horse racing.
Throughout much of the 20th century, Mongolia was ruled by the Soviet Union. With the dissolution of communism in the early 1990s, Mongolia conducted its own peaceful democratic revolution and enthusiastically entered the free market economy. But despite this initial foray into modernity, traditional Mongolia still remains a land largely passed over by time.
Compare Our Adventures
Find out more about the adventure, including activity level, pricing, traveler excellence rating, included meals, and more
View 2021 Itinerary Video
See a detailed overview of the types of experiences you'll have while on our adventure through Mongolia.
18 DAYS FROM $5,595 • $ 311 / DAY
O.A.T. Adventure by Land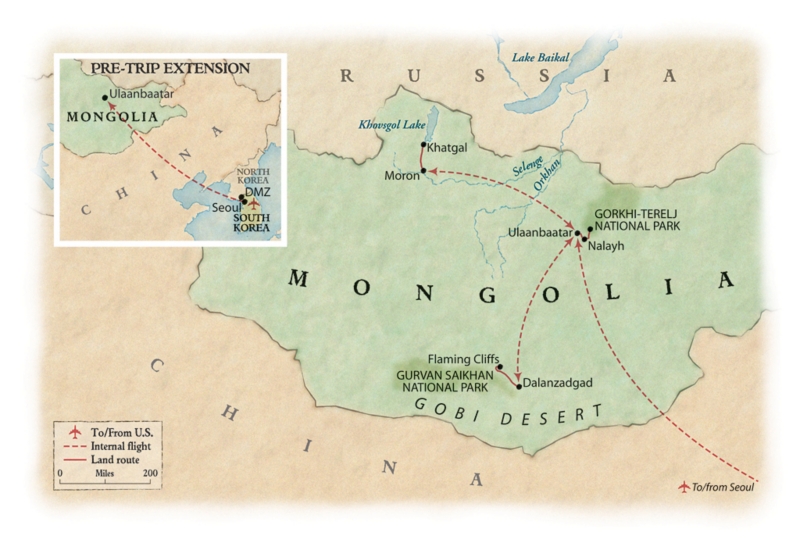 Mongolia: Ulaanbaatar, Gorkhi-Terelj National Park, Khovsgol Lake, Gobi Desert
41 meals—16 breakfasts, 12 lunches, and 13 dinners (including 1 Home-Hosted meal)
Explore the capital city of Ulaanbaatar
Marvel at the Gandan Monastery, Mongolia's main center of Buddhism
Stay in the traditional dwelling known as a ger
Eat lunch with locals in their home and learn about modern-day nomadic practices
Take a boat ride on the crystal-clear waters of Lake Khovsgol
Adventure Details
Find the Adventure That's Right for You
Our Activity Level rating system ranks adventures on a scale of 1 to 5 to help you determine if a trip is right for you. See the descriptions below for more information about the physical requirements associated with each rating.
Travelers should be able to climb 25 stairs consecutively, plus walk at least 1-2 miles over some uneven surfaces without difficulty. Walks typically last at least 1-2 hours at a time. Altitude can range from zero to 5,000 feet.
Activity Level 2:
Moderately Easy
Travelers should be able to climb 40 stairs consecutively, plus walk at least 2-3 miles over some uneven surfaces without difficulty. Walks typically last for at least 2-3 hours at a time. Altitude can range from zero to 5,000 feet.
Activity Level 3:
Moderate
Travelers should be able to climb 60 stairs consecutively, plus walk at least 3 miles over some steep slopes and loose or uneven surfaces without difficulty. Walks typically last for 3 or more hours at a time. Altitude can range from 5,000 to 7,000 feet.
Activity Level 4:
Moderately Strenuous
Travelers should be able to climb 80 stairs consecutively, plus walk at least 4 miles over some steep slopes and loose or uneven surfaces without difficulty. Walks typically last for 4 or more hours at a time. Altitude can range from 7,000 to 9,000 feet.
Activity Level 5:
Strenuous
Travelers should be able to climb 100 or more stairs consecutively, plus walk at least 8 miles over some steep slopes and loose or uneven surfaces without difficulty. Walks typically last for 4 or more hours at a time. Altitude can range from 10,000 feet or more.
Hide Acivity Level
PRICE
including international airfare
HIGHLIGHTS & ACTIVITIES IN MONGOLIA
*This information is not available for our trip extensions. You must reserve the main trip to participate on this extension.
**This information is not currently available for this trip. Please check back soon.
Recommended Viewing
Watch this video showcasing what makes this country so unforgettable
Trip Experience
Explore Mongolia's wide open steppes and discover the traditional lifestyle of the nomadic families that inhabit them.
Mongolia: Month-by-Month
There are pros and cons to visiting a destination during any time of the year. Find out what you can expect during your ideal travel time, from weather and climate, to holidays, festivals, and more.
Mongolia in November-February
Through the winter season, Mongolia experiences clear skies with harsh sunlight and frigid temperatures on a daily basis, earning Ulaanbaatar the title of coldest capital city in the world. Sudden snowstorms and freezing winds can blanket the northern part of the country during this time.
Nicknamed "Land of the Blue Sky," Mongolia sees up to 260 days of sunshine each year, even though daylight is limited during the winter. But the clear weather makes winter ideal for stargazing, and freezing temperatures allow for activities like dog sledding, ice skating, and skiing—not to mention a decrease in tourism.
Holidays & Events
November 26: On Republic Day, Mongolians commemorate the day in 1924 when it adopted its first constitution, establishing the Mongolian People's Republic, after gaining independence from China.
December 29: On Independence Day, the country recognizes the day in 1911 when it originally declared its independence from China, though it was later occupied by both China and Russia before creating its constitution.
January/February: During mid-winter, Mongolians celebrate the Lunar New Year, known as Tsagaan Sar, the first day of the Mongolian lunisolar calendar. Holiday traditions include greeting and meeting with family, lighting candles, wearing national costumes, and eating traditional foods like a pyramid of special cookies, rice with raisins, and steamed dumplings with meat called buuz.
February: Held on the frozen water of Lake Khovsgol, the annual Ice Festival features winter activities and competitions like ice skating and sleigh rides, tug-of-war, and ice sumo.
Must See
The skies are clear, the winter nights are long, and light pollution hardly exists in the unpopulated wilderness of Mongolia, making it one of the world's top spots to stargaze. Visitors can enjoy the heavenly lights all year round—especially when staying in the traditional ger camp—but should be prepared for freezing evenings if gazing up during the winter months.
Watch this film to discover more about Mongolia
Mongolian Naadam: Wrestling
Produced by Lauren Knapp
Learn about the passion Mongolians have for wrestling, which has centuries of history and symbolism in their country.
Mongolia in March-May
Temperatures stay cool into May with the unpredictable weather oscillating between snowstorms, sun, and wind. Strong dust and sand storms often sweep across the Gobi region in the southern part of Mongolia during March and April while melting snow in other parts exposes a stark landscape.
During May, the country begins to thaw, making the month a good time for travelers to enjoy more mild weather and fewer crowds, especially those interested in staying with nomadic families.
Holidays & Events
Early March: Taking place in the Gobi Desert, the Thousand Camel Festival celebrates the endangered, two-humped Bactrian camel. Festivities include camel races, musical performances, and the one thousand camels parade that gives the festival its name.
March 21-22: The Kazakh nomadic people who live in Mongolia celebrate the Nauryz Festival during the spring equinox with traditional clothing, crafts, games, concerts, and foods to kick off the new year.
Must See
With the onset of spring, the families of the Kazakh nomadic people trek 90 miles across the Altai Mountains with their herds during spring migration. Thousands of yak along with camels, goats, and eagles are led by their owners on horseback across the frozen, snow-covered terrain to reach their spring camp.
Watch this film to discover more about Mongolia
Mongolia - Khovsgol and Terelj
Produced by Peter Kang
Fly over the sweeping landscapes of northern Mongolia, from open steppes to forested hills and the waters of Khovsgol Lake.
Mongolia in June-August
With warmer temperatures, the summer months in Mongolia are peak tourism time. The capital city Ulaanbaatar draws crowds of visitors, especially in July during the annual Naadam Festival. Other regions in the north also become more accessible to tourists and Mongolians during the summer, including Lake Khovsgol and the Mongol Empire ruins at Karakorum.
Summers are a prime opportunity for horseback riding and trekking as well as staying in the traditional ger camps still used by a large portion of Mongolia's population. Visitors wanting to visit the Gobi Desert in summer should aim for June before the sweltering temperatures of late summer arrive, though they could experience some dust storms. During July and August, thunderstorms also hit much of Mongolia, creating picturesque views as the country and mountainsides bloom with vibrant wildflowers and grasses.
Holidays & Events
July: Marked by arts, sports, and boozy parties, the Naadam Festival in Ulaanbaatar is Mongolia's largest festival and a celebration of the country's culture and history. During the festival's main events, participants take part in archery, wrestling, and horse racing competitions while wearing traditional clothing. While the capital's Naadam is the largest, smaller associated events also occur in other regions throughout the year.
July 23: Mongolia hosts the second largest population of yak in the world, and its people celebrate the animal's value during the Yak Festival with yak races and lassoing, song and dance, and foods made of yak meat and milk.
Must See
Also called "the three games of men" in Mongolian, the Naadam Festival in the capital city of Ulaanbaatar is one of the top attractions in the country, and its cultural importance earned the event a place on UNESCO's Intangible Cultural Heritage of Humanity list. While the archery, wrestling, and horse racing competitions historically only included men, women have started participating in archery and racing. Visitors can expect a colorful display of nomadic culture, national pride, and a celebration of humanity.
Watch this film to discover more about Mongolia
Mongolia's Nomads: Herding Life
Produced by Lauren Knapp
Share the freedom of the steppes with Mongolian men and women who live the herding lifestyle still common in this country.
Mongolia in September-October
Fall ushers in cooler temperatures again, though the weather remains mild and crowds thin out in September, making it the best time to visit the Gobi Desert. Traditional ger camps continue to offer visitors the best means of viewing the scenery and wildlife, but many close starting in October when it may begin snowing and the climate becomes unpredictable.
While the wet summer months leave behind a colorful display of fall foliage in the north and lush grasslands around the desert, the rain does cause flooding and makes travel more difficult.
Holidays & Events
October: During the first weekend of October, Western Mongolian golden eagle hunters flock to the Altai Mountains in the Bayan Olgii province to demonstrate their birds' speed and agility. The event is known as the Eagle Festival and is planned by the Kazakh nomads to preserve the hunting tradition.
Must See
Stretching through the northern parts of Mongolia, forests of larch, poplar, and birch trees grow green and lush in the summer rains. But come autumn, their leaves turn to bright shades of yellow, orange, and red, covering the land with vibrant fall foliage.
Watch this film to discover more about Mongolia
Mongolian Naadam: Horse Racing
Produced by Lauren Knapp
Cheer for 10-year-old jockey Maralmaa as she races her horse during the Naadam Festival, when Mongolians gather to compete.
Average Monthly Temperatures
Mongolia Interactive Map
Click on map markers
below to view information about top Mongolia experiences
Click here to zoom in and out of this map
Ulaanbaatar
In a nation known for its endless steppes and remote wilderness, Ulaanbaatar is a densely populated and chaotic maze of modern high rises and traditional ger neighborhoods. UB, as the locals call it, is Mongolia's capital city and cultural hotspot: The country's best museums, restaurants, and nightlife can all be found here, as can nearly half of Mongolia's three million residents. While UB pitches itself headlong into the 21st century, the city still retains an air of tradition, and you're as likely to see horses and wagons as you are cars and motorbikes on the streets of this busy capital.
UB began life as a mobile Buddhist monastery town made up of tents. The itinerant yurt colony moved locations 28 times until, in 1778, it settled in its current location in the valley between the Tuul and Selbe rivers. Its name has also changed many times, most recently when Ulaanbaatar (meaning "red hero" in Mongolian) came under Soviet rule in 1924. The Soviet period proved particularly calamitous for Mongolia's cultural and spiritual traditions: As part of the religious purges of the 1930s, most of UB's monasteries were destroyed, and only a handful survived.
Luckily for us, one of that handful is the spectacular Gandan Monastery. Gandan—which means "the great place of complete joy"—was used as a showroom monastery for foreigners during the Soviet era, and the magnificent complex of temples and study centers continues to awe both visitors and students of Buddhism alike. Down to 600 monks from its pre-purge level of 2,000, Gandan is still the largest and most impressive monastery in Mongolia today.
Explore Ulaanbaatar with O.A.T. on:
Gorkhi-Terelj National Park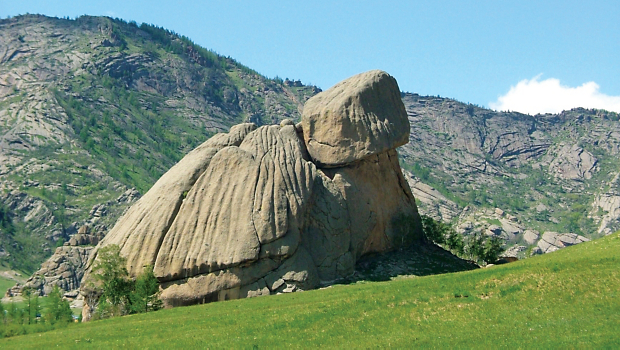 Only an hour and a half outside of frenetic Ulaanbaatar is the wide-open beauty of Gorkhi-Terelj National Park. Fringed by the Gorkhi mountains and encompassing an unspoiled mix of wildflower meadows and towering pine forests, the National Park is an oasis to the wildlife that call it home: Spot brown bears in the woodlands and keep an eye out for the more than 250 species of birds that soar across the endless Mongolian sky.
Gorkhi-Terelj boasts some of the best hiking, rock climbing, and of course, horse riding in Mongolia. Witness the park's striking rock formations, which dot the rolling hills like the whimsical creations of an artistic giant. The most famous of these is Turtle Rock, an enormous stone that resembles the eponymous shelled creature.
Nomadic families continue to dwell in Gorkhi-Terelj, roaming the park as they tend to their yaks, horses, sheep, and goats. They live in gers, or yurts, traditional circular structures that are easily assembled and disassembled. During your time here, experience what life's like as a nomad with a stay in a ger in the park's south.
Explore Gorkhi-Terelj National Park with O.A.T. on:
Khovsgol Lake
Known as the "Blue Pearl of Mongolia," Khovsgol is a pristine freshwater lake in Mongolia's mountainous northern province. Here, far from the crowds in Ulaanbaatar, you'll find an alpine oasis home to three of Mongolia's oldest ethnic groups—the Darkhad, Buriat, and Tsaatan (or Dhuka)—who continue to practice their ancient shamanist traditions.
Khovsgol is a fisher's paradise: 12 different species of fish, including salmon and sturgeon, swim in the lake's see-through waters. But if fishing is your goal, don't visit in winter—at 5,400 feet above sea level, Khovsgol completely freezes over, transforming into an unspoiled winter wonderland.
During the warmer months, enjoy a boat ride across Khovsgol's glassy surface, which offers a perfect reflection of the surrounding mountains. Or, camp out in a traditional ger tent along the lake's shore and marvel at the twinkling vastness of the night sky above.
Mongolia - Khovsgol and Terelj
Produced by Peter Kang
Fly over the sweeping landscapes of northern Mongolia, from open steppes to forested hills and the waters of Khovsgol Lake.
Explore Khovsgol Lake with O.A.T. on:
Gobi Desert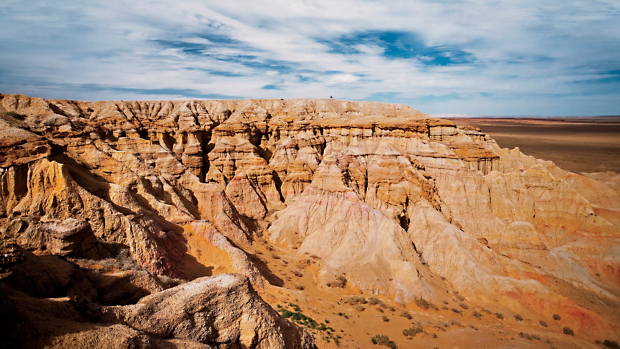 "Gobi" in Mongolian means desert steppe, and this term perfectly encapsulates the harsh terrain and extraordinary size of the Gobi Desert. At about 500,000 square miles, the Gobi may only be the second largest desert in Asia and the fifth largest in the world, but this capacious stretch of wilderness awes all those who behold its seemingly boundless horizons.
The mighty Himalayas to Gobi's west block much of the would-be rainfall to the region, but only about 5% of the desert—an area known as Moltsog Els—is covered in sandy dunes. The rest of the enormous Gobi is is made up of large swaths of bare rock, gravel, and ice. Visit the Yol Valley, also known as the Vulture Valley, to witness up close its expansive ice field and the scavenging vultures that give the valley its name. Or check out the Flaming Cliffs (Bayanzag), a spectacular series of fiery orange rock formations named by Roy Chapman, the American archaeologist who discovered dinosaur eggs here in the 1920s. In fact, dinosaur fossils have been found throughout the Gobi's vast expanse.
But for all its inhospitable landscapes and prehistoric findings, the Gobi provides a home for plenty of living creatures, too. Spot golden eagles, black-tailed gazelles, Argali mountain sheep, and the iconic Bactrian camel—a rare two-humped dromedary found only in the great Gobi Desert.
Explore the Gobi Desert with O.A.T. on:
Featured Reading
Immerse yourself in Mongolia with this selection of articles, recipes, and more
ARTICLE
There are around 22 Gobi bears left in the Gobi Desert. Discover what other endangered species roam this arid land.
Five Under Fire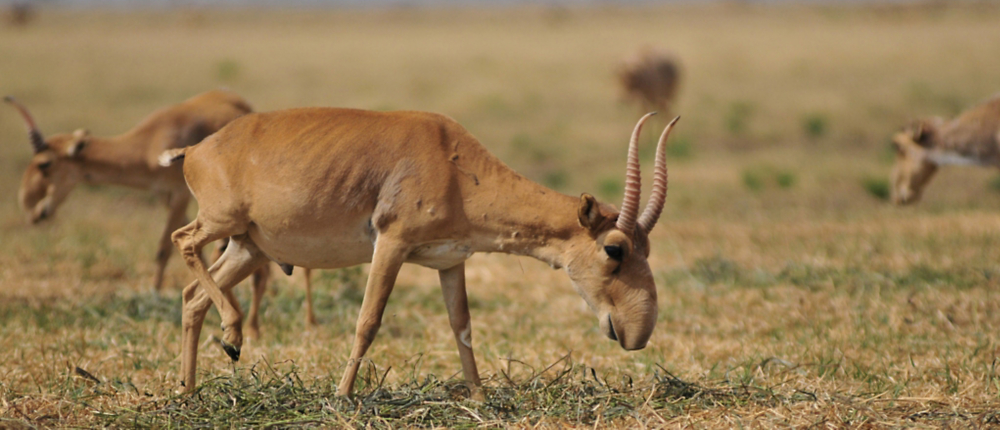 Nature's fight for survival in the Gobi Desert
by David Valdes Greenwood, for O.A.T.
The Gobi is actually a hotbed of wildlife. Yet not every species is equally thriving.
Sweeping 500,000 square miles of open terrain in Mongolia and China, the Gobi Desert is vast—and unforgiving—territory. The creatures who call the world's fifth-largest desert home have to adapt to extreme conditions to survive. The temperature peaks at just over 120 degrees F in the summer, yet the mercury can plunge to 40 below in winter, and it is fairly common to see 60-degree changes in a single day.
Despite these conditions, the Gobi is actually a hotbed of wildlife, with golden eagles, lammergeier vultures, jumpy mouse-like jerboas, geckos, and gazelles. Yet not every species is equally thriving. A host of factors—some natural and some man-made—are threatening a quintet of the region's definitive species, gaining the attention of environmentalists and wildlife experts alike.
The saiga
Can you really call a species endangered if its ranks still number 50,000? Unfortunately, the answer is yes for the saiga, an antelope known for its ugly nose but pretty horn. Fifty thousand sounds like a high number until you realize that Gobi saiga count was roughly a million at the end of the 20th century. Ninety-five percent of the saiga population was wiped out in a single decade (an almost unheard-of drop for a species) due to the collapse of the Soviet Union, which led to unbridled poaching. Thankfully, Mongolia has shown a recent commitment to stricter policing, which experts hope will slow the decline of the saiga and perhaps even reverse it.
The snow leopard
Poaching is only one reason that the rare snow leopard is becoming ever rarer. Found in the mountainous regions, snow leopards are the biggest members of the cat family to dwell in the Gobi. Unable to roar, these big cats pad quietly and nimbly among the rocks, seeking prey to eat. That, unfortunately, is their biggest problem: Hunters and poachers alike are wiping out the marmots and Ibex that were once the staple of the snow leopard diet. Current estimates show the big cats' numbers have fallen well below 4,000.
The bactrian camel
The snow leopard's numbers are still ahead of the count for bactrian camels, the original "ships of the desert." The ultimate survivalists, these camels' bodies function as living bunkers: Two humps store fat, which then is converted to water so they can go two weeks unfed; their nostrils have flaps that seal them off from the elements during a sandstorm, yet allow for breathing; and their shiny coats reflect (instead of absorb) the sun's rays, so that can they endure extreme heat. But even as hardy as they are, the species is in decline, with just 1,000 left.
The Gobi bear
The single most endangered species in Mongolia—and among the most at-risk on Earth—are Gobi bears. Scientific American puts the species number at just 22. The only true desert bears, the rangy beasts have long made do with little, but climate change has made the Gobi even drier than before, and the expansion of Gobi farming has eaten up swaths of the land that the bears once hunted. Add poaching and it's a recipe for species extinction. Fortunately, Mongolia declared 2013 the Year of the Gobi Bear and the government is working on establishing a preserve area.
The takhi
Mongolia already set a precedent for species restoration with its takhi. The takhi is the last true wild horse, never domesticated. (Even mustangs, the original American wild horse, were feral descendants of escaped domesticated horses.) Native to the Mongolian steppes, takhi numbers fell during the modernization and military conflicts of the 20th century; by the start of World War II there were only five clusters: four rounded up for placement in zoos and a dozen still wild in Mongolia. German soldiers slaughtered a set in the Ukraine, and the American zoo contingent died without reproducing. By the late 1960s, the wild herd had vanished entirely, and the zoo population dwindled to a dozen between Munich and Prague. But the two zoos began cross-breeding their takhi to avoid the inbreeding that can decimate a species, and the numbers began to rise. In the 1990s, the offspring of the original takhi were returned to Mongolia, and today they run wild again, a sign of hope for life in the Gobi Desert.
Nature's fight for survival in the Gobi Desert