The Leader in Small Groups on the Road Less Traveled in Over 85 Countries
You're receiving this message because your web browser
is no longer supported
We recommend upgrading your browser—simply click the button below and follow the instructions that will appear. Updating will allow you to accept Terms and Conditions, make online payments, read our itineraries, and view Dates and Prices.
To get the best experience on our website, please consider using:
Safari (for Mac or iPad Devices)
Update Browser

MALTA
Compare Our Adventures
Click 'Select to Compare' to see a side-by-side comparison of up to adventures below—including
activity level, pricing, traveler excellence rating, trip highlights, and more
Compare Adventures
Find the Adventure That's Right for You
Our Activity Level rating system ranks adventures on a scale of 1 to 5 to help you determine if a trip is right for you. See the descriptions below for more information about the physical requirements associated with each rating.
Travelers should be able to climb 25 stairs consecutively, plus walk at least 1-2 miles over some uneven surfaces without difficulty. Walks typically last at least 1-2 hours at a time. Altitude can range from zero to 5,000 feet.
Activity Level 2:
Moderately Easy
Travelers should be able to climb 40 stairs consecutively, plus walk at least 2-3 miles over some uneven surfaces without difficulty. Walks typically last for at least 2-3 hours at a time. Altitude can range from zero to 5,000 feet.
Activity Level 3:
Moderate
Travelers should be able to climb 60 stairs consecutively, plus walk at least 3 miles over some steep slopes and loose or uneven surfaces without difficulty. Walks typically last for 3 or more hours at a time. Altitude can range from 5,000 to 7,000 feet.
Activity Level 4:
Moderately Strenuous
Travelers should be able to climb 80 stairs consecutively, plus walk at least 4 miles over some steep slopes and loose or uneven surfaces without difficulty. Walks typically last for 4 or more hours at a time. Altitude can range from 7,000 to 9,000 feet.
Activity Level 5:
Strenuous
Travelers should be able to climb 100 or more stairs consecutively, plus walk at least 8 miles over some steep slopes and loose or uneven surfaces without difficulty. Walks typically last for 4 or more hours at a time. Altitude can range from 10,000 feet or more.
Hide Acivity Level
PRICE
including international airfare
HIGHLIGHTS & ACTIVITIES IN MALTA
*This information is not available for our trip extensions. You must reserve the main trip to participate on this extension.
**This information is not currently available for this trip. Please check back soon.
Recommended Viewing
Watch this video showcasing what makes this country so unforgettable
Travelers' Perspective: Malta
Submitted by Eugene Taylor & Abraham Krikorian, 16-time travelers from Port Jefferson, New York
Discover the island nation of Malta through the eyes of travelers Eugene T. and Abraham K. from Port Jefferson, NY.
Recommended Videos
Watch your fellow travelers' favorite films & videos
Italy's Adriatic Coast Plus Malta & Sicily
Submitted by Sarah Young, 21-time traveler from Rogers, Arkansas
Hear traveler Sarah Y. from Rogers, Arkansas share the history and culture of the Adriatic coast as you follow along from the cathedrals of Malta to gondola rides in Venice.
Life in Malta
From a peaceful pace to friendly neighbors, hear why locals love living in Malta.
Ching & Chuck's Malta to Venice Adventure
Submitted by Charles & Ching Schueddig, 22-time travelers from Naples, Florida
Witness the discoveries of travelers Chuck & Ching S. from Naples, Florida as they cruise Italy's eastern coast and beyond, from the ornate Cattedrale di Siracusa in Sicily to the tomb of writer Dante in Ravenna.
Malta: Month-by-Month
There are pros and cons to visiting a destination during any time of the year. Find out what you can expect during your ideal travel time, from weather and climate, to holidays, festivals, and more.
Malta in January-March
January, February, and March are Malta's coldest months, but winter in the Mediterranean remains mild: daytime temperatures hover between 50-60 degrees Fahrenheit. With the sea's temperature only a few degrees warmer, this is not the best time of year to enjoy Malta's plethora of water sports like swimming, sailing and snorkeling.
January is the windiest month of the year, and the rough seas can make ferry journeys to Malta difficult. But if you persist (or fly to the island), you'll be rewarded with gloriously fewer crowds and empty sites perfect for exploring.
Holidays & Events
Mid-February: Colorful Carnival celebrations take place across Malta, with the biggest festival—featuring costumed performers, street parades, and all-night revelries—taking place in the capital Valletta. But for a quirkier take on Carnival, visit Nadur, on Gozo. Here, the festivities take on a more macabre effect: Masked and hooded locals parade through the streets at sunset during The Silent Carnival, and colorful floats are replaced with homemade placards sporting insults.
March 31: Freedom Day is a Maltese national holiday commemorating the withdrawal of British troops from the island in 1979.
Watch this film to discover more about Malta
No Place Like Malta
Soar high above the island nation of Malta—from its placid turquoise coves to its gleaming white cities.
Malta in April-June
May is a great time to visit Malta—it's the first reliably dry and sunny month of the year, with temperatures warming up to 75 degrees Fahrenheit during the day. And, since the crowds of summer have yet to arrive, you'll be able to enjoy the island's beauty with relatively fewer tourists to compete with.
June is when summer officially begins, and the island welcomes the high season with lush greens and blossoming wild flowers. Expect temperatures to reach 80 degrees and Malta's beaches to buzz with activity.
Holidays & Events
Late April: Commemorating Malta's storied tradition of knighthood, Medieval Mdina is an annual two-day festival featuring all things medieval: elaborate battle reenactments, dungeon tours, and knightly pageants.
Must See
Holy Week in Malta is a sumptuous, spectacular affair. If you're in town, make sure to catch the Good Friday procession or the procession of Risen Christ, each of which features lavishly-decorated floats trailed by marching penitents.
Watch this film to discover more about Malta
No Place Like Malta
Soar high above the island nation of Malta—from its placid turquoise coves to its gleaming white cities.
Malta in July-September
Delight in Malta's warm weather in July through September. This is the peak of summer when temperatures soar into the high 80s during the day, making it the perfect time to soak up the sunshine at the beach or visit the island of Gozo where you can hike, swim, shop, and more.
A festive air takes hold of the island during the summer. This is the season of village festas, when the Maltese celebrate the good weather and long days with more than 75 festas, each featuring street parades, food festivals, live music, and fireworks displays.
Holidays & Events
September 21: Malta's Independence Day celebrates the island nation's liberation from British rule. Annual festivities include patriotic parades and fireworks displays.
Related Video:
No Place Like Malta
Soar high above the island nation of Malta—from its placid turquoise coves to its gleaming white cities.
Malta in October-December
October and November bring cooler temperatures, frequent rain, and high winds to Malta. While this can make outdoor activities less appealing, it is also a great time of year for birding. Most museums are free this time of year, offering an alternative to outdoor activities.
December marks the transition to wintertime, with mild temperatures ranging from the low 50s to 65 degrees Fahrenheit. There are few tourists in Malta in December, although the week between Christmas and New Year's is an exception.
Holidays & Events
Early October: Vittoriosa (or Birgu in Maltese) is one of Malta's oldest and most historic cities, and the annual BirguFest celebrates the city's proud traditions. Thousands of candles line the ancient cobbled lanes, lighting the city with an ancient glow; battle reenactments, musical concerts, and food stalls featuring traditional Maltese cuisine round out the festivities.
Late October-early November: Festival Mediterranea takes place for a week in October or November every year, celebrating 7000 years of history on the island of Gozo. Visitors can enjoy performances of opera and classical music, attend lectures about history and archaeology on the island, and sample traditional cuisines—the festival is a showcase of Malta's heritage.
Related Video:
No Place Like Malta
Soar high above the island nation of Malta—from its placid turquoise coves to its gleaming white cities.
Average Monthly Temperatures
Malta Interactive Map
Click on map markers
below to view information about top Malta experiences
Click here to zoom in and out of this map
Valletta
Perched on the Sciberras Peninsula between two prime Mediterranean harbors, Valletta is a beacon of Renaissance elegance. But Europe's southern-most capital hasn't always been a head-turner. Through the beginning of the 16th century, the only sign of life in the area was a small watchtower built by the Aragonese. And then the Knights of St. John arrived and changed everything.
Following the Great Siege, the Knights began an aggressive building project on the peninsula. Under the command of Grand Master Jean de Valette, the Knights completed 320 civic, religious, and military monuments, from libraries to churches and hospitals. By the early 1570s, the city was almost complete and was christened Valletta in honor of its founder.
Today, Valletta retains most of its original character. A stroll through its compact streets reveals one knightly treasure after another, like the celebrated St. John's Co-Cathedral. Known primarily for its extravagant interior—which is considered one of the finest examples of Baroque architecture in Europe—the cathedral is also home to Caravaggio's masterpiece, The Beheading of St. John the Baptist. And just a few blocks away, another of the Knight's creations awaits: the Upper Barrakka Gardens. Originally created as a recreation spot exclusively for members of the Order of St. John, the park is now open to the public, and offers panoramic views of lower Valletta, its Grand Harbor, and the Three Cities across the sea.
Experience Valetta with O.A.T. on:
Hagar Qim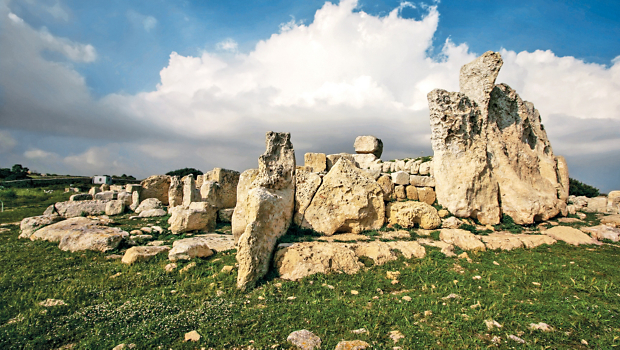 Rising from a lofty cliff, the ancient limestone ruins of Hagar Qim silently stand watch over the turquoise sea.
Hagar Qim (HA-jar eem), whose name means "Worshiping Stones" or "Standing Stones," holds the distinction of being one of the best-preserved prehistoric megalithic temples on the island of Malta. Its main temple was built between 3600 and 3200 BC, but other areas of the fascinating site—such as the Northern Temple—are considered to be significantly older.
Discovery and excavation of Hagar Qim began in the mid-1800s. What was revealed was a warren-like temple complex, similar to other ancient sites uncovered on Malta: the Mnajdra, Tarxien, and Ggantija temples. The sophisticated layout includes a forecourt and façade, elongated oval chambers, semi-circular recesses, and a central passage connecting the chambers, which creates a trefoil—or clover-shaped—design. Over the years, numerous statuettes of deities and intricately-decorated pottery have been unearthed here, and many architectural features have led researchers to believe the temple was made to accommodate animal sacrifices, receive burnt offerings, and house ritual oracles.
Together with other Neolithic sites in Malta and the neighboring island of Gozo, Hagar Qim was named a UNESCO World Heritage Site in 1992.
Experience Hagar Qim with O.A.T. on:
Marsaxlokk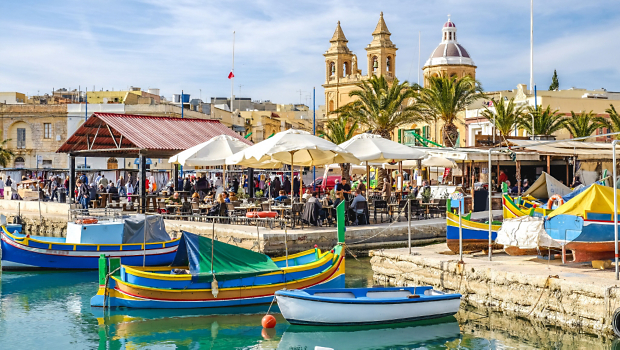 On the southeastern end of the main island of Malta, Marsaxlokk is a fishing village stuck in time. A vast majority of Malta's fish are caught here, with swordfish, tuna, and mahi-mahi being the primary catches. To retrieve these these bounties, most Marsaxlokk fishermen use luzzu. This iconic brilliantly-colored fishing boats are Phoenician in origin, dating back to their occupation of Malta in the ninth century BC. The luzzus' bows are adorned with the leering Eye of Osiris, which the Phoenicians believed would protect the boats and their captains from danger.
While Marsaxlokk supplies fish to much of Malta and beyond, the Sunday fish markets make the best of the catch available to the city's own 4,000 citizens. Originally only a place to buy fish, the market now attracts people all over Malta for a wide variety of goods such as honey, jams, wine, and produce.
Experience Marsaxlokk with O.A.T. on:
Mdina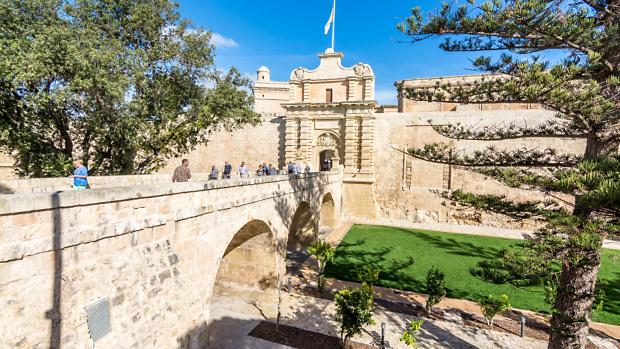 Originally founded by the Phoenicians as the town of Maleth, Mdina is a fortified city with only about 300 residents. Due to its strategic location at the top of a hill in central Malta, Mdina served as the capital of the archipelago from antiquity through the 14th century. From the 12th century onward, Malta's noble families settled here, building impressive palaces within Mdina's boundaries, which eventually earned the city its nickname: the Citta Notabile (Noble City). When the Knights of St. John arrived, the capital was moved to Burgu (later Vittoriosa) in 1540. But Mdina never lost its dignified standing.
Today, Mdina is known by another name: the Silent City. Per local laws, cars are not allowed within the city walls, giving Mdina a quiet serenity. Walking down the shaded streets and past the Norman- and Baroque-style palaces and churches, Mdina truly seems to have avoided the passage of time.
Experience Mdina with O.A.T. on:
The Three Cities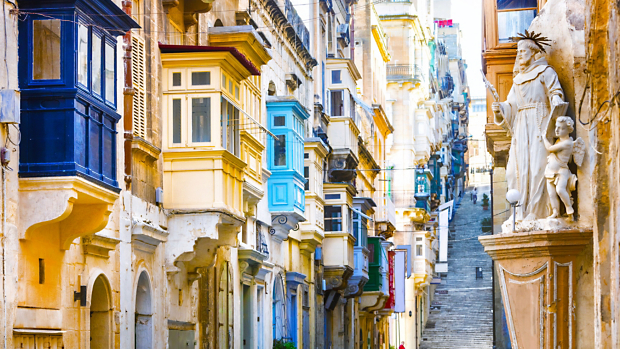 Across the bay from Valletta lies a trio of picturesque Maltese towns made of sun-bleached white stone and brimming with flowers. Known for their narrow cobblestone lanes and spectacular views of the Grand Harbour, Vittoriosa, Senglea, and Cospicua are just a short ferry ride from Valletta, but feel oceans away. Take a quick jaunt across the sparkling blue waters and discover an authentic island charm that visitors to Malta rarely see.
Throughout the Three Cities, Maltese heritage is proudly on display. The cities were renamed following their victories in the Great Siege: Birgu became Vittoriosa ("Victorious"), L'Isla was renamed Senglea (for the Grand Master of the same name), and Bormla became Cospicua ("Conspicuous," as in courage). Despite this zest for victory, many signs and local people continue to use the cities' pre-Siege names, showcasing the strong historical tradition in this part of Malta.
Vittoriosa and Senglea occupy thin, adjacent peninsulas that jut into the Grand harbor like two outstretched fingers. Once the capital of Malta, Vittoriosa was built by the Knights of St. John; the city's skyline is dominated by the impressive Fort St. Angelo, a medieval citadel used during the Great Siege that today gazes watchfully across the bay. A footbridge connects Vittoriosa to Senglea, or L'Isla, a city whose stalwart fortifications rendered it unconquerable during the Siege, earning it the additional nickname of Cittá Invicta, or "Invincible City." Just south of the Vittoriosa peninsula sits Cospicua, or Bormla. Like its sister cities, Cospicua has a long history of maritime and mercantile activities, and features colorful dockyards.
Experience the Three Cities with O.A.T. on:
Gozo
Just a short ferry ride from Malta's main island, Gozo is the second largest island in the archipelago, and the mythical home of the nymph Calypso in Homer's iconic Odyssey. Characterized by rolling hills, rocky shores, and incredibly old religious remains, Gozo is to the history buff a treasure-trove of wonders. Perhaps its most famous historic gem is the free-standing stone temple called Ggantija—which means "giantess" in Maltese. Built between 3600 and 2500 BC, this UNESCO World Heritage Site is the second-oldest religious complex known to man, even pre-dating the Egyptian Pyramids.
Two-and-a-half-miles away, on the northern coast is the port village of Marsalforn, whose history is less extensive than that of Ggantija, but no less impressive. During their occupation of the archipelago, the Romans built a network of salt pans on the outskirts of Marsalforn. Sea water would collect in these coastal impressions, then evaporate and leave salt behind for harvest.
Also on the coast, on the opposite side of Gozo, was the Azure Window, a limestone gateway formed by the erosion of a coastal rock formation. For decades, this natural archway attracted tourists and was an iconic symbol of Malta. Sadly, centuries of erosion eventually took its toll, and the window collapsed during a storm in March 2017.
Experience Gozo with O.A.T on:
Featured Reading
Immerse yourself in Malta with this selection of articles, recipes, and more
ARTICLE
Learn how this sovereign military order shaped the island of Malta.
The Knights of Malta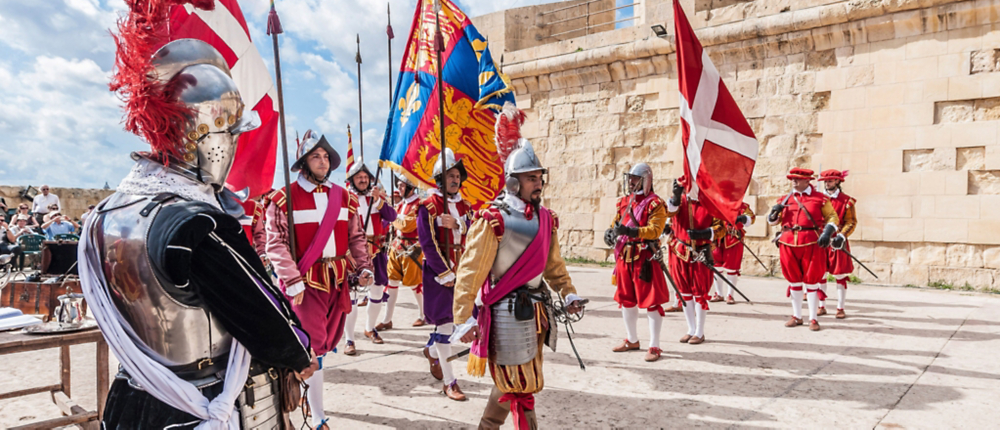 A story of crusades and constancy
Karen Hansen, from Dispatches
It may all sound far-fetched, but the true history of The Sovereign Military Hospitaller Order of Saint John of Jerusalem of Rhodes and of Malta, to give their full name, is the stuff that legends are made of. And when you visit their historic fortress-city at Valletta, Malta, the legend comes alive. Rising above the Mediterranean, enclosed by limestone walls, this enclave boasts more than 320 bastions, cavaliers, gates, gardens, churches and palaces set within 136 acres. And that's not even their headquarters. Those are in Rome, in a comparatively much smaller palazzo. How they got there is a long story. So let's start at the beginning ...
Birth of an order: the Holy Land
The Knights of St. John date back to 1048, when a group of merchants from the Duchy of Amalfi received permission from the Caliph of Egypt to build a church, hospital, and convent in Jerusalem. This charitable center was intended to serve those making the pilgrimage to the Holy Land, and was led by Gerard Thom, the spiritual founder of the order that came to be known as "Hospitallers." The Jerusalem hospice was operated by monks who had taken vows of poverty, chastity, and obedience. In accordance with their agreement with the Caliphate, they served all in need regardless of race or faith.
But things changed after the First Crusades and the European conquest of Jerusalem. The Order was charged not just with the care of the pilgrims but also with their defense, and the safeguarding of territories that Crusaders had taken from the Muslims. To accomplish this daunting task the order began recruiting Knights from noble families across Europe. Soon their ranks grew, as did their coffers. Increasingly militarized, increasingly wealthy, the Knights Hospitallers became defenders of the faith. But their defense was not enough to stop the Muslim sultan Saladin from retaking Jerusalem, and driving the Crusaders from their last strongholds in the Middle East.
The Order resettled in Cyprus, then regrouped on the island of Rhodes, where they built a formidable naval fleet that fought many decisive battles for Christendom during the Second and Third Crusades. Governed by a Grand Master answerable only to the Pope, the Knights were a force to be reckoned with. But their day of reckoning came in 1523 when the army of Suleiman the Magnificent forced their surrender, and allowed the Knights to peacefully exit from Rhodes. They remained without a territory until 1530, when the Holy Roman Emperor Charles V and his mother, Joanna Queen of Castile, granted them the island of Malta.
Valletta most proud
When the Knights arrived in Valletta there was only a small watchtower on the Sciberra Peninsula. They demolished it and built Fort Saint Elmo in its place. But when the Ottomans came calling in 1565, the fort was overtaken. Under the leadership of Grand Master Jean de Valette, the Order (with the help of the Spanish navy) defeated the Turks.
When news of the great victory reached Europe, money and resources poured in. Pope Pius V sent his best military architect to create a new city named after Jean de Valette, called Humilissima Civitas Valletta—"The Most Humble City of Valletta." Built according to what was then a novel layout, a rectangular grid with wide straight streets, the city's stout defenses were contrasted by the baroque elegance of its palaces, churches and gardens. Also in contrast was the nickname bestowed upon Valletta by the European elite: Superbissima Civitas—"Most Proud City."
The Order remained the pride of Valletta for the next 233 years, defeating Ottoman armies and fending off marauding corsairs. With their most worrisome foes under control, the Knights turned their attention back to the Order's original aims, building hospitals and medical schools. The Sacra Infermeria or "Holy Infirmary" was a state-of-the-art hospital with more than 600 beds that provided care for anyone in need, including women, slaves and non-Catholics. The skill of the doctors was renowned and many advanced surgical techniques were successfully practiced.
The Knights, who came from all over Europe and were divided into different Langues based on their native tongues, resided with their fellow speakers in different Auberges or hostels, many of which still stand in Valletta today. But the most impressive residence is the Grand Master's Palace, built in 1571. Today it is home to the House of Representatives of Malta and the office of the President of the Republic of Malta. Its State Apartments are filled with frescoes and priceless Gobelin tapestries. The Order's military prowess is displayed at the Palace Armory, filled with weapons, armor and heraldry from both the Knights and their Ottoman enemies. It is no wonder that when UNESCO declared Valletta a World Heritage Site, it described it as "one of the most concentrated historic areas in the world."
In 1798, Napoleon Bonaparte attacked Malta and the Knights, who were bound by oath to never take up arms against fellow Christians, capitulated and left the island. Today, the Knights are headquartered in Rome, but you could say they've come full circle: In 1998, the Maltese government granted them limited extraterritorial status in the city of Birgu. The purpose? To facilitate their humanitarian efforts in Malta that began almost 500 years ago.
A story of crusades and constancy