The Leader in Personalized Small Group Adventures on the Road Less Traveled
You're receiving this message because your web browser
is no longer supported
We recommend upgrading your browser—simply click the button below and follow the instructions that will appear. Updating will allow you to accept Terms and Conditions, make online payments, read our itineraries, and view Dates and Prices.
To get the best experience on our website, please consider using:
Safari (for Mac or iPad Devices)
Update Browser

machu picchu
Compare Our Adventures
Click 'Select to Compare' to see a side-by-side comparison of up to adventures below—including
activity level, pricing, traveler excellence rating, trip highlights, and more
View 2021 Itinerary Video
See a detailed overview of this itinerary, including pre- and post-trip extensions and adventure highlights.
Spend 2 days in Machu Picchu on
O.A.T. Adventure by Small Ship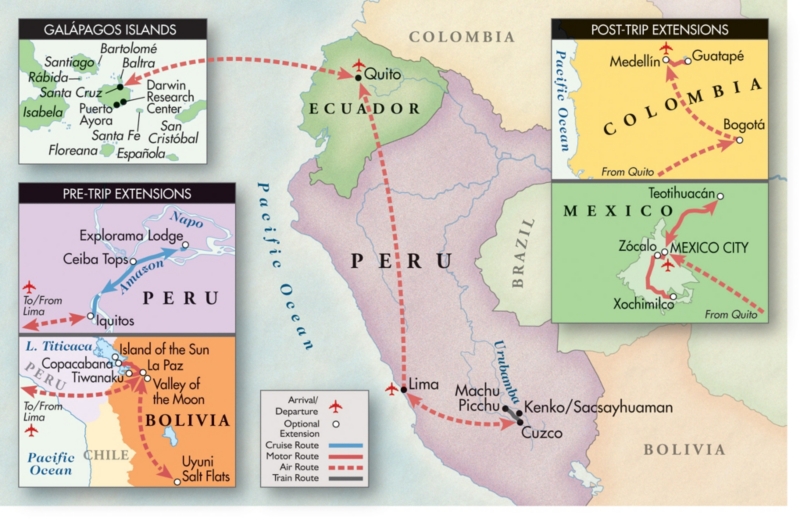 Peru: Lima, Sacred Valley, Machu Picchu, Cuzco | Ecuador: Quito, Equator Crossing, 3- or 4-night Galápagos Cruise
38 meals: 16 breakfasts, 12 lunches, and 10 dinners
Take a two-hour journey by train to the "Lost city of the Incas" which offers spectacular views into the gorge of the Urubamba River
Embark on an optional, ambitious hike to the Sun Gate at the end of the Inca trail, affording you a spectacular overhead view of the ruins
Revel in the quiet mystery that shrouds the ancient city and you behold man made achievements like the Ritual Baths, the Palace of Princesses, the Main Fountain, and the Temple of the Sun
View 2021 Itinerary Video
See a detailed overview of the types of experiences you'll have on this adventure in the land of the Incas.
Spend 10 days in Machu Picchu on
O.A.T. Adventure by Land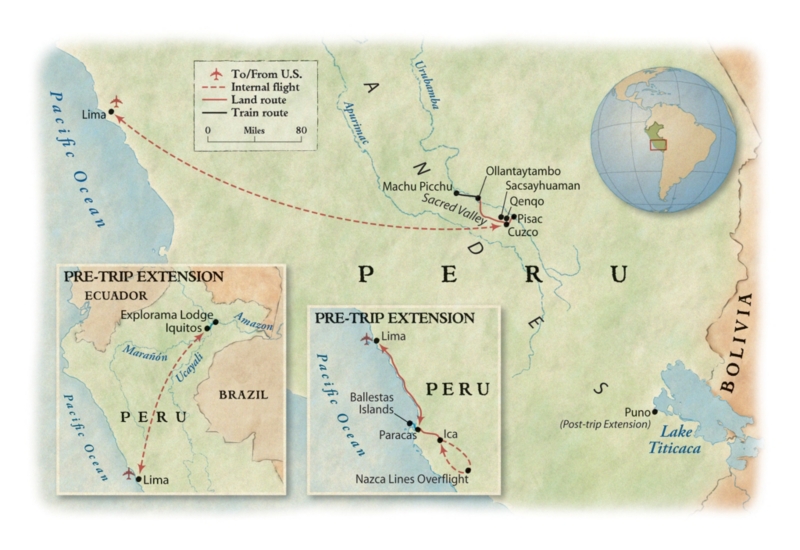 Peru: Lima, Sacred Valley, Machu Picchu, Cuzco
24 meals—daily breakfast, 9 lunches, and 5 dinners (including 1 Home-Hosted Lunch)
Visit Machu Picchu twice, including an early morning excursion to beat the crowds
Discover Lima for three nights, including the Miraflores District and San Francisco Church
Spend six days in bustling Cuzco, including a visit to the Plaza de Armas
Stay in the Sacred Valley for two nights, and raft the Urubamba River
;
Spend 2 days in Machu Picchu on our
Pre-trip Extension
Not Applicable*
Not Applicable*
13 meals: 6 breakfasts, 5 lunches, and 2 dinners
Take a two-hour journey by train to the "Lost city of the Incas" which offers spectacular views into the gorge of the Urubamba River
Embark on an optional, ambitious hike to the Sun Gate at the end of the Inca trail, affording you a spectacular overhead view of the ruins
Revel in the quiet mystery that shrouds the ancient city as you behold man made achievements like the Ritual Baths, the Palace of Princesses, the Main Fountain, and the Temple of the Sun
Compare Adventures
Find the Adventure That's Right for You
Our Activity Level rating system ranks adventures on a scale of 1 to 5 to help you determine if a trip is right for you. See the descriptions below for more information about the physical requirements associated with each rating.
Travelers should be able to climb 25 stairs consecutively, plus walk at least 1-2 miles over some uneven surfaces without difficulty. Walks typically last at least 1-2 hours at a time. Altitude can range from zero to 5,000 feet.
Activity Level 2:
Moderately Easy
Travelers should be able to climb 40 stairs consecutively, plus walk at least 2-3 miles over some uneven surfaces without difficulty. Walks typically last for at least 2-3 hours at a time. Altitude can range from zero to 5,000 feet.
Activity Level 3:
Moderate
Travelers should be able to climb 60 stairs consecutively, plus walk at least 3 miles over some steep slopes and loose or uneven surfaces without difficulty. Walks typically last for 3 or more hours at a time. Altitude can range from 5,000 to 7,000 feet.
Activity Level 4:
Moderately Strenuous
Travelers should be able to climb 80 stairs consecutively, plus walk at least 4 miles over some steep slopes and loose or uneven surfaces without difficulty. Walks typically last for 4 or more hours at a time. Altitude can range from 7,000 to 9,000 feet.
Activity Level 5:
Strenuous
Travelers should be able to climb 100 or more stairs consecutively, plus walk at least 8 miles over some steep slopes and loose or uneven surfaces without difficulty. Walks typically last for 4 or more hours at a time. Altitude can range from 10,000 feet or more.
Hide Acivity Level
PRICE
including international airfare
HIGHLIGHTS & ACTIVITIES IN Machu Picchu
*You must reserve the main trip to participate on this extension.
**This information is not currently available for this trip. Please check back soon.
Recommended Viewing
Watch this video showcasing what makes this country so unforgettable
Earth Diaries - Machu Picchu
Produced by Kaila Taylor
Journey high above Peru to discover the Inca civilization's ancient city, Machu Picchu.
Machu Picchu: Month-By-Month
There are pros and cons to visiting a destination during any time of the year. Find out what you can expect during your ideal travel time, from weather and climate, to holidays, festivals, and more.
Machu Picchu in January-February
January and February mark Peru's wet season. You can expect rain at least once per day, but the season's showers usher in the bounty of Mother Nature, including verdant, healthy vegetation blooms. Trekkers hoping to hike the Inca Trail will find it closed for cleaning and maintenance, but Machu Picchu remains open throughout the wet season and plays host to gloriously few visitors. And with fewer tourists to compete with, your travel dollar will go further.
Watch this film to discover more about Machu Picchu
Peru – Cuzco & Machu Picchu
Produced by Regina Fraser and Pat Johnson
Discover the folk art of Cuzco and the history of Machu Picchu with the "Grannies on Safari."
Machu Picchu in March-May
March, April, and May—Peru's fall—usher in milder temperatures and the start of the dry season. The main tourist season hasn't yet begun, so you can expect fewer crowds at Machu Picchu's many ancient ruins and must-see sites. These are some of the best months to visit Machu Picchu—and if you do, you'll witness the additional delight of orchids in bloom, which are visible on the train ride from Cuzco to Machu Picchu.
Watch this film to discover more about Machu Picchu
Peru – Cuzco & Machu Picchu
Produced by Regina Fraser and Pat Johnson
Discover the folk art of Cuzco and the history of Machu Picchu with the "Grannies on Safari."
Machu Picchu in June-September
Peru's winter months are the official peak of the dry season—and the tourist season for Machu Picchu. Drawn by cloudless skies, visitors flock to the mysterious ruins, which can see as many as 2,000 tourists a day. However, on some days visitors may also experience a dense fog known as La Garua, which blankets the city in a misty drizzle.
Peru's winter months are the most popular time of year to visit, so it's best to plan your visit in advance.
Watch this film to discover more about Machu Picchu
Peru – Cuzco & Machu Picchu
Produced by Regina Fraser and Pat Johnson
Discover the folk art of Cuzco and the history of Machu Picchu with the "Grannies on Safari."
Machu Picchu in October-December
October in Peru offers sunshine and mild temperatures, while late November heralds the start of the wet season. Despite the occasional downpour, December is still largely pleasant—and with fewer crowds in the ruins to compete with, many travelers are willing to risk getting a little wet for a chance of uninterrupted time at Machu Picchu's popular attractions. This is also an excellent time of year for viewing wildlife and birds—of the latter, Peru has more species than any nation except for Colombia.
Watch this film to discover more about Machu Picchu
Peru – Cuzco & Machu Picchu
Produced by Regina Fraser and Pat Johnson
Discover the folk art of Cuzco and the history of Machu Picchu with the "Grannies on Safari."
Average Monthly Temperatures
Machu Picchu Interactive Map
Click on map markers
below to view information about top Machu Picchu experiences
Click here to zoom in and out of this map
Machu Picchu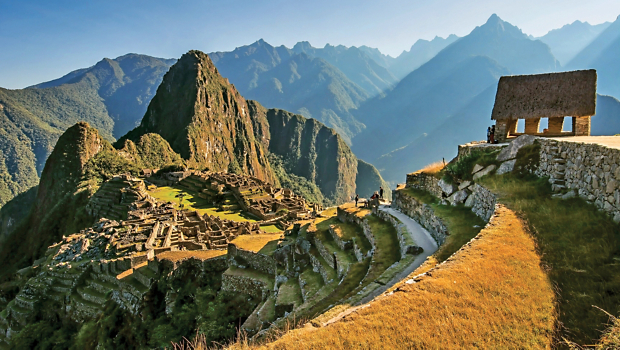 Machu Picchu was built by the Incas around 1450, and then abandoned in the wake of the Spanish Conquest in the 16th century. For hundreds of years, its existence was known only to local Quechua peasants until a 1911 expedition by the American archaeologist Hiram Bingham brought it to the attention of the world at large. Today it is recognized as a UNESCO World Heritage Site, and one of the New Seven Wonders of the World.
Although it is Peru's most well-known attraction, it is still shrouded in an aura of mystery. Much of the site is still claimed by the jungle, and archaeologists haven't decided conclusively what the "lost city" was used for in its heyday; the two most common theories posit that it was either an estate for the Inca emperor, or a sacred religious site for the nobility.
The site is located nearly 8,000 feet above sea level, set between two imposing Andean peaks. The ancient Inca who built it were master architects, fitting together granite stone without mortar to create structures which amazingly still stand today (with the help of vigilant conservationists). Visitors can walk among the ruins, discovering key sites like the Temple of the Sun, and the ritual stone of Intihuatana, and hike to the Sun Gate for a panoramic view of the site as a whole.
Experience Machu Picchu with O.A.T. on:
The Inca Trail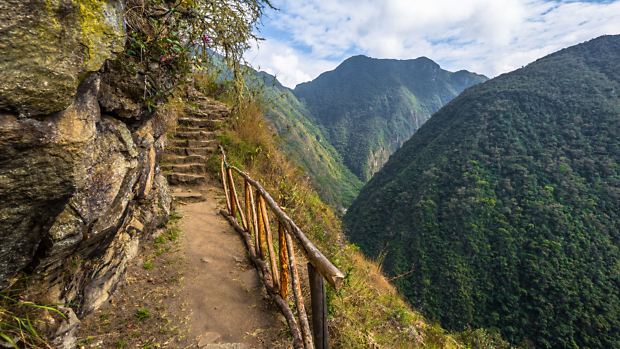 While many (understandably) opt to head to Machu Picchu by vehicle, hiking the Inca trail is a challenge that many daring individuals chose to undertake. And when they do, they are rewarded with unparalleled scenery such as forests obscured by clouds, jungle-dwelling wildlife, and myriad relics left behind by a lost people. The trail is 26 miles long from beginning to end.
For those who are looking to behold mystifying history without the 26-mile hike, some of the ruins lay fairly close to Machu Picchu and require less of a trek. The Sun Gate, for example, sits at the Machu Picchu end of the trail and is a one-hour hike from the ruins. It's believed that imperial guards strategically used this remote entrance to monitor who had access to the city. Travelers who hike here experience an unmatched overhead view of Machu Picchu. Alternatively, the Inca Bridge is also a short distance from the city and showcases a mysterious and impressive architectural feat. A path is cut into the face of a cliff for safe passage. However, a gap was left in one section that the Incans bridged with logs, but then removed when under threat of enemy invasion.
Also close by is the peculiarly shaped Intihuatana (place to tie up the sun) Stone. This is one of the many relics of the trail that's shrouded in a fog of mystery, as it was likely used for astronomical studies and a keystone of Incan rituals. What information it afforded the ancient residents and what they did with it, however, is still unknown.
Experience the Inca Trail with O.A.T. on:
Featured Reading
Immerse yourself in Machu Picchu with this selection of articles, recipes, and more
RECIPE
Bring the flavors of Peru into your home with this hearty stew recipe.
ARTICLE
True or false: There are no current inhabitants of Machu Picchu. Find out here.
ARTICLE
Peru takes great pride in its native bird: the Andean Condor. Learn about it here.
ARTICLE
Learn more about the stars in the night sky—as seen by the Incas.
ARTICLE
Learn how the ancient Incas engineered their landscape and waterways many years ago.
ARTICLE
Uncover the life of Hiram Bingham, the man credited with discovering the Inca site almost 100 years ago.
Recipe: Peruvian Stew
from Harriet's Corner
While quinoa has only recently become popular in North American cuisine, it has been used by South America's indigenous population (particularly the Incas) for thousands of years—and is still praised for its nutritional properties. Often called a "supergrain," quinoa is rich in protein, fiber, magnesium, riboflavin, and manganese. This fall, warm yourself up—and indulge in the many benefits of quinoa—with this recipe for Peruvian quinoa stew.
Ingredients:
1/2 cup quinoa
1 cup water
1 onion, diced
2 garlic cloves, minced
2 Tbsp. vegetable oil
1 celery stalk, chopped
1 carrot, sliced (1/4-inch thick)
1 bell pepper (any color), cut into 1-inch pieces
1 cup zucchini, cubed
2 cups undrained canned tomatoes
2 tsp. ground cumin
1/2 tsp. chili powder (or more, to taste)
1 tsp. ground coriander
1 pinch cayenne (or more, to taste)
1 tsp. dried oregano
1 cup vegetable stock
Salt, to taste
Fresh cilantro, chopped (optional)
Preparation:
Rinse quinoa well, and place in a pot with water. Cook over medium heat for about 15 minutes, or until soft. Set aside.
While the quinoa cooks, sauté onions and garlic in oil over medium heat for 5 minutes.
Add the celery and carrots. Cook for 5 additional minutes, stirring often.
Add the bell pepper, zucchini, and tomatoes, as well as the cumin, chili powder, coriander, cayenne, and oregano. Cook for a few additional minutes, then stir in vegetable stock. Cover, and simmer for about 15 minutes, until vegetables soften.
Stir in the cooked quinoa and add salt to taste. Before serving, sprinkle chopped cilantro on top if desired.
Serves: 4
5 Myths of Machu Picchu Debunked
by Zack Gross, for O.A.T.
1. Machu Picchu is the legendary "Lost City" of the Incas
Hiram Bingham III stumbled upon Machu Picchu in pursuit of Vilcabamba, the last Inca city to fall to the Spanish conquistadores. It's evident from his writings that when he saw it, he was convinced he had finally discovered the "lost city." Nestled between the Andes Mountains and seemingly floating among the clouds, it's no wonder the mystical remains of Machu Picchu seemed to be the culmination of his quest. If you've fallen prey to this common misconception, please find solace in the fact that Hiram Bingham did too. Unfortunately, it wouldn't be until after Bingham died that his error would come to light. It is now widely believed that the true lost city of Vilcabamba was located at a site called Espiritu Pampa, which Bingham also visited, but didn't attribute as much importance to in his writings.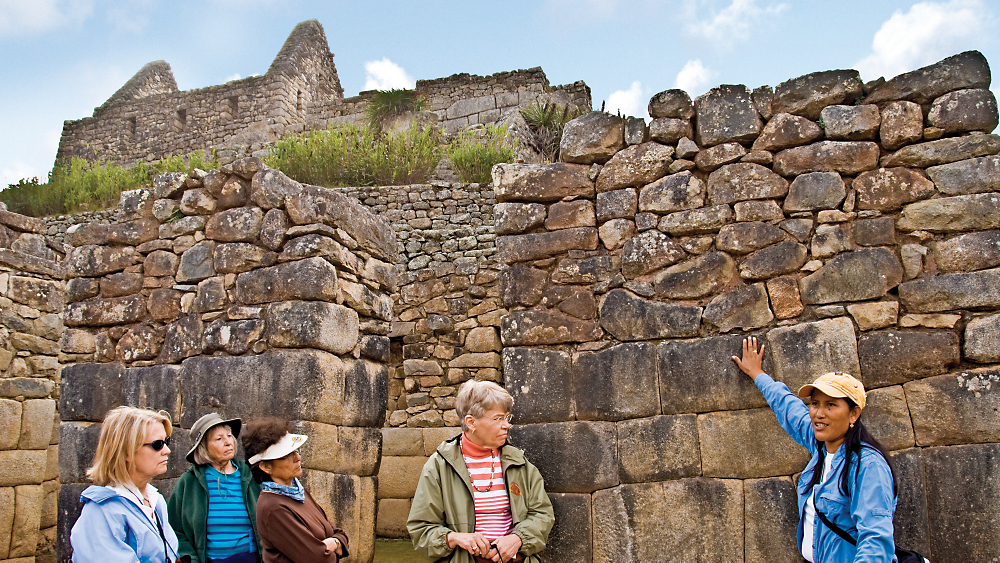 2. You can see all of the ruins
We've all heard the expression "just the tip of the iceberg." Well, the same could be said about what you'll see of Machu Picchu. Surprisingly, there's much more to these ruins than meets the eye, as a majority of the Inca's handwork actually resides under the ground. Before the wheel arrived in the New World, and long before steel and concrete became the blood and bones of construction work, the Inca people built the walls and terraces of Machu Picchu with only stones. Without even using mortar, they built an entire complex of buildings with stones cut so perfectly and placed so closely together that the cracks between them can't even be penetrated by a credit card. Inching up to the edges of cliffs overlooking the Urubamba River, the stone city that stretches boldly across this high ridge in the Andes is actually perched above an underground irrigation system and building foundations. The underground foundations of Machu Picchu are so strong, in fact, that when earthquakes hit, the perfectly placed stones are said to "dance" and then fall right back into place.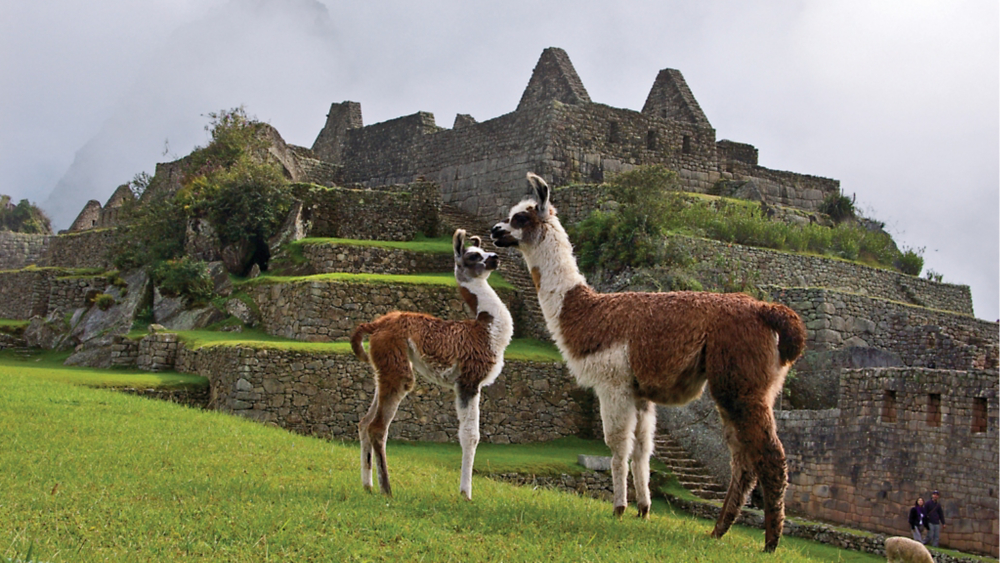 3. There are no current inhabitants of Machu Picchu
Built over 500 years ago, and mysteriously abandoned in the early 16th century, Machu Picchu hasn't had any human inhabitants for a long time. However, there are quite a few animals that still call this incredible place home. Not only are there plenty of llamas, alpacas, and vicuñas roaming the ruins—"nature's lawn mowers," as the locals lovingly call them—there are also some rare and endangered species dwelling in the surrounding tropical rain forest. South America's only native bear—the spectacled bear—resides here, along with the world's smallest species of deer (the pudu), and ocelots, to name a few.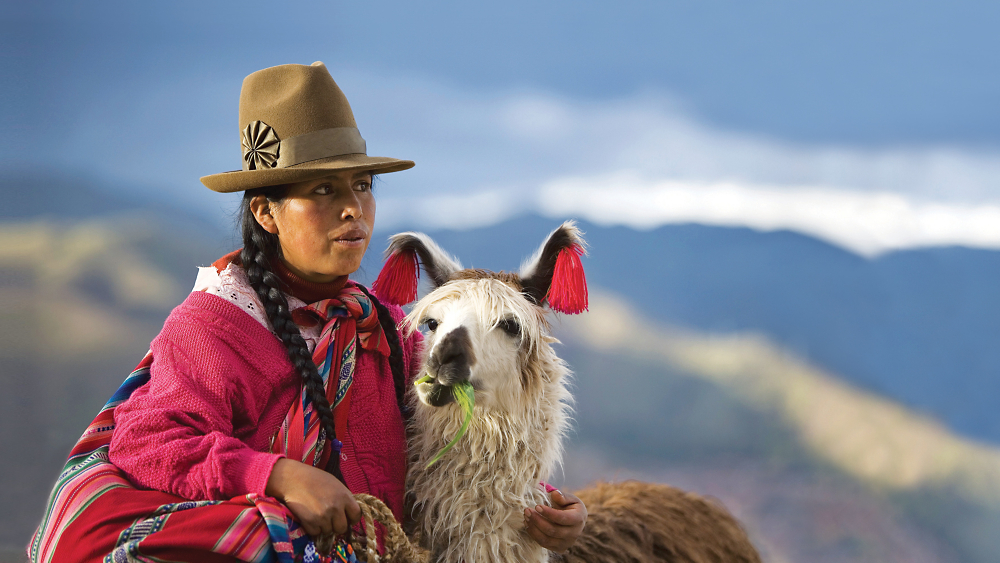 4. Machu Picchu was originally a nunnery or convent
When Bingham dug up skeletons at Machu Picchu, a leading expert at the time told him that the remains were mostly female. Based on this finding, Bingham surmised that the city was built as a nunnery or convent. He even went on to suggest that it may have been home to the Virgins of the Sun, a sect of Inca women who lived in religious compounds. However, it was later found—upon further examination of the remains—that there was actually a relatively balanced mix of male and female inhabitants, and that the characteristically small stature of the Inca people probably misled early 20th-century scientists. Interestingly enough, their small physiques are actually a manifestation of the Inca's deep-rooted connections to life in the mountains. Over centuries of living high in the Andes, they developed a shorter stature, larger lungs, and more red-blood cells, all of which aid in respiration and circulation at high altitudes.
5. Your trip to Machu Picchu can wait
If Machu Picchu has always been one of your dream destinations, don't wait! There has never been a better time to go, as new rules and restrictions are under discussion that would limit the impact of tourism on the spectacular ruins. The Ministry of Culture in Cusco has, for example, considered limiting the number of people who can visit each day, and the amount of time you are permitted to spend in each area of the ruins. While we support any decision that will help preserve this wonder of the world, we urge you to go there soon to maximize the ease of exploration and your enjoyment of the ruins on your own terms.
The Andean Condor
How an ancient symbol is flying high again
by David Valdes Greenwood, from Dispatches
In the plaintive original lyrics of El Condor Pasa, the most famous Peruvian song of all time, the singer pleads,
"Wait for me in Cuzco, in the main plaza!
Wait for me in Cuzco, in the main plaza,
So we can go together to walk in Machu Picchu."
For all the longing in every line, the object of the entreaties is not the singer's beloved—or, for that matter, even human. The subject of the ballad is the Andean Condor itself, the mighty bird which has been a symbol of Peruvian culture since the time of the Inca. And the singer, a Quechua mine worker in the city, is pleading with the condor to fly him back to the Andes.
For Peru, the condor represents legend, history, nature, and tradition all in one. Believed by the earliest Andeans to be the emissary of the Sun God and the ruler of the air, the bird was immortalized in the Temple of the Condor at Machu Picchu. There, the ingenious builders added stone blocks to a natural outcropping to replicate wings that rose above a carved condor head with a beak and ruffled collar. To this day, wherever you travel throughout the land of the Incas, the bird's image is represented in statuary, artwork, graphics, and even textiles. From coffee shops to a regional airline, the logo of a condor is one way of proclaiming that a business is truly Peruvian.
Despite being so well-loved, the species was facing near extinction by the late 20th century, its numbers having dwindled from hunting and loss of habitat. In 1970, the breed was placed on the international "endangered species" list. In the 40 years since, Peru and its neighboring nations have strengthened environmental laws, implemented education plans to help their citizens better understand the value of preservation, and introduced captive-born condors into the wild. As a result, the species has stabilized in numbers to the point where it is currently listed as "Near Threatened," one step up from "Vulnerable," which in turn is an improvement over endangered.
When you see a condor up close—or even soaring high overhead— it's hard to imagine such a creature ever seeming vulnerable.
Its sheer physical impressiveness makes it rare among its avian peers: Weighing up to 35 pounds, it boasts a wingspan of ten feet. How big is that? Imagine a bird with a body the size of a four-year-old boy and wings that unfurled beyond the width of a school bus. Not surprisingly, the Andean Condor one of the largest flying birds on Earth.
It is also among the most enigmatic. Because a condor has no voice box, it never sings or squawks its feelings. Playing the strong, silent type, the vulture only betrays its emotions when its face flushes. A condor likes to keep its face meticulously clean, so when strong emotions send blood rushing to its cheeks, the thin skin darkens noticeably. This is as close as a condor gets to making a fuss.
The silence of a condor extends to how it flies. Once airborne, it can remain aloft without any noisy flapping, carried along for miles on thermal currents of air, like a hang glider. This combination of songlessness and stillness in flight deepens the mystique of the breed.
While the condor always plays it cool, the people of Peru don't hold back. They unabashedly love their soaring symbol, just as their ancestors did. And with the condor population rebounding, it seems they'll be singing its praises for years to come.
How an ancient symbol is flying high again
Stargazing with the Incas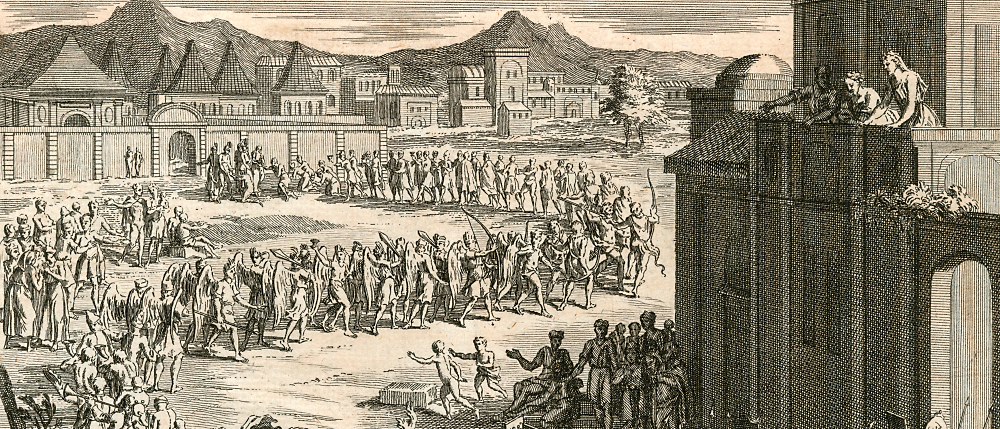 Finding constellations in stone and shadows
by Tom Lepisto, from Dispatches
On clear nights in the Peruvian Andes, the sight of the stars twinkling high above the mountains is dazzling. When you look up from the vicinity of Cuzco or the Sacred Valley, though, you get more than just a beautiful view—you are also seeing the night sky as the Incas did
centuries ago. With no modern city lights to interfere with the view, the stars and the Milky Way gleamed brilliantly for these ancient sky-watchers. They held these celestial visions sacred, observing them carefully for both religious and practical reasons.
The Incas had their own names for groupings of stars like the Pleiades—the cluster we know as the "Seven Sisters," for the number of stars a keen-eyed observer can count without a telescope. To Incan eyes, this stellar assemblage resembled a handful of seeds, so they called it the Collca, meaning storehouse.
At the latitude of the Sacred Valley, thirteen degrees south of the equator, the Collca/Pleiades cluster drops out of sight below the nighttime horizon every year in April. It reappears in early June, shortly before the winter solstice. This timing, along with other celestial observations, helped farmers to schedule their planting and harvesting, and the return of the Collca to visibility was marked with a sacred ceremony.
The Southern Cross, called Crux in modern astronomy, is another constellation that the Incas found useful. There is no Southern Hemisphere equivalent of the North Star, but the two stars on the long axis of the Southern Cross can be used to draw a line that points due south. In Machu Picchu, near the Intihuatana sun stone in the city's Sacred District, there is another carved stone that shows the Incas knew this fact well. Its diamond (or kite-like) shape mimics the outline of the Southern Cross, and it is precisely oriented on a north-south axis matching
that of the constellation.
The Incas regarded the Milky Way, which they called Mayu, as a celestial river. For part of each year, Mayu's orientation in the sky parallels the course of the Vilcanota (Urubamba) River through the Sacred Valley, contributing to the Incan view of objects in the night sky as sacred reflections of their counterparts on the ground.
Another unique feature of Incan astronomy—found in no other culture on Earth—was the recognition of dark constellations in the shadowy parts of the Milky Way. Today, we know these dark areas are caused by non-luminous clouds of dust and gas that obscure the stars beyond them. The Incas saw shapes in these shadows that represented more connections between earth and sky, including Hamp'atu (the Toad), Atoq (the Fox), Yutu (the Tinamou, a partridge-like bird), and Machacuay (the Serpent, viewed positively by the Incas as the god of all things beneath the earth).
Three of the most prominent dark constellations further demonstrate the links the Incas made between worlds above and below. The largest of these shadowshapes is the Llama, with the Baby Llama underneath it and the Shepherd standing watch next to them. The large Llama is the only one of the dark constellations to also include stars, with the bright beacons known today as Alpha and Beta Centauri representing its eyes. In the dark skies of centuries ago, all of these sights were surely awe-inspiring nightly reminders of the Incan worldview. Today, we can still see how these ancient people bound heaven and earth together by putting the Southern Cross on the ground and placing the llamas with their shepherd in the sky.
A good look at the night sky anywhere offers a mind-expanding vista of other worlds. But in the Andean realm of the Incas, it also yields a look deep into the spirit of their culture—whose propensity for stargazing still resonates with anyone who has ever looked upward on a clear night and contemplated our connections to the cosmos.
Finding constellations in stone and shadows
Flow of an Empire
How the Incas engineered their landscape and waterways
by Tom Lepisto, from Dispatches
Think of the work of the Incas, and stone buildings may be the first thing to come to mind. While those rocky edifices are impressive, the ingenuity of their builders extended farther and reshaped vast stretches of the Andean landscape. The largest-scale works left by
the Incas are their agricultural terraces, which turned mountainsides into farmland on a grand scale. Those ancient farmers moved water as well as soil, building canals, channels, and baths, some of which still function after the passage of 500 years.
Like giant stairways with 15-foot-high steps, Incan terraces cover many slopes around their cities, where they provided a convenient food supply. One example is Machu Picchu, where the farming terraces, irrigated by water channeled from a mountain spring, could produce more than enough food to sustain the resident population. The full magnitude of the Incas' achievements becomes most apparent, though, when you look beyond their most famous city.
British archaeologist Ann Kendall has estimated that Incan terraces and irrigation systems spanned almost 4,000 square miles of the Peruvian Andes in the 1400s. The crops these lands produced fed the empire with staples including corn, potatoes, and quinoa. In the 1970s, Kendall began working with Peruvian farmers to return some Incan irrigation canals near Cuzco to productive use. Reviving ancient techniques holds promise for improving organic agriculture in rural Peru, where the methods used during Inca times remain wellsuited to the Andean environment.
Incan farming terraces were constructed in layers, with stone-and-gravel fill on the bottom for drainage, local soil in the middle, and soil with greater fertility brought up from the lowlands and placed on top. The stone wall fronting each terrace captured warmth from the sun that helped plants grow, and a small canal running the width of the terrace brought water.
The Tipon site south of Cuzco, which may have been a royal estate, offers outstanding examples of such Incan construction. Twelve terraces climb up a mountainside 11,000 feet above sea level, with the difference in elevation giving the lowest terraces a warmer soil temperature than the highest. Because of this, scientists believe Tipon may also have been an agricultural testing station for crops requiring varying degrees of warmth.
Tipon's waterworks have a beauty beyond their practical use for irrigation. Near the top of the terraces, a ritual fountain sends water plunging down a three-foot drop in four parallel streams, making music that was probably as pleasing to the ears of Inca royalty as it is to ours.
Other ancient sites show how farming terraces were integrated into planned communities. At the southern end of the Sacred Valley, Pisac incorporates terraces, a fortress, temples, and a residential area. The waters of a mountain stream are channeled into a series of individual baths in one part of the site. Ollantaytambo is also remarkable for its blend of stone, water, and terraces. The cobbled streets of the modern town still follow the original Incan layout, with water flowing beside them through ancient channels. Terraces rise steeply up the slope.
Listening to the same rush of water that resounded in such places during Inca times brings their era vividly to life. Most of all, the presence of so much carefully planned construction testifies to the sophisticated level of organization that Incan civilization possessed.
How the Incas engineered their landscape and waterways
100 Years Later: Hiram Bingham Machu Picchu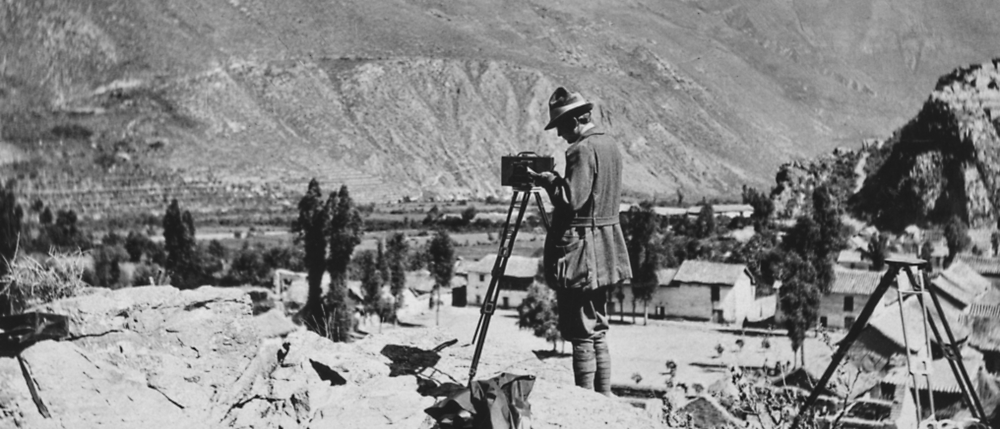 by Andrea Calabretta, from Dispatches
Picchu by Imagine, if you will, a visit to Machu Picchu in the time of Hiram Bingham, around the turn of the century. The site is a five- or six-day hike from Cuzco, and you proceed on foot along the rushing Urubamba River, a headwater of the Amazon, toward the lush green mountains that rise above the river valley, with their peaks hidden in the clouds. Your legs are wrapped in cloth to guard against snakes; the sun is strong, and the air is full of moisture as you climb. Though July is "dry" season, when an infrequent rainstorm comes, it makes the stones in your path slippery, and you cling to vines as you go, dropping to your knees (as Bingham did) to cross at least one flimsy bridge strung between boulders over the rapids. Your final ascent is a precipitous slope, with few handholds, and though you are spurred on by visions of a lost Inca city, you begin to doubt whether you will ever arrive at your destination.
But then, suddenly, perfectly symmetrical agricultural terraces carved into the side of the mountain begin to appear, and farther along, granite houses. As you climb onward, more stone ruins emerge from the mist. Everything is covered in centuries of vegetation, but even so, the spectacular artistry of the cut stone is obvious. As new structures come into view, their architectural lines exquisitely simple and strong, you begin to marvel at the implications of your find: This must be a hidden citadel … one of the "lost cities" of lore … perhaps even the last stronghold of the Inca empire … never discovered by the Spanish … protected by its remote position atop a mountain … and utterly pristine.
Today, a visit to Machu Picchu is different, of course, but no less awe-inspiring than it must have been in Bingham's day. And it is impossible to visit today without being reminded of the American explorer credited with discovering the Inca site almost 100 years ago, in 1911. One of the PeruRail trains that take you from Cuzco to Aguas Calientes (the tiny town at the foot of Machu Picchu) is known as the Hiram Bingham. The steep and winding road that brings you from Aguas Calientes to the entrance bears his name. And once inside the historic sanctuary, a prominent plaque affixed to a stone wall contains an homage to Hiram Bingham. From first appearances, it's hard to tell that Peruvians regard Bingham as anything other than a national hero. Certainly there is no sign to indicate he wasn't the first to discover the Incan citadel, nor any sign that his representation as a swashbuckling adventure hero—seized upon by the international media in the early 1900s—was somewhat … incomplete. But if you dig a little deeper—especially if you ask the locals—the image of handsome Hiram, scholar and explorer, begins to shift. This year marks the 100th anniversary of his "discovery"—a date that is both inspiring posthumous praise and raising difficult questions about the man and his motives.
Who was Hiram Bingham? Bingham was born in Honolulu, Hawaii, in 1831, the son and grandson of Protestant missionaries. He attended high school in New England at Phillips Academy at Andover and college at Yale; then obtained a second degree at Berkeley; and finally a PhD at Harvard. Shortly after graduating from Yale, he married Tiffany heiress Alfreda Mitchell, whose inheritance would ultimately help fund his expeditions. Together they had seven sons. Bingham taught courses at Harvard and Princeton before becoming a Yale lecturer in 1907. His subject was South American history—not archaeology or anthropology, as has often been assumed. In fact, Bingham was never an archaeologist and had no formal training in the field. However, a pivotal trip in 1909 focused his interest as a scholar. That year, he attended the Pan American Scientific Congress in Chile. Afterward, he was persuaded by a local official to stop in Peru to explore Choquequirao, a pre-Columbian site. The visit stirred an enthusiasm for seeking out other Inca cities in Peru. He returned to the Andes in 1911 with the Yale Peruvian Expedition.
As director of that expedition, Bingham "found" Machu Picchu on July 24, 1911. His discovery was largely an accident— Bingham was at first headed elsewhere entirely. En route, several Quechua guides, foremost of whom was Melchor Arteaga, steered him the right way. Arteaga led Bingham through dense forest, up the slippery pathways toward the pinnacle of "old mountain" (the English translation of the Quechua "Machu Picchu"). He knew two farmers by the names of Richarte and Alvarez who were living in the vicinity—and were in fact using the agricultural terraces constructed and farmed by the Incas at the height of their empire in the 15th and 16th centuries. After a hard climb of more than an hour, the party arrived at the farmers' grass huts and paused, taking water and boiled sweet potatoes as refreshments. As Bingham recorded in his notebook, the farmers told Bingham that they "had chosen this eagle's nest for their home. They said they had found plenty of terraces here on which to grow their crops and they were usually free from undesirable visitors…"
Richarte offered his ten-year-old son as a guide to the foreigner and instructed his son to show Bingham the stone structures near the family's agricultural plots. Even then, Bingham distrusted the locals and wondered if his climb that day would turn out to be a wild goose chase. Bingham wrote, "I learned that there were more ruins 'a little farther along.' In this country one never can tell whether such a report is worthy of credence … Accordingly, I was not unduly excited, nor in a great hurry to move. The heat was still great, the water from the Indian's spring was cool and delicious, and the rustic wooden bench, hospitably covered immediately after my arrival with a soft, woolen poncho, seemed most comfortable."
As he followed the child the ruins he found totally exceeded his expectations:"Surprise followed surprise in bewildering succession. I climbed a marvelous stairway of granite blocks, walked along a pampa where the Indians had a small vegetable garden, and came to a clearing in which were two of the finest structures I had ever seen. Not only were there blocks of beautifully grained white granite, the ashlars [squared blocks] were of Cyclopean size, some 10 feet in length and higher than a man. I was spellbound."
Bingham wondered whether he had located Vilcabamba, the last refuge of the Inca during the Spanish conquest. He also theorized that the site may have been Tampu-Tocco, the birthplace of the Inca Empire, or perhaps a refuge for a religious sect known as the "Virgins of the Sun." The true purpose of Machu Picchu is still a topic of debate today—scholars contend that it may have served as a fortress, an administrative center, a religious center, a royal estate, or some combination thereof. The most popular theory holds that it was built for the Inca emperor Pachacuti around 1450, at the height of the Inca Empire. Bingham's pictures and accounts of this vine-covered "lost city" led to two return trips (in 1912 and 1915). The April 1913 issue of National Geographic magazine was entirely devoted to his expeditions in Peru, and suddenly the world was made aware of the Inca ruins once shrouded in mystery. Over three trips, Bingham brought home thousands of artifacts on loan—with the permission of the Peruvian government. Little did they know that the return of those artifacts would one day become mired in controversy.
It was not possible for Bingham to return to Peru following his third trip. His fellow explorers felt left out of the recognition that came from the discovery, which ended any notion of future shared expeditions. And soon, the Peruvian government caught wind of the fact that Bingham was keeping the artifacts he had left with—and he became persona non grata. Instead, he joined the Connecticut National Guard and became a captain. He would go on to organize Military Aeronautics Schools at eight U.S. colleges, and to fly for the U.S. Signal Corps and the Air Service. As Lieutenant Colonel, he oversaw the Air Service flying school in Issoudun, France, in 1920.
Though his South American expeditions were over, no one could accuse Bingham of a sedentary lifestyle—or a lack of self-confidence. He became Lieutenant Governor of Connecticut in 1922 and served one two-year term before running for Governor. He won, but just after the 1924 election, Connecticut's U.S. Senator died, and Hiram won that seat in a special election. He got up in the morning as Lieutenant Governor, was then sworn in as Governor—delivering the longest inaugural speech in Connecticut history—and presided over a massive ball, then took the train to Washington, where he became a Senator the next morning, making him the only person ever to beLieutenant Governor, Governor, and Senator in 24 hours.
From the moment he arrived in the capital, Bingham was regarded as a show-off. His Senate office was decorated with Peruvian artifacts and pictures of himself with celebrities. He wore expensive clothes, had gleaming silver hair, and was popular with ladies. Soon after taking office in 1924, he translated his cult of personality into a radio show, telling his listeners, "I am still exploring," and making the capital sound like a grand adventure. He once landed a blimp on the steps of the Capitol to arrive at a committee meeting. Bingham was re-elected in 1926 for a full term. But during the aftermath of the 1929 stock market crash, it was revealed that he had paid a lobbyist and allowed him to act as his aide in Finance Committee meetings. At first, a Senate subcommittee deemed this behavior "highly irregular" but did not punish him. However, Bingham then made public pronouncements about having been the victim of a witch hunt, which led to the full Senate's choosing to formally censure him for demeaning the "good moral and Senatorial ethics"—a criticism not again applied until Joseph McCarthy in the 1950s. In his 1932 election bid, Bingham was ousted.
During this bleak period, Bingham's wife, Alfreda Mitchell, left him because of his longtime affair with another woman, Suzanne Carroll Hill, whom he married in 1937. That same year he was invited back to Peru for the first time. He returned with his second wife for a ribbon-cutting ceremony for the Hiram Bingham Highway to Machu Picchu. For a moment at least, it seemed that Peruvian officials had experienced a change of heart. In the 1940s and '50s, Bingham acted as head of the National Aeronautics Association, a lecturer at U.S. Navy training schools, and Chairman of the Civil Service Commission Loyalty Review Board, an anti-communist body. And though his star was definitely tarnished by past scandals, his fourth book about Machu Picchu, called Lost City of the Incas, was released in 1948 and became a bestseller.
"It seemed almost incredible," Bingham wrote in 1913, "that this city, only five days' journey from Cuzco, should have remained so long undescribed and comparatively unknown." In truth, several men had already laid claim to the discovery of Machu Picchu when Bingham got there. In addition to the two farmers using the terraces, plus Melchor Arteaga, who claimed to have visited the ruins many times himself, foreigners and Peruvians alike had been exploring the site prior to 1911. British missionaries Thomas Payne and Stuart McNairn told relatives of a 1906 visit, five years before Bingham. Peruvian explorers Enrique Palma, Gabino Sanchez, and Agustín Lizarraga are said to have arrived at the site in 1901, five years before the missionaries. The best evidence for their claim is that they left their names carved into a rock with the date "July 14th, 1901." In his journal, Bingham himself even cites Lizarraga as the ruins' "discoverer." Earlier still, several surveyors' maps from the 1870s include Machu Picchu, marked correctly in its accurate location. The personal maps of the German Augusto Berns, an 1860s entrepreneur and adventurer, also include the so-called lost city.
A little research is all it takes to deduce that Bingham was not the first to discover Machu Picchu—but he did make unique contributions to the site. He was the first to conduct archaeological excavations of the citadel, and he catalogued, mapped, and photographed the ruins in ways not done before. Owing to his connections with organizations like National Geographic, Bingham was also the first to share what he'd found with the international community. He publicized both the ancient city and the Inca people who lived there—including mapping a clear route to the site, the Inca Trail. Thanks to his efforts, Machu Picchu became one of the foremost travel destinations in the world.