The Leader in Small Groups on the Road Less Traveled in Over 85 Countries
You're receiving this message because your web browser
is no longer supported
We recommend upgrading your browser—simply click the button below and follow the instructions that will appear. Updating will allow you to accept Terms and Conditions, make online payments, read our itineraries, and view Dates and Prices.
To get the best experience on our website, please consider using:
Safari (for Mac or iPad Devices)
Update Browser

MACEDONIA
Get the Details On Our Macedonia Adventure
Find out more about the adventure, including activity level, pricing, traveler excellence rating, included meals, and more
Trip Itinerary
See a detailed overview of the types of discoveries you'll have on our journey through northern Greece, Albania, and Macedonia.
18 DAYS FROM $3,895 • $ 217 / DAY
O.A.T. Adventure by Land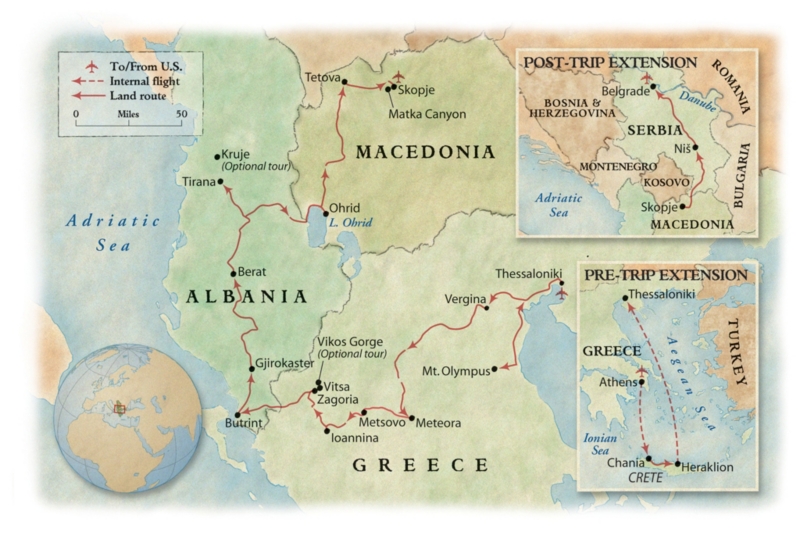 Greece: Thessaloniki, Meteora, Zagoria | Albania: Gjirokaster, Tirana | Macedonia: Ohrid, Skopje
36 meals—daily breakfast, 10 lunches, and 10 dinners (including 1 Home-Hosted Lunch)
Visit Šarena Džamija mosque
Explore verdant Matka Canyon
Uncover bustling Skopje
Marvel at beautiful Lake Ohrid
Adventure Details
Find the Adventure That's Right for You
Our Activity Level rating system ranks adventures on a scale of 1 to 5 to help you determine if a trip is right for you. See the descriptions below for more information about the physical requirements associated with each rating.
Travelers should be able to climb 25 stairs consecutively, plus walk at least 1-2 miles over some uneven surfaces without difficulty. Walks typically last at least 1-2 hours at a time. Altitude can range from zero to 5,000 feet.
Activity Level 2:
Moderately Easy
Travelers should be able to climb 40 stairs consecutively, plus walk at least 2-3 miles over some uneven surfaces without difficulty. Walks typically last for at least 2-3 hours at a time. Altitude can range from zero to 5,000 feet.
Activity Level 3:
Moderate
Travelers should be able to climb 60 stairs consecutively, plus walk at least 3 miles over some steep slopes and loose or uneven surfaces without difficulty. Walks typically last for 3 or more hours at a time. Altitude can range from 5,000 to 7,000 feet.
Activity Level 4:
Moderately Strenuous
Travelers should be able to climb 80 stairs consecutively, plus walk at least 4 miles over some steep slopes and loose or uneven surfaces without difficulty. Walks typically last for 4 or more hours at a time. Altitude can range from 7,000 to 9,000 feet.
Activity Level 5:
Strenuous
Travelers should be able to climb 100 or more stairs consecutively, plus walk at least 8 miles over some steep slopes and loose or uneven surfaces without difficulty. Walks typically last for 4 or more hours at a time. Altitude can range from 10,000 feet or more.
Hide Acivity Level
PRICE
including international airfare
HIGHLIGHTS & ACTIVITIES IN MACEDONIA
*This information is not available for our trip extensions. You must reserve the main trip to participate on this extension.
**This information is not currently available for this trip. Please check back soon.
Recommended Viewing
Watch this video showcasing what makes this country so unforgettable
Trip Itinerary
See a detailed overview of the types of discoveries you'll have on our journey through northern Greece, Albania, and Macedonia.
Macedonia: Month-by-Month
There are pros and cons to visiting a destination during any time of the year. Find out what you can expect during your ideal travel time, from weather and climate, to holidays, festivals, and more.
Macedonia in November-March
In general, winter in Macedonia is long and cold—though the weather can vary greatly depending on the altitude, with lower temperatures in the mountains than in the plains. That's why winter sport enthusiasts head into the mountains this time of year—especially in January and February—to purse snowy activities such as skiing and sledding. Many hotels close during the winter months, so it's best to call ahead.
Holidays & Events
December 25: Christmas Day
Early January: Orthodox Christmas; between January 5-January 7, Orthodox Christians in Macedonia hold their Christmas celebrations. It begins with Kolede on January 5, during which people travel door-to-door singing carols to their neighbors, culminating in a night of bonfires in local parks. Christmas Eve is on January 6, and is marked with a big traditional feast called posna. A badnik, or Yule log, is also brought into the house and lit. January 7 is Christmas Day—a time for families to attend church together, followed by another large feast.
Must See
Like many European nations, Macedonia hosts an annual Christmas market. Held in the city of Skopje, the market features the familiar stalls stuffed with traditional crafts and seasonal treats. This market also offers entertainment—from daily musical performances, a visit from Santa Claus for the children, and evenings filled with fireworks, an exciting acrobat show, and a wide assortment of spirits from mulled wine to brandy and local beer.
Watch this film to discover more about Macedonia
Trip Itinerary
See a detailed overview of the types of discoveries you'll have on our journey through northern Greece, Albania, and Macedonia.
Macedonia in April-May
Warm, sunny days and mild temperatures herald the arrival of spring in Macedonia. Generally dry with occasional rain showers, particularly in April, spring is one of the best seasons to visit. Free from the summer crowds, travelers can explore with ease and better enjoy outdoor activities—admiring the colorful wildflowers that blanket the countryside.
Holidays & Events
Late March: Strumica Carnival; held on the Tuesday following Ash Wednesday, the centuries-old Strumica Carnival was traditionally a festival celebrating the engagement of local girls. Today the festivities honor the spirit, if not the actual proposals—beginning with a colorful parade and followed by local men wearing masks visiting the homes of eligible brides, asking for her hand.
Late April: Orthodox Easter; the most important religious celebration in Macedonia, Orthodox Christians mark the event with traditional dyed and painted Easter eggs which are placed next to the family icon at home on Good Friday, then brought to Easter Sunday mass and given to family and friends.
May 24: Saint Cyril and Saint Methodius Day; honors the lives of Macedonia's two most popular saints with special church services, parades, and family gatherings.
Must See
During the month of May, music lovers flock to the city of Skopje for May Opera Evenings. This annual festival of classical music attracts not only opera fans, but renowned opera singers, musicians, conductors, choreographers, and directors from Macedonia and around the world.
Macedonia in June-August
Hot days and pleasant nights define summers in Macedonia. While temperatures can soar into 80s and 90s in cities like Skopje and in the valleys, the low humidity makes the heat more bearable. Summers are also generally dry, though storms can occur in the mountains where it is also cooler. This is the busiest season for tourists, so expect crowds at popular sites.
Holidays & Events
Late June: Skopje Summer Festival; a celebration of the arts, this annual festival includes folk music, museum openings, and various performers from around the world.
Mid-July/late-August: Ohrid Summer Festival; held in the historic city's ancient buildings and around monuments, this annual event is filled with theater, concerts, and street performers.
August 2: Ilinden and Saint Ilija's Day; this national holiday combines two major historical events into one celebration—the Ilinden uprising against the Ottoman Empire in 1903, and the first meeting of the fledgling Assembly in 1944, both important moments in Macedonia's struggle for independence.
Must See
The crystalline waters of Lake Ohrid are beautiful any time of year, but the area truly comes alive during the summer. Sunbathers, boaters, and swimmers all flock to the ancient lake during the hot days to cool off in its clear depths. When taking a break to dry off, the town of Ohrid itself charms visitors with cafés, shops, and restaurants.
Macedonia in September-October
In the fall, the summer crowds receded but the weather continues to be pleasant in Macedonia—which makes outdoor excursions even better. September can see occasional rain showers and Skopje can be somewhat foggy. Overall, however, the weather remains mild and the colorful hanging leaves take the place of wildflowers across the landscape. Fall is also when grapes are harvested and wine festivals are held.
Holidays & Events
September 8: Independence Day; celebrates the referendum in 1991 which resulted in Macedonia becoming a sovereign parliamentary democracy. Parades, fireworks, and street celebrations are held all across the country.
Early September: Tikves Wine Carnival (Tikveški Grozdober); celebrates the grape harvest with a costumed parade and public wine tastings.
Oct 23: Day of the Macedonian Revolutionary Struggle; commemorates the first revolutionary attempt to overthrow the Ottoman Empire in 1893.
Late October: Skopje Jazz Festival; one of Macedondia's top music events, the 36-year-old festival features the country's best jazz artists as well as musicians from all over Europe and the U.S.
Must See
A feast for the eyes, Skopje's annual Bela Nok, or White Night, is an evening dedicated to the visual arts, from cinema and photography to modern art exhibitions. Featured prominently is the night parade of illuminated floats and firework displays. The dates can change from year to year, but it is always held in October.
Average Monthly Temperatures
Macedonia Interactive Map
Click on map markers
below to view information about top Macedonia experiences
Click here to zoom in and out of this map
Ohrid
A sublime mix of the very old and the new, Ohrid beckons visitors with an array of delights. Its charming Old Quarter is packed with buildings from across the ages—Byzantine structures, a medieval castle, and modern restaurants and lakeside cafes. In a city of 365 churches, the most famous is St. Sophia—one of the largest medieval churches in Macedonia—which today houses an impressive collection of art and architecture from the Middle Ages. It is no wonder Ohrid was named a UNESCO Cultural Heritage site.
But it is the glittering jewel of the city which also earned Ohrid the title of UNESCO Natural Heritage site—dazzling Lake Ohrid. The crystal clear lake is one of Europe's deepest and oldest, estimated to be around three million years old. Along its shores are the remains of some of Europe's oldest human settlements, and beneath the surface more than 200 unique aquatic species thrive. Ringed with mountains and picturesque beaches, the lake is a magnet for pleasure-seeking locals and travelers alike.
Another of Ohrid's jewels is an actual one: the renowned Ohrid pearl. Prized for their bright glow and rich luster, the method of crafting these fine gems is a carefully-guarded secret known only to two families in the city. Some believe the signature glow is achieved using an emulsion of prismatic fish scales from a species found only in Lake Ohrid. Whatever the secret is, the pearls have been fervently sought after by stars and royalty alike for generations.
The perfect way to wind-down after a day exploring the literal and figurative gems of Ohrid is to pull up a chair at one of the local cafes and sample one of Macedonia's traditional liquors, such as rakija or mastika, and enjoy the serene atmosphere.
Explore Ohrid with O.A.T. on:
Bay of the Bones Museum
Jutting out into the southern half of Lake Ohrid's brilliant turquoise waters, the Bay of the Bones Museum offers an opportunity to step into the life of Bronze Age Macedonians. Reconstructed from the remains of a settlement found within the lake, the Macedonian government created the harbor site to offer a special glimpse into the region's distant and fascinating past.
Archaeologists determined the site was once used for the cult rituals of a people whose beliefs have since faded with time. More than 20 small huts, made of wood and plastered with animal fat, hold relics from the settlement's past—including ceramic plates, fishing nets, weavings, knives, and other tools.
As you walk between the huts, with their dried cows' skulls and pitched and conical roofs made of straw and twigs, it's hard not to appreciate the simple ingenuity of primitive people. The story of ancient Macedonians is still unfolding—the Bay of the Bones Museum offers an intimate look at a simpler time, and you can begin reading that story amid the serene beauty that is Lake Ohrid.
Explore the Bay of the Bones Museum with O.A.T. on:
Skopje
Macedonia's capital city is undergoing a metamorphosis. Almost completely leveled by an earthquake in 1963—and for decades before and after a part of the Soviet Union—Skopje's people and government are working to preserve the past and welcome a bright future.
The country of Macedonia has changed hands many times throughout history, from the Greeks to the Byzantines and the Ottomans, and has undergone several occupations and rebirths in the early 20th century. To get a panoramic taste of Skopje's varied past, the Old Bazaar—once the second largest in the world—brings craftsmen and vendors together for everything from traditional Macedonian clothing to Turkish Delights, a family of traditional desserts made of starch and sugar.
Connecting the bazaar to Skopje's central square, the Stone Bridge has itself weathered many ravages of time. Constructed in the mid-15th century, the bridge has survived invasions, earthquakes, and was even narrowly spared demolition by the Nazis in 1944. Like the city of Skopje, the Stone Bridge is a symbol of endurance under fire.
While known as the birthplace of athletes and emperors, perhaps Skopje's most famous native was revered humanitarian Saint Mother Teresa. Her former home is now a memorial, detailing her life in the city and across the world.
Throughout the ages Skopje has seen many things. This, as its vibrancy will prove, has only made the city stronger. As evidenced by the myriad statues, architectural styles, and rivers, the city is one thing above all else—a crossroads.
Explore Skopje with O.A.T. on:
Šarena Džamija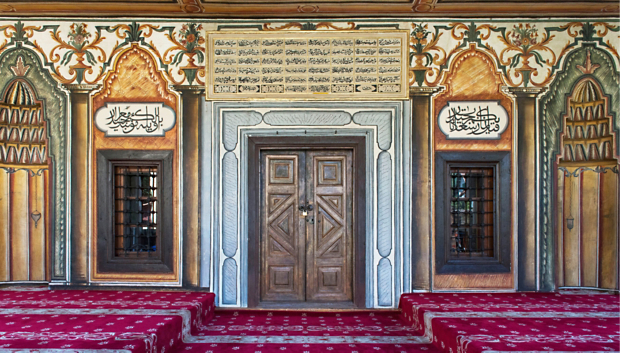 With walls adorned in vibrant yellows, pinks, and greens, and festooned with floral flourishes, city scenes, and orange sunbursts, the Šarena Džamija (Decorated Mosque) in Tetovo truly lives up to its name. Unlike traditional Ottoman mosques, Šarena Džamija's eye-catching design was not achieved with ceramic tales, but rather with paint and glaze made from more than 30,000 eggs. And that's not the only way this mosque breaks with convention.
When Šarena Džamija was built in 1438, most new mosques were financed by sultans, beys, or pashas. But Šarena Džamija was different. Two sisters, Hurshida and Mensure, provided the funds not only for the mosque, but also for a hammam (Turkish bath) and an inn across the river (both of which have been lost to time). The sisters even financed an octagonal türbe (tomb) in the mosque's garden courtyard, which is where they chose to be buried. Other unusual features that the sisters selected for their mosque include a gently-sloped roof instead of a distinctive Islamic dome, as well as a depiction of Mecca among the painted decorations—perhaps the only illustration of its kind in southeast Europe.
Explore Šarena Džamija with O.A.T. on:
Matka Canyon
Outdoor enthusiasts and history-seekers alike will find much to discover in majestic Matka Canyon. Verdant cliffs rise from glimmering Matka Lake, the oldest manmade lake in Macedonia, giving swimmers and kayakers a most impressive view. Certain times of the year, hikers can admire the lush plant life—20% of which can only be found in Matka—and may encounter some of the canyon's 77 indigenous species of butterfly. The most adventurous can explore some of the canyon's ten caves, ranging from 65 to 577 feet deep, and containing natural wonders like stalactites and stalagmites.
Matka Canyon is home to manmade sights as well. Dotted along the canyon is an array of medieval monasteries, historic churches, and old fortresses that can be viewed as you hike any of the many trails. One of the most famous is St. Andrew's Monastery. Built in 1389, it is adorned inside with extremely well-preserved frescoes.
Explore Matka Canyon with O.A.T. on:
Tetova
A symphony of colors and flavors define the comforting appeal and quiet allure of the city of Tetova. Known for its hospitable nature, Tetova is home to warm and welcoming locals and an enticing local cuisine. Known for its unforgettable culinary specialties, Tetova boasts distinct flavors and dishes, including Burek—meat and onions rolled in pastry, which closely resembles a handheld pie. Rakija is another staple that is popular throughout the Balkans. This strong drink, fermented with fruits like plums, can consist of up to 45% alcohol.
The red-roofed city is also geographically magnificent as it is surrounded by verdant mountains and is located along scenic stretches of the Pena River. The Šarena Džamija Mosque, located near the river, is one of the city's most striking sites. The mosque was originally constructed in the 15th century and was later redesigned in the 19th century. Today, the mosque's design is equally as vibrant and colorful as Tetova's culture.
Explore Tetova with O.A.T. on: