Forgot Your Username
If you have forgotten your username, please provide your email address in the box below. We'll send you an email with your requested username. If you are having trouble, please call us toll-free at 1-800-221-0814.
Email Sent
You'll receive an email in a few minutes. Please check this email to find your requested username.
If you do not receive an email or you are having trouble logging into My Account, please call us at 1-800-221-0814.

MACEDONIA
Macedonia Interactive Map
Click on map markers
below to view information about top Macedonia experiences
Click here to zoom in and out of this map
Recommended Viewing
Watch this video showcasing what makes this country so unforgettable
Trip Itinerary
See a detailed overview of the types of discoveries you'll have on our journey through northern Greece, Albania, and Macedonia.
06:40 | 1043 views
Macedonia: Month-by-Month
There are pros and cons to visiting a destination during any time of the year. Find out what you can expect during your ideal travel time, from weather and climate, to holidays, festivals, and more.
Macedonia in November-March
In general, winter in Macedonia is long and cold—though the weather can vary greatly depending on the altitude, with lower temperatures in the mountains than in the plains. That's why winter sport enthusiasts head into the mountains this time of year—especially in January and February—to purse snowy activities such as skiing and sledding. Many hotels close during the winter months, so it's best to call ahead.
Holidays & Events
December 25: Christmas Day
Early January: Orthodox Christmas; between January 5-January 7, Orthodox Christians in Macedonia hold their Christmas celebrations. It begins with Kolede on January 5, during which people travel door-to-door singing carols to their neighbors, culminating in a night of bonfires in local parks. Christmas Eve is on January 6, and is marked with a big traditional feast called posna. A badnik, or Yule log, is also brought into the house and lit. January 7 is Christmas Day—a time for families to attend church together, followed by another large feast.
Must See
Like many European nations, Macedonia hosts an annual Christmas market. Held in the city of Skopje, the market features the familiar stalls stuffed with traditional crafts and seasonal treats. This market also offers entertainment—from daily musical performances, a visit from Santa Claus for the children, and evenings filled with fireworks, an exciting acrobat show, and a wide assortment of spirits from mulled wine to brandy and local beer.
Watch this film to discover more about Macedonia
Trip Itinerary
See a detailed overview of the types of discoveries you'll have on our journey through northern Greece, Albania, and Macedonia.
Macedonia in April-May
Warm, sunny days and mild temperatures herald the arrival of spring in Macedonia. Generally dry with occasional rain showers, particularly in April, spring is one of the best seasons to visit. Free from the summer crowds, travelers can explore with ease and better enjoy outdoor activities—admiring the colorful wildflowers that blanket the countryside.
Holidays & Events
Late March: Strumica Carnival; held on the Tuesday following Ash Wednesday, the centuries-old Strumica Carnival was traditionally a festival celebrating the engagement of local girls. Today the festivities honor the spirit, if not the actual proposals—beginning with a colorful parade and followed by local men wearing masks visiting the homes of eligible brides, asking for her hand.
Late April: Orthodox Easter; the most important religious celebration in Macedonia, Orthodox Christians mark the event with traditional dyed and painted Easter eggs which are placed next to the family icon at home on Good Friday, then brought to Easter Sunday mass and given to family and friends.
May 24: Saint Cyril and Saint Methodius Day; honors the lives of Macedonia's two most popular saints with special church services, parades, and family gatherings.
Must See
During the month of May, music lovers flock to the city of Skopje for May Opera Evenings. This annual festival of classical music attracts not only opera fans, but renowned opera singers, musicians, conductors, choreographers, and directors from Macedonia and around the world.
Macedonia in June-August
Hot days and pleasant nights define summers in Macedonia. While temperatures can soar into 80s and 90s in cities like Skopje and in the valleys, the low humidity makes the heat more bearable. Summers are also generally dry, though storms can occur in the mountains where it is also cooler. This is the busiest season for tourists, so expect crowds at popular sites.
Holidays & Events
Late June: Skopje Summer Festival; a celebration of the arts, this annual festival includes folk music, museum openings, and various performers from around the world.
Mid-July/late-August: Ohrid Summer Festival; held in the historic city's ancient buildings and around monuments, this annual event is filled with theater, concerts, and street performers.
August 2: Ilinden and Saint Ilija's Day; this national holiday combines two major historical events into one celebration—the Ilinden uprising against the Ottoman Empire in 1903, and the first meeting of the fledgling Assembly in 1944, both important moments in Macedonia's struggle for independence.
Must See
The crystalline waters of Lake Ohrid are beautiful any time of year, but the area truly comes alive during the summer. Sunbathers, boaters, and swimmers all flock to the ancient lake during the hot days to cool off in its clear depths. When taking a break to dry off, the town of Ohrid itself charms visitors with cafés, shops, and restaurants.
Macedonia in September-October
In the fall, the summer crowds receded but the weather continues to be pleasant in Macedonia—which makes outdoor excursions even better. September can see occasional rain showers and Skopje can be somewhat foggy. Overall, however, the weather remains mild and the colorful hanging leaves take the place of wildflowers across the landscape. Fall is also when grapes are harvested and wine festivals are held.
Holidays & Events
September 8: Independence Day; celebrates the referendum in 1991 which resulted in Macedonia becoming a sovereign parliamentary democracy. Parades, fireworks, and street celebrations are held all across the country.
Early September: Tikves Wine Carnival (Tikveški Grozdober); celebrates the grape harvest with a costumed parade and public wine tastings.
Oct 23: Day of the Macedonian Revolutionary Struggle; commemorates the first revolutionary attempt to overthrow the Ottoman Empire in 1893.
Late October: Skopje Jazz Festival; one of Macedondia's top music events, the 36-year-old festival features the country's best jazz artists as well as musicians from all over Europe and the U.S.
Must See
A feast for the eyes, Skopje's annual Bela Nok, or White Night, is an evening dedicated to the visual arts, from cinema and photography to modern art exhibitions. Featured prominently is the night parade of illuminated floats and firework displays. The dates can change from year to year, but it is always held in October.
Average Monthly Temperatures
Get the Details On Our Macedonia Adventure
Find out more about the adventure, including activity level, pricing, traveler excellence rating, included meals, and more
Trip Itinerary
See a detailed overview of the types of discoveries you'll have on our journey through northern Greece, Albania, and Macedonia.
18 DAYS FROM $3,995 • $ 222 / DAY
O.A.T. Adventure by Land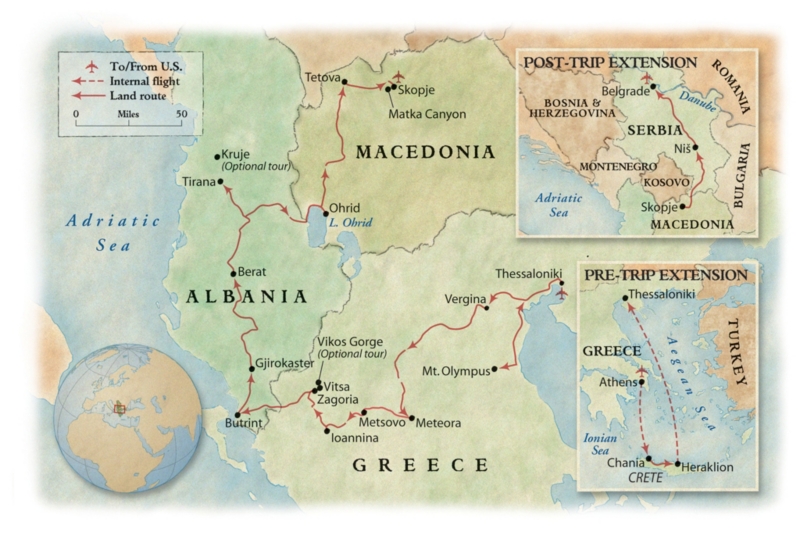 Greece: Thessaloniki, Meteora, Zagoria • Albania: Gjirokaster, Tirana • Macedonia: Ohrid, Skopje
36 meals—daily breakfast, 10 lunches, and 10 dinners (including 1 Home-Hosted Lunch)
Visit Šarena Džamija mosque
Explore verdant Matka Canyon
Uncover bustling Skopje
Marvel at beautiful Lake Ohrid