Forgot Your Username
If you have forgotten your username, please provide your email address in the box below. We'll send you an email with your requested username. If you are having trouble, please call us toll-free at 1-800-221-0814.
Email Sent
You'll receive an email in a few minutes. Please check this email to find your requested username.
If you do not receive an email or you are having trouble logging into My Account, please call us at 1-800-221-0814.

LITHUANIA
Considering its small size, Lithuania is densely packed with all the best delights of the Balkan coast. Its countryside is idyllic, with primeval forests and crystalline lakes, and its white sand beaches are seaside treasures. But it's not only nature that visitors come for. Vilnius, its capital, blends a timeless flavor with contemporary appeal. In a single afternoon you can stroll from a Baroque palace to a contemporary arts museum, follow ancient cobbled streets, or savor the view from the top of the 375-foot Europa Tower.
The diverse riches of Lithuania were hard won. Despite being a fiercely proud nation from its eleventh-century birth onward, including a time in a two-state union with Poland, Lithuania lost its autonomy in 1795, when it was subsumed by the Russians. It didn't regain freedom until 1918—but only enjoyed liberty for two more decades, before being forcibly folded into the Soviet Union. The desire for liberty never dimmed, and in 1990, Lithuania was the first Baltic State to declare independence from the USSR (though Moscow refused to acknowledge this for more than a year). Today, fading remnants of the Soviet era are still visible, but they only serve as proof of Lithuania's strength and its belief in itself as a nation.
Lithuania Interactive Map
Click on map markers
below to view information about top Lithuania experiences
Click here to zoom in and out of this map
Most Popular Film
Films featuring Lithuania from international, independent filmmakers
To Hear the Victory
Delve into the mindset of the Lithuanian men's Paralympic goalball team.
Produced by Nanook.lt Collective
Featured Reading
Immerse yourself in Lithuania with this selection of articles, recipes, and more
ARTICLE
Learn how Estonia, Latvia, and Lithuania came together to achieve independence from each other.
Lithuania: Month-by-Month
There are pros and cons to visiting a destination during any time of the year. Find out what you can expect during your ideal travel time, from weather and climate, to holidays, festivals, and more.
Lithuania in December-February
In winter, Lithuania becomes a snow-lover's paradise. The lakes, rivers, and vast forests of the countryside become a wide expanse of wintry beauty, encased in a fairy-tale covering of white. While temperatures often can reach below freezing through March, the country's outdoors become an idyllic picture for the season.
The medieval charm of Vilnius' Old Town is also encased in winter charm. Amid its cobblestone streets and warmly-lit boulevards, you'll find mainly locals trudging through the streets. As Lithuania this time of year is far from a popular tourist destination, you will be able to experience life as Lithuanians do, without throngs of visitors. Expect your tourism dollar to also go farther at this time.
Holidays & Events
End of November through December: The Christmas Market in Vilnius brings a giant Christmas tree and street side vendors into the Old Town.
January 1: Flag Day commemorates the first time Lithuania's tri-color flag was raised atop Gediminas' Tower, the last remaining part of the Upper Castle in Vilnius, in 1919.
Must See
In December, Vilnius' Old Town basks in the warm glow of the Christmas Market. Along with a Christmas tree—decorated differently from year to year—dozens of vendors in small wooden stalls pitch all types of wares. This is a great time to pick up classic holiday trinkets such as wooden dolls, hand-crafted ornaments, and more.
Lithuania in March-May
While cold temperatures will last through March, April's mild climate will thaw the chill of winter, revealing at first the muddy signs of revived life. Then, the countryside blooms as plots of farmland, ensconced in lush forests, color the terrain in vibrant colors by May. The crocus, which buds in vibrant lavender and sunny yellow brings color to Lithuania's country roads.
Lithuania's elegant state bird, the white stork, returns in spring from its long winter migration. With the world's highest stork nesting density, it's not uncommon for their peculiar tapping sound—made by rapidly clicking the parts of their beak together—to fill the air.
As peak tourism season takes place in summer, spring is a great time to enjoy both Lithuania's stunning natural beauty, and to wander its city streets in search of traditional fare. Though prices have risen since winter, your travel dollar will still catch a fair price for such delicacies as potato dumplings and sakotis, a butter cake made on a rotating spit that resembles an evergreen tree.
Holidays & Events
March: One of the most anticipated annual events in Lithuania, the Vilnius International Film Festival brings more than 250 films, and thousands of spectators, to celebrate independent cinema.
March 25: For Stork Day, children receive gifts allegedly delivered by the elegant bird, including chocolates, fruits, and dyed eggs, all hung on tree branches.
April: The Kaunas Jazz Festival takes over the town of Kaunas annually, inviting such industry giants as John Abercrombie and John Scofield—and players from more than 20 countries—to open air stages.
April 1: Užupis Independence Day is celebrated by the Independent Republic of Užupis, a small neighborhood in Vilnius. A largely bohemian artist community, the day is celebrated with film showings, art exhibits, and performances.
May 19: Street Music Day brings more than 5,000 musicians to nearly all cities and towns in Lithuania, turning their streets into lively parties of sound.
Must See
The Kaziukas Festival celebrates Saint Casimir Jagiellon ("Kaziukas" being a Lithuanian version of the saint's name), who was son to famed Polish King Casimir IV. An arts and crafts fair, this event—held on the Sunday closest to March 4—turns Vilnius into a major destination for finding handmade clothing, toys, jewelry, and other goods.
Lithuania in June-August
Lithuania's summer, while short, is generally hot and humid. July is the rainiest month of the year, so thunderstorms should be expected. Many Lithuanians and tourists will take to breezy Baltic Sea beaches. They will be crowded, but at dusk, the sky lights up in brilliant orange and purple hues, as if out of a painting.
With longer days and shorter nights, this is a great time to absorb Lithuania's natural splendor. As in spring, much of the countryside is blooming with flowers, and covered in lush forests. Also, the country comes alive, as summer is packed with holidays and festivals, such as the Feast of Saint John, the GAIDA Music Festival in Vilnius, and more.
Holidays & Events
June 1: The Klaipeda Castle Jazz Festival brings mainstream and independent jazz musicians to a stage near the ruined Klaipeda Castle. The festival usually ends with an all-night jam session with the performers.
June 7-10: ARTVILNIUS is a contemporary fine arts fair, featuring modern painting, sculpture, mixed-media, and more.
June 16: Culture Night celebrates the works of Vilnius' artist community. Walk the streets and stroll open galleries viewing the fruits of their work.
June 24: Midsummer Day, also known as the Feast of Saint John, is a Christian holiday infused with traditions from pagan beliefs. Celebrated by singing songs, jumping over bonfires, and floating flower wreaths down the river, this a great day to discover Lithuanian folk traditions.
July 6: Statehood Day is a public holiday celebrating the coronation of King Mindaugas in 1253, who was the only native monarch of Lithuania.
July and August: The Christopher Festival is one of the largest music festivals in the Baltics, featuring over 40 performances in Vilnius and the surrounding area. Performers include artists from virtually any music genre.
Early August: Held near Zarasas Lake in northeastern Lithuania, the Rock Nights Festival attracts musical acts from Europe and beyond to an outdoor venue. For two days the once-tranquil area turns into a continuous concert full of young people enjoying rock and heavy metal music.
Must See
Usually held in the beginning of August, the Klaipeda Sea Festival brings thousands of people to the small seaside town of Klaipeda. A carnival, street concerts, and vendors offering local food and crafts—as well as bars and restaurants that stay open late—turn the town into an outdoor party.
Lithuania in September-November
As temperatures quickly decline in September, blazing orange, golden brown, and fiery red ignite the countryside in brilliant fall colors. Yet, snow often begins falling in October, so it's important to get outside as much as you can before the quickly-advancing cold. It's also a great time to watch white storks as they migrate south for the winter. They fill the sky with chaotic flying patterns, creating a dizzying display of nature's grandeur.
Fewer tourists mean your travel dollar will be more valuable this time of year. Vilnius especially is beautiful, as the medieval charm of the old town—mixed with fall colors—creates a rustic scene worthy of a stroll or two.
Holidays & Events
Mid-October to November: The GAIDA Music Festival makes Vilnius host to leading acts in contemporary classical and avant-garde music, and is arguably one of the largest celebrations in Europe for the art form.
November 15: The Mama Jazz Festival in Vilnius is one of the premiere festivals for the genre in Europe. Major performers such as pianist Chick Corea and guitarist John McLaughlin—among many others—make this gathering a world-class event for jazz lovers.
Must See
In mid-October, the Festival of Lights turns the Neris River in Vilnius into a pathway of luminescence. Street vendors and performers fill the streets, but the true spectacle is in the artistic light displays covering the foliage, glowing sculptures, and hidden installations in the surrounding forest.
Average Monthly Temperatures
Get the Details On Our Lithuania Adventure
Find out more about the adventure, including activity level, pricing, traveler excellence rating, included meals, and more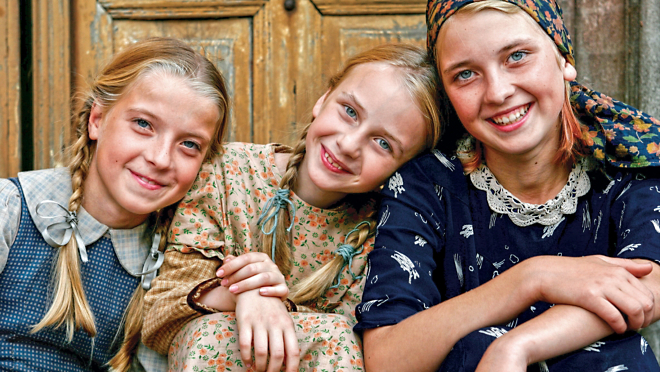 16 DAYS FROM $4,395 • $ 275 / DAY
Small Group Adventure
Lithuania: Vilnius, Klaipeda • Latvia: Riga • Estonia: Tallinn • Russia: St. Petersburg
32 meals—daily breakfast, 10 lunches, and 8 dinners (including 1 Home-Hosted Lunch)
Visit the elaborately decorated and statue-filled Peter and Paul Cathedral, a Baroque masterpiece
Tour the Museum of Genocide in former KGB Headquarters, where 1,000 civilians lost their lives
Visit the Hill of Crosses, a symbol of enduring Catholic faith in the face of opposition
Explore Trakai Island Castle, a fort turned palace on an island in Lake Galvė