The Leader in Personalized Small Group Adventures on the Road Less Traveled
You're receiving this message because your web browser
is no longer supported
We recommend upgrading your browser—simply click the button below and follow the instructions that will appear. Updating will allow you to accept Terms and Conditions, make online payments, read our itineraries, and view Dates and Prices.
To get the best experience on our website, please consider using:
Safari (for Mac or iPad Devices)
Update Browser

lithuania
Get the Details On Our Lithuania Adventure
Find out more about the adventure, including activity level, pricing, traveler excellence rating, included meals, and more
View 2021 Itinerary Video
See a detailed overview of this itinerary, including pre- and post-trip extensions and adventure highlights.
Spend 3 days in Lithuania on
O.A.T. Adventure by Land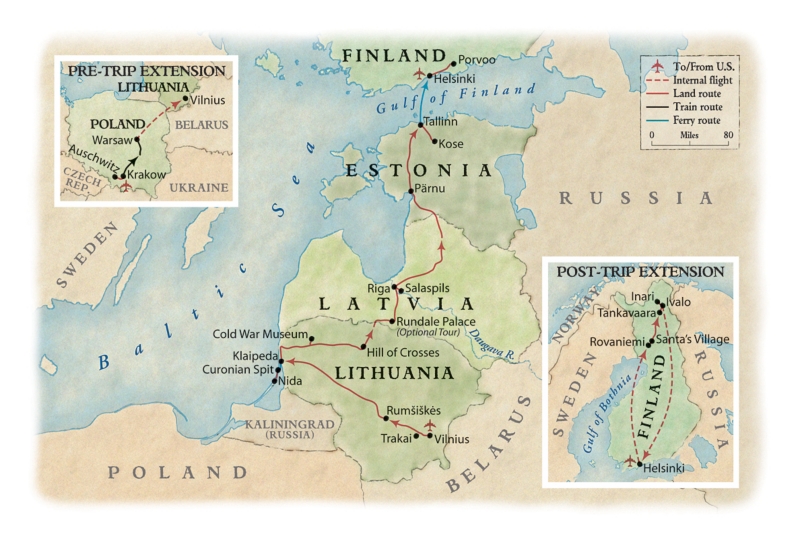 Lithuania: Vilnius, Klaipeda • Latvia: Riga • Estonia: Tallinn • Russia: St. Petersburg
32 meals—14 breakfasts, 10 lunches, and 8 dinners (including 1 Home-Hosted Lunch)
Visit the elaborately decorated and statue-filled Peter and Paul Cathedral, a Baroque masterpiece
Tour the Museum of Genocide in former KGB Headquarters, where 1,000 civilians lost their lives
Visit the Hill of Crosses, a symbol of enduring Catholic faith in the face of opposition
Explore Trakai Island Castle, a fort turned palace on an island in Lake Galvė
Adventure Details
Find the Adventure That's Right for You
Our Activity Level rating system ranks adventures on a scale of 1 to 5 to help you determine if a trip is right for you. See the descriptions below for more information about the physical requirements associated with each rating.
Travelers should be able to climb 25 stairs consecutively, plus walk at least 1-2 miles over some uneven surfaces without difficulty. Walks typically last at least 1-2 hours at a time. Altitude can range from zero to 5,000 feet.
Activity Level 2:
Moderately Easy
Travelers should be able to climb 40 stairs consecutively, plus walk at least 2-3 miles over some uneven surfaces without difficulty. Walks typically last for at least 2-3 hours at a time. Altitude can range from zero to 5,000 feet.
Activity Level 3:
Moderate
Travelers should be able to climb 60 stairs consecutively, plus walk at least 3 miles over some steep slopes and loose or uneven surfaces without difficulty. Walks typically last for 3 or more hours at a time. Altitude can range from 5,000 to 7,000 feet.
Activity Level 4:
Moderately Strenuous
Travelers should be able to climb 80 stairs consecutively, plus walk at least 4 miles over some steep slopes and loose or uneven surfaces without difficulty. Walks typically last for 4 or more hours at a time. Altitude can range from 7,000 to 9,000 feet.
Activity Level 5:
Strenuous
Travelers should be able to climb 100 or more stairs consecutively, plus walk at least 8 miles over some steep slopes and loose or uneven surfaces without difficulty. Walks typically last for 4 or more hours at a time. Altitude can range from 10,000 feet or more.
Hide Acivity Level
PRICE
including international airfare
HIGHLIGHTS & ACTIVITIES IN Lithuania
*You must reserve the main trip to participate on this extension.
**This information is not currently available for this trip. Please check back soon.
Lithuania: Month-By-Month
There are pros and cons to visiting a destination during any time of the year. Find out what you can expect during your ideal travel time, from weather and climate, to holidays, festivals, and more.
Lithuania in December-February
In winter, Lithuania becomes a snow-lover's paradise. The lakes, rivers, and vast forests of the countryside become a wide expanse of wintry beauty, encased in a fairy-tale covering of white. While temperatures often can reach below freezing through March, the country's outdoors become an idyllic picture for the season.
The medieval charm of Vilnius' Old Town is also encased in winter charm. Amid its cobblestone streets and warmly-lit boulevards, you'll find mainly locals trudging through the streets. As Lithuania this time of year is far from a popular tourist destination, you will be able to experience life as Lithuanians do, without throngs of visitors. Expect your tourism dollar to also go farther at this time.
Holidays & Events
End of November through December: The Christmas Market in Vilnius brings a giant Christmas tree and street side vendors into the Old Town.
January 1: Flag Day commemorates the first time Lithuania's tri-color flag was raised atop Gediminas' Tower, the last remaining part of the Upper Castle in Vilnius, in 1919.
Must See
In December, Vilnius' Old Town basks in the warm glow of the Christmas Market. Along with a Christmas tree—decorated differently from year to year—dozens of vendors in small wooden stalls pitch all types of wares. This is a great time to pick up classic holiday trinkets such as wooden dolls, hand-crafted ornaments, and more.
Watch this film to discover more about Lithuania
To Hear the Victory
Produced by Nanook.lt Collective
Delve into the mindset of the Lithuanian men's Paralympic goalball team.
Lithuania in March-May
While cold temperatures will last through March, April's mild climate will thaw the chill of winter, revealing at first the muddy signs of revived life. Then, the countryside blooms as plots of farmland, ensconced in lush forests, color the terrain in vibrant colors by May. The crocus, which buds in vibrant lavender and sunny yellow brings color to Lithuania's country roads.
Lithuania's elegant state bird, the white stork, returns in spring from its long winter migration. With the world's highest stork nesting density, it's not uncommon for their peculiar tapping sound—made by rapidly clicking the parts of their beak together—to fill the air.
As peak tourism season takes place in summer, spring is a great time to enjoy both Lithuania's stunning natural beauty, and to wander its city streets in search of traditional fare. Though prices have risen since winter, your travel dollar will still catch a fair price for such delicacies as potato dumplings and sakotis, a butter cake made on a rotating spit that resembles an evergreen tree.
Holidays & Events
March: One of the most anticipated annual events in Lithuania, the Vilnius International Film Festival brings more than 250 films, and thousands of spectators, to celebrate independent cinema.
March 25: For Stork Day, children receive gifts allegedly delivered by the elegant bird, including chocolates, fruits, and dyed eggs, all hung on tree branches.
April: The Kaunas Jazz Festival takes over the town of Kaunas annually, inviting such industry giants as John Abercrombie and John Scofield—and players from more than 20 countries—to open air stages.
April 1: Užupis Independence Day is celebrated by the Independent Republic of Užupis, a small neighborhood in Vilnius. A largely bohemian artist community, the day is celebrated with film showings, art exhibits, and performances.
May 19: Street Music Day brings more than 5,000 musicians to nearly all cities and towns in Lithuania, turning their streets into lively parties of sound.
Must See
The Kaziukas Festival celebrates Saint Casimir Jagiellon ("Kaziukas" being a Lithuanian version of the saint's name), who was son to famed Polish King Casimir IV. An arts and crafts fair, this event—held on the Sunday closest to March 4—turns Vilnius into a major destination for finding handmade clothing, toys, jewelry, and other goods.
Watch this film to discover more about Lithuania
To Hear the Victory
Produced by Nanook.lt Collective
Delve into the mindset of the Lithuanian men's Paralympic goalball team.
Lithuania in June-August
Lithuania's summer, while short, is generally hot and humid. July is the rainiest month of the year, so thunderstorms should be expected. Many Lithuanians and tourists will take to breezy Baltic Sea beaches. They will be crowded, but at dusk, the sky lights up in brilliant orange and purple hues, as if out of a painting.
With longer days and shorter nights, this is a great time to absorb Lithuania's natural splendor. As in spring, much of the countryside is blooming with flowers, and covered in lush forests. Also, the country comes alive, as summer is packed with holidays and festivals, such as the Feast of Saint John, the GAIDA Music Festival in Vilnius, and more.
Holidays & Events
June 1: The Klaipeda Castle Jazz Festival brings mainstream and independent jazz musicians to a stage near the ruined Klaipeda Castle. The festival usually ends with an all-night jam session with the performers.
June 7-10: ARTVILNIUS is a contemporary fine arts fair, featuring modern painting, sculpture, mixed-media, and more.
June 16: Culture Night celebrates the works of Vilnius' artist community. Walk the streets and stroll open galleries viewing the fruits of their work.
June 24: Midsummer Day, also known as the Feast of Saint John, is a Christian holiday infused with traditions from pagan beliefs. Celebrated by singing songs, jumping over bonfires, and floating flower wreaths down the river, this a great day to discover Lithuanian folk traditions.
July 6: Statehood Day is a public holiday celebrating the coronation of King Mindaugas in 1253, who was the only native monarch of Lithuania.
July and August: The Christopher Festival is one of the largest music festivals in the Baltics, featuring over 40 performances in Vilnius and the surrounding area. Performers include artists from virtually any music genre.
Early August: Held near Zarasas Lake in northeastern Lithuania, the Rock Nights Festival attracts musical acts from Europe and beyond to an outdoor venue. For two days the once-tranquil area turns into a continuous concert full of young people enjoying rock and heavy metal music.
Must See
Usually held in the beginning of August, the Klaipeda Sea Festival brings thousands of people to the small seaside town of Klaipeda. A carnival, street concerts, and vendors offering local food and crafts—as well as bars and restaurants that stay open late—turn the town into an outdoor party.
Watch this film to discover more about Lithuania
To Hear the Victory
Produced by Nanook.lt Collective
Delve into the mindset of the Lithuanian men's Paralympic goalball team.
Lithuania in September-November
As temperatures quickly decline in September, blazing orange, golden brown, and fiery red ignite the countryside in brilliant fall colors. Yet, snow often begins falling in October, so it's important to get outside as much as you can before the quickly-advancing cold. It's also a great time to watch white storks as they migrate south for the winter. They fill the sky with chaotic flying patterns, creating a dizzying display of nature's grandeur.
Fewer tourists mean your travel dollar will be more valuable this time of year. Vilnius especially is beautiful, as the medieval charm of the old town—mixed with fall colors—creates a rustic scene worthy of a stroll or two.
Holidays & Events
Mid-October to November: The GAIDA Music Festival makes Vilnius host to leading acts in contemporary classical and avant-garde music, and is arguably one of the largest celebrations in Europe for the art form.
November 15: The Mama Jazz Festival in Vilnius is one of the premiere festivals for the genre in Europe. Major performers such as pianist Chick Corea and guitarist John McLaughlin—among many others—make this gathering a world-class event for jazz lovers.
Must See
In mid-October, the Festival of Lights turns the Neris River in Vilnius into a pathway of luminescence. Street vendors and performers fill the streets, but the true spectacle is in the artistic light displays covering the foliage, glowing sculptures, and hidden installations in the surrounding forest.
Watch this film to discover more about Lithuania
To Hear the Victory
Produced by Nanook.lt Collective
Delve into the mindset of the Lithuanian men's Paralympic goalball team.
Average Monthly Temperatures
Lithuania Interactive Map
Click on map markers
below to view information about top Lithuania experiences
Click here to zoom in and out of this map
Vilnius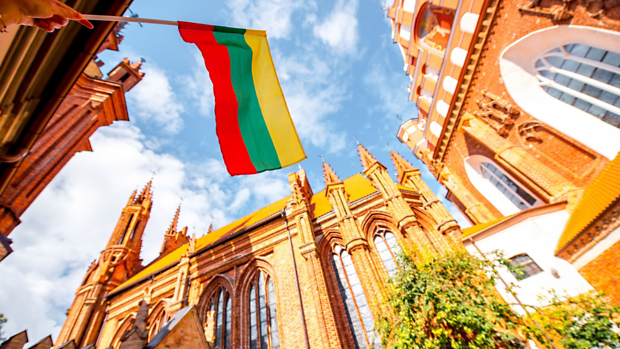 For centuries, Vilnius has been a truly diverse city, with Catholics, Jews, Protestants, Greek Orthodox, Lutherans, Calvinists, and Muslims all sharing the city before World War I. To stroll its cobblestone lanes is to witness both the pride and pain of its many cultures. Pride fills the traditional artists' workshops and the family-owned restaurants that line the streets. Painful reminders of the past are found in historic KGB torture cells and the ghettos where Nazis forced the Jews to assemble. Happily, visitors today find a thriving city small enough to boast a village feel, and the chance to walk the lanes of Old Town, a UNESCO World Heritage Site, or ascend the TV Tower, with its rotating observation deck. One of the city's crown jewels is Vilnius University, founded in 1579. Home of the nation's first printing press and its oldest library (housing millions of books), the university draws students from around the globe to join a student body now numbering 21,000.
Explore Vilnius with O.A.T. on:
Hill of Crosses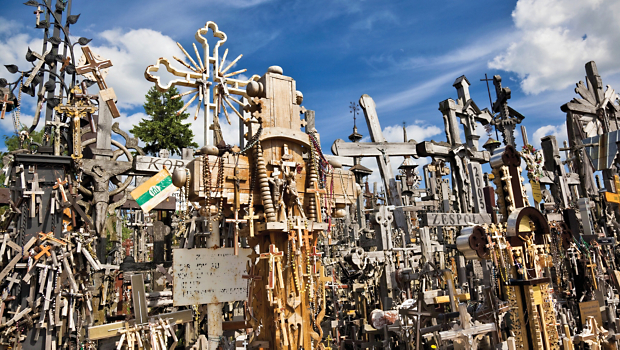 In Northern Lithuania, a powerful testament to the endurance of Catholicism has covered a country hillside for nearly 200 years. Locals began erecting crosses here after the 1831 uprising that deposed the Russian tsar. The upright crosses were soon joined by small crucifixes and rosaries, often strung like garlands on the larger models. Some are plain, some lettered with the names of lost loved ones, and others decorated in folk-art style. In the 20th century, the Soviets put up barbed wire to keep locals out. That failed, so they added soldiers—which failed too. Even periodically bulldozing the crosses didn't help, as locals would immediately replace the icons. Today, an estimated 200,000 crosses cover the hillside, in a tangle that seems to grow out of the earth like shrubbery, and when the wind blows, it makes an eerie tinkling wood-and-metal music.
Explore the Hill of Crosses with O.A.T. on:
Trakai Island Castle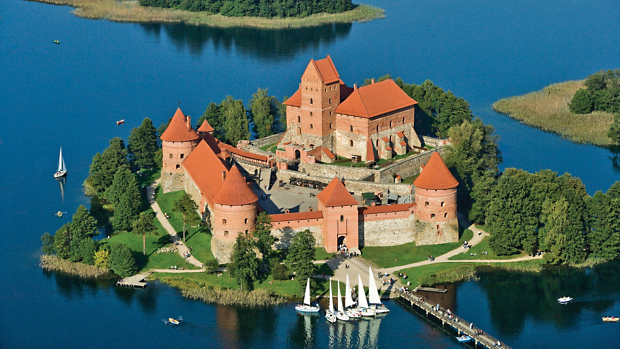 The crown jewel of Lake Galvė is an island topped with a red-turreted Gothic Castle straight out of a fairy tale. Trakai Island Castle was started in the 14th century and finished in the 15th, originally to guard against incursions by German knights, but it eventually settled into a more regal role as the residence of the Grand Dukes of Lithuania. It was known for its early version of forced-air heating, its secret passages, and an interior that was lush with murals, stained glass, and wood carvings. Over the course of its history, it kept changing personality, at one point used as a (very elegant) prison and then even abandoned for a time. Fortunately, the local population of Karaims, descendants of Turks who came here from Crimea in the 14th century to guard Trakai, have kept its history alive, and its splendor has been restored. Lithuanian concerts and festivals are held on the grounds and visitors comes from all over to see one of the nations' most beloved buildings.
Explore Trakai Island Castle with O.A.T. on:
Museum of Genocide Victims
The Genocide Museum is a sobering entryway into the darker side of Lithuania history. In rooms that served in turn as quarters for Tsars, Polish occupiers, the Gestapo, and the KBG, memorials detail the imprisonment, suffering, and death of Lithuanians swept up in the Soviet genocide and the Holocaust. The basement contains cells and an execution chamber where more than a thousand civilians were killed by the Soviets. Across several floors, the personal effects, stories, and photographs of victims bring the story close to home. There is also a collection of documents highlighting the efforts of the resistance movement known as the Forest Brothers. The museum's holdings continue to grow as locals come forward with their own donations of relevant personal objects they want to preserve, a reminder that their story is still being told.
Explore the Museum of Genocide Victims with O.A.T. on:
Peter and Paul Cathedral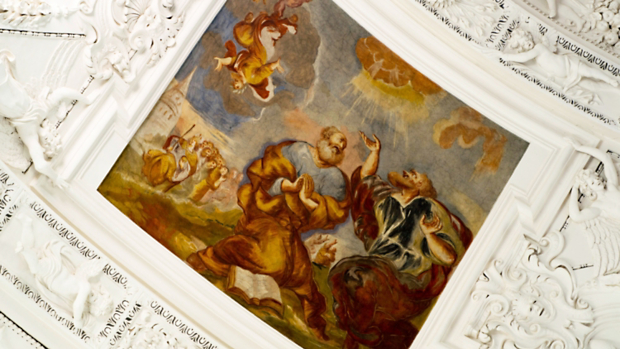 A wooden church built here in the 15th-century burned down in the 16th and was rebuilt at the dawn of the 17th—only to burn down once more 20 years later. The third building was begun in 1668 and took eight years of constant labor to finish. Its funder, a military leader named Mykolas Kazimieras Pacas, thought of it as a monument to (and future mausoleum for) himself, more than as a grand religious edifice. But grand it is: With 2,000 stucco figures, 13 Baroque chapels, a crystal chandelier resembling a ship, and countless frescoes and paintings, its holdings could compete with many a museum. Now considered a national treasure, it also serves Pacas' wishes: he was buried under the threshold, and his family coat of arms greets you as you enter the church.
Explore Peter and Paul Cathedral with O.A.T. on:
Featured Reading
Immerse yourself in Lithuania with this article
ARTICLE
Learn how Estonia, Latvia, and Lithuania came together to achieve independence from each other.
Three Nations, One Spirit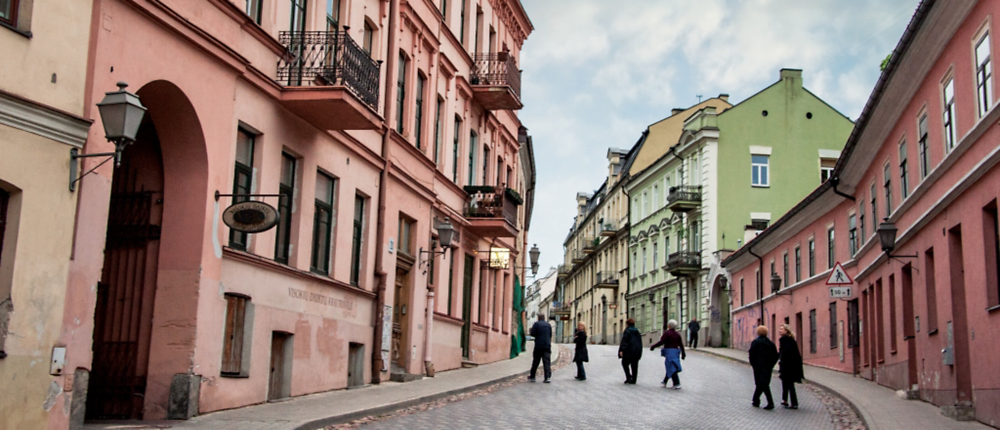 The seeds of protest and the Baltic Capitals' resurgence
for O.A.T.
An estimated two million Baltic people all joined hands to physically and symbolically link their three capital cities of Vilnius, Riga, and Tallinn.
Eastern Europe may still seem closed off to many—after all, most of what Americans know about Estonia, Latvia, and Lithuania was associated with the Eastern Bloc. But while the Soviet shadow still lingers in the architecture and monuments, the flags raised in their capitals have changed to reflect national and ethnic identities. Regardless of the political affiliation of the countries, one fact remains steadfast: The Baltic people love their homeland, and they aren't afraid to fight—or, in some cases sing—to protect their unique cultural and ethnic identities.
The "Singing Revolution:" Tallin's peaceful protest
Between the years of 1987 and 1991, yearning to shake off the yoke of Soviet rule, the Baltic people began to engage in a series of public singing demonstrations—often chanting national anthems and cherished folk songs. Soviet officials discouraged these patriotic sing-alongs, wanting to unify disparate populations under the USSR umbrella. As these once-localized musical outbursts became larger and more fervent, the voices of the Baltic people echoed all the way to the highest offices of the Soviets.
On September 11, 1988, approximately 300,000 people gathered at the Tallin Song Festival Arena to sing national songs and hymns, while rock musicians supported and encouraged them onstage. More than a quarter of the entire Estonian population was in attendance—how's that for unity? Song festivals continue to be popular across all three Baltic countries, beloved as a way to champion national identity and help preserve the past.
Chain of Freedom: peaceful protest or "nationalist hysteria"?
As it turned out, the Singing Revolution was only the beginning of a march towards democracy. On August 23, 1989, an estimated two million Baltic people all joined hands to physically and symbolically link their three capital cities of Vilnius, Lithuania; Riga, Latvia; and Tallinn, Estonia. This human chain—referred to as the "Baltic Way" or, more locally, "Chain of Freedom"—extended over a length that exceeded 400 miles. While this may sound like a feat straight out of the Guinness Book of World Records, the message was serious: It was an expression of joint solidarity against decades of Soviet rule. The year of the chain marked the 50th anniversary of the Molotov-Ribbentrop pact that annexed the Baltic States to the USSR. A growing number of activists, eager to bring the issue of illegal Soviet occupation to the world stage, organized the human chain.
Each state had its own pro-independence movement to help coordinate the effort: the Popular Front of Estonia (Rahvarinne), the Popular Front of Latvia (Latvijas Tautas Fronte), and the Reform Movement in Lithuania (Sajudis). Local support was encouraging; thousands of signatures had been gathered in multiple petitions, and organizers provided free bus transportation to ensure an unbroken chain in rural areas. Estonia declared the day to be a public holiday, and many businesses closed to allow employee participation. Aided by radio broadcasts to help organize the massive demonstration, the participants joined hands for 15 minutes.
Although it would take an additional two years of diplomatic and political victories, the Chain of Freedom was ultimately successful: Lithuania, Latvia, and Estonia were recognized as independent states by the end of 1991. Though freedom from Soviet control took over 50 years to attain, the citizens of these three nations adapted quickly to their hard-won liberties. The transformation of the neighborhood of Užupis in Vilnius demonstrates how the creativity and revolutionary spirit of the pro-national movements lives on in their current democratic states.
Užupis: The bohemian utopia
Located just one mile east of Vilnius University (the oldest in Lithuania), Užupis is an eccentric neighborhood that makes for a perfect detour during a free afternoon in Vilnius. In the native Lithuanian tongue, Užupis literally means "on the other side of the river." In this case, the river in question is the Vilnia River. But a more familiar moniker could just as easily be "on the wrong side of the tracks." Užupis was nearly deserted during World War II, when Nazi forces drove out the mostly Jewish population. For years, the empty buildings and abandoned storefronts became a haven for criminals, prostitutes, the homeless, and others that lived—some intentionally and others by circumstance—on the fringes of society.
Over the past several centuries, the population has shifted from medieval craftsmen to Jewish communities, but the bohemian spirit of the neighborhood is forever sealed in the DNA of the colorful, dilapidated buildings. Nowadays, Užupis is populated by a new mix of lifestyles: students living cheaply, artists seeking inspiration, and the free spirits who balk at the idea of living in the more "respectable" capital city of Vilnius. The muses of art, craftsmanship, and self-reliance still seem to haunt these streets.
In the place where a former statue of Lenin once stood watch over the town, a new icon has emerged, one that is far more fitting for the artistic and eclectic population: Frank Zappa, the American musician, composer, and kindred free spirit.
The Baltic Capitals' Resurgence