Forgot Your Username
If you have forgotten your username, please provide your email address in the box below. We'll send you an email with your requested username. If you are having trouble, please call us toll-free at 1-800-221-0814.
Email Sent
You'll receive an email in a few minutes. Please check this email to find your requested username.
If you do not receive an email or you are having trouble logging into My Account, please call us at 1-800-221-0814.

LATVIA
Latvia Interactive Map
Click on map markers
below to view information about top Latvia experiences
Click here to zoom in and out of this map
Recommended Viewing
Watch this video showcasing what makes this country so unforgettable
ReelEarth: Jevgeniya and Her Masks
Produced by Pawel Nazaruk and Tomasz Adamski
Join a dealer from an art gallery in Riga as she journeys into the Latvian countryside to meet an 80-year-old mask maker who seems to gleefully break all the artistic rules.
09:40 | 2574 views
Recommended Videos
Watch your fellow travelers' favorite films & videos
Linda and Elaine's Latvia Trip Experience
Follow friends Linda and Elaine as they experience local life in Latvia firsthand and learn about the country's Soviet history.
Trip Experience
Witnessing the splendor of St. Petersburg, hunting for precious amber along the wind-swept shores of the Curonian Spit, and climbing atop the legendary Hill of Witches await travelers in this captivating video.
Featured Reading
Immerse yourself in Latvia with this selection of articles, recipes, and more
ARTICLE
Learn how Estonia, Latvia, and Lithuania came together to achieve independence from each other.
ARTICLE
When in Riga, look up. Learn about the Latvian capital's famed Art Nouveau movement here.
Latvia: Month-by-Month
There are pros and cons to visiting a destination during any time of the year. Find out what you can expect during your ideal travel time, from weather and climate, to holidays, festivals, and more.
Latvia in December-February
While temperatures dip into the teens and daylight only lasts for a short amount of time in the winter months in Latvia, it's a magical time of year as the country is coated in a fresh blanket of snow. A glistening Daugava River freezes over in the winter, making it a popular spot for ice skating and ice fishing, and in Latvia's big cities, like Riga, you'll find several large open-air ice-skating rinks. A quieter activity that takes you away from the crowds but provides an equally enjoyable wintertime experience is cross-country skiing. Latvia is known for being geographically flat and boasting around 50% forest coverage—it is one of the European Union's most heavily forested states. These topographical features are ideal conditions for cross-country skiing.
Latvia isn't limited to outdoor sports—escape the cold and ring in the holiday spirit by attending a show at the ballet or opera. You can catch enchanting performances of The Nutcracker and Swan Lake in December through February, and the rest of the winter schedule is typically reserved for classics like Romeo & Juliet, Snow White and the Seven Dwarfs, and The Sound of Music.
Holidays & Events
December: The Winter Solstice is celebrated with processions, singing, dancing, feasts, and rolling the yule log. The tradition of rolling the yule log is meant to ward off negative energy.
Must See
Winter in Latvia is an unparalleled experience—from the holiday festivities to the distinct local traditions. A highly unique experience in this region is watching the sun paint the sky as it sets at around 3:30 to 4:00 in the afternoon in December and January. Daylight hours last the shortest amount of time in the winter, so it's better to plan your day accordingly.
Even though the sun sets early, Riga comes alive with holiday cheer in December. It is believed that the world's first Christmas Tree was erected in the early 16th century in Riga, so the holidays are a particularly special time for the city where large, brightly lit and decorated trees stand as the centerpieces of every square. Christmas markets open, filling the crisp, cool air with the smell of gingerbread, the lively sound of Christmas music, and the jolly feeling of the holidays.
If you're looking for an authentic experience, the Latvian bath ritual may be for you. The bath ritual is meant to relieve you of stress and awaken your spirit. Those who wish to participate typically begin by relaxing in the warmth of a bathhouse or sauna. Once you're body is heated, you run out to a nearby pond to take a dip in the icy waters. After, you return to the bathhouse or sauna again and you continue this cycle.
Related Video:
Summer in Latvia
Produced by Eaglewood Films
Enjoy a Latvian summer's serenity—from flowers swaying in the breeze to sunrises that paint the sky.
Latvia in March-May
Spring is warmly welcomed in Latvia after months of frigid cold, and while the temperatures don't reach the 60s until late April and early May, a warm relief slowly arrives in March. The season also brings heavy rainfall, which typically results in the overflowing of rivers. But similar to winter, the locals make the best of these conditions by boating and canoeing on the flooded rivers.

Once the season truly awakens in May, the country springs to life with festivals and flowers. Throughout the season, beer gardens are popular spots to enjoy the springtime weather. Riga's Latvian Beer Festival, the largest festival of its kind in the Baltics, rings in the new season with around 200 local and foreign brews available for sampling. You can also see Riga in bloom at the National Botanic Garden where colorful magnolias and azaleas add splashes of color to the city.
Holidays & Events
May 1: Labor Day
May 4: While Independence Day is celebrated in November, May 4 marks Latvia's Restoration of Independence Day. Latvia initially gained its independence in 1918, but fell to the Soviet Union in 1940 and didn't regain its independence for another 50 years. This day commemorates the country's second claim on independence in 1990.
Related Video:
Summer in Latvia
Produced by Eaglewood Films
Enjoy a Latvian summer's serenity—from flowers swaying in the breeze to sunrises that paint the sky.
Latvia in June-August
When the weather warms up in June through August, it's no surprise that tourists flock to Latvia. Expect large crowds in the summer as this is a popular vacation spot for European travelers. But don't sweat the crowds—summer is still an ideal time to visit Latvia due to the pleasantly warm weather. Temperatures are comfortable and peak in the high 60s, but nighttime temperatures can slip into the 50s, so it's best to pack warm clothing along with your summer outfits. If the cold doesn't bother you though and you're feeling brave, you may want to take a dip in the Baltic Sea. The water temperature only reaches highs in the 70s during the summer.
Holidays & Events
June 23: The Midsummer Solstice, known locally as Jāņi, is a celebration of nature.
June-August: Summer is a popular season for festivals in Riga—from the Riga City Festival's concerts, gardens, and sporting events to the Summer Sound festival, which brings out the best local musicians and artists.
Must See
June through August offer highly unique and authentic views into Latvian culture. For example, Medieval Day at Cēsis Castle allows you to travel back to the Middle Ages for a glimpse of what life was like in the land of knights and castles. Medieval Day offers traditional cuisine, games for all ages, and festive music and dancing.
If music is more aligned with your interests, Latvia holds an annual Opera Festival every June. Spend a night at the opera and then meet the singers after the show. Or, you may want to take part in the festivities of the annual Latvian Song and Dance Festival, where you can discover local musicians, artists, and craftsmen. The Song and Dance Festival is a tradition that has carried on since the 19th century.
Related Video:
Summer in Latvia
Produced by Eaglewood Films
Enjoy a Latvian summer's serenity—from flowers swaying in the breeze to sunrises that paint the sky.
Latvia in September-November
With the arrival of autumn, tourist season winds down and the temperatures begin to drop again, making this a great time of year to visit Latvia. The fall colors are enough to draw you in to experience Latvia this season. Around half of the country is cloaked in forests, resulting in a fantastic display of warm orange, yellow, and red hues. Possibly the best places to view these colors are in Gauja National Park and the town of Sigulda where forests cover the majority of the landscape.
While autumn isn't the warmest season, September and October haven't completely cooled down and remain in the 50s. November begins to show true signs of winter approaching as the temperatures plummet into the 30s.
Holidays & Events
November 18: On this day in 1918, after the conclusion of World War I, Latvia gained its independence from Russia and Germany.
Must See
A short drive from Gauja National park is the medieval town of Sigulda, where castles dot the land. Autumn is one of the best times to visit Sigulda because the dense forests surrounding the town turn vibrant hues of yellow and red. You can take in the autumn colors on foot during a hike or from above. Sigulda is known for its thrilling activities—from bungee jumping over the Gauja River to bobsledding through colorful forests.
Related Video:
Summer in Latvia
Produced by Eaglewood Films
Enjoy a Latvian summer's serenity—from flowers swaying in the breeze to sunrises that paint the sky.
Average Monthly Temperatures
Compare Our Adventures
Click 'Select to Compare' to see a side-by-side comparison of up to adventures below—including
activity level, pricing, traveler excellence rating, trip highlights, and more
Trip Itinerary
See a detailed overview of the types of experiences you'll have on our trip through Eastern Europe.
16 DAYS FROM $4,295 • $ 269 / DAY
O.A.T. Adventure by Land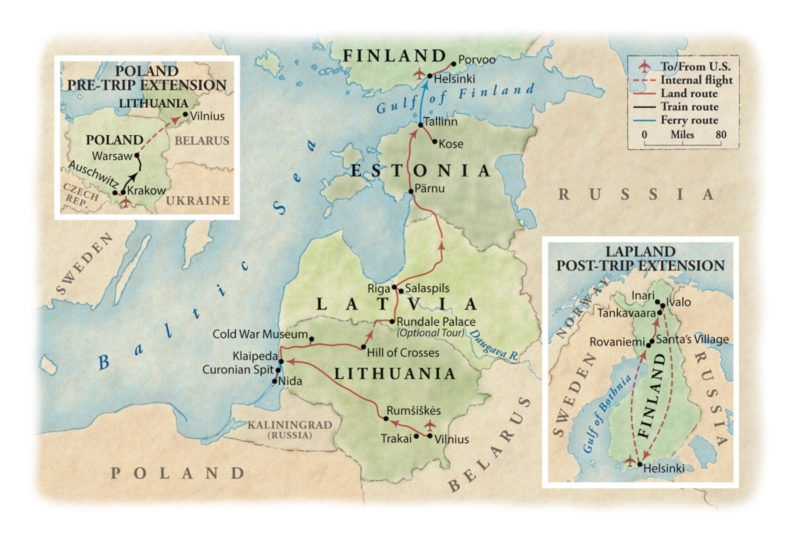 Lithuania: Vilnius, Klaipeda • Latvia: Riga • Estonia: Tallinn • Russia: St. Petersburg
32 meals—daily breakfast, 11 lunches, and 8 dinners (including 1 Home-Hosted Lunch)
Explore Riga—the Baltic's biggest metropolis—to discover its timeless traditions and classic architecture
Discover the diverse flora and fauna of Gauja National Park
Admire the 13th-century Cesis Castle
Witness the Baroque elegance of Rundale Palace during an optional tour
Spend 11 days in Lithuania, Estonia, and Russia
What Awaits: Our Baltics Itinerary
Map your course through the Baltics from destinations visited and optional extensions, to cultural connections you'll experience—like speaking with a Latvian resident about their experience of KGB repression.
14 DAYS FROM $7,995 • $ 572 / DAY
O.A.T. Adventure by Small Ship
Denmark: Copenhagen, Bornholm • Poland: Gdansk • Sweden: Visby, Stockholm • Latvia: Riga • Estonia: Tallinn • Russia: St. Petersburg • Finland: Helsinki
34 meals—12 breakfasts, 10 lunches, and 12 dinners (plus all onboard house beer & wine, as well as soft drinks)
Explore Riga—the Baltic's biggest metropolis—to discover its timeless traditions and classic architecture
Witness the Baroque elegance of Rundale Palace during an optional tour
Spend 10 days in Denmark, Poland, Sweden, Estonia, Russia, and Finland